On 18 and 19 August, Pangium hosted a special four-hand dining experience by two culinary leaders—Malcolm Lee of Pangium and Supaksorn 'Ice' Jongsiri of Sorn, a two-Michelin-starred restaurant in Bangkok
Over the two days, diners were treated to a multi-course tasting menu that transcended the culinary boundaries of Thailand and the Straits of Malacca. At the heart of this collaboration was the shared culinary philosophy of two chefs—Ice (Sorn) highlighting his Southern Thai roots and Malcolm Lee (Pangium) delving into the treasures of Straits cuisine—a deep respect for heritage and an unwavering commitment to elevating traditional recipes.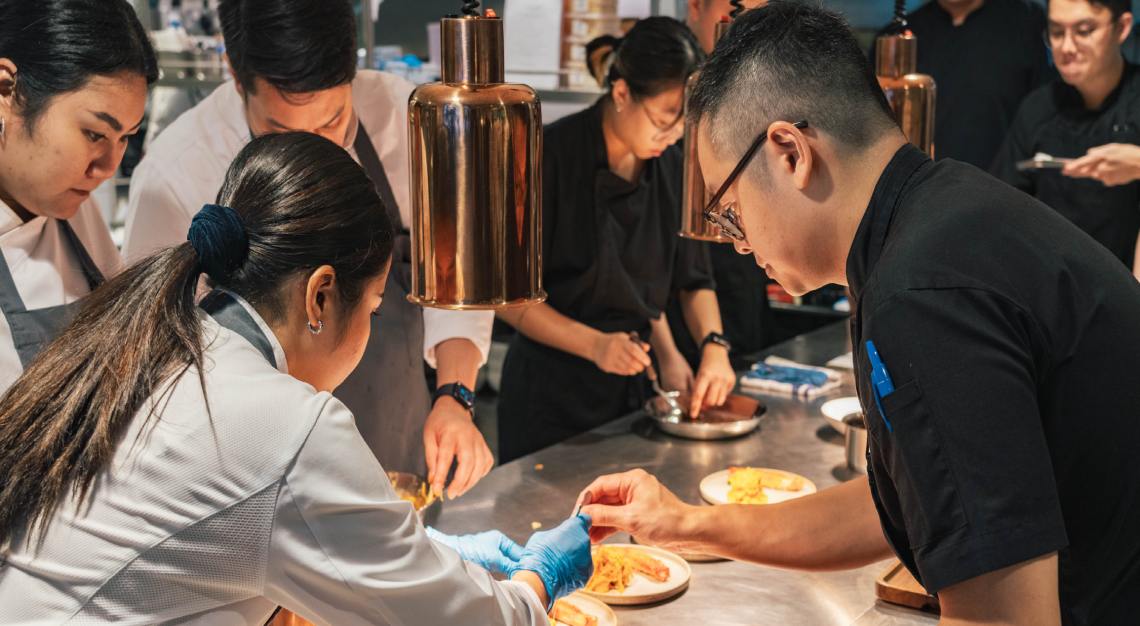 The meal commenced with some amuse-bouches, presented with a bespoke tea infusion concocted from black goji and blackcurrant liquor. The vibrant and earthy flavour of the drink paired well with the Ang Kar Sea Prawn Keropok, a surprisingly flavourful appetiser where the umami of the prawn took the limelight. Equally memorable was the Jang-ron, a traditional Thai fish cake made with pounded king mackerel, giving a supple chew while packing a subtle punch of spiciness from chef Ice's homemade red curry paste.  
Served next is the Pang Susi, a humble Eurasian gem that has been uncovered by Lee in his search for forgotten culinary treasures. While this sweet potato bun, with its crisscrossing lines and oval composition, looks like the iconic Hong Kong-style polo bun, the similarity ends here. A unique entity of its own, the Pang Susi is stuffed with Iberico pork cheek, candied winter melon, and Kampot white pepper from southern Cambodia that presents a harmony of sweet and savoury.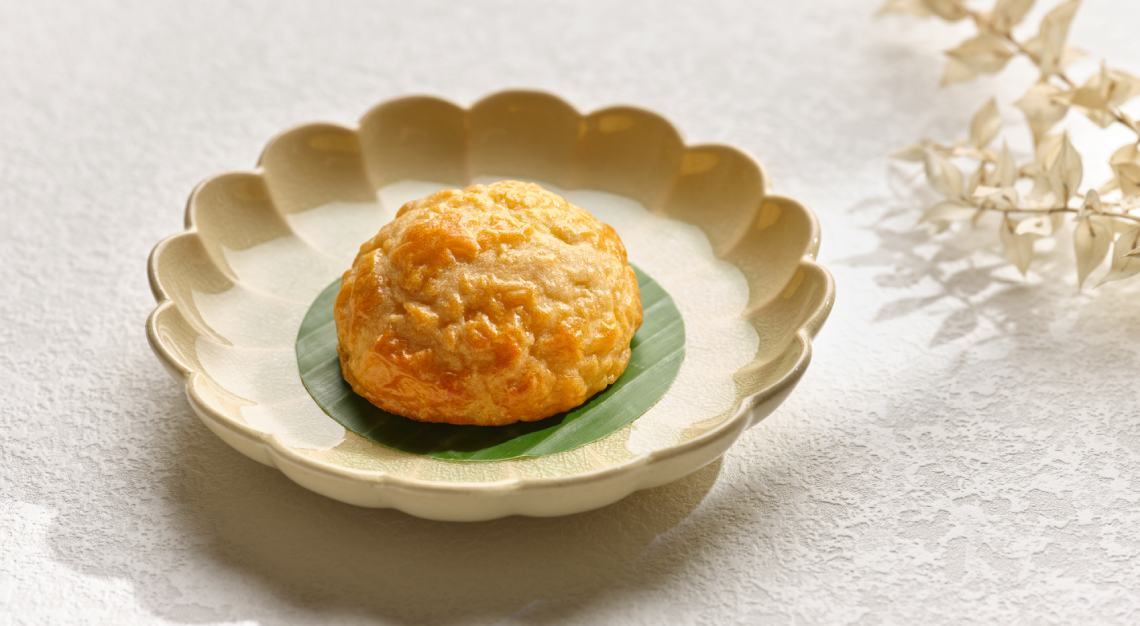 Also notable is the Uni Stew on grilled crispy rice, Ice's homage to the rich culinary heritage of Phang Nga in Southern Thailand. This creation marries prawn and uni, simmered to perfection with fresh coconut milk, lemongrass, and kafir lime leaf, and served atop a rice cracker made from Sang Yod rice grown on the islands of Krabi. 
Pangium's dedication to unearthing culinary gems shone anew with the Buah Keluak Pais Otak-Otak, a classic Peranakan dish layered atop spiced fish paste. The nutty flavour of the buah keluak, the seed of the pangium edule tree, is complemented by a delicate undercurrent of bitterness. Balancing these rich flavours is the Nasi Ulam, a traditional Indonesian dish made with a medley of 18 freshly tossed herbs. It also came with smoked fish sambal, crowned by a crispy fish that bestowed an airy and satisfying crunch with every bite. 
The next dish by Ice was ushered with a unique wine pairing—the Domaine de Bellevue 'Macération' 2020, a white wine from the fertile vineyards of Loire Valley, France. With its striking amber hue and fruity aroma, it pairs well with the Southern-style Pad Thai with King Crab Leg, a classic noodle dish elevated by Ice. Each strand of the rice noodle is coated with a sauce that includes toasted peanuts, coconut milk, and dried chilli. The meaty king crab leg was grilled with coconut oil, imparting a luxurious, buttery texture that goes perfectly with the crab's fresh sweetness.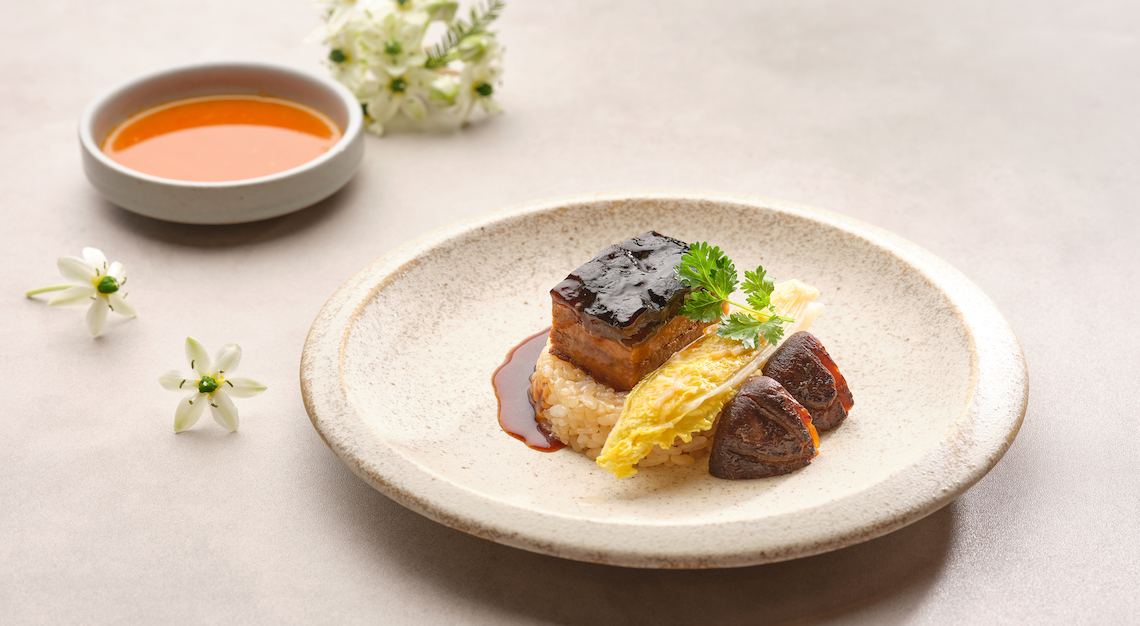 Memorable dishes among the procession of flavours include the Tau Yu Bak, a Fujian braised pork dish, the Thai-style Biryani with Beef Curry, and the Bakwan Kepiting Soup, a Peranakan crab meatball soup. 
And what finer way to conclude this journey with some dessert? Amidst the splendid selection of traditional Nyonya snacks, a standout was the Cassava Kueh, a classic creation of baked tapioca and coconut cake. Lee's rendition of this snack is graced with a sumptuous caramel custard topping, giving it a crème-brûlée-like sugar crust.
Pangium
11 Gallop Road, Gallop Entrance,
Singapore Botanic Gardens
Singapore 238909