Go back to the future with Cambridge Audio and the DeLorean Alpha5 EV
The brand-new DeLorean Alpha5 is the heir apparent to the DeLorean DMC-12, the iconic car synonymous with the Back to the Future film trilogy.
Embodying the DNA of its famous predecessor, the all-electric vehicle retains its signature gullwing doors, classic rear louvers and three-layered tail lights inspired by 40 years of design. Though the Alpha5 can't send you back into the '50s, what the successor lacks in time dilation and travelling, it makes up for in speed—boasting a whopping 100km/hr in 2.99 seconds and a projected top speed of 250km/hr, it presents a remarkable driving experience.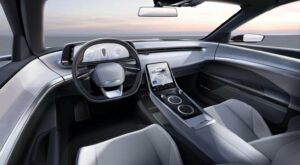 To add to the experience, DeLorean Motor Company joined forces with Cambridge Audio to develop an in-car sound system for a generation of new electric vehicles, starting with the Alpha5. Charlie Henderson, Marketing Director of Cambridge Audio says: "With over 50 years of audio experience and a passion for elevating the emotion of music, there are many synergies between our two brands, especially our shared dynamic and occasionally rebellious attitude. Between us we have a combined history of almost 100 years, but we don't let the past define us: always experimenting, innovating and creating new ways to enhance your experiences—inspiring a range of emotions in a car that is set to become an instant icon."
Troy Beetz, the Chief Marketing Officer of the DeLorean Motor Company, continues: "Cambridge Audio has spent over five decades creating exceptional sound by developing world-class audio. It's through their passion, craftsmanship and innovation that they continue to lead the industry in hi-fi products and technology. Our partnership brings together two pioneering companies to make one singular experience for drivers."