The dashing flyback chronograph is a perfect tribute to the 100th anniversary of the 24 Hours of Le Mans race
Richard Mille says it makes "racing machines for the wrist". To be fair, the brand is kind of understating it. Making testosterone-loaded, motor racing-inspired watches is one thing. Being so intimately involved in the world of motorsports such that it has become a part of the company's DNA is quite another.
Formula One legends past and present—the likes of Mick Schumacher, Charles Leclerc, Fernando Alonso, Kimi Raikönnen, and Romain Grosjean—are on Richard Mille's roll call of ambassadors. The watch company also sponsored the competition's Ferrari and McLaren teams and, between 2019 and 2022, even had its own professional motorsport outfit, the Richard Mille Racing Team, which competed in the European Le Mans Series and FIA World Endurance Championship.
Suffice to say, passion for motorsports not only informs Richard Mille's modus operandi—it is thoroughly manifested in its watches.
State-of-the-art materials,­ similar to those found on Formula One cars, are used to craft the timepieces. The spirit and processes behind the watches' design and construction, too, mirror that of these race cars; made to withstand extreme shocks and explosive G-force, while commanding our attention with bold personality and flamboyance.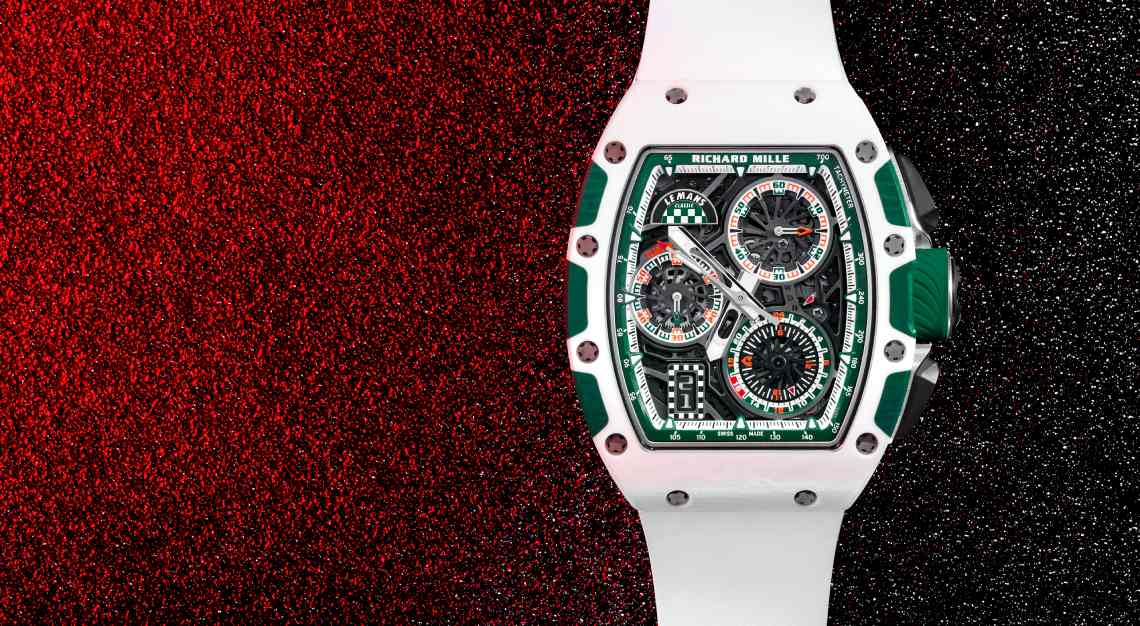 The new RM 72-01 Le Mans Classic flyback chronograph ticks all of the aforementioned boxes. Capped at 150 pieces, the watch commemorates the 100th anniversary of the 24 Hours of Le Mans endurance race, which, of course, Richard Mille has been involved with since 2002.
The brand started making commemorative watches for the race since 2008, each in the event's colours, and the 2023 edition continues the tradition, sheathed in a not-too-subtle cloak of white and green.
Essentially a makeover of the RM 72-01 from 2020, this year's limited edition is housed in a Quartz TPT case, made from a composite material that comprises fine silica threads that are woven, bonded and machined to shape.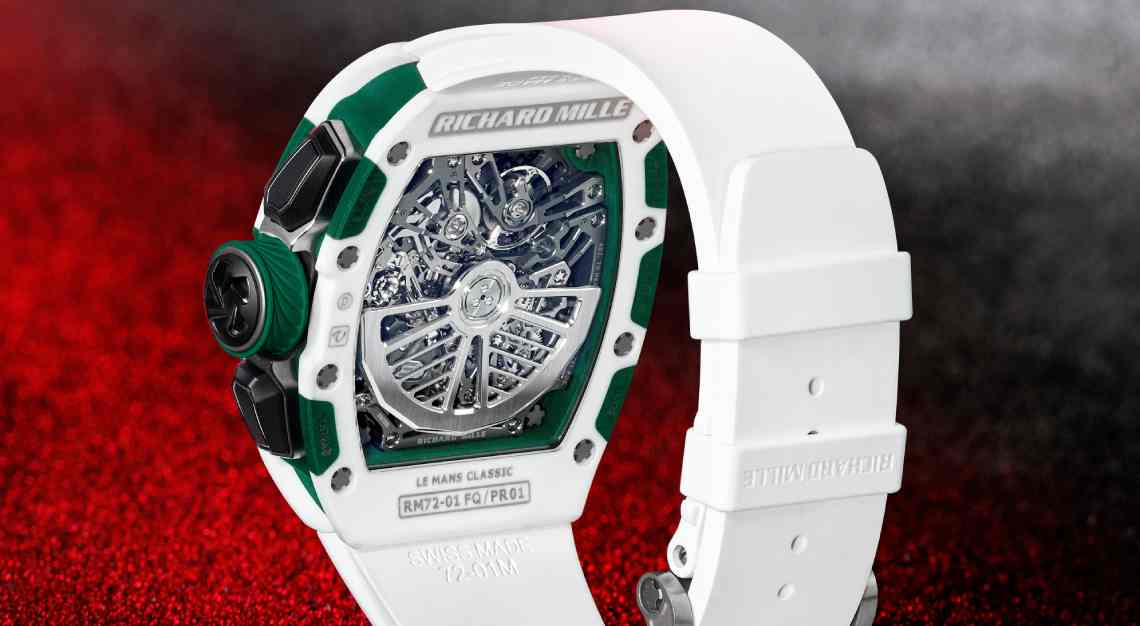 In contrast to the pristine case and strap, the open-worked dial offers a fascinating display of the complex movement underneath, accentuated by the Le Mans logo, and chequered flag and speedometer-style motifs that frame the chronograph and date displays.
The back of the watch is just as much of a treat with an open sapphire case back that parades its artfully sculpted components. Fixed with a skeletonised rotor, the watch's high-performance inner workings are displayed to awesome effect, the in-house automatic movement sporting titanium plates and bridges that evoke a finely tuned engine.
Whether from the front or back, the RM 72-01 Le Mans Classic flyback chronograph dominates the wrist unapologetically—and that's exactly what Richard Mille fans love about its watches.