The luxury resort's overwater observatory is home to what is believed to be the most powerful telescope in The Maldives
What does it take to be an astronomer? Acquiring the relevant doctorate degrees may pave the way for you, but having a deep sense of curiosity for a variety of things in life, from sophisticated, state-of-the-art machines to tiny everyday objects found at home, is a trait that will get you far, too. For Maldivian Ali Shameem, the resident astronomer of Anantara Kihavah Maldives Villas, it was watches that piqued his curiosity from the beginning.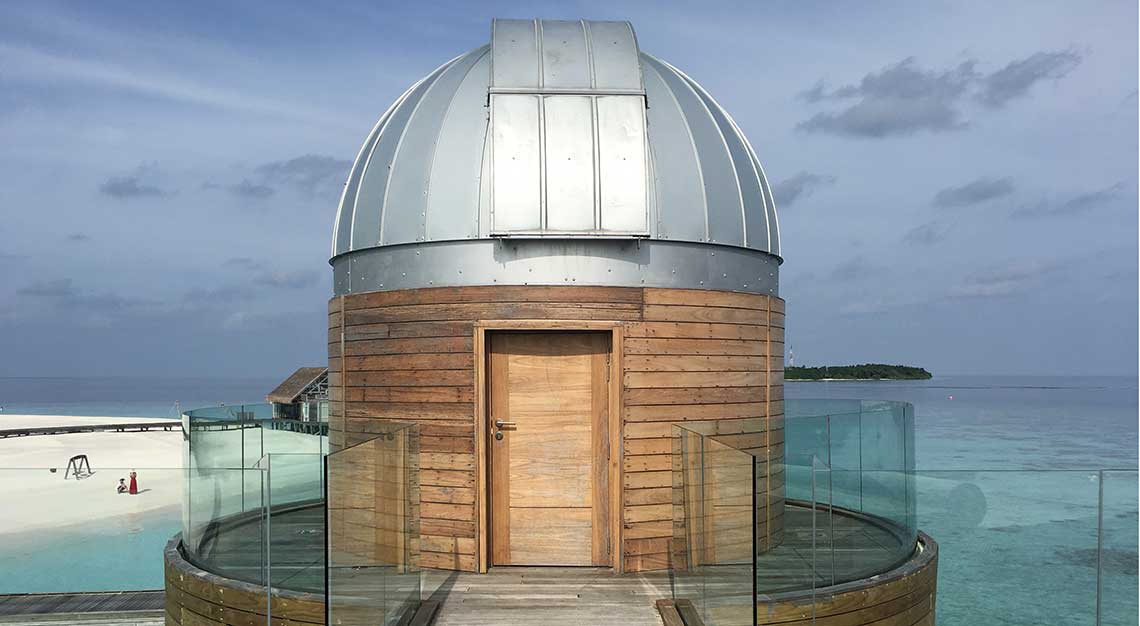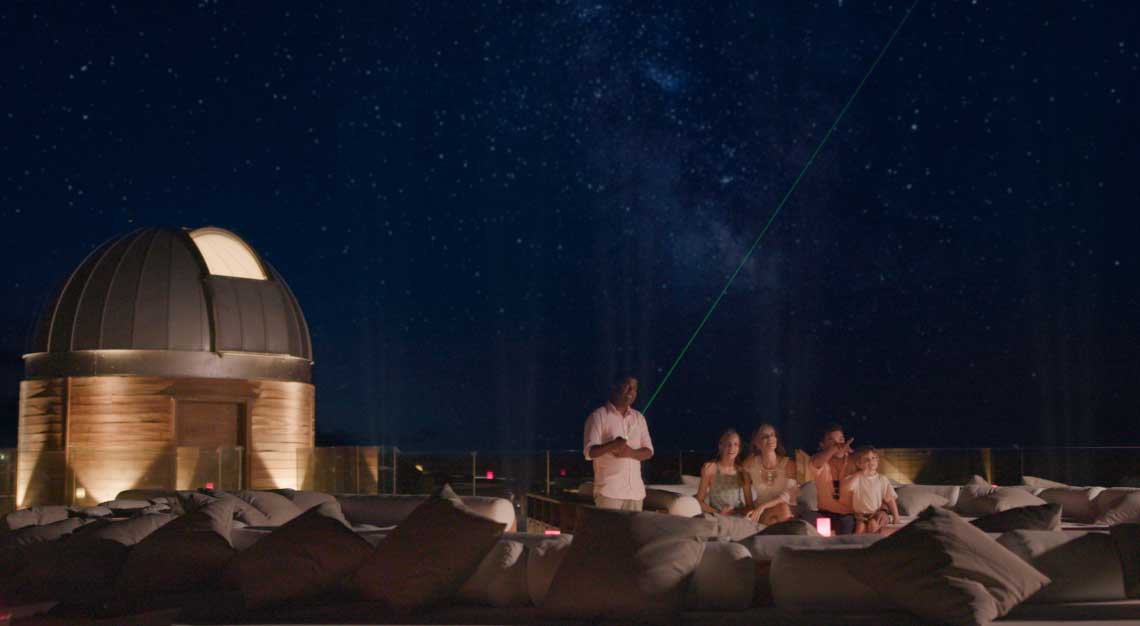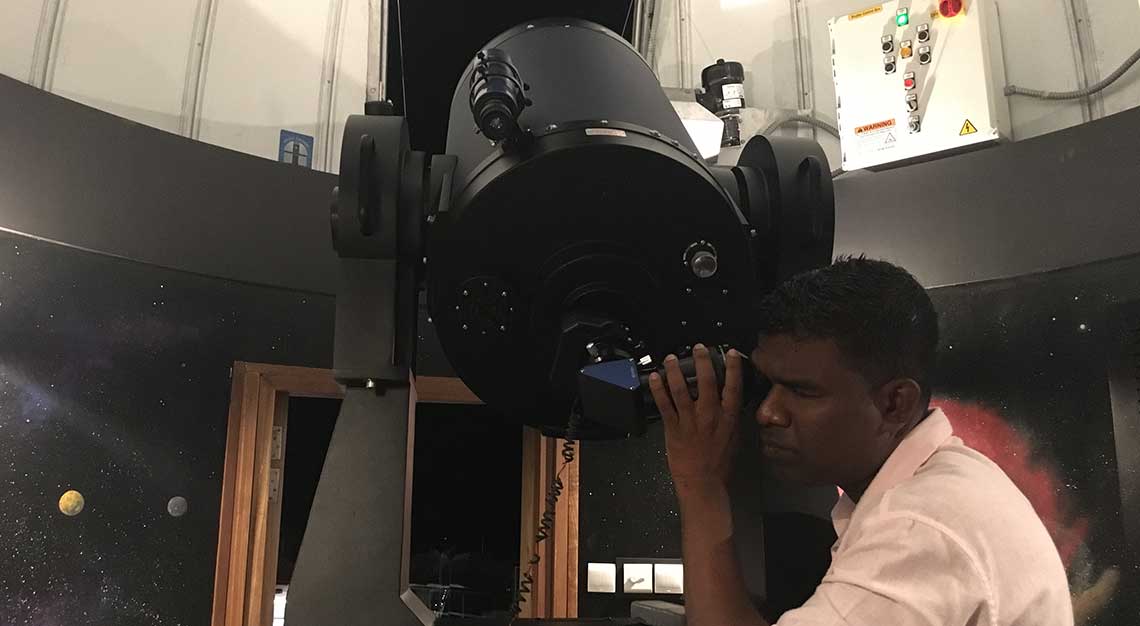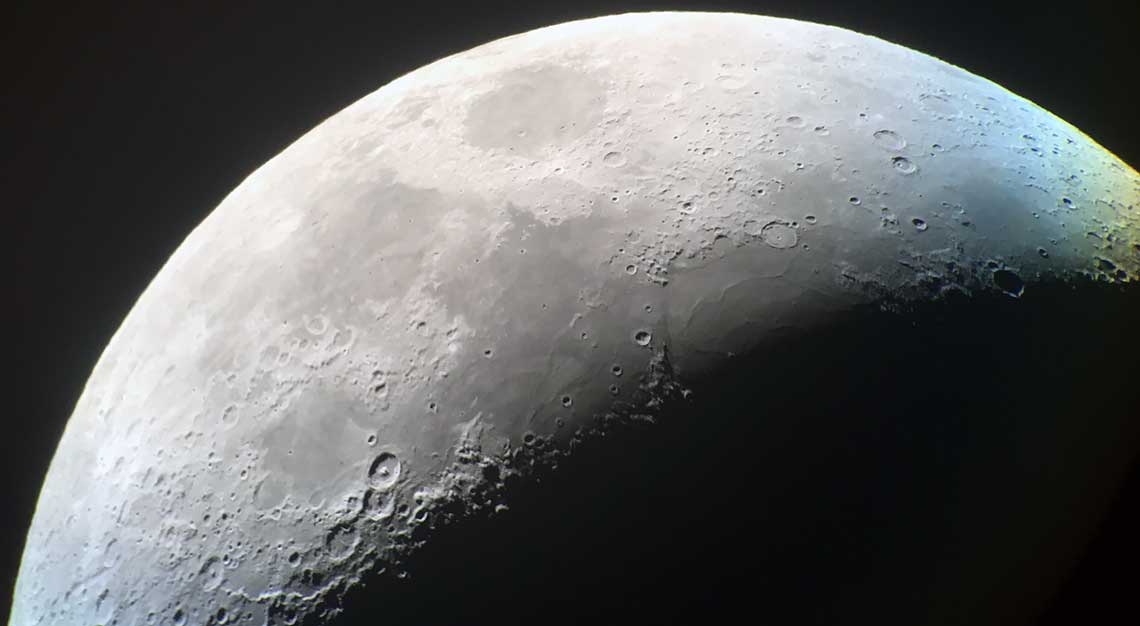 "All the 27 watches that I received since I was a young boy, I never wore them for long. Instead, I would break each of them open and disassemble it just so I could learn about the machinery behind each of them," said Shameem. This inquisitiveness, coupled with a childhood spent mapping constellations on an island without electricity, was what drove Shameem to pursue astronomy.
A protege of astronomy greats including Dr Giovanni Benjamin from the University of Padua and Dr Massimo Tarenghi, who headed the Alma Observatory in Chile, Shameem now oversees the observatory, which sits on the rooftop deck of Sky Bar at the luxury Maldives resort. With the region's most powerful telescope in hand – a research-grade Meade LX200 telescope mounted on a giant field tripod – the amiable 'sky guru' helms group stargazing sessions for guests (with a maximum capacity of eight) thrice a week on Mondays, Thursdays and Sundays from 7 to 8pm.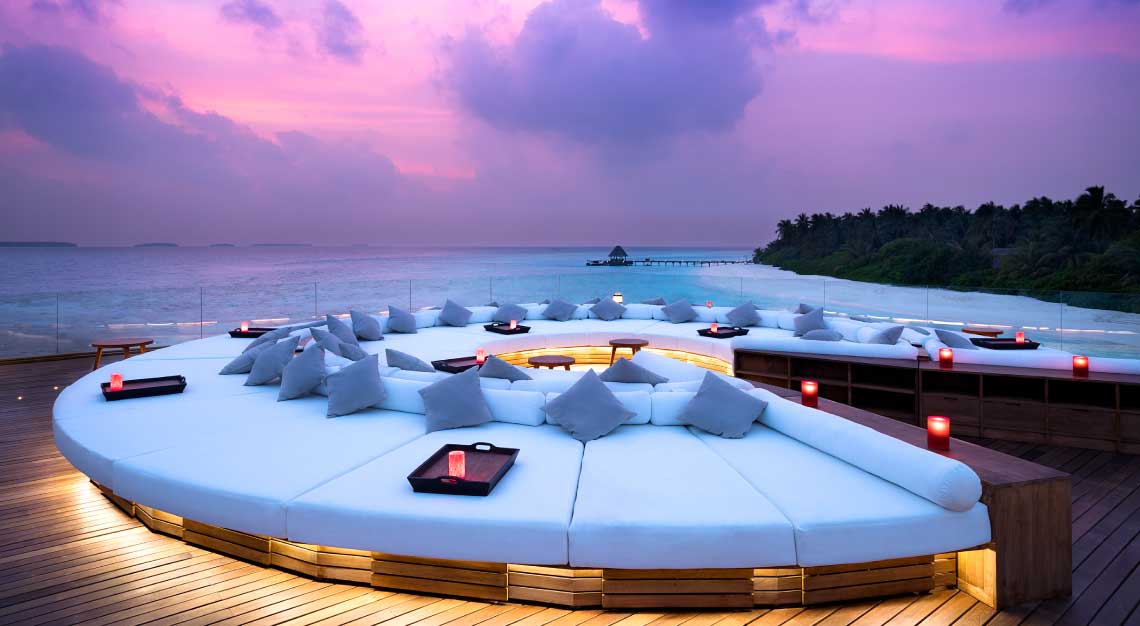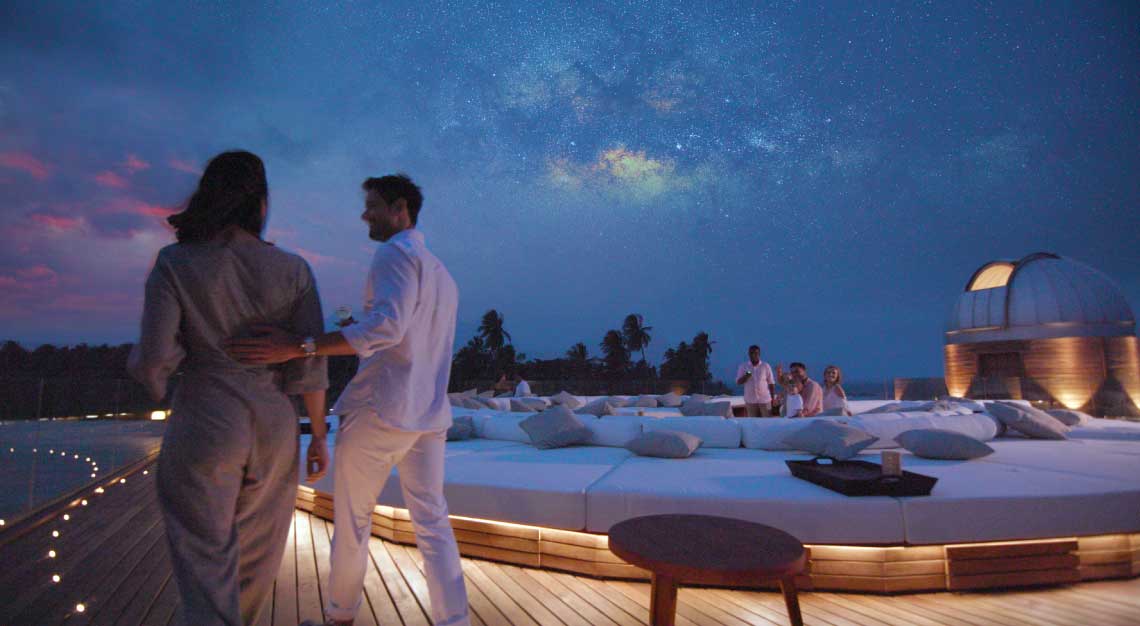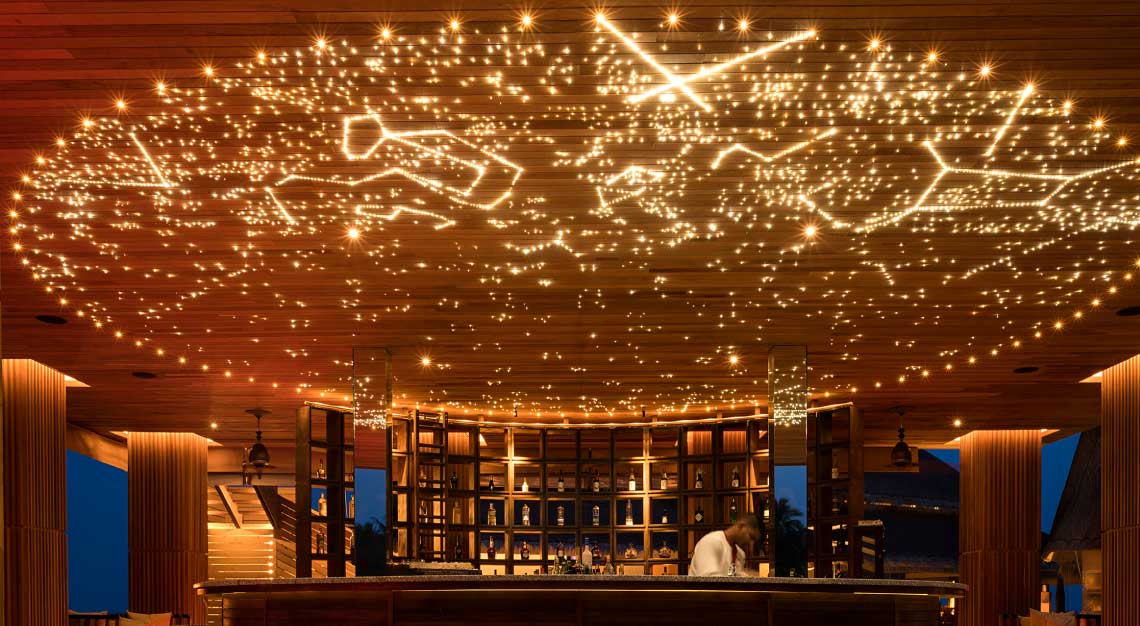 The giant telescope is housed within a custom-built ash-dome observatory, which resembles a tiny spaceship structure that seems to have randomly, but elegantly, planted itself in the Indian Ocean. Just outside the observatory lie white, dreamy daybeds arranged in a circle, which is where Shameem commences each session while guests kick back and relax with aperitifs and tapas. Fancy a sundown cocktail before night falls? An open bar and lounge sit below the observatory, a vantage point to watch the sun disappear into the horizon.  
The Maldives' prime location above the equator allows both the northern and southern hemisphere's stars to be visible at night, making stargazing all the more exciting. December is also said to be the best month to spot shooting stars in The Maldives. But Mother Nature often has a mind of her own, and during my session, the clouds were thicker than usual with a slight chance of rain.
The session starts with Shameem directing our eyes to a spectacle of bright dots scattered above us, using a green laser pointer to outline constellations such as Pegasus, Cassiopeia, Orion's Belt and even Sirius A, the night sky's brightest star.
The difference between having an unguided stargazing session and one with a knowledgeable astronomy expert by your side? The latter will undoubtedly acquaint you with unfamiliar astronomical jargon and interesting facts, but you'll get to view the night sky through an entirely different lens, as suddenly, each dot in sight becomes more than just a distant speck of light.
But of course, a powerful laser can only do so much in educating us about the galaxy. To have a better understanding of how far the various planets are from Earth, Shameem uses a tablet to show us an engaging video of the solar system, simultaneously describing each distance in astronomical units known as light-years. Here, we discover that the distance between the nearest star (Alpha Centauri) and Earth is 4.37 light-years – approximately 93 million miles. It's like science class in high school all over again, except that this time, the whiteboard takes the form of a vast, nighttime canvas full of sparkles.
The evening wind is also unsurprisingly cold and crisp, which makes the Sky observatory a rather pleasant place to be in. It boasts a futuristic, swivelling roof to allow for more breathtaking views of the constellations above us. Here, Shameem operates the in-house telescope. Starry-eyed with a million questions to ask, we take turns to marvel over telescopic views of the moon, the belts of Jupiter and yellow plates of Saturn. The highlight of our night? Catching a glimpse of the Milky Way's Omega Centauri, a globular cluster of more than 300,000 stars in the Hercules constellation.
I don't spot any shooting stars that night but in the next evening, I make my way to Sky Bar's rooftop deck. There's no session today, but armed with knowledge gained from yesterday, I lie on the daybeds and wait, unsure if Lady Luck is on my side. The skies tonight are clear, so all I need to do is be patient and allow my eyes to adjust to the light (or lack thereof). It seems like an eternity before a tiny ball of light streaks across the sky, followed by plenty more. Lying in a daze, I think to myself: Here, in paradise, it is entirely possible to get away from reality without leaving the Earth's atmosphere.
Anantara Kihavah Maldives Villas
P.O. Box 2098
Kihavah Huravalhi Island
Baa Atoll
The Maldives
Tel: +960 660 1020