Fi'lia's young chef has won accolades and turned heads with her nearly all-female team
Seventy floors above Dubai, by a terrace looking up towards Burj Khalifa, the world's tallest building, the table in front of me is heaving with a dazzling spread of Mediterranean dishes.
It serves as a delicious reminder of the breadth and diversity of that region, with meatballs lifted by garlicky tzatziki and dill, a decadent creamy dip of feta al forno, then the Italian classic of vitello tonnato, the tuna sauce piped as a mousse amidst curls of veal, finished with charred pickled onions.
They're dishes crafted by Sara Aqel, chef de cuisine at Fi'lia in the SLS Dubai Hotel. She's a young woman on a mission, not only to serve thoughtful, delicious cuisine but also change the face of the restaurant business in Dubai—and across the wider Middle East.
At Fi'lia—named for the Italian for "daughter"—she's leading the only restaurant in the Middle East with an all-female management team. Almost all her front-of-house stuff are also women, from countries including Nigeria and the Philippines, India and Ukraine, France and the US. She too is an immigrant, fighting against the odds to rise to her position.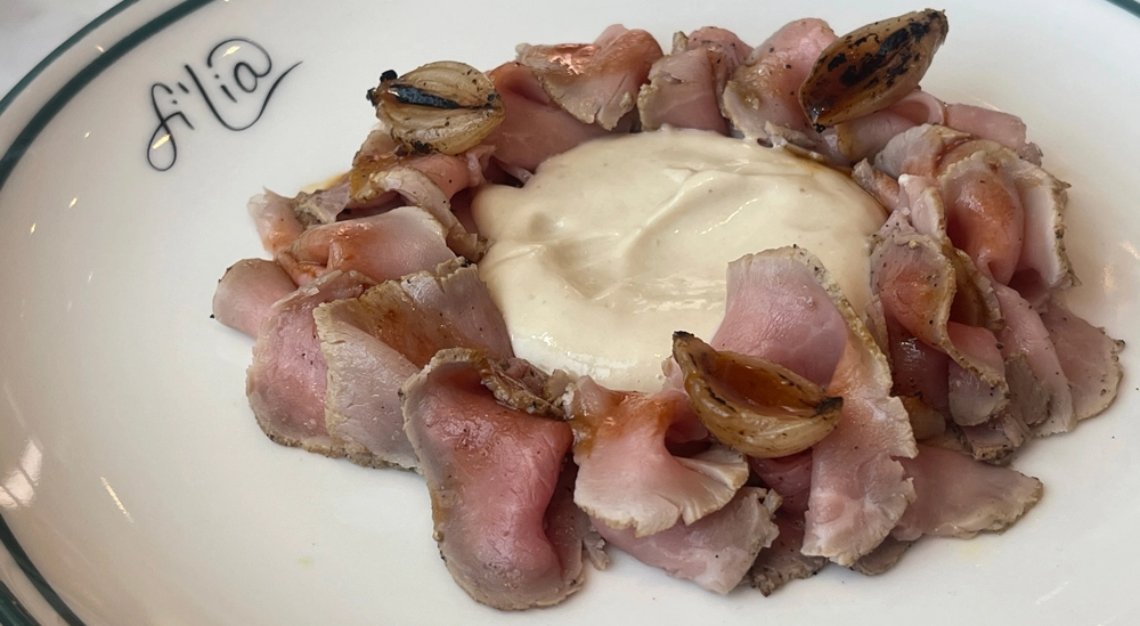 Born and raised in Jordan to Palestinian parents, she grew up surrounded by food, going to markets to understand seasonality and using meals to forge community. "Even my biggest memories of school and friends were around food," Aqel says. "Some kids would skip classes because they wanted to smoke—we used to skip classes to eat shawarma!"
The bounty of incredible local ingredients and an innate joy working with food led her to start catering events at just 15 years old. She explains that it was simple finger food stuff—sliders and pizzas—but it led to her next opportunity, working at The House of Art in Jordan's capital, Amman, where she ran a breakfast menu every weekend. Kitchen life hooked her. "I liked the rush, the adrenaline, people asking who made the food," she says. "And then their surprise to learn that I was only 17."
A year later she left home for culinary school in Switzerland at Les Roches, a renowned academy of culinary arts. Thereafter her career truly took off, starting with a prestigious internship for six months in the famed restaurants of the Hong Kong Jockey Club, followed by a semester at the Four Seasons in Amman and then a move to Dubai.
In the UAE, she first worked at Al Muntaha, a fine dining restaurant at the celebrated Burj Al Arab hotel, before she got a call from an Italian restaurant called Torno Subito that had been opened by Italian culinary legend, Massimo Bottura.
He and his chefs mentored and inspired her—leading her to fall further under the spell of Italian and Mediterranean food—while also supporting her quiet drive to be the best and a groundbreaker in a region where female chefs are by far the exception, not the norm.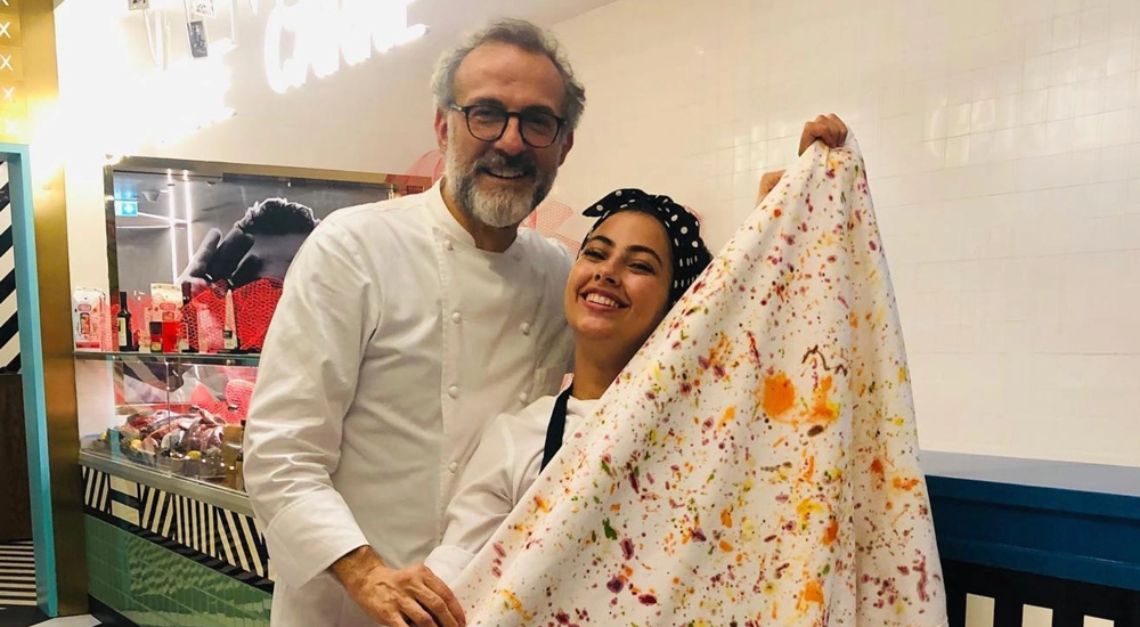 Then, of course, Covid-19 intervened, and restaurants closed in Dubai for 11 months. Sara worked in cloud kitchens, creating menus and consulting, but always looking for the perfect position, especially after painful rounds of rejection elsewhere—until Fi'lia came calling. While there are other outposts of the restaurant from Miami to Paris, this one proudly wears its own mission on its sleeve as a place where "strong women from all over the world come together in Dubai to lead a world class food and beverage operation."
"At other restaurants I wouldn't even get the chance to do a food test, just because of my age or where I come from as Jordan isn't a 'culinary destination,'" Aqel says. "But I felt like I was hired here at Fi'lia exactly for the same reasons I was rejected in so many jobs in Dubai. I was hired for my age, I was hired for my gender and I was hired for where I come from. I just felt like I'm the right piece falling into the right spot. The puzzle just fit."
Her appointment marked a significant step forward for women in the industry, as well as a huge responsibility to represent the first female-led restaurant in Dubai and across the wider region.
"There are always people who look at you, wondering when you are going to drop the ball and fail. We represent, in general, how females work in this industry," Aqel says, acknowledging the pressure. "It's a very heavy load, with very heavy hours, in a very stressful job. We have 225 seats! But now the majority of people are saying 'look how good they've done'. And that's a good thing."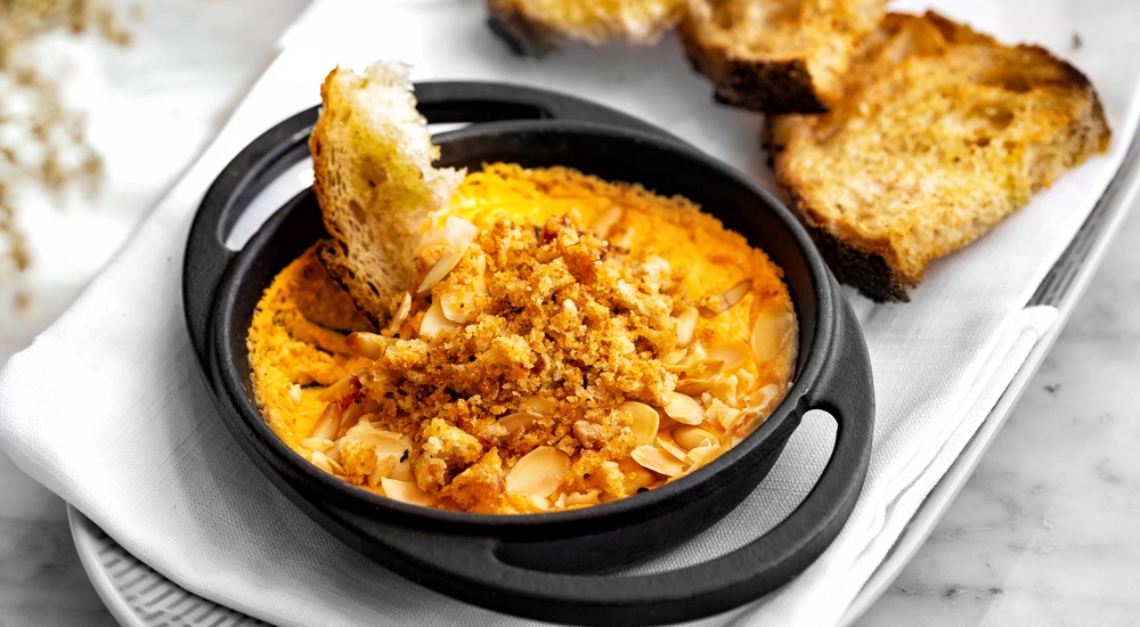 The accolades have poured in for Aqel and the team in less than a year, notching a Bib Gourmand from Michelin, winning Best New Restaurant in the Middle East from La Liste and earning a spot in the French culinary bible Gault & Millau. Despite the success, she's still pushing. But for what?
"What we do, but on a bigger scale," she says. "A signature restaurant by myself. A restaurant that genuinely promotes sustainability."
All along the way, she hopes she and her team can have a positive impact on the restaurant industry in Dubai and the wider Middle East. And now at only 26, it's clear she's just getting started.
This article was first published on Robb Report USA