Deluxe bistro dining meets simple Mediterranean flavours at db Bistro & Oyster Bar
To chef Daniel Boulud's plethora of fabulous restaurants across the US, Montreal, Toronto and London, add db Bistro & Oyster Bar – a contemporary French bistro at The Shoppes at Marina Bay Sands, where Parisian bistro favourites, New York-style burgers and fresh seafood regularly take pride of place on the menu.
Chef Boulud's stellar reputation precedes him. A force to be reckoned with in the kitchen, he holds the keys to an ever-expanding culinary empire – the latest addition, Le Pavillon, is scheduled to open in New York next year.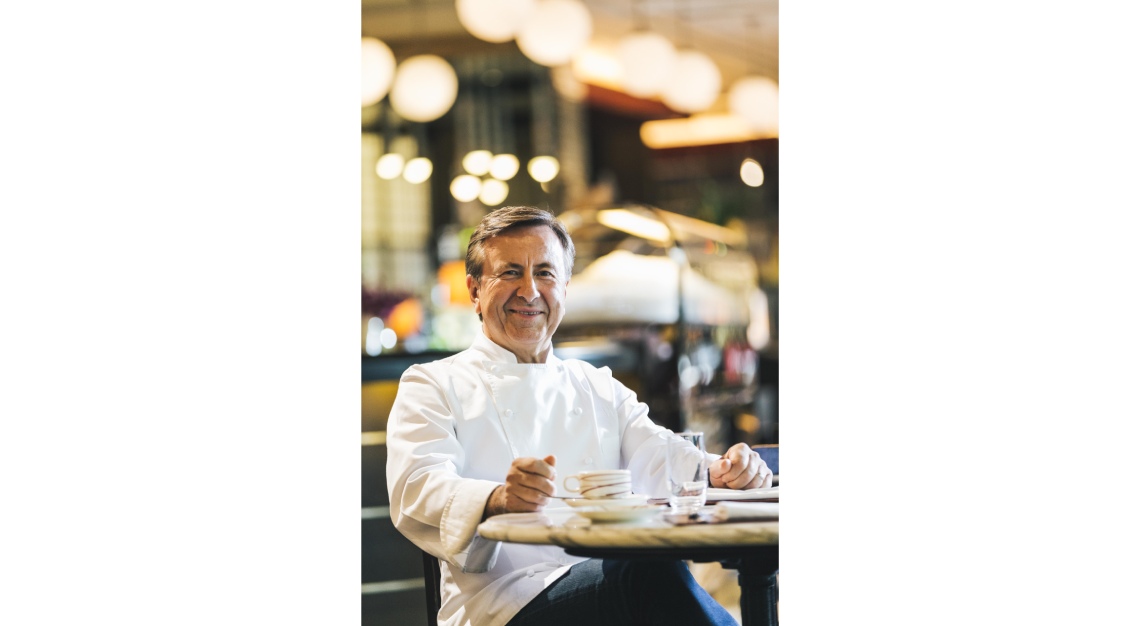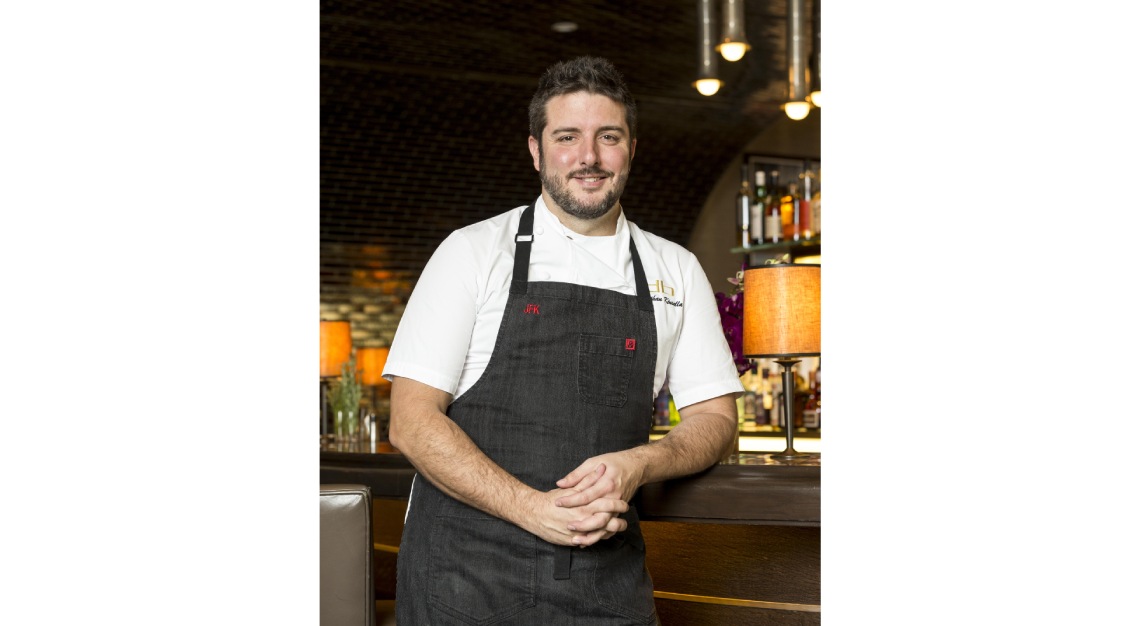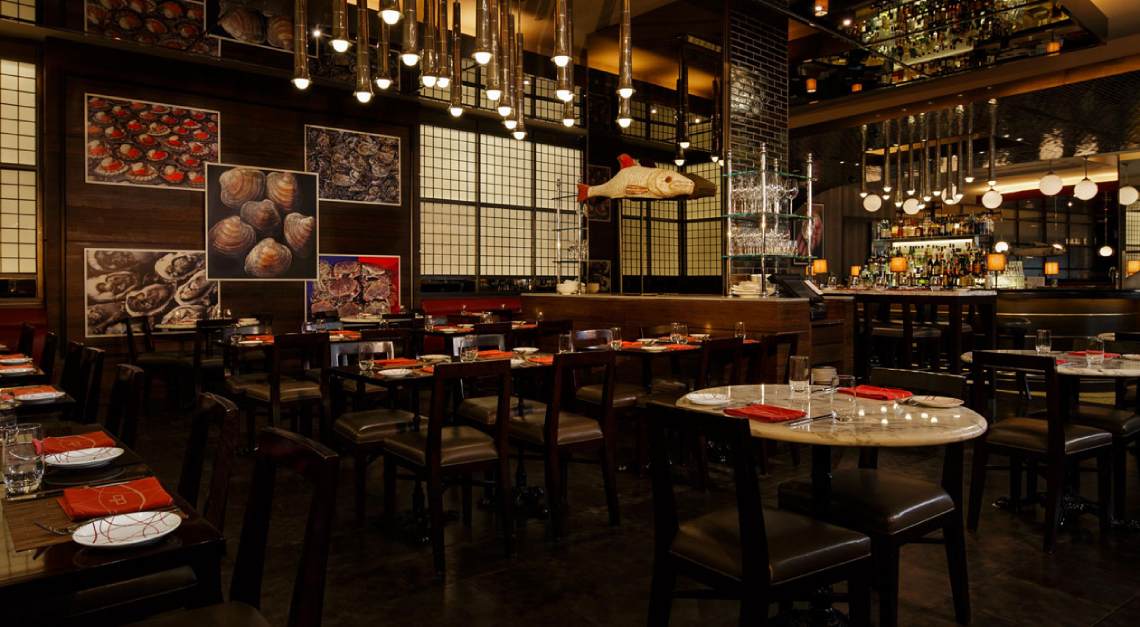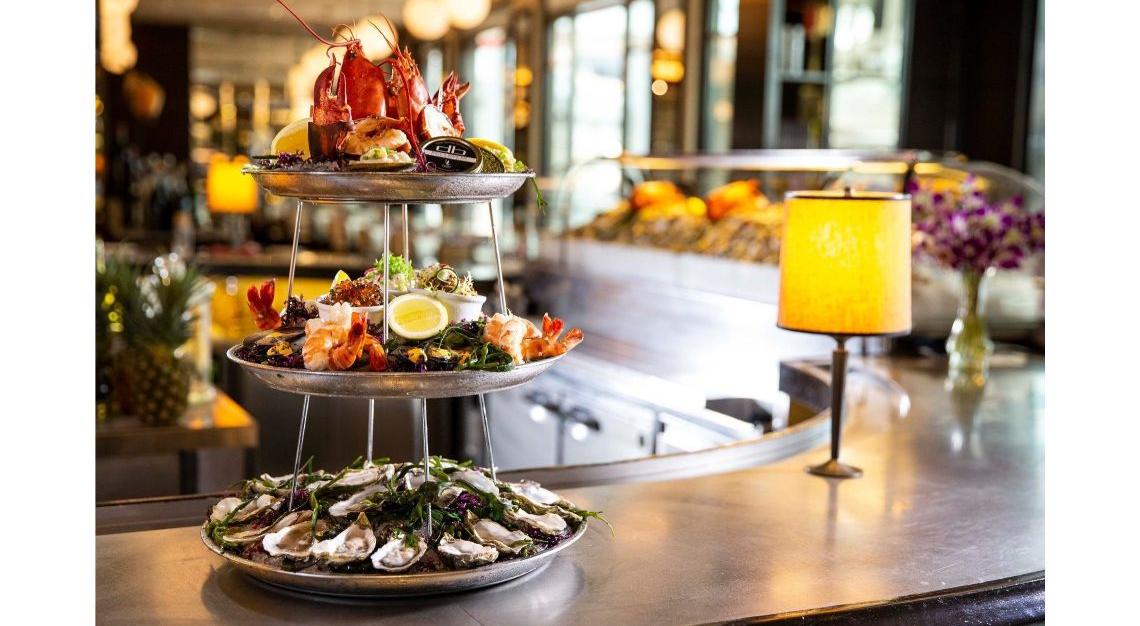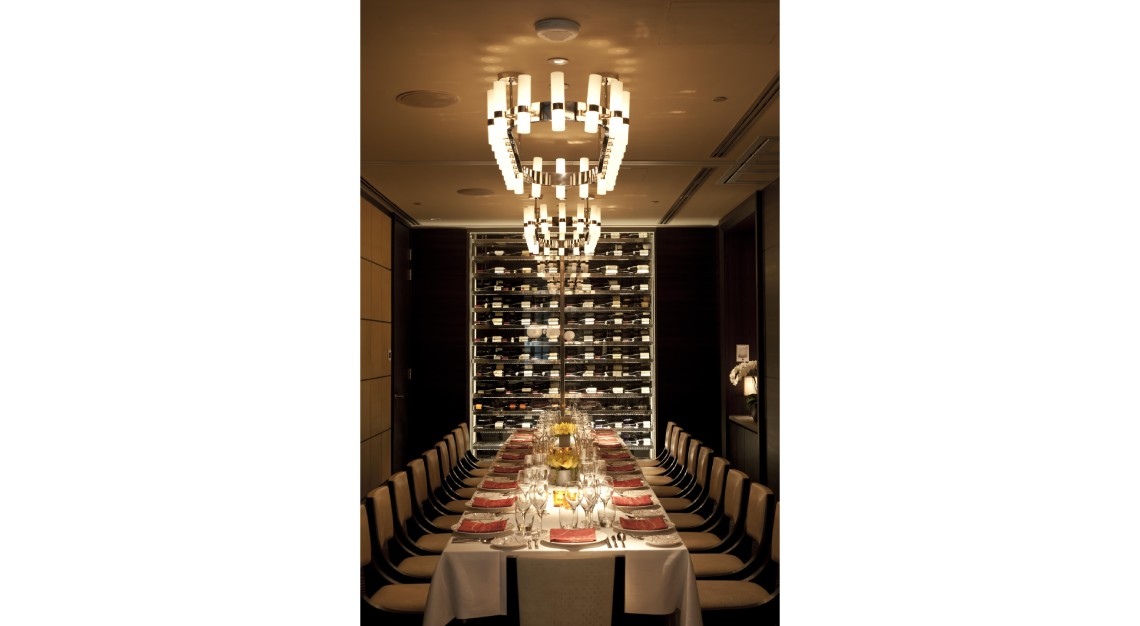 Yet, despite the imprint of Boulud's enduring legacy, the real star at db Bistro & Oyster Bar is its executive chef – a bright-eyed, spirited Irish by the name of Jonathan Kinsella, who's been at the helm for about seven years now. He clocked time as executive sous chef at Bar Boulud in New York, then as executive chef at Épicerie Boulud, prior to packing his bags for Singapore.
Kinsella's cooking philosophy has aged little with time. Given a choice – he says this with a cheeky grin and twinkle in his eye – he would rather be "like the Beatles than Sonic Youth"; more the harmonious and well-balanced execution of the classics, less a bombardment of jarring and discordant ingredients in some newfangled dish. Where others might feel compelled to reinvent the wheel, Kinsella has no qualms falling back on his deep repertory of classic French cuisine, refined and perfected over the years. The best ingredients, he quips, are best cooked simply.
Simplicity, however, should not be mistaken for mediocrity or mundanity – of which Kinsella's cooking is neither. Left in the hands of another less adept, the night could very well descend into woeful insipidity. Kinsella's rendition of simplicity, on the other hand, is masterful. He is an artist – perhaps one with an underlying modernist aesthetic – painting evocatively in few and little strokes.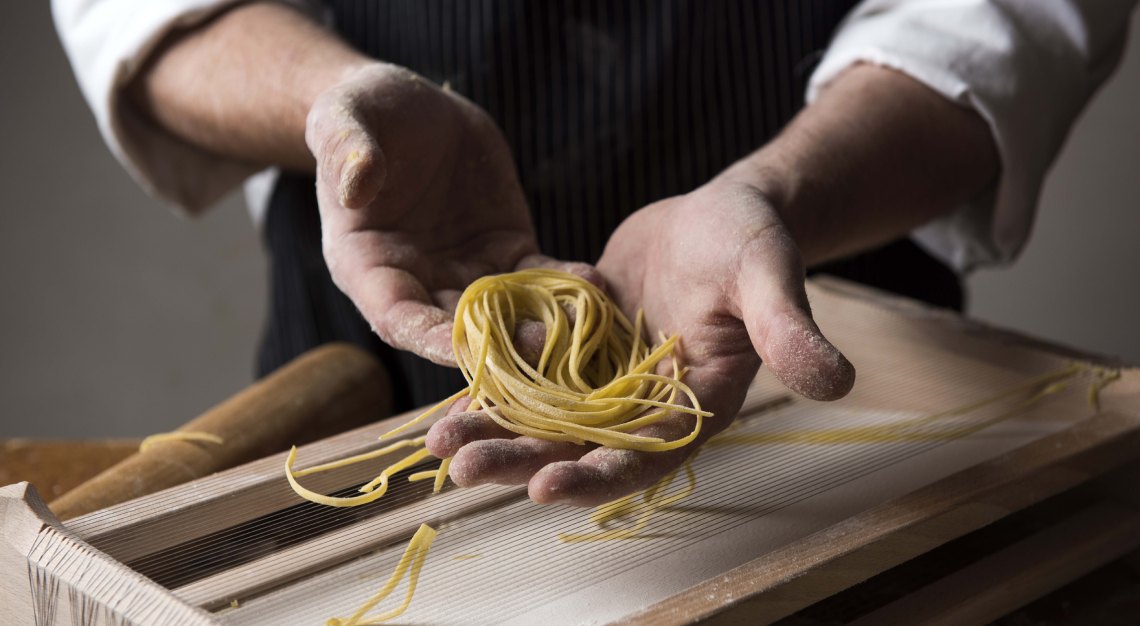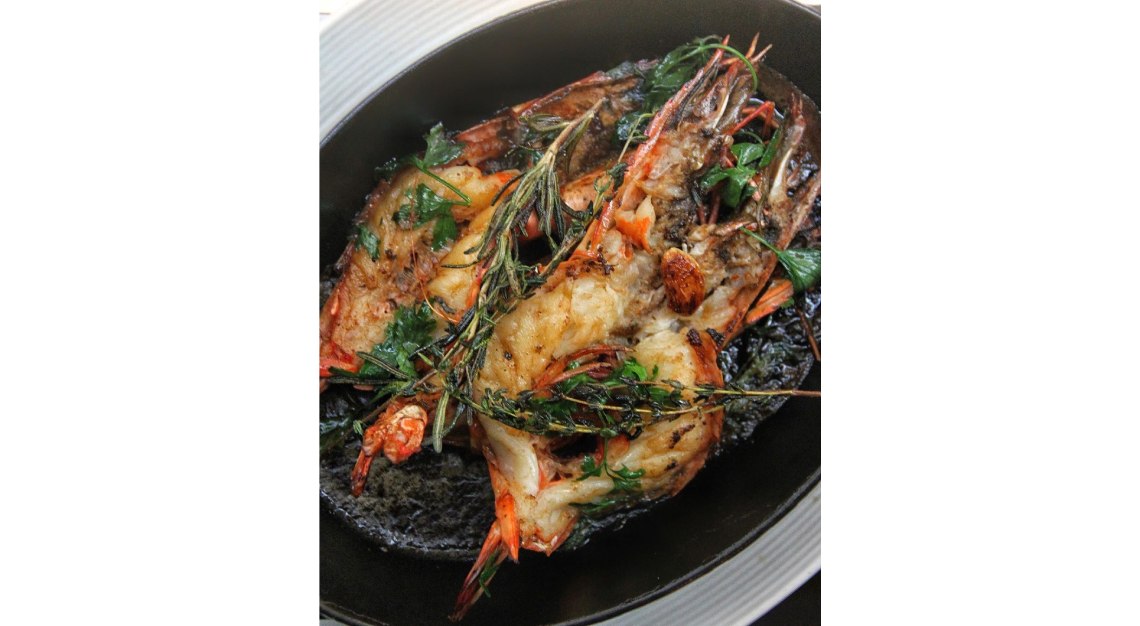 Here is scampi, sautéed in garlic, parsley and white wine, served piping hot; firm and crunchy – as only the freshest of seafood can be – with a lingering hint of char. Ratatouille, that homeliest of vegetable stews, wistful and nostalgic, with transporting touches of basil pesto and chickpea panisse.
db Bistro & Oyster Bar's first pop-up
It is perhaps fitting that db Bistro & Oyster Bar's first-ever pop-up menu, in all of its 10 years at Marina Bay Sands, is a nod to Boulud Sud – chef Boulud's renowned Mediterranean-inspired restaurant in New York, where a budding Kinsella formed part of the opening team. One wonders why it has been such a long time coming. Implementation-wise, it differs little from the usual seasonal changes in the regular menu – of which the bistro is more than accustomed to and perfectly nimble to adapt – only accelerated as if on steroids. But no matter; it is here at long last, albeit for a time sorely disproportionate to the wait.
The Boulud Sud pop-up menu, like that of the original, is divided into a host of appetisers – several of which should be ordered and shared among 'La Table' – house-made pasta and a range of selections from the garden, land and sea. Leaving yourself in the capable hands of chef Kinsella is a wise choice, and those who opt for the Mediterranean Feast (which goes for S$95 per person) will be duly rewarded.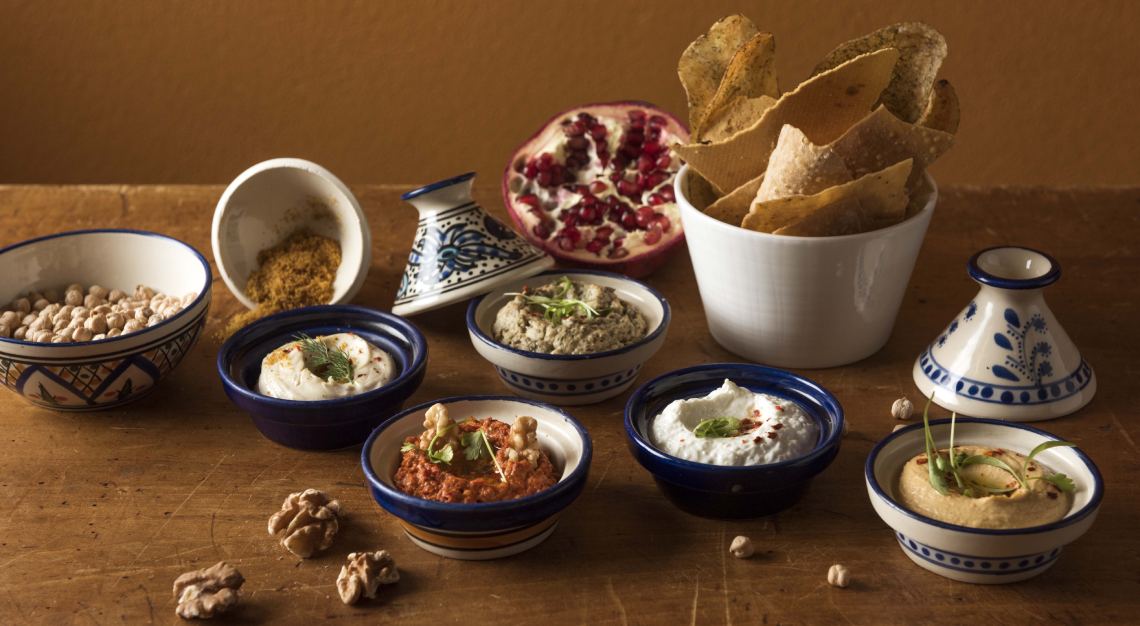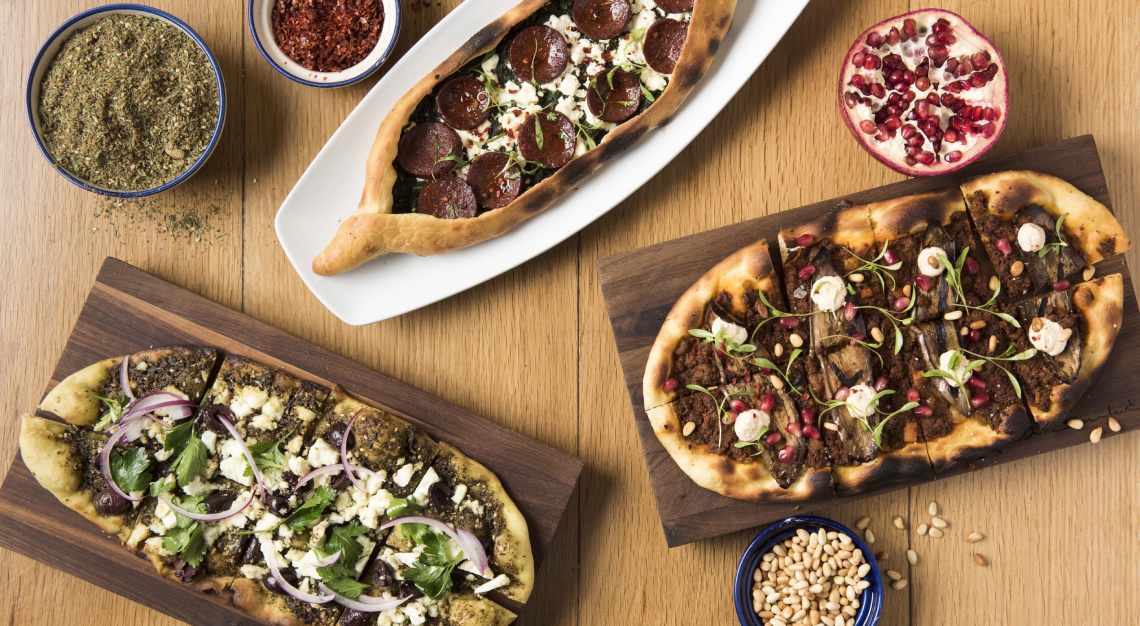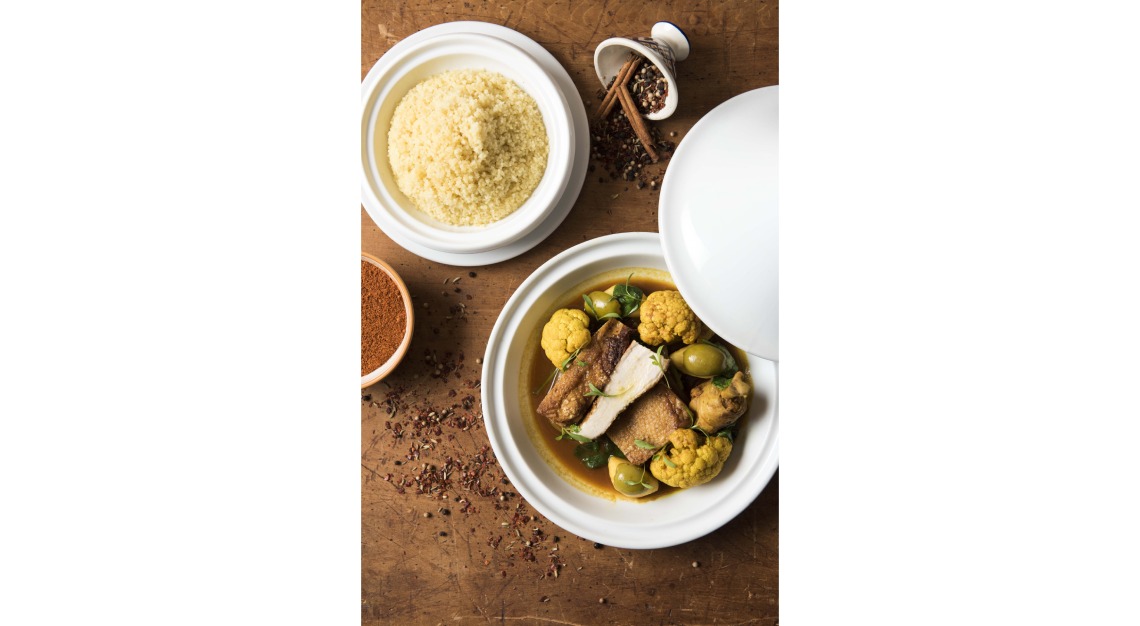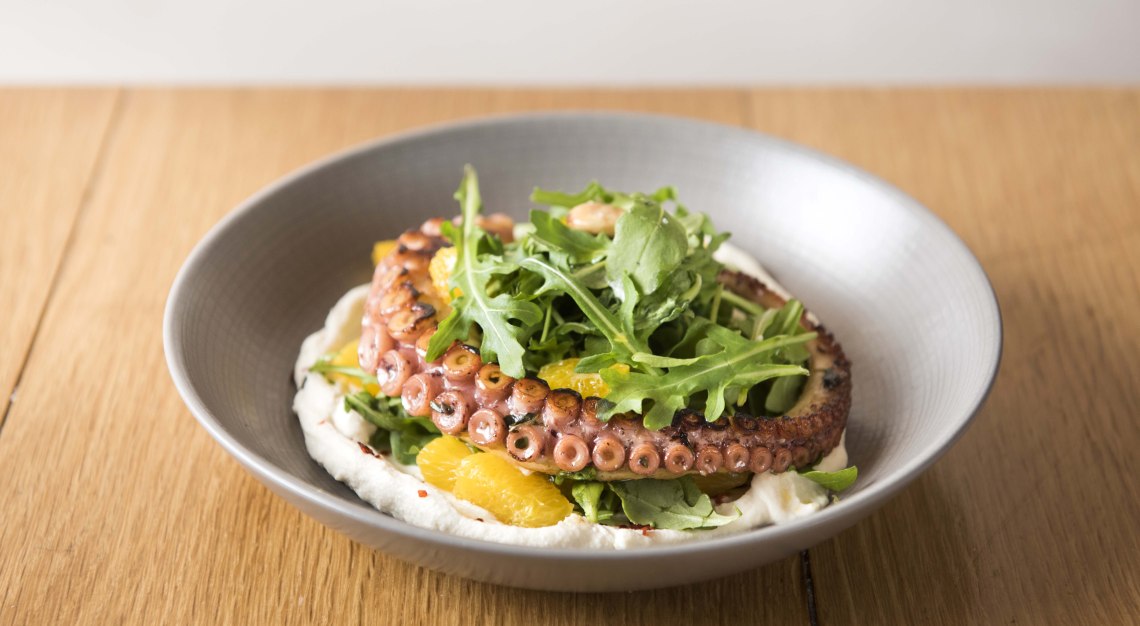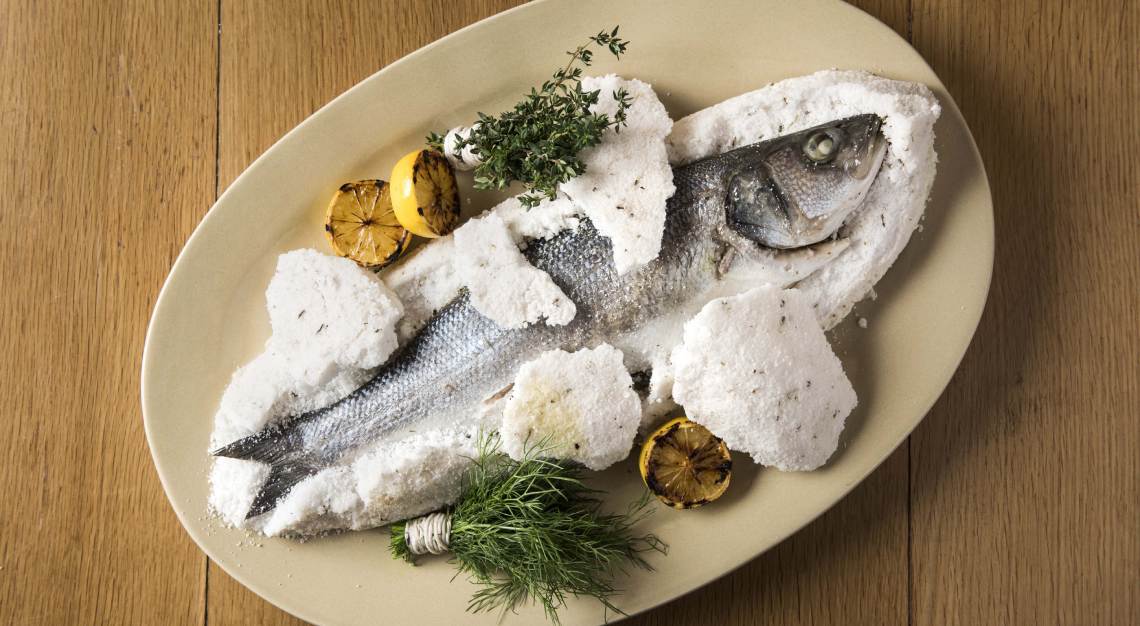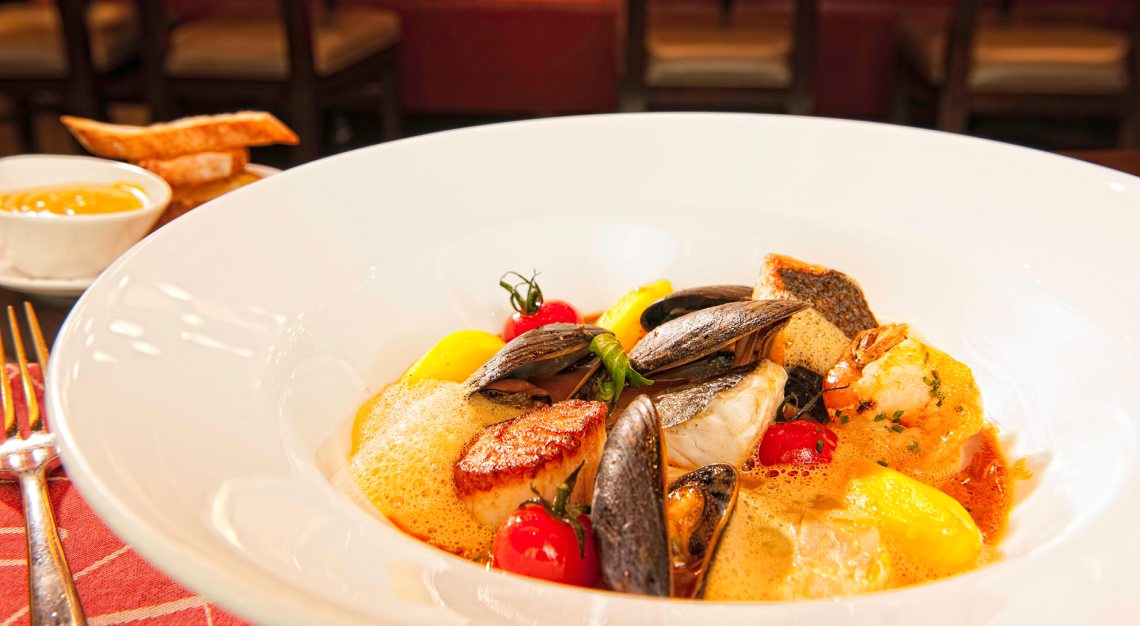 And what a spectacular feast is laid out before us, stretching from the sunny shores of Southern France, to Spain, Italy and Greece, then farther beyond to the coasts of Morocco, Turkey and Israel. For starters, have the quintessential Mediterranean Mezze and dip heartily into sun-dried tomato hummus, baba ghanoush – "the best in the city", according to Kinsella – and tzatziki. Also the Turkish Pide, filled with herb-spiced beef, roasted peppers and ricotta salata; or crispy, deep-fried Lebanese Spiced Lamb Fritters, stuffed with raisins, goat cheese and yoghurt.
Heirloom Tomato Gazpacho tastes of sheer delight, bursting with bright and radiant slices of watermelon and cucumber, and garnished with basil – each subsequent mouthful is as jubilantly refreshing as the next. Tuna Crudo – deftly sliced chunks of tuna, cucumber and celery, extravagantly dressed in rich olive oil and a dash of freshly squeezed Amalfi lemon – fares well, its flavours harmoniously well put together. It is, however, outdone by Octopus cooked à la plancha, drizzled with sherry vinegar and served deliciously with Marcona almonds and arugula. Branzino, a European bass first marinated in lemon and herbs, then encrusted with salt and baked whole, is moist, flaky and simply exceptional.
Adding to this sumptuous feast, you can also go for the Signature Bouillabaisse and Spicy Little Neck Clams; or, should your preference lie with land-based dishes, the spice-laden Moroccan Chicken Tagine and succulent Grilled Bone-In Wagyu Ribeye, both of which feeds two.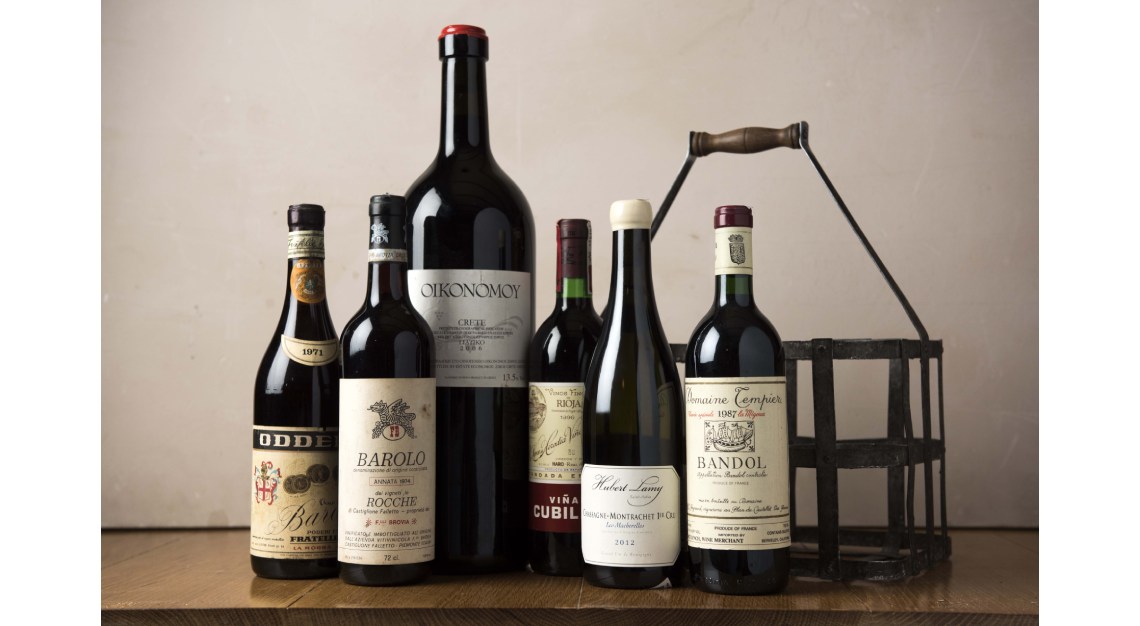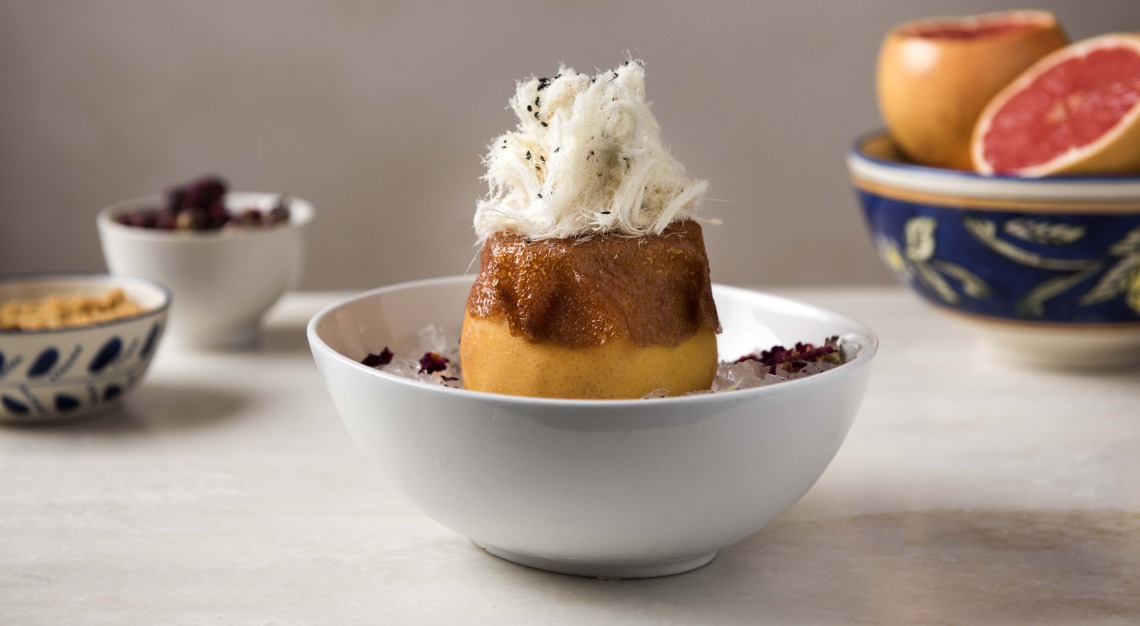 By this point, interruptions from Balthazar Pellissier, the bubbly and genial general manager, are to be expected and welcomed, as are his recommended cocktail and wine pairings. Perhaps a glass of Le Provençal, lavender honey-infused gin with Ver-Jus and Champagne spritz? Have one, two and then another of the fine selection of Mediterranean vintages, from French rosés and Italian reds, to more unique expressions hailing from Lebanon, Morocco and other localities.
To leave without dessert would be a heinous crime, so lovely a facsimile of Ghaya Oliveira's famed Grapefruit Givré does executive pastry chef Mandy Pan recreate. Crowned with spun-sesame halva atop a crust of brûléed orange sugar tuile, a hollowed-out frozen grapefruit holds a trove of grapefruit sorbet, sesame crumble and rose lokum. This alone should suffice as a solid and proper conclusion, for the Boulud Sud Mignardises – an assortment of quaint, petite macarons – are nauseatingly sweet, though compensated by a bitter Turkish coffee truffle.
It would be a crying shame were this to be db Bistro & Oyster Bar's first and last pop-up menu. But luck, it would seem, is on our side. To celebrate its 10th anniversary at Marina Bay Sands, the bistro's upcoming special tasting menu in November will be a reprise of its signature dishes and culinary highlights over the years.
Who knows? Perhaps Kinsella might up the ante, playfully treading – but not overstepping – the boundaries of extravagance next time around. Whatever the case may be, the food will be just as good, if not phenomenal – because the thing about the Beatles is, they never go out of style.
db Bistro & Oyster Bar's Boulud Sud pop-up menu is available for dinner daily (5.30 pm to 10.30 pm), from now till 31 October 2020. Reservations are required.
db Bistro & Oyster Bar
2 Bayfront Avenue
B1-48, Galleria Level
The Shoppes at Marina Bay Sands
Singapore 018956
Tel: +65 6688 8525