The latest revival of the Sweeney Todd slash fest at the Sands Theatre has made Andrew Leci feel distinctly uncomfortable, but not for the right reasons. Happening at Sands Theatre, Marina Bay Sands, until 8 December
Legendary film critic and Time magazine editor, Richard Corliss, once wrote of Stephen Sondheim that he "didn't write songs; he wrote scores," and that his melodies were "meant to challenge the ear, not to soothe it."
Welcome to the world of Sweeney Todd: The Demon Barber of Fleet Street. With complex lyrics and technically challenging music, the 'Musical Thriller' makes almost as many demands on audience members as it does on the performers. It's an uncomfortable show, not only for its bleak examination on the themes of injustice and vengeance, but also for rarely giving theatre goers anything to hum about.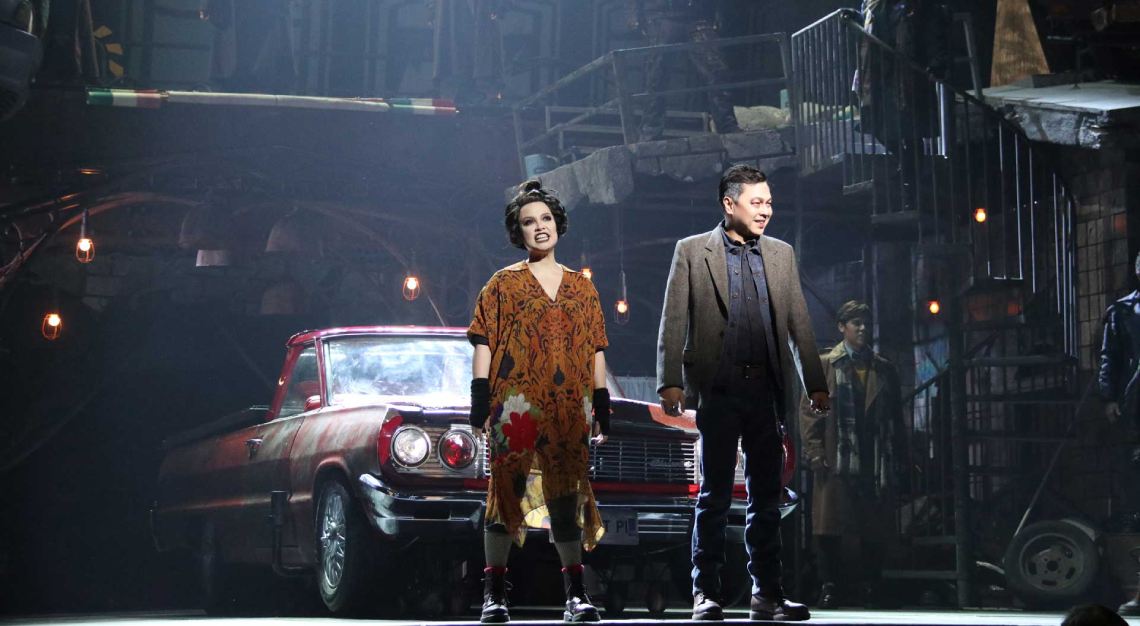 Sondheim wrote for his characters and the time in which the work took place, invariably infusing his musicals with the 'tortured soul' ethos that reflected (and still reflects, perhaps – the man's still alive, for heaven's sake) his own life. Despite this, the production designers in this iteration of the Tony Award-winning musical decided to update the setting, using clapped out automobiles in the setting, backdrop and stage furniture. Anachronisms can work – who didn't love Shakespeare's Romeo and Juliet set on a space station (or did I dream that?) – but in this case it's merely a design fault, and jars almost as much as the inconsistency in the performers' accents and, let's not beat around the bush, acting prowess.
While it seems niggardly to split hairs on interpretation and artistic freedom – everyone has the right to express themselves within the context of a piece – there can be no excuses for not fully developing characters, even in a musical, and Jett Pangan's Sweeney Todd, to my mind, missed the mark by a long chalk.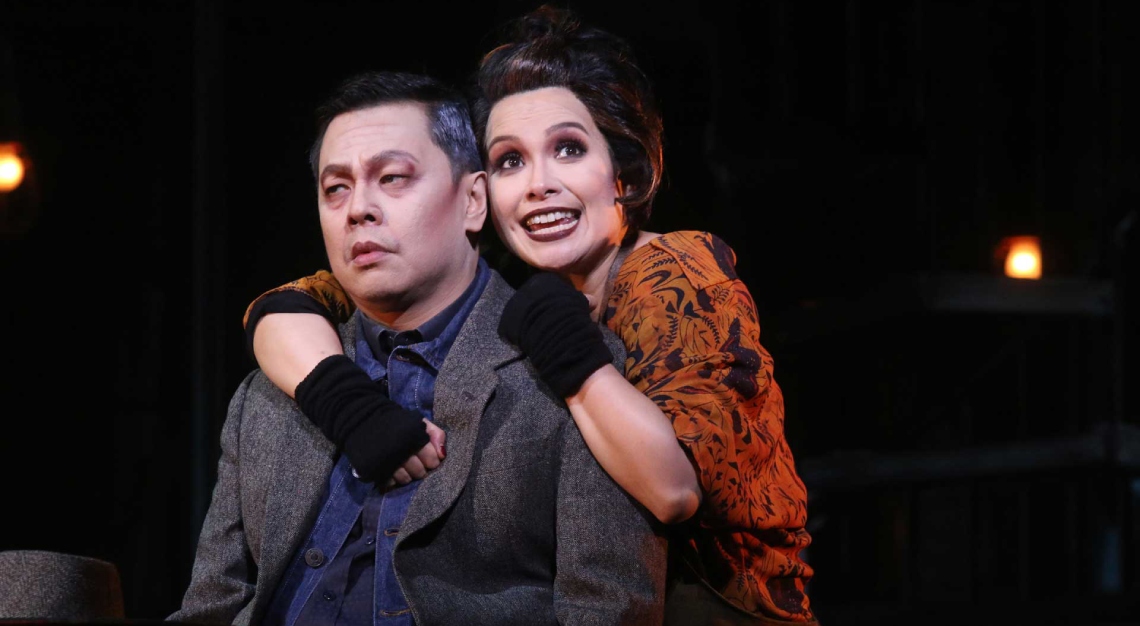 Simmering rage and the need for lustful vengeance don't have to be explosive, but they do need to be conveyed and expressed, somehow. Pangan's exhausted acceptance of his fate – and that he ultimately dishes out to others with nary a twitch of remorse – comes with an almost quiet resignation that undermines the tormented character he must surely have been. Plot spoiler alert: when he mistakenly kills his beloved wife – assumed to be already dead – I didn't know whether to laugh or laugh. It was just so, "oh well, these things happen." There was nothing of the complex psychological profiles and nuanced relationships that Sondheim's lyrics both dictate and demand.
While Pangan's Todd was disappointing, Lea Salonga's Mrs Lovett was a tour de force and a near consummate performance that, unfortunately, no other member of the cast could live with. This production has Sweeney Todd's quirky, lascivious sidekick not only taking 'centre stage' at every conceivable opportunity, but also driving the action – an interpretation that doesn't quite work because it undercuts Todd's raison d'être at a point in the story that's been 15 years in the making. Ms Salonga doesn't seem to mind the prominence she has been afforded, however, and sets about very nearly saving the show.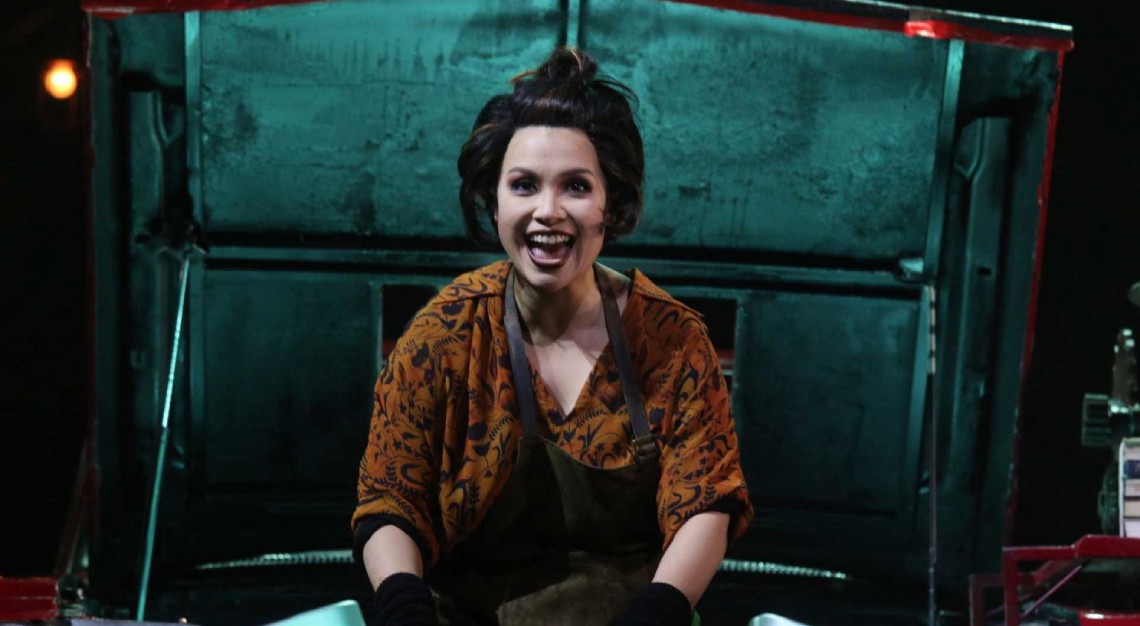 Salonga understood the musicality in a way that most of the other performers did not. And she did it effortlessly, which meant she had both time and space to actually act and develop her sense of comic timing – who knew she had that in her locker? – also in a way that the others could not. While Pangan was working not very hard to convince, and only succeeding in the former, Salonga breezed through delightfully, invariably on point, teasing the often-difficult musical phrasing and lyrics and putting in a performance that, unfortunately, blew away almost everyone else on the stage.
The phrase 'stealing the show' is a common one in theatre, and Lea Salonga is guilty of grand larceny. While the production has more flaws than a multi-storey carpark, and is uncomfortable for all the wrong reasons, Salonga's performance is worth the admission money alone.