Executive chef and co-owner of Restaurant Jag, Jeremy Gillon, brings everything to the table in launching the Michelin-starred restaurant's exquisite Autumn Menu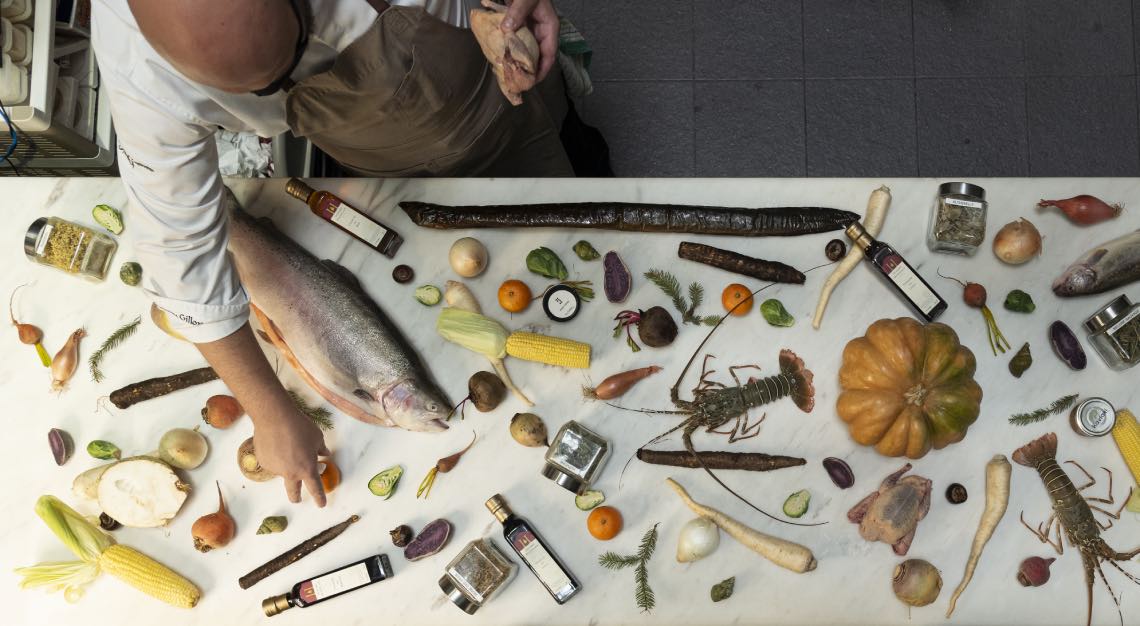 One of the nice things about being an occasional food writer is that when you pen a piece about a restaurant – one that may not have been utterly fulsome in its commendations – you subsequently get a chance to revisit and assess the work in progress. 
As with every eating establishment in Singapore, Restaurant Jag has had to endure the circuit breaker, during which it found itself in a position in which it could not fulfil its destiny. That being: providing extraordinary food, with impeccable provenance to a discerning clientele for whom such things are important. 
I feel sure that many more chefs in the country have been frustrated, and spent more time licking their wounds and uttering "woe is me" under their breaths when they couldn't strut their stuff than is entirely appropriate. Whereas, I am also sure, others have been taking the opportunity to have a think, hone their craft, learn, experiment, and look forward to a time when business would be back to normal. Jeremy Gillon and the Jag team, I think, are of the latter persuasion, embracing the challenges that the lockdown threw at them, and coming out the other side, fitter, stimulated, determined, and more adept at creating the establishment's slightly idiosyncratic take on modern cuisine.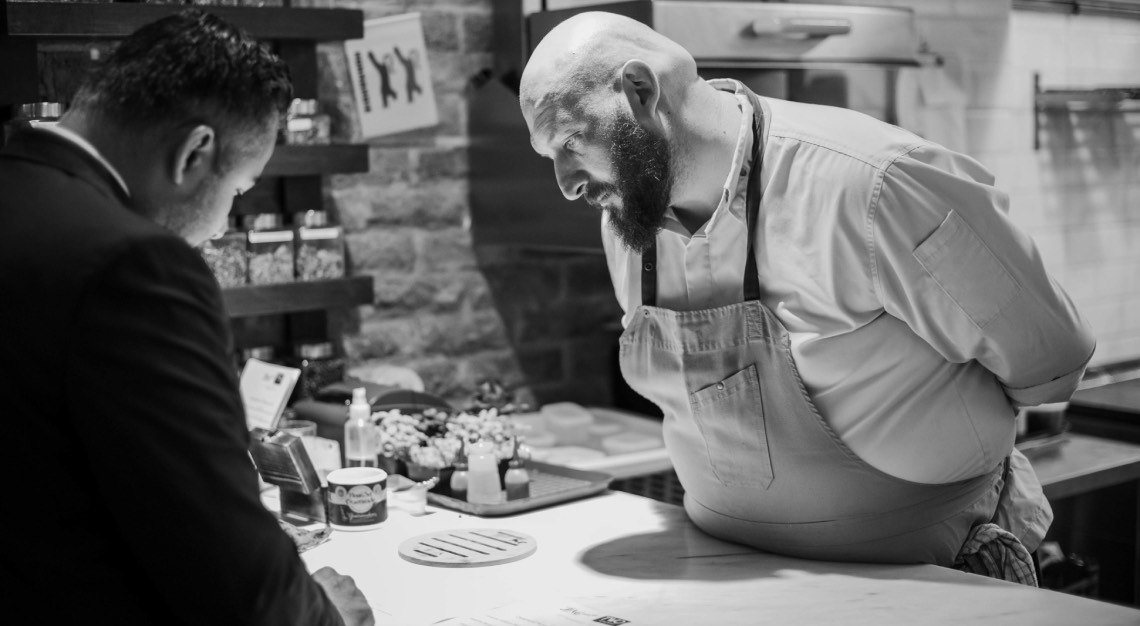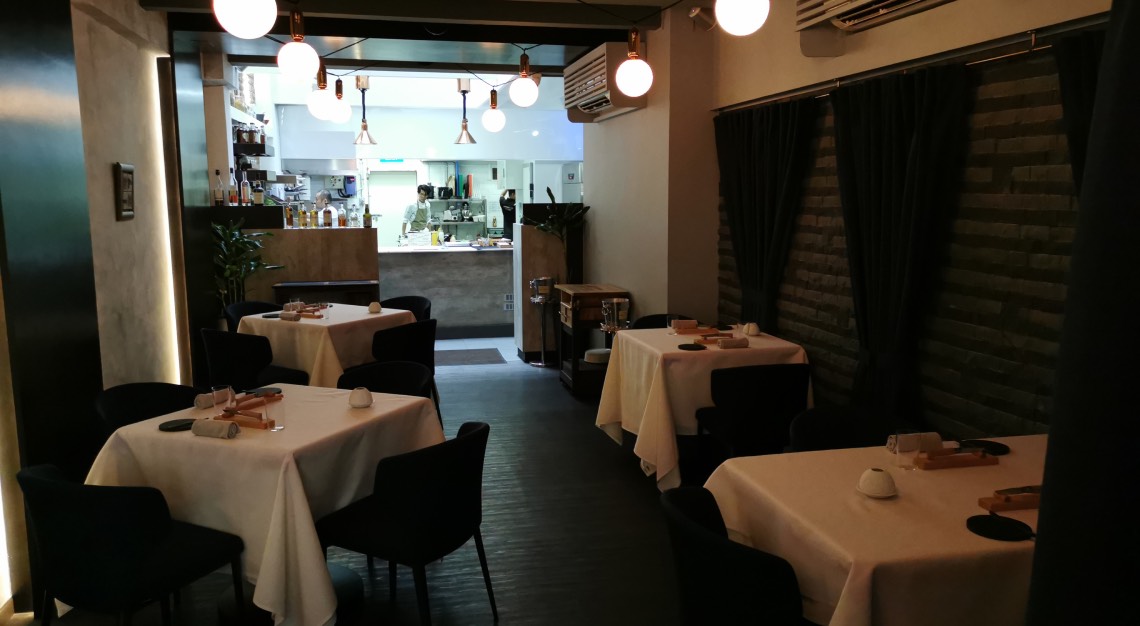 It's no secret that Jag takes seasonality very seriously. Although brought up in Normandy, France, chef Gillon draws much of his culinary inspiration from the Savoie region, being passionate about the area's wild-foraged herbs. He constructs dishes slightly differently to most chefs; identifying a vegetable that he wants to use, before contemplating the complementary herbs, and only then decides on a suitable protein to accompany everything else. It's fascinating, and it creates stunning ensembles that both tantalise and mystify, using ingredients that most of us haven't even heard of.
Verveine, achilée, sapin, melisse, serpolet, carvi, reine des pres… anyone? These are mostly alpine herbs that come to the fore in the European autumn, and so attuned is Gillon to the surroundings he knows so well and loves so much, that they form the basis of some truly extraordinary dishes being served up on the restaurant's latest degustation menu. As summer bleeds into autumn and the natural world prepares itself for winter, a range of herbs and vegetables makes itself available, and Gillon knows exactly what to do with all of them. To wit, assemble them in a range of beautifully composed and perfectly executed dishes that will both confound and delight taste buds.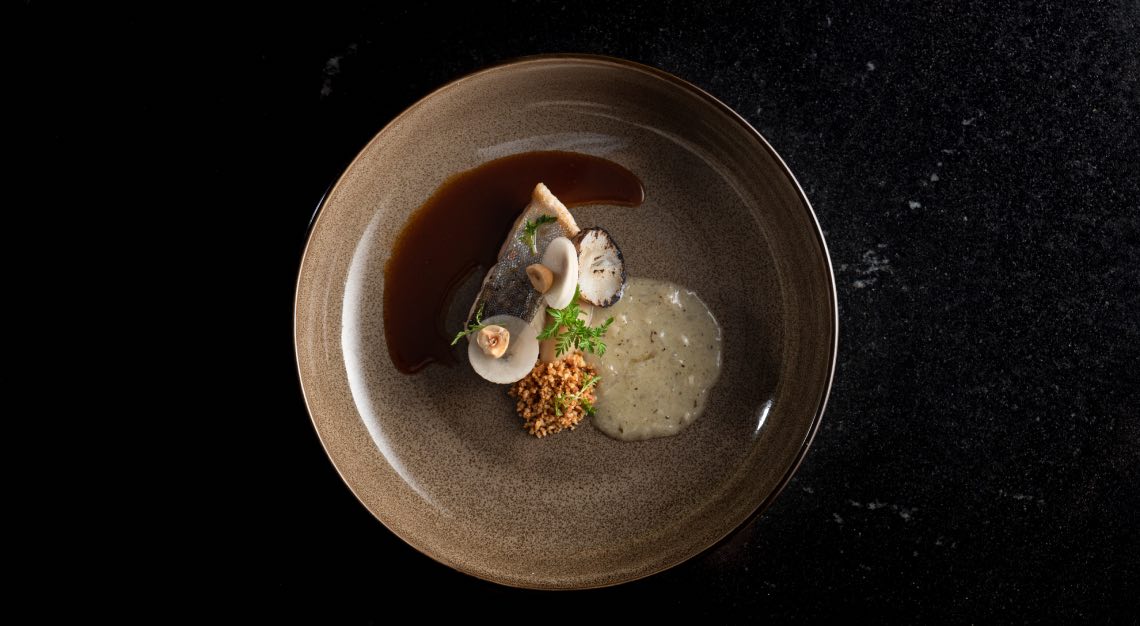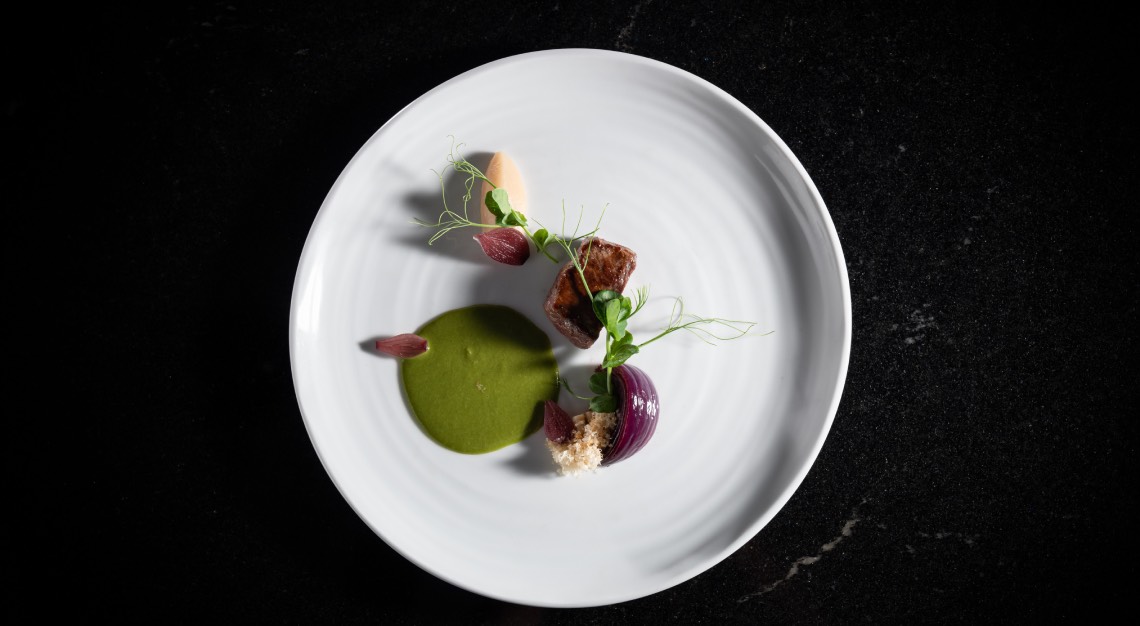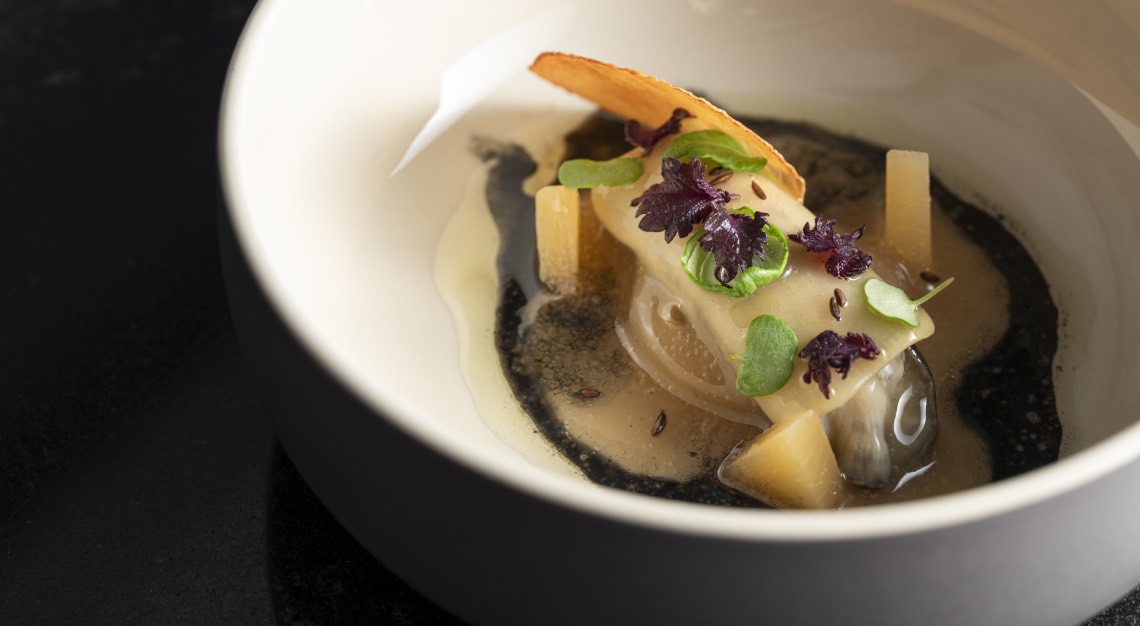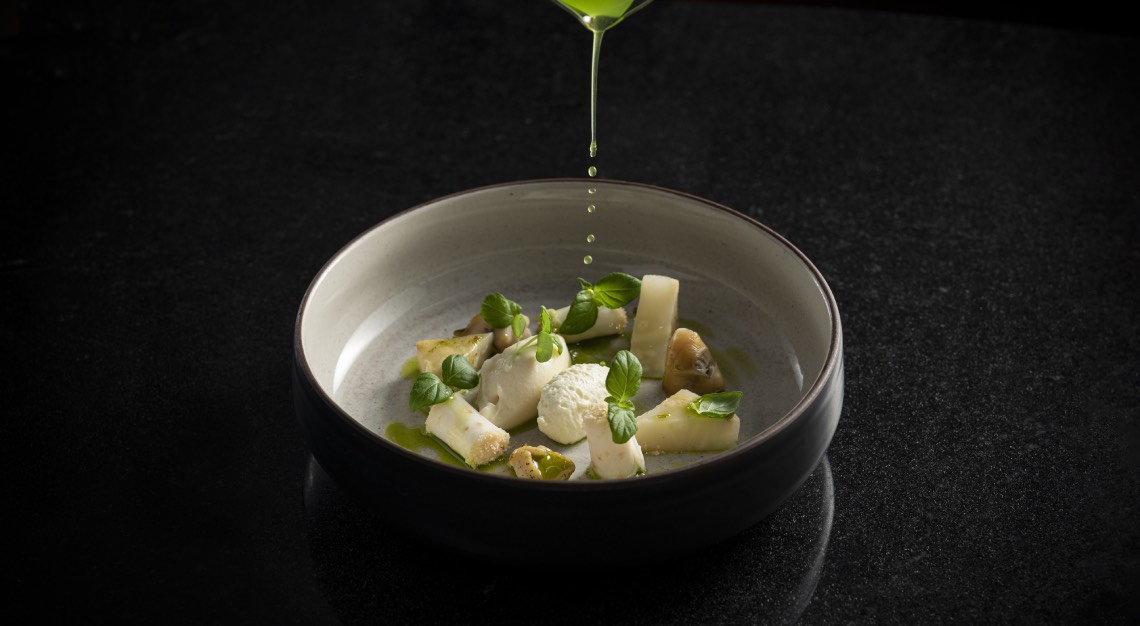 There's little point in going through the menu items other than to pick out some of the stars – Arctic Char, Jerusalem Artichoke, Agastache (sensational, outstanding fish jus); Ocean Trout, Brussels Sprouts, Verveine (delightful – and this is coming from someone who swore as a child that he would never voluntarily eat another sprout until the day he died); Oyster, Rutabaga, Carvi (superb, sumptuous) and a venison dish with serpolet and parsley root that was cooked to perfection and positively dangerous in its moreishness (not a new word, but still bugs the hell out of my spellchecker) even at a late stage in the degustation experience.
The thing about Gillon is that he absolutely knows what's what, and is developing (he doesn't have any grey hair yet, so still has a way to go) his gastronomical theories and compositional techniques. I know for a fact that he is slightly obsessed with the process of experimentation, and this is commendable – not to say essential for a good cook. His Autumn Menu, which is quirky, idiosyncratic and like no other that a diner will be able to experience in Singapore, reflects this trait. It's just so well thought out.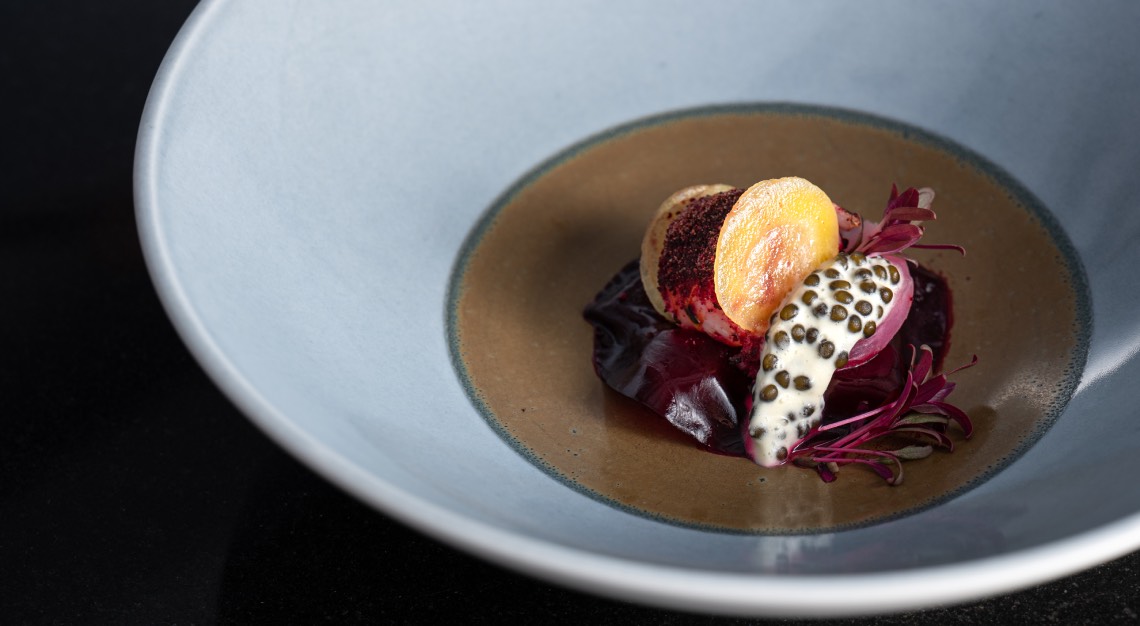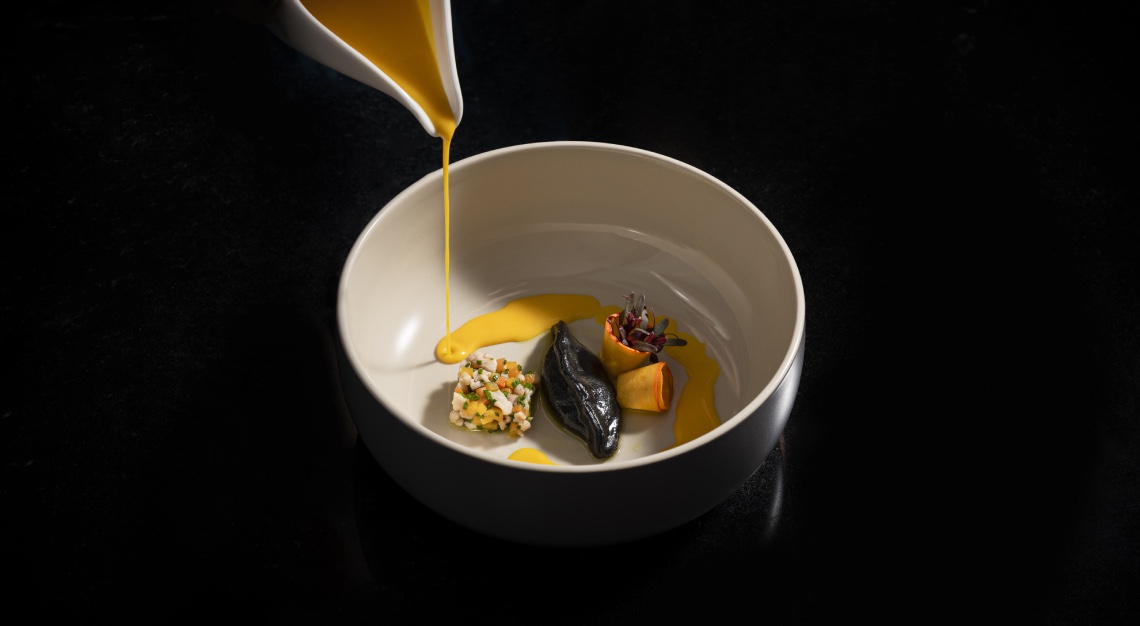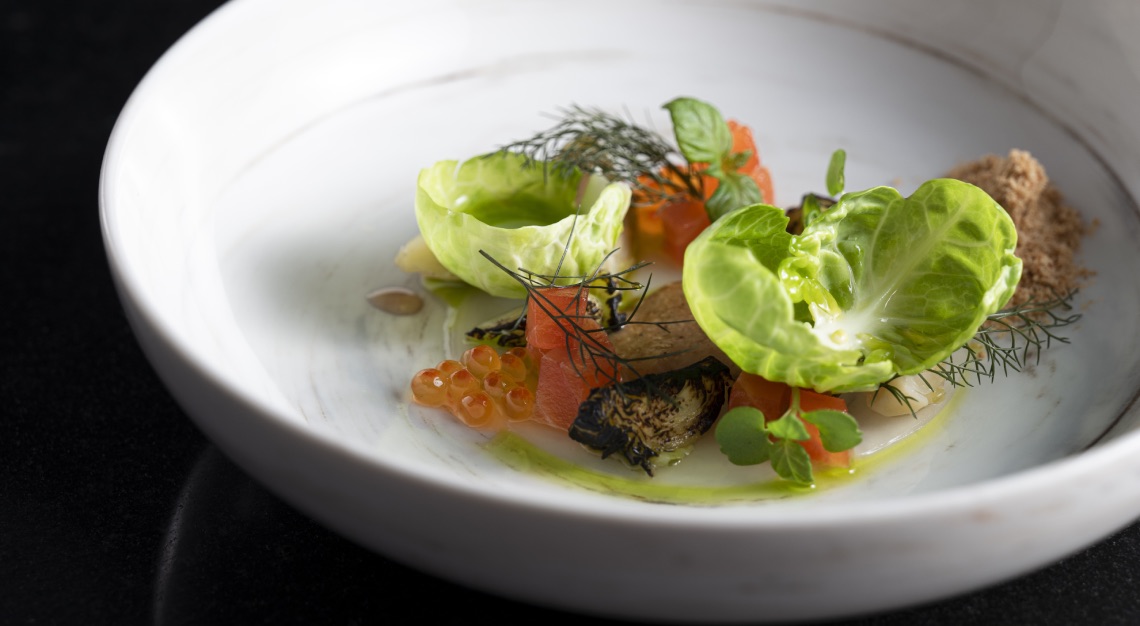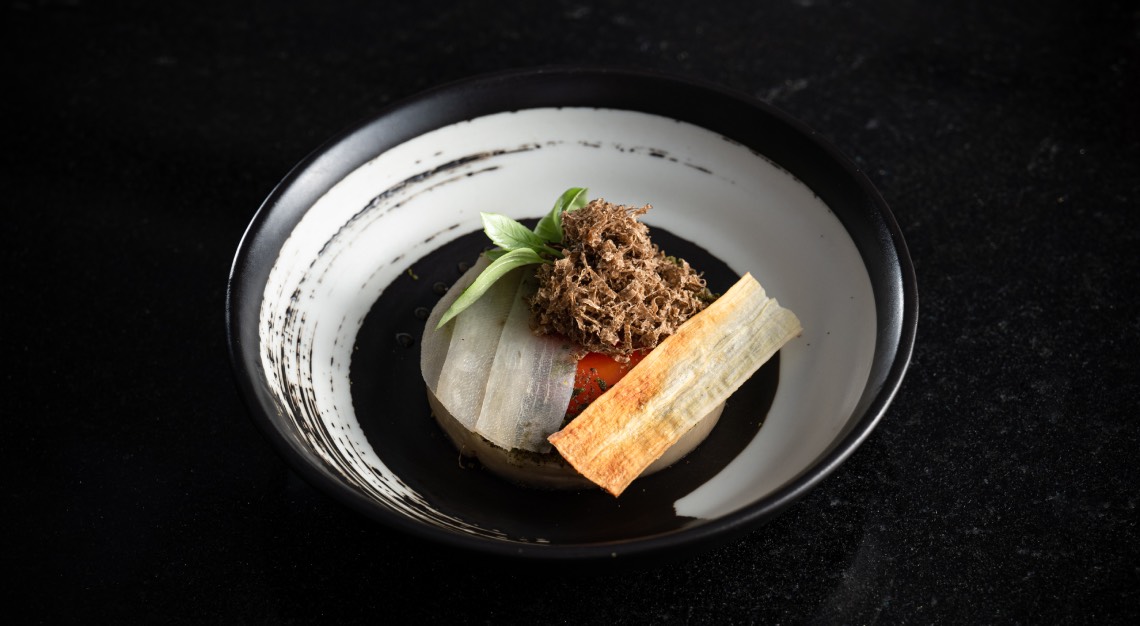 In the 10 months or so from when I first sampled chef Gillon's cuisine (in between times we did a hugely enjoyable webinar together as part of the At Home With Robb series – a story in itself) there has been a noticeable progression in the man's techniques and his understanding of the ingredients with which he likes to cook, not to mention the alchemical processes that he is capable of delivering to the plate. His adeptness at combining ingredients could become the stuff of legends, and the originality of his creations is setting benchmarks. 
Dining at Jag is always a bold culinary adventure, and one that can challenge both taste buds and perceptions/pre-conceived notions. The experience, however, will be as rewarding as the time the chef and his team spent honing their skills and producing food that defies norms, and makes us think about 'fine dining' in a different way. 
The dishes are often complex, and occasionally a tad frou-frou, but they are almost invariably, simply delicious. This is down to the chef's understanding of ingredients and his apparent 'reverse engineering' of the dishes that he serves up. It's a privilege to bear witness to the development of a good chef and experience the culinary evolution. Jag's Autumn Menu is a terrific opus. 
I loved it. And so will you. If you can get a table. 
Restaurant Jag's Autumn Dinner is available from Tuesday to Saturday (6pm to 10.30pm) at S$223 a person. Add S$198 for a wine pairing and/or S$198 for a 30g tin of Beluga caviar.
Restaurant Jag
76 Duxton Road
Singapore 089535
Tel: +65 3138 8477
(The restaurant welcomes children 10 years old and above only)
Editor's note: For more food and drink reviews, click here