Working smart includes nailing your workout routine, even when you're home. These high-tech gym equipment take up much less space while ensuring you get the full workout you need
Editor's note: This story was first published on 13 May, 2020 and has since been updated.
With COVID-19 still in the air, going out is out of the question. Avid gym goers are making do with virtual workout sessions, many of which require no equipment, and just enough space for a yoga mat. But for many others, using one's bodyweight may not be enough. Thus, we have scouted the best high-tech gym equipment that will not just occupy minimal space, but also come with its own set of ever-changing workouts to suit your needs. Plus, these machines are incredibly sleek, so they won't stick out like a sore thumb in your stylish abode. Say hello to your new personal trainers.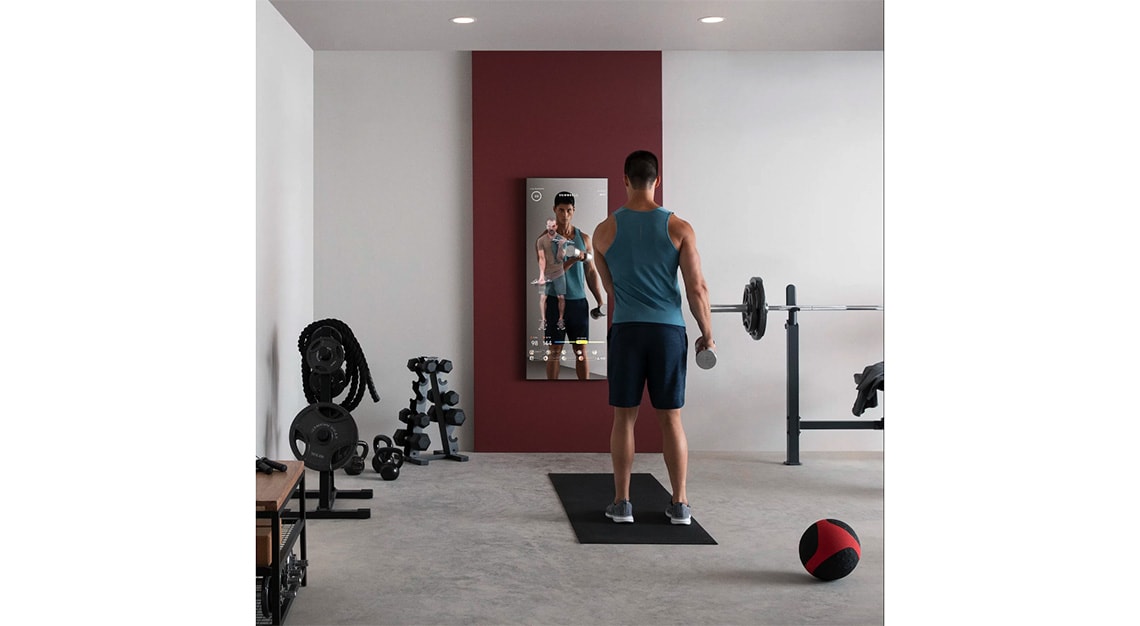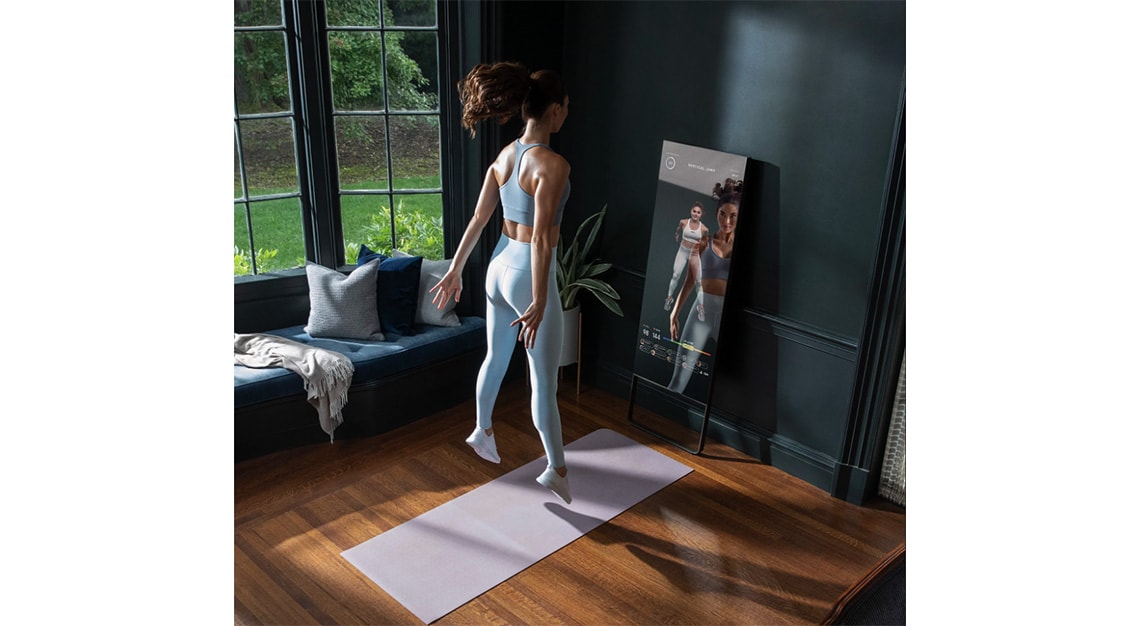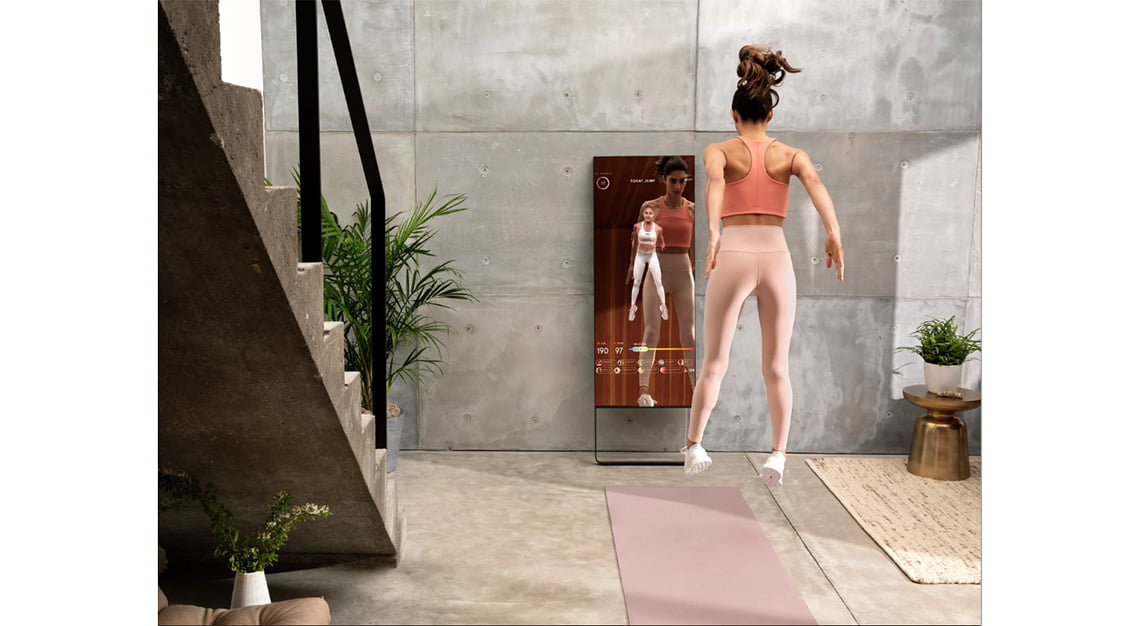 Mirror
Price: US$1,495 (S$2,117), and US$39 (S$55) for a digital monthly membership with full access to classes.
What it does: This full-length designer mirror does more than just show your reflection. When turned on, Mirror broadcasts live and on-demand workout classes, from boxing and pilates to yoga and strength training. You can personalise your workouts based on your fitness level, measure your performance, and even opt for one-on-one personal training, where you'll receive live feedback from your coach via the front-facing camera.
Space required: 132 x 56 x 4cm.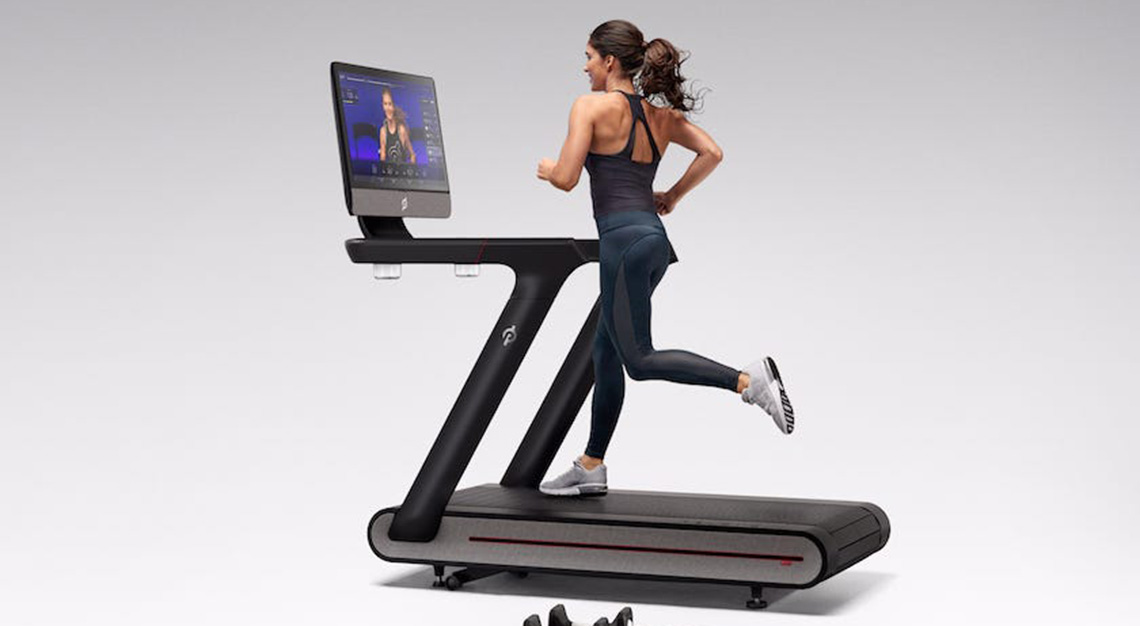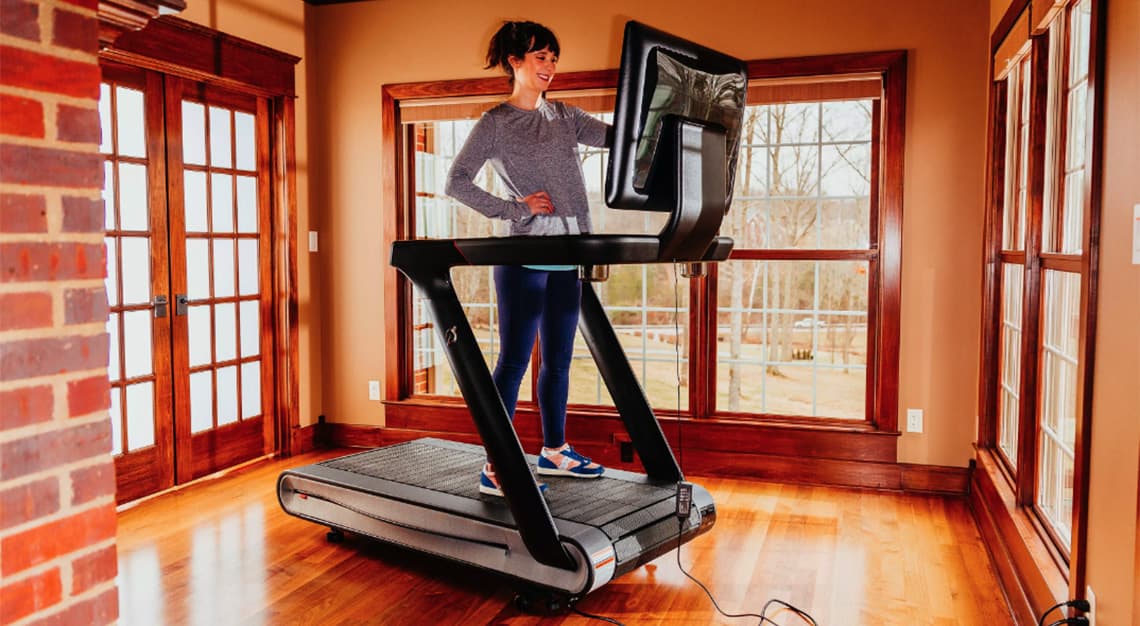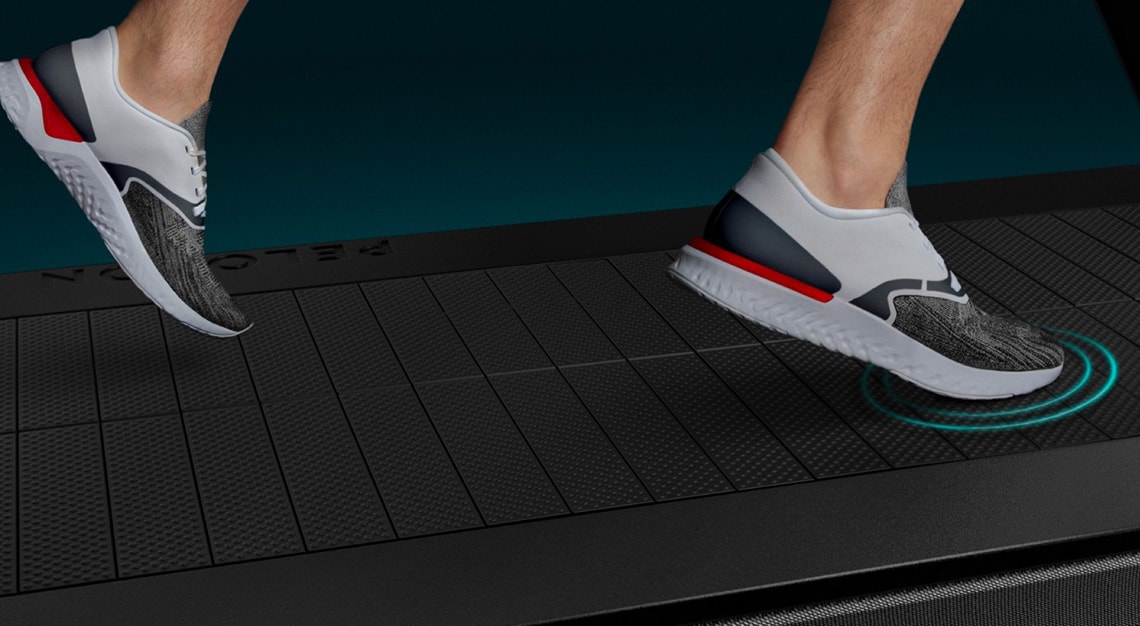 Peloton Tread
Price: From US$4,295 (S$6,083), and US$39 (S$55) for a digital monthly all-access membership.
What it does: As with the Peloton Bike – the cultish, WiFi-enabled stationary two-wheeler that has spun its way to unicorn status and an IPO – Peloton Tread comes with a 32-inch HD touchscreen display for streaming live and prerecorded workouts. Speed and incline are controlled by the knobs at either side of the machine, so you don't have to struggle with hitting the right buttons on the screen mid-run. The low-impact, shock-absorbing belt, made up of individual rubberised slats, is said to give you a smoother, bouncier spring in your step.
Space required: 2.2 x 1.2  x 2.2m. Peloton advises to have at least 2.3m of clearance directly behind the machine and 60cm in front and on both sides.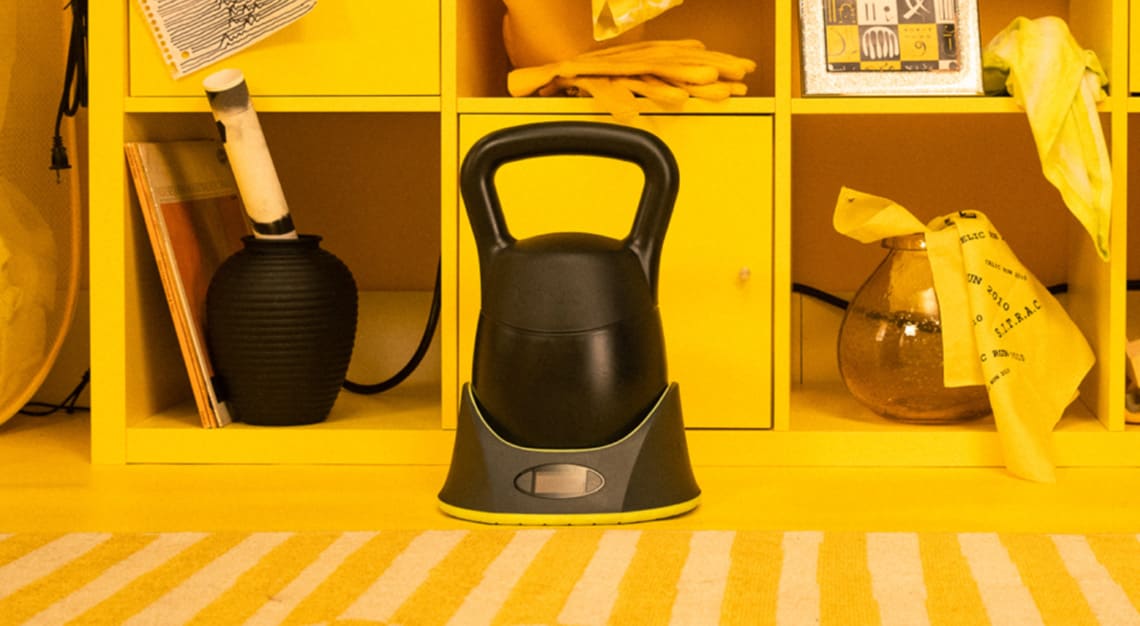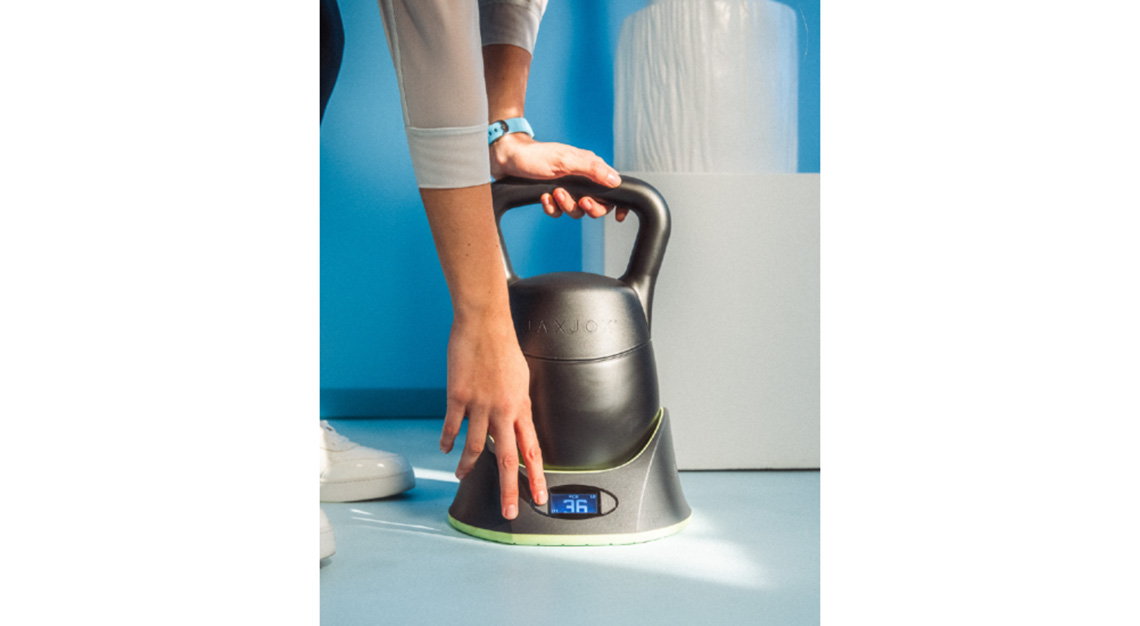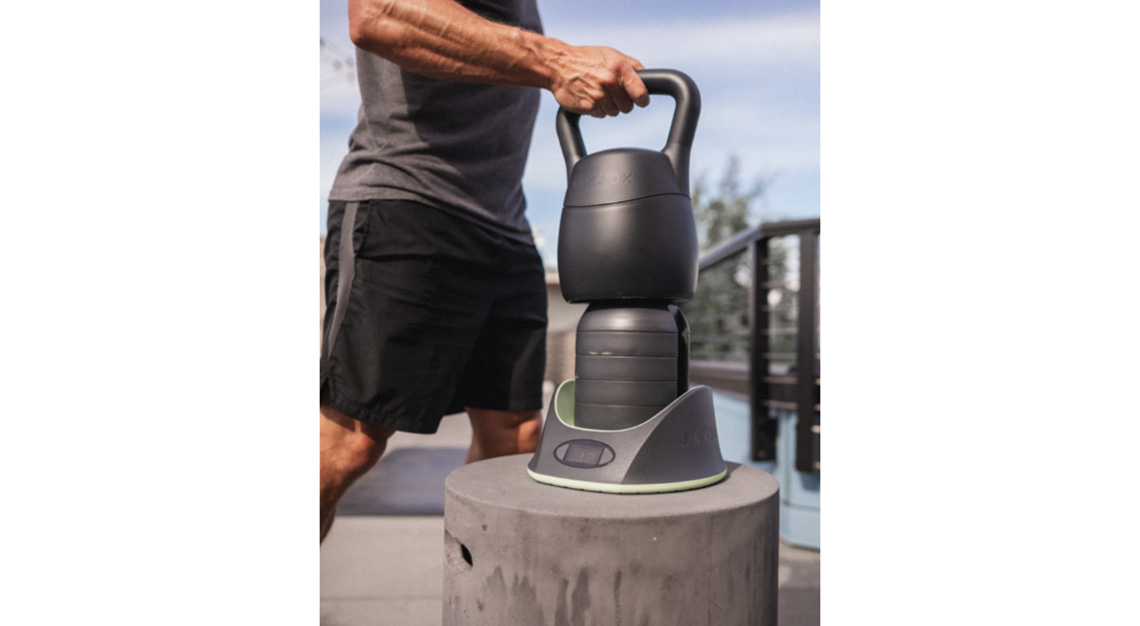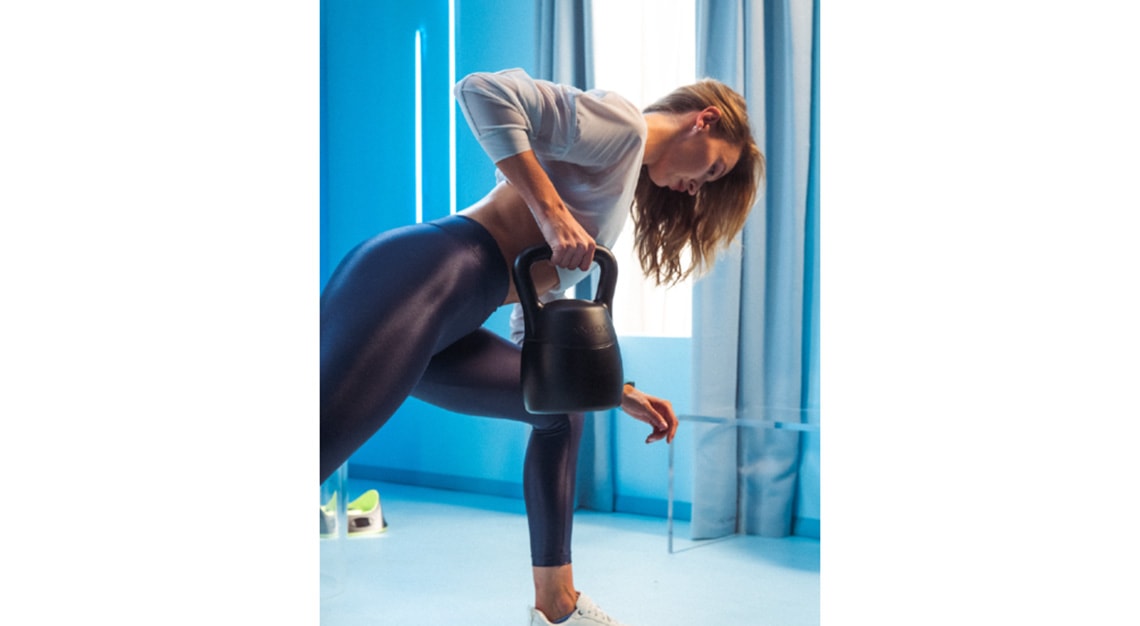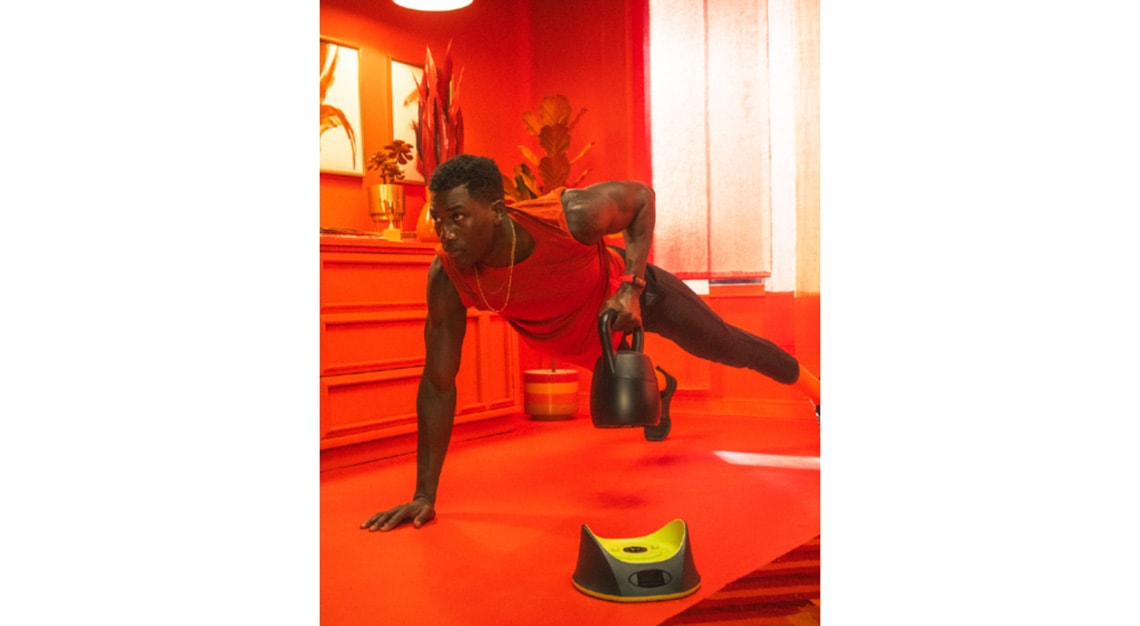 KettlebellConnect
Price: US$229 (S$324).
What it does: KettlebellConnect by JaxJox is an adjustable kettlebell that lets you add or drop weights with a touch of a button, effectively replacing (nearly) all your kettlebells at home. There are six different weight options, ranging from five to 19kg. Its built-in sensors will track your movements and upload it on the app – which also provides suggested workouts – for performance tracking. As the KettlebellConnect can work for 14 hours on a single charge, we don't see you charging it more than twice a month.
Space required: 43 x 43 x 65cm.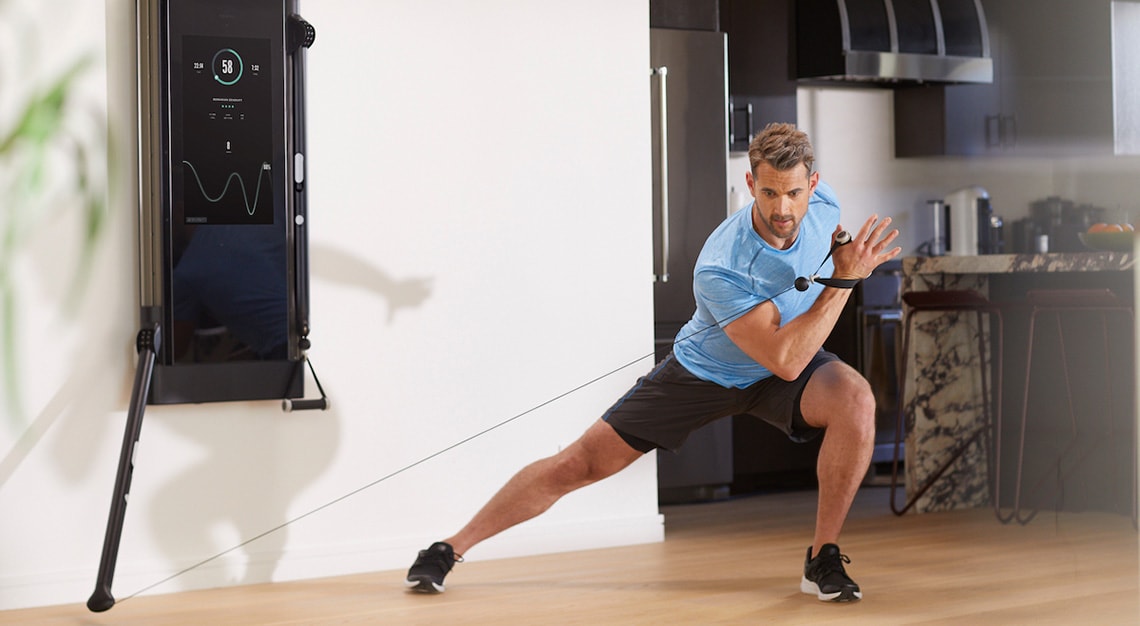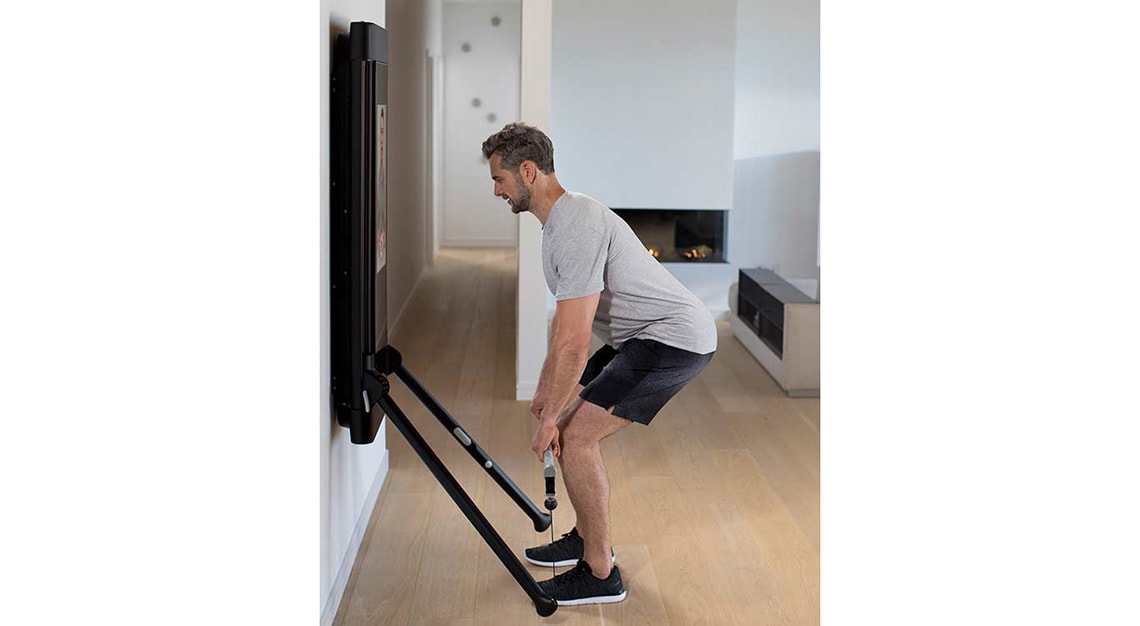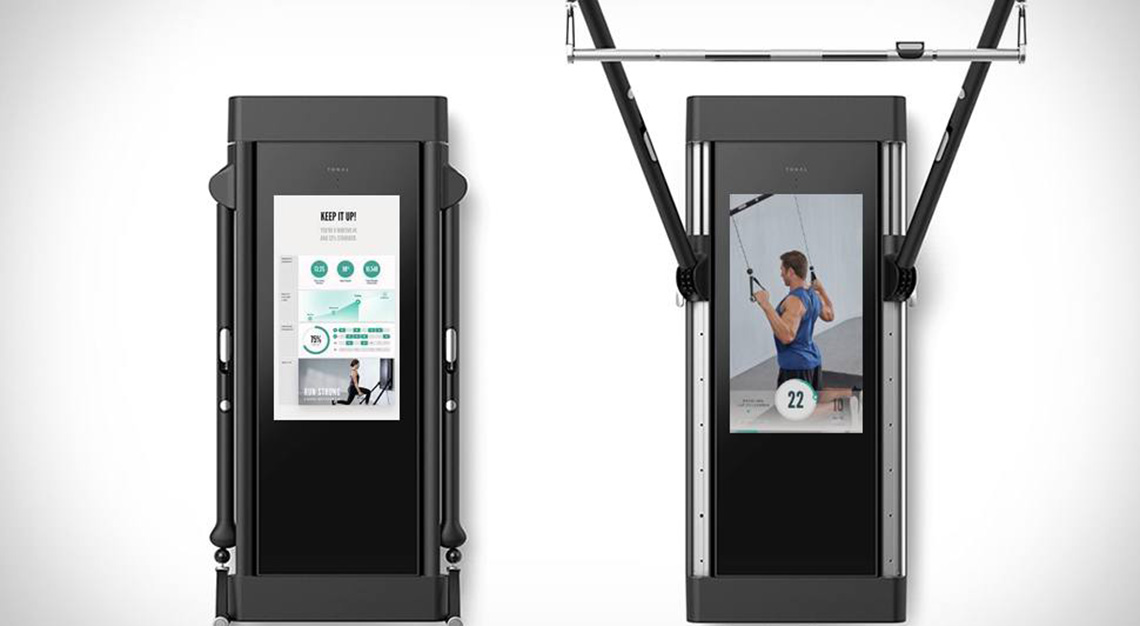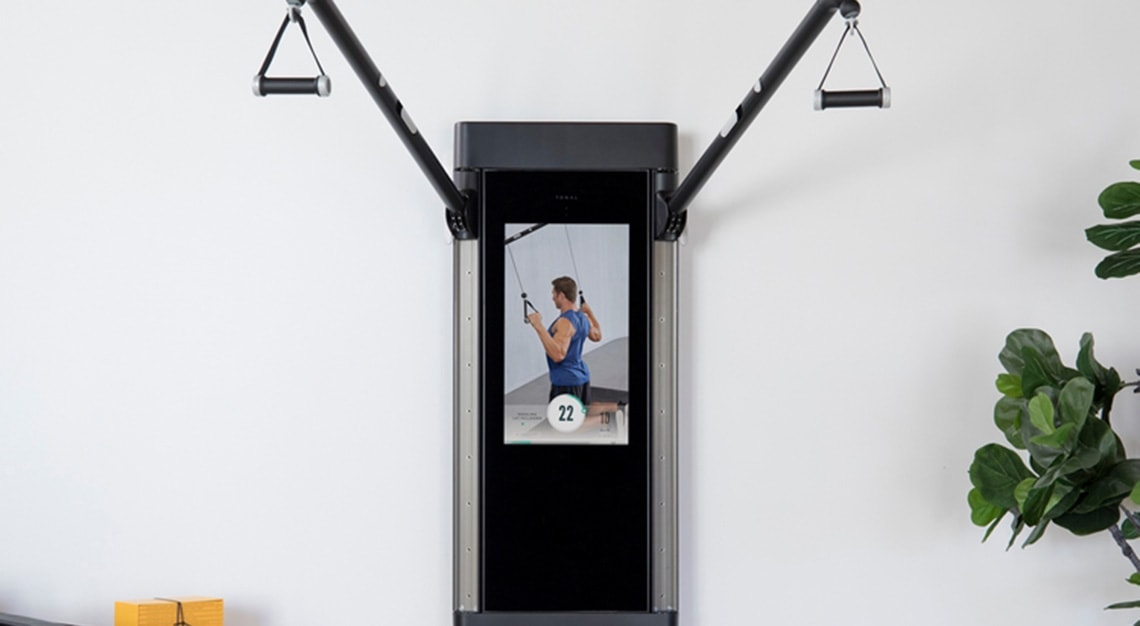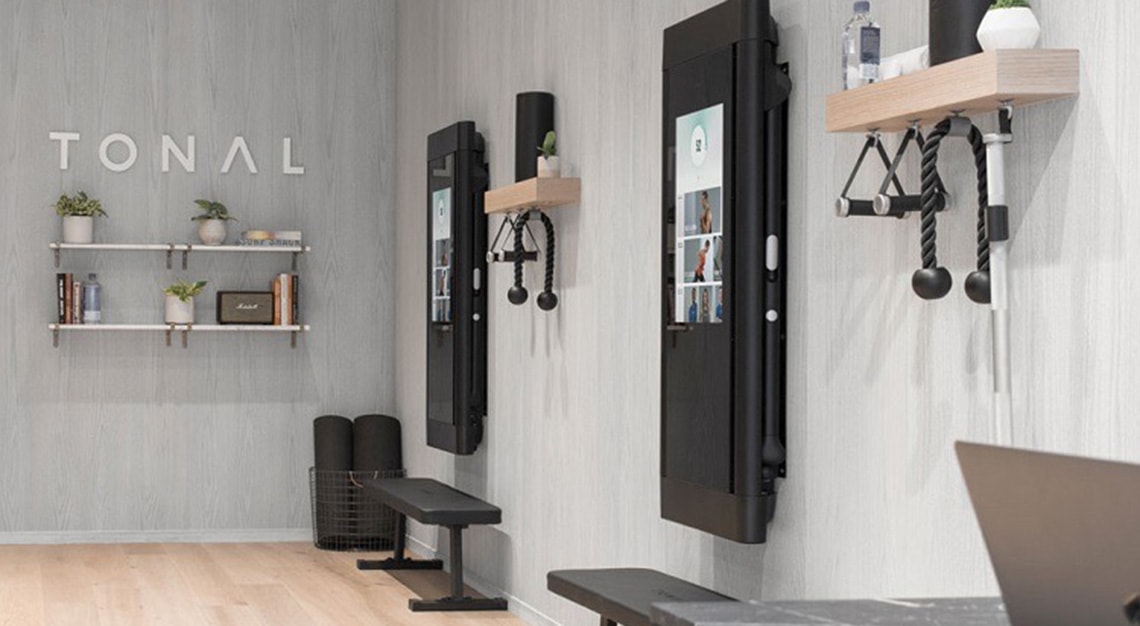 Tonal
Price: US$2,995 (S$4,242), and US$49 (S$69) for a digital monthly membership. Accessories, such as the bar, bench and handles are priced separately.
What it does: Tonal is an AI-powered strength-training system. Made of a vertical screen with built-in adjustable arms, it allows you to do hundreds of resistance exercises with trainers on the screen. It offers up to 90kg of digital weight, and the company's Coach A.I. tech scans your body as you move, correcting posture and reducing the weights – like your trainer would at the gym – if it feels that you're struggling or your form is off.
Space required: 2 x 2m of wall and floor space.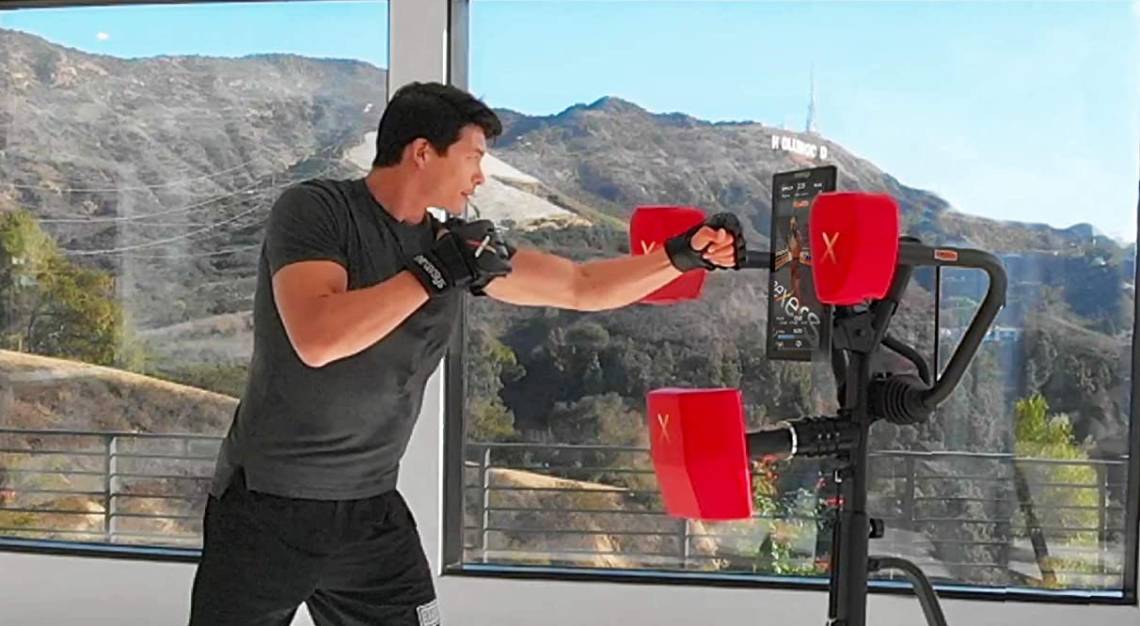 N3 Elite
Price: US$2,295 (S$3,250). Comes with complimentary training content.
What it does: If boxing is your thing, you'll find a gym buddy in this personal trainer. N3 Elite comes fitted with three strike pads surrounding a touchscreen table – which displays the workouts – for you to jab, cross and hook. Uppercut pads are, unfortunately, not available just yet. That said, the height of the strike pads can be adjusted, allowing for ease of use. Like traditional boxing, each round lasts for three minutes, and you'll be able to track your power and accuracy with each strike. While it definitely won't beat real sparring sessions, you can test your skills out during digital sparring sessions with the Avatar.
Space required: 1 x 1 x 1.5m, and at least, and at least 1.2 x 1.2m of floor space to shuffle around during the workout.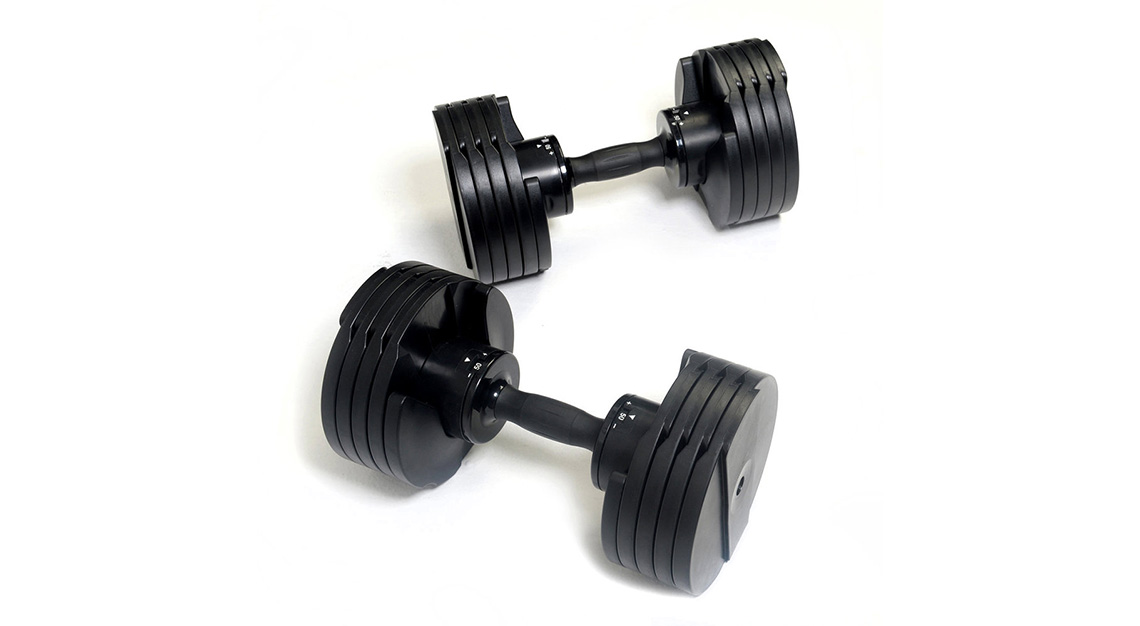 Adjustable Dumbbell Set
Price: US$329.99 (S$469).
What it does: Like JaxJox's digital kettlebell, the Adjustable Dumbbell Set by Core Fitness is adjustable, starting from 2.2kg and maxing out at 22kg. Simply twist the handle to snap the weights on and off. The set includes two dumbbells, two cradles, and a simple, low-tech exercise guide.
Space required: 36 x 20 x 19cm.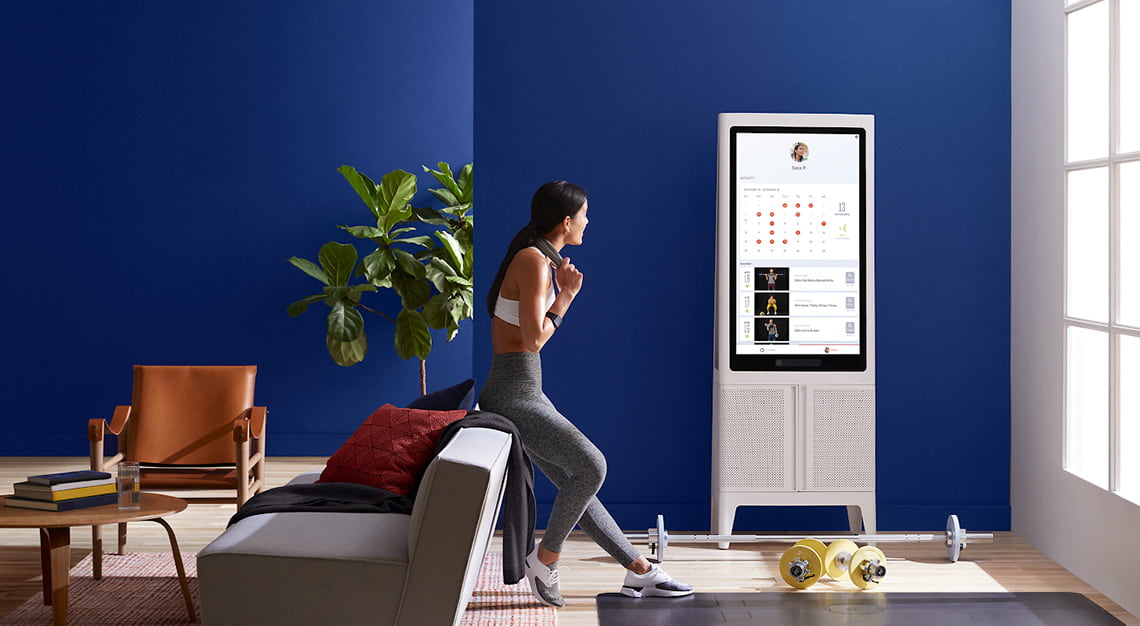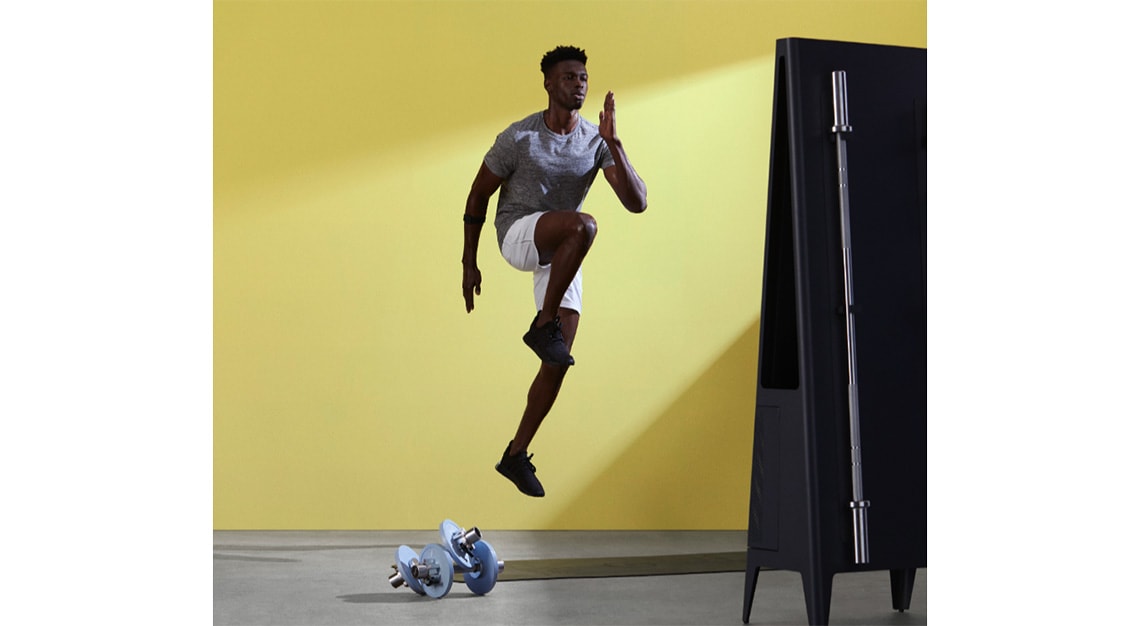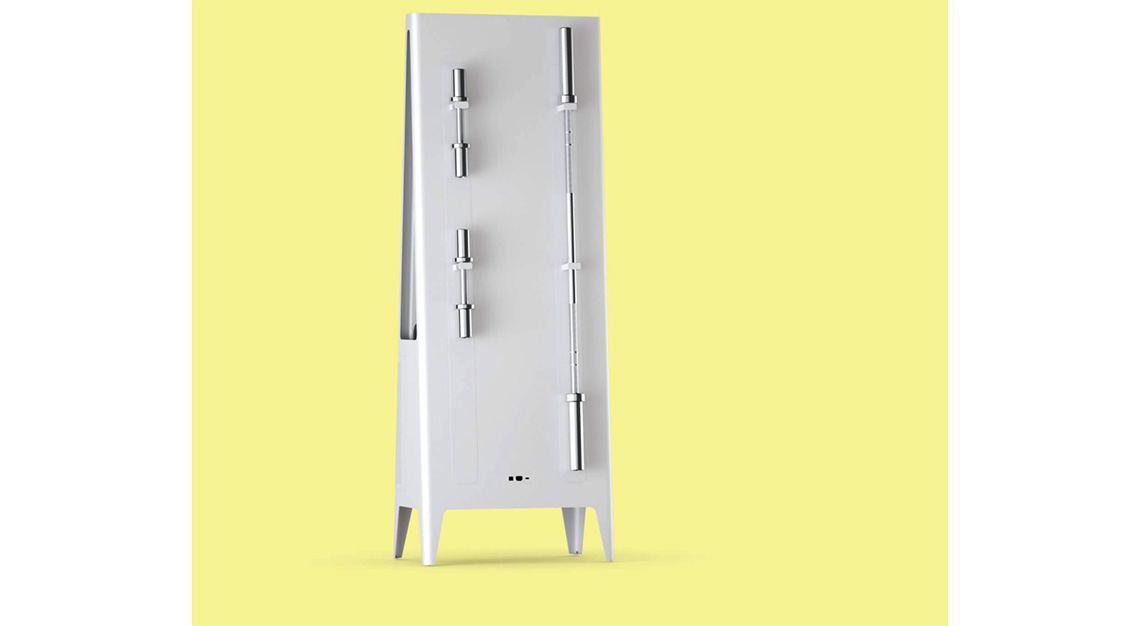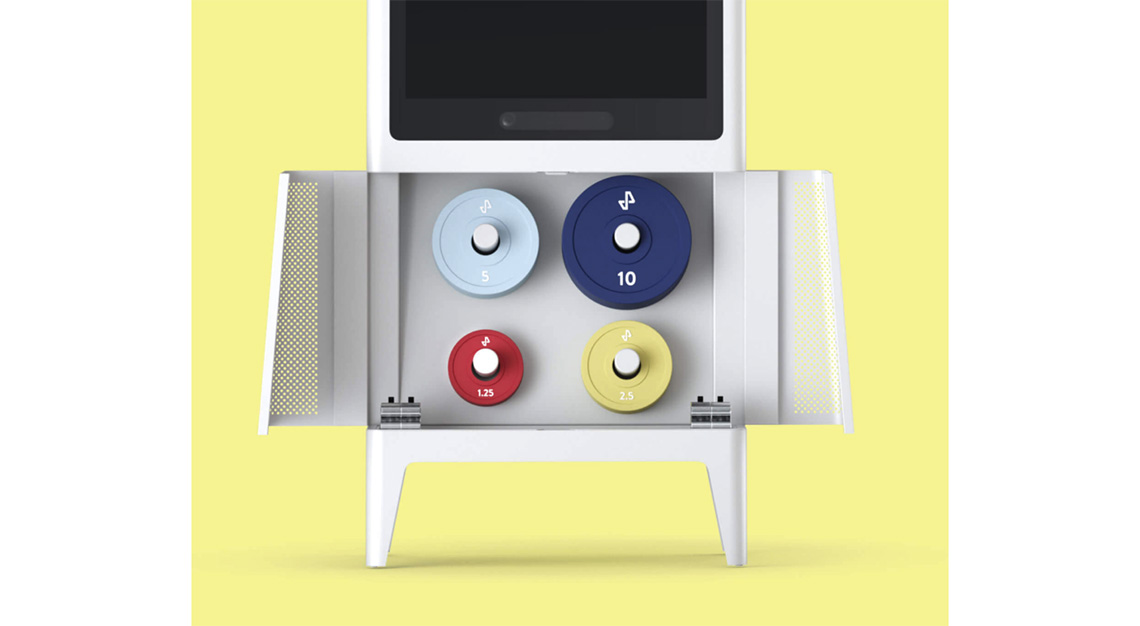 Tempo
Price: US$1,995 (S$2,825), and US$39 (S$55) a month for access to unlimited Tempo classes.
What it does: This is similar to Tonal, since both are AI-powered. But while Tonal excels in strength and resistance training, Tempo specialises in weightlifting. The machine comes with competition-grade barbells and dumbbells, a mat, heart-rate monitor and foam roller, all of which can be stacked together neatly when not in use. Its built-in 3D light-pulse sensors track your movements and correct your form while recommending weights and counting your reps. During live classes, Tempo's coaches are also able to correct your movements in real time.
Space required: 15 x 67 x 42cm.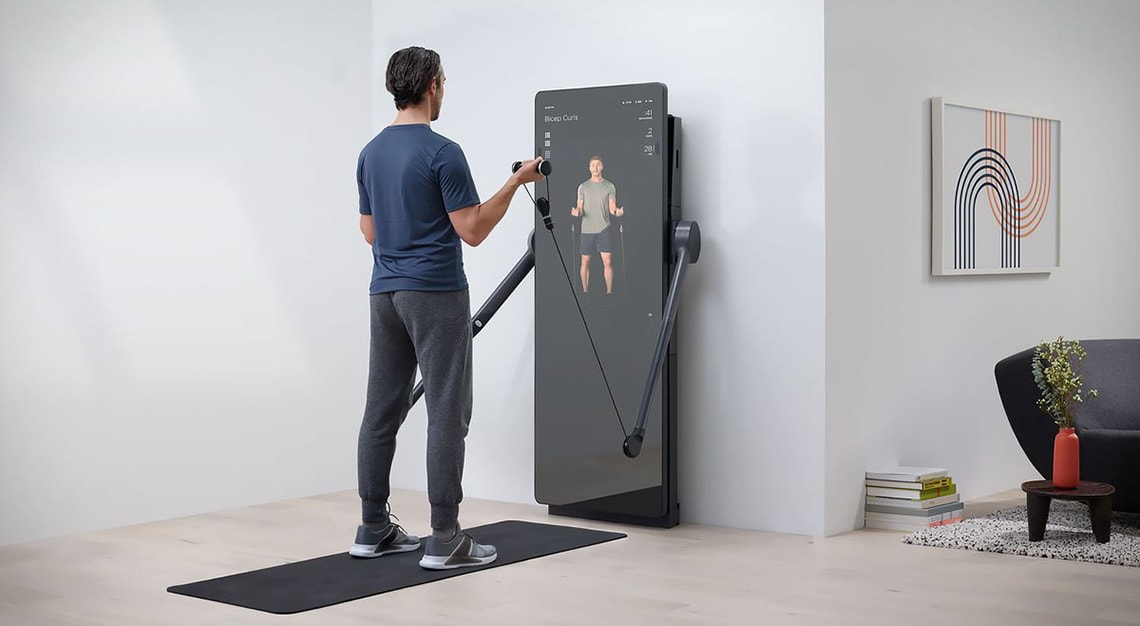 Forme Life
Price: US$149 (S$211) a month for 39 months, which includes both the hardware and content subscription.
What it does: While it is set to launch in Q3 – you can make a pre-order now – think of it as Mirror and Tonal rolled into one, and then more. Forme Life a collaboration between Yves Behar and entrepreneur Trent Ward, streams live and on-demand workouts, tracks and measures performance, and provides personalised guidance. Apart from workouts, it'll also offer meditation and wellness regimens.
Space required: 1.2 x 1.8m of wall space.
Vitruvian Form 
Price: US$1,200 (S$1,660) for first 300 units sold 
What it does: It's the newest product to hit the market this year. The V-Form trainer offers an innovative way to train like a professional athlete without leaving your home. Despite weighing only 25kg, it manages to offer up to 200kg of resistance weight lifts. The algorithm has been programmed by experts to allow the device to increase your load as you progress. Struggling with the weight? The machine is said to be able to sense it, and automatically decrease it till it becomes more manageable for you. The accompanying app comes with hundreds of coaching sessions and workouts that target specific areas, while receiving data from the machine to log your progress.
Space required: 112cm x 50cm x 12cm, and at least 4sqm of floor space during the workout.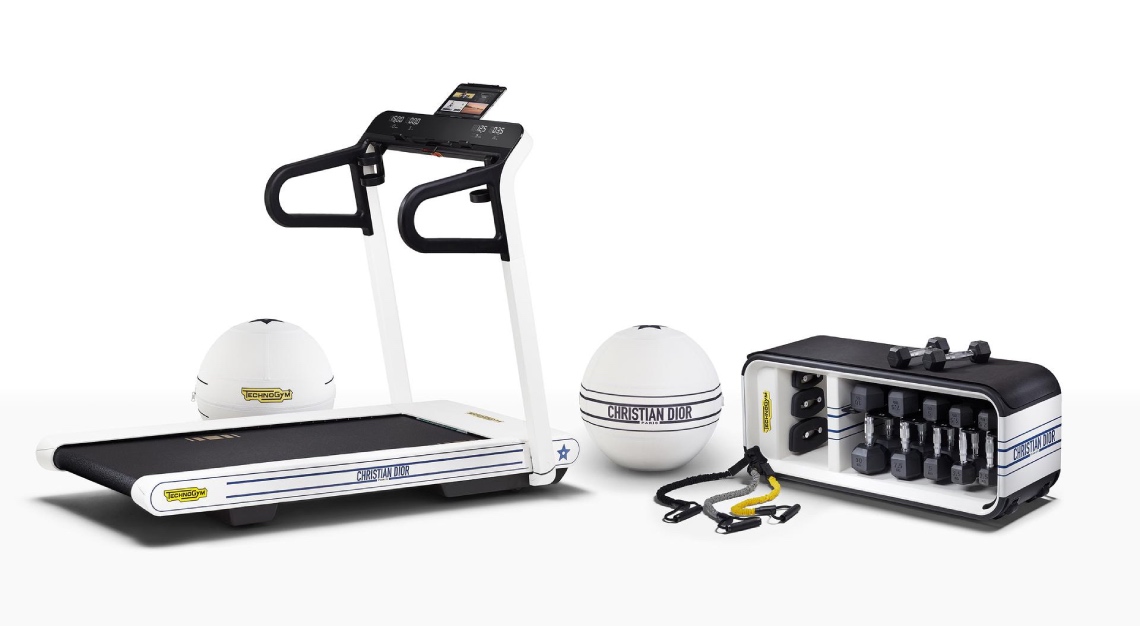 Dior's Vibe Line
Price: To be announced
What it does: A combination of style and fitness, this limited edition collection designed for the Dior 2022 Cruise show has all that you need to build your dream workout space. The set includes a weight bench that doubles as a storage space for their white and blue Dior-engraved dumbbells, gym ball, and treadmill. Over 200 workouts are available on the Technogym app, so get ready for some serious sweating. The Italian luxury brand's Technogym collection will be available for purchase starting January 2022.
Space required: 2.5m x 2m x 2m, at least
Editor's note
The above products are from the US, and not all companies provide international shipping. For those that don't, order it via VPost, an international shipping service provided by SingPost.
Staying home during this period of time isn't easy, we get it! But we'll be keeping you company. Subscribe to our digital magazines for free, and check out what ideas we have for you. #StayHomeWithRobb