In the oasis of the Napa Valley region,
Robb Report
experiences the beginning of a new era in the Rolls-Royce Spectre
The idea of an electric car is nothing new. Saturday morning cartoons and sci-fi novels have been bandying about the idea for decades. Automotive engineers have been toying with the execution of combustion-free engines for years too. Why, it was even prophesied all the way in the beginning of the 20th century. "The electric car is perfectly noiseless and clean. There is no smell or vibration," Charles Stewart Rolls said in 1900. "They should become very useful when fixed charging stations can be arranged." Four years later, Rolls met Henry Royce, and they would go on to co-found Rolls-Royce Motor Cars, the apogees of luxury cars and the standard bearers of luxury ever since.
In 2021, the company announced that it had begun tests on an electric car, and a year later Rolls-Royce Motor Cars unveiled the Spectre—its first-ever electric car, and the harbinger of a monumental paradigm shift, in which all Rolls-Royce cars will be fully electric by 2030. "Conceiving an electric car is easy. To engineer an electric Rolls-Royce is quite an endeavour," says Torsten Müller-Ötvös, CEO of Rolls-Royce Motor Cars. "We've actually been experimenting with electrification since 2011, but the technology back then was not up to our standards. We don't want to compromise—it needs to be a Rolls-Royce first. Our clients want the full Rolls-Royce experience: it needs to drive, smell and feel like a Rolls-Royce."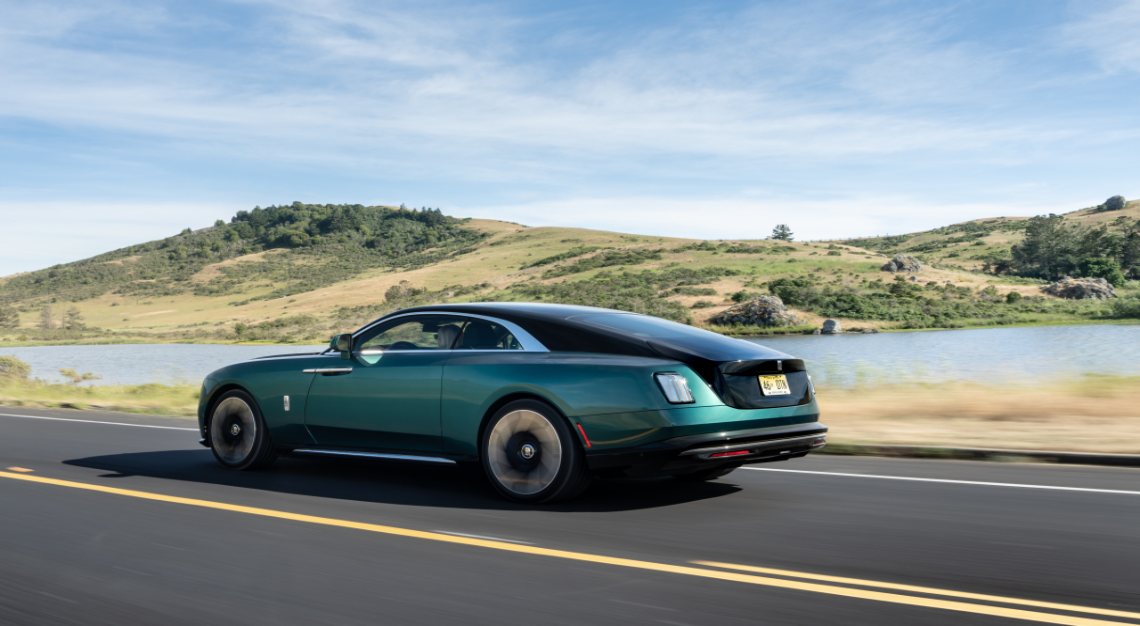 Engineering excellence
And so, we come to the Spectre, the world's first ultra-luxury electric super coupé. It is a breathtaking masterpiece when you first see it, especially in the idyllic setting of Napa Valley, where Rolls-Royce Motor Cars hosted the world's media and invited guests to experience the Spectre in early summer. The marque calls the Spectre the spiritual successor to the Phantom Coupé. It is built on Rolls-Royce's Architecture of Luxury platform and comprises an all-aluminium spaceframe. The Spectre also boasts a number of record-breaking specifications: the largest ever doors, almost 1.5 metres in length, made from 100 per cent aluminium, laser-welded and pillarless; the widest ever Pantheon grille, with polished stainless-steel vanes and subtly illuminated with 22 LEDs; the first ever Rolls-Royce two-door coupé with 23-inch wheels; and a wealth of design and engineering features—including a specially created, redesigned Spirit of Ecstasy figurine—that ultimately leads to the Spectre having a drag coefficient of just 0.25cd, which means it's the most aerodynamic Rolls-Royce ever built.
"The Spectre is a highly emotional ultra-luxury super coupé," says Dr. Mihiar Ayoubi, Director of Engineering at Rolls-Royce Motor Cars. "At Rolls-Royce, we're more than just numbers. We're a melting pot of designers, technologists and engineers. We are about refinement beyond the numbers. We believe that passengers shouldn't waste a drop of champagne when riding in a Rolls-Royce." Nevertheless, it would be remiss of me not to highlight Spectre's spec sheet: a front electric motor producing 190kW of power and 365Nm of torque and a rear motor delivering 360kW and 710Nm, which is the equivalent of 584bhp with 900Nm of torque if it were likened to an internal combustion engine car. The 2,890kg Spectre goes from zero to 100km/h in 4.5 seconds, and has a confirmed range of 530 km. Its 102kWh, 700kg lithium-ion battery will charge from 10 to 80 per cent in 34 minutes using a 195kW fast charger, or a sufficient charge for 100 km in nine minutes or so. 
But enough about all that. How about we take the Spectre out for a spin through the Napa Valley region?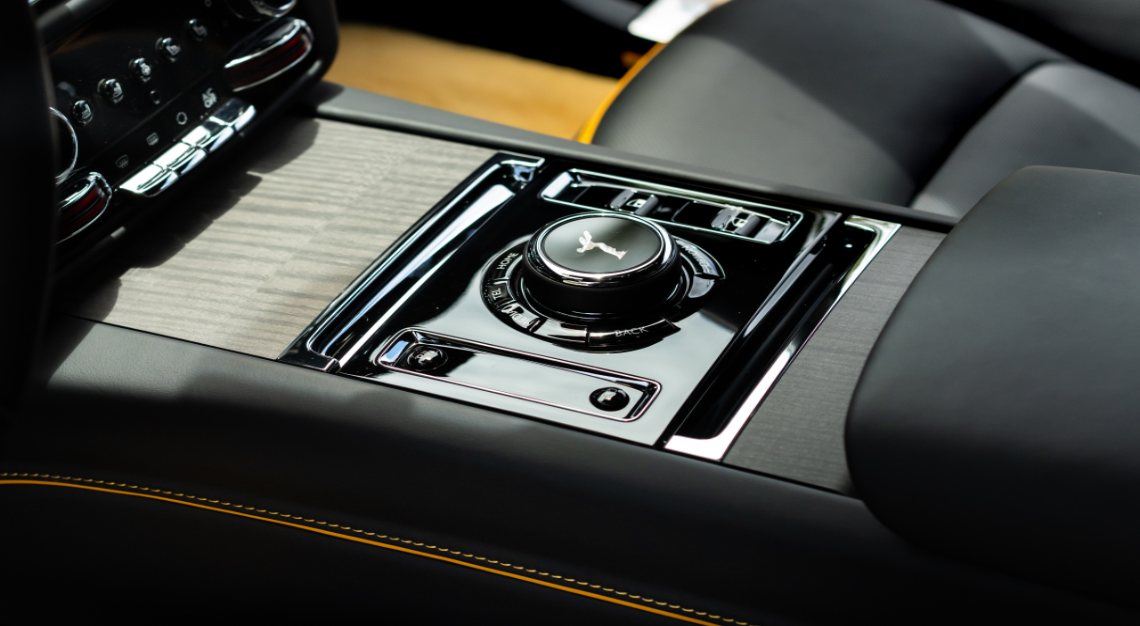 Effortless exhilaration
Initially, the Rolls-Royce Spectre may seem like an intimidating vehicle to drive. It is close to 5.5 metres long, more than 2 metres wide, and weighs almost three tonnes. Also, these late pre-series cars are left-hand drive, which I haven't driven since my university days. But everything about Rolls-Royce Motor Cars is designed, engineered and manufactured to ensure the driver and passengers experience the height of luxury and the best the world has to offer. It starts literally from the moment I get in the Spectre, with the power-assisted Effortless Doors opening with a couple gentle pulls of the door handles. Once seated, I close the 1.5-metre Starlight Doors—the first ever in a production Rolls-Royce—with the push of a button. The door's on-board array of sensors ensures the closing process feels magically light yet confidently secure.
Magic isn't an exaggeration either. Dr. Ayoubi explained during the earlier briefing session that the Spectre is predicated on three core values: effortlessness, waftability and being a "magic carpet ride". "Firstly, you should always feel in control of the car, even with what we like to call 'two-finger steering'. Then, the Spectre will feel ultra smooth to accelerate, like there is a magic hand pulling the car forward. Lastly, it will feel like you're serenely, calmly sitting on a cloud, like you're cocooned from the outside world," he says. "These define the DNA of Rolls-Royce Motor Cars, and is what our driving philosophy is all about."
I don't dare use only my thumb and index finger to steer the Spectre, but I very well could. I become acclimated to the Spectre seconds after leaving the driveway, like it's been my daily driver for the past few years. Entering a busy thoroughfare is a breeze, not only because other cars happily give way but also because the Spectre's steering is in complete command of the entire car. I daresay it even feels lightweight from the driver's seat. The Spirit of Ecstasy figurine, its stance lower and its profile more aerodynamic, is a useful guide when navigating corners or traffic up ahead. The plush seats, soft feel of the steering wheel, and atmospheric sound system all contribute towards a leisurely drive to the first checkpoint of the day.
On busy, multi-lane roads, the Spectre glides from traffic light to traffic light. Drivers and passengers from all the other cars crane their heads to catch a glimpse of its Imperial Jade and Black Diamond exterior (in the brochure, this colourway is known as 'Ascendance'). The brake pedal doesn't so much as stop the car as it delicately decelerates it. One can choose to activate the Spectre's 'Brake Mode', which increases regenerative braking and enables 'single-pedal driving', but my preference is to leave it off. This is especially pertinent after I pass the checkpoint, which leads me towards emptier, windier mountain roads. 
Instinctively, the Spectre ups its ante and dares me to push it faster and harder. Mindful that America speed limits are enforced mercilessly, I hold back, but the drive is nevertheless thrilling. It's a sensation built upon the Spectre's software architecture known as Decentralised Intelligence, which processes all data inputs closer to their source instead of via a single central processing unit. It also has Active Lane Centering and Adaptive Cruise Control working simultaneously, to further enhance the driver's and passengers' enjoyment—and safety, of course. Chicane to chicane, corner to corner, the Spectre never once lets up, and I never once struggle to point it where I want it to go. Actually, I think the car even corrects my decision-making and secretly aids my driving capabilities on more than one occasion. Everything about the Spectre drives and feels safe, stable and spectacular.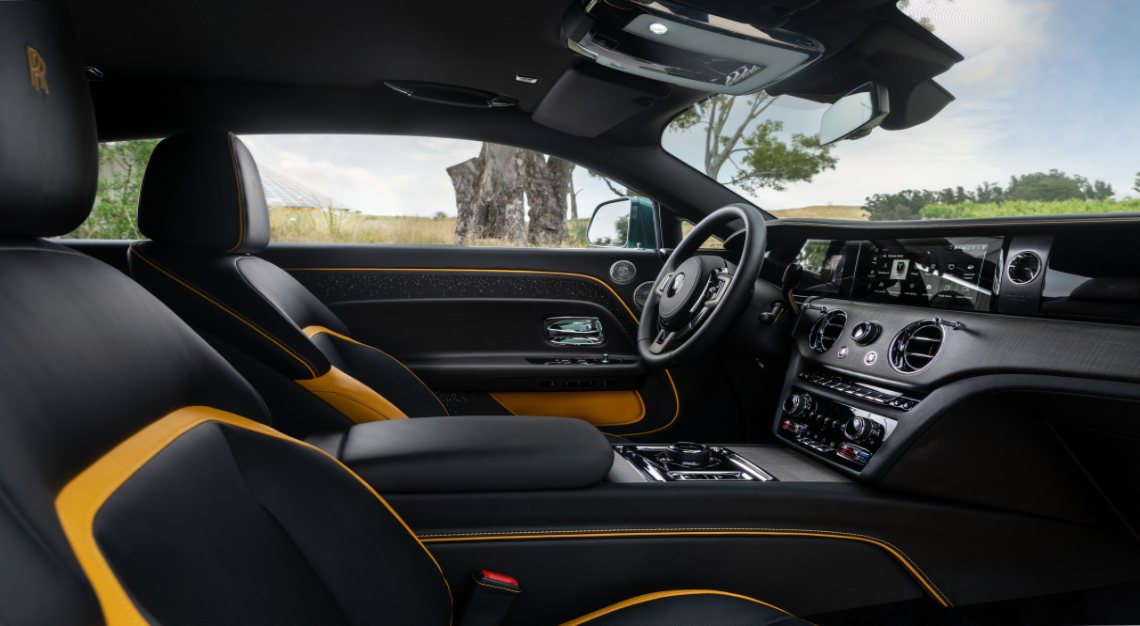 Elegant experience
Other coupés often have backseats that are ornamental at best, unbearable at worst. But the Rolls-Royce Spectre is no ordinary coupé—it's an ultra-luxury super coupé, and I can safely say that its backseats are just as enjoyable to sit in as any Cullinan, Phantom or Ghost. As I'm being chauffeured to the estate of Promontory Wine for an exclusive, money-can't-buy dinner, I gaze at the endless rows of vineyards, the lakes and the mountains signature to Napa Valley. I marvel at the Starlight Doors, the Starlight Headlining and Illuminated Fascia on the dashboard, all simulating a glorious, cloudless night filled with stars. I have more than enough legroom, but not enough time spent driving or experiencing it. The chauffeur and guide laughs when I tell him this. "Yeah, there would never be enough," he replies.
In any other electric vehicle, the statement "this car feels electric" could be misconstrued as criticism. But the Rolls-Royce Spectre, ironically, doesn't feel electric nor electrified at all. I wholeheartedly agree with Müller-Ötvös assertion earlier, that it feels like a Rolls-Royce first and foremost, and all of the joys that go hand-in-hand with driving or riding in one. Over dinner, I strike up a conversation with Anders Warming, Director of Design at Rolls-Royce Motor Cars. After a brief chat in which I sing the praises of the Spectre and he explains the lengths and breadths he and his team spent on it, he asks proverbially: "Why do you want a Rolls-Royce?" It's a question asked at prospective clients, and one he directs at my psyche.
After my time with the Spectre, regardless of how short it was, there are myriad reasons I could list down. But the answer is simple enough: the Rolls-Royce Spectre is the ultimate in luxury yet, sheer elegance in automotive form, and electrifying when behind the wheel. 
Outdoor oeuvre 
Located in Carneros, a Sonoma wine region in California, The Donum Estate boasts critically acclaimed pinot noir and chardonnay as well as one of the largest accessible private sculpture collections in the world. Guests from all over the globe are equally enticed by the silky smooth, robust flavours of Donum wines as well as The Donum Collection, comprising more than 50 outdoor works of art from the likes of Keith Haring, Fernando Botero, Louise Bourgeois, Yayoi Kusama, and more. 
To accentuate the Rolls-Royce Motor Cars experience, I'm taken on a private tour and wine-pairing lunch at Donum. It may be the height of summer in the rest of America, but the morning weather is a perfect 20-plus degrees in the 200-acre estate for an outdoor viewing of the sculptures. Love Me (2016) by Richard Hudson, a giant heart made of polished mirrored steel set on top of a hill, is one of the most popular sculptures in The Donum Collection, as are Zodiac Heads (2011) by Ai Weiwei, and Contemporary Terracotta Warriors (2005) by Yue Minjun. 
Lunch is a delightful coda, featuring locally sourced or Estate-grown produce, as well as a generous selection of Donum wines. My pick would be the Russian River Valley chardonnay—a magical elixir that captures the wonders of Napa Valley in the form of a delicious, refreshing drink. And don't worry: I was chauffeured to and from The Donum Estate in a Rolls-Royce Ghost, so I and the other tour guests enjoyed the bottle very much.