In our weekly series, we bring you the latest in luxury news around the world. This week's highlights: Aptera's solar-powered EV could begin production, Boston Dynamics's super robot, and Urwerk's Bugatti-inspired UR-112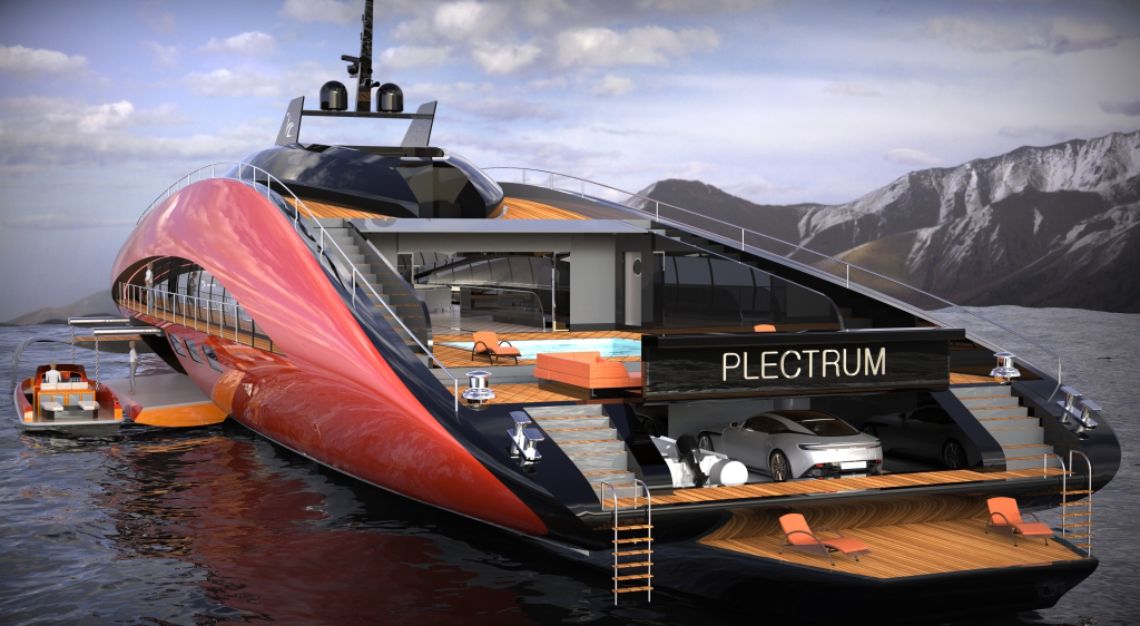 A superyacht that flies
Hydrofoils have been around for more than a century, but Lazzarini is hoping to make them bigger and better than ever before. The Italian studio, known for floating all manner of disruptive designs, has just unveiled a new concept that could become the largest foiling yacht in the world ever built. The 243-footer, christened Plectrum, will be equipped with giant wings that allow her to 'fly' across the seas at blistering speeds.
The new superyacht will be propelled by three motors capable of 5,000hp each. Lazzarini claims Plectrum could reach 75 knots at full tilt, with the foils lifting her up and out of the water for a smooth ride and minimal drag. The studio also says she can run on hydrogen, though the technology isn't there just yet.
Crafted from a mix of lightweight carbon and composite, the sleek vessel is finished in a striking orange hue. Inside, the living quarters are split across four decks and include six guest cabins, plus one owner's suite. Outside, the bow is fitted with a helipad, while the aft deck sports a large beach club with a pool. Amidships, there is a garage for two tenders. There's also a garage at the stern for a car and water toys.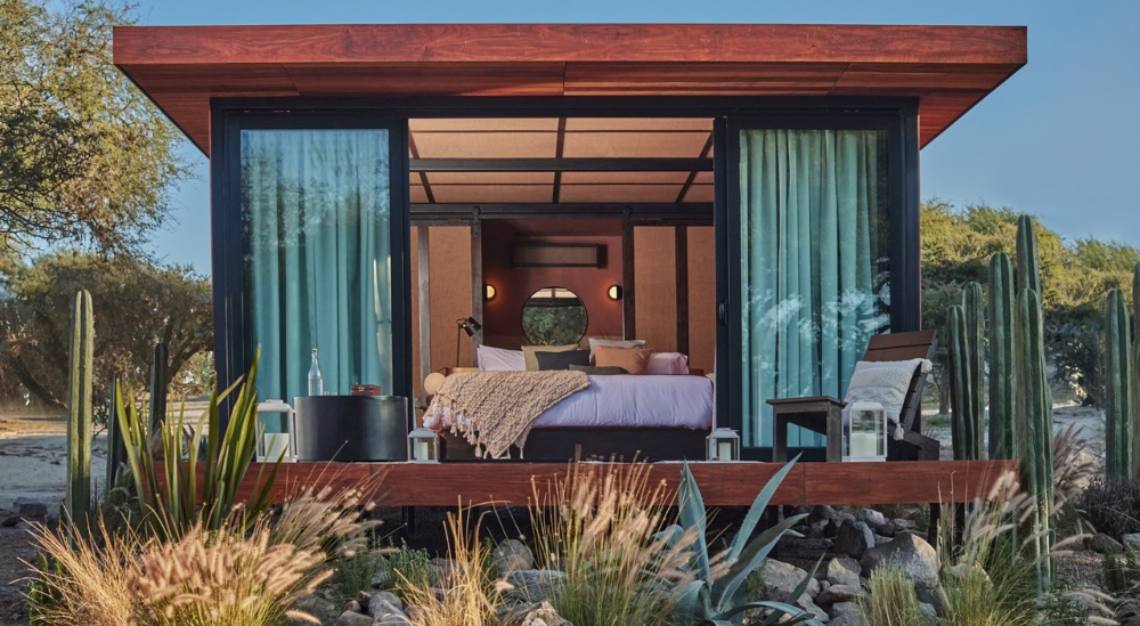 This new countryside resort in Mexico is nestled near a stunning UNESCO World Heritage Site
Global luxury hotelier Habitas is launching a new property this month in the historic San Miguel de Allende, a UNESCO World Heritage site know for its stunning Baroque architecture, just 10 minutes from the city center. The 60-key Habitas San Miguel stays true to the brand's focus on eco-conscious design and functionality without taking from its luxurious amenities. Located in a natural park, the hotel lets you take advantage of its majestic grounds by taking a dip in its hot springs or enjoying a hike on one of the walking trails with views of the Valle de Los Senderos.
The earth-inspired rooms are all single-bedroom suites covered in natural elements such as limestone walls and wooden furnishings, complete with quiet gardens and private terraces to take in the beautiful surroundings. The resort, in keeping with its mission, consulted with regional artisans to add a native touch to the lodgings' aesthetics, including sustainable bed linens and art pieces. Its on-site restaurant, Comunidad, sources its produce from nearby farms, curating gourmet dishes through local recipes.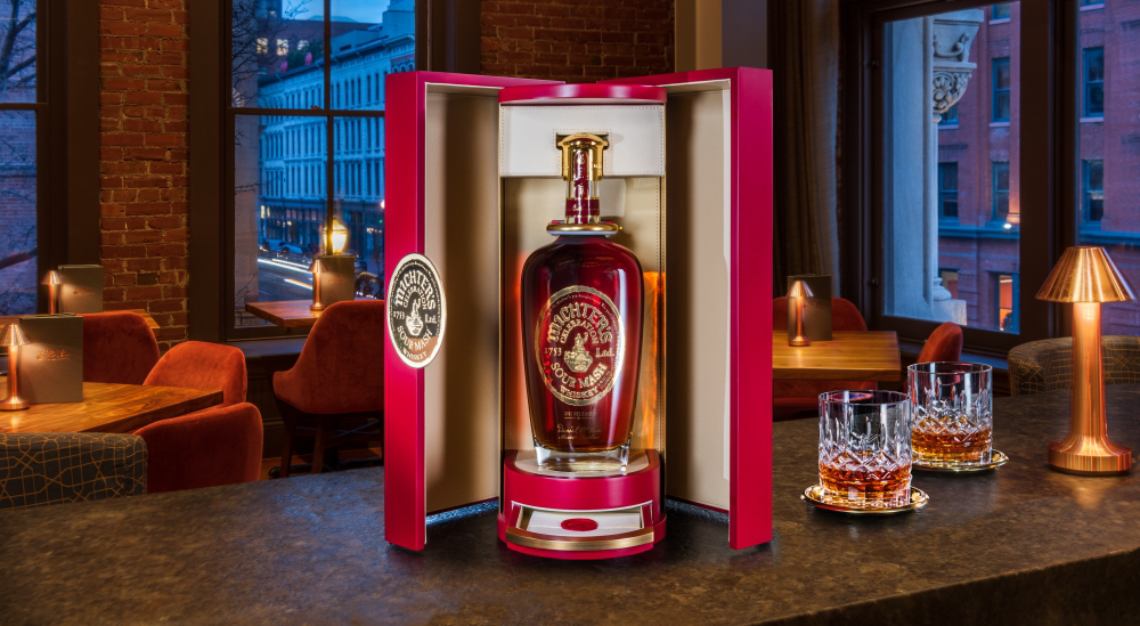 Michter's first celebration whiskey in four years
Michter's extremely limited-edition Celebration Sour Mash Whiskey is set to return to the lineup for the first time since 2019. The new edition, which launches this February, is a blend of seven barrels of Kentucky straight bourbon and Kentucky straight rye, with an age range from 12 to more than 30 years old. Each bottle comes in a specially designed gift box with a drawer that slides out under the bottle containing a letter signed by Master Distiller Dan McKee. Official tasting notes detail flavours of rich caramel, orange citrus, vanilla bean, honey, milk chocolate and molasses.
Celebration Sour Mash Whiskey has an SRP of US$6,000, but you'll likely find it for double or triple that online—provided you can actually find one of the 328 bottles that are being released of this 112.8-proof blend.
Aptera's solar-powered EV is just about ready for the spotlight
The San Diego-based startup has finally shown off the Launch Edition of its debut model. There are still a few hurdles to clear—including the need for more funding—but the eagerly anticipated vehicle could go into production by the end of the year.
The EV is said to be able to travel at least 644 kilometres on a single charge. That's less than the industry-leading Lucid Air, which has a range of 837 kilometres, but the company's vehicle's nose, roof and rear hatch lid are lined with 700 watts of solar panels. Thanks to the panels the car can generate up to 64 kilometres of range per day when the sun is out. That means you could easily go weeks or even months between charges, especially if you're only driving to work or around town most days. It also sounds like a bigger battery pack that could push the vehicle's range closer to 1,609 kilometres is in the works.
Aptera may have finalised the design, but its EV isn't ready to go into production just yet. The company, which has already raised US$85 million, needs to raise an additional US$50 million in order to begin building its first car.
Boston Dynamics's Atlas robot is way more agile than you
The Hyundai-owned robotics lab has just released a new video showing off its bipedal robot Atlas helping out a construction worker. The short clip, titled Atlas Gets a Grip, illustrates how robot's list of abilities has grown by literal leaps and bounds since the last time we checked in on it. It starts with a construction worker standing atop a scaffolding hammering away at a post. They quickly realise they've forgotten their tools, but rather than climbing down to retrieve their bag, they simply ask Atlas to fetch it.
Over the next minute, see the robot create a path up to the top platform, grab the bag, manoeuver its way up the scaffolding, toss the tools to the worker, and then gleefully run away. Each step of the process shows the robot showing off a new skill—whether it be carefully placing a plank, tossing the tool bag or knocking over a block—and the video ends with a triumphant fist bump from its robotic star.
"We're not just thinking about how to make the robot move dynamically through its environment, like we did in [past videos]," Atlas team lead Scott Kuindersma says. "Now, we're starting to put Atlas to work and think about how the robot should be able to perceive and manipulate objects in its environment."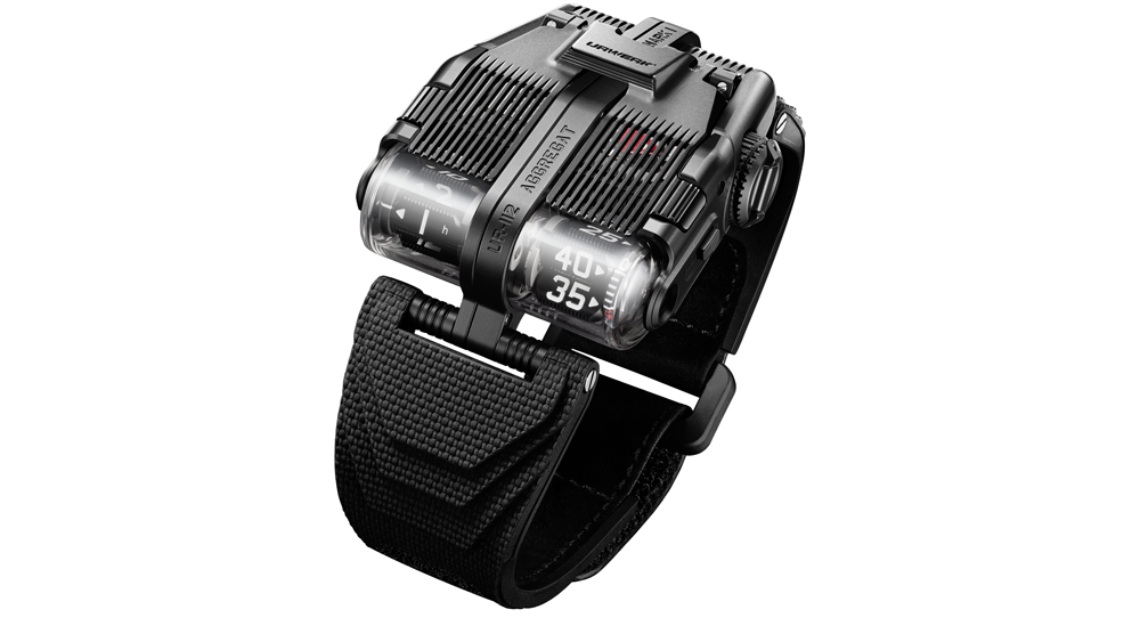 Urwerk's Bugatti-inspired UR-112 now comes all in black
Urwerk's UR-122 Aggregat may look like a spaceship for the wrist but, in fact, its cutting-edge design was actually inspired by designer Ralph Lauren's personal Bugatti Atlantic, an ultra-rare all-black vintage. Lauren, a well-known watch and car collector, often wears his own Urwerk UR-210, a gift from his wife Ricky, and an unusual choice for the archetype of classic American style. But see him pair it with a black workman's jumpsuit and it will all make sense.
While there have been two other iterations of the UR-112, the Aggregat (in PVD-coated titanium with matte grey and black finish) and the Aggregat Odysse (in titanium and steel), the new Aggregat Back to Black (in DLC-treated titanium and steel) is is arguably the closest to Mr. Lauren's Bugatti. It comes with a new fabric strap, featuring some stepped details near the unconventional lugs that mimic the curvature of the Atlantic's wheel covers when turned upside down.
The wild mechanics remain the same. Beneath the hood, which actually lifts up like a car, you can spot the power reserve indication of 48 hours on the left and the seconds indicator framed in red on the right. Time is told via a digital display with rotating aluminium hours and minutes satellite prisms, enhanced with SuperLuminova, operating within sapphire crystal cylinders and driven by two 90-degree bevel gears. In the middle is the transmission shaft which the brand says is likely the longest component in contemporary watchmaking. As such, it is crafted from titanium for lightness and ensures the coupling with the sapphire crystal display module.