For the first time since Pangdemonium's inception in 2010, a budding director has taken over the reins
Like any aspiring thespian, Timothy Koh's relentless obsession with the theatre began on stage rather than off of it, during Saturday morning speech and drama classes in a tiny shophouse at Little India. His first behind-the-scenes experience occurred subsequently in secondary school, after his drama club teacher suggested he take up the role of assistant director for an upcoming play.
"At first, I didn't really want to do it. But after the show, I discovered that being a director felt even better than acting," Koh recounts fondly. "That's when I decided I wanted to keep making theatre, which has remained the goal for me ever since. Everyone thought it'd be a passing phase, but I'm lucky because I never got bored of the theatre, and my relationship with it has only deepened."
In this sense, Koh's directorial debut with Pangdemonium's ongoing play, Muswell Hill—likewise a first for the theatre company, whose productions have been consistently helmed by co-founder and artistic director Tracie Pang—feels like a dream come true. Yet in another sense, it's also an opening act long in the making, whose timely fruition is an indicator of things having finally come full circle.
Koh first interned with Pangdemonium prior to pursuing a double degree in Theatre and English at New York University, where he was involved in several high profile plays, such as the world premiere of Samuel Hunter's Greater Clements at the iconic Lincoln Center. Since returning to Singapore during the pandemic, he's served as Pangdemonium's associate director—most recently working on The Glass Menagerie—and is the director of the Very Youthful Company, a club for young, emerging theatre-makers.
"In theatre, the most important thing (for me at least) is to have fun. I mean, we are making a play, right? I enjoy a bit of quirkiness in the room, and a room full of laughter," says Koh, when elaborating on his ripening directorial 'style'. "Obviously, the entire cast works really, really hard. But if we're not having fun while doing a play, we might as well do something else." He does this in part by remaining open to new ideas—as opposed to establishing a fixed routine—which means setting the tone at the start of rehearsals, then building on from there with fresh insights from the rest of the cast.
The same comedic, effervescent air is infused throughout Muswell Hill—a satire by English playwright Torben Betts—which follows the unfolding of a posh dinner party, set amidst the distant backdrop of the 2010 Haiti earthquake. Yet underlying the apparent frivolity of first world problems, is a self-reflective earnestness that beckons us to examine our own deep-seated entitlement and privilege.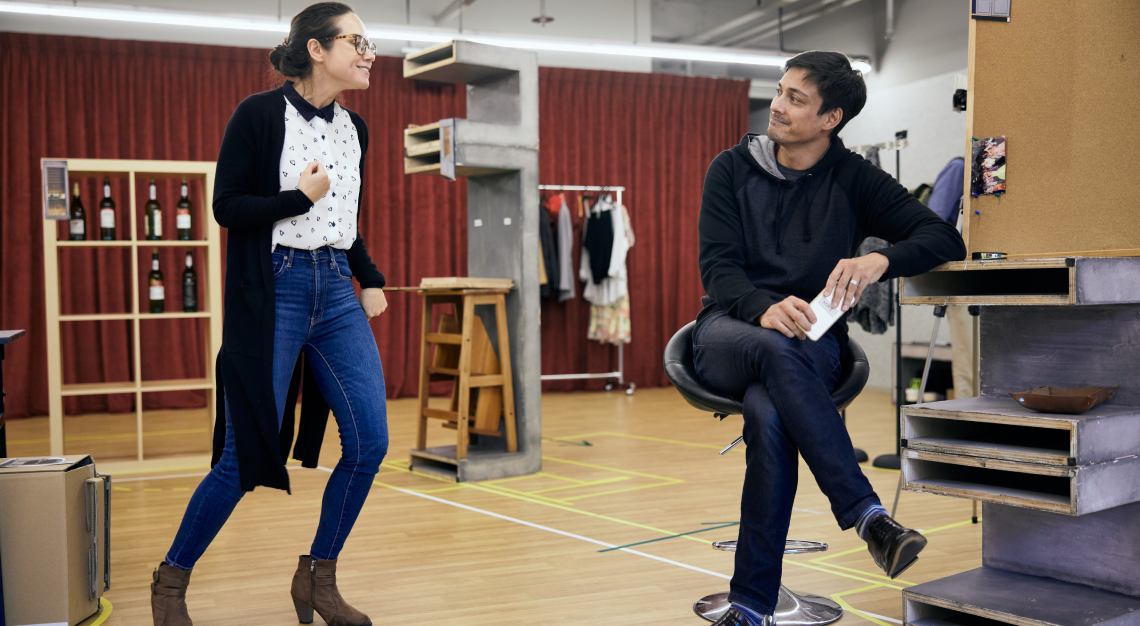 "What is our responsibility to someone who's suffering halfway across the world, especially when that suffering feels particularly far-away? As a Singaporean living in a relatively comfortable position, how much should I care in order to absolve myself of guilt? In the play, one of the characters suggests throwing money at the situation—but does that mean all is well?", Koh ponders.
These are admittedly difficult questions, and Koh is astute enough not to settle for quick fixes. "What I like about the play is that it offers a critique of the status quo, but it isn't overly didactic. It's comfortable with living in the grey areas and in the contradiction of what it is to be human. At the end of the day, it's still an entertaining story—funny, though not entirely overboard—and I hope audiences will have a fun night at the theatre, even as they continue to sit with the tough questions after."
With several projects already in the pipeline, it's clear that Koh's ardent love for the theatre isn't about to dwindle any time soon. At only 28, he exudes the vigour and tenacity that only the flower of youth can harness, relishing the opportunity to adapt the classics for modern audiences—perhaps John Milton's Samson Agonistes, or Shakespeare's Much Ado About Nothing. Who knows? Whatever the case may be, the journey can only go up from here.
Pangdemonium's Muswell Hill is running at the Drama Centre Theatre till 10 July. Book tickets here