In the new capital of cool, Tumi launched its autumn 2023 collection with the help of head-turning art and a local hero
As far as launchpads go, Seoul is probably the coolest place in the world right now to debut a brand's latest collection. So, to celebrate the unveiling of its autumn 2023 collection, Tumi chose Lotte World Mall—located next to the 123-storey, 555m Lotte World Tower—to showcase the latest 19 Degree and Alpha X collections at its Essentially Beautiful pop-up experience.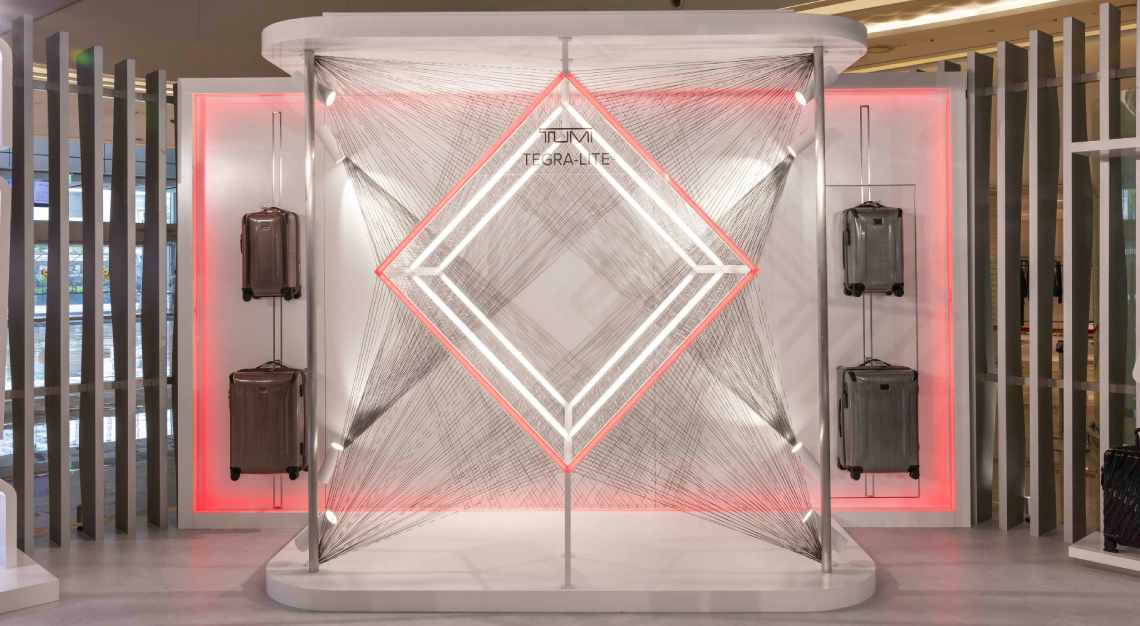 The pop-up also featured the multidirectional perspective Tumi Hypercraft Sculpture by Michael Murphy. The American artist, famous for his artworks that manifest differently depending on where and how you view them, paid homage to the popular 19 Degree Aluminum suitcase and the Tumi logo. Viewed from the many floors above ground level where the pop-up was held, you may assume that it's just a bunch of randomly hanging structures. But if you looked at the sculpture intently from the side, the 19 Degree suitcase eventually appeared; and if you continued gazing at it as you walked around, the Tumi logo came into view. "This sculpture he created with Victor Sanz, our creative director, is a great metaphor for Tumi," said Adam Hershman, Tumi's vice president of Asia Pacific and Middle East, at the pop-up. "When you look at it from a certain angle you'll see the exterior, a beautiful sculpture, and something that's really cool. And then when you start to look at it with more detail, it becomes something else. It's like a magic moment. And I think that's also how we are as a company. We create products with a beautiful exterior, and as you look more into the details, you'll see how much thought and intention has gone into every element of every product that we create."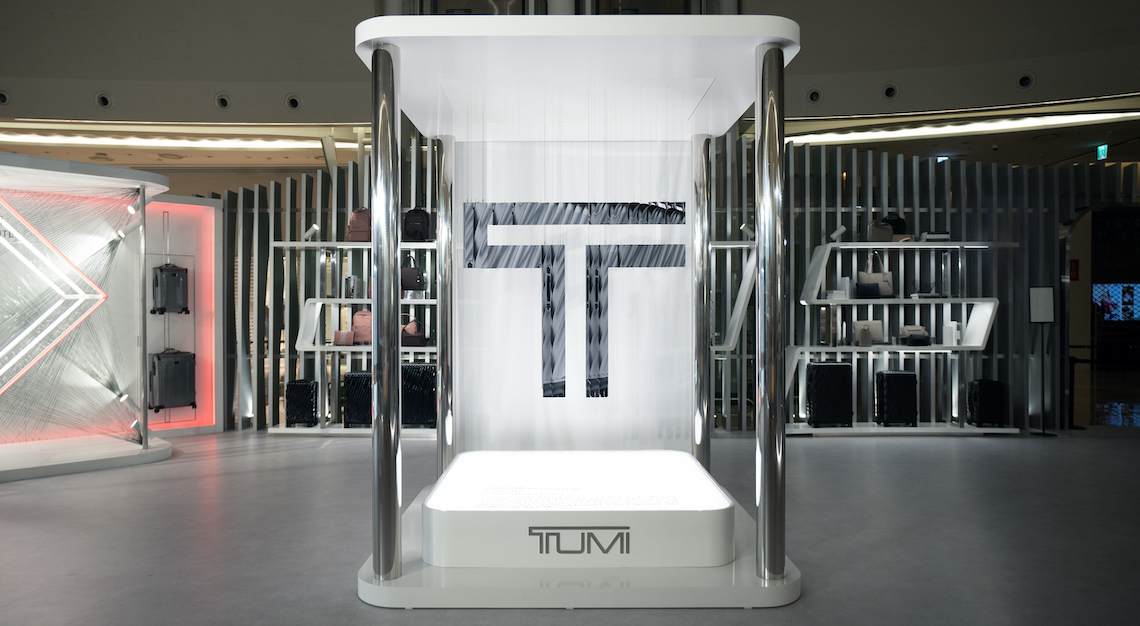 There are several Tumi crew members grabbing headlines these days, such as Formula 1 driver Lando Norris and actress Reneé Rapp, but in this part of the world, it's professional footballer Son Heung-min who gathers frenzied crowds, even in the middle of a busy work day. The multiple Asian Footballer of the Year winner stopped by the Essentially Beautiful pop-up to greet some lucky fans and to check out the locker room-inspired display featuring Tumi products and extremely rare collectibles featuring his preferred colourways and autograph. "I'm thrilled to be a part of Tumi's pop-up and even more so that we're in my home country," Son said in a statement. "I'm excited that everyone gets to experience the Essentially Beautiful campaign in this special place."
Although he couldn't attend, Sanz was equally delighted. "We're thrilled to be presenting a manifestation of our brand and the autumn 2023 collection through the Essentially Beautiful pop-up," he said in a statement. "Our relentless pursuit of excellence and passion for what we do is displayed beautifully through the installations. Collaborating with Murphy and Son underlines our obsession with finding beauty in the details and constantly elevating performance." 
"Essentially Beautiful is a good way to describe how our design team, led by Sanz, creates our products," Hershman said. "They focus not only on exterior aesthetics but also on the details that go into making the product beautiful. There are three essentials at Tumi: design, functionality and performance. Focusing on these details is essential to making a Tumi product, and putting those essentials together is what makes Tumi—as a brand and for our products—beautiful." And for autumn 2023, Tumi's collections of suitcases, bags, and more, are as gorgeous to behold as they are amazing to use.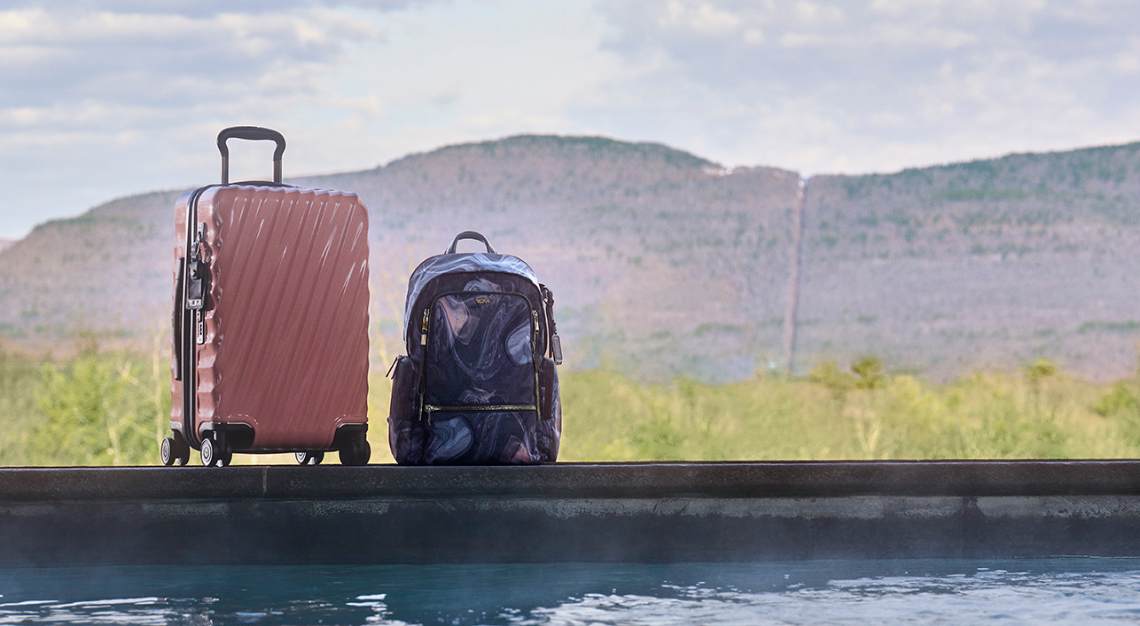 Recently, the 19 Degree collection has been one of Tumi's most popular collections worldwide, thanks to its cutting-edge features and distinctive looks, whether one opts for the aluminum, titanium or polycarbonate ranges. Dark Denim debuts this season as a colourway within the aluminum series, while other new colours in the rest of the 19 Degree collection are slate blue texture, blush/navy liquid print, hunter green, deep plum and red. The International Expandable 4 Wheeled Carry-On and Extended Trip Expandable 4 Wheeled Packing Case in the 19 Degree polycarbonate collection are both beloved by travellers and Tumi fans thanks to their handy zipper expansions. In addition, the shell and inner lining of these suitcases are made from recycled materials. And for the best in luxury travel bags, the 19 Degree Titanium range sees the debut of an all-new Briefcase and Extended Trip Packing Case.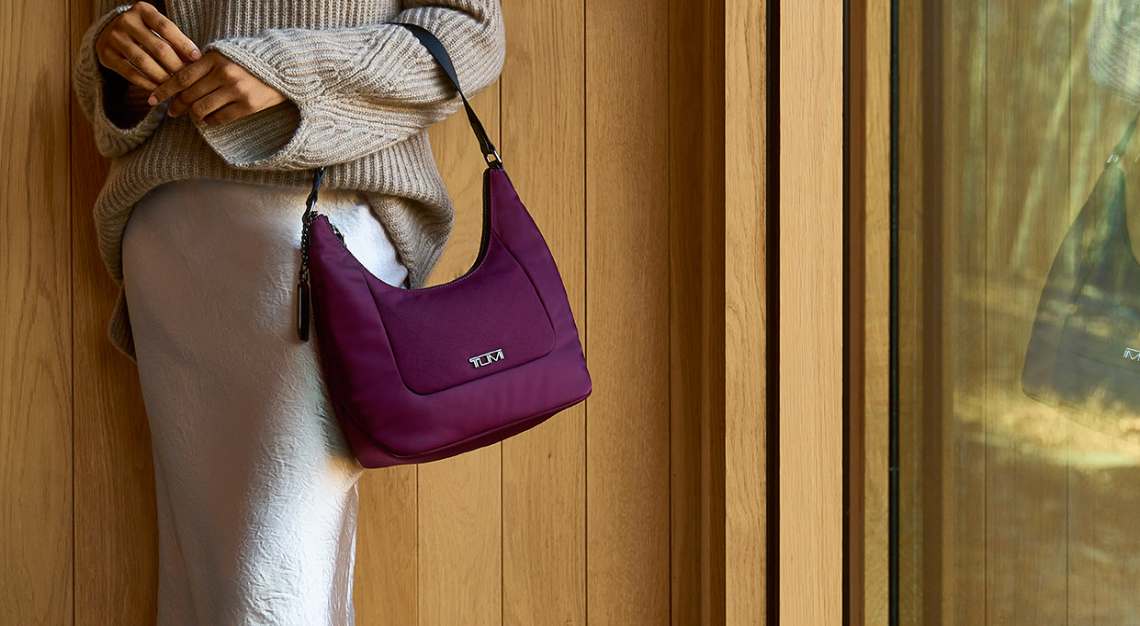 Also launching this season is Tumi's expanded offerings for women via the new Georgica collection. Available in natural grain pebbled leather or smooth leather, these bags feature an understated, elegant and sophisticated look, featuring refined draping and soft unlined structures. The Valorie Tote, Milinia Laptop Sleeve, Marylea Crossbody and Fairlea Backpack are highlights within the Georgica collection, and these items come in colourways such as black, taupe, deep plum, terracotta and black liquid embroidery. Elsewhere, the Voyageur collection welcomes the Moore Backpack/Crossbody, Shira Tote and Just In Case Duffel this season. To augment the functionality and styling of your Georgica and Voyageur products, TUMI+ products are designed to add organisational functionality to any Tumi-compatible bag. The Zip-Around Small Organiser is just one of many new TUMI+ products launching this season.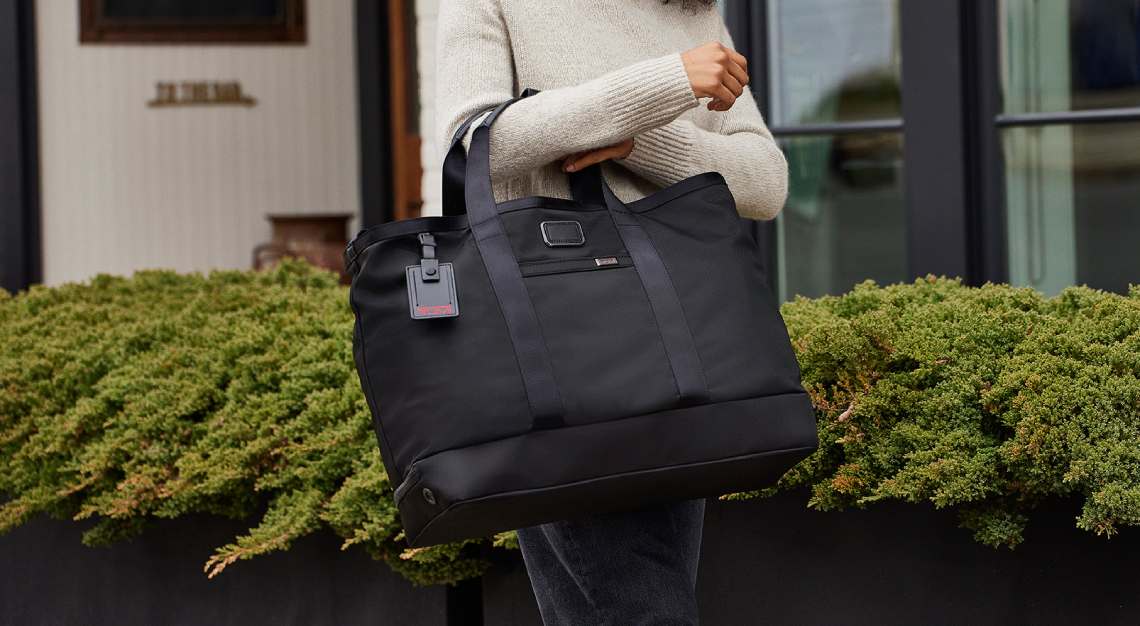 Last but not least is the launch of the Alpha X collection, featuring high-performance, premium versions of Tumi's popular Alpha collection. Alpha X products are made with PX6, the brand's most durable fabric to date. The material boasts high strength, toughness and thermal stability to ensure that your luggage enhances your jet-setting adventures and is never a hindrance or a worry. Highlights include the International Dual Access 4 Wheeled Carry-On, Slim Backpack and Compact Sling; the new meteor grey colourway matches well with any or all of these.
"Every piece of our products is essential. And all these details combining together is what makes a Tumi product beautiful and what makes us a beautiful brand," Hershman said, after introducing the collections at the Essentially Beautiful pop-up. "To me, something that's essentially beautiful is something that's really inspiring. At Tumi, we're inspired by people like Son Heung-min—people who are achievement minded, pushing boundaries, elevating, innovating and moving themselves forward. So the different details of our products inspire people in different ways, whether it's through design, functionality or performance. Tumi products make them feel a certain way and allow them to do what they're passionate about."