A selection of investment-worthy specimens meticulously acquired by the maison over several years, these azure blue gemstones are the stars in 10 of the 12 Perles d'éte unique creations.
Joyfully feminine and brimming with colour and textures, the Van Cleef & Arpels Perlée collection bridges contemporary design with age-old savoir-faire as it highlights one of the maison's most traditional aesthetic styles, the golden bead technique. These tiny spheres cast from precious gold and polished individually by hand distinguish the Perlée creations from other Van Cleef & Arpels icons.
Shimmering with light, they lend their rounded forms to a new high jewellery collection that combines this glowing radiance with precious and ornamental stones boasting colours that evoke an enchanting Mediterranean landscape. Think turquoise blue waters, splendid pebble beaches, and entire cities bathed in the warmth of the yellow golden sun.
Arriving just in time for the festive season, Perles d'éte is a carefully curated collection of 12 unique pieces espousing the flamboyant style of 1960s cocktail jewellery.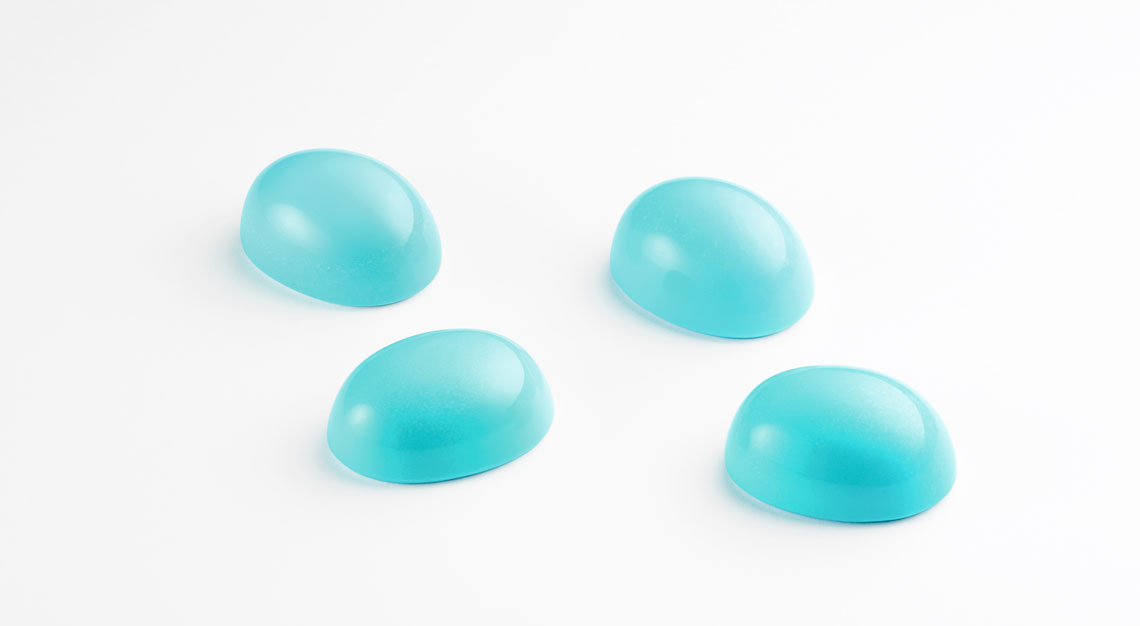 Turquoises take centre stage in this collection. This material has been dear to the maison since the 1920s, and here they appear in numerous iterations whilst accompanied by a melange of additional gemstones, such as diamonds, sapphires, lapis lazuli, and coral. Van Cleef & Arpels' expert gemmologists selected only those with a uniform azure hue and an innate softness in tone redolent of the Mediterranean sky and its crystal blue waters.
These cabochon cut turquoises are perfectly matched as well, offering a delightful sheen as light falls onto their mirror-like surfaces.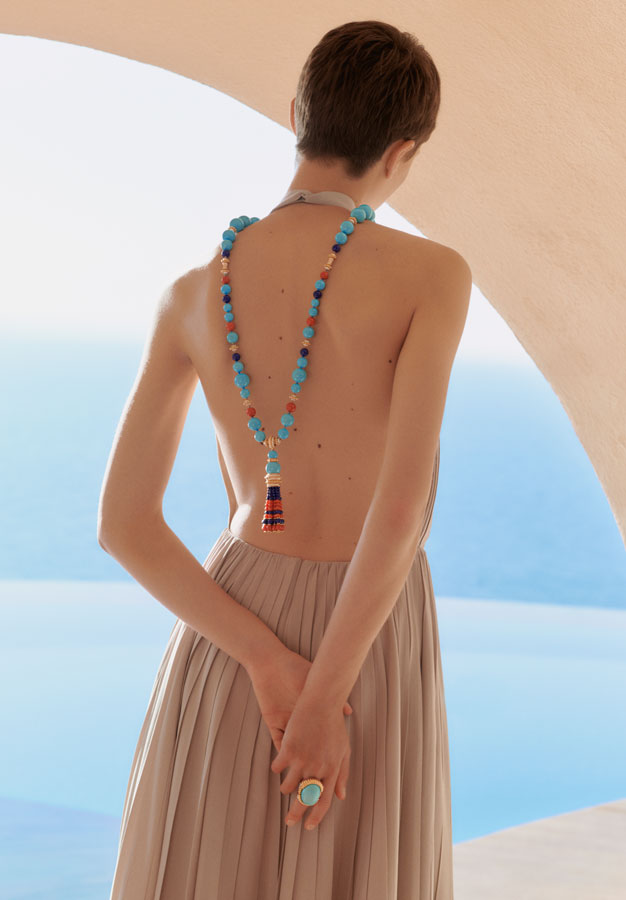 Unearthed from the Arizona mine, these turquoises are used on 10 of the collection's 12 creations, one of which is the spectacular Lueur d'éte transformable necklace featuring 39 turquoise beads in graduating sizes.
This necklace also spotlights the beauty of pink and red coral, as well as lapis lazuli, punctuated with Perlée-inspired diamond pavé and golden bead pieces. It can be taken apart and worn two ways: with just turquoises or with multi-gems.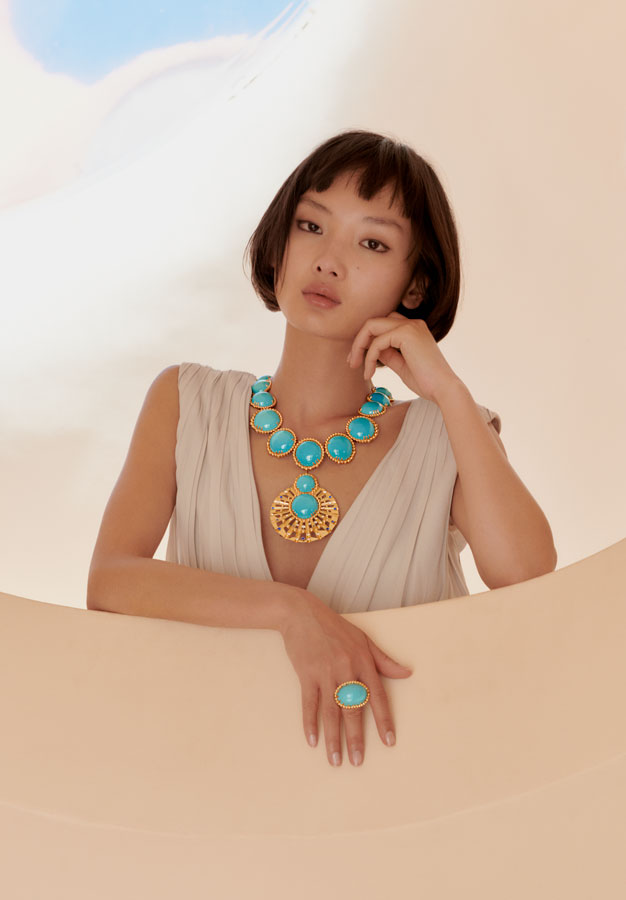 Meanwhile, the Brume de turquoise necklace is a sunworshipper's dream jewellery piece come true. A majestic array of 19 cascade-set turquoises call to mind a serene sea under an azure sky, where a vivid summer sun emanates powerful golden rays embellished with diamonds and blue sapphires. The Perlée inspiration is doubly pronounced in this piece as each turquoise cabochon is outlined in golden beads, this time in tiered volumes rather than a uniform size. With a detachable pendant, this necklace which took an astounding 800 hours to make can be worn in two different ways.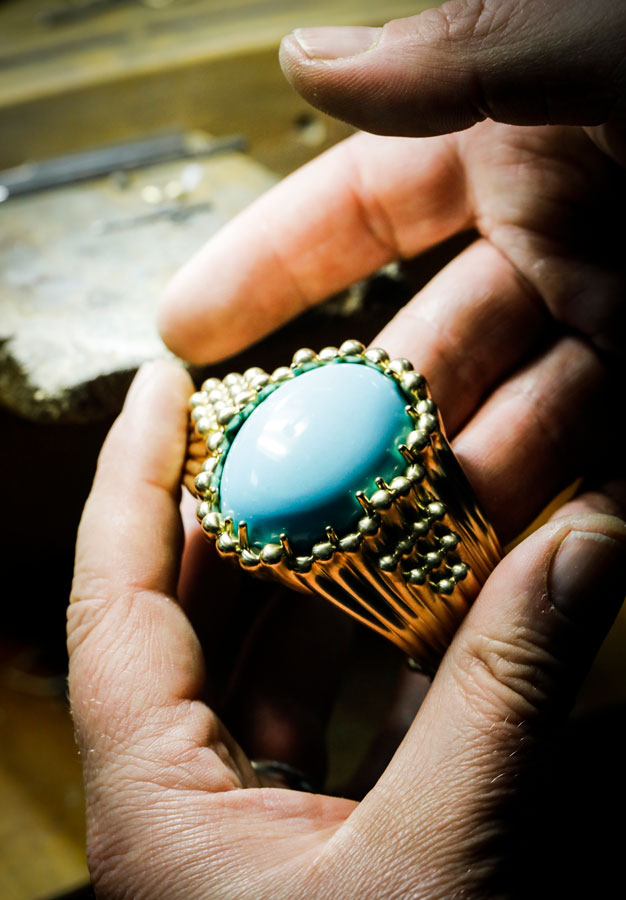 In the Estérel bracelet, the Perlée aesthetic moves towards the three-dimensional realm, where instead of golden beads, the jewellery features gadrooned gold. Van Cleef & Arpels had been inspired by the eponymous coastal mountain range located near the French Riviera. Sculpted in relief, the bracelet's golden ridges and furrows surge, cascade, and overlap in tiered lines like waves closing in on the shore.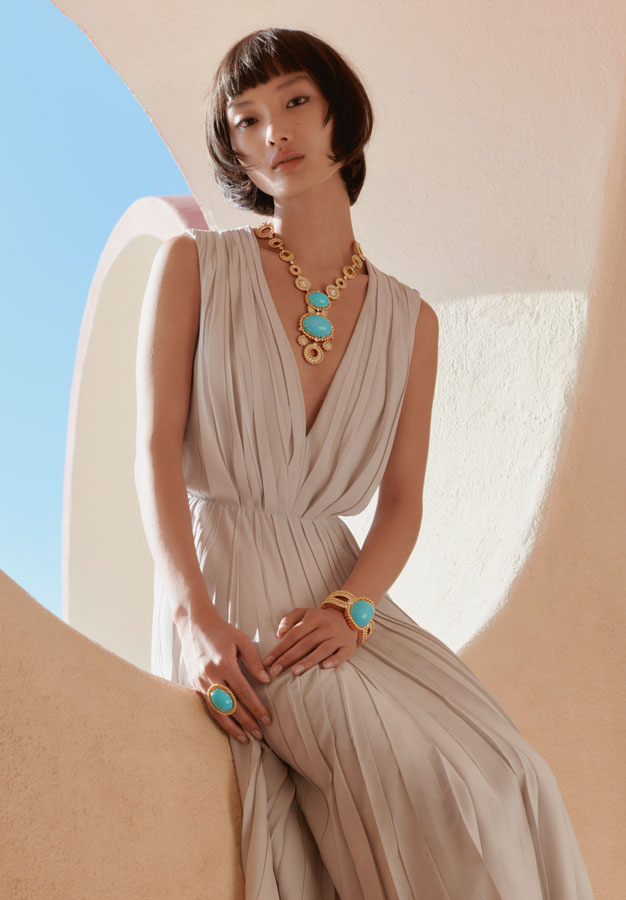 Celebrating the Perlée aesthetic with unabashed reverence, the Cap azur transformable necklace lavished golden beads on elegant discs which are either open-worked or encircled with round diamonds. This lariat-style necklace culminates in a lustrous pendant where two large turquoise cabochons find their contours edged with diamonds and final drops of precious gold, like the radiant horizons of a Mediterranean sunset.