Never before had the maison designed an entire collection around one single rough stone. This is also the first time that Van Cleef & Arpels lavished its signature mystery set technique on all the creations of one collection.
Apart from unrivalled jewellery crafting legacy, rich heritage of creative styles, and inimitable vision for jewellery design, Van Cleef & Arpels was above all respected and desired for its mastery of gems. Through the years, the maison has been known to dedicate entire high jewellery collections to specifically chosen gemstones. Treasure of Rubies in 2019, for instance, as well as Émeraude en Majesté in 2016. For 2022, Van Cleef & Arpels turned the spotlight to diamonds with the Legend of Diamonds – 25 Mystery Set Jewels collection, where the brilliant precious stone takes centre stage but not without the Big Three coloured gems playing crucial supporting roles.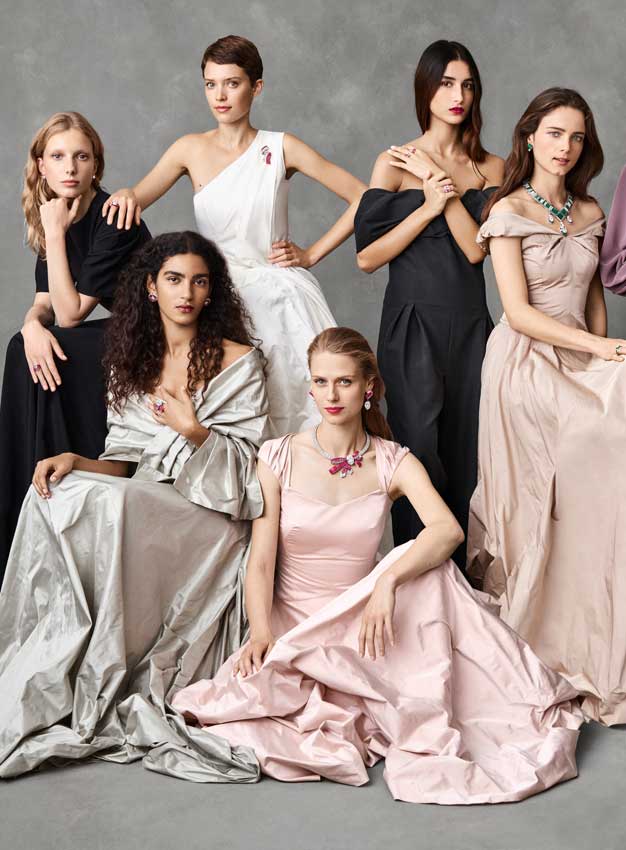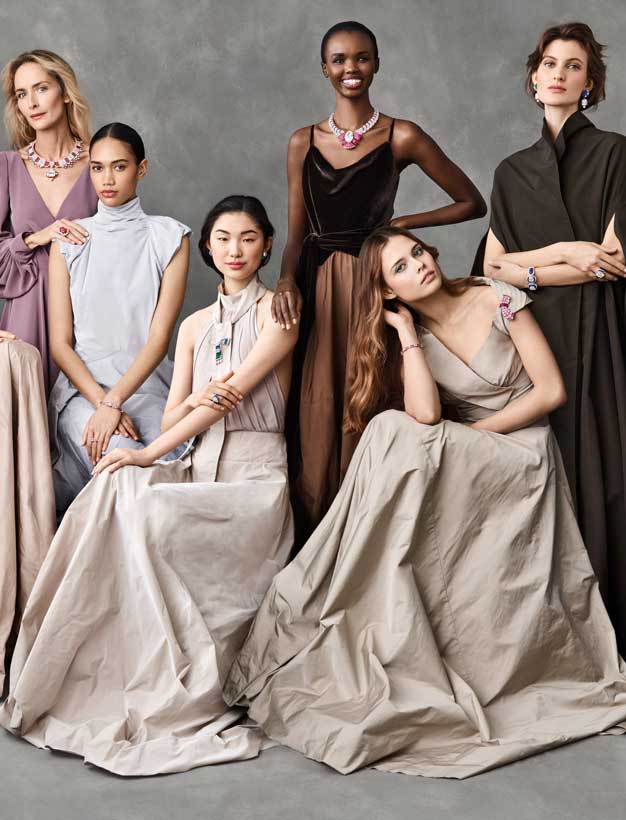 More importantly, Legend of Diamonds – 25 Mystery Set Jewels was a monumental endeavour by Van Cleef & Arpels, an historical collection that saw the maison deep-dive into the gemstone journey by beginning at the source – the mine.
An Exceptional Rough
Despite crafting some of the world's best jewels for more than a hundred years, Van Cleef & Arpels has never dabbled in rough stones, preferring to work closely with its network of experts and specialists. Relationships it has built over the years.
Says president and CEO of Van Cleef & Arpels, Nicolas Bos, "The Maison seldom works with rough stones. We traditionally start with cut and faceted stones that are already suitable for use in jewellery. This is the first time in decades that we have been involved in a project from its starting point – the extraction of the stone – to the creation of a High Jewellery collection. The appearance of this extraordinary rough stone gave us this unique opportunity to tell a story around the diamond."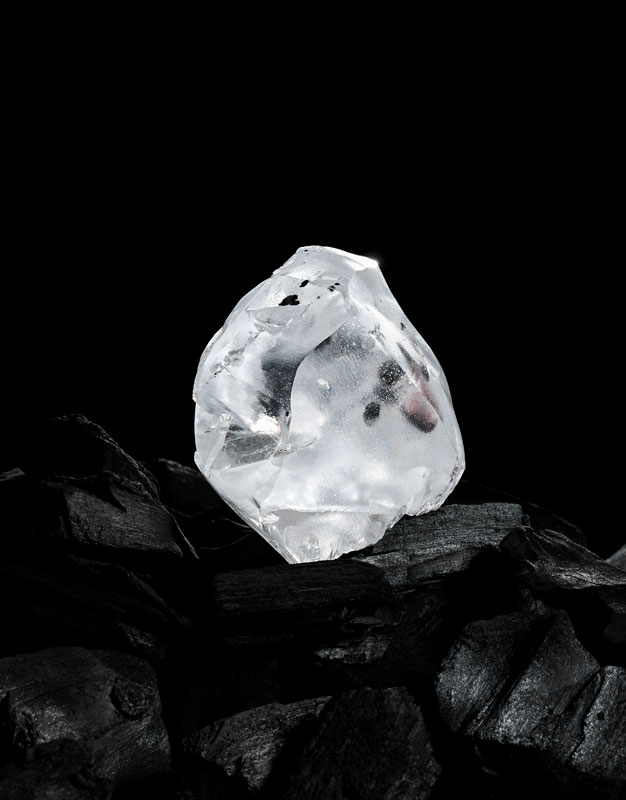 So the starting point for the collection was a rough diamond of exceptional quality and size. Named the Lesotho Legend, it weighed 910 carats and was the fifth largest rough diamond in both size and quality ever mined. Unearthed from the Lesotho Letseng Diamond Mine, it combined a perfect D colour, beautiful crystallisation, and was of the highly sought-after Type 2a chemical composition.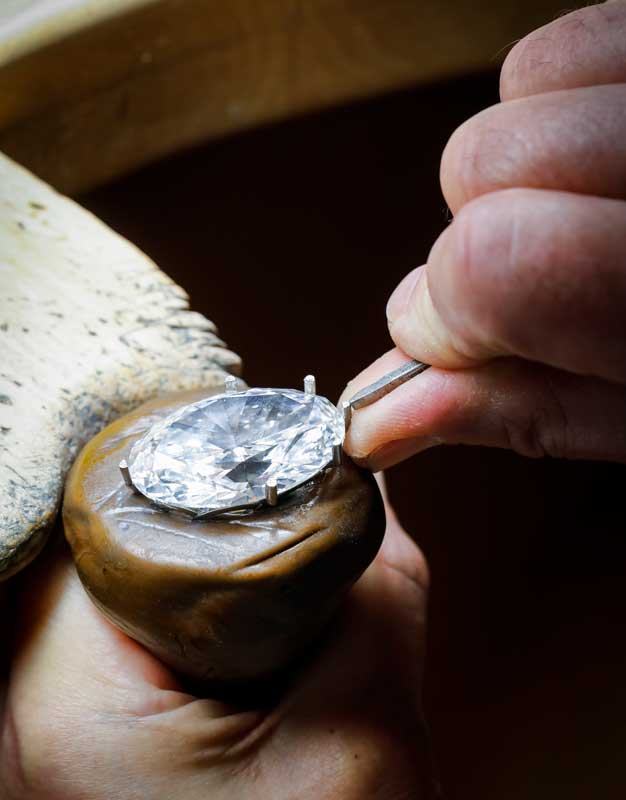 It was the kind of diamond encounter that moves jewellers to tears. "Finding a stone of this size in its natural state is truly emotional," states the director of Van Cleef & Arpels' Stones department. "It's the kind of thing we dream of but don't dare to imagine. We are here at the beginning of this diamond, after its formation, when there has not yet been any human intervention. When I see a rough stone like this, I would like to keep it this way, because it is so beautiful."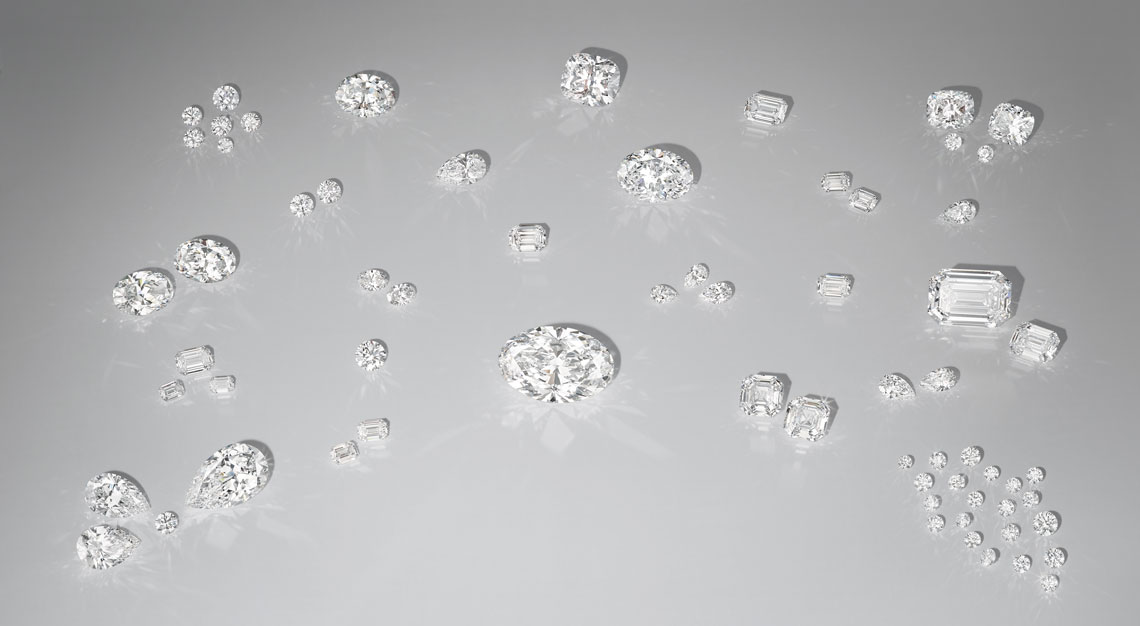 Working with leading diamond cutter Diamcad, the Lesotho Legend was carefully analysed using state-of-the-art technology to envision the best possible results. Results that fit, as closely as possible, the lofty ambitions of Van Cleef & Arpels' creation team. Finally, the Lesotho Legend was recut into 67 individual stones, each of optimum size, clarity, and proportions. Ovals, pears, round-, emerald- and Asscher-cuts emerged to fulfil the jeweller's wildest dreams.
More crucially, this was undoubtedly the best opportunity for even a house as fabled as Van Cleef & Arpels to craft its dream collection. To define perfect diamond matches, stones of identical size and shape, for the perfect sets of earrings or toi et moi rings – a signature style of the maison.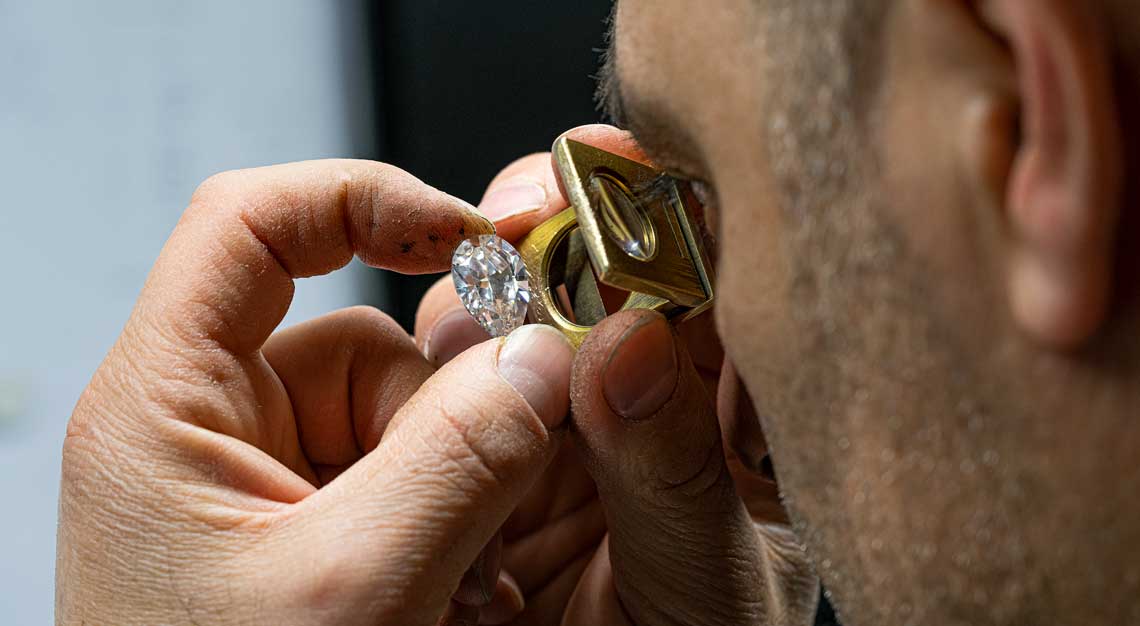 The family of 67 stones totalled 441.75 carats, either flawless or internally flawless, but all of them as clear as water. The largest stone, an oval diamond, weighs a phenomenal 79.35 carats. Other equally heart-stopping gems include a 51.14-carat emerald-cut, a 31.24-carat pear-cut, and a 25.06-carat cushion-cut diamond.
Magnificence in 25 Jewels
But believing that it needed to bring more to the table than just incredibly beautiful stones, the maison also incorporated elements that distinguished the jewellery as Van Cleef & Arpels creations. Most obviously, the use of its signature mystery setting in all the designs—a first for the maison. Eschewing the figurative themes of fairies and florals, Van Cleef & Arpels sought inspiration from the couture universe, creating jewellery that drape and flow as fluidly as the finest silk and lace. Ribbons that almost give at the slightest pull.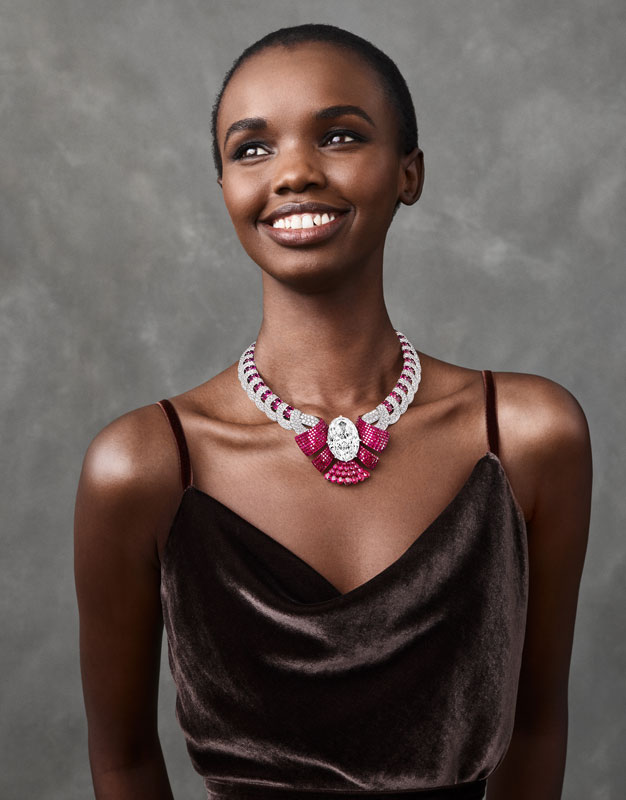 The star of the collection is undoubtedly the Atours Mystérieux necklace featuring the aforementioned 79.35-carat oval diamond nestling in swirls of ruby ribbons. Its beauty is highlighted by traditional mystery set rubies and individual mystery set rubies (these are slightly different techniques both invented at Van Cleef & Arpels.) The necklace ascends upwards in scallops of diamonds and more rubies, its design inspired by two iconic pieces from the maison's history: the famous Collerette necklace from 1938 and a majestic diamond necklace made for Queen Nazli of Egypt in 1939.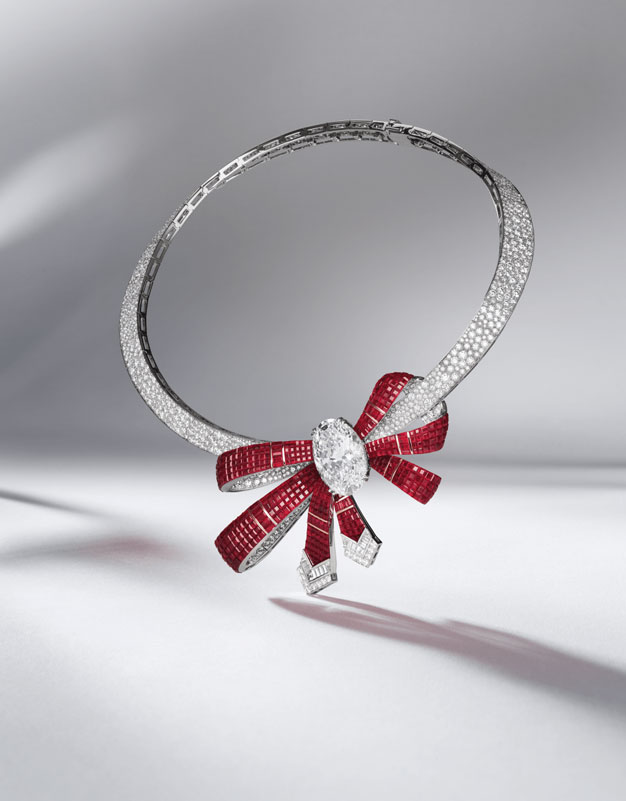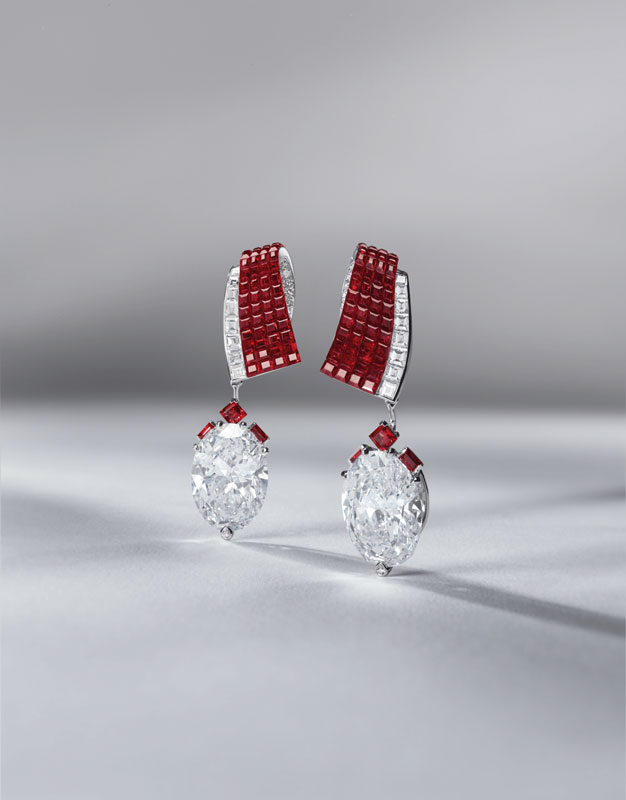 In the Volutes Mysterieuses set, Van Cleef & Arpels' unrivalled flair with the ribbon motif shines forth. Those fluid lines and voluminous curves of the ribbon made it extra challenging for the setters to apply the Mystery Set technique. Look how the Mystery Set rubies of the ribbon juxtapose with snow-set diamonds on the neck piece. In the earrings, two perfectly matched oval diamonds of 15.52 and 15.50 carats are an especially wondrous treat.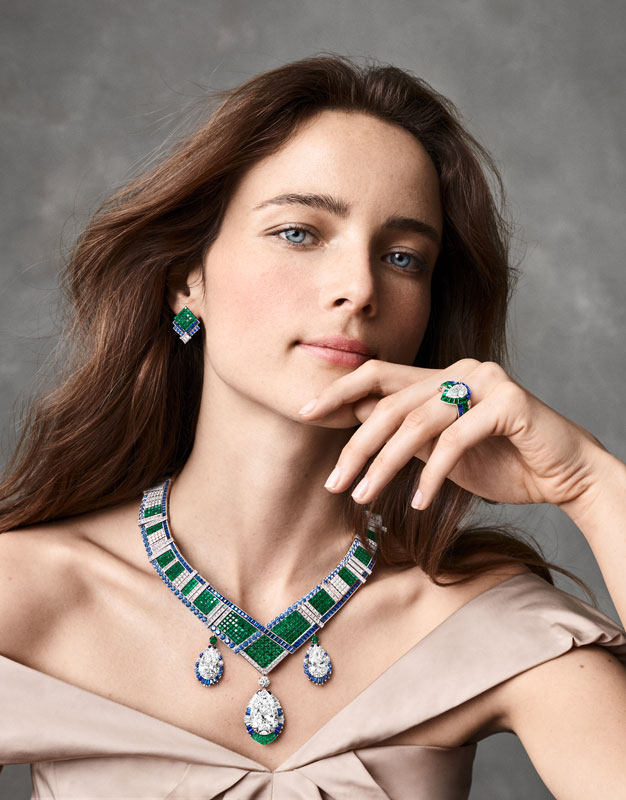 Next, in a style not often seen in Van Cleef & Arpels designs, the Chevron Mystérieux necklace reveals a fresh blue-on-green aesthetic. Observe the elegant volumes on this piece inspired by 1950s crossover collars, as lines overlap at random and square-cut gems face off round facetted stones. The highlight here of course are those three majestic pear-cut diamonds, the largest of which measures 31 carats. This necklace can be worn in six different ways, and its pear-cut diamonds may be worn as a pendant with matching earrings.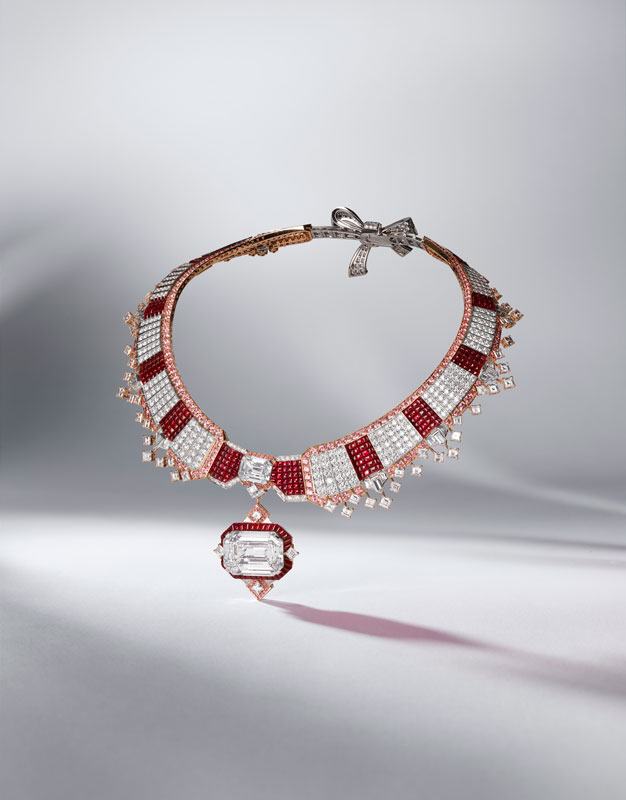 Another collar-inspired piece, the Collerette Mystérieuse necklace combines a graphical aesthetic highlighting mystery set rubies and diamonds in neat rows, square-cut diamonds resembling tiny digital pixels appear to fall off thanks to the knife-edge setting method. Van Cleef & Arpels paired rubies with diamonds in this necklace—a colour combination it has been known to revisit—but this time added pink sapphires to soften the contrast between red and white. Two centre stones glitter at its heart, both emerald-cut diamonds, one over 51 carats and the other a 10.52-carat dazzler. The larger stone may be removed and worn on a ring, while another pendent individual mystery set with rubies takes its place.
The collection's brooches are also breathtakingly memorable. Continuing with couture inspiration, the Draperie Mystérieuse clip showcases the maison's extraordinary know-how related to the Mystery Setting technique, juxtaposing square cut stones with round, in randomly overlapping lines reminiscent of tartan fabrics. Similarly, the Double Ruban Mystérieux highlights the jeweller's fortitude with three-dimensional sculptural forms snow set with round diamonds and elegantly covered with buff-topped rubies and pink sapphires as it embraces a 3.08-carat emerald-cut diamond.
"Developing Legend of diamonds took about four years from the time we first saw the rough stone to the release of the finished pieces," Bos recounts. "I'm very proud of the collection. Thanks to the work of all the teams at Van Cleef & Arpels, I think we have successfully shown that an exceptional diamond can be the starting point for an extraordinary collection that will be a milestone in the history of the Maison."