The Touareg is a fitting flagship for the Volkswagen brand, and an even better SUV
There are lots of reasons to love the Volkswagen Touareg, the crown jewel in the German carmaker's lineup, especially in its latest, third-generation guise. 
It takes everything Volkswagen (and the wider Volkswagen Group) has learned about making SUVs in general and luxury cars in particular, and distilled it all into one big, practical package.
Even the most casual glances at its history will prove that the Touareg has never stopped improving and striving to be better since its inception in 2002. The first-generation model was the first full-sized SUV to ever come from Volkswagen, bringing top-shelf features such as self-levelling air suspension.
The second-generation model, introduced in 2010 took all the strengths of the first and further improved on it – with its adaptive headlights able to selectively block off portions of its beam, in order to light the road ahead while not dazzling oncoming traffic.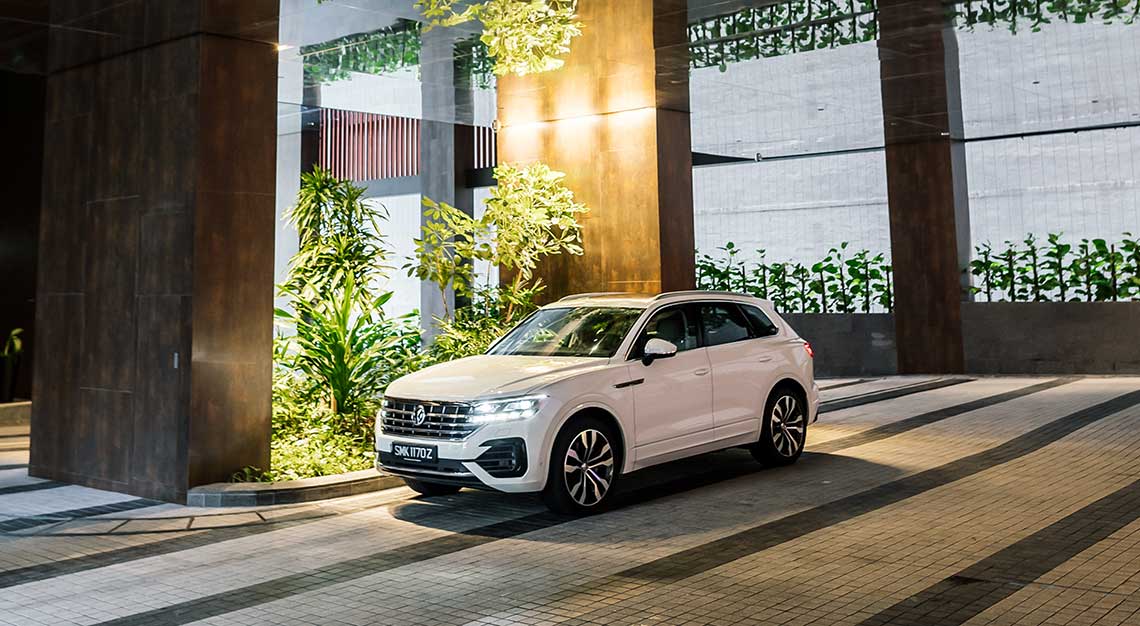 Volkswagen's third-generation Touareg
As for the current, third-generation model, it's more accurate to think of it not so much as an incremental improvement, but a great leap forward. 
Even right to its bones (the chassis), the Touareg cuts an impressive figure. Its bodyshell, made of a mix of high-strength steel and aluminium naturally scores a perfect five-star rating in the Euro NCAP safety test, with the Touareg scoring almost 90 per cent for occupant safety.
This is great for peace of mind, but the happy benefit is its super-stiff, super-light underpinnings also give the Touareg impressive handling chops. Paired with all-wheel-drive and all-wheel-steering capabilities, it possesses both surefooted grip and impressive agility. 
On its all-wheel-steering function, this also gives the Touareg an impressively small turning circle for its size, making it easier to manoeuvre around tight spaces such as narrow multi-storey parking lots.
Another area that it scored over 80 per cent for in the Euro NCAP test was for its safety assistance systems. From systems that can proactively apply the brakes if the car detects an imminent collision, to its ability to gently steer you back into your lane if it detects you're straying.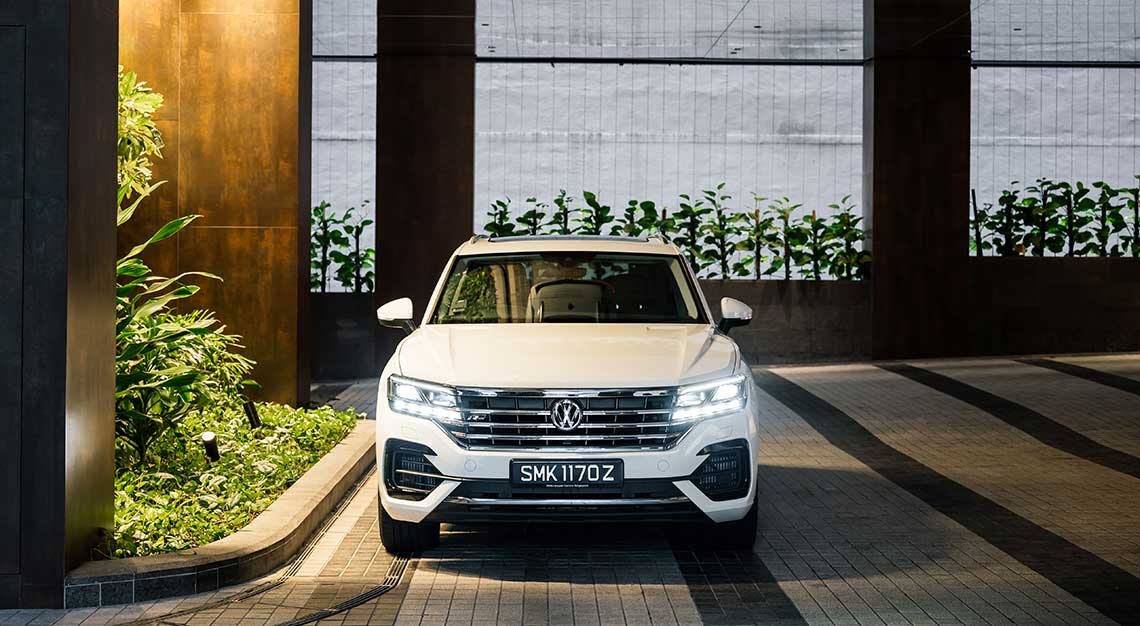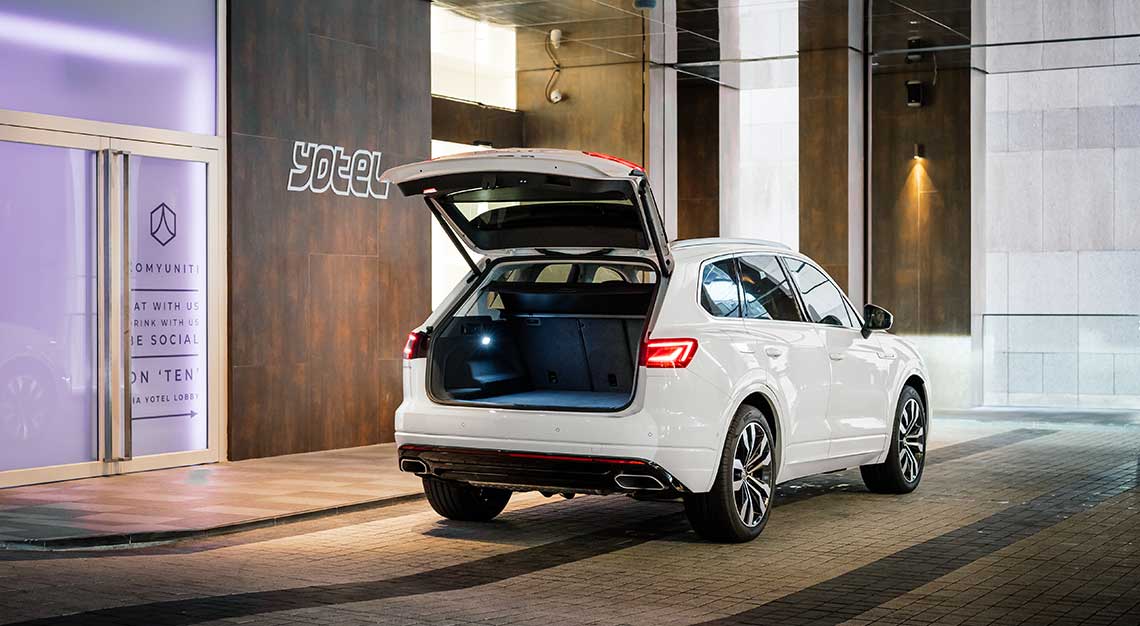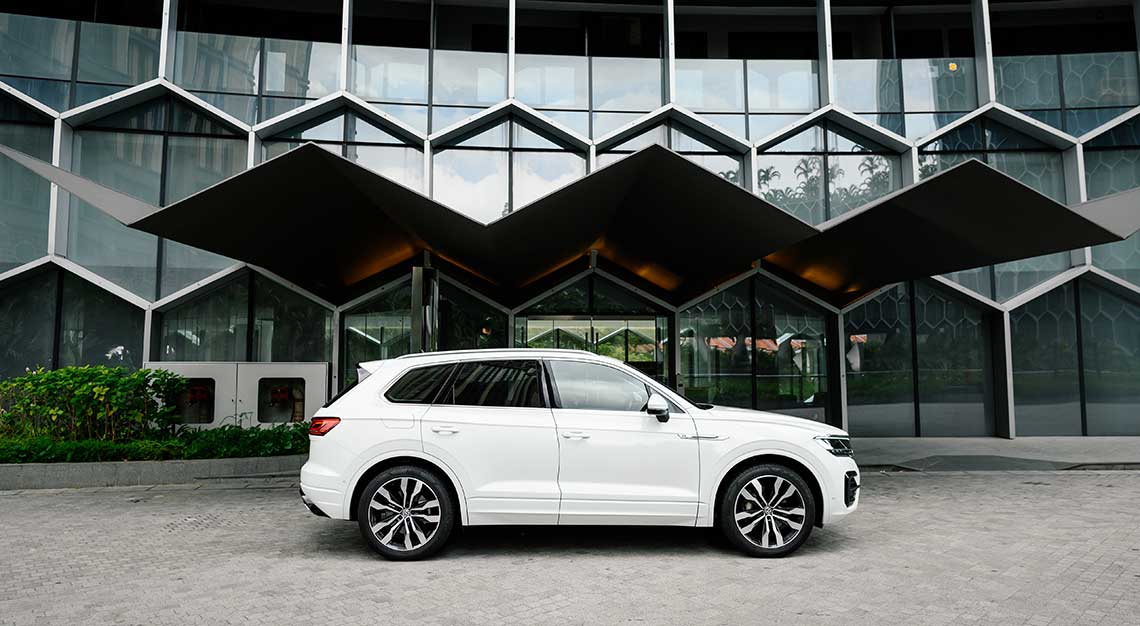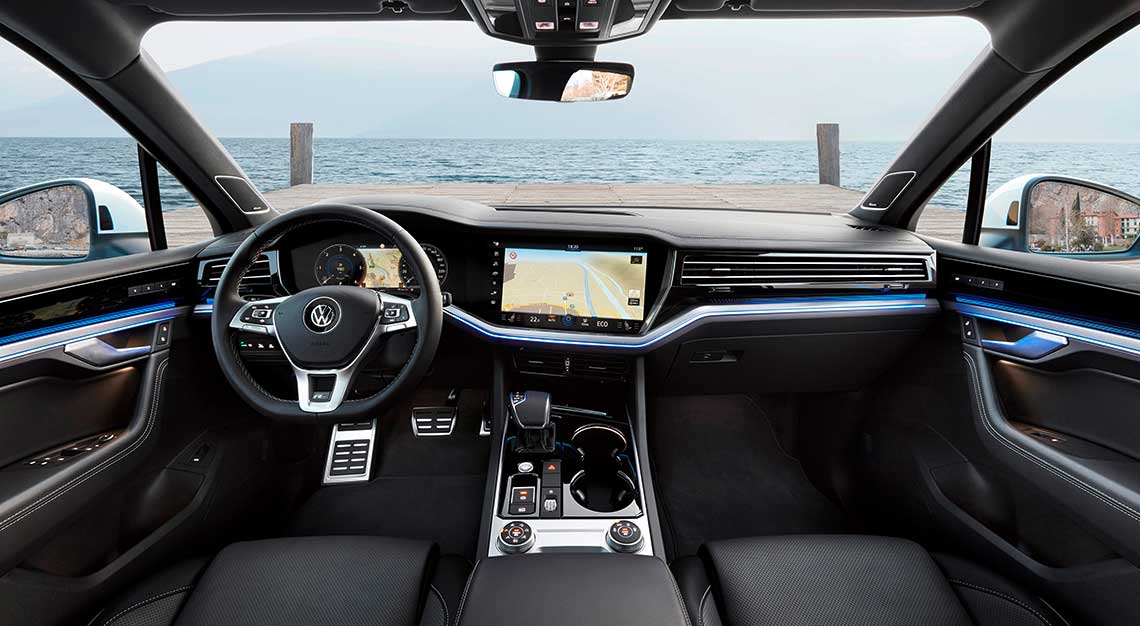 All that is part of the Touareg's impressive electronics suite that's interleaved with its safety and assistance functions, such as handling what is arguably the most boring part of commuting, stop-and-go traffic, a function of the aforementioned lane-keeping assistant and adaptive cruise control.
Put simply, it works just like regular adaptive cruise control, maintaining a safe distance to the vehicle ahead no matter the speed set, except it works in start-stop traffic as well, able to bring the Touareg to a complete stop and automatically moving again when the vehicle ahead pulls away. 
And we haven't even yet gotten to the interior, which is where it really shines – quite literally in places thanks to its configurable interior ambient lighting strips. 
Anyway, bad puns aside, there's very little not to like about the soft leather seats, the upmarket trim elements and of course, what Volkswagen calls the Innovision Cockpit. This is a 12.3-inch screen that forms the instrument cluster, and if you aren't really a fan of the traditional, two-dial speedometer/rev counter, you can have the map (with integrated navigation directions) taking pride of place. 
This is complemented by a centrally located 15-inch touchscreen that forms the interface for the infotainment system. 
The icing on the cake is its silken drivetrain – a three-litre turbocharged V6 developing 340hp and capable of catapulting the Touareg from a standstill to 100 km/hr in just 5.9 seconds. And yet, when you don't feel like driving like a lunatic, its smoothness in and around the city will no doubt impress. 
All told, the Touareg is a real five-star SUV, and we're not just talking about its Euro NCAP rating…