It's Valentine's Day in 2020 and those readymade bouquets just won't do. Here are some of Singapore's best floral artisans, who'll work with you to craft a bespoke bouquet for your other half
If you even have to ask why readymade bouquets won't do the trick… Well, for one, they've been sitting in the fridge for days, and two, it reeks of thoughtlessness. But what about spontaneity, you ask? Your other half may enjoy a surprise, but everyone knows that true spontaneity ironically requires well, planning ahead.
And just like how there's an occasion for everything, there's one place those neat, symmetrical round bouquets belong – in the bin. Like snowflakes, no two bouquets look the same, and the following floral artisans have nailed it. They've expertly blended a variety of textures and colours, adding a touch of whimsy with the odd branch sticking out.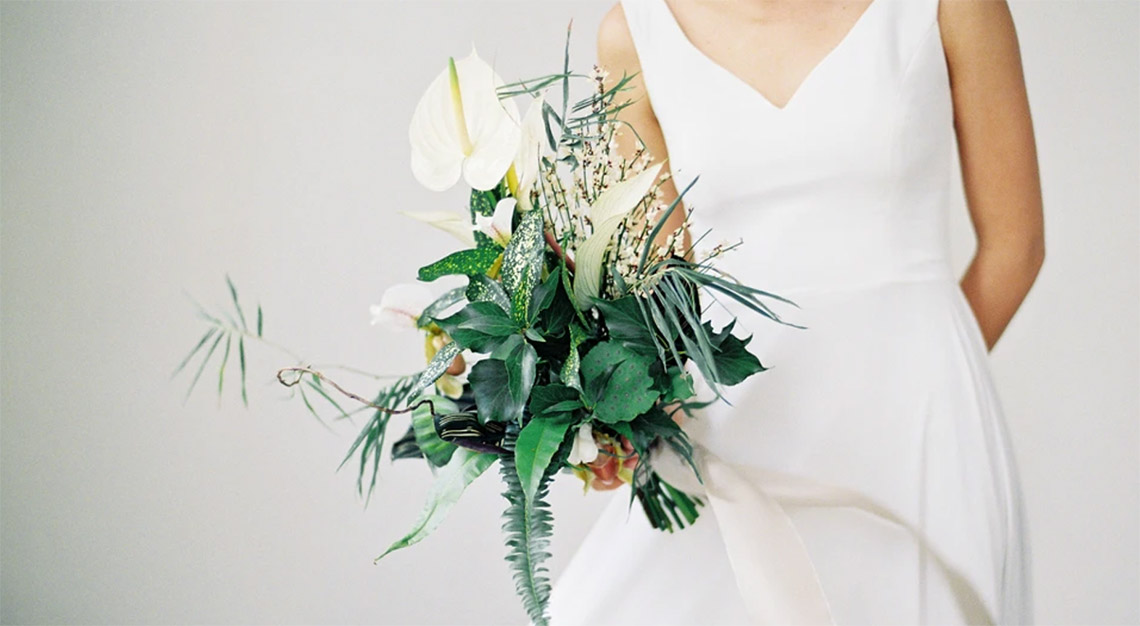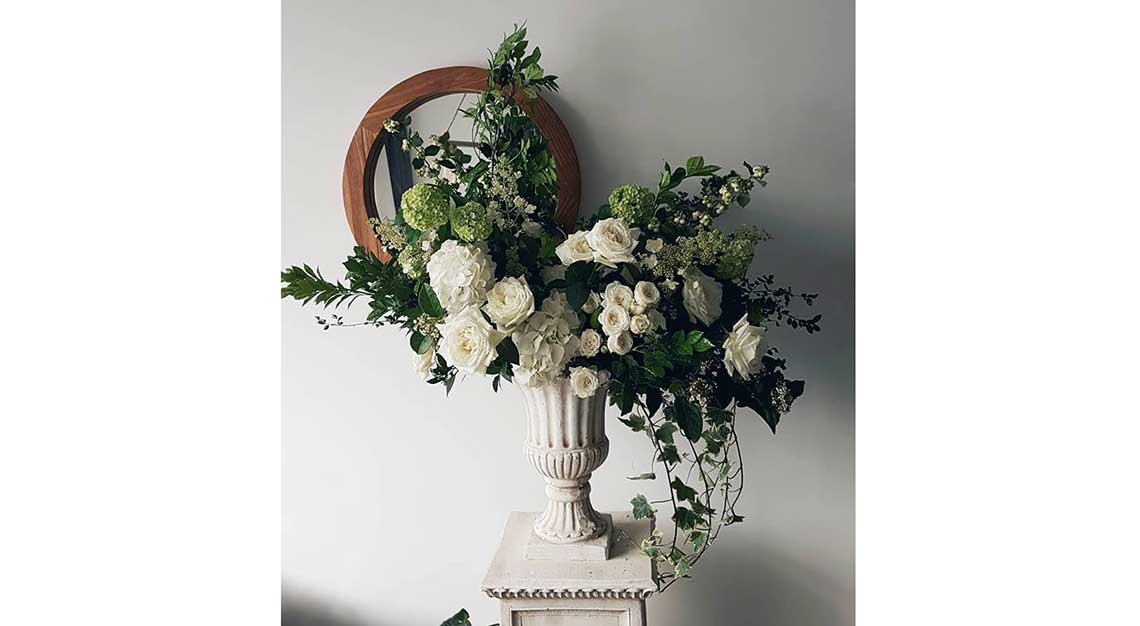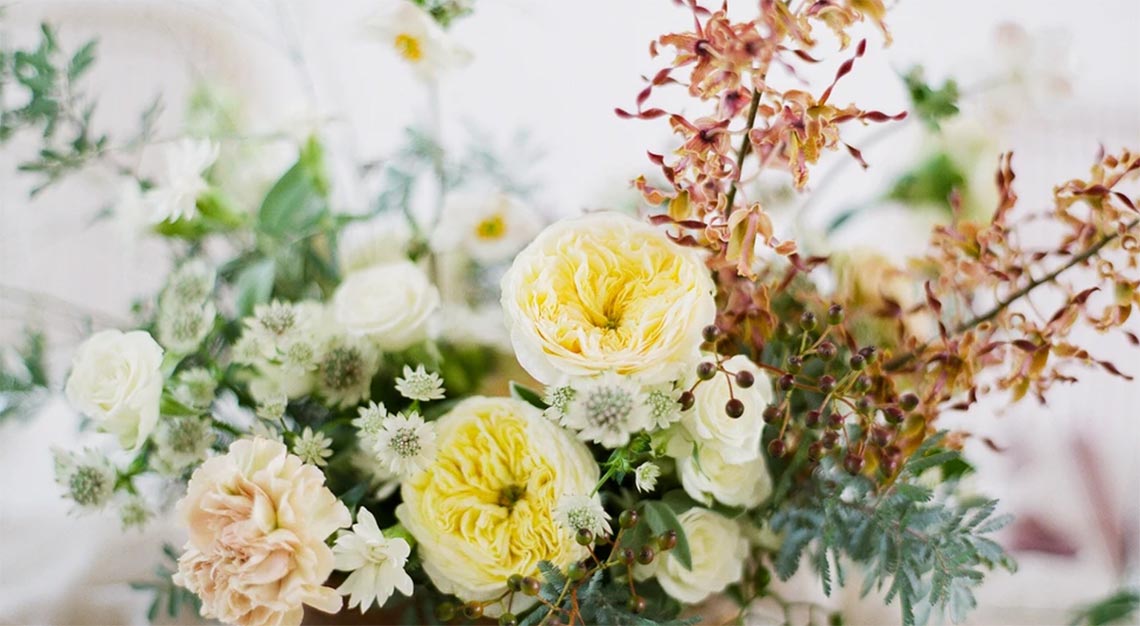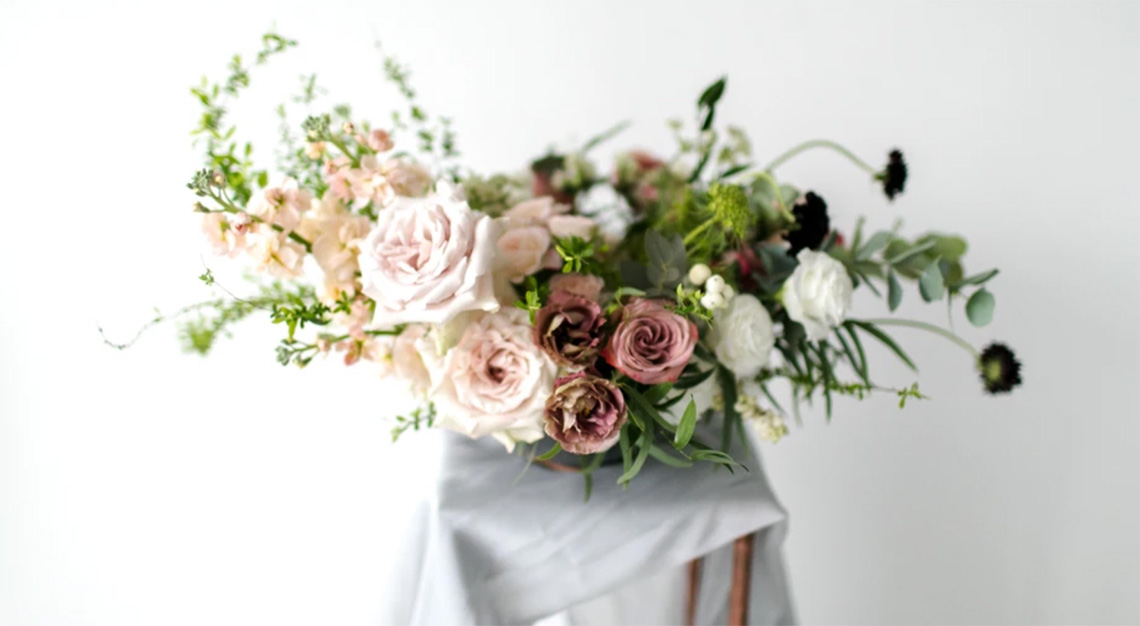 Bloomen
Daryl Cheng and his wife Hema Nathan, who work out of their home studio, founded Bloomen. Those unsure of what to purchase can go for Daryl's Pick, which also includes a peonies bouquet (from S$150), wrapped in simple kraft paper. Private workshops (S$500) are also available. Bloomen also collaborates with brands such as Fritz Hansen, which saw it organising an Ikebana floral arrangement class around the Danish furniture company's vases.
Bloomen
17 Joan Road
Singapore 298900
Tel: +65 9278 1814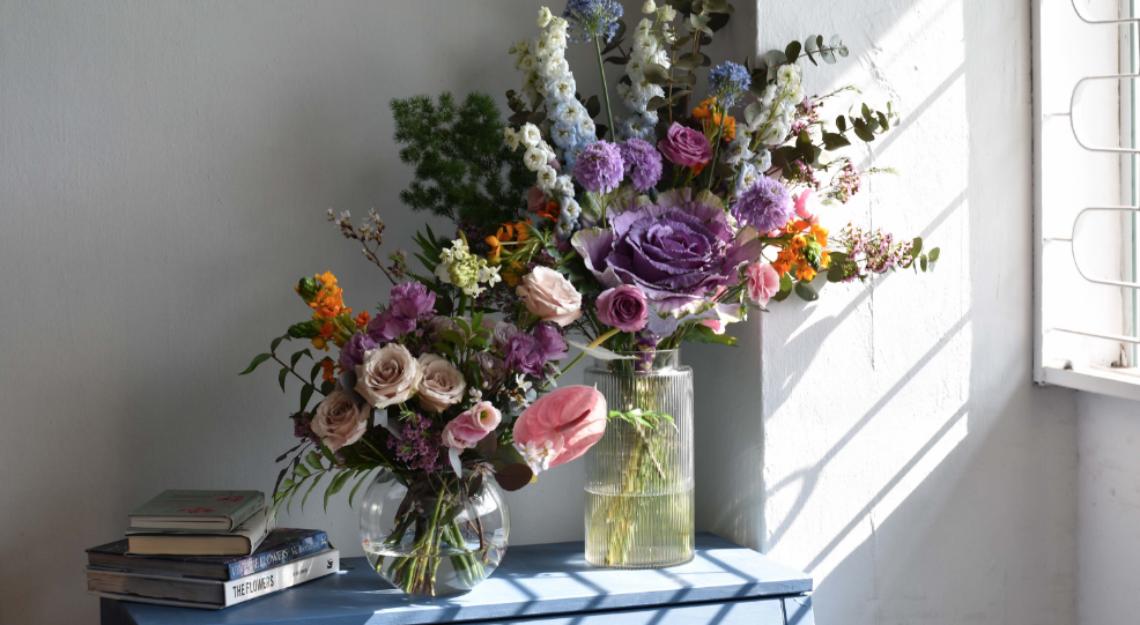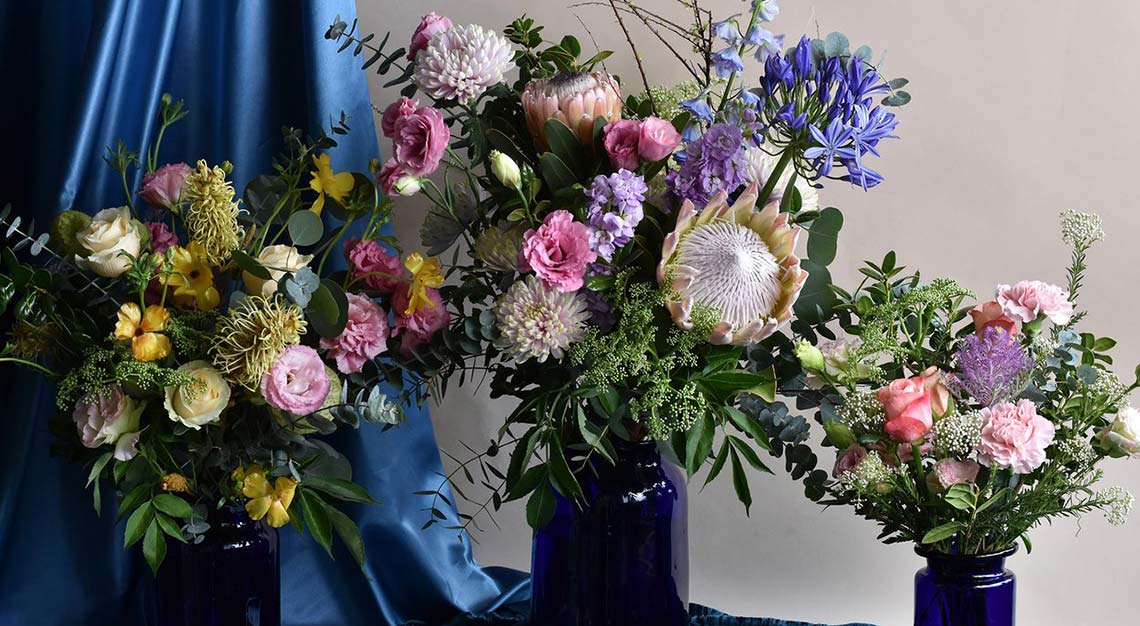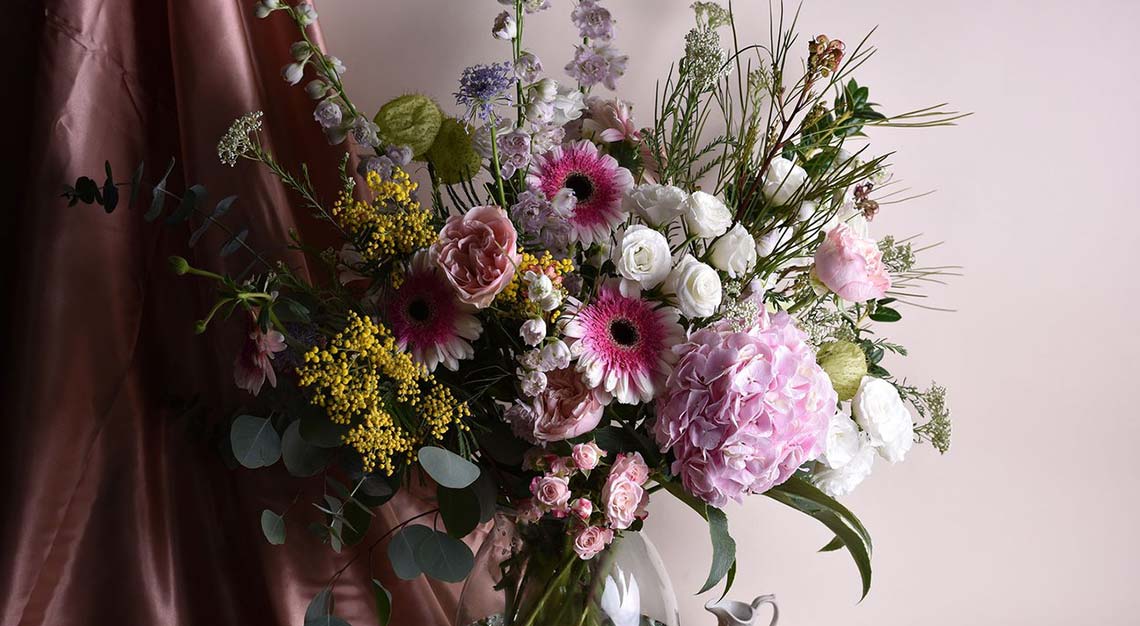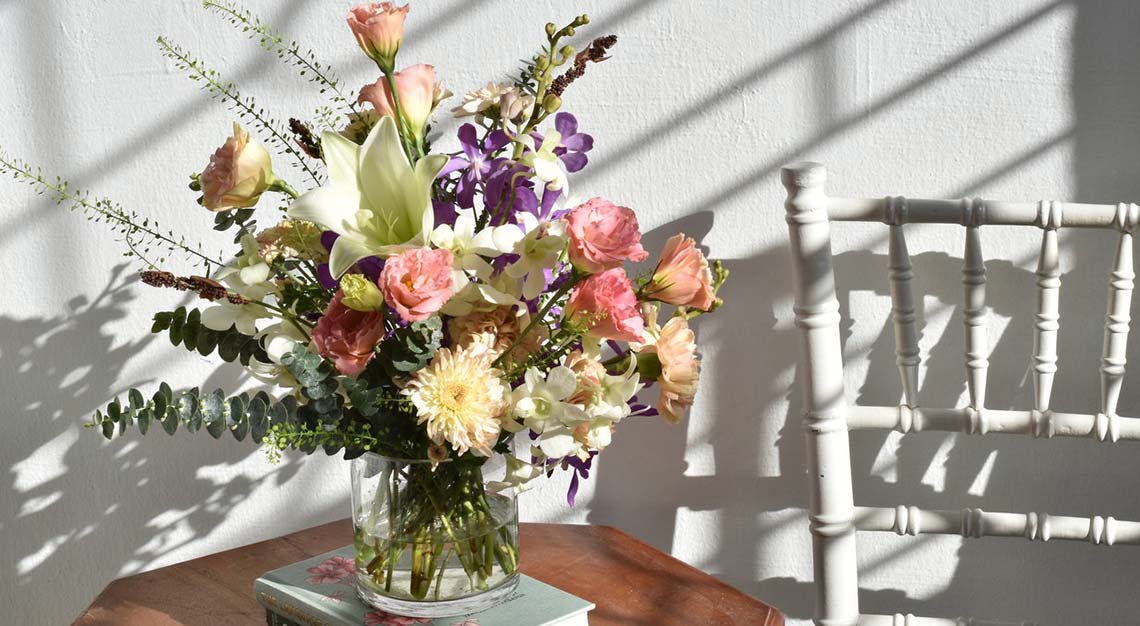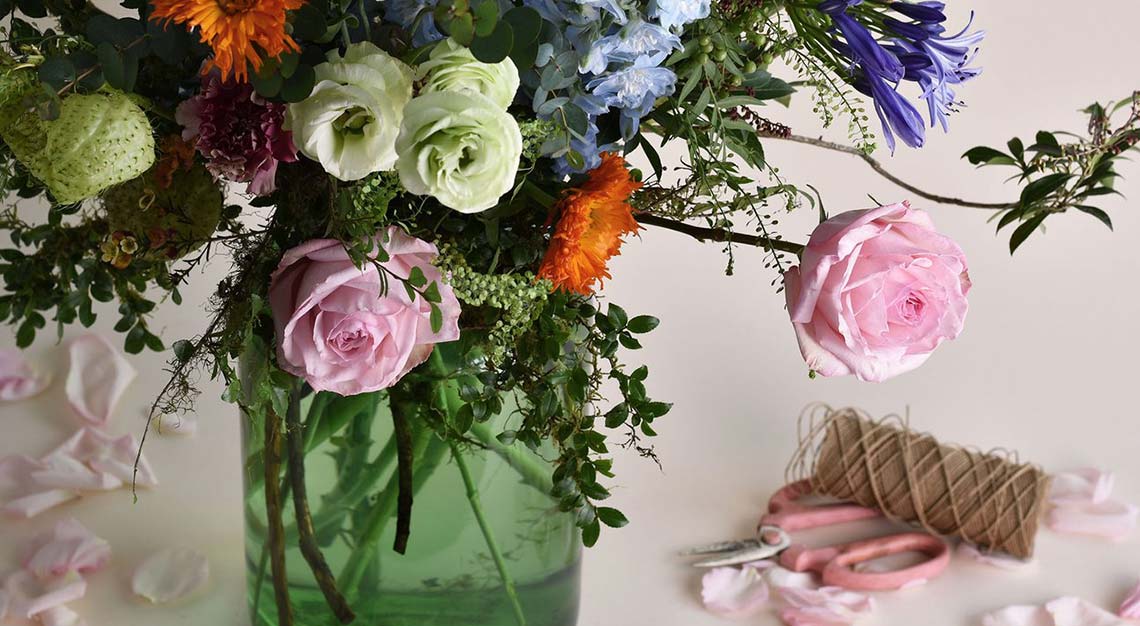 Charlotte Puxley
Before moving to Singapore, owner-florist Charlotte Puxley was working with flowers in London alongside established experts Jane Packer and Scarlet & Violet. Her team has also collaborated with Gucci, Dior and Faberge among others. Puxley's style is inspired by the English countryside, and flowers are sourced from local markets. The hand bouquets range from extra small to suitably large, and prices start from S$47. Otherwise, opt for subscriptions that start from S$95.
Charlotte Puxley
#08-07
Tan Boon Liat Building
315 Outram Road
Singapore 169074
Tel: +65 6904 4980
Fleurapy
Pauline Ho, Fleurapy's founder, has worked on several weddings as well as decor for a Nespresso event and the Queen's Birthday Party at the British High Commissioners' Residence. The bouquets are inspired by places she's been to, such as Mongkok in Hong Kong, and are brought to life with vibrant hues of purple, pink and soft blue hydrangea (from S$80).
Fleurapy
152 Mei Ling Street
Singapore 140152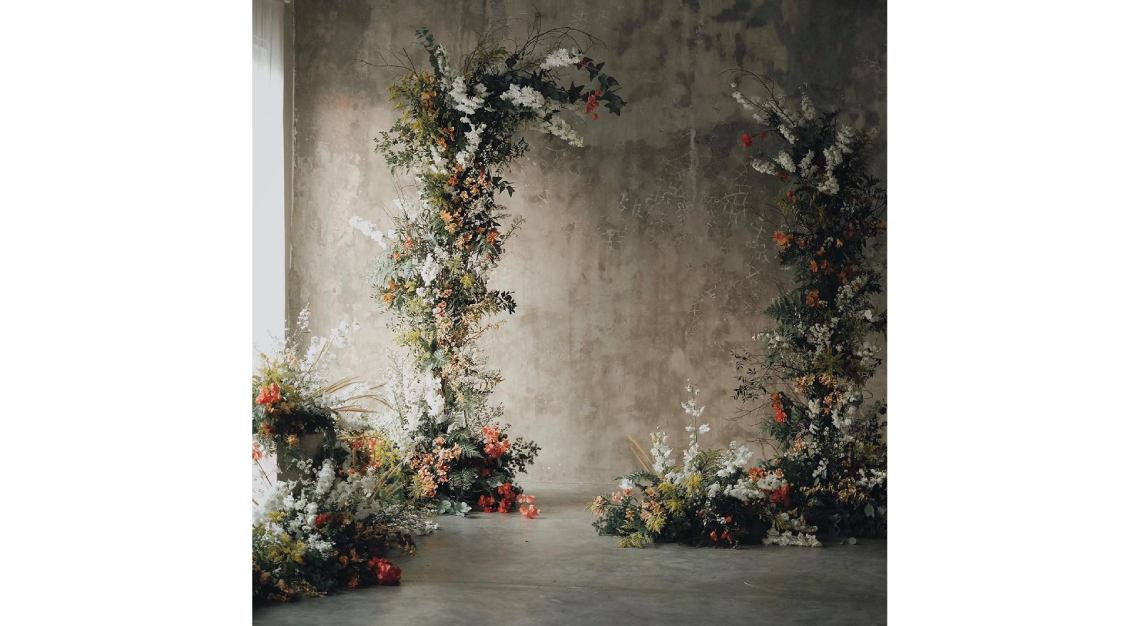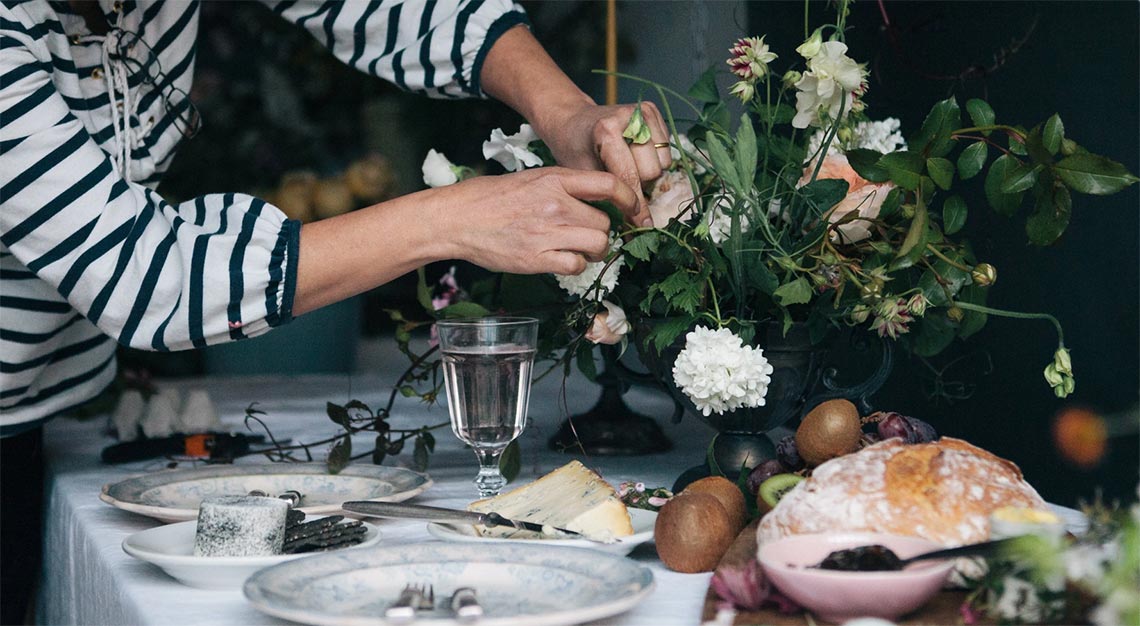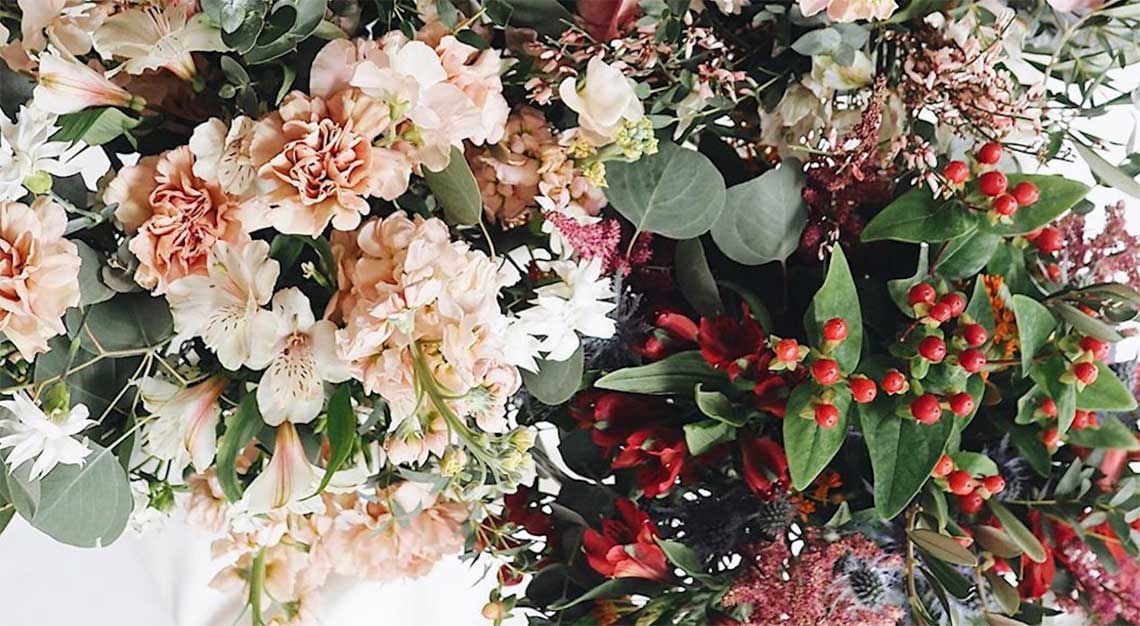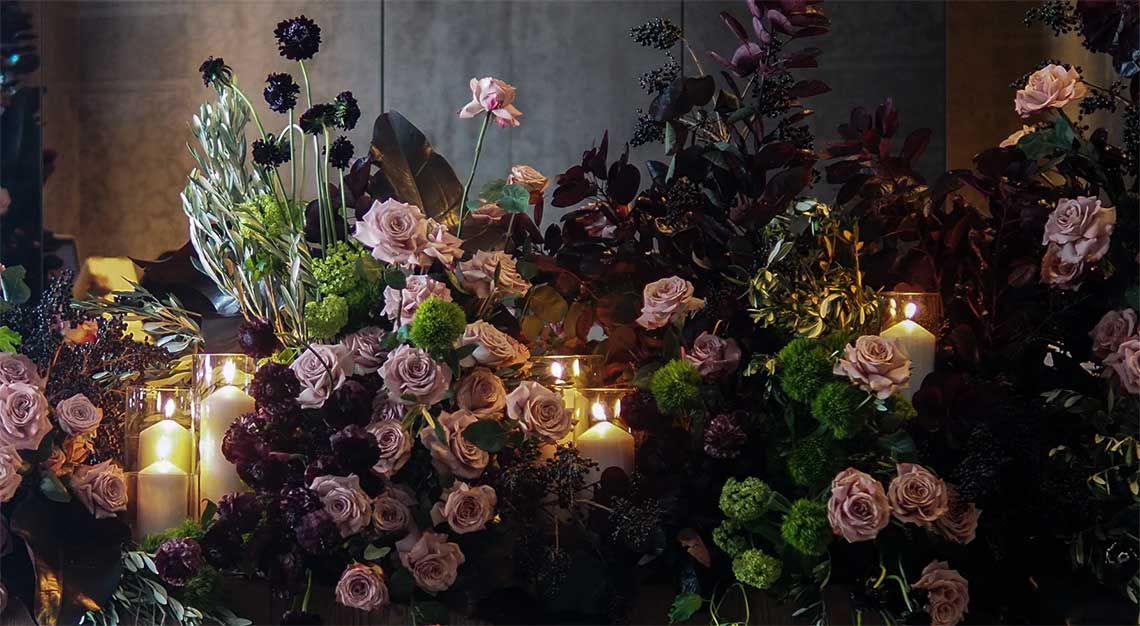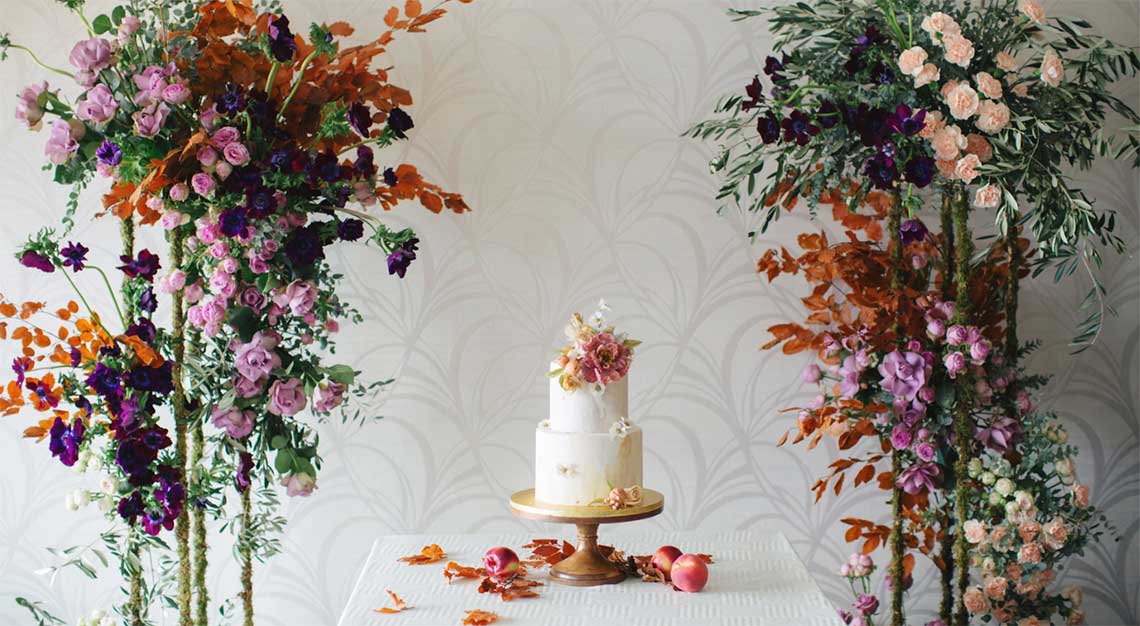 Floral Magic
This doesn't matter to us, but the 19-year-old family establishment prides itself on having all its florists trained in Europe or the USA. Apart from putting together bouquets, it regularly designs floral arches and table pieces for weddings and events. For a touch of elegance, choose the Casablanca en Masse (S$200), a bouquet of gorgeous white lilies.
Floral Magic
334 King George's Avenue
Singapore 208571
Tel: +65 6337 6398
Hello Flowers
A trained social worker, founder Annie Cheong not only crafts bouquets, but also teaches women from disadvantaged households to do the same. Prices start from S$70 and with box arrangements available from S$85. Clients can also request to set up a pop-up flower bar at their events to design bouquets, flower crowns or succulent pots.
Hello Flowers
#03-39
Block 52
Chin Swee Road
Singapore 160052
Tel: +65 9729 5207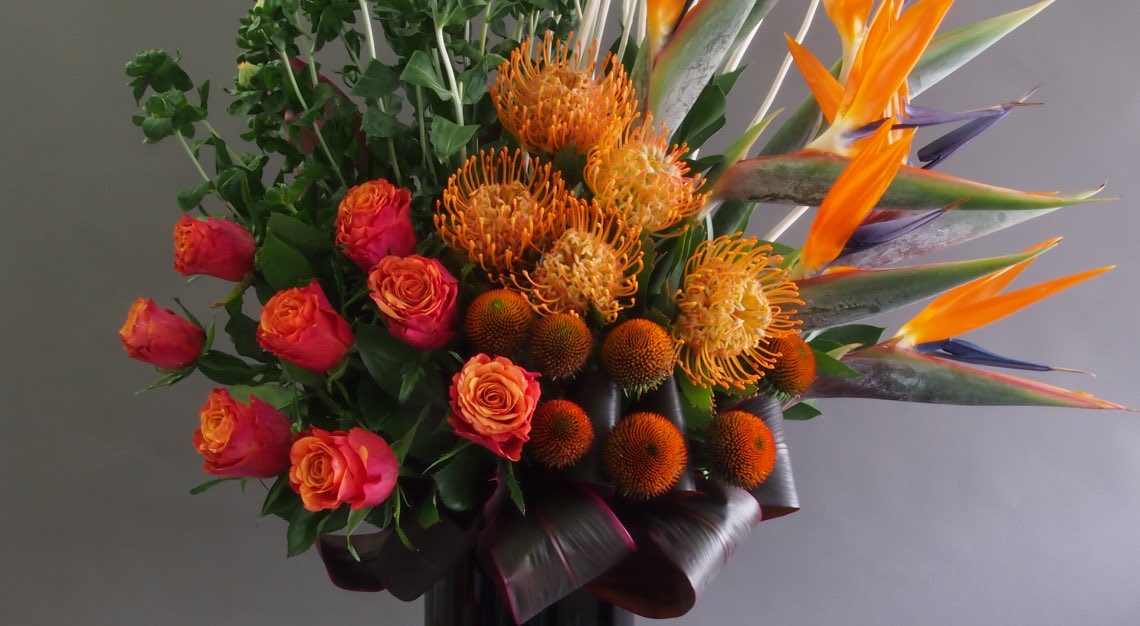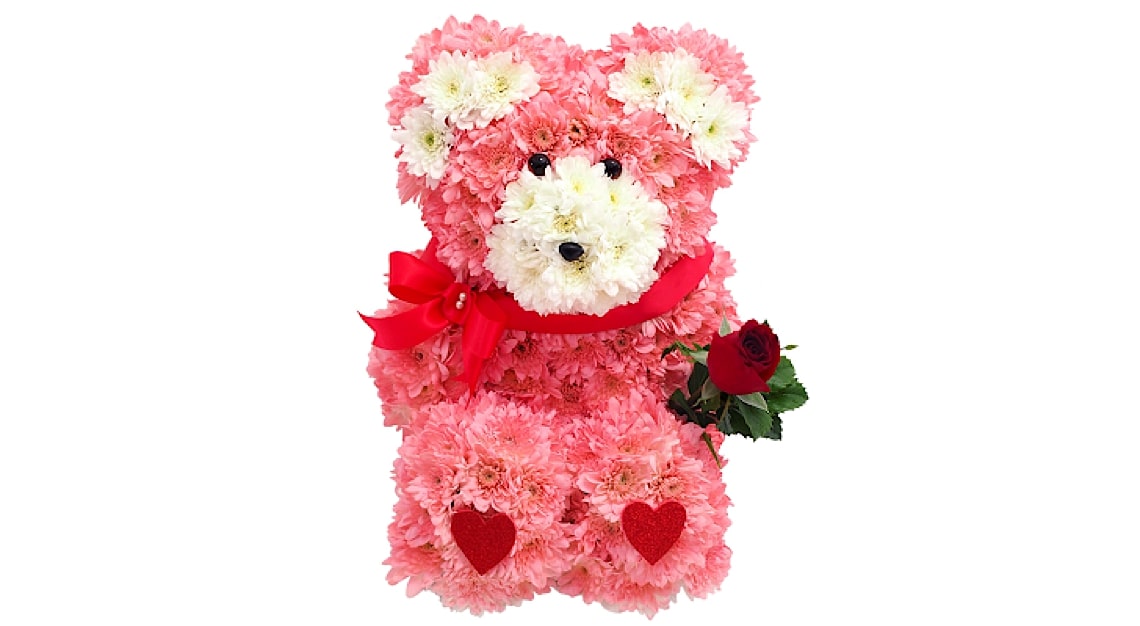 Little Flower Hut
If there's a Taobao for florists, Little Flower Hut will be it. A one-stop online platform, Little Flower Hut boasts a selection of over 1,000 floral arrangements for any occasion, whether it be for a celebratory or solemn affair. There's even one for the bar top with their Happy Hour series, perfect for cocktail parties. However, what makes Little Flower Hut stands out is their 24/7 service (yes, even during public holidays). Delivery is within an hour, so no worries if you require flowers prompto. Read more about Little Flower Hut here.
Little Flower Hut
25 Jalan Chegar (walk-in by appointment only)
Singapore 578483
Tel: +65 6503 9750
One Olive
You may have seen One Olive's floral displays at events by Belvedere Vodka, Krug, Chopard, Chaumet and Tiffany & Co. Here, you can purchase bouquets from S$100. For a gorgeous table centrepiece, try the Crowning Visnaga or the Sweet Elliot.
One Olive
#01-01
61 Seng Poh Lane
Singapore 160061
Tel: +65 6779 3543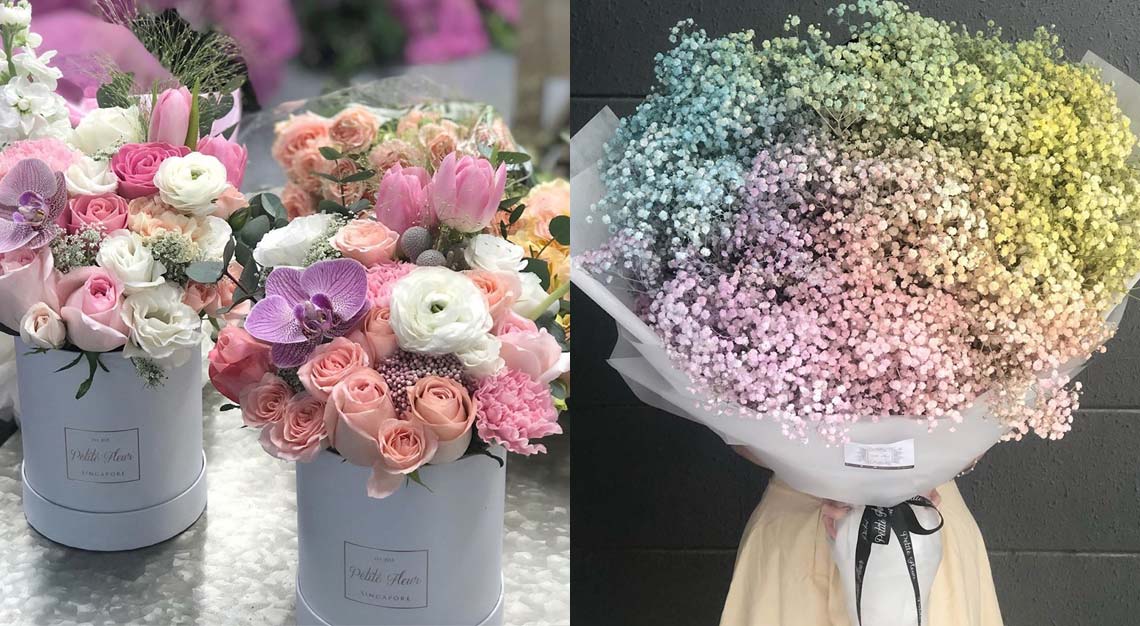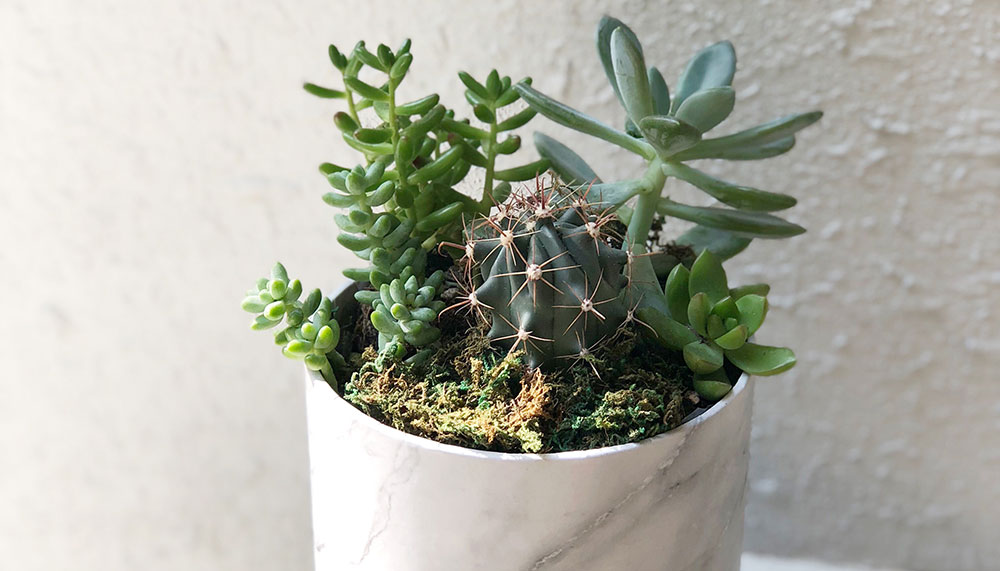 Petite Fleur
Founder Patricia Tanuwija has designed arrangements at several luxury events including Kenzo and Miu Miu, but what stands out most is her brand's dedication to designing bouquets for men, like the Jacob's Creek (S$118) or the Petite Round Succulent Box (S$55). Adorn your home with the Cymbidium Arrangement in Rose Gold Vase (S$220) where cymbidium, orchid, delphinium and the green of seasonal foliage perfectly complements the rose gold vase for a metallic shimmer.
Petite Fleur
87 Upper East Coast Road
Singapore 455223
Tel: +65 9270 8473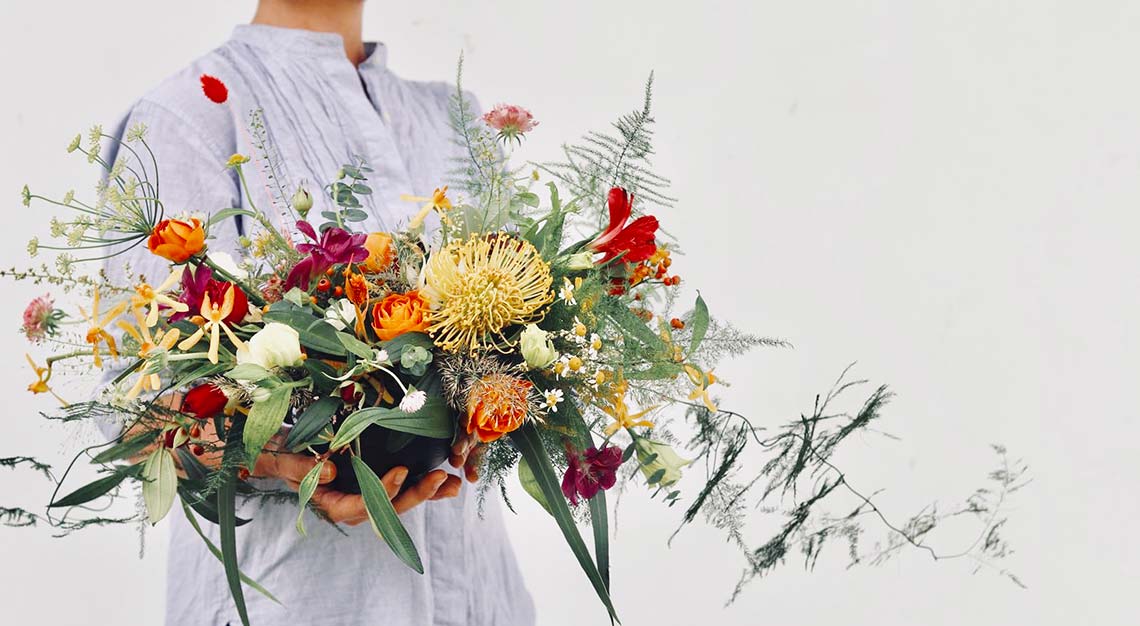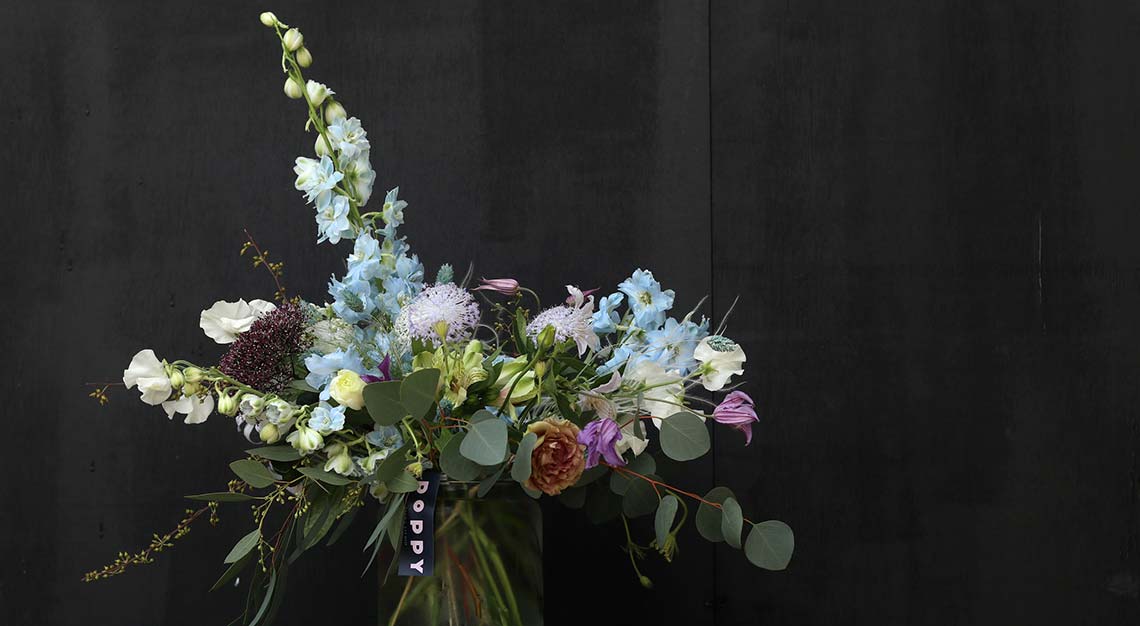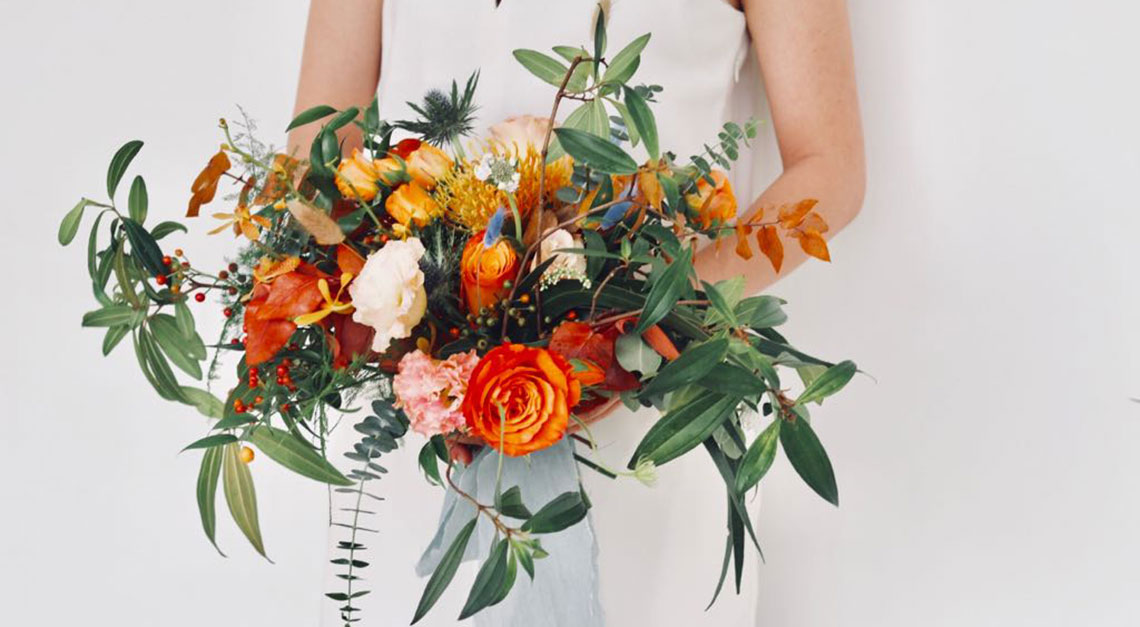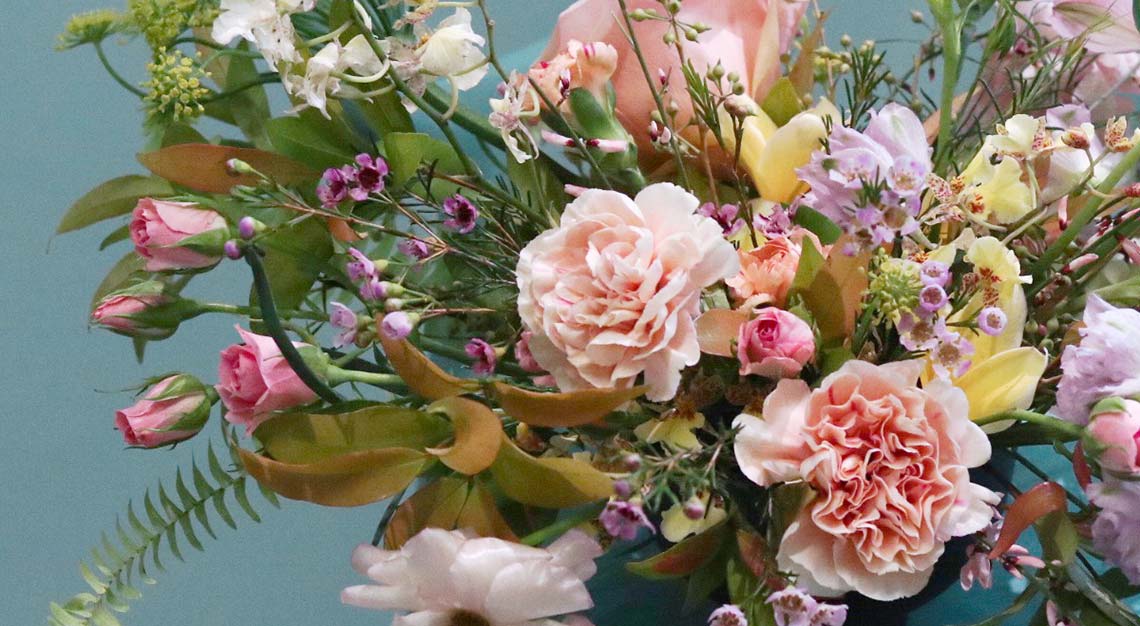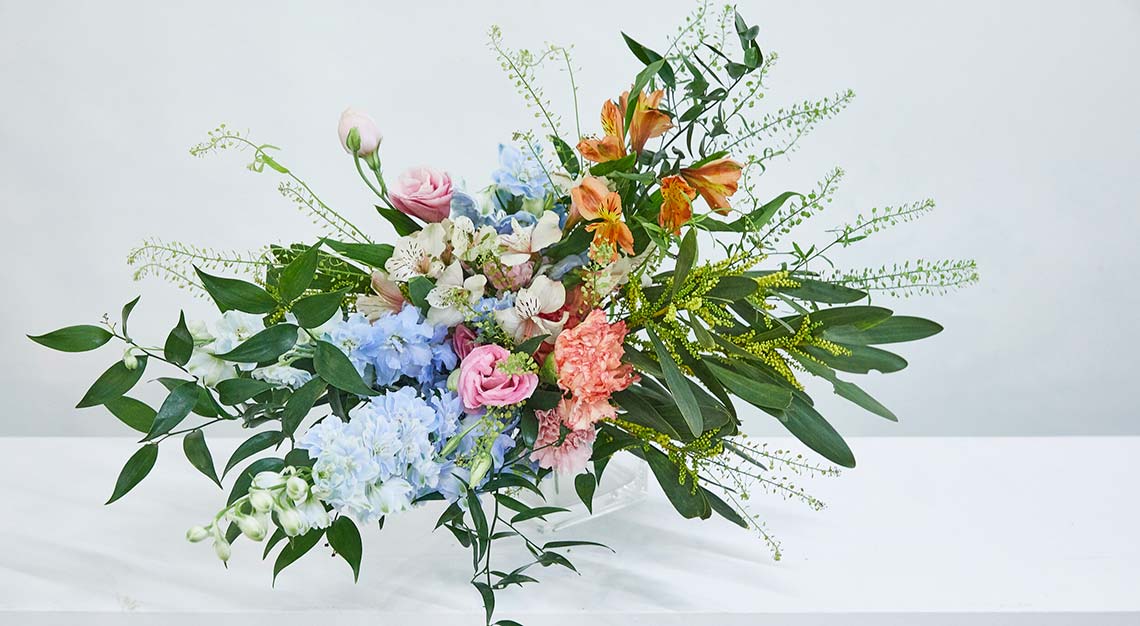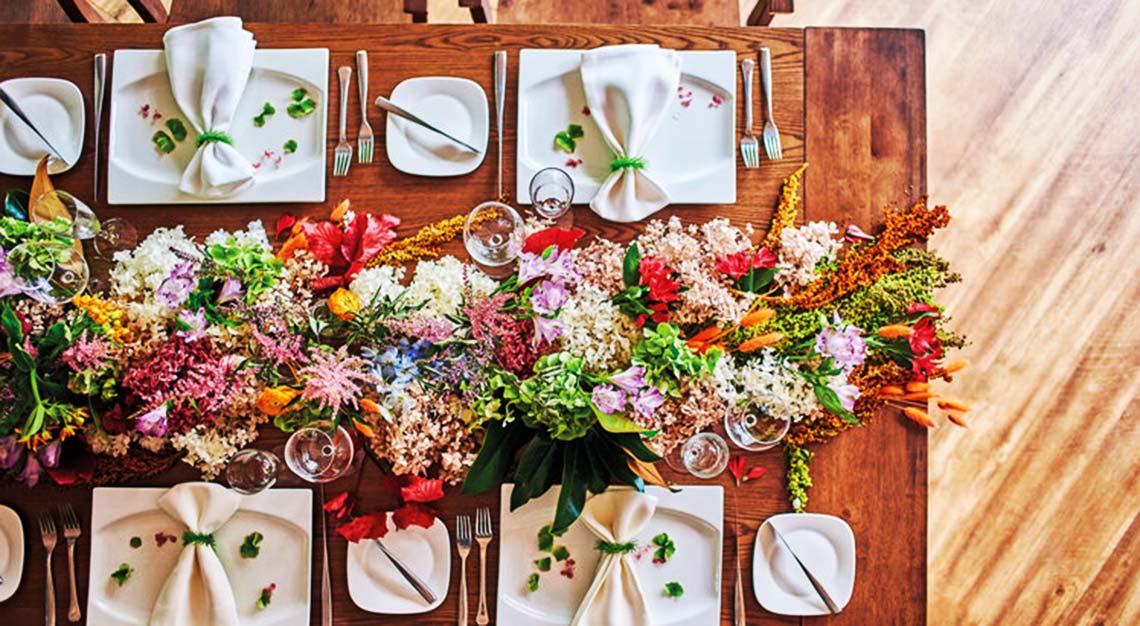 Poppy Flora
You'd never find neatly arranged blossoms here, and it's precisely why we're drawn to the bouquets done by founder Sarah Tan and her team. Previously located at Summerhouse, the atelier has since shifted its premises to Dempsey, making it a lot more accessible for those who wish to pick up fresh bulbs for their homes. But bouquets aside, Poppy also makes rather delightful table centrepieces and wedding backdrops.
Poppy Flora
9A Dempsey Road
Singapore 247698
Tel: +65 9188 1247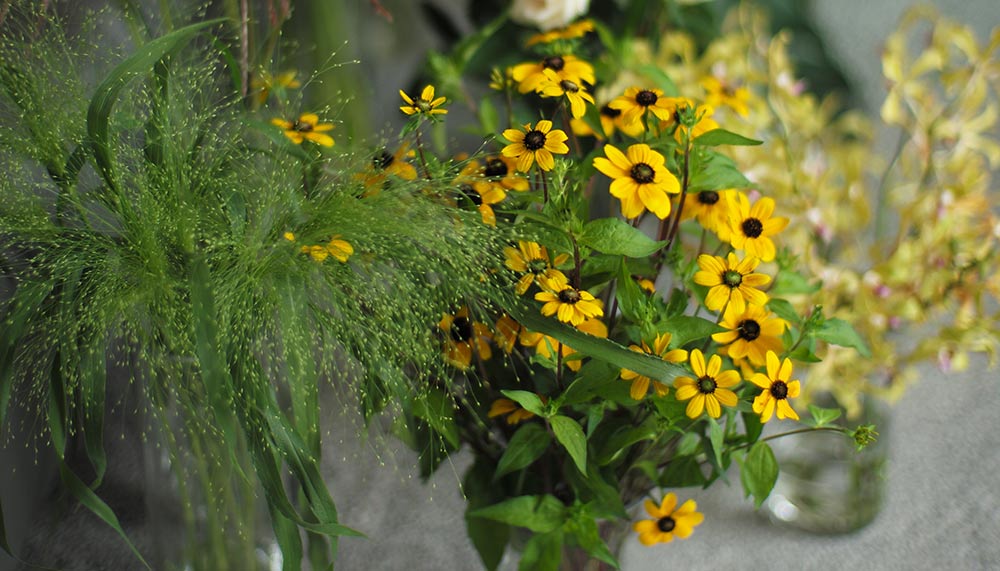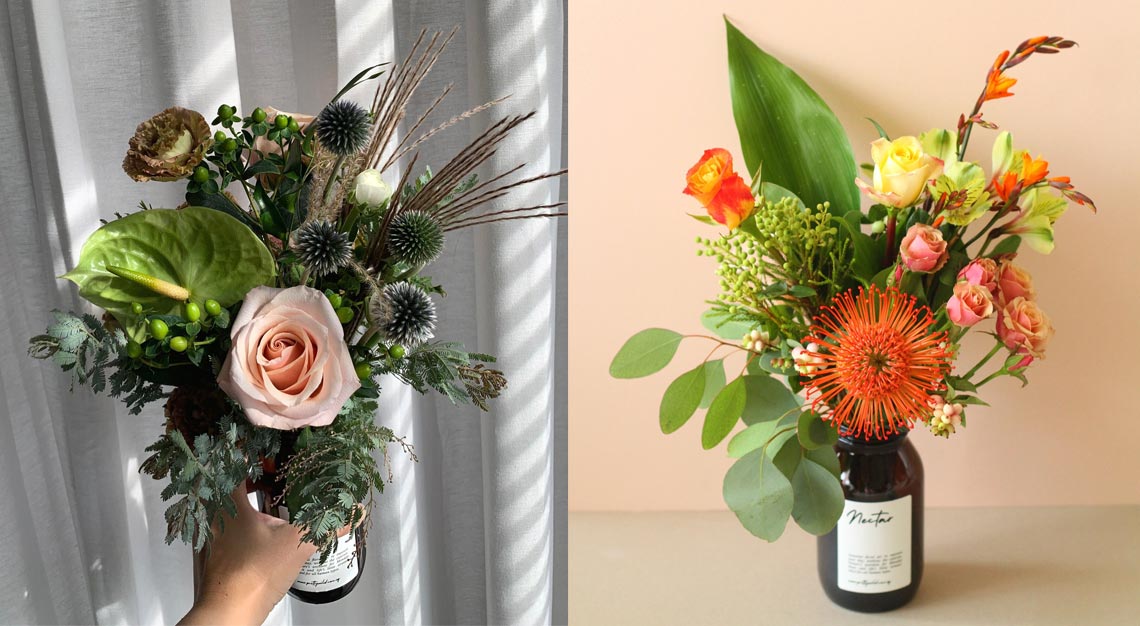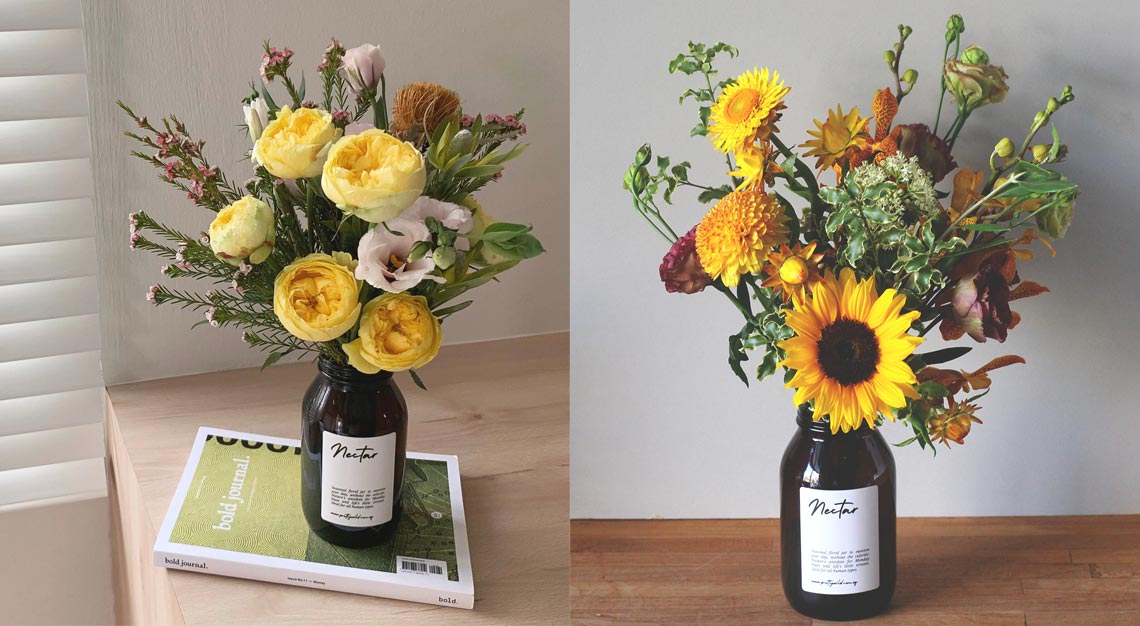 Pretty Wild
Unlike others on the list, Pretty Wild is run from a home studio in Kembangan. Founded by Shi Min, it offers omakase-style arrangements, where seasonal blossoms are chosen by the brand and arranged in stylish boxes. Otherwise choose a six-month subscription for regular deliveries.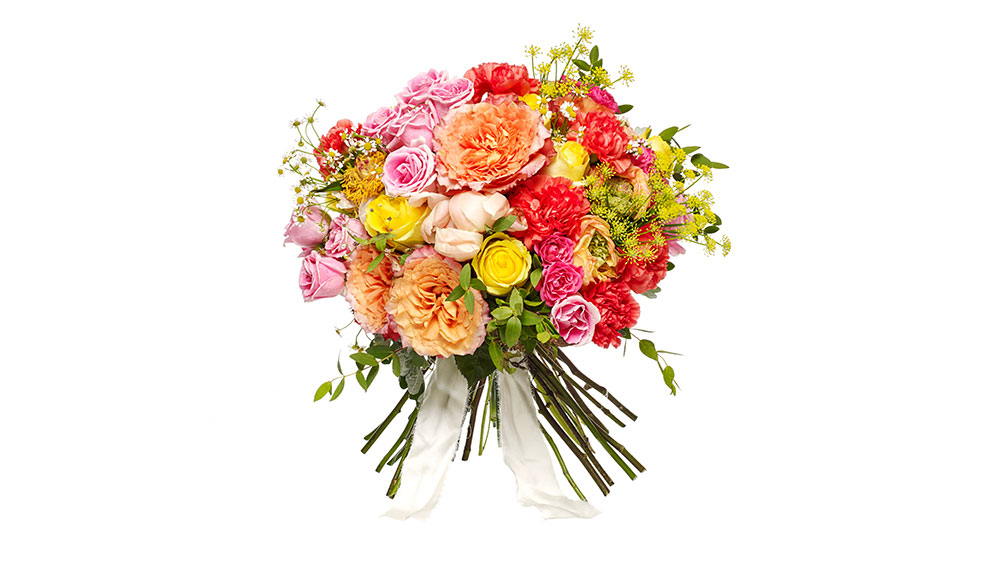 The Floral Atelier
A graduate of FlowerSchool New York, founder Lelian Chew often uses multiples of the same flower and colour to create an elegant, single-hued bouquet such as the Yellow Noir (S$125). Subscription services at The Floral Atelier are also available, where bouquets in a modern, timeless or romantic style are delivered on a weekly, fortnightly or monthly basis, and will be designed to fit the vase sent on the first delivery. And while fresh flowers are known to last for up to a week, The Floral Atelier has treated its flowers so that it can last for up to a year.
The Floral Atelier
Level 8
Delta House
2 Alexandra Road
Singapore 159919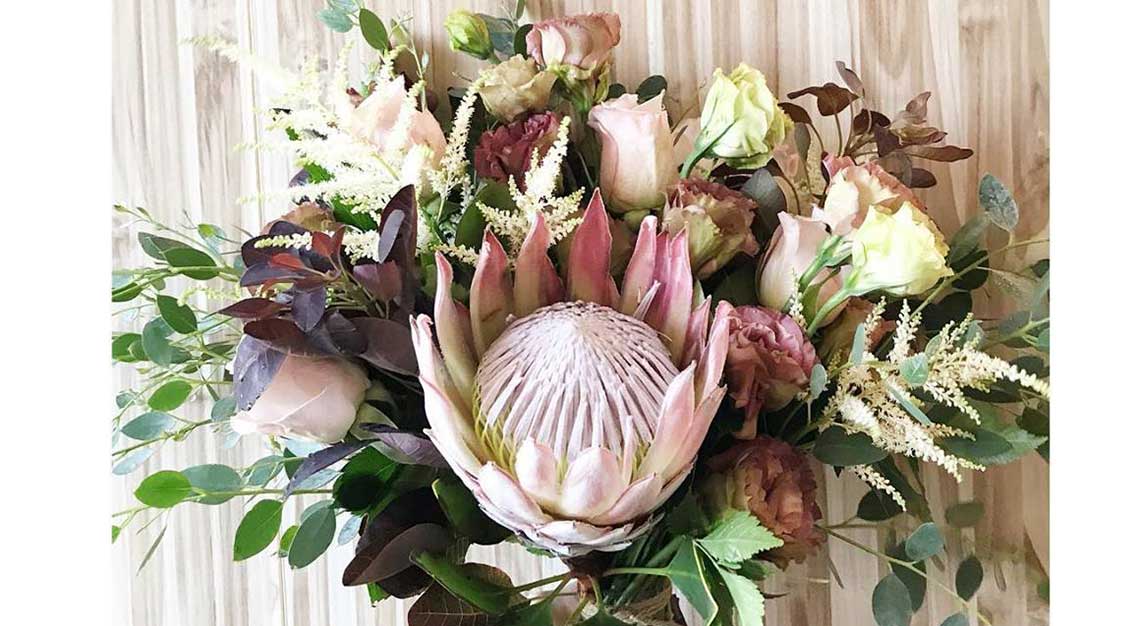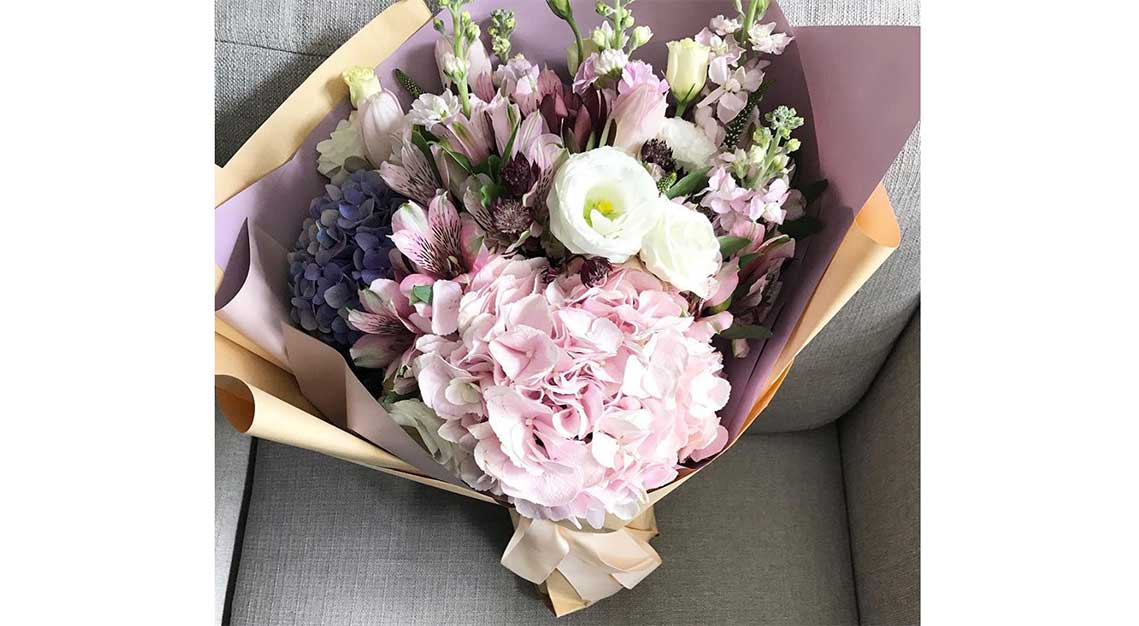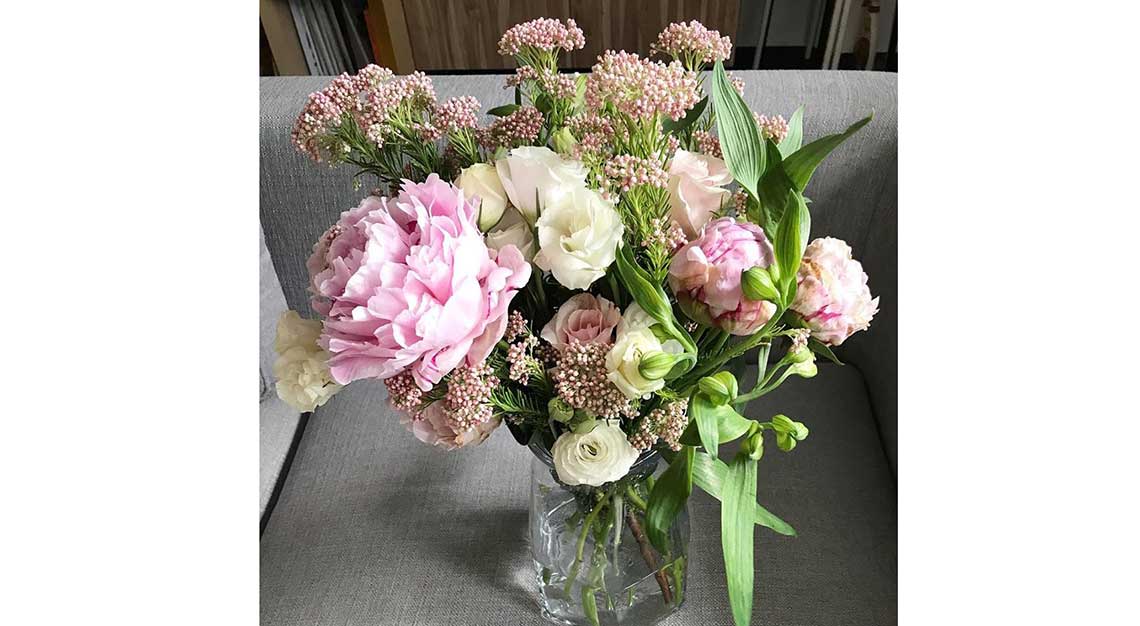 The Floral Tease
Founded by floral artisan Nicole De Silva in 2016, The Floral Tease teases the senses. Using seasonal blooms, the arrangements brighten and compliment living spaces, and not steal the limelight. Ironically, though, her clever, quiet crafts always have guests fawning over them.
Triceratops
Founder Ching started working with flowers after she had rearranged all her floral arrangements the night before her wedding. Sounds like a nightmare, but she managed to turn it into a profitable business venture. When a bride can hold it together and turn a disaster into a dream the day before her big day, you know you'll be in good hands. Today, Ching prides herself on designing bouquets (from S$100) that reflect the recipient's interests and hobbies. Those who love pops of neon yellow, striking pink and deep, strong hues in their bouquets would appreciate her work.
Triceratops
#07-10
2 Kallang Avenue
Singapore 339407
Tel: +65 6444 7848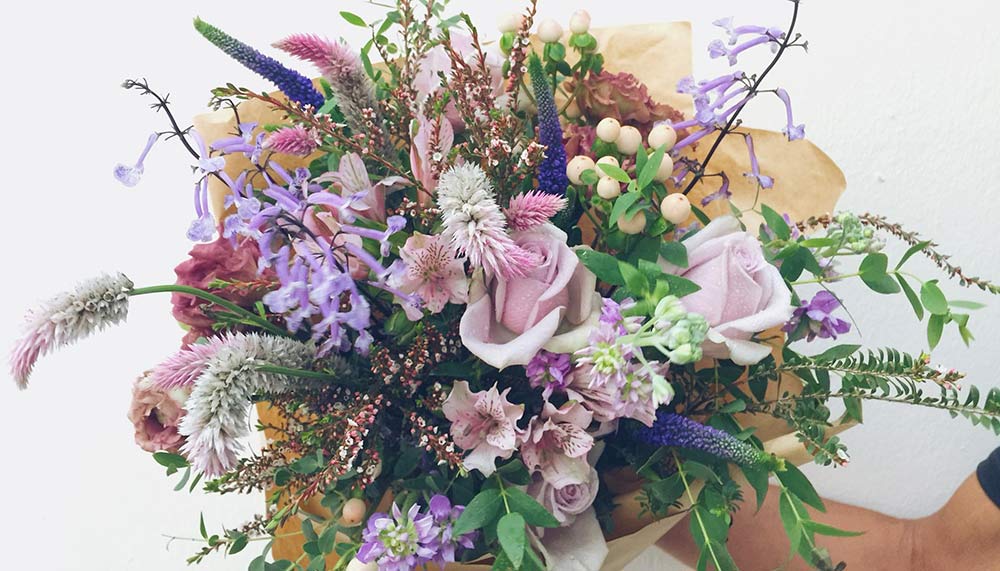 Whim and Prayer
The man behind Whim and Prayer is Reuben Li. His arrangements (from S$80) each come with a handwritten, poetic note, explaining the choice of flowers, leaves and even colours, helping recipients understand and enjoy the gift even more. One such arrangement was done in a blue and honey-yellow colour scheme inspired by the recipient's departed mother's favourite dress, while another alluded to the Valkyrie, which the recipient identified closely with. Visitation is by-appointment only, but on the rare occasion that you pass by, you may see Li using his pet Dachshund as a prop for his shoot.
Whim and Prayer
129 Tyrwhitt Road
Singapore 207552
Tel: +65 9831 7364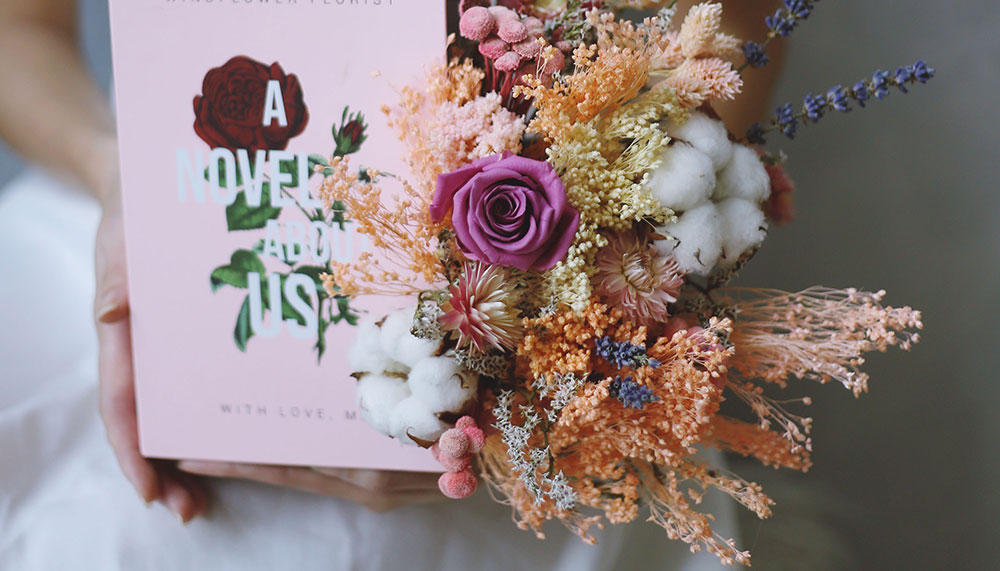 Windflower
The family business began 21 years ago and has worked with brands like Franck Muller, Tumi, and Chloe. Dress your table with Boite de Fleur Eternal (S$135), a box of preserved blooms in a pretty pink palette, or A Flower Novel (S$80). The sets come with preserved or fresh blooms in a book-like box, and can be found at Windflower's vending machines at Raffles City, Sultan Mosque, SingPost Centre, Tiong Bahru Plaza and International Plaza.
Windflower
#02-27 / 28
Primax Industrial Building
22 New Industrial Road
Singapore 536208
Tel: +65 9785 2570