Our favourite restaurants for date night
Whether it's enjoying an evening at home or out on the town, there's a timeless romance that comes along with enjoying a really great meal for two. Forget breaking out the pots and pans, and head out to one of our favourite restaurants for some quality time over plenty of quality food.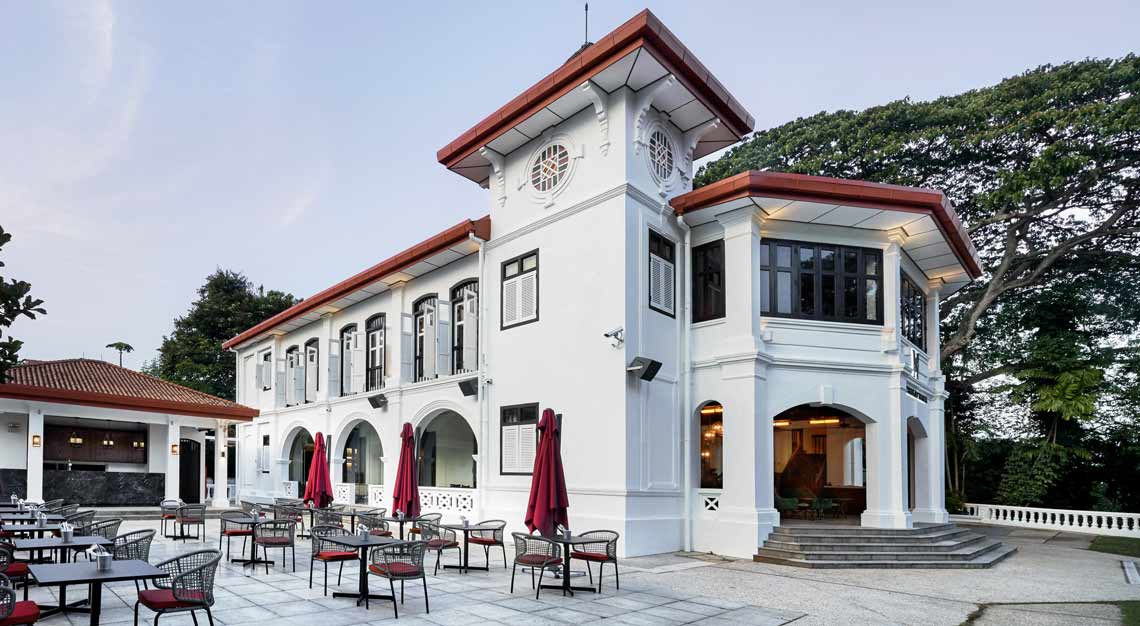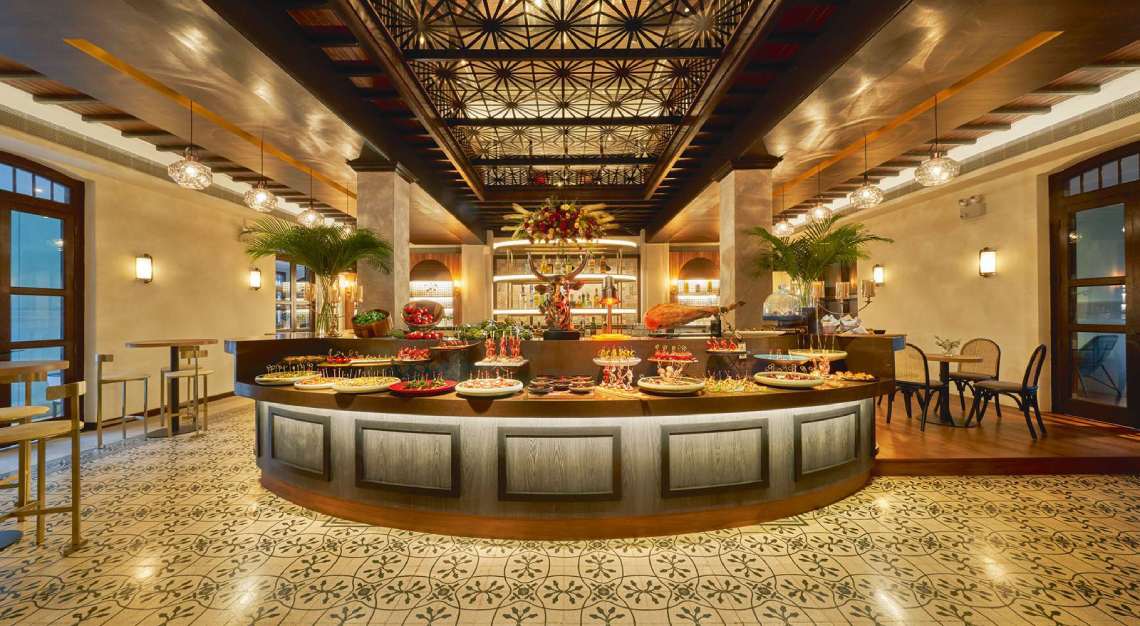 Alkaff Mansion
Head Chef Tom Kung says: "It is a privilege to work at The Alkaff Mansion. The history and the beauty of the property truly makes it the most romantic and beautiful lifestyle F&B mansion in Singapore. With two dining concepts, TXA Gastrobar and UNA, couples can choose if they want a passionate evening at TXA or a warm tender experience in UNA. In fact, since our opening, UNA has proven to be the destination of choice for couples with discerning palates, of all ages. When I have time to come out of the kitchen to speak to my guests, I have always found it very touching to see elderly couples who still take time to dine with each other and make sure their love is still going strong."
This year's five-course Valentine's Day dinner (S$198 per person) will transport you and your date to Spain. Offered at UNA, and TXA Gastrobar, it starts strong with the Octopus Terrine, Crispy Confit Suckling Pig, and Lobster Bisque. The main course is a difficult choice between the Grilled Turbot or Smoked Grilled Wagyu Ribeye. Dessert is the Sherry Wine Panna Cotta, a classic made better with a touch of alcohol. Complete the evening with His & Hers Cocktails (S$30 a pair).
Robb Tip: Looking for alternative wedding venues? Skip the dull hotel wedding for an elegant party at the Alkaff Mansion instead. More details here.
Full review here
Alkaff Mansion
10 Telok Blangah Green
Singapore 109178
Tel: +65 8126 8844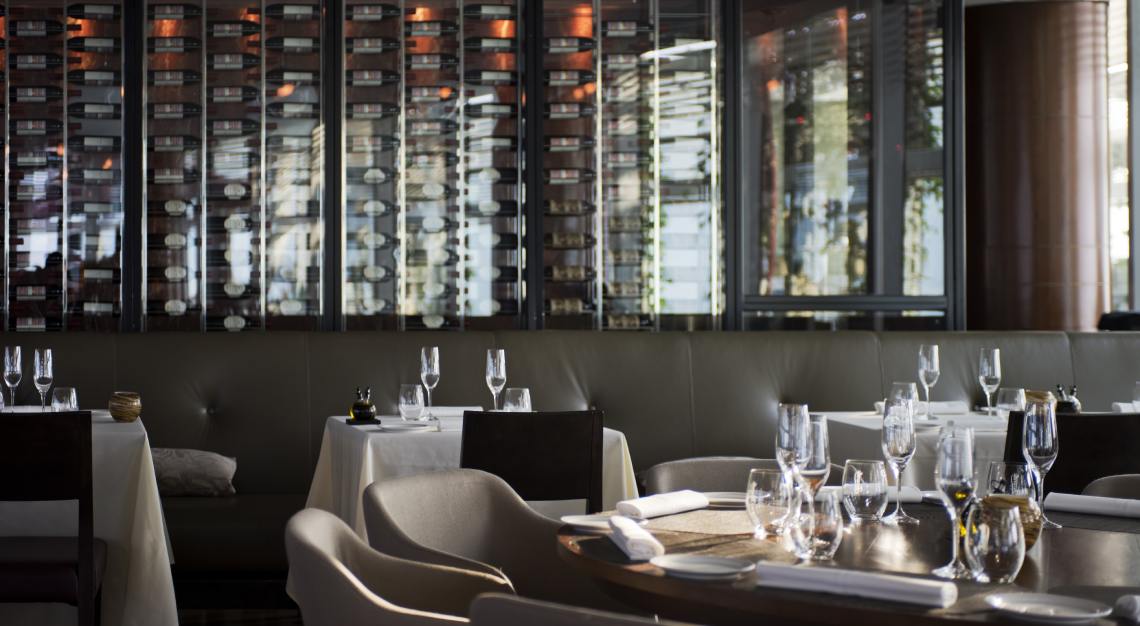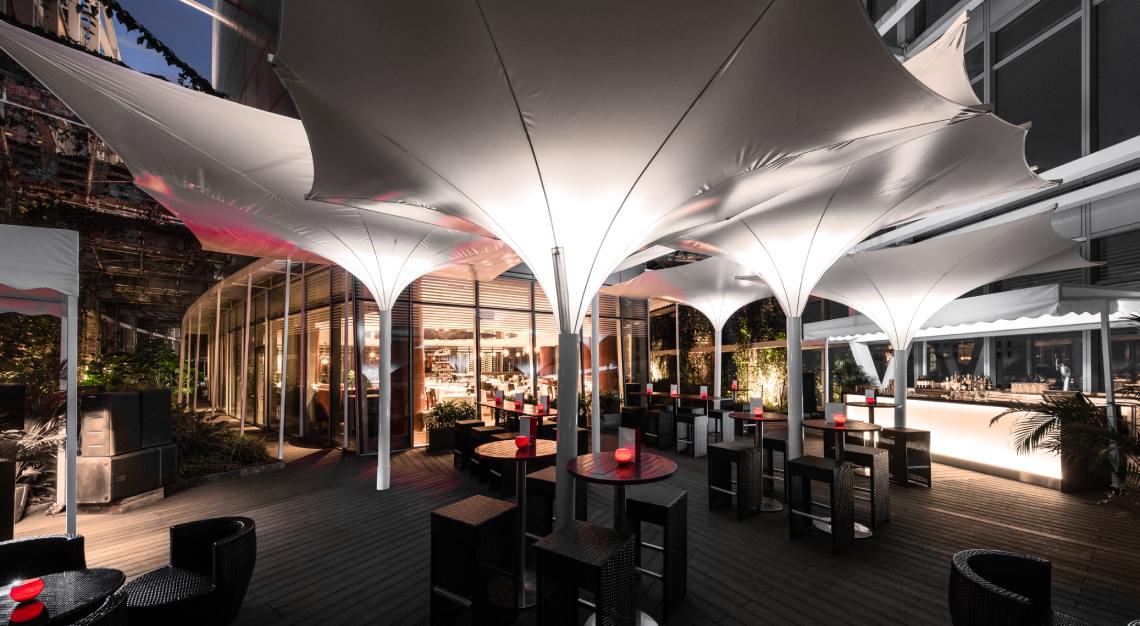 Altro Zafferano
Head Chef Andrea de Paola says: "Zafferano is the only contemporary Italian restaurant in Singapore located high up on the 43rd level, and equipped with an elegant ambience backed with the gorgeous Marina Waterfront panorama. For special occasions, tables by the full-length glass window in the main dining room have wonderful views of the city."
The restaurant's Valentine's Day offering this year is a five-course affair (S$248 per person). Whet your appetite with a selection of snacks that includes the Foie Gras Diplomatico and Cannolo with red prawn, passito and saffron before moving on to the main event: you'd have to make a choice between the Wild Dover Sole, Morels Mushrooms, Champagne and Orange Blossom, and the Hokkaido Wagyu, Smoked Shallot, Fermented Truffle. End the night with his and hers desserts – Strawberry Mousse, Valhrona Opalys, Lemon for the lady, and Mandarin Parfait, Earl Grey Tea, Yuzu for the man.
Robb Tip: If you can't get a good table, ask to sit at the Terrace Lounge's al fresco rooftop bar, which is just as perfect for a cosy celebration. We also recommend the four-course Experience Menu (S$148 per person), which allows you to create your own dining experience by choosing a starter, pasta, main course, and dessert from the à la carte selection.
Altro Zafferano
10 Collyer Quay
Ocean Financial Centre, level 43
Singapore 049315
Tel: +65 6509 1488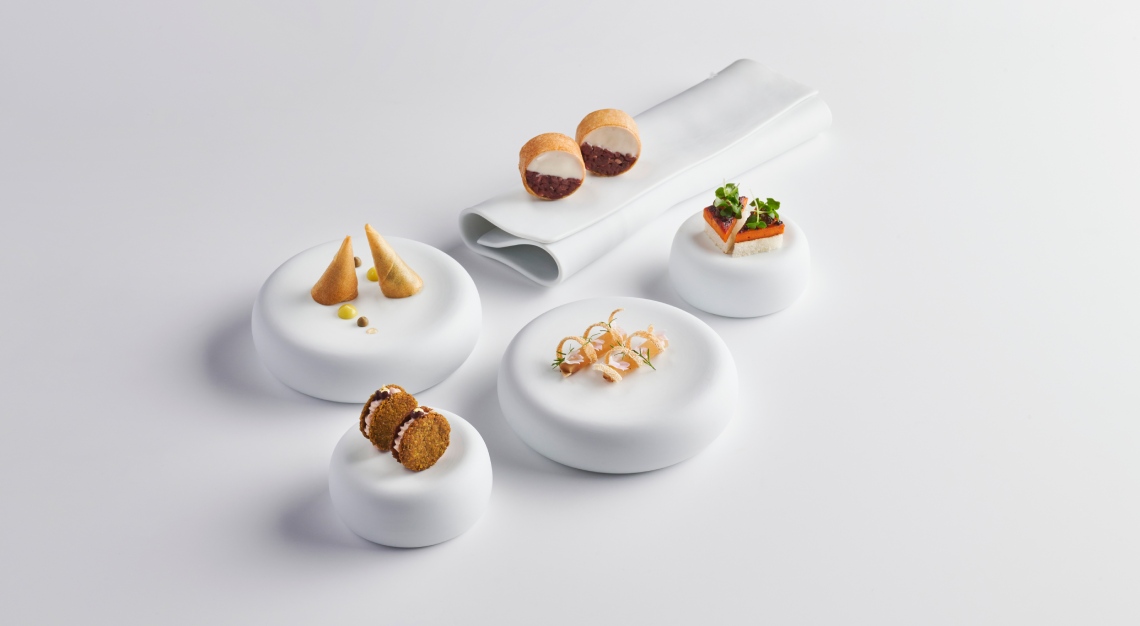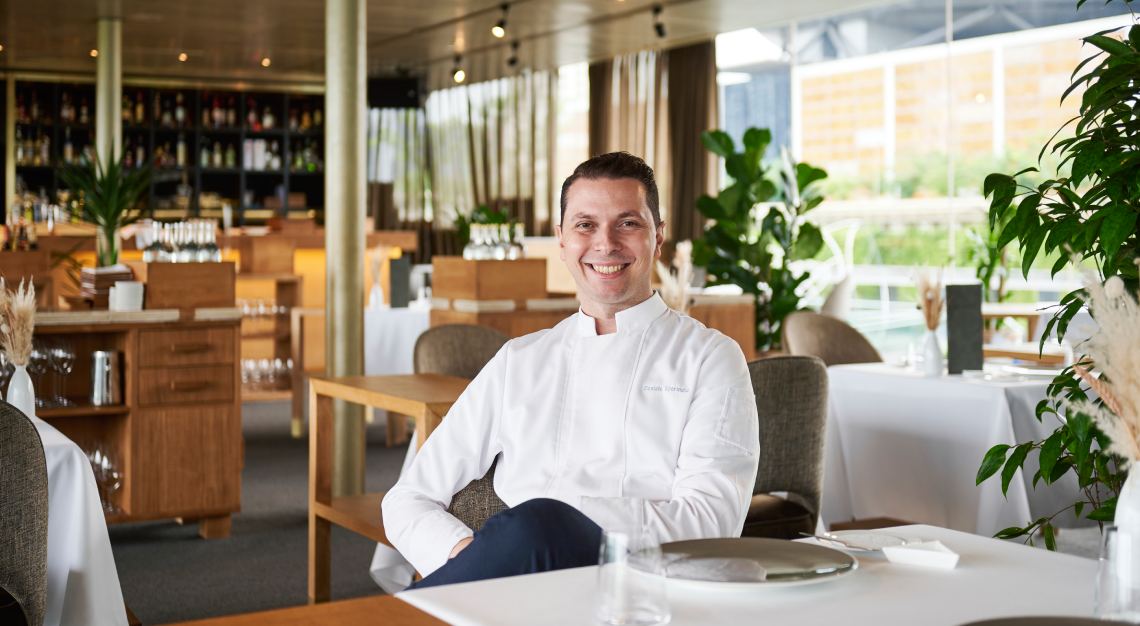 Art di Daniele Sperindio
Chef-Owner Daniele Sperindio says: "Art di Daniele Sperindio, perched on top of a national monument, is a perfect destination for fine dining and celebrating special occasions. The restaurant enjoys panoramic views of Singapore's skyline. Recently revamped, the space is dressed in deeper hues and incorporates wood details and greenery accents. With fewer tables, couples can also expect an experience that is more exclusive and personal. 
My dishes are inspirations drawn from memories and experiences and have always been personal to me. This is where I emotionally connect with my guests, telling tales of my land and experiences through food, from an Italian point of view."
Art offers the option to start Valentine's Day early with a five-course lunch menu (S$208 per person) but if you are of the opinion that a proper rendezvous requires the cover of night, there's the seven-course dinner menu (S$298 per person). As always with Art, expect elevated Italian comfort food. There's the 32 Eggyolk Taglierini—pasta served with Piedmont hazelnuts, aged pecorino, and winter truffle, and Scarpetta, which celebrates the Italian practice of wiping up all traces of sauce on the plate with bread. Here, you'd be mopping up "flavours of the country" with Ligurian focaccia.
Robb Tip: There are over 600 different labels of handpicked wines curated by a team of expert sommeliers, so knock yourselves out. For pre-dinner aperitifs or postprandial digestifs, proceed to Art's rooftop bar. If dinner isn't going well, at least there's the stunning city skyline to look at.
Art di Daniele Sperindio
1 St. Andrew's Road
National Gallery, 06-02
Singapore 178957
Tel: +65 6866 1977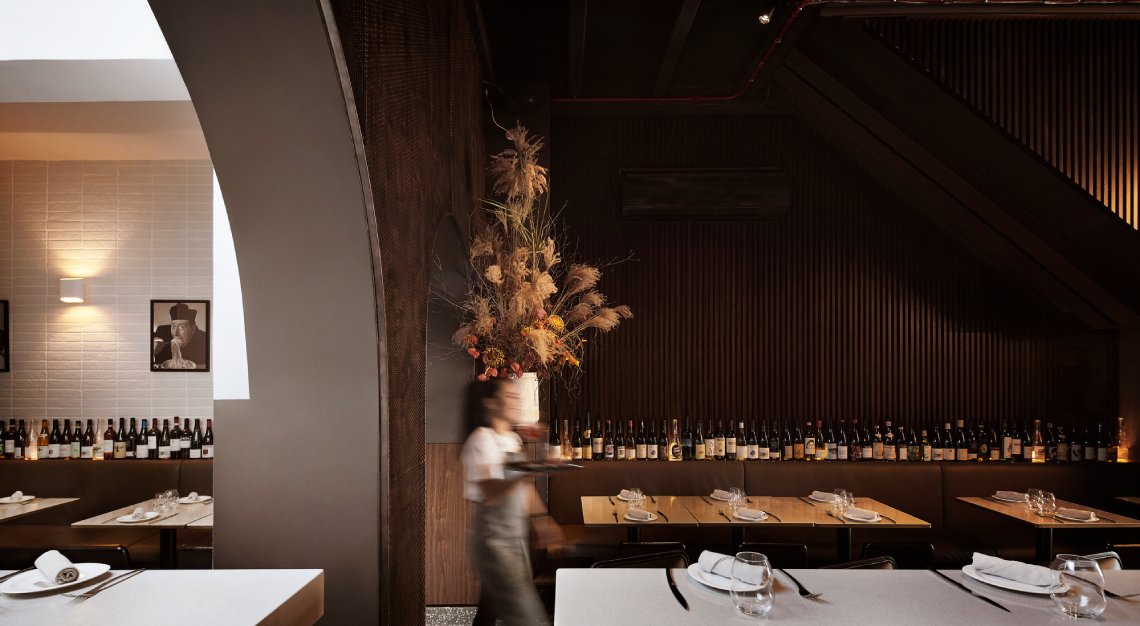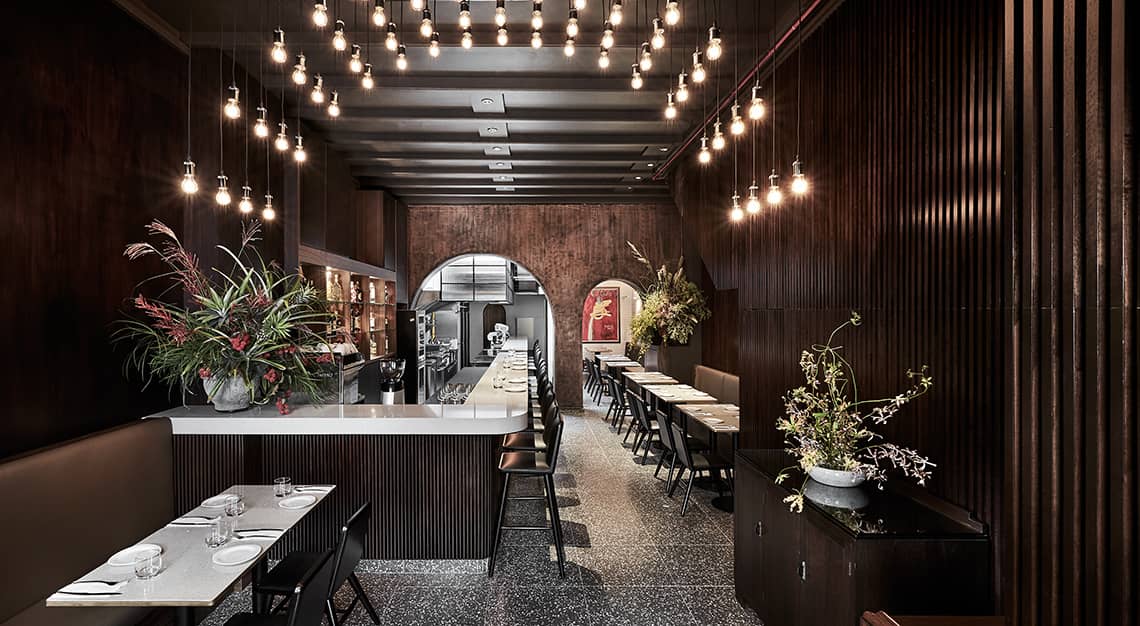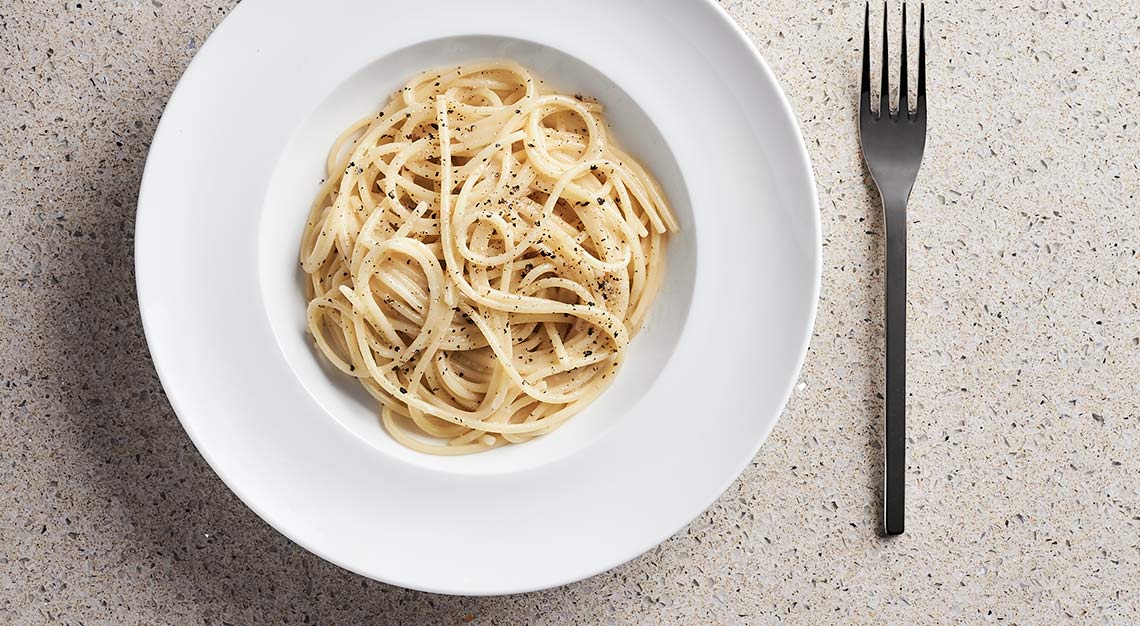 Bar Cicheti
Owner Ong Liling says: "Bar Cicheti has all the hallmarks of an intimate evening, from the start to the end – and then some. From the vision of cosying up to one another along a narrow Venetian alleyway, to the various textures and design elements reminiscent of '60s Parisian bistro charm.
Couples looking to get hot and heavy with a plate of pasta and a bottle of wine can ask for table 20, tucked under the stairs and lurking in its own shadow. It's the darkest corner of the pasta bar and perfect for recreating your very own Lady and the Tramp pasta-canoodling moment."
Robb Tip: If you ask nicely, sommelier-partner Ronald Kamiyama can serenade for the lady while wearing a sombrero.
Bar Cicheti
10 Jiak Chuan Road
Tel: +65 6789 9801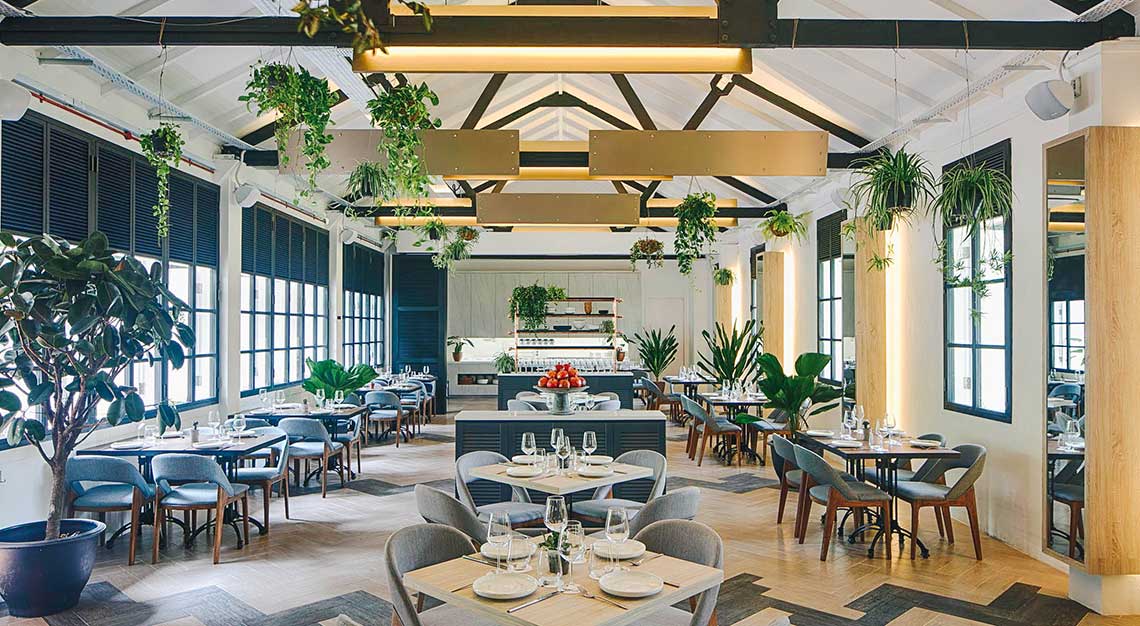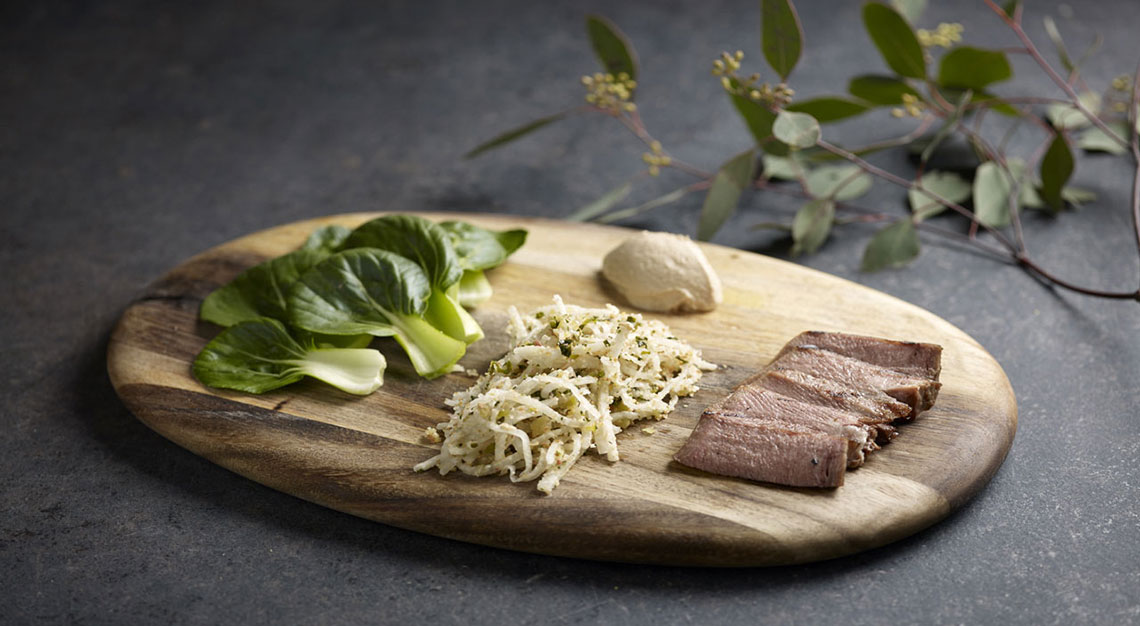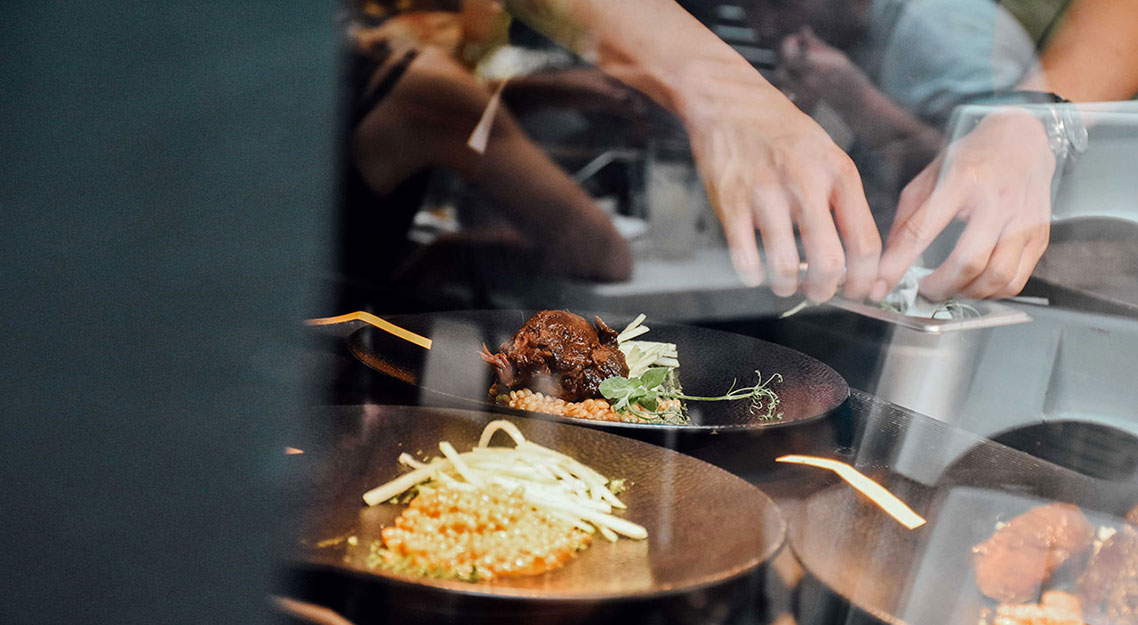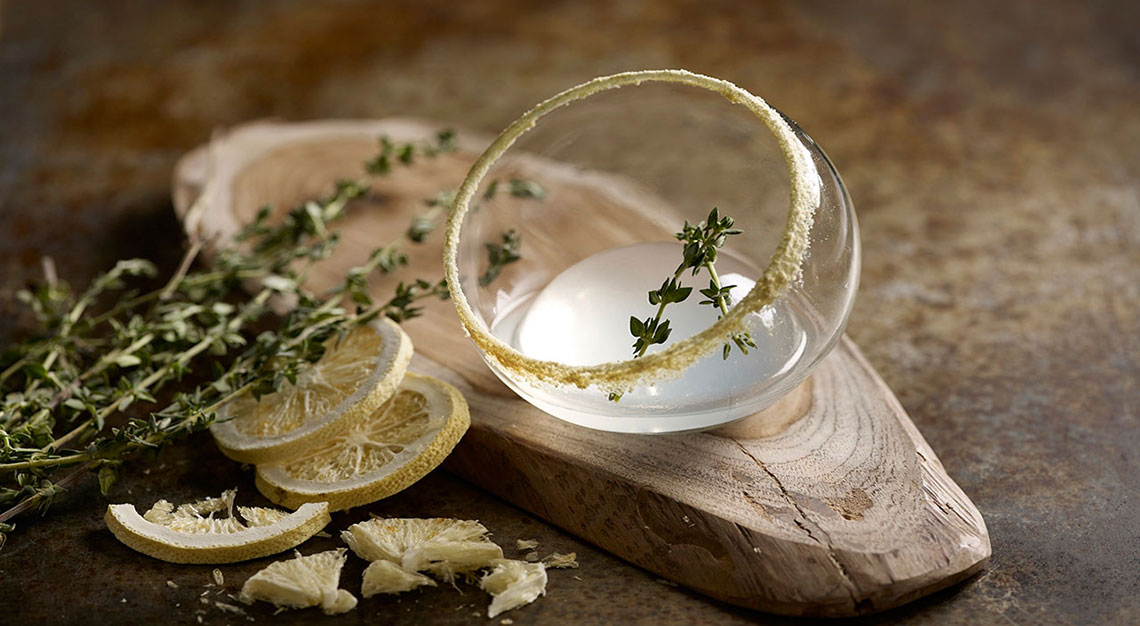 Botanico
Look no further than Botanico if the two of you happen to be looking for something a little spicy to add some zest to your date night. Helmed by chef Sujatha Asokan, the tropical indoor garden offers a seasonal menu that combines Asokan's Asian heritage with contemporary European culinary techniques. Guests can look forward to a variety of flavours through an extensive menu of Assam Pedas Snapper, Abacus & Artichokes and her version of Ondeh Ondeh, a sweet medley of coconut foam, kaya ice cream, pandan glutinous rice cake and gula java sauce.
Asokan stays true to form with the Tangled in Love Valentine's Day menu (from S$268 per couple), which is dominated by fusion dishes that combine the flavours of the East with the techniques of the West. The Hokkaido Scallop Ceviche is dressed with a Vietnamese vinaigrette and the Roasted Angus Beef Filet Mignon has chilli in it. The menu comes complete with his and hers cocktails.
Robb tip: The space is also open for brunch on weekends, the eve of public holidays, and public holidays. Pick your choice of à la carte or opt for the six-course set meal together. 
Botanico
50 Cluny Park Road
The Garage, level 2
Singapore 257488
Tel: +65 9831 1106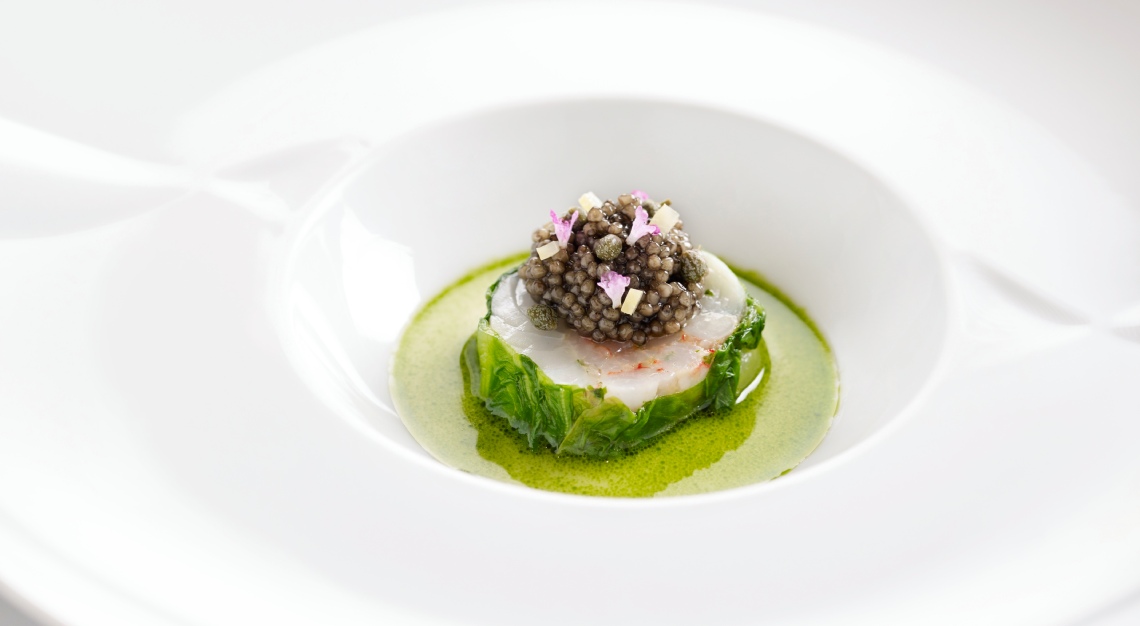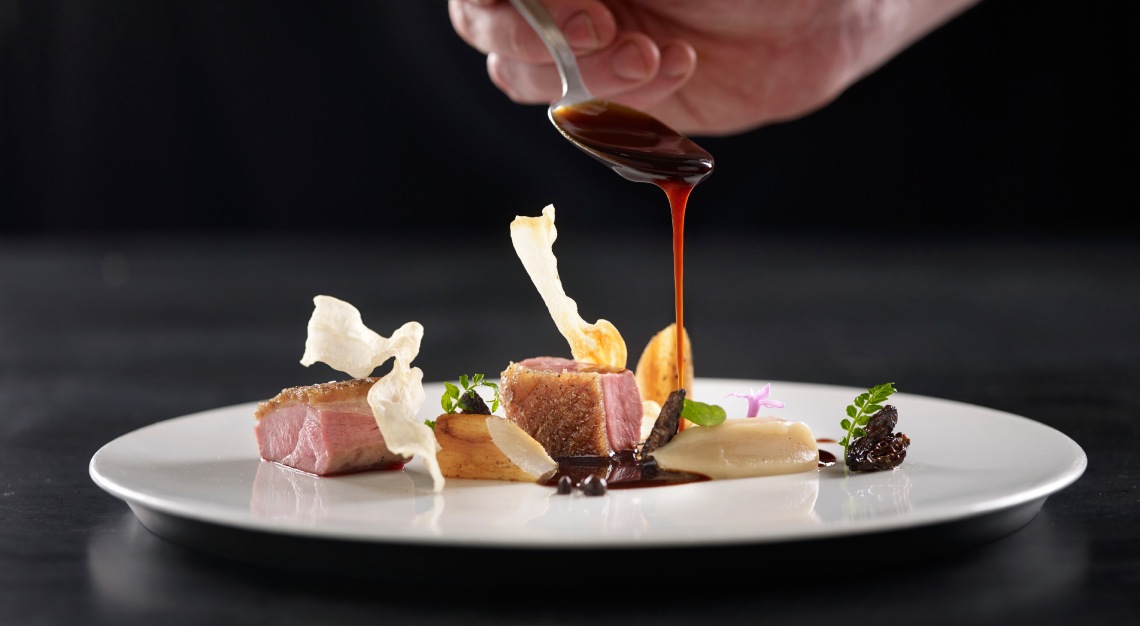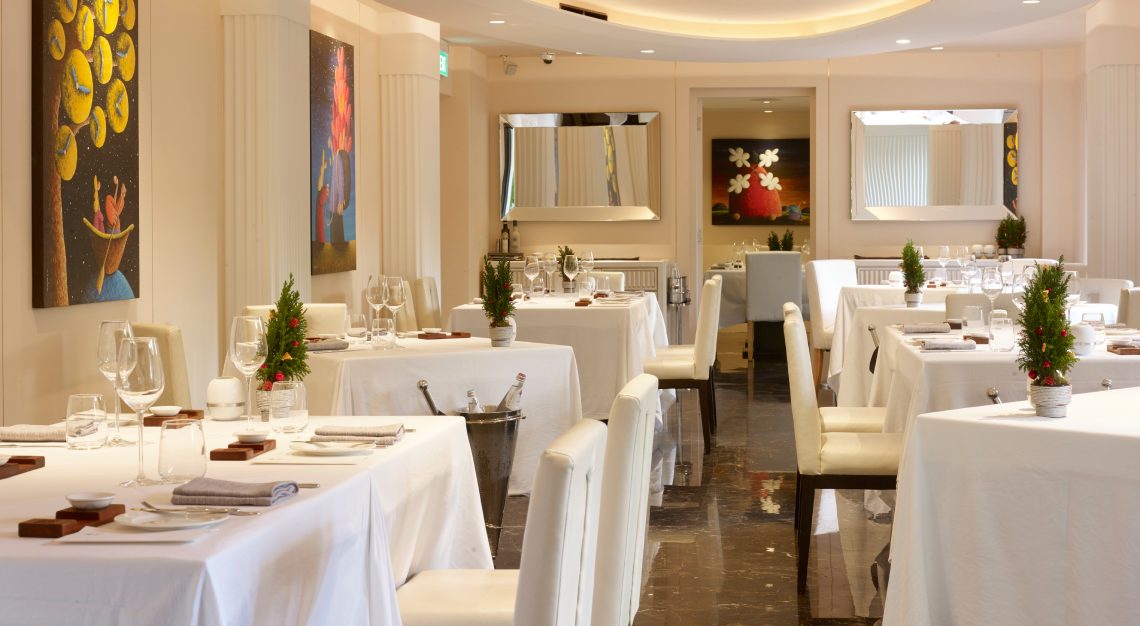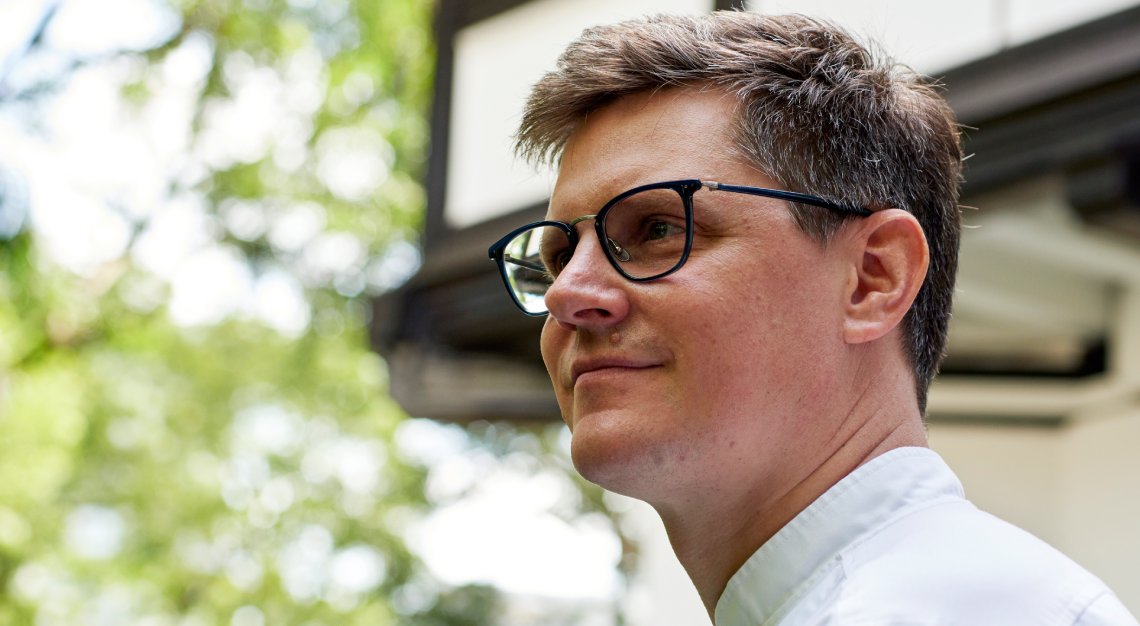 Buona Terra
Looking for something a little more bright and sophisticated? Consider making reservations at Buona Terra, a Michelin-starred restaurant with just 24 seats available in its main dining room. The restaurant, open for lunch and dinner, is intimate by nature, not just due to its limited seating, but also due to its location in a refurbished colonial house. In terms of cuisine, Buona Terra is best known for its contemporary Italian tasting menu, which features a handful of signature items, including carbonara with cured egg yolk bottarga.
Buona Terra's Valentine's Day Dinner Menu (S$368 per person) will showcase the finest ingredients of the season with creations such as the French Turbot Layered with Sicilian Red Prawns, which is poached in brown butter topped with caviar, and the Fusilli with toasted almonds and sweet, briny sea urchin. As a special occasion treat, complement the meal with Krug champagne, available for S$68 per glass only for this evening.
Robb Tip: Go hard or go home with the biggest menu, no questions asked. The restaurant describes it as "five courses onwards".
Buona Terra
29 Scotts Road
Singapore 228224
Tel: +65 6733 0209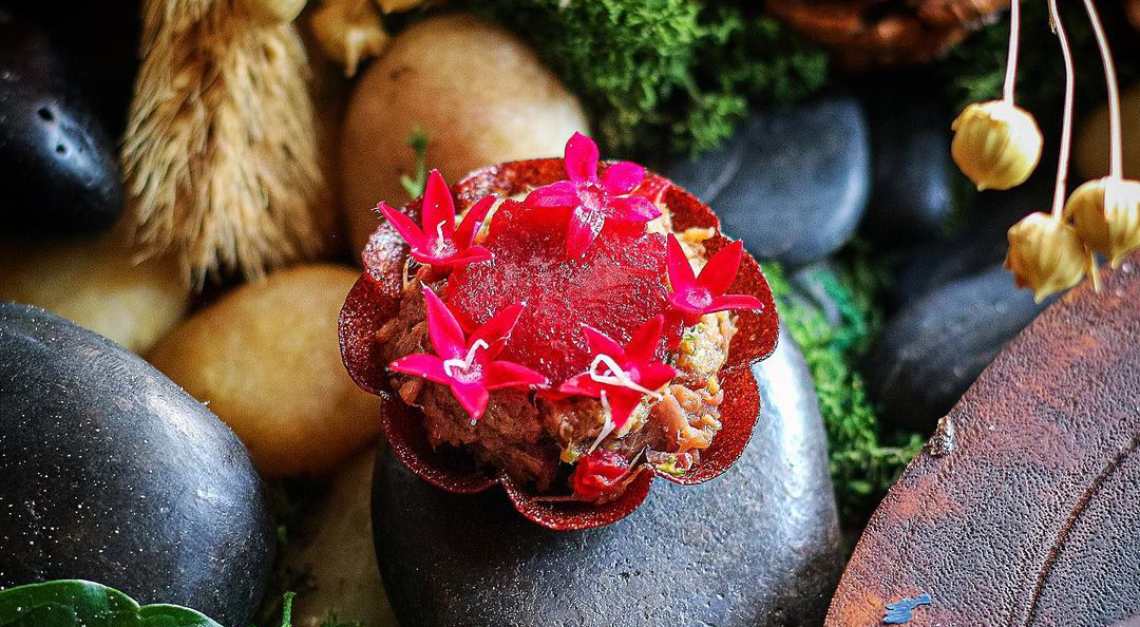 Cure
Cure, a modern European restaurant on Keong Saik, comes inspired by the word, "curare", or in other words, "to take care of". It is cosy, understated and hits close to chef-owner Andrew Walsh's home with its offering of solid Irish Cuisine. The current menu features Cured Salmon & Juniper Berries, Gallagher Speciale Oyster, and the best Soda, Stout & Treacle Bread served with bacon butter. 
Robb Tip: Cure also offers Cure Concepts at Home, a private dining experience that will bring a Cure chef – and a Michelin-starred experience – right to your doorstep. The menu can be tailored to your preference and opens up the possibility of experiencing the culinary styles of Walsh's other establishments, including Catfish and Butcher Boy.
Cure
21 Keong Saik Road
Singapore 089128
Tel: +65 6221 2189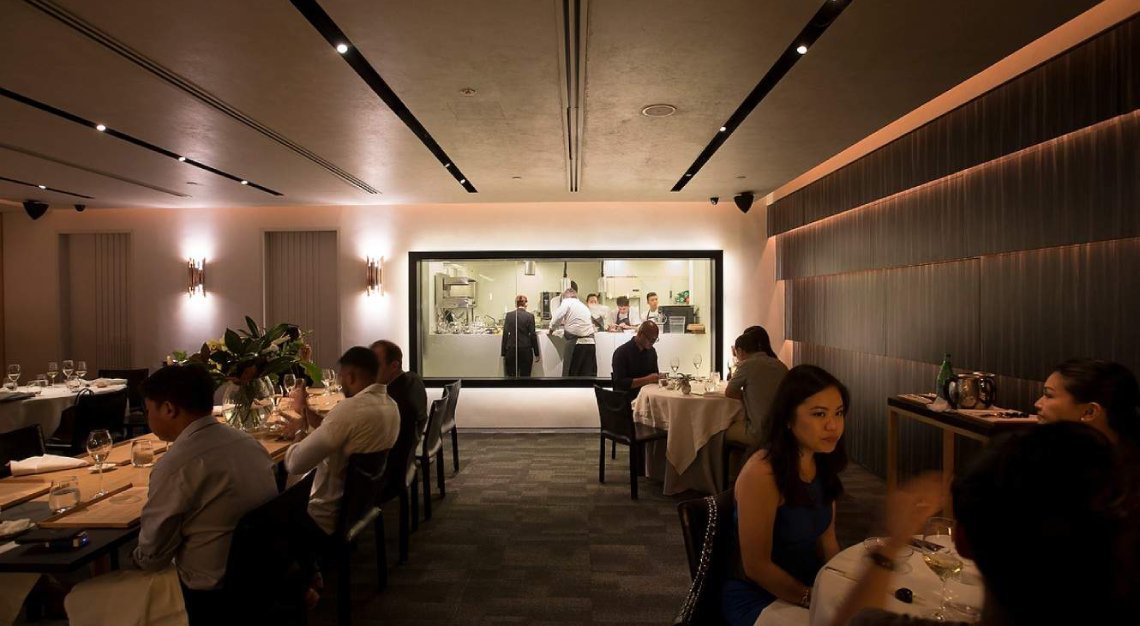 Iggy's
Founder Ignatius Chan says: "Iggy's, with just six tables, is one of the most intimate dining rooms in Singapore. The walkway leading into the dining room is a library of antique Michelin guides and a culinary photo wall of food and the many great Chefs that have graced our kitchen over the last 15 years.
The dining room has a full view of our see-through live kitchen and table number one, by the kitchen, is the most requested table for two. It has celebrated countless successful marriage proposals and wedding anniversaries."
Robb Tip: If there's a rare wine you've always wanted to try, you may find it here. Iggy's cellar holds 25,000 bottles, most of which are burgundies. Makes sense, when you know that Chan is a sommelier by training, and an award-winning one, too.
Iggy's
581 Orchard Road
Voco Orchard Singapore, level 3
Singapore 238883
Tel: +65 8188 3200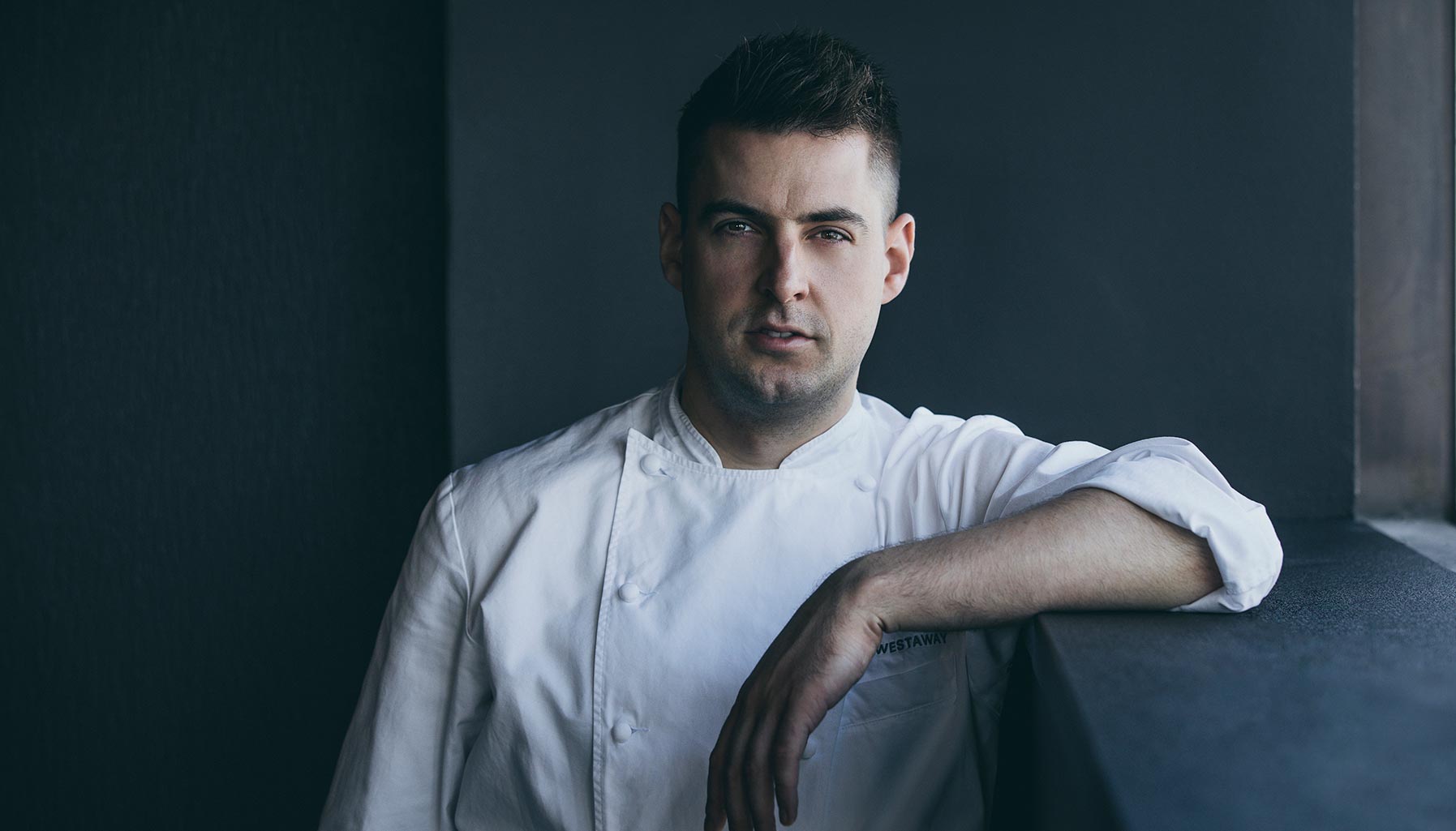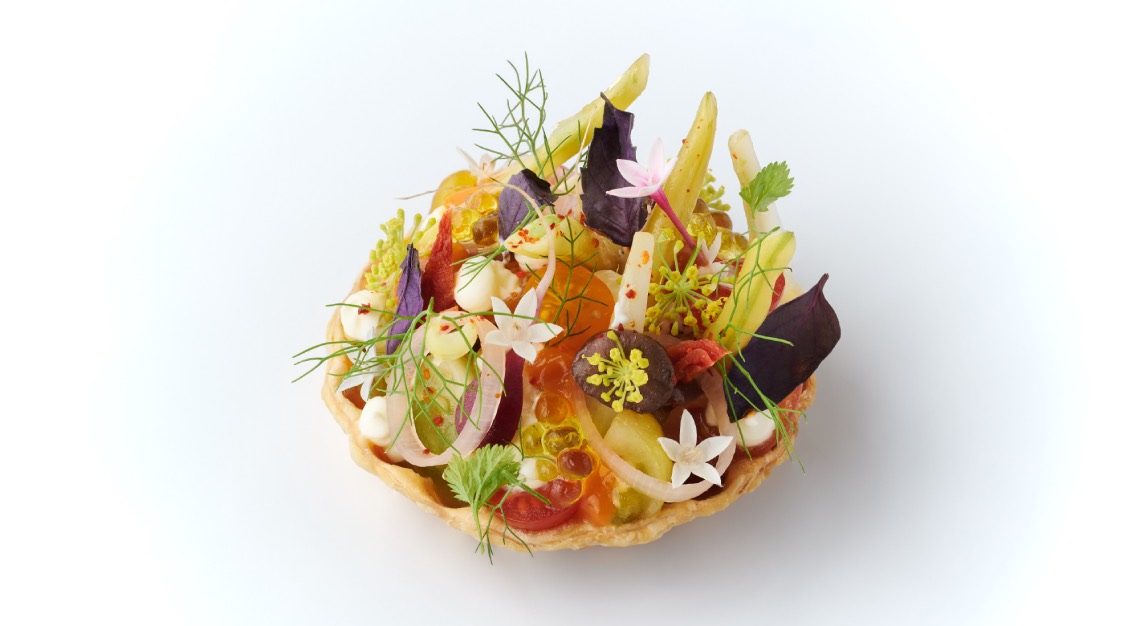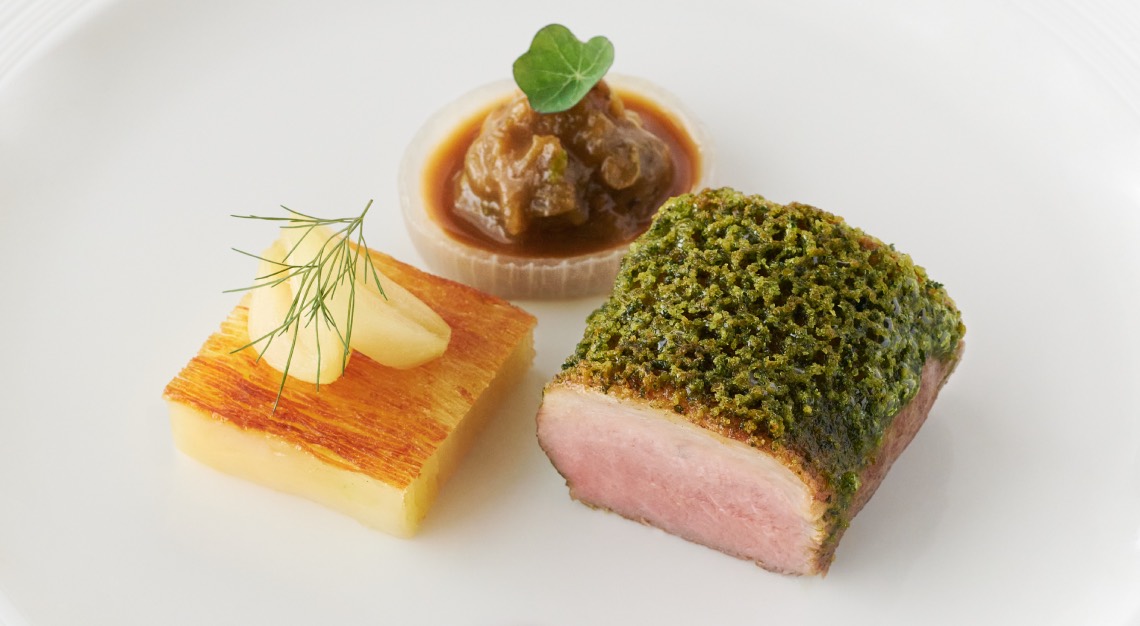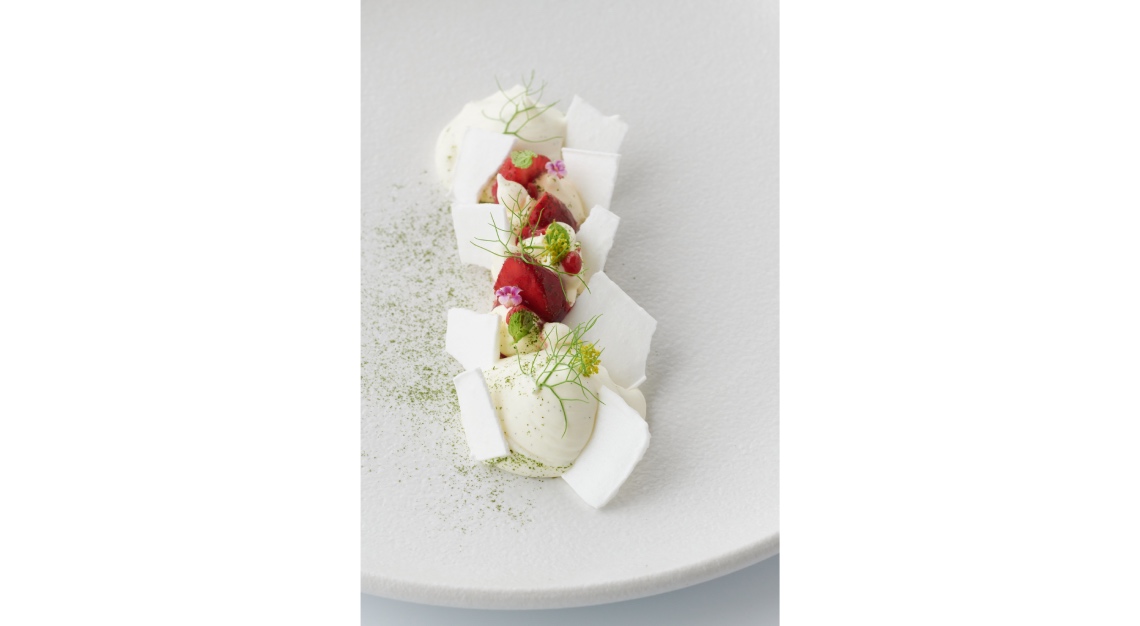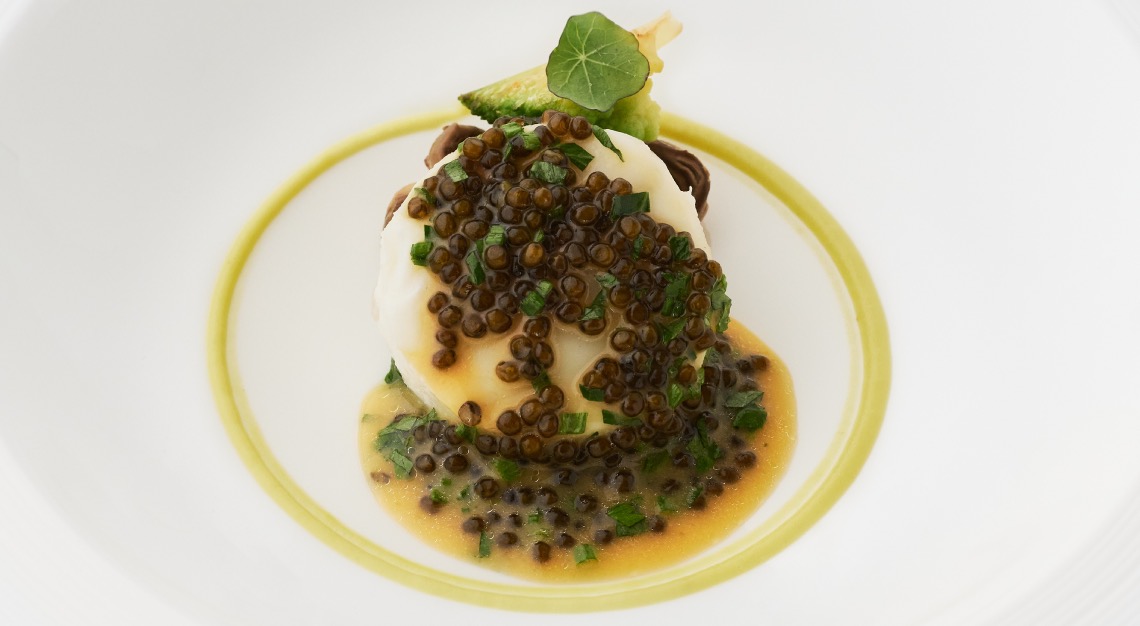 Jaan by Kirk Westaway
Chef Kirk Westaway says: "For the ultimate Valentine's Day experience, every touchpoint at Jaan has been carefully considered. From our 70th floor location, the sweeping marina views make it the perfect setting. And for the menu, our team has specially curated a series of dishes that celebrate the finest British produce. Coupled with our extensive wine programme and world-class service, our guests are always in good hands."
Robb Tip: Jaan's Reinventing British Dinner Menu will have you rethinking every negative stereotype you've ever heard about British cuisine.
Jaan
2 Stamford Road
Swissôtel The Stamford, level 70
Singapore 178882
Tel: +65 9199 9008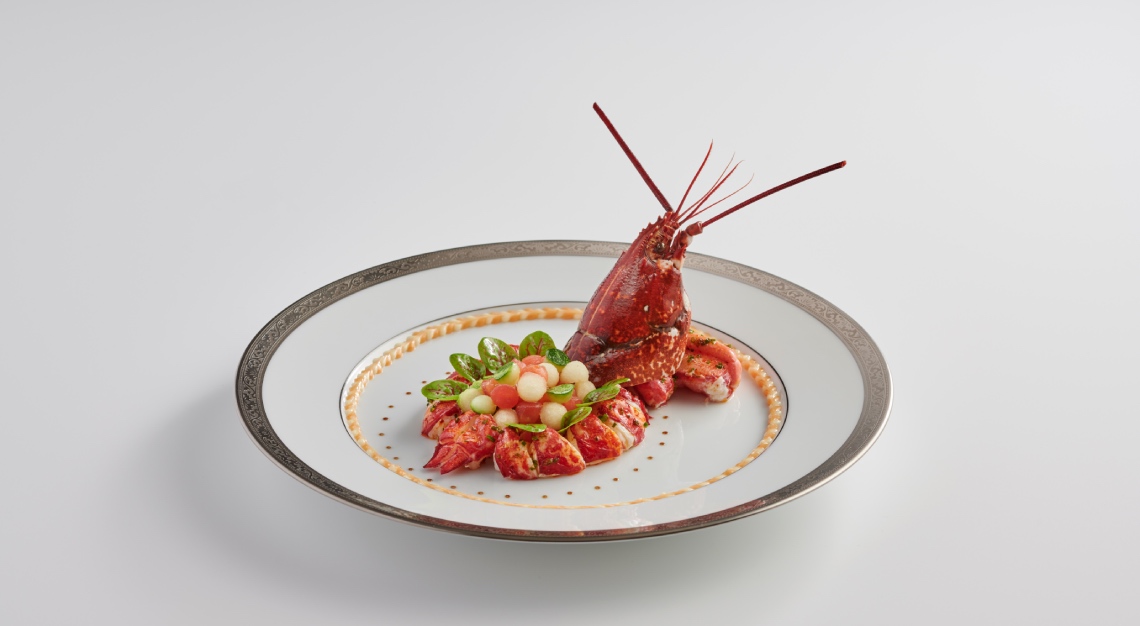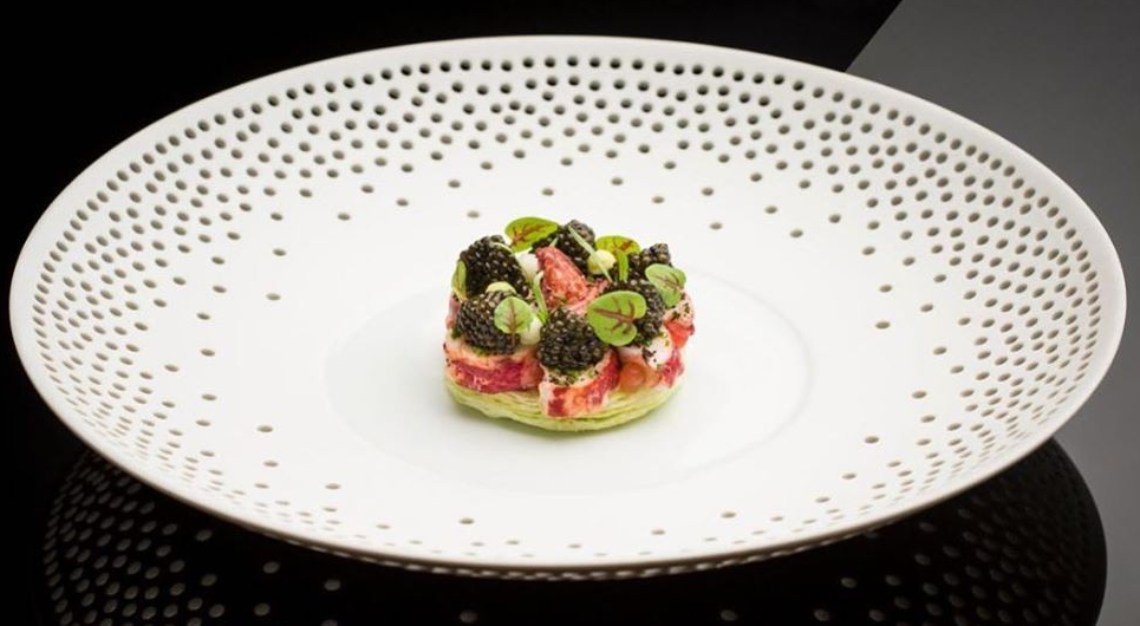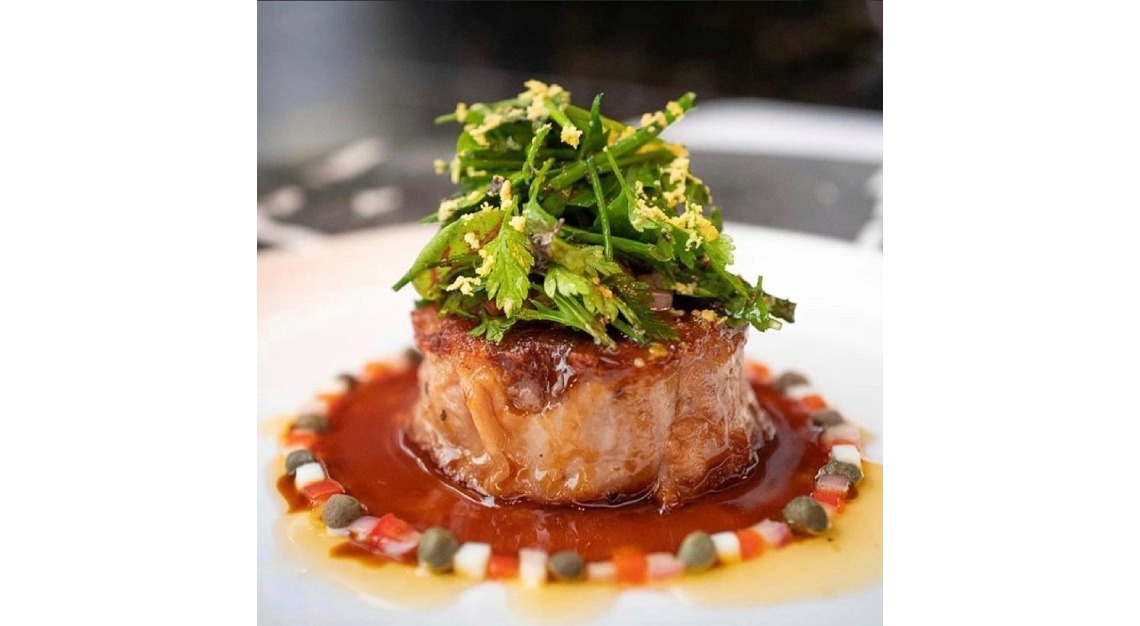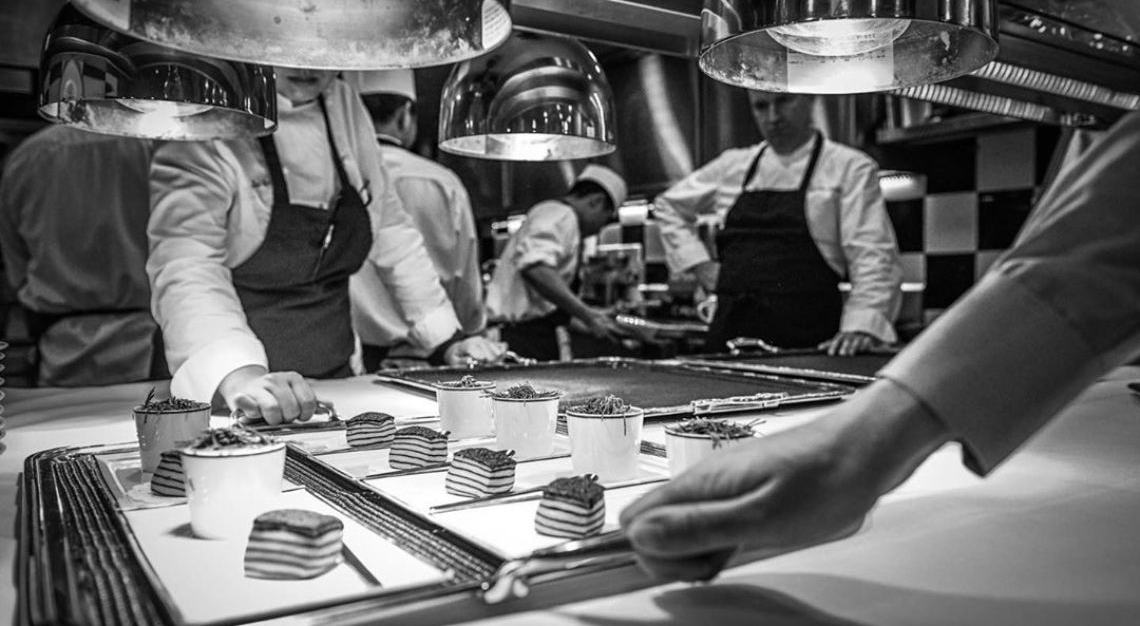 Les Amis
Beyond the exquisite three-Michelin-starred food, the Les Amis team is also dedicated to taking its guests on a journey across France through its thoughtful service and the art de la table. More than just the etiquette of setting a table, the former is also about bringing a complete sensorial experience to the meal through beautiful tableware and elegant centrepieces. Enjoy the best of chef Sébastien Lepinoy – slow roasted scallop from the coast of Erquy with extra virgin olive oil sauce and truffle, and roasted Challans duck breast from Vendée accompanied by ginger caramel pear, both available in the current S$435 Le Menu Hiver Classique, or Classic Winter Menu.
Robb Tip: The latest addition to the restaurant is the Magnum Room, a private dining room inspired by the wine caves that dot France. Here, you'd dine surrounded by more than 100 magnum bottles that showcase the best of Burgundy, Bordeaux, and the Rhône valley, displayed in suspended timber racks.
Les Amis
1 Scotts Road
Shaw Centre, 01-16
Singapore 228208
Tel: +65 6733 2225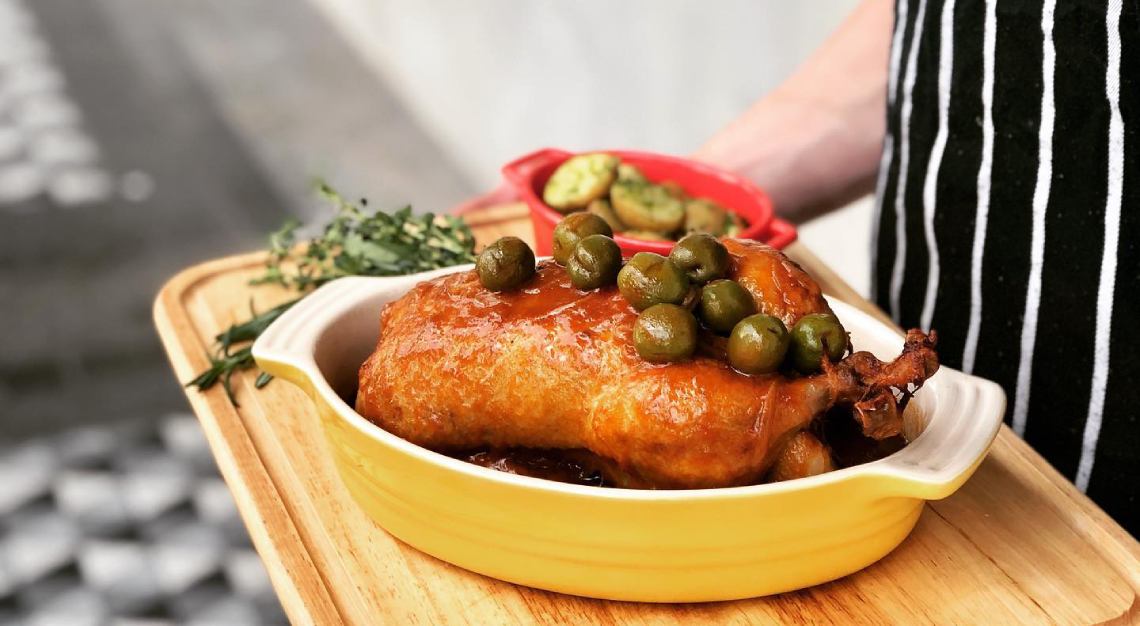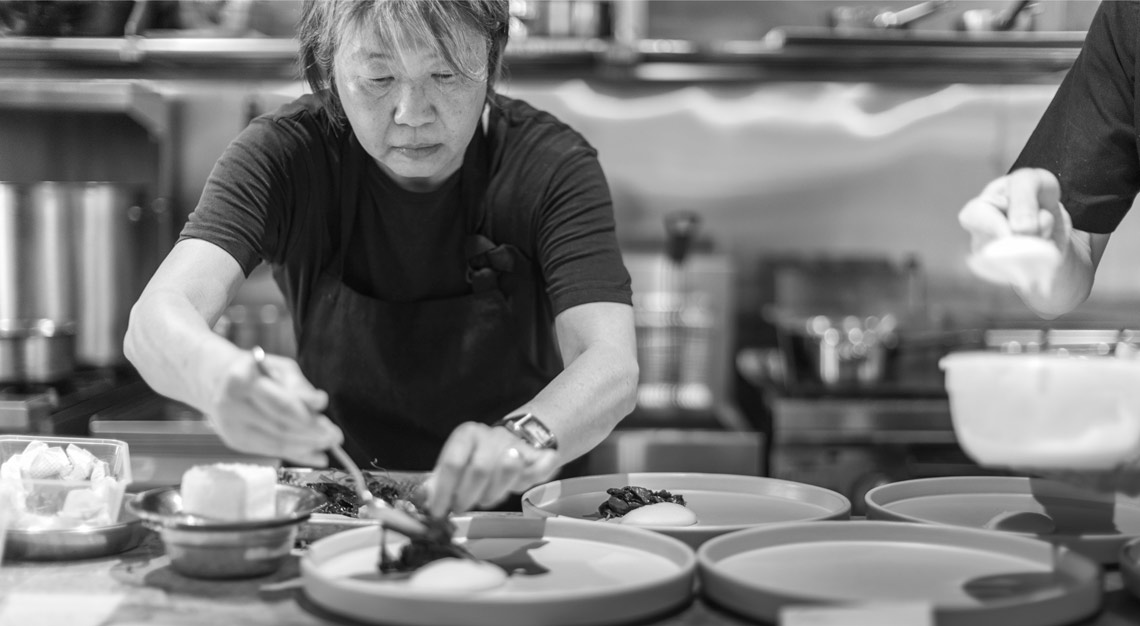 Mag's Wine Kitchen
Chef-Owner Magdalene Tang: "I think what's charming (and romantic) about Mag's is how the restaurant remains discreet, despite our location on Keong Saik Road. Once you discover the homely buzz behind those unassuming doors, that moment of surprise is a sure way to impress your date. The restaurant's design is also great for intimate conversations without being overly stiff, and most importantly, service is intuitive and personable, so guests can always be at ease when dining at Mag's."
The restaurant's Valentine's Day menu (S$158 per person) starts off strong with Oyster, served with oscietra caviar and dashi jelly. This is followed by the Lobster Bisque, which is served with wanton. Next up, there's Quail done two ways, then Venison with mushroom purée and asparagus before the dessert of Black Forest, a rich creation of cherries, chocolate mousse, and Belgian dark chocolate ice cream.
Robb tip: Whole Duckling (S$228), one of the most indulgent dishes on the menu, is a sharing platter that will feed two or three. It has to be ordered three days in advance. 
Full review here
Mag's Wine Kitchen
55 Keong Saik Road
01-06
Singapore 089158
Tel: +65 6438 3836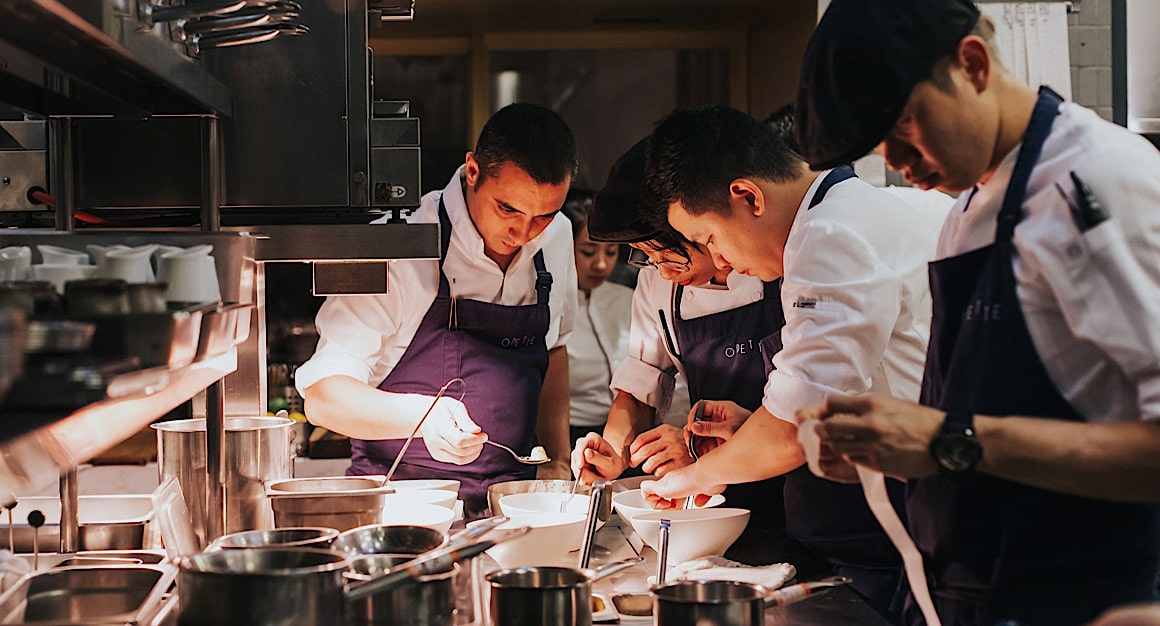 Odette
For chef Julien Royer, there is such a thing as 'too fancy' and looks don't always matter. But it's hard to tell when you're at Odette, Royer's Michelin-starred modern French restaurant, which he named after his grandmother. While the food remains as good-looking as the restaurant's interior, it's the comfort you'll find in the honesty and authenticity that lie behind those pretty faces. Be prepared to eat plenty here, for there are only tasting menus available at lunch and dinner.
Robb Tip: Cancel your reservation and run the risk of paying a fee of S$150 (lunch) or S$250 (dinner), which will partly be donated to Pencils of Promise, a non-profit organisation that provides education in developing countries of the world.
Odette
1 St Andrew's Road
National Gallery, 01-04
Singapore 178957
Tel: +65 6385 0498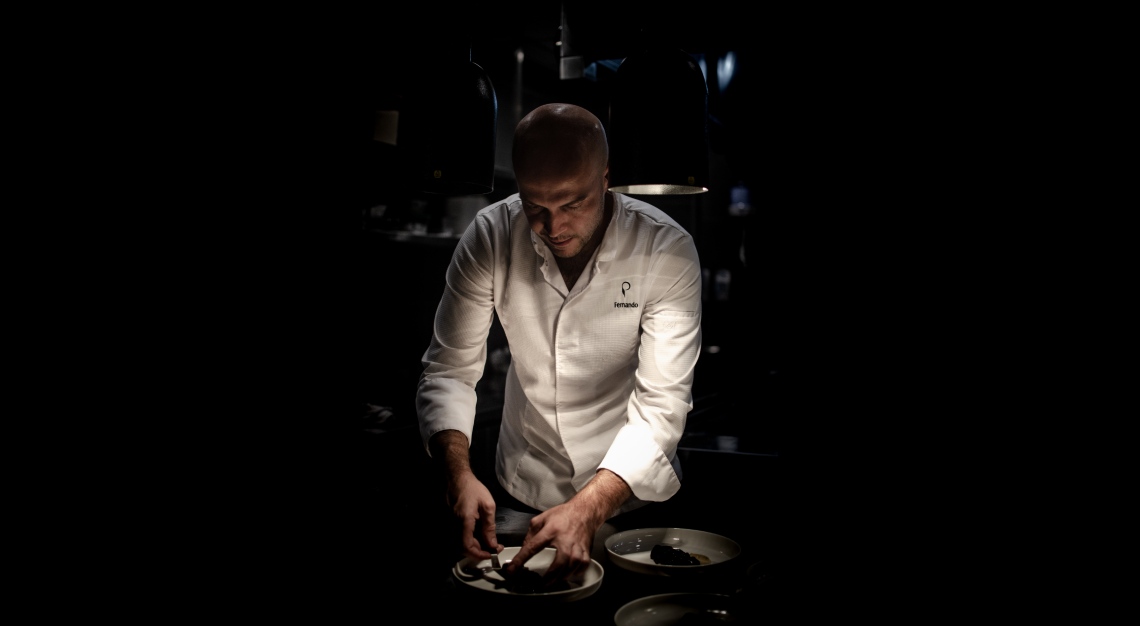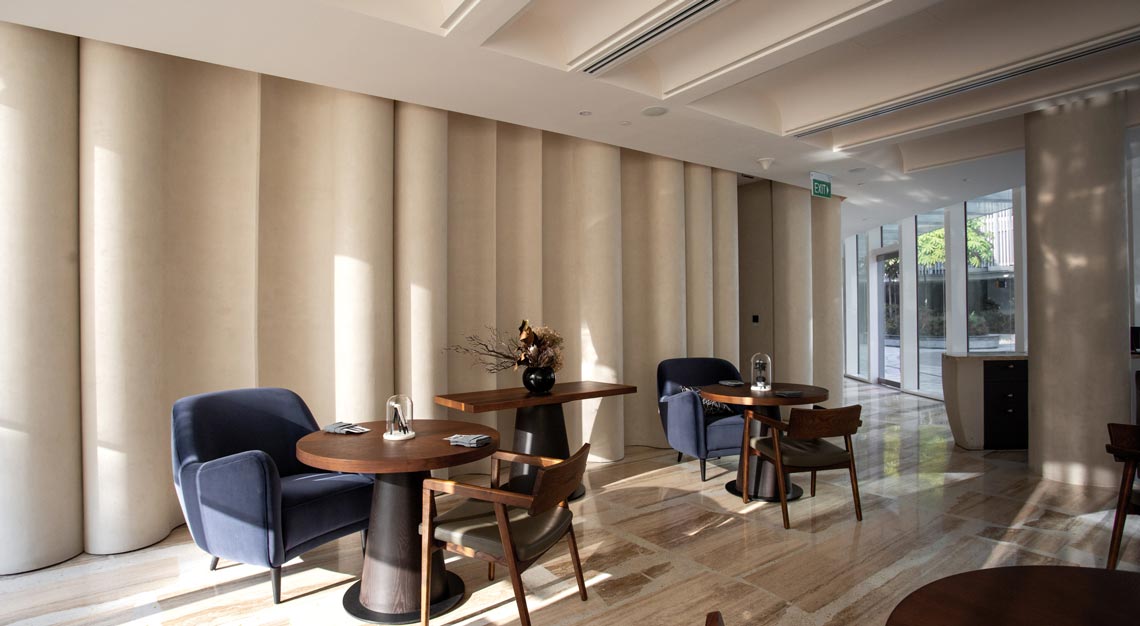 Preludio
Chef Fernando Arévalo says: "To me, real romance is defined by sharing new experiences for the first time with people you love. It's not about heart-shaped gifts and strawberries. Even though Preludio is a fine dining restaurant, we aim to create a relaxed, friendly environment, where one can creatively express ourselves for diners to enjoy a unique experience. Diners can expect some fun with surprises like our edible piñata that we present to those celebrating a special occasion. It's always nice to watch our diners' reactions when they try to hit the chocolate piñata with a spoon, and break it open into a splatter of housemade candy. It brings out the child in them, plus there's nothing like a dining room filled with laughter and high spirits all around."
Robb Tip: Arévalo specialises in author's cuisine, a style of cooking that's not defined by geography, heritage, or culture. Instead, it focuses on telling the story of the chef and the ingredients. At Preludio, this is achieved through chapters, with each one sparked by a different theme or a culinary experimentation that has inspired the chef. Preludio is currently in the midst of a throwback and reenacting previous chapters, so it's a good time to get acquainted with the restaurant if you've missed any part of its evolution over the five years it has been operating.
Preludio
182 Cecil St
Frasers Tower, 03-01/02
Singapore 069547
Tel: +65 6904 5686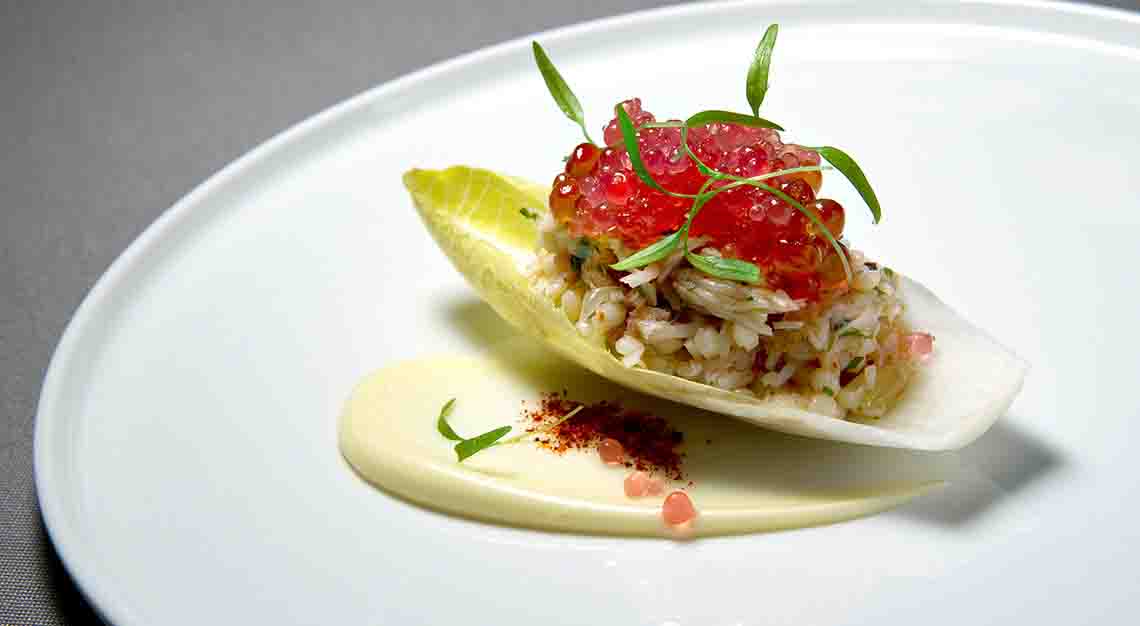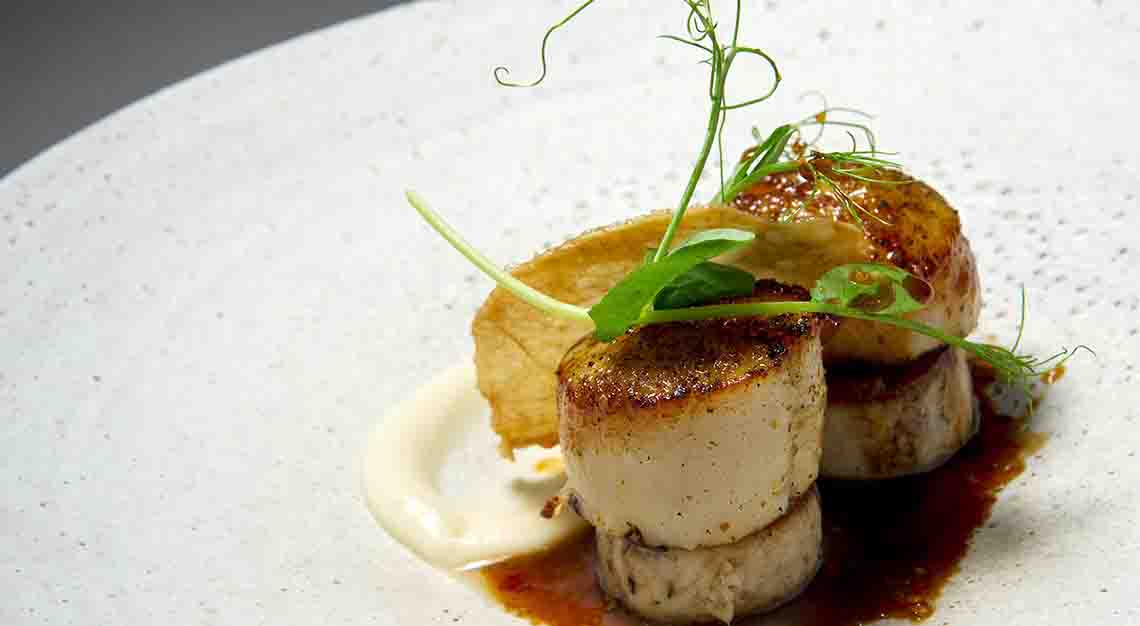 Rhubarb
When it comes to romantic wining and dining, it's pretty safe to say that no one does it better than the French—which is why Michelin-starred Rhubarb tops our list as one of the most romantic spots in the city. The well-respected contemporary French restaurant comes as a love child between manager Jerome Desfonds and chef de cuisine Paul Longworth and serves up everything from scallops and mussels to foie gras and roasted rack of lamb.
Rhubarb's Valentine's dinner menu (S$248 per person) is like a tour de force of all things French. Start off with Oyster, served with caviar and cucumber, followed by the Emulsion of celeriac and truffle. There's Foie Gras, of course, and Lobster, creatively paired with popcorn and quinoa.
Robb tip: Rhubarb has brought back Blind Eye Tuesdays, which means that the team will turn a blind eye and not charge corkage if you intend to bring your own wine on selected Tuesday evenings. Restricted to one bottle per two persons. 
Rhubarb
3 Duxton Hill
Singapore 089589
Tel: +65 8127 5001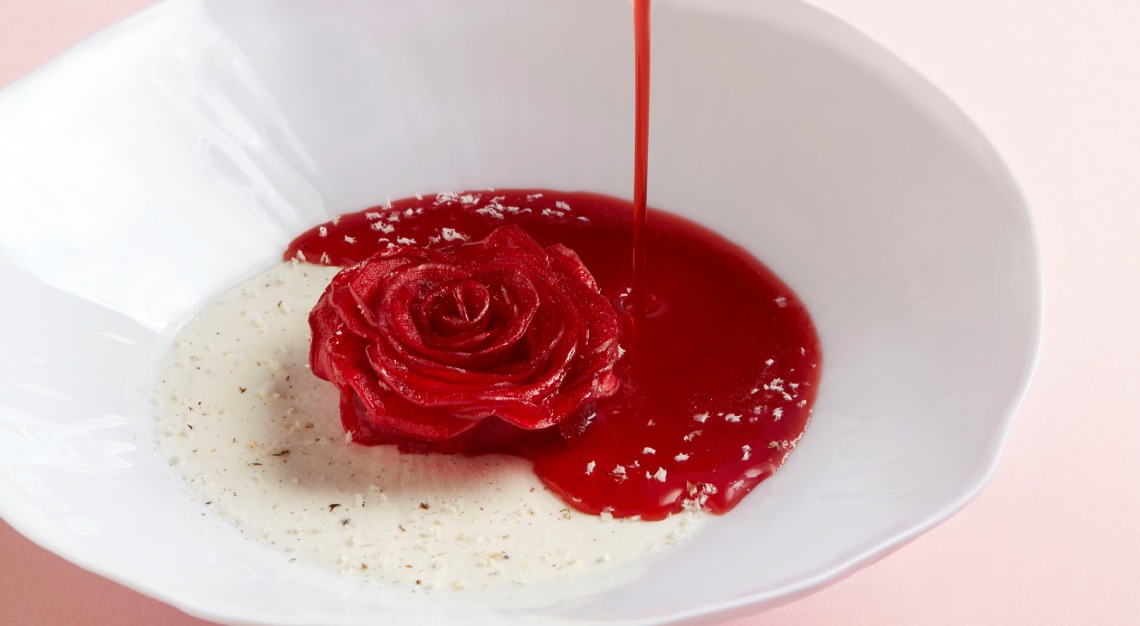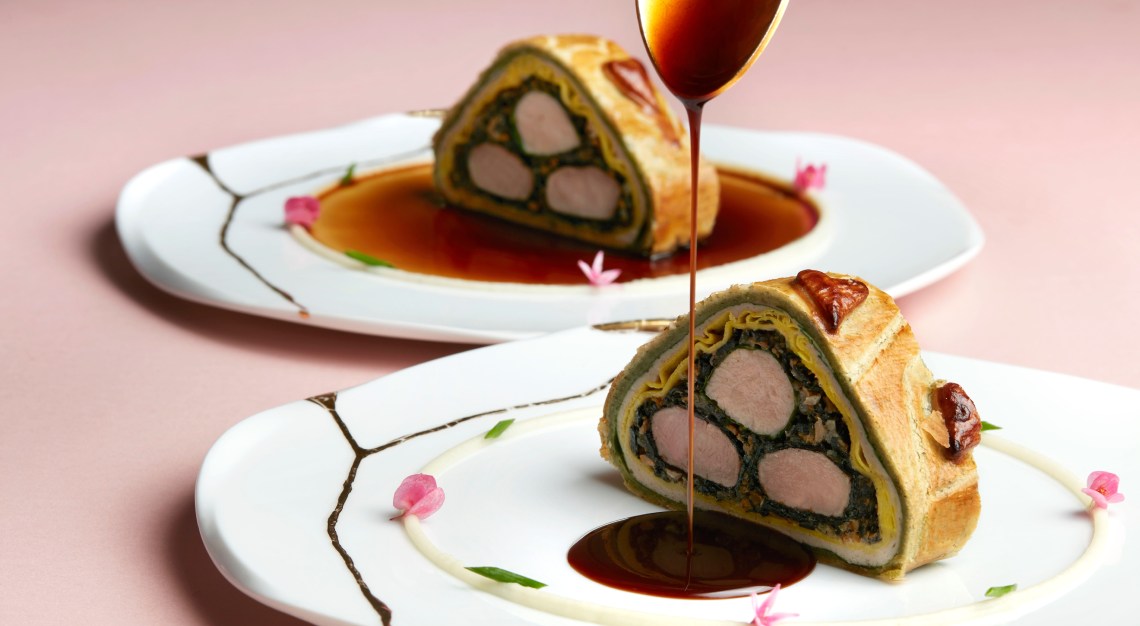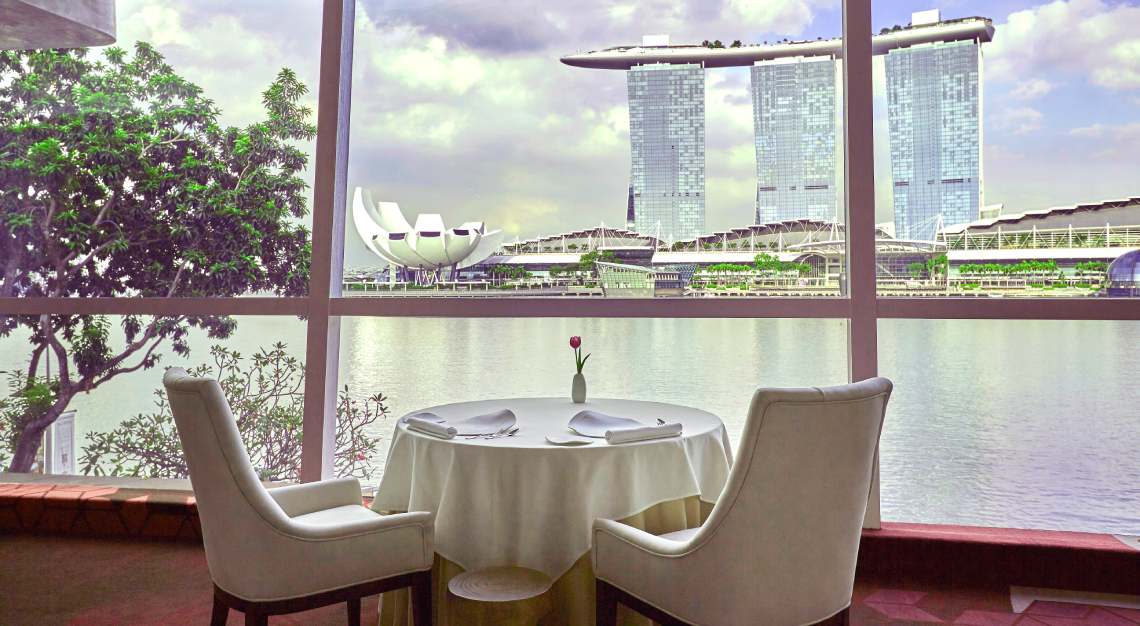 Saint Pierre
Chef-Owner Emmanuel Stroobant says: "Saint Pierre is perfect for those who want to get whisked away on a romantic dining journey. Our space is intimate (with only eight tables) and each table presents a gorgeous view of the Marina Bay waterfront, allowing couples to pause and take in moments of scenic beauty together.
This Valentine's Day, I have crafted two degustation menus to celebrate the old-world charm of tableside service. My chefs and I have sourced for the best possible ingredients from premium Omi beef to amazing Aomori apples to accentuate our modern French cuisine with an Asian accent. To mark the special occasion, guests can choose from a wine list of 600 labels or opt for a wine pairing menu curated by our wine consultant and Singapore's first Master of Wine Tan Ying Hsien. All our guests need to do is just to sit back, relax and let our team pamper them with the finest gastronomy and hospitality."
The Valentine's Day specials are available as a five-course lunch (S$298 per person) and seven-course dinner (S$528 per person). The Omi beef Stroobant mentioned is a barbecued A4 Omi beef striploin paired with carrot cream, pomegranate "ketchup", beef jus flavoured with pomegranate molasses, confit potatoes, pommes soufflées, cumin and smoked paprika. The Aomori apple has been carved into a gorgeous rose-shaped centrepiece and infused with rose-apple juice. It sits pretty on top of a frozen tonka bean parfait. Under the parfait are caramelised apple spheres and a crispy, buttery puff pastry arlette.
Robb Tip: Fancy yourself a great home cook? Put your culinary skills to the test and try to recreate one of Stroobant's recipes, shared on Saint Pierre's website. A well-executed home-cooked dinner could give any romantic restaurant date a run for its money.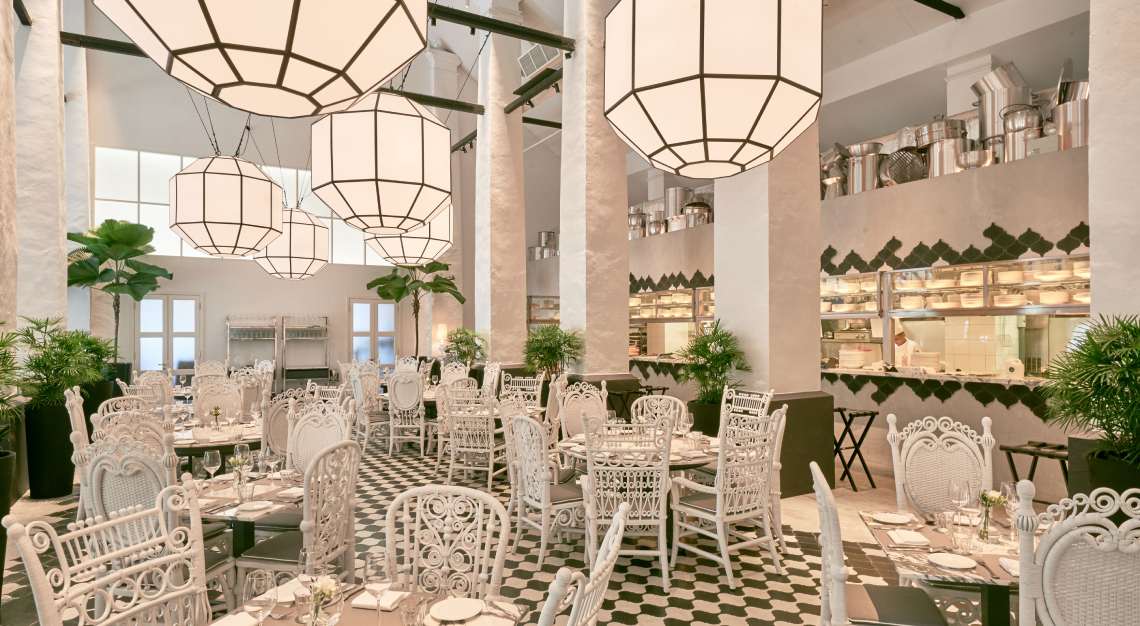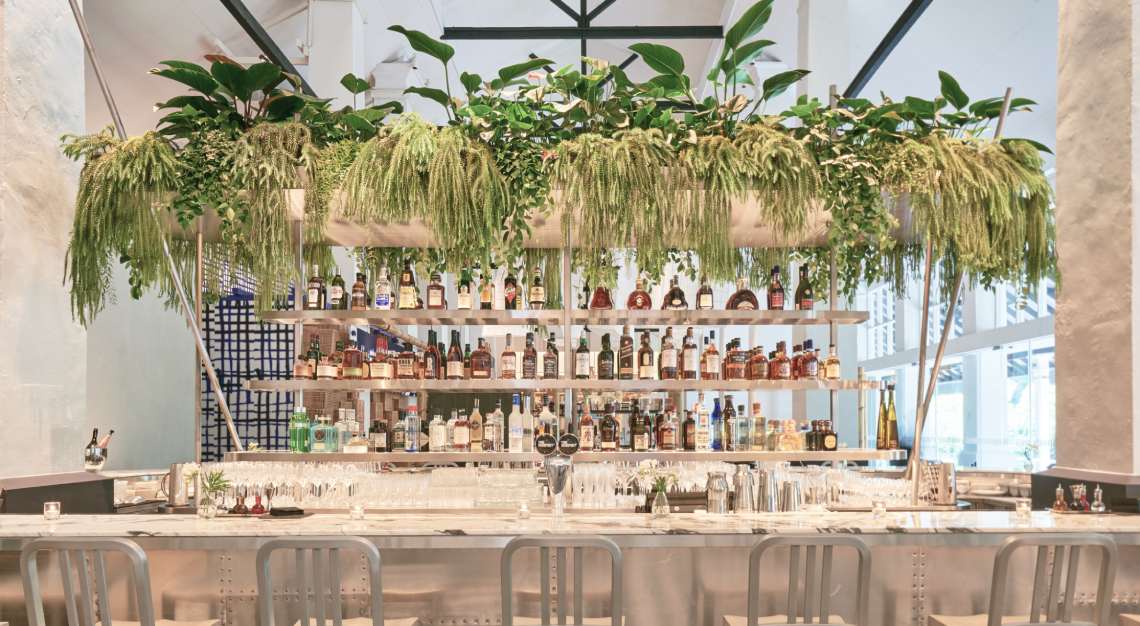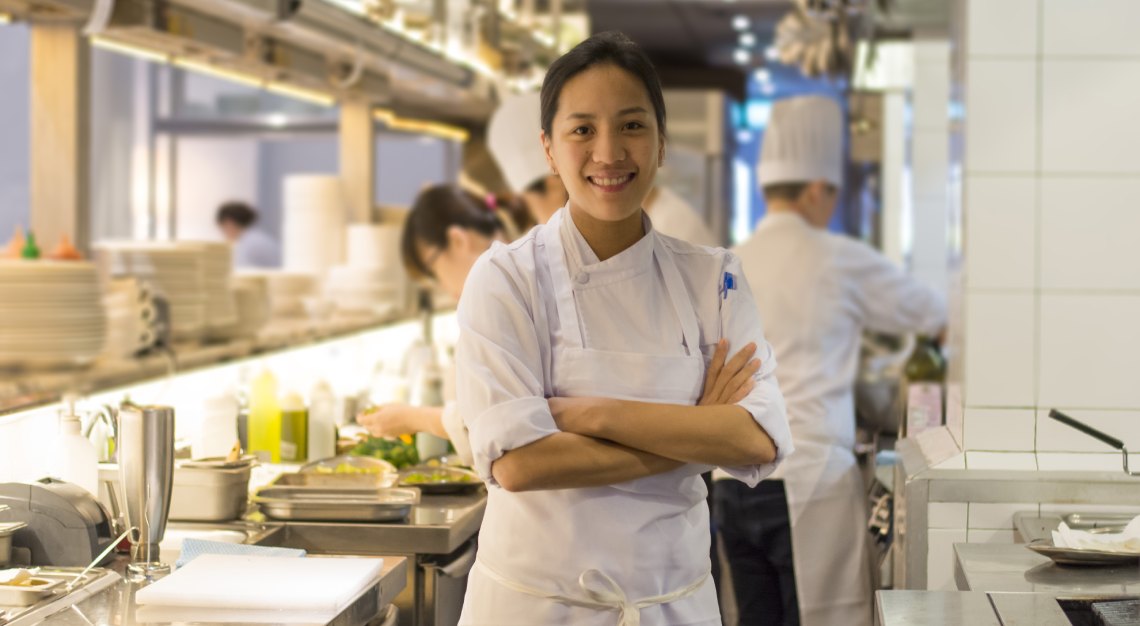 The Dempsey Cookhouse & Bar
Executive Chef Lisa Revilla says: "The Dempsey Cookhouse and Bar is located away from the hustle and bustle of the city and surrounded by lush greenery, making it a unique and intimate place to dine at. The ambience is classic with its black and white aesthetics, high ceiling and glass windows that allow for natural light to stream in.
For me, the best tables are the ones next to the veranda because of the soft glow from the hanging row of vintage lights. They overlook the garden, too. Smaller groups are seated here, so it's a cosy corner where you can have your own intimate space."
The Valentine's Day four-course meal (S$138 per person) starts off with a selection of popular appetisers including the Yellowfin Tuna Tartare, Avocado, Ginger Marinade, Spicy Radish. This is followed by a choice of mains: the Marinated Duck Breast, Grilled Lamb Chops with Mushroom Bolognese and Pecorino, or Caramelised Beef Tenderloin with Carrots and Miso Mustard. Indulge and top up S$45 to enjoy one of the restaurant's famous Caviar Creations—choose between the Toasted Egg Yolk with Caviar or the Warmed Glazed Potatoes with Caviar and Herbs.
Robb tip: End the meal with a Salted Caramel Ice Cream Sundae, served to you with popcorn, candied peanuts and delicious hot fudge.
Dempsey Cookhouse and Bar
17D Dempsey Road
Singapore 249676
Tel: 1800 304 5588