The complete guide to large format wine bottles, according to Cult Wines
Before being overtaken by a 73-year-old Burgundy, for over a decade the record for the world's most expensive bottle of wine was held by a three-litre 1945 Mouton Rothschild. 
This wine was remarkable for several reasons. First, the 1945 vintage is monumental as it marks the end of the World War II and the start of a new era. 
Second, the label of this wine was specially designed by Philippe Jullian, a French artist, who was inspired by Winston Churchill's V hand sign. Since this vintage, Château Mouton Rothschild has always commissioned influential contemporary artists to design labels for its grand vin.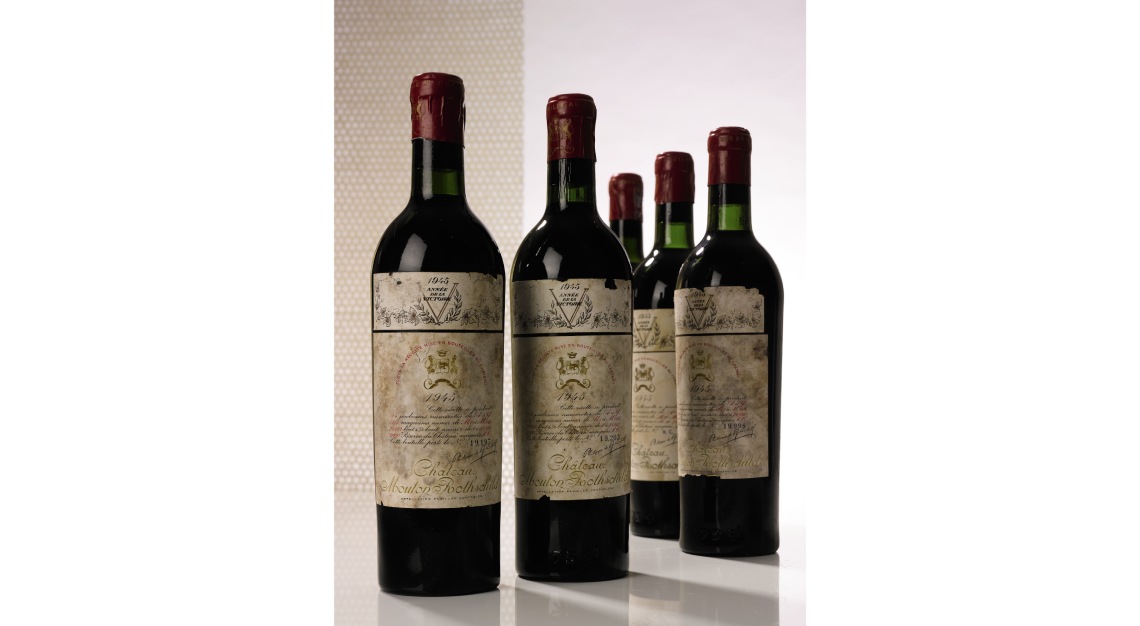 Finally, this wine comes in a double magnum. This kind of bottle can hold four times as much as a standard size 750ml bottle and is widely considered a superior ageing vessel. 
The double magnum has a different name in the Champagne region – Jeroboam, an old King of Israel according to the Old Testament. In fact, different regions have different names for these "large format" wines – some intuitive and some not.
Cult Wines will tell you what you need to know about large formats and whether you should buy them. 
What are large format wines?
Historically, wine came in different vessels and volumes. Not until the mid-19th century did the 750ml glass bottle become the standard format for wine. 
Over the next centuries each wine region in France developed bottles of different volumes and named most of them after biblical figures. 
For instance, a Rehoboam is a 4.5-litre bottle occasionally produced in Burgundy and Champagne. But Bordeaux does not seem to favour this format. But when it is produced, Bordelais called them Jeroboam. 
Sounds confusing? Cult Wines has put together a simple chart on large format wines and their common names: 
Why should I buy large formats?
The origins of these biblical names are largely lost in history. But the bottles after which they are named are very much loved and widely produced across the globe. 
In fact, one of the most iconic Champagnes of all time, Champagne Salon, has announced that it will bottle its 2008 vintage exclusively in magnums. According to the Champagne house's director Didier Depond, this is due to Salon 2008's small volume, exceptional quality and high ageing potential.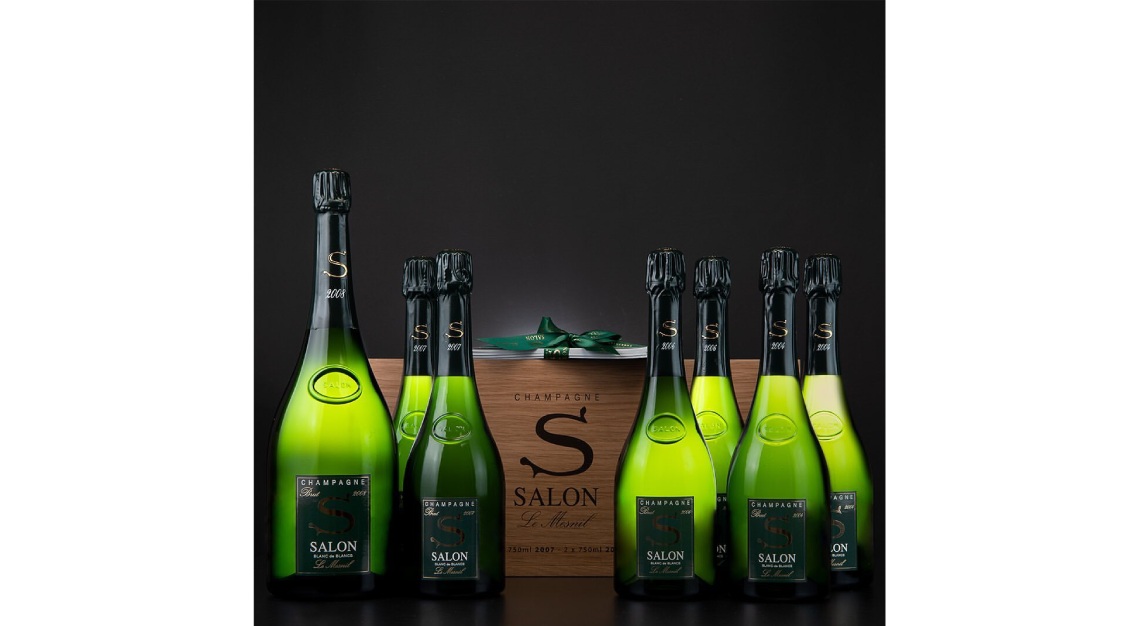 Helping wine to age better and over a longer period is doubtlessly one of the many perks large bottles bring. Larger bottles require thicker glass, which in turn makes the bottle more insulated against temperature fluctuation and exposure to strong light. 
The sheer size of large format wines means that they will be moved less frequently. The less the wine travels, the less vibration it will have to endure, and thus a better ageing environment.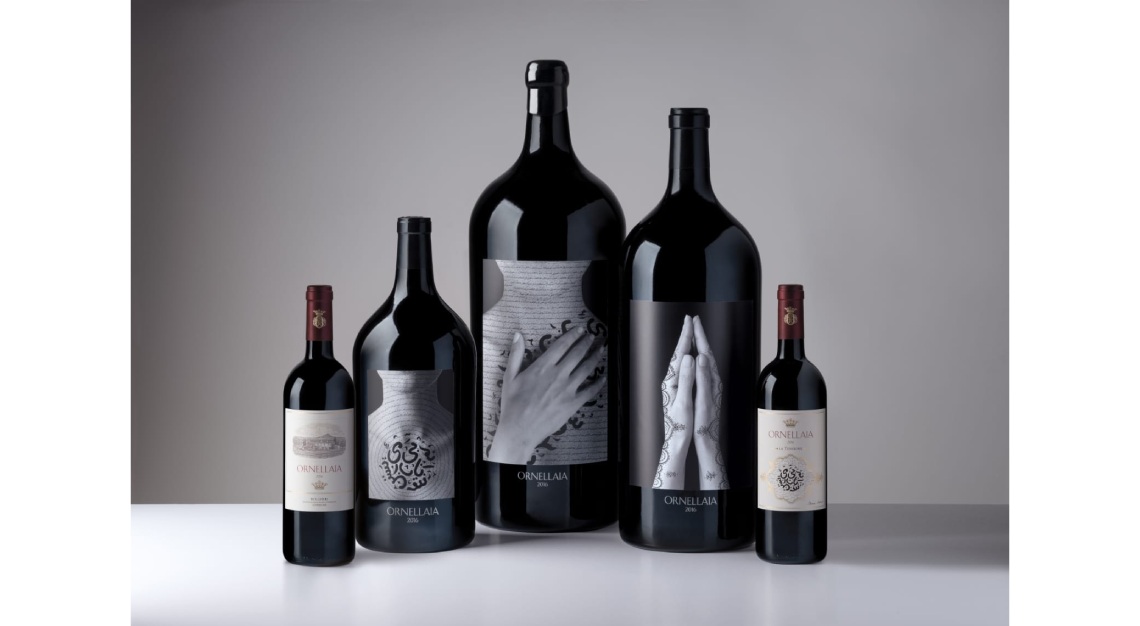 Also, whilst the bottle size is indeed larger, there is not necessarily more air inside the bottle. The ratio of wine exposed to air in the bottle, or the ullage, will determine the rate of ageing. With more wine and similar surface exposure, if stored properly a magnum of Burgundy is more likely to retain its freshness versus its 750ml counterpart.
If longevity and more protection are not appealing enough, there is also the factor of rarity when it comes to large format wine in Asia. 
Max Lalondrelle, the buying director of Berry Bros & Rudd, thinks that the Asian markets "have yet to get into buying magnums" as they are snapping fine wine in standard bottles.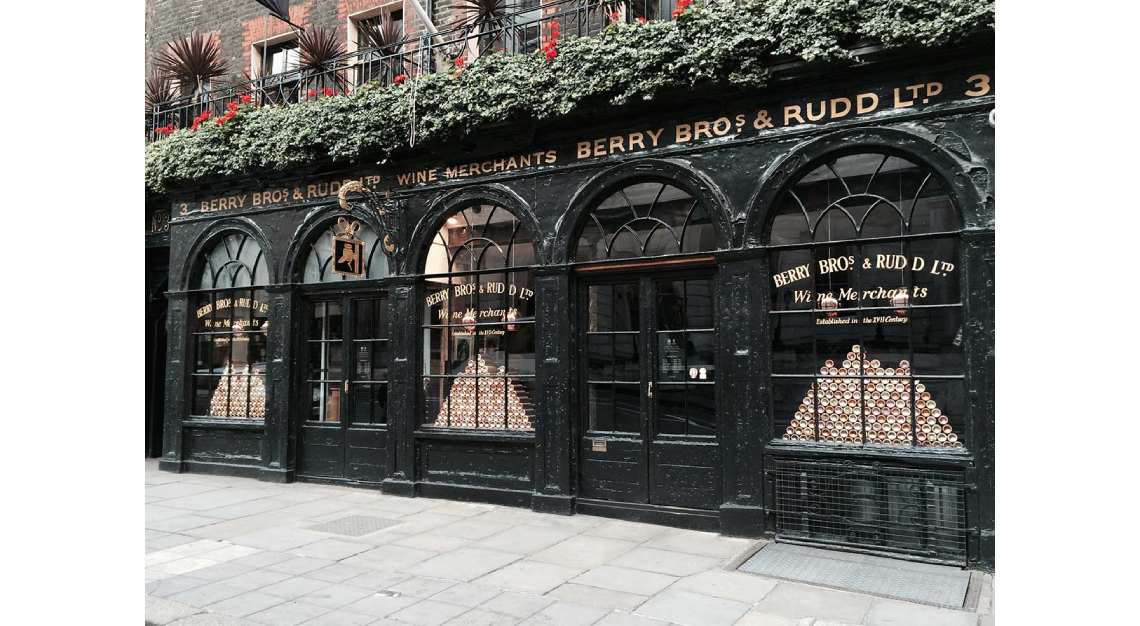 Taking a double magnum to a dinner party does not only wow the guests but also brings a sense of generosity, conviviality and commitment that can hardly be rivalled. 
To invest or to collect?
Do these benefits of large format wine make it a better buy? The answer is that it depends on what you want to do with it. 
For enjoyment and collection, there is a strong case for larger bottles. It impresses and ages better. This is especially true for Champagne, as larger formats make it more festive, shareable and fizzier. More contact with glass can enhance autolysis, a process through which yeast turns into bubbles. 
However, when it comes to investment, the picture is complicated. Cult Wines very seldom see clients investing in non-standard sized wine. Larger formats are less circulated in the global fine wine market and therefore less liquid by nature. 
According to Aarash Ghatineh, global sales director of Cult Wines, market fundamentals are more important than format when it comes to investment: "If the wine has got a global following and scarcity, any format can make a viable investment."
"Having that said, a magnum of Petrus 2000, a modern classic vintage from a legendary vinery, probably commands a higher per litre price than a standard-sized bottle," Aarash adds.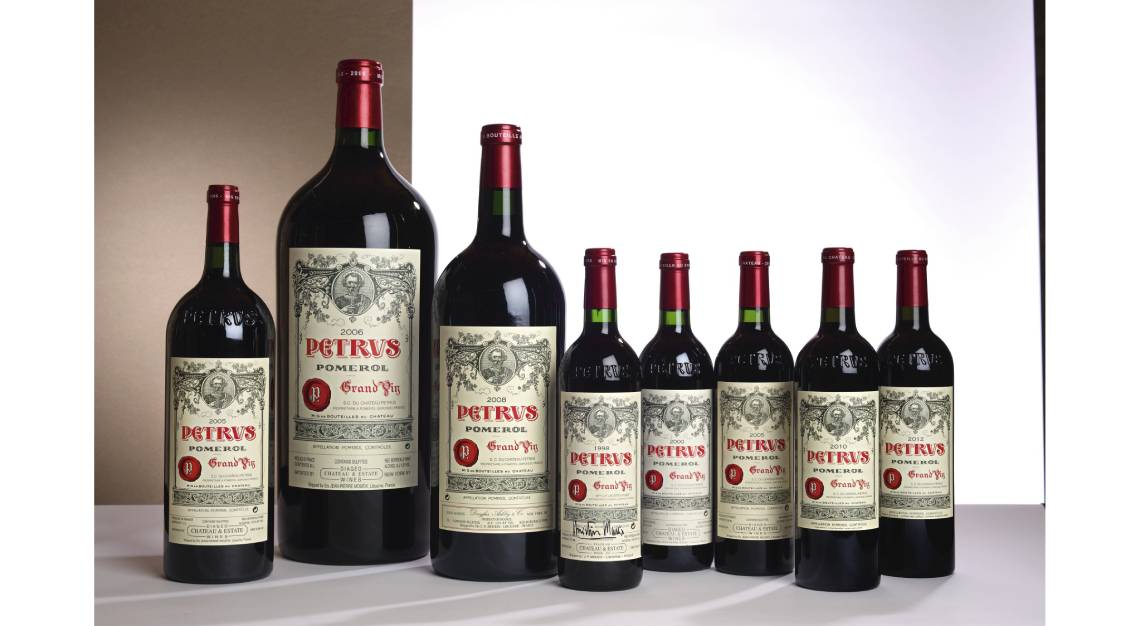 Magnums of Petrus 2000 are now a rarity in shops but are still attainable in auctions. The average hammer price for this legendary wine sold in 2019 was US$9,730 (S$13,209) per bottle, 31.4 per cent more than what two standard bottles would make. 
However, if we compare average price per litre for all formats of Petrus 2000 since the release of the wine, the result seems surprising. Large formats do sell for more money, but not that much more.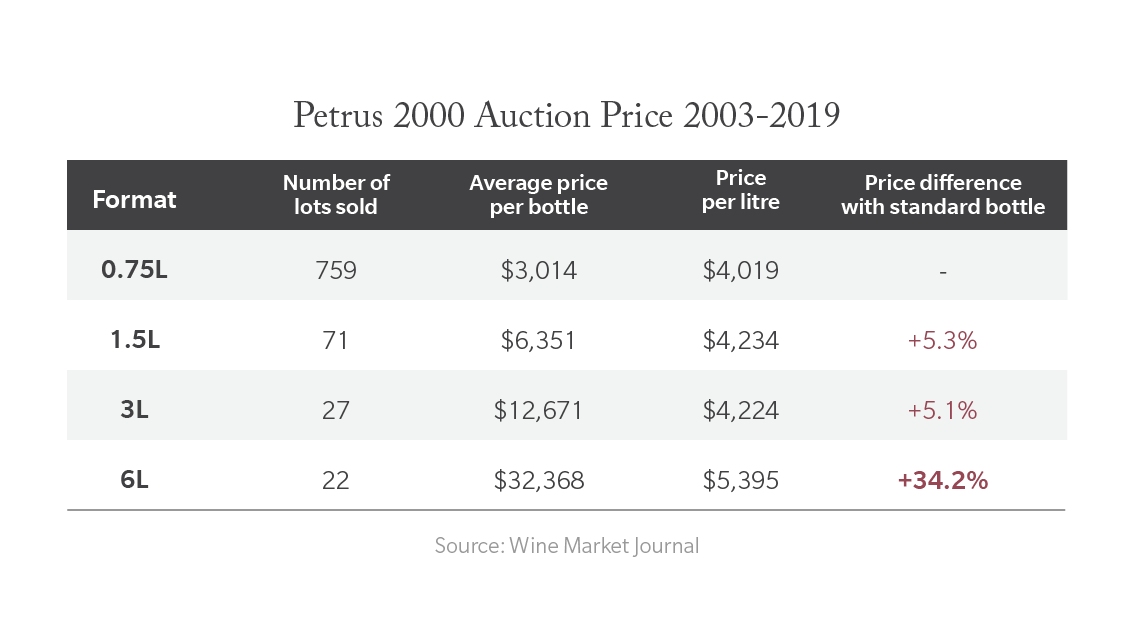 Let us not forget about the commissions that most auction houses charge and the lengthy procedure of provenance check… 
Considering the faster turnover and convenience of other trading channels such as the London International Vintner Exchange and Wine Searcher, I'd prefer to invest in the more common 750ml bottles.
Going back to the example of Petrus 2000, when the wine first started trading in London, a case of 12 standard size bottles was £5,500 before tax. Today it trades at £47,000 (S$82,736), with an all-time compound annual growth rate of 14.3 per cent. 
Perhaps the question we should ask is not which format to invest in but which wine.
But as for personal collecting, the larger the rarer, the more ageing potential, and the more impressive it will look in your wine room.