In the first episode of our At Home With Robb live chef series, Dave Pynt of Burnt Ends teaches us how to cook a signature vegetable dish. The series continues with another episode (30 April, 5pm) featuring Cloudstreet's Rishi Naleendra. Sign up below
Now, who loves leeks? We do. But unlike say, Jimmy Fallon, the leek is a vegetable that's sorely underrated, and one that deserves a lot more love. Often used as an aromatic for soups and stews, and lovely eaten raw in salads, leeks are fabulous when grilled until charred. Find it a friend or two, like nutty brown butter and roasted hazelnuts, and it becomes a dish that will surely impress.
It's also a signature at Burnt Ends, a modern barbecue restaurant whose world is centred around a four-tonne, two-oven brick kiln designed by chef-owner Dave Pynt himself. Almost everything goes into this kiln, be it the humble quail egg, your 75-day dry-aged wagyu or, you guessed it, leeks.
But there's more to barbecued leeks than just tossing them into the fire and letting the flames do their magic. In the first episode of At Home With Robb, where we invite some of Singapore's most lauded chefs to conduct live masterclasses over the Internet, Pynt shows us his ways around the wood fire. Read on as he talks about the plight of the restaurant industry, which famous chef he would eat (if he had to) and how to recreate his restaurant's Leeks, Hazelnut and Brown Butter* dish.
*Two other good combinations to explore would be fennel, orange and burrata, or steak and burnt onions. Pynt's words, not ours.
What's going through your mind right now?
A lot of random thoughts that don't really blend together very well. I am always trying to stay two steps ahead but at the moment it's hard to gauge what's going to be next and what's going to unfold. We're watching what different countries are doing as they "exit" out of their respective lockdowns periods. I guess all this shit that's going on is just making me more determined to get the team through it.
Do you believe in turning life upside down every now and then?
From our point of view, continuing operating is definitely not a fresh start and this isn't turning it upside down on its head. It's just putting obstacles in the path that you have to fucking divert around. Do I want life to be turned upside down? F**k no. Why would you want that? Things were going pretty well for us before this.
The current state of F&B looks grim. How do you feel about the future of restaurants, and what do you think needs to happen next for restaurants?
The current state of F&B looks grim, but I think, going back to your earlier question, it's a bit more of a reset button for a lot of people where you have a lot of hard times in the economy. The middle market will drop out, a lot of the family-friendly economical foods and service styles will come into play again. But there'll always be room for fine dining as there's always going to be money and a lot of people still making money out of this situation.
Once the food industry recovers, what kind of food trends will be the new normal?
A lot more of the low-end fun stuff, like tacos by the side of the road, rotisserie chickens and hawker centres. These will all do really well because the economical foods [are what] people can get at really good price points, and for good quality. [Also], your burgers and pizzas will be people's night-out food. There will be more grab-and-go stuff, but at the same time, your top-end [stuff] will get more exclusive and harder to manage.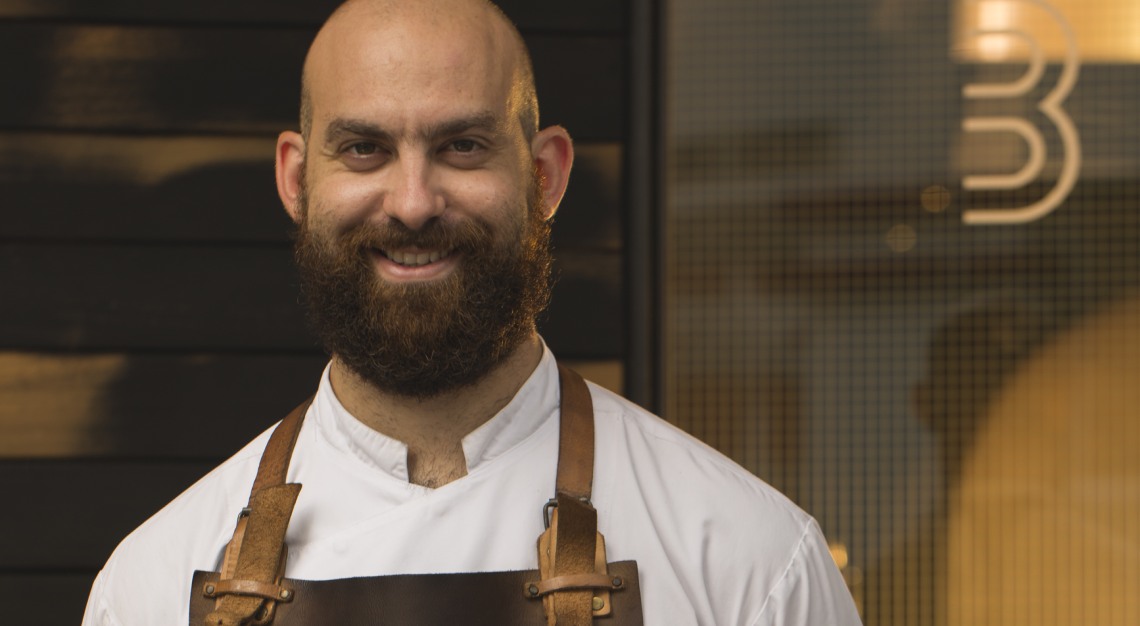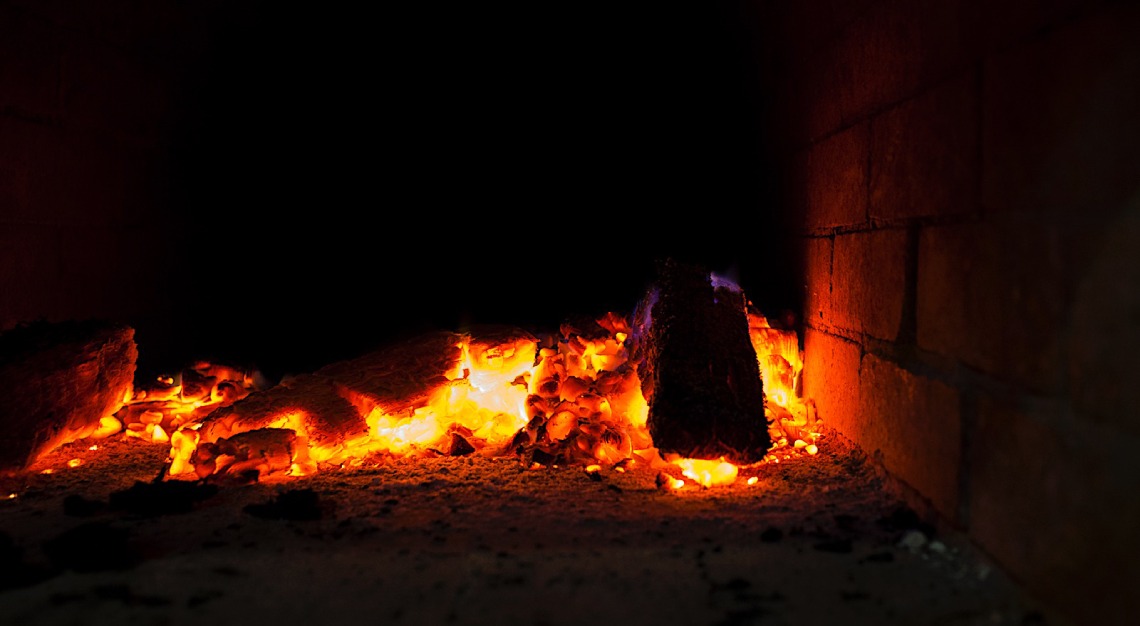 When were you happiest at work?
I'm always happy at work. I enjoy it all.
What's your favourite comfort meal and why?
Cheese toastie with shitty cheddar. It's a good base [for] whatever you feel like on that day, and with whatever you can find in the fridge to make it exciting.
How do you achieve harmony and balance when designing a complete meal?
You've got to have the build in the menu and the flavours in the appetisers and entrées. You'd want to have the comedown and the ease as you float through to desserts.
What is the most essential item in your kitchen?
My ovens.
Describe a funny kitchen disaster story of yours.
There's definitely not any "funny" kitchen disasters that we've had. Probably the biggest kitchen disaster we've had was when the exhaust extraction system caught on fire because the fire got a little bit hot. That wasn't very funny as we had to deal with customers and reservation rearrangements for the next three weeks.
Describe a favourite food pet peeve.
Biggest one that I have is when someone in the kitchen swaps one food container's position with another on the pass and I f**king lose my shit. Muscle memory.
What is the one thing you'd never cook for people and why?
There are probably a few products that I don't agree with the way they're sourced, farmed or managed, so I generally stay away from them. For example, we don't use tuna in the restaurant. Neither do we use prawns, foie gras, whale, dolphin or shark's fin.
If you were stuck on an island with Pete Wells, Ruth Reichl and Marco Pierre White, and you ran out of food supplies, who would you eat first and why?
Marco Pierre White, because I think he'd taste the worst and I'd know I'd have a better meal with the other two.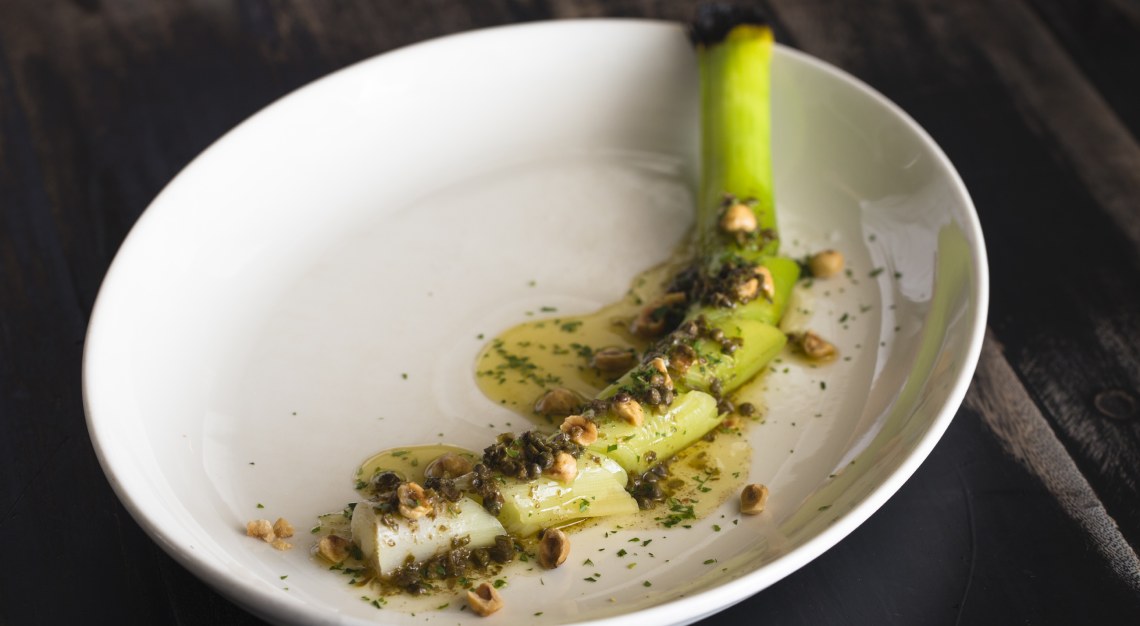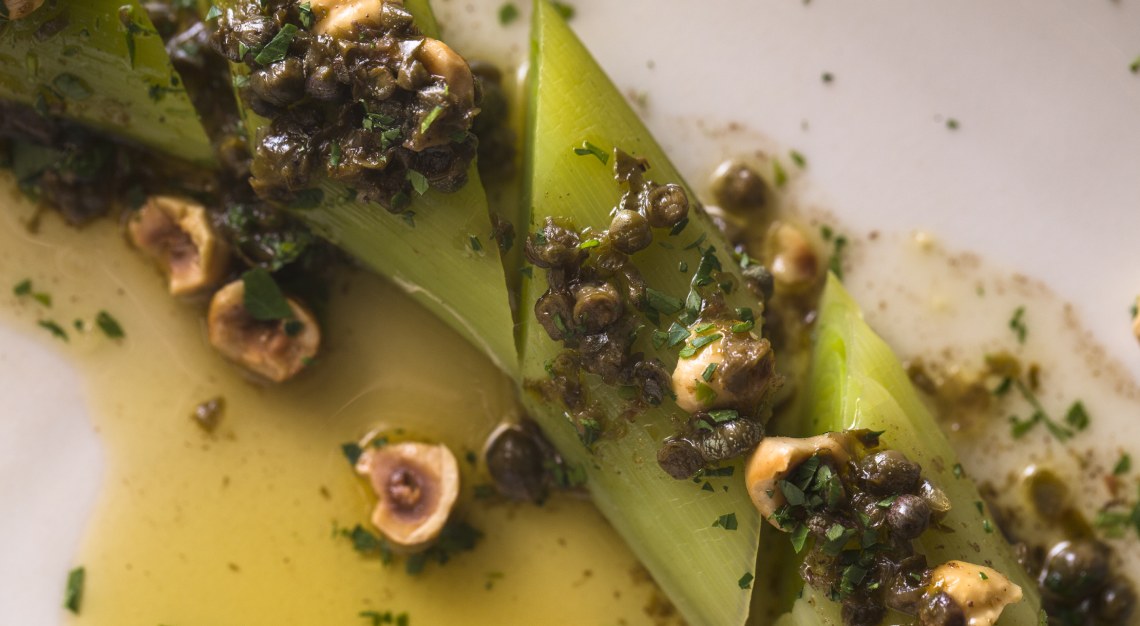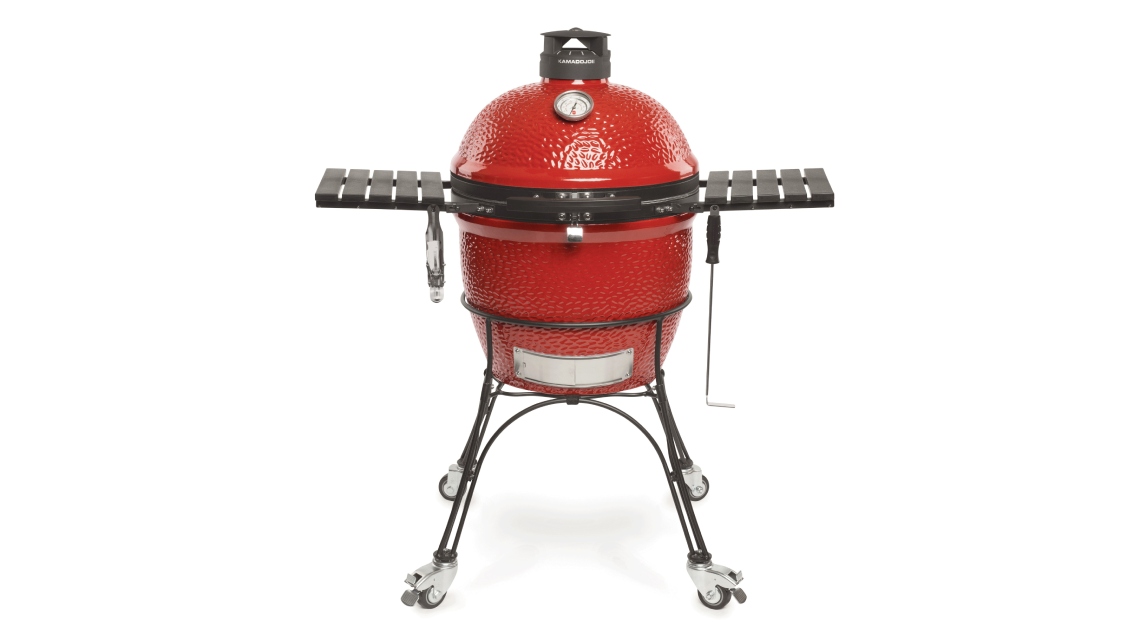 Dave Pynt's Leeks, Hazelnut & Brown Butter
Burnt Ends
Makes four servings
Four large leeks
50g roasted hazelnuts, with the skin removed and slightly broken up
100g diced unsalted butter
20g capers, finely chopped
Juice of one lemon
10g parsley, finely chopped
Flaky sea salt
Place leeks on a wood-fired BBQ* and cook until the outside has blackened all around. Leeks should be cooked through and soft, so remember to always turn them as they cook. 
Place butter in a medium pan. Turn the heat onto medium flame and bring the butter up to 160°C using a thermometer probe, then strain butter through a fine cloth into another pot. (You'd want it golden brown.) 
Discard the outer black part and cut into bite-sized pieces. Divide the cooked leeks onto four serving plates and season the leek heart with a tiny amount of salt. Put roasted hazelnuts atop the cooked leeks, then mix the capers and lemon juice into brown butter to pour over. Finally, garnish with the chopped parsley and serve.
*Note: Pynt recommends using a Kamado Joe, Weber Grill or an oven, with the heat turned up as high as possible. That said, other good combinations to add to your repertoire would be fennel, orange and burrata, or steak and burnt onions.
Staying home during this period of time isn't easy, we get it! But we'll be keeping you company. Subscribe to our digital magazines for free, and check out what ideas we have for you. #StayHomeWithRobb #LoveYourLocalSG