If you love brunch as much as us, you're definitely in the right place
Breakfast might be the most important meal of the day, but so is brunch. It's the one meal that we always look forward to, and not just because of the bottomless booze… Check this space out for our ever-growing list of Singapore's best brunches.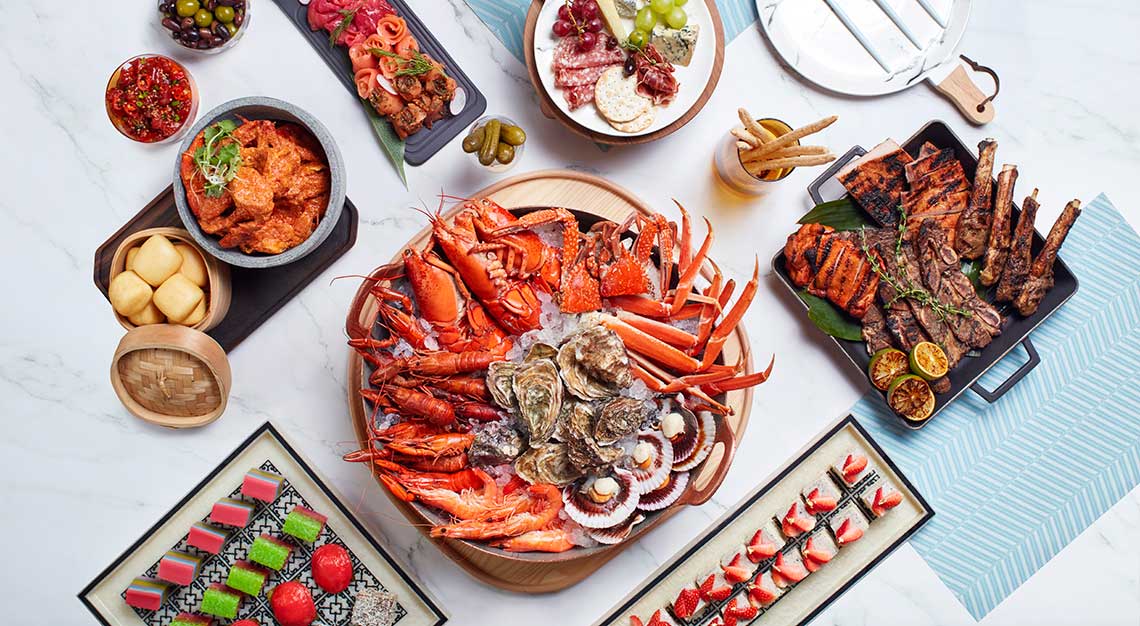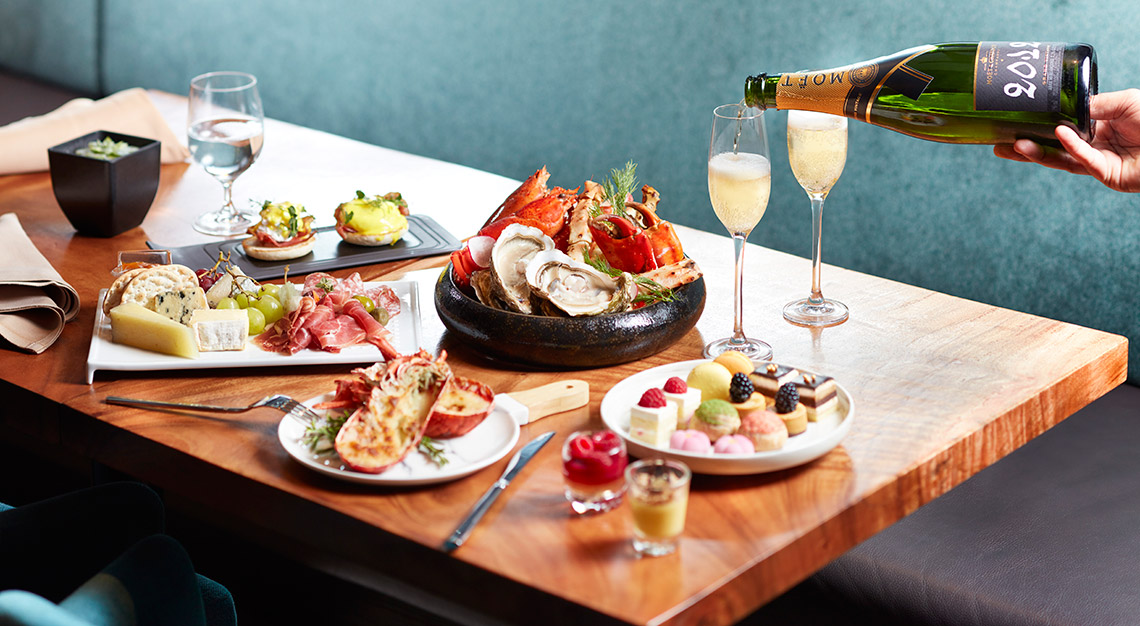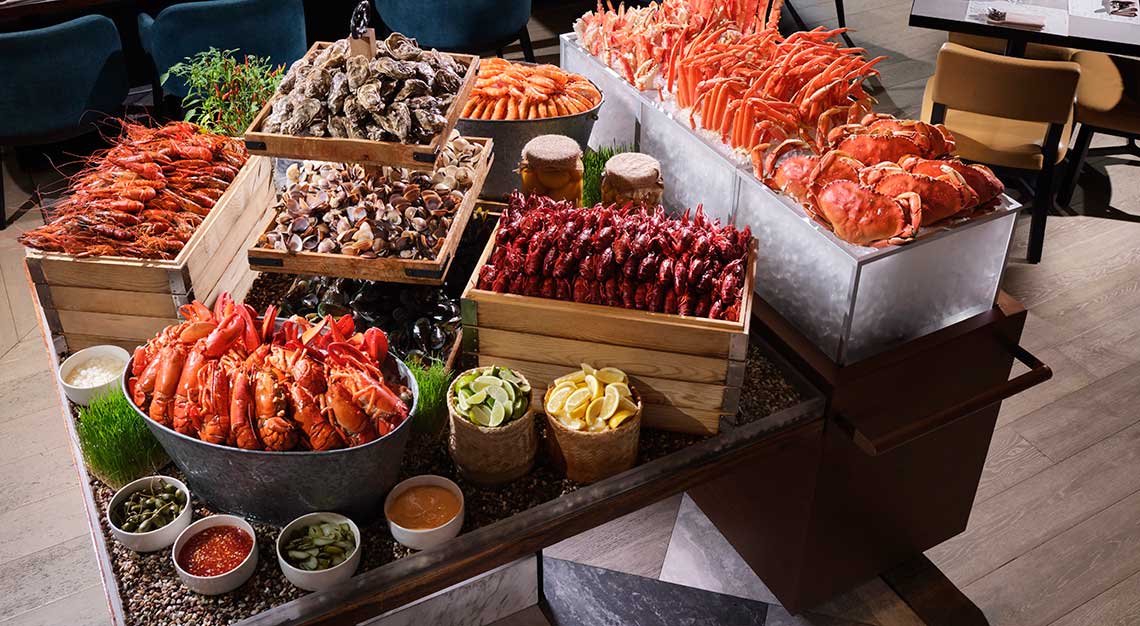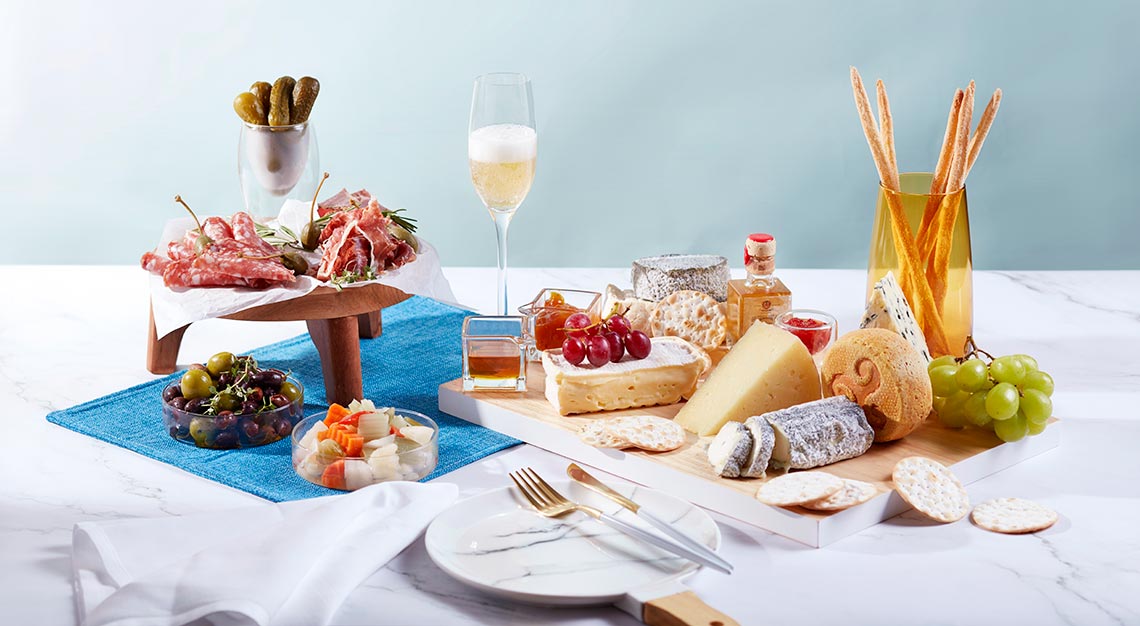 Beach Road Kitchen
What about: What's better than taking a walk to sample a restaurant's signatures? Service staff making their rounds and delivering them to you. At Beach Road Kitchen, the all-day dining restaurant at JW Marriott Singapore South Beach, you won't have to wonder which direction the faint scent of truffle is coming from. Staff will make their rounds and serve slices of truffle pizza – fresh from the wood-fired oven – to each guest. And it's the same with drinks. Apart from ensuring your flute will never run out of Champagne, there's a mobile bar that serves the restaurant's signature cocktails. Consider us spoilt.
That said, it'll be a pity to sit at the table and be waited on. The restaurant is quite a joy to explore. There's the vertical salad garden, a cold room where you'll find charcuterie, oysters, cheeses, sashimi and sushi, a grill station with whole salt-baked sea bass, lamb and Tomahawk steak along with simmering pots of Southeast Asian dishes. Oh, and racks of old-school goodies reminiscent of our childhood.
But our favourite of all has to be the seafood ice bar. Popular with diners, it is stacked with lobsters, three types of crabs (including Alaskan king crab legs), trays of shellfish, shrimp and scampi. While there is a selection of condiments to go with the seafood, we recommend just adding a squeeze of lemon to bring out the flavours.
Robb tip: Request for seats by the seafood ice bar. Quick access aside, it's a lot more cosy, with lesser footfall from the diners. And while nobody really goes for Champagne brunch for the sweets, try to leave some room for dessert. Apart from the usual western cakes, there's also a selection of nyonya kueh, along with a waffle and crepe station.
Sunday Champagne Brunch
12pm to 3pm
S$118++ per adult for food only
Top up S$70++ for a free-flow of Moët & Chandon Champagne, cocktails, red and white wines, beer and soft drinks
Beach Road Kitchen
JW Marriott Singapore South Beach
30 Beach Road
Singapore 189763
Tel: +65 6818 1913
Brasserie Les Saveurs
What about: Indulgent doesn't even begin to describe this decadent brunch, which hosts a rotating calendar of live jazz performances. The Champagne is certainly top-notch too – Ruinart Brut NV. The lavish French fare comes in courses, beginning with pass-around canapés like French Scallop Carpaccio with Piquillo Pepper Jelly and Avruga Pearls and Vichysoisse with Truffle Foam.
It'll be good to note that the Champagne brunch is done differently here, with a smaller selection of items, but are no less sumptuous. There are scrambled eggs with black truffle shavings, pan-seared foie gras, lobster with garlic butter sauce and a palate cleanser.
You'll also get to choose one main course, including a Rack of Lamb, Patagonian Toothfish, and Baked Tomatoes stuffed with Impossible meat patties.
Robb tip: For those who take their jazz as seriously as they do brunches, the restaurant lists its line-up of jazz singers for the month. Check the site for updates, then decide which date you should attend.
Champagne Brunch Experience
Sunday, 12pm to 3pm
S$148++ per adult for food and coffee
Top up S$380++ for a free-flow of Krug Grand Cuvée NV, wines, beer and soft drinks
Brasserie Les Saveurs
Lobby Level
The St. Regis Singapore
29 Tanglin Road
Singapore 247911
Tel: +65 6506 6860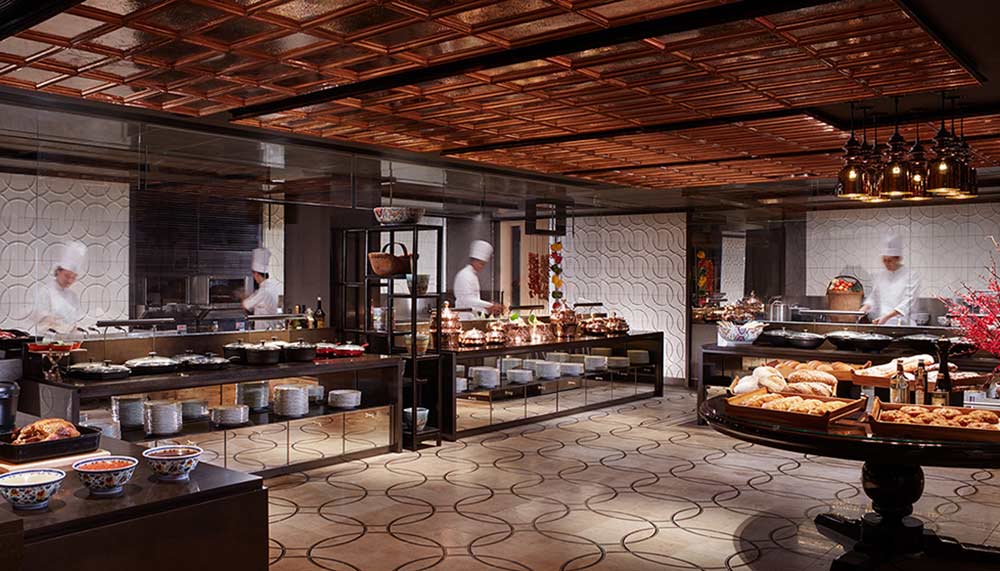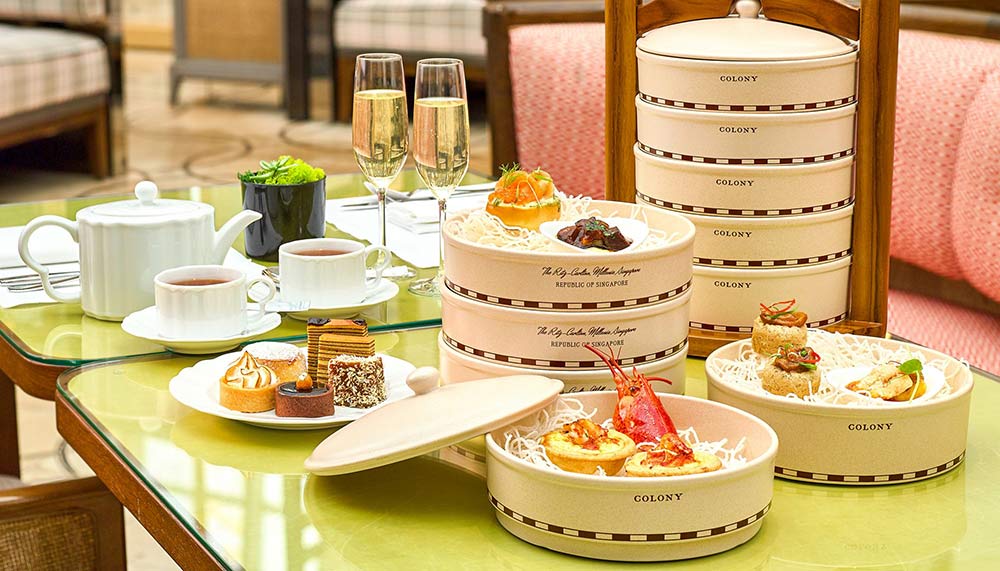 Colony
What about: Be very hungry, preferably by skipping dinner the night before. This immensely popular brunch at The Ritz-Carlton, Millenia Singapore boasts arguably the most extensive spread in Singapore. Crowd pleasers here include the live egg station (Lobster Eggs Benedict, anyone?) and a cheese table featuring rare finds from Europe. There's also elevated local dishes to nosh on, including the Colony Singapore Laksa. Needless to say, everything pairs perfectly with the 2008 Moët & Chandon Vintage Blanc and Vintage Rose on offer, so drink up.
Robb tip: Keep a lookout for its annual SuperBrunch. If you thought Colony's brunch was already epic, its SuperBrunch is themed. Last year, it released a customised Monopoly board game, and guests who attended walked through a life-size version of the game while dining.
Vintage Champagne Brunch
Sunday, 12pm to 3.30pm
S$192++ per adult, including a free-flow of Champagne Barons de Rothchild Réserve Ritz Millésieme 2010, Rosé NV, cocktails, wines and beer
Colony
The Ritz-Carlton, Millenia Singapore
7 Raffles Avenue
Singapore 039799
Tel: +65 6434 5288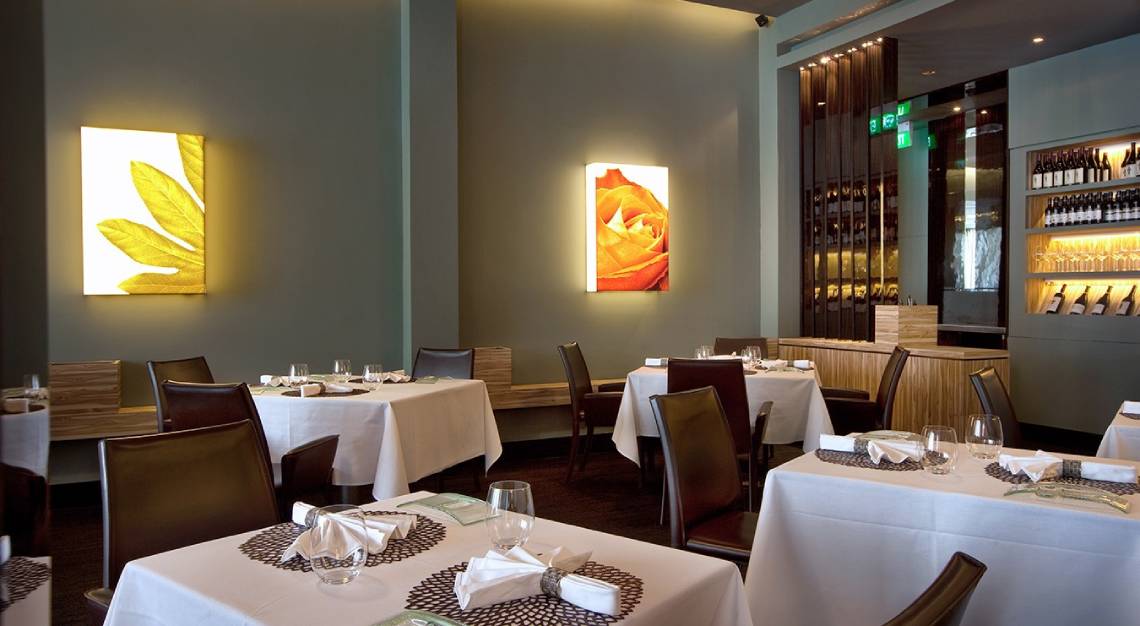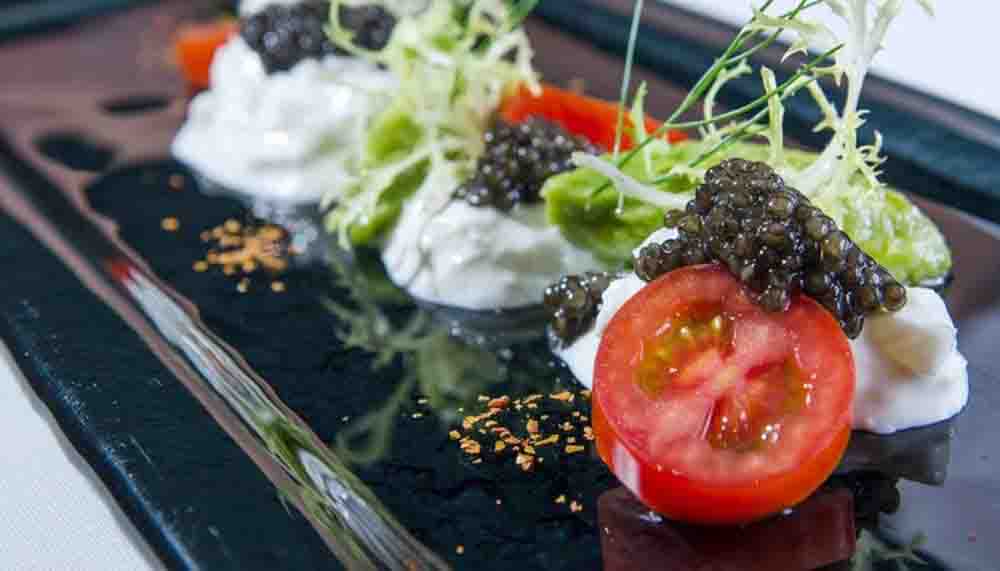 Garibaldi
What about: With a wide-ranging menu and hearty, wholesome fare, it is no wonder the one-Michelin-starred Garibaldi is one of the city's most well-known Italian restaurants. There's minimal movement in this cosy restaurant, instead, you'll sit and be served.
Dishes are all made to order, and includes a mouth-watering range of fresh pasta, antipasti, fish and meat mains as well as decadent Italian desserts. Simply order from the menu, and if you like any, go ahead and ask for seconds, especially where the Orecchiette with Mushroom and Black Truffle Sauce is concerned. The menu changes from week to week, depending on the availability of seasonal produce and ingredients, but the fresh pastas are always a good bet.
Robb tip: This is one of the rare restaurants on the list that offer Champagne brunch on Saturdays and Sundays.
Sit-Down Brunch
Saturday and Sunday, 12pm to 3pm
S$98++ per adult for food only
Top up S$90++ for a free-flow of Bruno Paillard Premiere Cuvee Champagne, beer and house wines
Garibaldi
36 Purvis Street
Singapore 188613
Tel: +65 6837 1468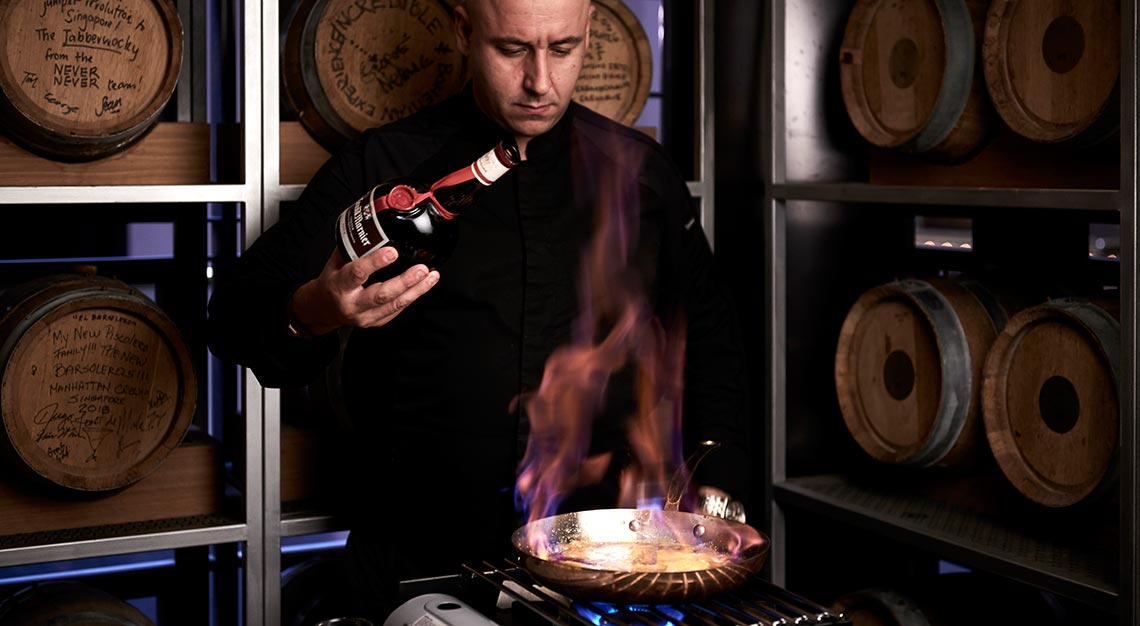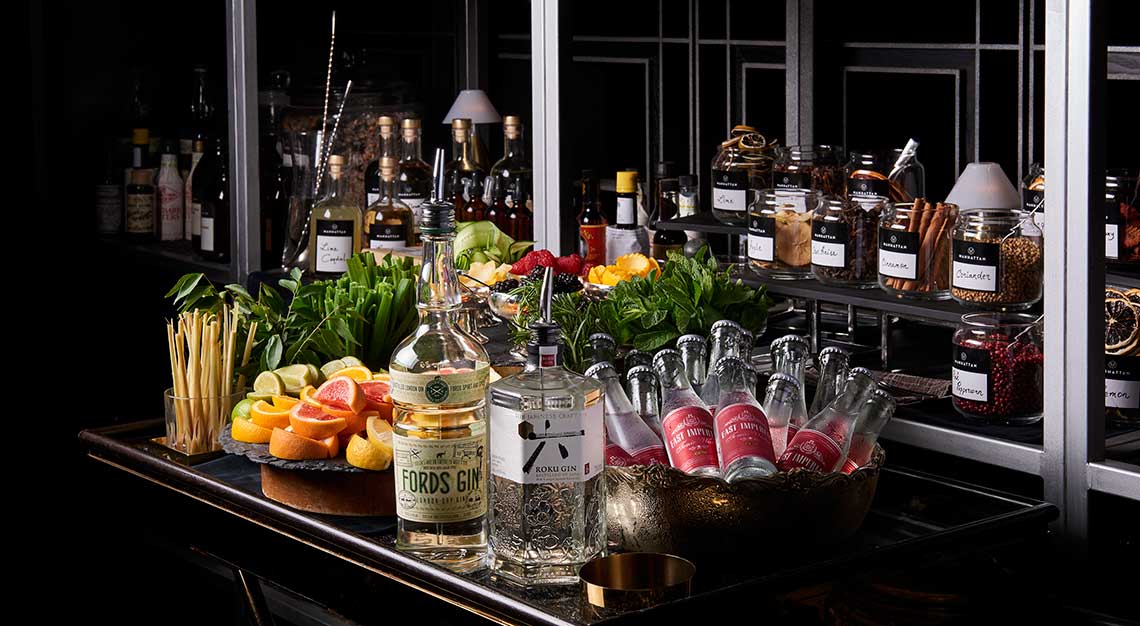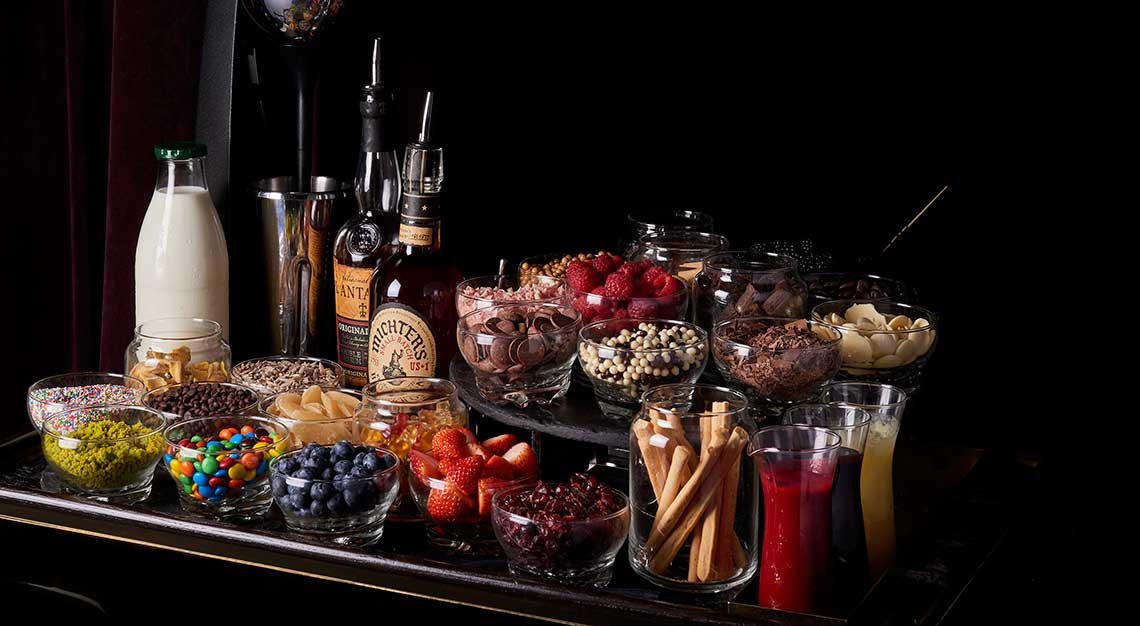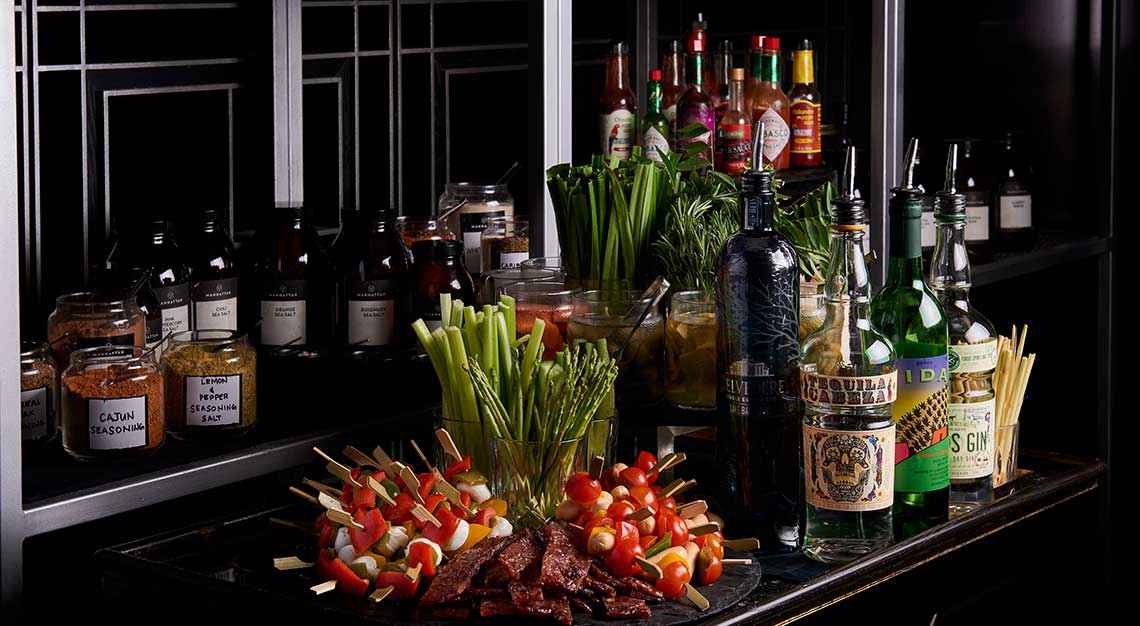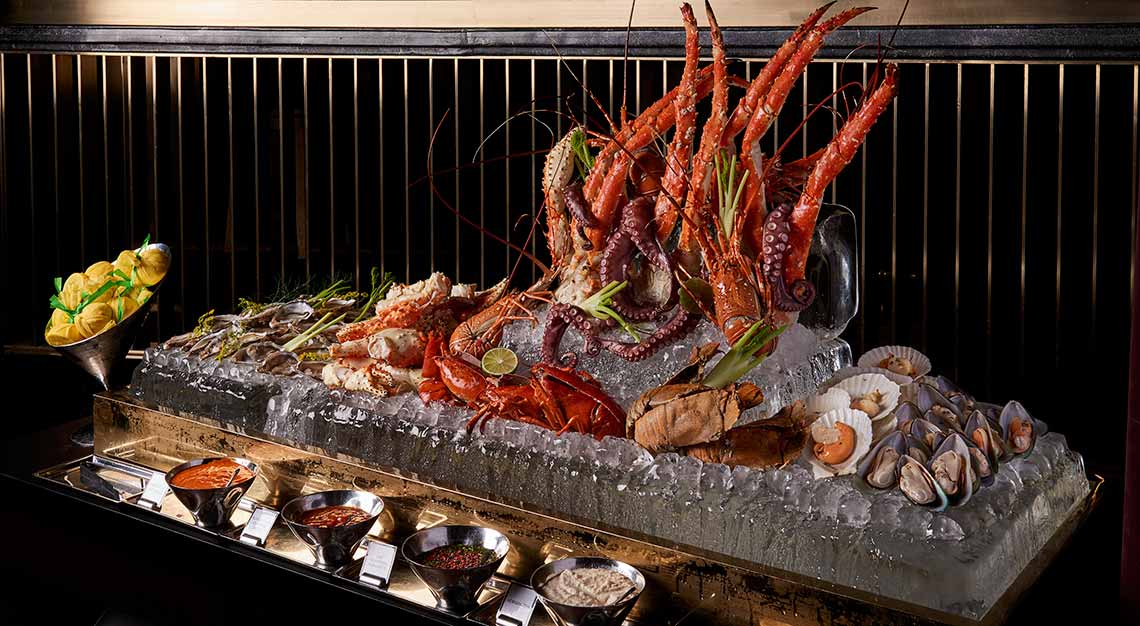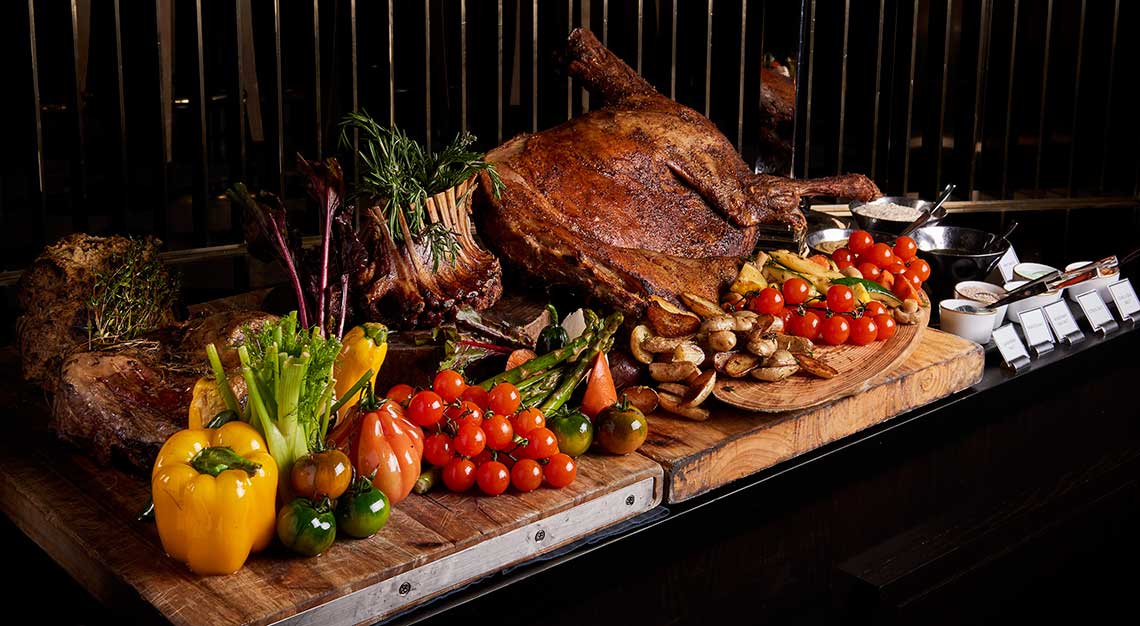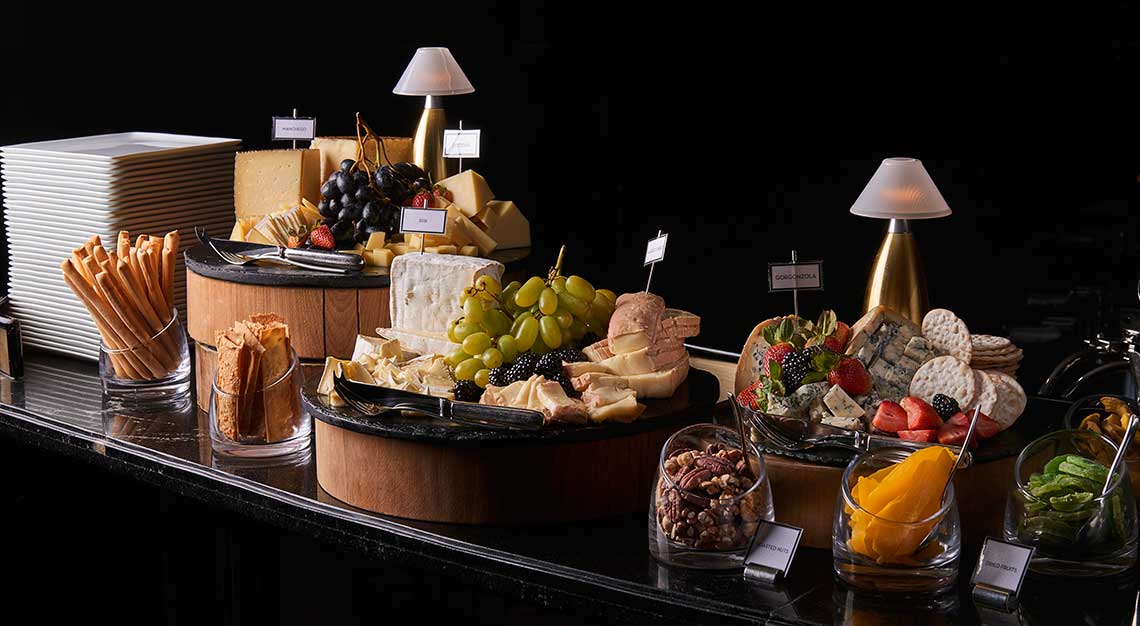 Manhattan Bar
What about: New year, new menu. While we're sad to see the demise of the Mango Sticky Rice cocktail, there is plenty to look forward to at Manhattan Bar's revised cocktail brunch. Enjoy an entire Sunday of no kids, oysters, charred octopus and lots and lots of booze. Come prepared with stamina and pad your stomach before hitting the cocktails – there are five signature cocktails available (begin with the Anita, a lemony-light elderflower tipple). But pace yourself. There will also be boozy milkshakes, Bloody Marys to DIY and a G&T station, where you may stir housemade tinctures and cordials in.
Robb tip: Save space for Crêpes Suzette, which will be made à la minute inside the rickhouse.
Adults-Only Sunday Cocktail Brunch & Boozy Milkshakes
12pm to 3pm
S$163++ per person with free-flow cocktails, wines and beer
S$199++ per person with a free-flow of Billecart-Salmon Brut Reserve, cocktails, wines and beers
Manhattan Bar
Level 2
Regent Hotel
1 Cuscaden Road
Singapore 249715
Tel: +65 6725 3377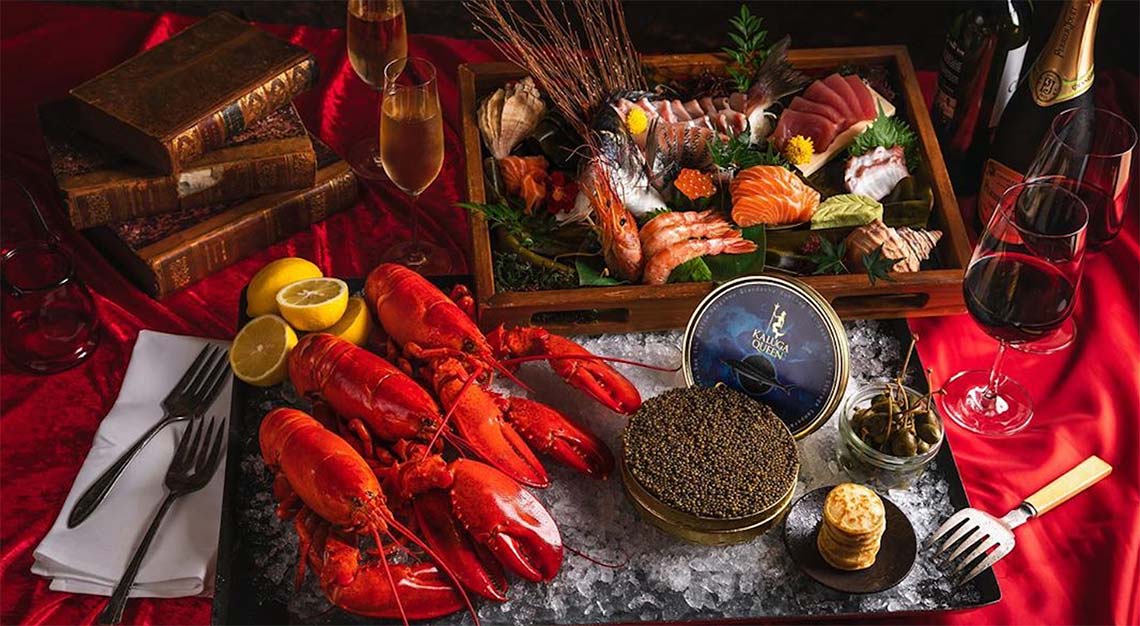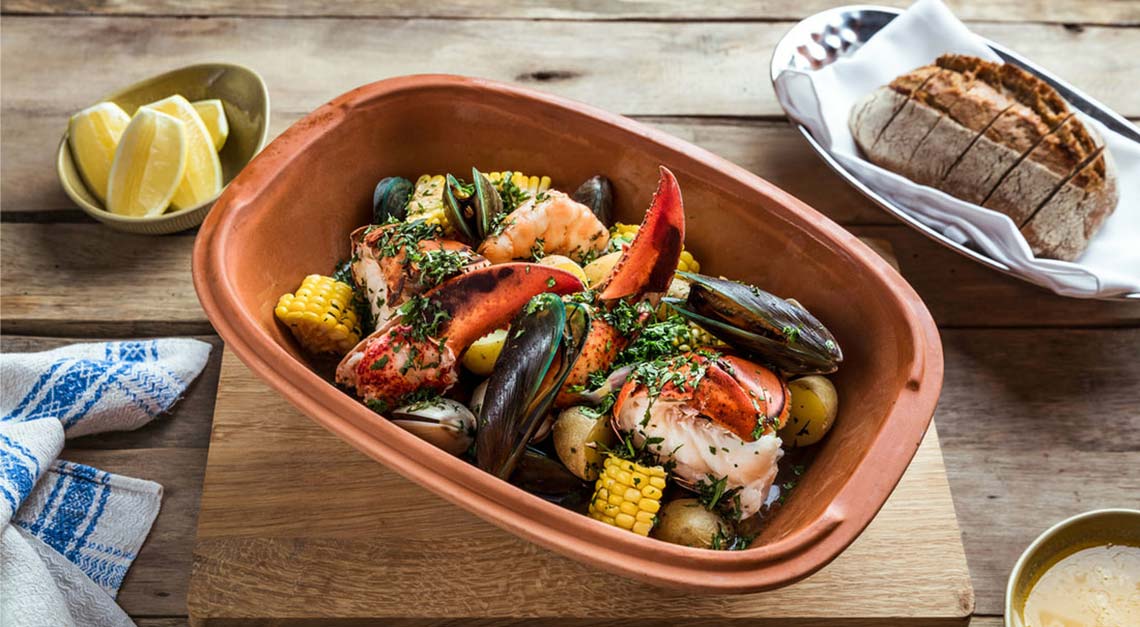 Mezza9
What about: Here, sustainable food is the name of the game and the restaurant does its best to source for ethical catch, especially at the seafood counter. The grill offers Sunday roasts, such as Cape Grim ribeye on the bone and free-range Pork Leg. Do keep an eye out for the wine stations, which are smartly placed close to various counters for no-brainer drink pairing options.
Robb tip: There's an artisanal gin bar featuring handcrafted labels including St. George and Iron Balls, with specific tonics and garnishes for each gin.
Sunday Brunch
12pm to 3pm
S$118++ per adult for food only
Top up S$40++ for a free flow of Perrier-Jouet Grand Brut Champagne, certified sustainable red and white wines, G&Ts, a selection of martinis and beer
Mezza9
Mezzanine Level
Grand Hyatt Singapore
10 Scotts Road
Singapore 228211
Tel: +65 6732 1234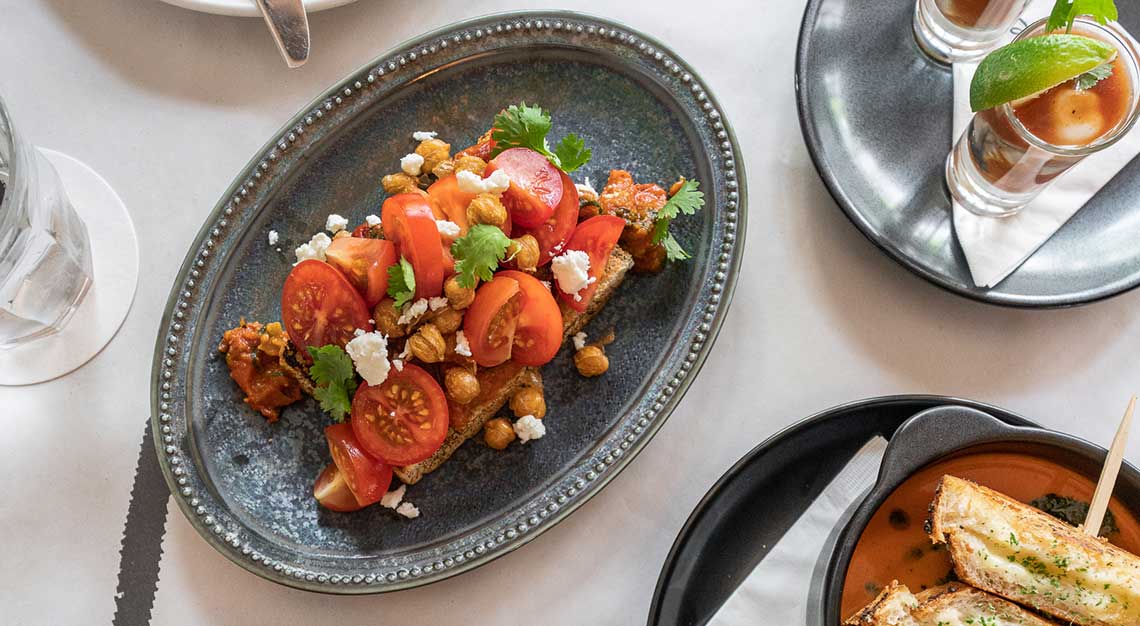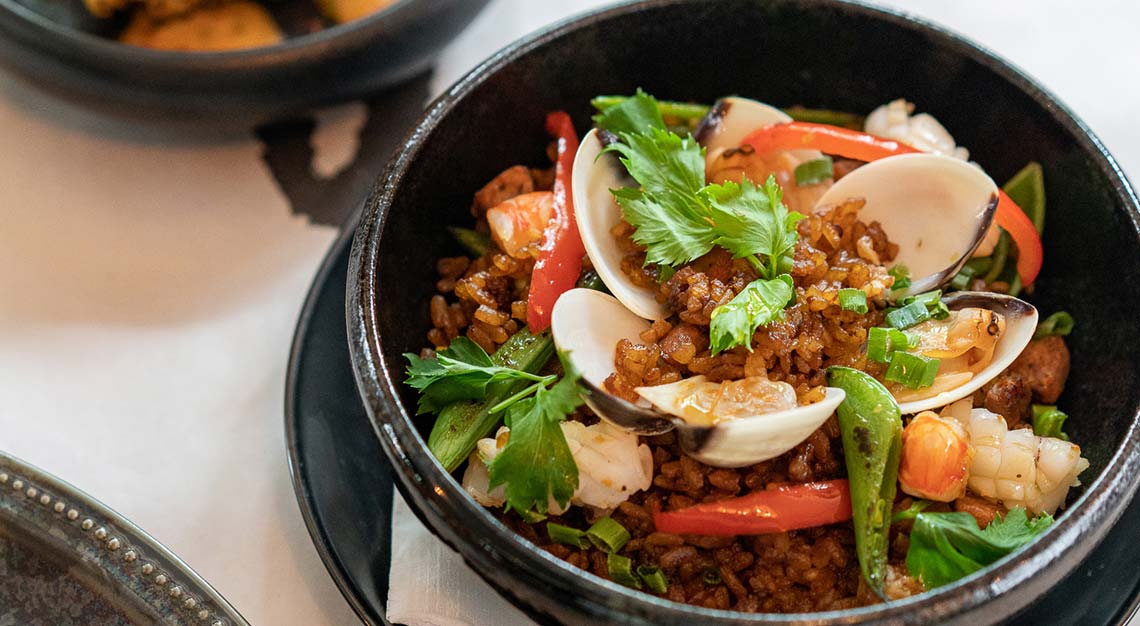 PS.Cafe at Ann Siang Hill
What about: Surprised to see this make the list? Well, don't knock it till you've tried it. Weekend brunch at PS.Cafe at Ann Siang Hill just got a whole lot boozier with its free flow of Riesling, Prosecco, cocktails and Peroni Lager.
Its a la carte menu also sees new additions such as Grilled Cheese Toasties dunked in smokey tomato soup, Fried Laksa Noodles and Seared Sumac Sirloin with sukkah spice and smoked yoghurt.
Robb tip: Like Manhattan, this is an adults-only brunch, so leave the young ones behind.
Weekend Brunch
Saturday and Sunday (or public holidays), 9.30am to 4pm
A la carte menu with a top-up of S$60++ for a free-flow of Riesling, Prosecco, cocktails and Peroni Lager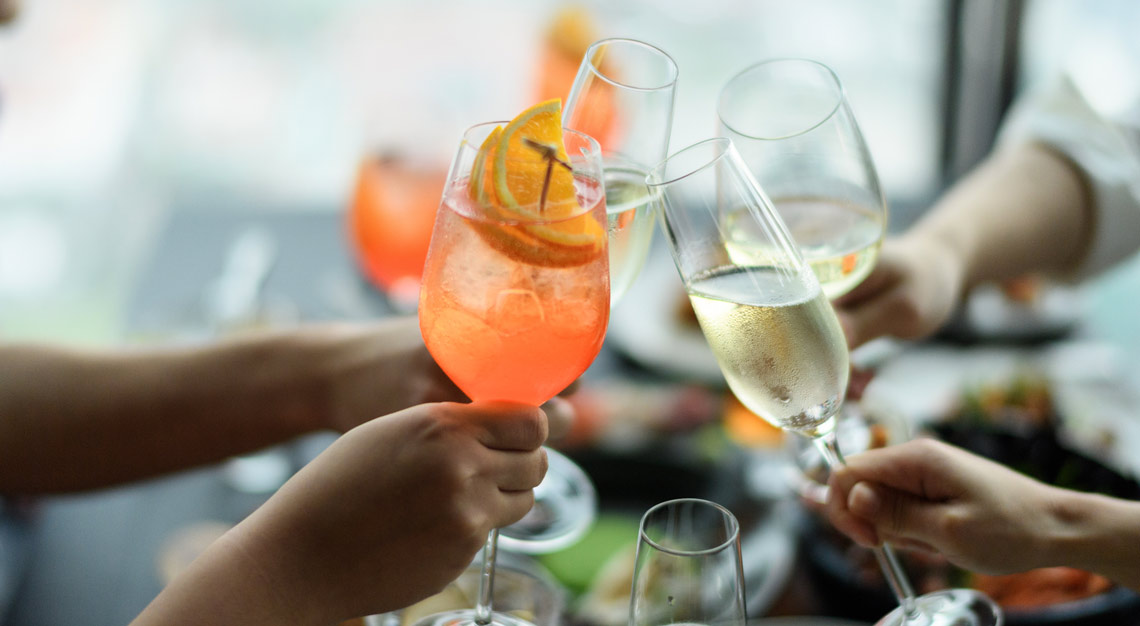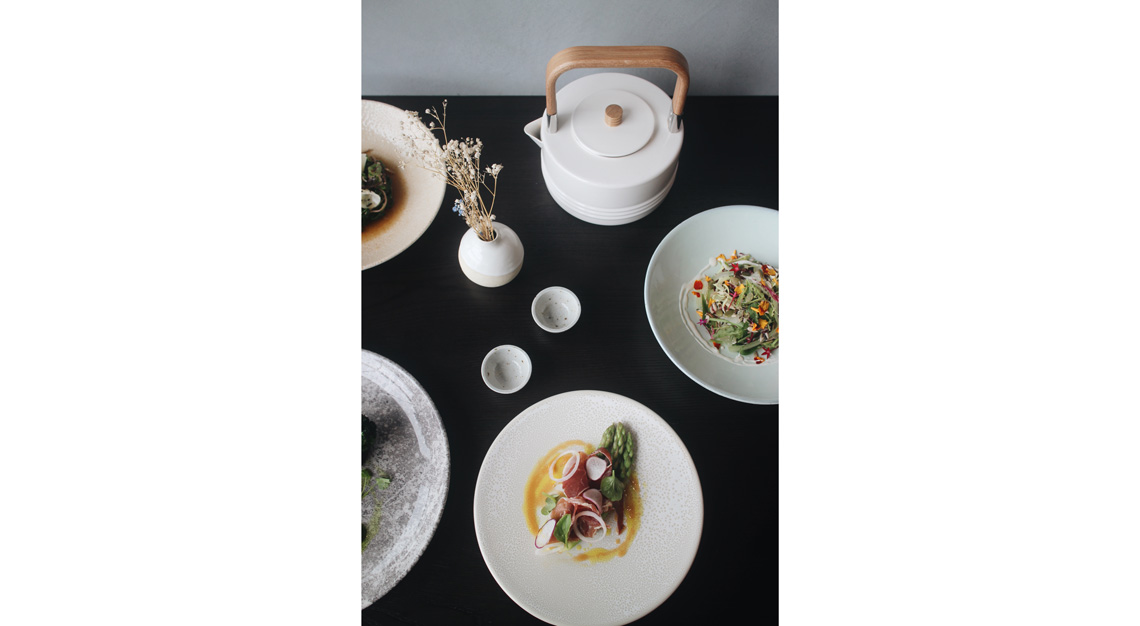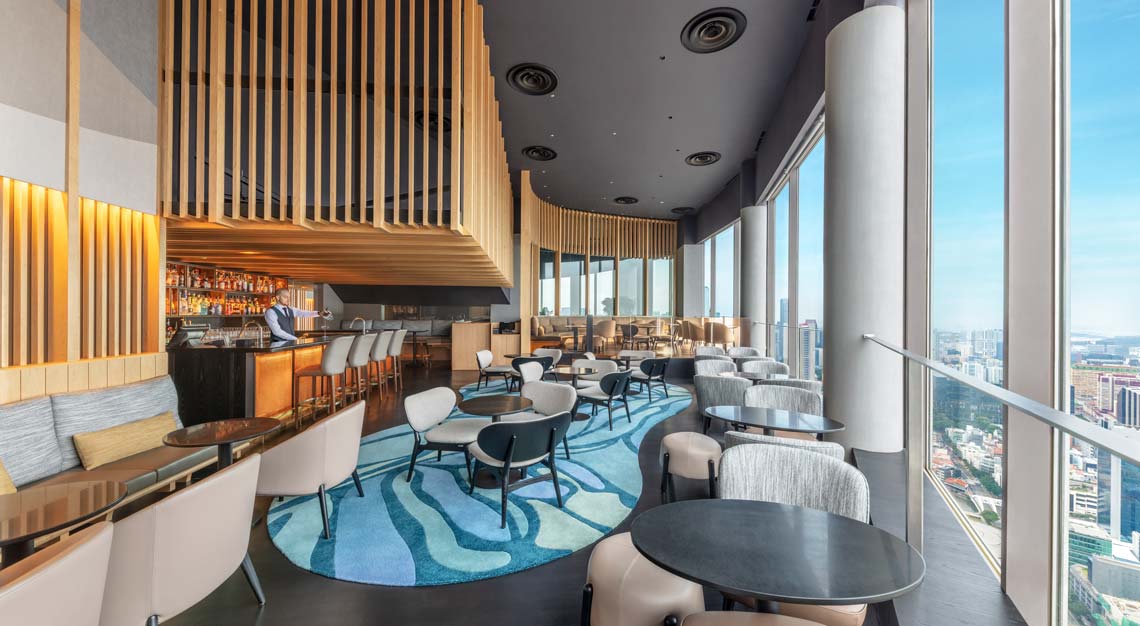 Skai
What about: Head 70 levels up to rooftop Japanese grill Skai at Swissotel The Stamford Singapore. The restaurant's Saturday brunch will leave every diner spoilt for choice. Besides a seafood and dessert buffet, you may also order from a selection of cold plates and hot plates. Fortunately, orders from the kitchen come in smaller portions, leaving you with the opportunity to have a taste of the entire brunch menu.
We can vouch for the Spiced Seafood Hash, Waffle and Salsa, where we enjoyed a serving of perfectly seasoned diced prawns, crab meat and scallops paired with crispy charcoal waffles. As for the Yellow Fin Tuna, Avocado and Spiced Chickpeas, we recommend skipping it; the texture of the tuna doesn't marry well with the crunchiness of the chickpeas.
Robb tip: The Wild Mushroom Soup and Sourdough Toast is a must-try, especially if you love freshly shaved truffle.
Saturday Brunch
12pm to 3pm
S$158++ per adult with a free-flow of Tattinger Brut Réserve, cocktails wine and beers
Skai
Level 70
Swissotel The Stamford Singapore
2 Stamford Road
Singapore 178882
Tel: +65 6837 3322
Town Restaurant
What about: At Town Restaurant at The Fullerton Hotel Singapore, enjoy a picturesque view of the Singapore river and the wide-ranging buffet spread. There's sashimi, sushi, tempura and an ice bar featuring snow crab and mussels. Also enjoy brunch staples like pancakes, eggs and savoury local dishes alongside your wine and Champagne.
Robb tip: The centrepiece of this buffet is the decadent chocolate fountain and epic dessert spread, so pace yourself.
Sunday Champagne Brunch
12pm to 3.30pm
S$120++ per adult for food only
Top up S$53++ for a free-flow of Champagne, house wines and negroni on tap
Town Restaurant
Ground Floor
The Fullerton Hotel Singapore
1 Fullerton Square
Singapore 049178
Tel: +65 6877 8911