Exuberant beauties that demonstrate both horological and jewellery savoir faire
First to Chopard, then to the red carpet. An essential port of call for celebrities seeking to arm themselves with vital sparkle before facing the world, the Swiss luxury house has a knack for crafting capricious jewellery that scream awards night glamour. Though high-octane jewellery is synonymous with Chopard today, the company's roots actually lay not in crafting baubles, but watches.
Chopard was established as a watchmaking house in 1860. Its founder, Louis-Ulysse Chopard, like many young men growing up in the mountainous Swiss Jura region back then, came from a family of farmers. And like them, the Louis-Ulysse turned to watchmaking to supplement the family's income during long and arduous winter months when the land was unfit for farming.
In the decades after the company was founded, Chopard became known as a go-to marque for exquisite pocket and ladies' watches. While the company made jewellery watches during that time, it wasn't until 1963, after the business was acquired by German watchmaker and goldsmith Karl Scheufele III, that Chopard became more intentional with creating jewellery pieces.
Today, Chopard remains a family-owned enterprise run by the Scheufeles. Unlike before, however, its jewellery creations have become just as famous and desired as its timepieces. While the brand's watches and jewellery are established and distinctive in their own right, when both converge, as they often do in the world of Chopard, the union is nothing short of spectacular.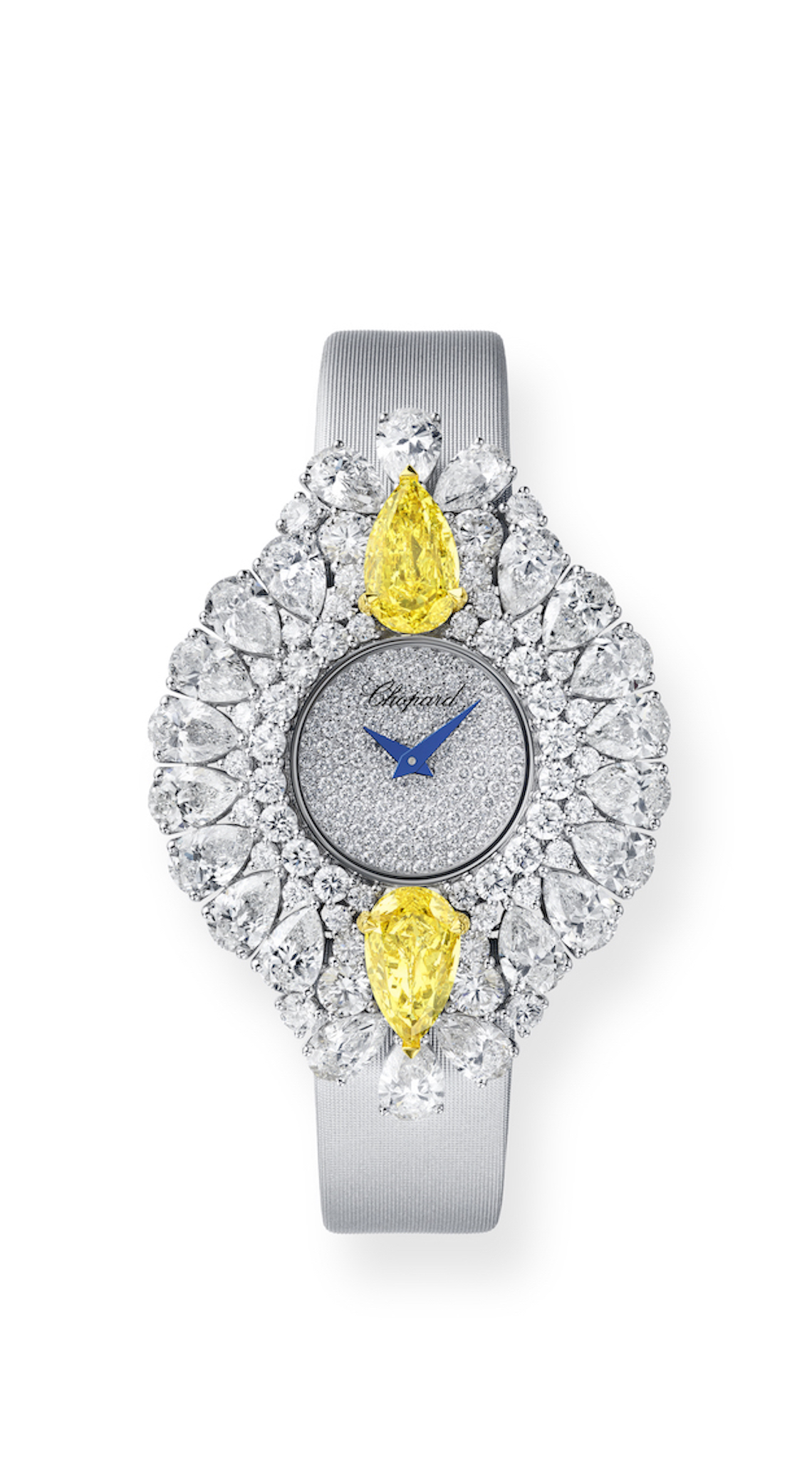 All-occasion glamour
The most important tip to accessorising oneself is simple: stay appropriate. You may already know this, but when it comes to pairing outfits with jewellery watches, one can have too much of a good thing.
Just as it is excessive to flaunt a fully diamond encrusted cuff watch for a casual yacht party, pairing a too-austere timepiece with an elaborate gown is a missed opportunity to shine. Having honed its chops in both watch and jewellery making, it isn't surprising that Chopard, under the current direction of co-president Caroline Scheufele, has built a range of jewellery watches that is comprehensive and offers something for every occasion.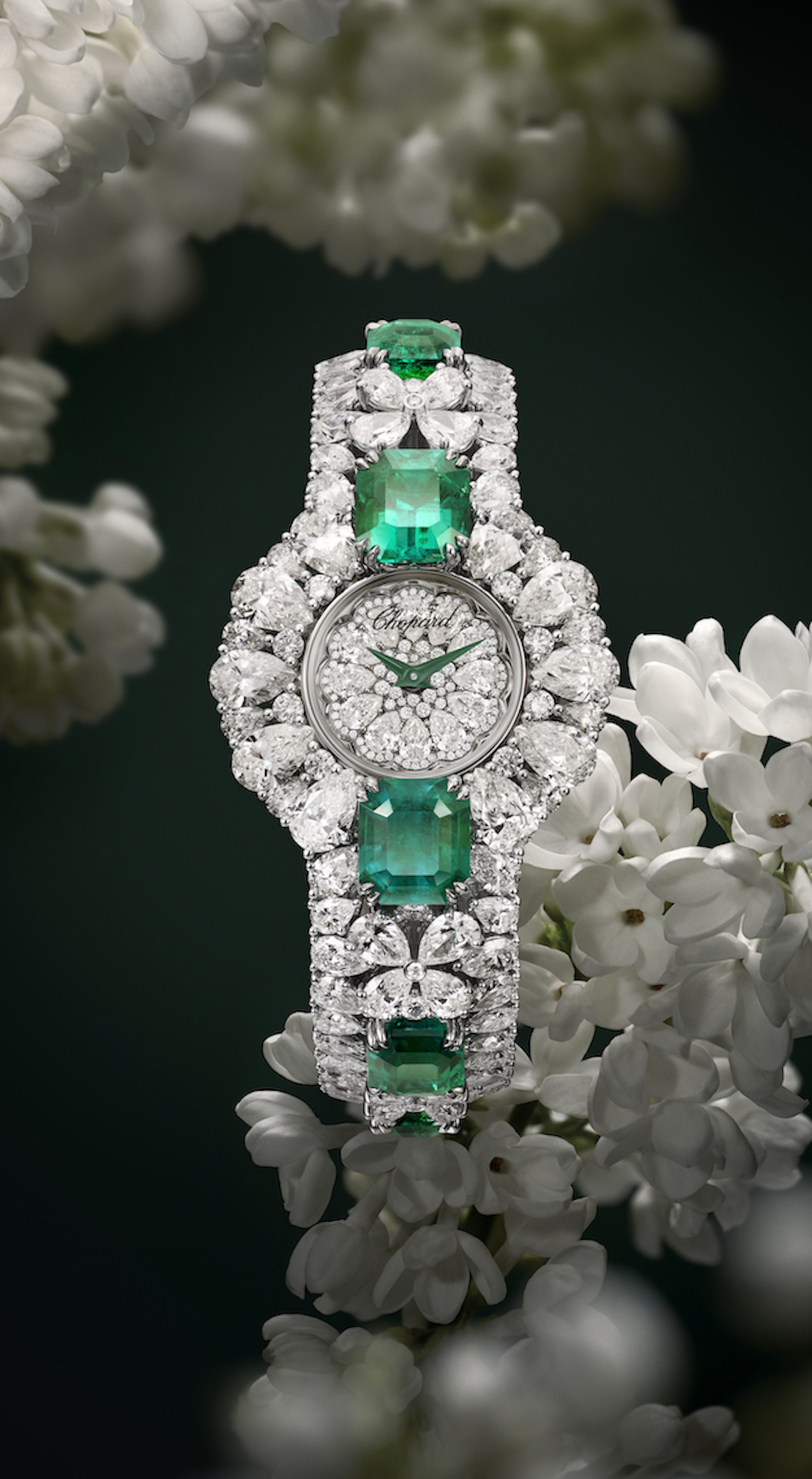 All of Chopard's jewellery watches are crafted with ethically produced gold. The shiniest jewels in the crown for 2023, excuse the pun, have to be the two breathtaking Haute Joaillerie models. The first flaunts luscious octagonal emeralds, surrounded by an assortment of pear- and brilliant-cut diamonds that carpet the case, dial and bracelet. The second, a 'simpler' affair, features two vivid yellow pear-shaped diamonds amid pear- and brilliant-cut diamonds on the case and dial, complemented by a satin strap. The watches' displays of extravagance and innovative gem-setting simply demand to be showcased on the most glittery of evenings.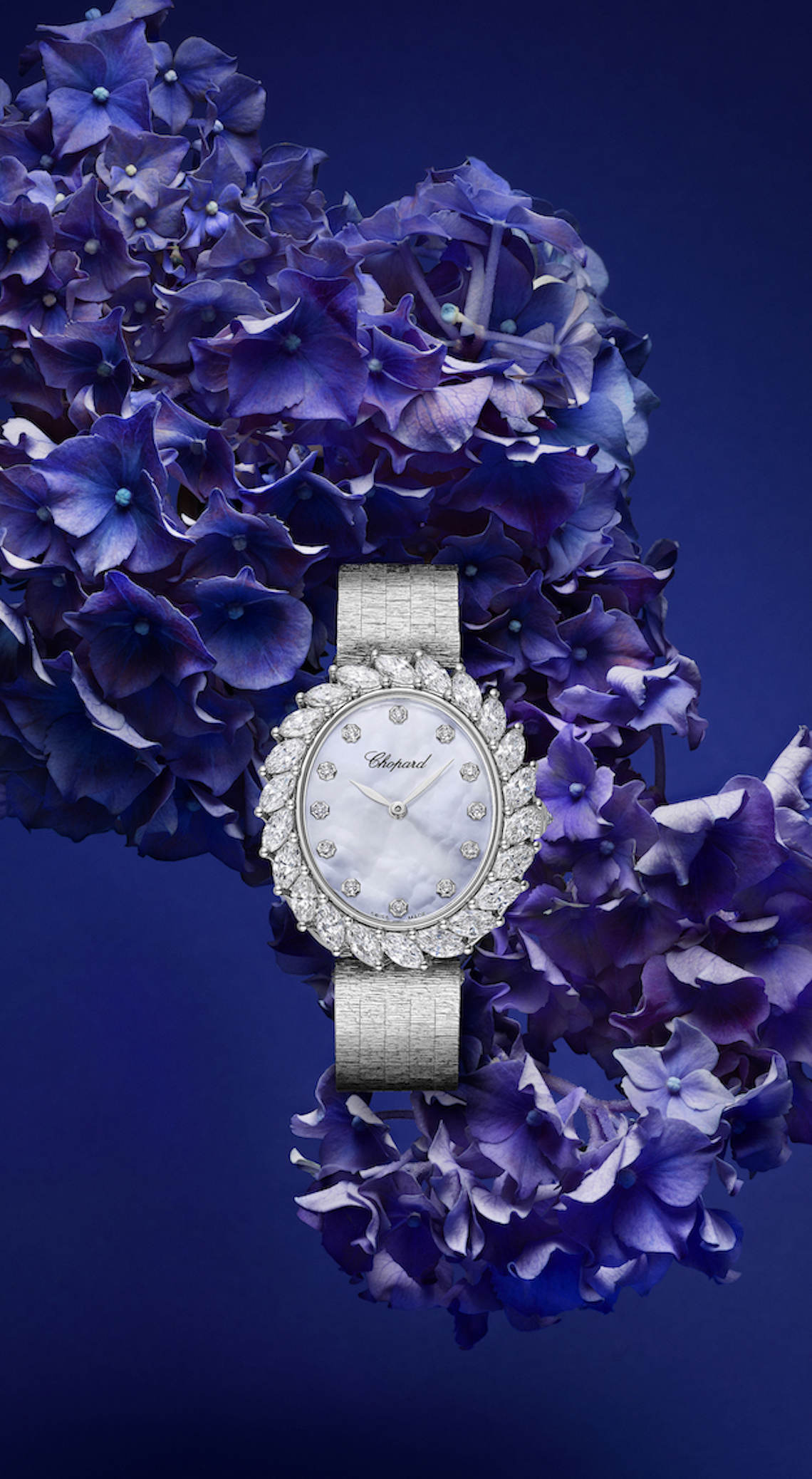 Creative ostentation, too, fuels the latest Imperiale and L'Heure du Diamant models.  The L'Heure du Diamant in white or rose gold, is the more straightforward—but no less stunning—proposition. A ribbon of marquise-cut diamonds totalling 34.5 carats circle a shimmering mother-of-pearl dial, evoking billowing flower petals. Elsewhere, each hour numeral is marked by a brilliant-cut diamond.
The stones owe their exceptional brilliance to Chopard's rigorous gem selection processes, as well as the manner in which they are set. The diamonds are festooned using the crown-setting technique, which minimises visibility of the setting prongs to ensure maximum exposure of the gems.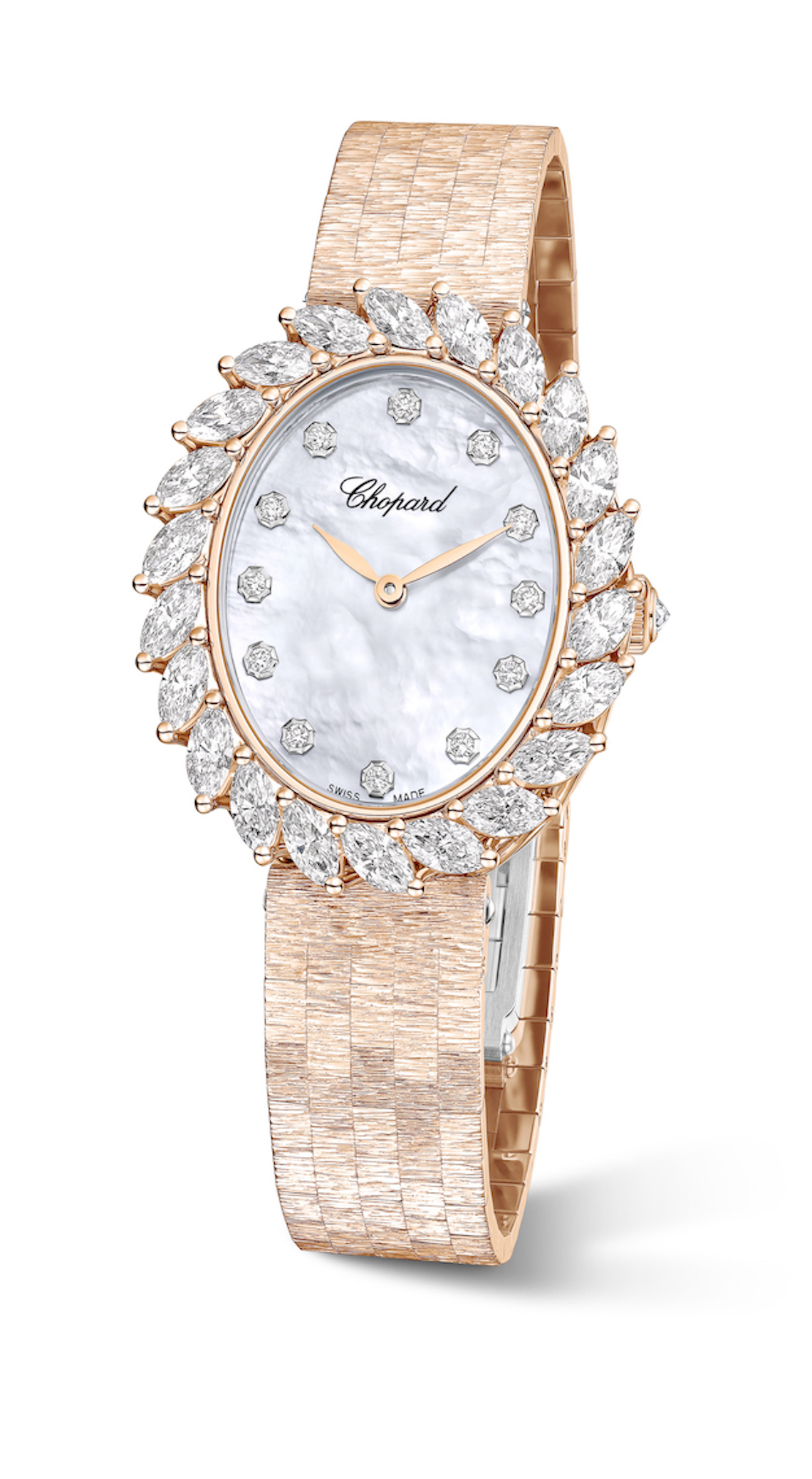 Chopard also flexes its goldsmithing prowess here with a sculpted gold bracelet, lavishing the surface of the supple links with a tree bark-like texture. Completing the watch, the brand fits it with a slim but powerful automatic movement with 72-hour power reserve.
On the Imperiale, which is limited to 25 pieces, bejewelled sparkle is complemented by exquisite ornamentation. The watch's multi-layered gold dial features delicate hand-engraving and lace work, set against a mother-of-pearl base.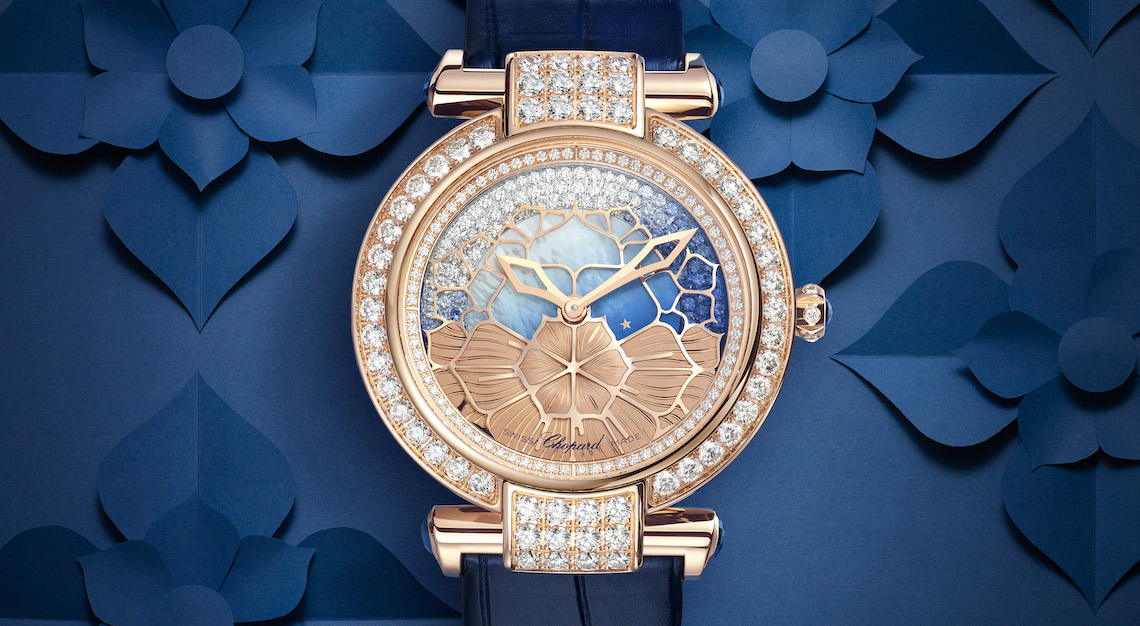 Lacquered in an evocative cerulean gradient hue, the mother-of-pearl disc rotates as it charts the passage of time from day to night in 24-hour cycles. This is made possible by an automatic movement that has been re-engineered to accommodate the disc, lending and sublime and poetic touch to the diamond- and blue sapphire-encrusted rose gold watch.
To some watch lovers, technical sophistication and aesthetic beauty appear to be mutually exclusive virtues. They may argue that it is wishful thinking to have the best of both worlds. Obviously, Chopard disagrees.