The incredible wallpaper of de Gournay takes sprucing
up a home's interiors to the next level
For more than three decades and counting, the exceptionalism shown by de Gournay in its creation of wallpaper demonstrates how far it is prepared to go for its clients, who can specify exactly what wallpaper they wish to have before it is created. In the words of de Gournay, this effort is "the ultimate striving for perfection to bring long-lasting happiness". Bringing forth this aura of happiness are de Gournay's artisans who employ vibrant, balanced and contrasting colours to realise a client's dreams.
This effort also imparts a 'spirit resonance' in de Gournay's beautiful wallpaper designs, where its artisans pour a part of their soul into the works, be it a dynamic scene of fishes glistening with beaded scales, a sepia-tinted scene of New York City's central park or even a chinoiserie room. Even its standard wallpaper designs are heirloom-worthy, with de Gournay contemplating a future where its fabrics and porelains will end up on the auction block to be sold as valuable antiques.
Here, you will discover the intricate steps in the creation of the Magnolia Canopy reference—a showcase of why de Gournay is hailed as the ne plus ultra for wallpaper all over the world.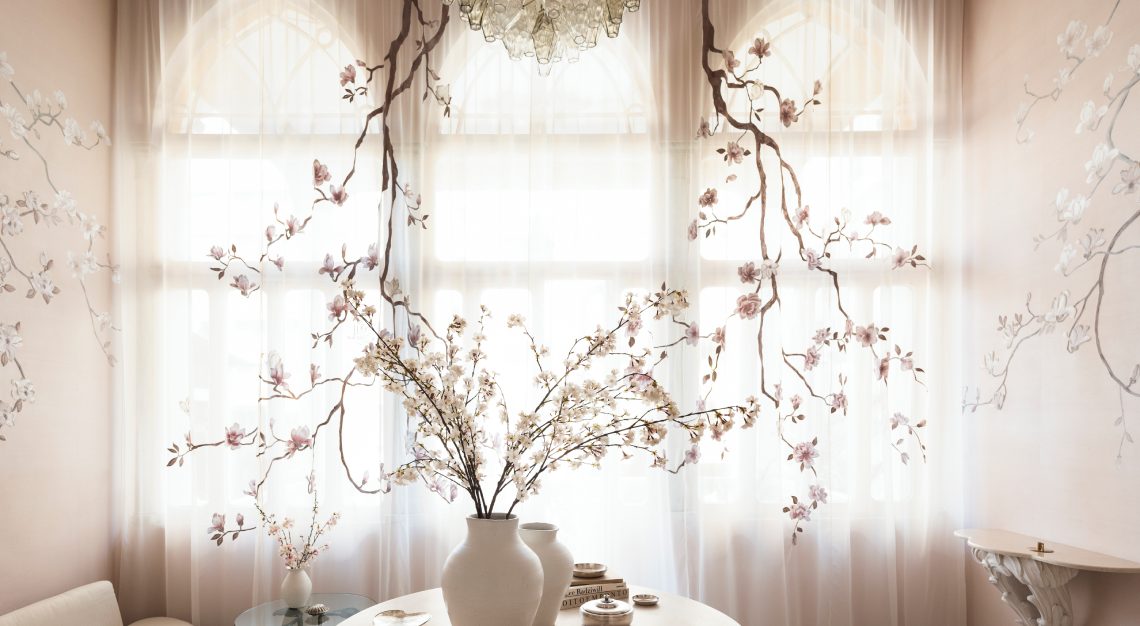 A vision of crossroads
In de Gournay's Korean and Japanese collections, this Magnolia Canopy proposal is realised at de Gournay's Beirut showroom, situated within the city's artistic Achrafieh quarter. The showroom is inside an Italianate apartment built a century ago. For de Gournay's director Hannah Cecil Gurney—the daughter of de Gournay's founder Claud Cecil Gurney—the city of Beirut proved irresistible. "I always knew I wanted to open a showroom in Beirut. It has so many different cultures in one place. It is a crossroads of the Arabic, French and English. When you get a mix like that, it's magical."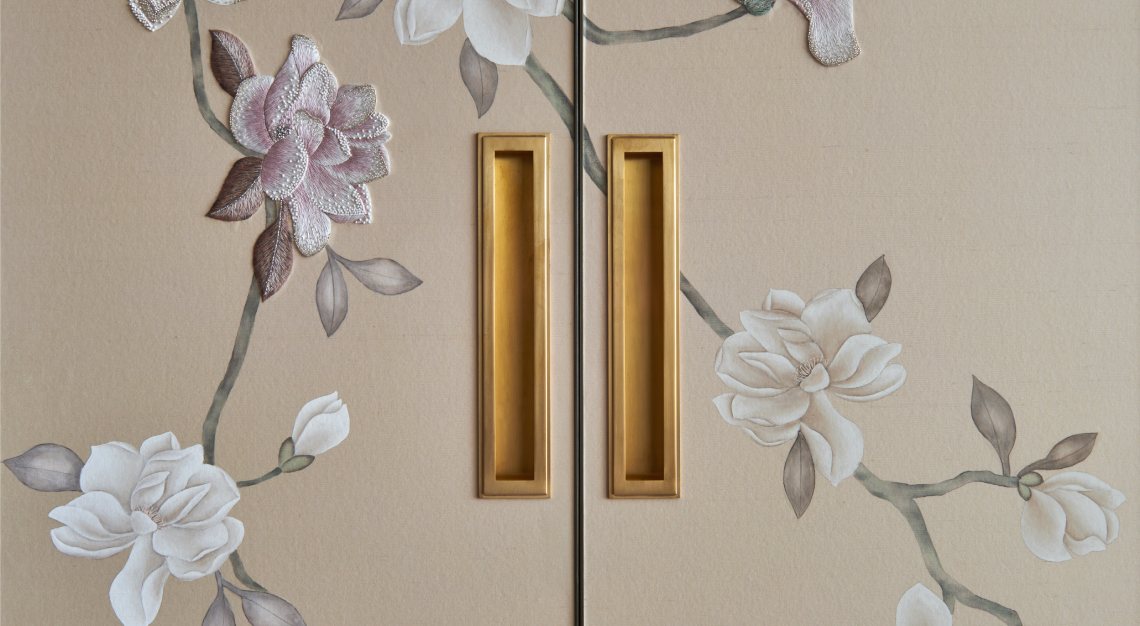 Silken canvas
On this specific Magnolia Canopy wallpaper, the base is Rose Water slub silk. Slubbed silk is a sturdy and natural silk fabric with a distinctive, irregular texture—thereby 'slub' silk. Different-sized brushes are then used to daub and paint the canvases, adding elements of depth, contrast and realism especially to the flowers.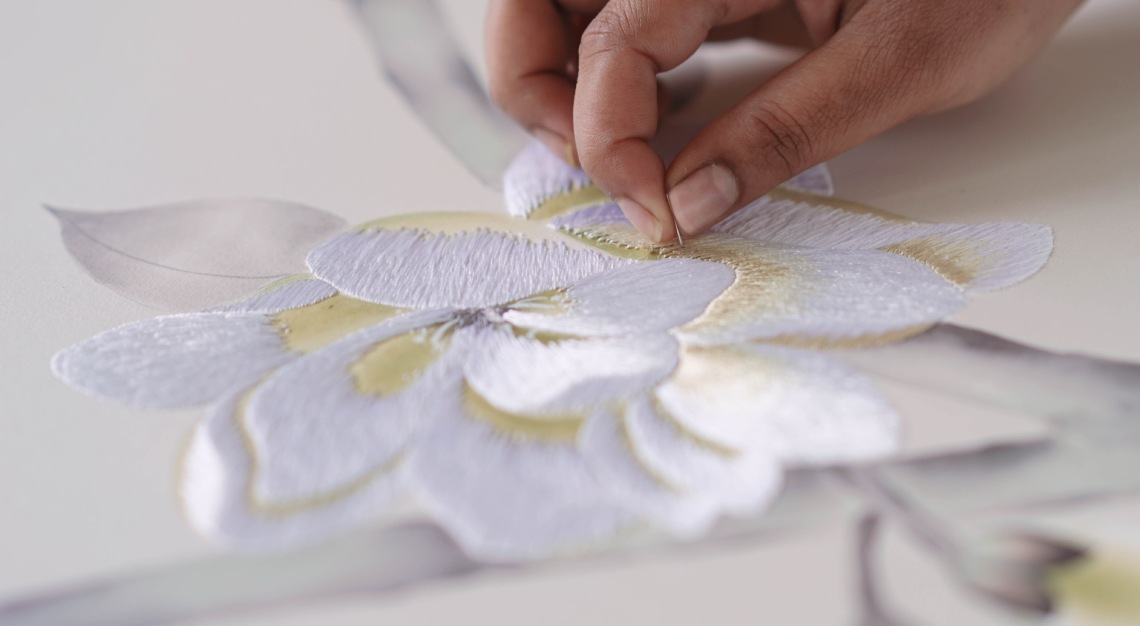 A stitch in time
Embroidery is then added to the wallpaper through the artisans' practised hands. Founder Claud concedes that de Gournay's challenge is in the limited number of artisans who can paint and also work on its bespoke wallpaper. "Our biggest challenge is that everything we do is hand-painted by artists. Our products are all works of art, and art is luxury," he says. "And our problem is that we don't really have an incredible supply of artists."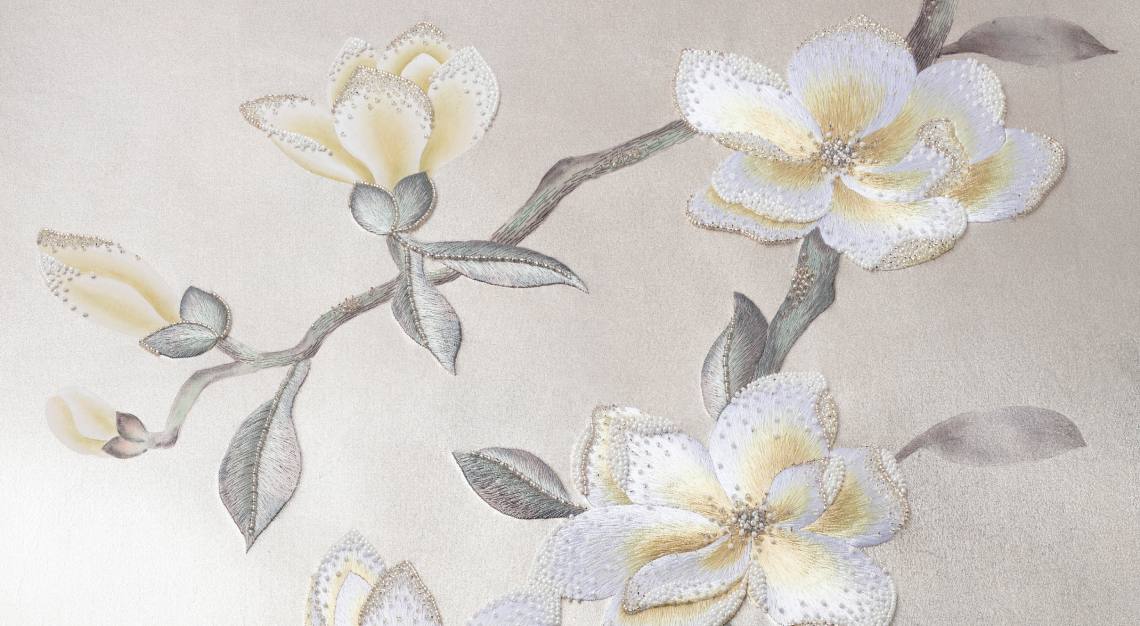 A beautiful life
In the final reckoning, the Magnolia Canopy wallpaper blooms with the realism of colours, material and art suffusing the space with a sense of character and ambience. From artists who work with clay, glaze and porcelain to those who select paper bases—which can run the gamut of gilded and Xuan paper as well as dyed silks—the entire production process is, ultimately, a reflection of the brand's attention to detail that has made de Gournay wallpaper so sought after.