The octogenarian artist, affectionately dubbed as Maestro, introduced the concept to Robb Report Singapore readers and other esteemed guests in an exclusive dinner at private members club 1880 earlier this week
Art carries various meanings to the 21st-century audience. Some view it as a way to disconnect from reality; some view it as an investment asset while others consider art a wide-reaching platform for pop culture and social commentary. And Singapore is fertile ground for all of these, what with a thriving collection of museums, art fairs, dedicated art events and galleries at almost every nook and cranny of the island. You'll even find its presence in educational institutions here.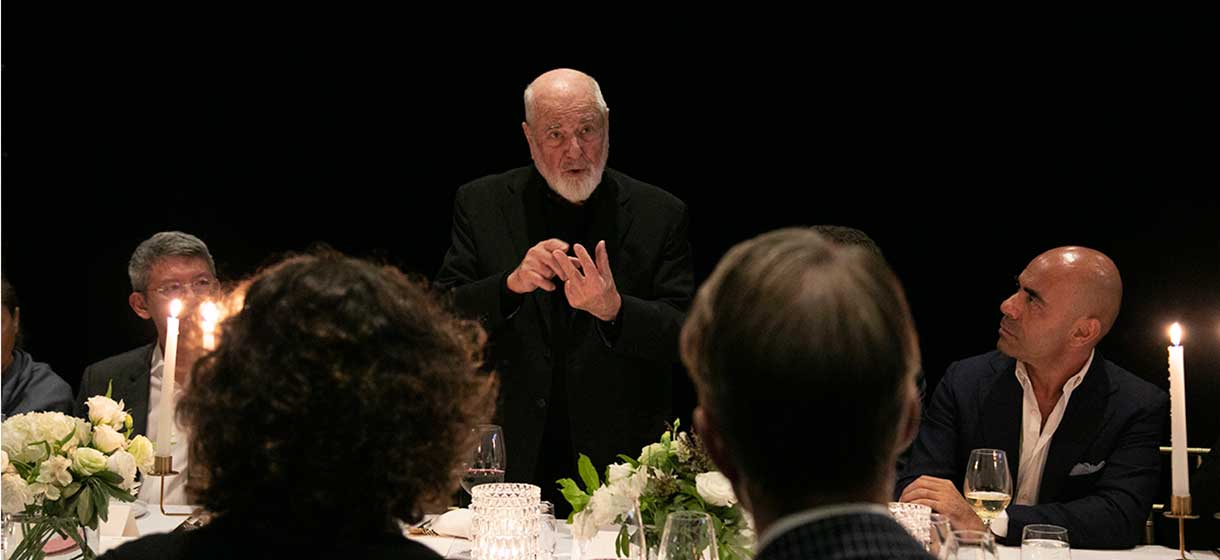 An icon in the radical Italian Arte Povera movement in the '60s and '70s, Michelangelo Pistoletto came to Singapore in January to unveil a living art installation on the green roof of Nanyang Technological University (NTU)'s School of Art, Design and Media. Made from red sessile joyweed plant, the installation depicts three large connecting circles – often described as conjoined infinity symbols – which represent The Third Paradise concept, created by Pistoletto in 2003.
Pistoletto also introduced this concept in an exclusive dinner at 1880, a members-only club along Nanson Road, describing it as a project that integrates science, technology, art, culture and politics to give life back to Earth in order to ensure the survival of mankind.
Can't really visualise it? No matter. Pistoletto breaks it down, explaining that The Third Paradise is what happens when two opposing ends come together, birthing a compromise in the middle. And the middle ground would naturally be larger than the two opposing grounds. In The Third Paradise one plus one equals three.
We also asked attendees what their interpretation of The Third Paradise was; here's what they had to say.

Florian Fenner, businessman
"The Third Paradise is a place for me. During this dinner, I've had conversations with our esteemed Italian guests about whether it could be the Norman Chapel in Italy. I can't really decide where it is yet, but it is somewhere between Tuscany and Bolzano."

Marc Nicholson, Founder Of 1880
"An idea doesn't exist alone; a creation doesn't exist until it is seen, until it is appreciated. When you share an idea with somebody and they share an idea back with you, it gives birth to a third idea. That's what The Third Paradise is. Where two sides come together to form something new. Fittingly, that was the whole point 1880, to bring people together, to create dinners, sip on good wine and exchange ideas. When people – from all walks of life with different areas of expertise and pursuits – come together and share ideas, that can also help us come up with better ideas and solutions to problems."
Michael Ma, Founder Of The Indochine Group
"The Third Paradise is a combination of things that make you who you are. It's about being self-aware and appreciating that mix. I'm from Australia, and I look Singaporean or Chinese, but in fact I'm Laotian, Thai, Chinese, Australian. I also speak six languages and English was my fifth."

Paolo Naldini, Director Of Cittadellarte – Fondazione Pistoletto
"I would refer to The Third Paradise as a myth. The myth of progress has been driven and embodied in all of us, in all kinds of objects and situations in the last 200 years or more. For me, The Third Paradise connects to the idea of myths that are relevant or even urgent."