It wasn't just about the cars at this year's edition of Ultimate Drives. Guests were also treated to a delightful morning tea at Partners and Mucciaccia art gallery
While guest drivers zoomed along Gillman Barracks surroundings, testing out 10 of the latest supercars, sedans and SUVs in Singapore, art enthusiasts also had plenty to look forward to at a morning tea at Partners and Mucciaccia, with delicious bites from Kitchen Language and gorgeous floral bouquets by The Floral Tease.
The morning tea session, which was presented by Hiromi Matthiesen, director of Partners and Mucciaccia, glossed over the 21st century's most expensive paintings including Paul Gaughuin's Nafea Faa Ipoipo and Jackson Pollock's Number 17A and famous art museums such as the Wallace Collection in London and the Peggy Guggenheim Museum in Venice, Italy. "Art can be a symbol of civilisation, a mirror of the time and perspective of the period," Matthiesen told the crowd of 18, who listened eagerly, as she also shared easy-to-follow tips for aspiring art collectors.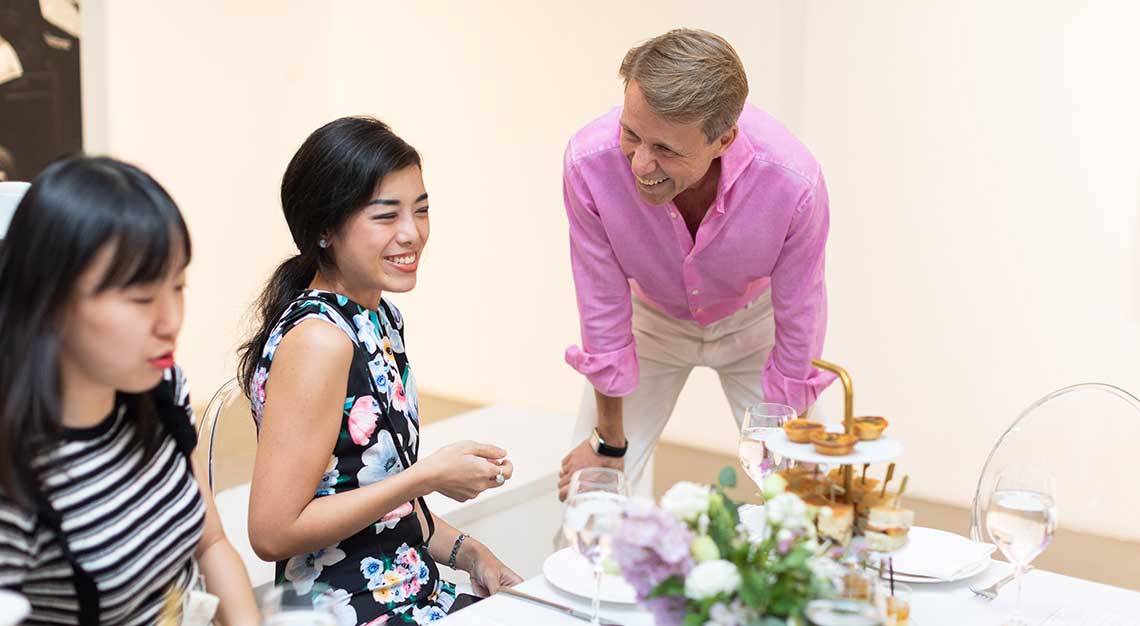 Step One: Know Your Aim
The first step towards becoming an art collector, Matthiesen said, is to identify your aim for collecting, your budget and if you have enough display space. She also encouraged aspiring collectors to know the type of art they wanted to collect. "There's plenty to choose from, ranging from painting, sculptures, and installations that vary by periods and mediums, to decorative art such as furniture, ceramics, porcelain, objects, jewellery and even textiles," explained Matthiesen.
Matthiesen also explored how art has fallen prey to impostors in recent times, and cited the recent fake Yayoi Kusama exhibition in Shenzhen, Wuhan and Guangzhou. This, said Matthiesen, is why collectors must always look for the artist's genuine sign on the art piece or for a certificate of authority before purchasing art at exhibitions. "Where you buy from is extremely important, so start by researching reputable art dealers or galleries and building relationships with them," she explained, adding that auctions or buying direct from the artist work well, too.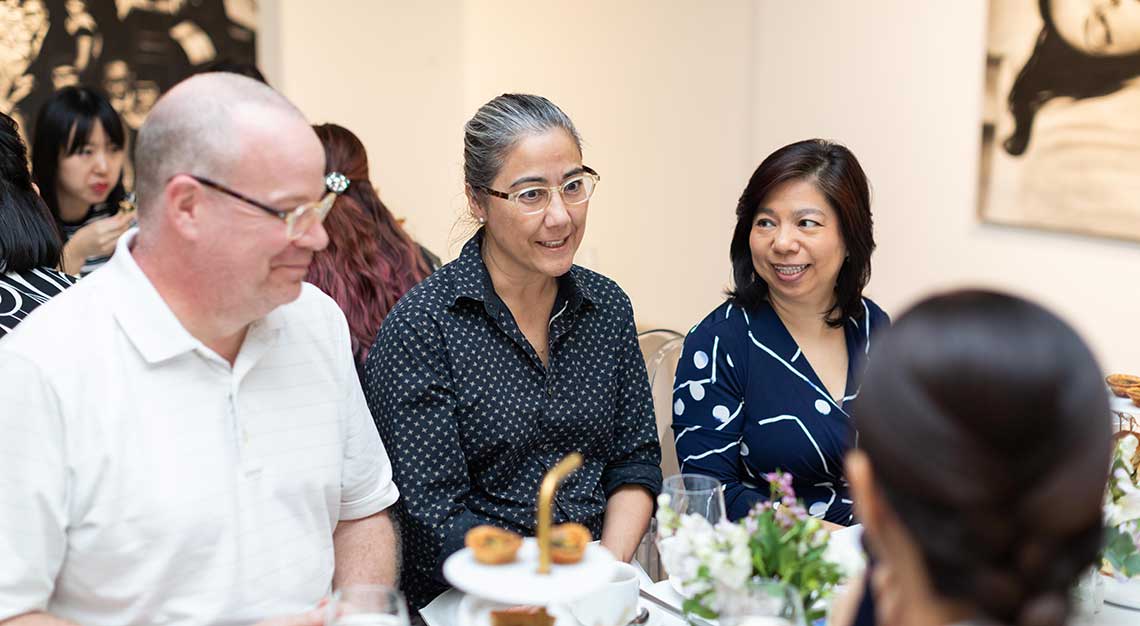 Mariko Braswell enjoyed the presentation and expressed interest in learning the identities of those who had bought the most expensive paintings in the 21st century. "It was interesting to learn other points-of-view as far as collection goes. I enjoyed hearing how some people collect art based on certain expert techniques."
For Jennifer Tok, the biggest takeaway of the event was the art. "I really hope we have more people sharing their love for art events like these," she said.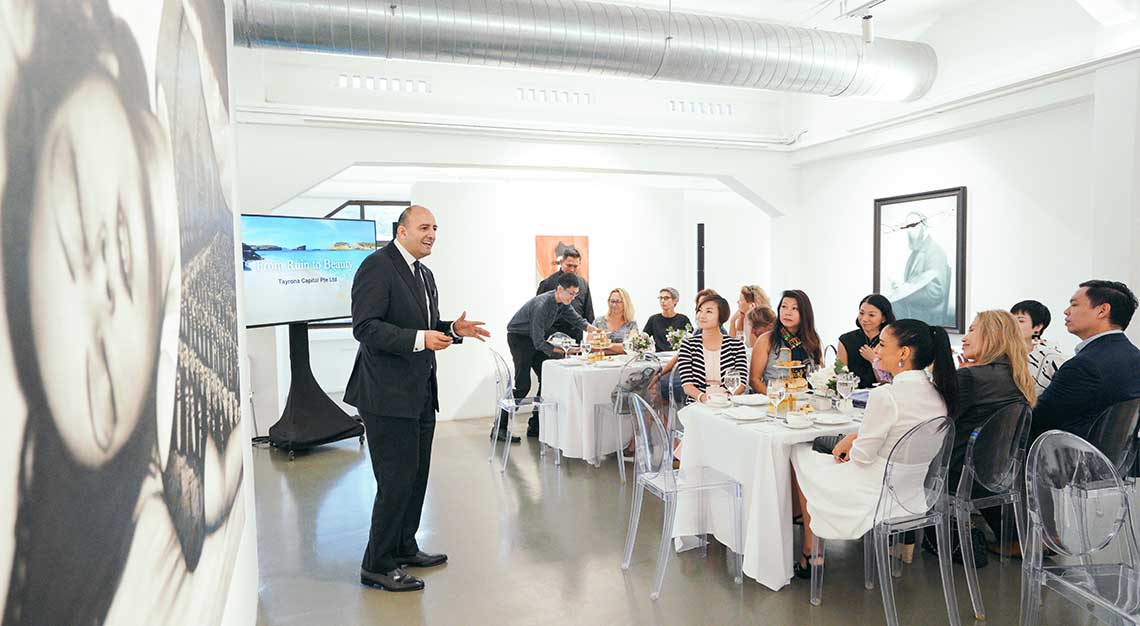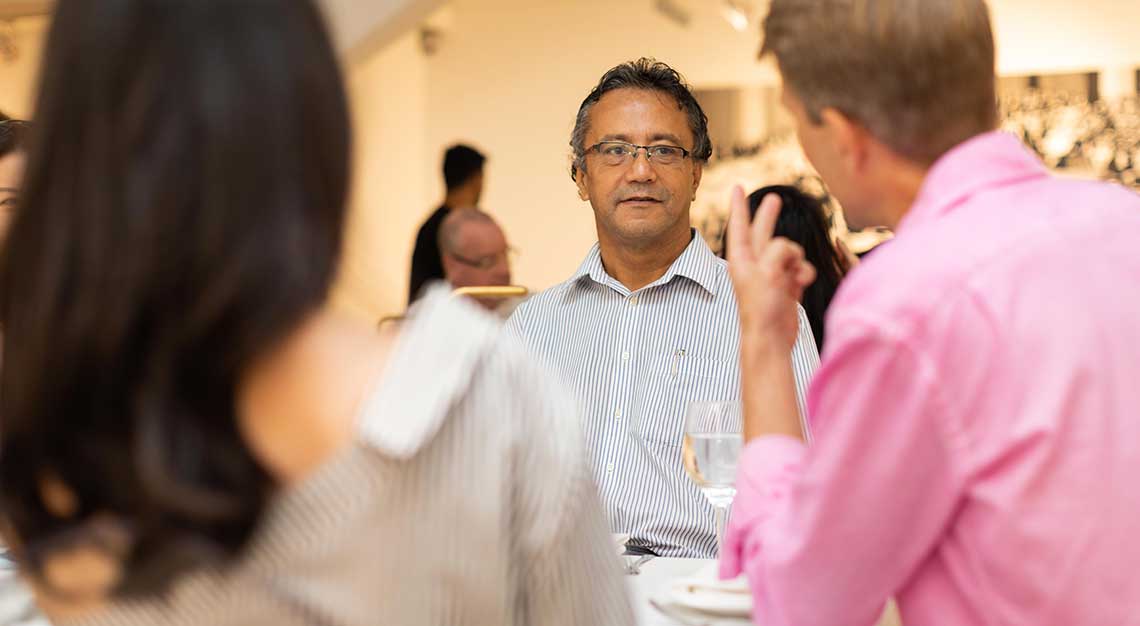 The session also featured a presentation about event partner Tayrona Capital's latest venture into Malta by CEO James Ordonez. Having restored the historical Fort Chambray to its previous glory, Tayrona will convert the fort's interiors and surroundings into a luxurious villa-only hotel, which will also comprise a casino, a marina, mall and more.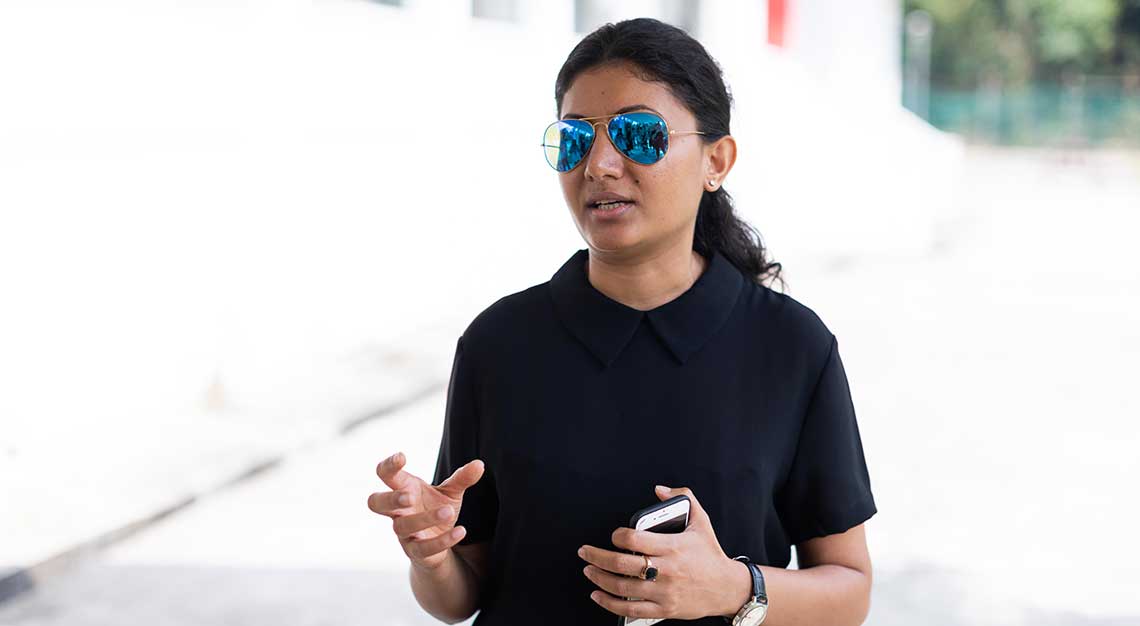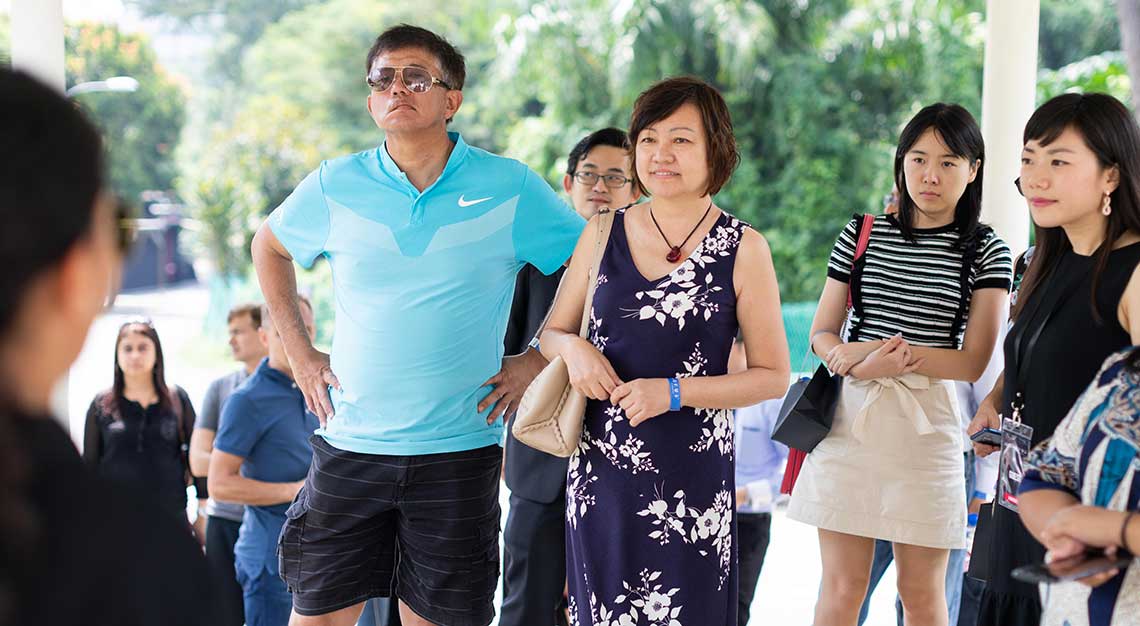 Those who missed out on the morning tea weren't disappointed, however, as the day continued with a complimentary walking tour to six art galleries in the vicinity. Lead by Priya Mudgal, business director of Pearl Lam Galleries, 15 aesthetes were given an up-close-and-personal look at artworks from various artists, including works from Sumatra-born painter and sculptor Lugas Syllabus; Indonesian artist Aditya Novali's display, best viewed using Augmented Reality technology; a dual-artist exhibit by Indonesian artist Albert Yonathan Setyawan and Japanese artist Miyanaga Aiko and much more.
"It's very important to educate people about what is happening in the region or country in terms of its art's growth," said Mudgal, echoing Matthiesen's advice for potential art collectors, encouraging them to "develop a good base of knowledge of the range of art that exists, at least in the region, if not otherwise" before they begin collecting.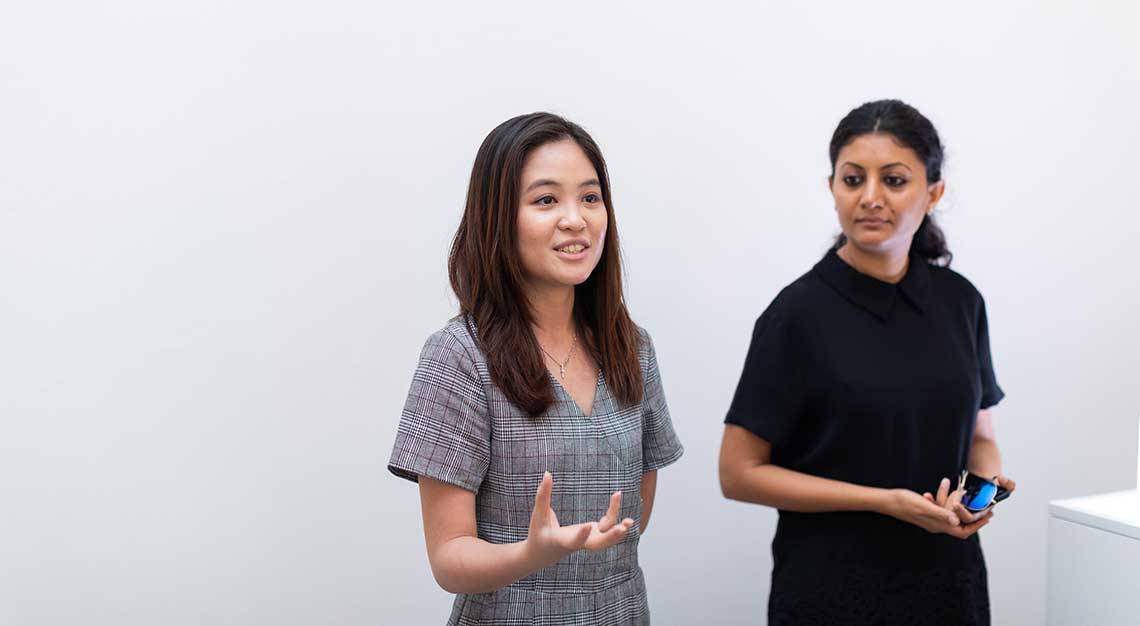 The tour proved to be a hit with participants despite the blistering heat. Chloe Chai enjoyed how art and technology came together in Novali's exhibits, as it "added interactivity that helped art lovers appreciate the beauty of technology, too." Another participant, Han Chi Teng enjoyed the introduction to a wide range of contemporary works, but struggled to pick a favourite, as "each exhibit was significant in its own way." Sandra Cameron said she "loved that each gallery offered totally different art displays, and it made a huge difference to have somebody take us through the artwork." In fact, she's already eager for Ultimate Drives 2019.
A three-day event for gearheads, Ultimate Drives also features a selection of fringe activities, including wine tasting sessions by PengWine and whisky tastings and investment masterclasses by B28 Whisky Fund. Other sponsors include Roger Dubuis, Sultans of Shave, The Balvenie and more.
Robb Report Ultimate Drives 2018 presented by Opus by Prudential
9 – 11 November
Gillman Barracks