In our second episode of At Home With Robb, Rishi Naleendra of Cloudstreet and Kotuwa teaches us how to cook a Sri Lankan dish in a jiffy. The live series continues with another episode (6 May, 9pm) featuring Jaan's Kirk Westaway. Sign up below
The next time Rishi Naleendra returns home to Sri Lanka, he'd head straight for a hopper. Much like a savoury crepe with a soft-boiled egg nestled in the middle, the delicious Sri Lankan staple is shaped like a bowl and often eaten like a taco.
Sounds good? Yes, Sri Lanka is home to a cuisine that's spectacularly delicious. Surprisingly underrated, the island nation has everything, from the turmeric-infused dosa to the spicy crab curry. You'd be hard-pressed to find its food here in Singapore, but fortunately, there are two places: Raja Bojun at Tekka Centre, which Naleendra recommends, and Kotuwa at Wanderlust, which he recently launched.
Unlike Cloudstreet, Kotuwa is the more dressed-down reflection of Naleendra. The newly launched restaurant encourages communal dining, dishing out traditional Sri Lankan cuisine that's good to share. While it's not had the opening it deserves (because coronavirus), its food can currently be enjoyed at home. Order a feast home or make something off the menu, like Naleendra's Sri Lankan-Style Devilled Chicken. Easily done in 15 minutes, it tastes best when you've got rice, beer and a bunch of good friends.
Read on for the recipe and his musings on life, the perfect meal and what do you know, ketchup.
How do you feel about life at the moment?
A touch stressful, but taking life day by day has helped a little. It's not a situation that we are facing alone, but a global phenomenon.
I'm generally happy about the things I've been able to achieve in my career and am very grateful for the way things have been for me so far. I was able to travel to places I've wanted to visit, and was able to eat in places I never thought I would have had the chance to. I'm a big believer that you only live once. When things have slowed down, it's nice to look back at the things I've done and the people and friends I've made. I feel like I have gained happier experiences and memories, [more so] than regrettable ones.
Do you believe in turning life upside down every now and then?
Always. I think that having to face the unexpected is one of the best things about living. It is not new for me, however. I left Sri Lanka when I was 18 and moved to Australia. That was the first time I felt my world turned upside down. If that was not enough, I changed my studies from architecture to hospitality and started cooking.
I then decided to move to Singapore six years ago. It was the first time I had been here. I was without a job and did not know what to expect. That was the second time when I felt that life turned upside down for me.
The best thing about life not going according to plan is that you get to test yourself to see how strong you are. It reminds me that I have done this before and I am able to do it all over again. I have a piece of art I created at Cloudstreet that depicts how I feel about this. It says: "If things were in the right order, life would be f**king boring."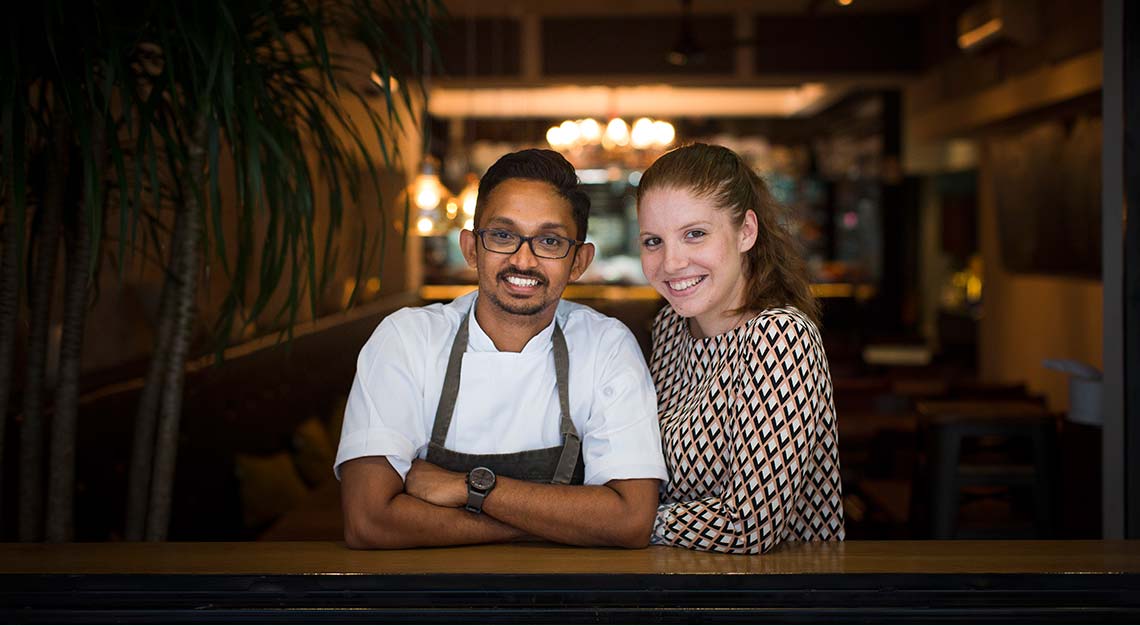 What's the one thing you wished people knew more about you? And what's the one thing you wished people didn't?
I wish people knew that my passion does not just revolve around cooking. I love cooking and restaurants, but to date, my biggest passion is painting. My ultimate goal when I retire would be to do painting full-time.
I wish people didn't know that I need to rely heavily on Manuela for things like banking, transferring money overseas, or rent. I'm not too savvy with these things, so Manuela does all of it.
When were you happiest at work? Describe a couple of your best memories.
One of them would be when Loh Lik Peng called me to open up a restaurant with him. Ever since I landed in Singapore, I was looking at the Unlisted Collection portfolio and had always wanted to open a restaurant with him. Getting that phone call was life-changing. I have been working with Peng for five years now, and it is pretty amazing to see how far we've come.
[And] as much as we say accolades and awards aren't important, it was unreal when Cheek by Jowl received its first Michelin star. Everyone on the team worked like crazy and we all pretty much 'lived at the restaurant'. None of us are superstars but we felt like a superstar team that day. Even our customers. We had created a very different culture of hospitality in Singapore and the fact that we were able to celebrate our own brand of hospitality will stay with me for a very long time.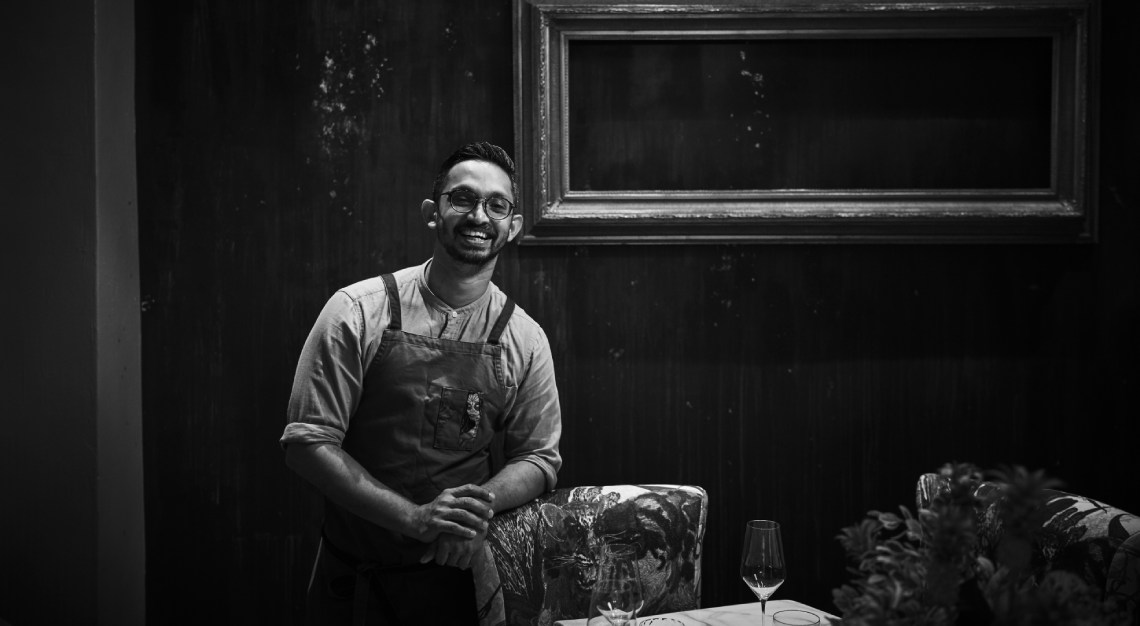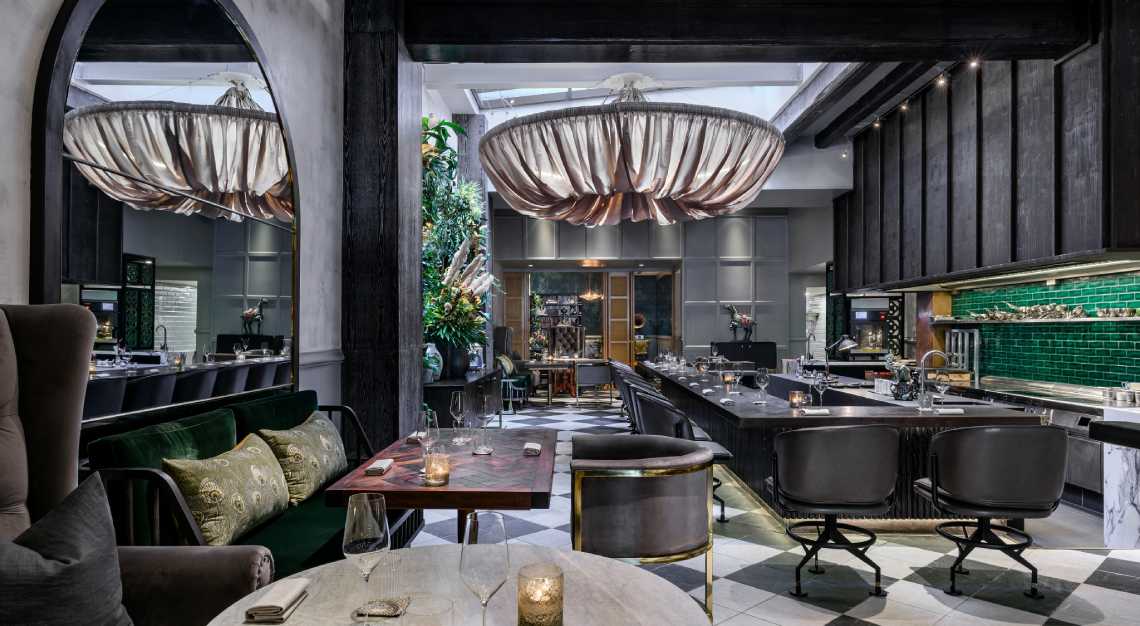 The food industry has been severely bruised by the pandemic. How do you feel about the future of restaurants, and what do you think needs to happen next for restaurants?
I feel that we can't exactly predict the future right now – not only for restaurants but for most of the industries. It doesn't mean that we can't be hopeful. We just need to be patient. This is the first time our generation has faced a pandemic at such a global scale.
Being born in Sri Lanka during the '80s, I've learnt that life goes on. In Sri Lanka, we had a 30-year civil war and got through that; endured the tsunami in 2004 and recovered from it; suffered bombings last Easter, but when I went back this year, it felt like nothing had happened.
The same goes for restaurants. I believe that we will be back. It will just be a matter of time. Some of us might need to take a break but we will all be back cooking at some point.
Once the industry recovers, what kind of food trends will be the new normal?
I really hope people won't keep chasing new trends. It gets very tiring and creates unsustainable businesses. Hopefully the new normal will be sustainable business models. This doesn't mean that we should stop being innovative and creative, but it should be done in a sustainable way. We have some extremely creative people in the industry and I'm sure that they will come up with great ideas.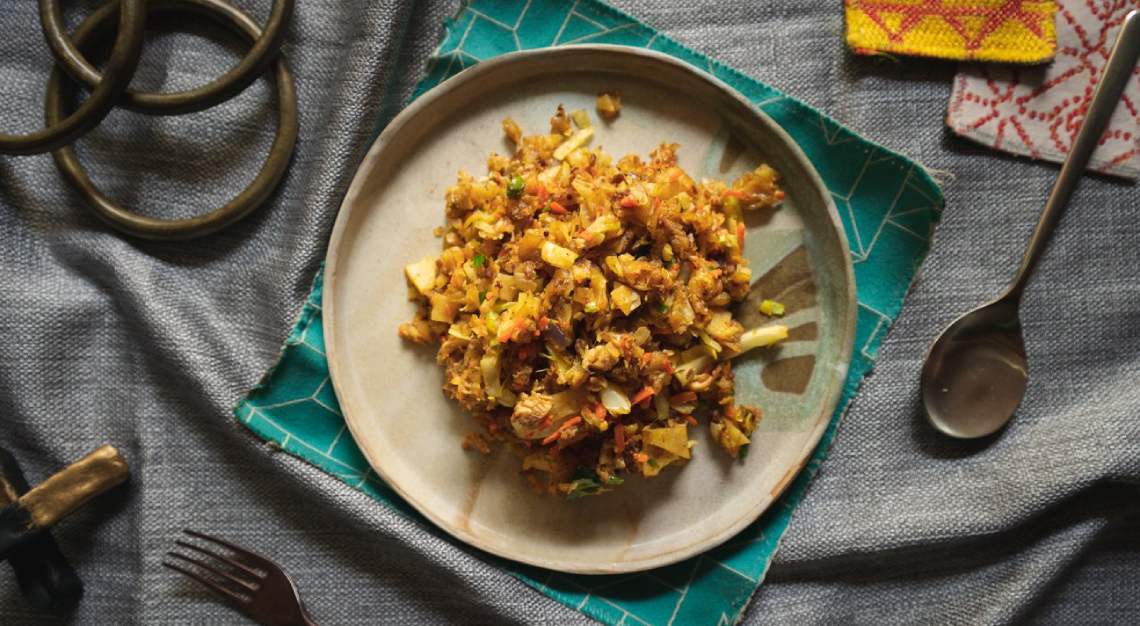 How do you achieve harmony and balance when designing a complete meal?
Practice. Practice makes things perfect. [It also helps to] remember that you are actually cooking someone else's dinner. Sometimes chefs forget that and guests don't feel it coming across in the food. At the end of the day, no matter how we put it across, we are cooking someone else's dinner. That is why heart and love are more important than the stories and techniques.
Describe a funny kitchen disaster story of yours.
On Cloudstreet's opening night, we didn't have any lights in the kitchen. I couldn't see much of anything we cooked that night. We cooked for eight people but it felt like we cooked for 80. It was the first time we got to use the kitchen as well. [By] 6pm, we were still putting the kitchen together. We didn't have [any] electricity so we had to organise a generator and only saw the dishes coming together for the first time when we were serving guests. That night was a proper disaster.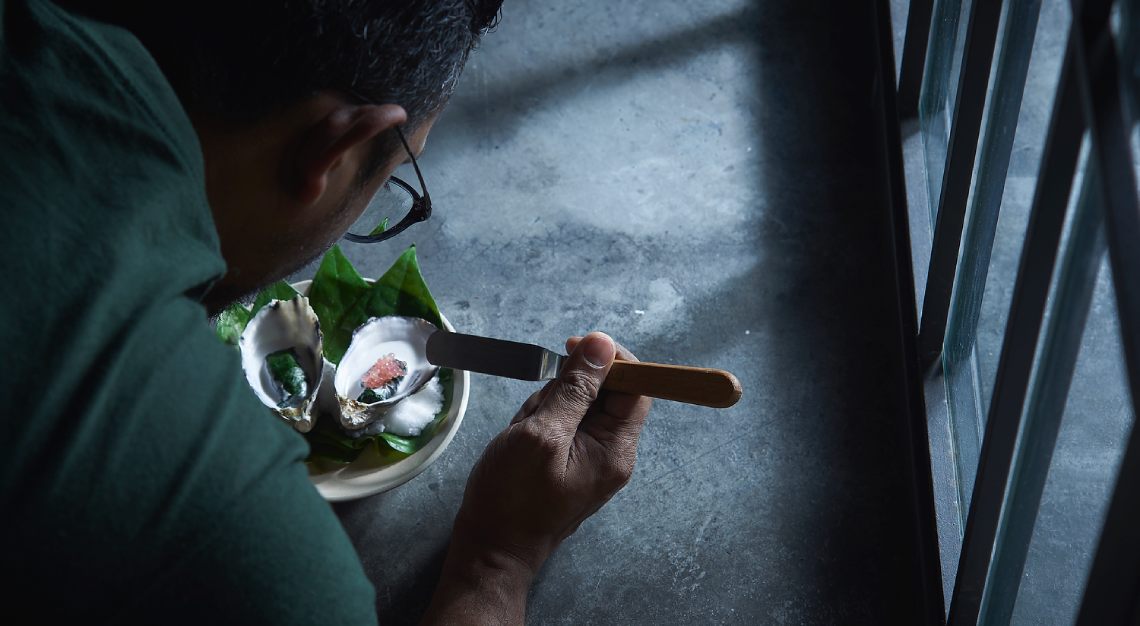 Describe a favourite food pet peeve.
People using fake truffle oil on food, like in truffle fries.
What is the one thing you'd never cook for people and why?
Foie gras. I don't believe in the practice of how it's been produced.
What is the most essential item in your kitchen?
Good salt. It is really important that we use good quality salt. It's the one thing I must have in the kitchen. The salt we use is Australian Sea Salt Flakes.
How do you feel about ketchup?
I really like ketchup. Sometimes when I eat chips, I feel like I eat the chips so I can eat the ketchup.
You're on death row. What would your last meal be and why?
Sri Lankan food [like] brown rice, dhal, Sri Lankan-style stir fried sprats and pol sambol. It's the closest to my heart.
This interview has been edited and condensed for clarity.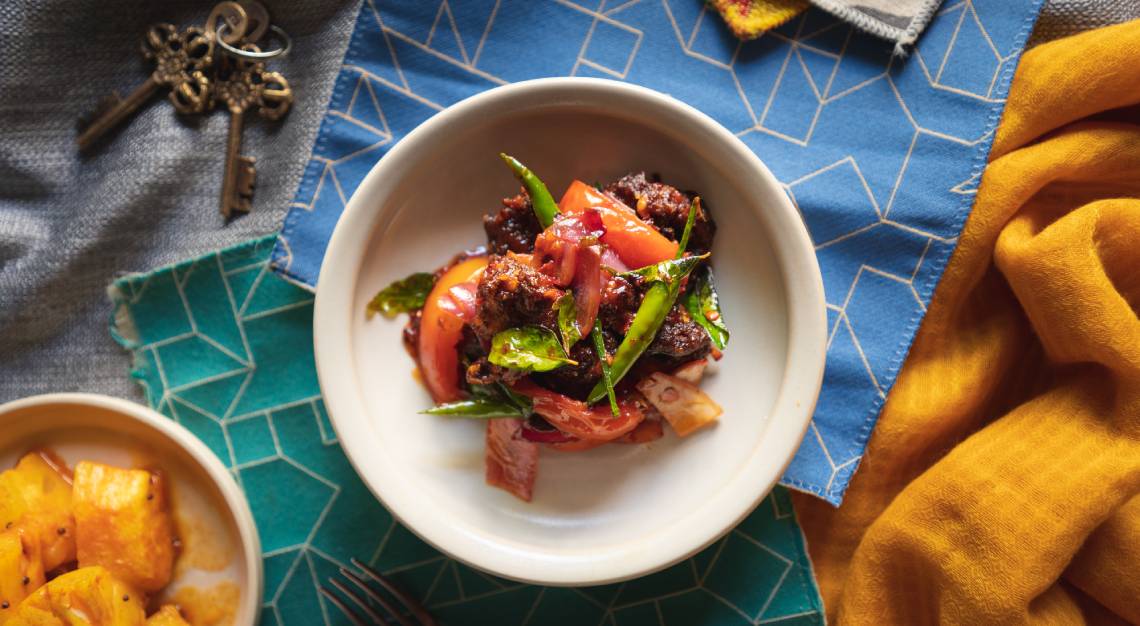 Chef Rishi's Sri Lankan-Style Devilled Chicken
Makes two to four servings
500g boneless chicken thigh
1 teaspoon ground coriander
1 teaspoon chilli powder
1 teaspoon meat curry powder, unroasted
1 teaspoon black pepper
Sea salt to taste
1/4 teaspoon turmeric powder
1 red onion, cut into wedges
1 tomato, cut into wedges
5 green chillies, cut length-wise
10 curry leaves
4 pandan leaves, cut into small pieces
2 teaspoons grated ginger
1 teaspoon chopped garlic
1 tablespoon chilli flakes
2 tablespoons soy sauce
3 tablespoons ketchup
Cut each thigh to approximately four pieces. Marinade the chicken with the coriander powder, chilli powder, meat curry powder, black pepper (read: white pepper is hardly used in Sri Lankan cuisine), sea salt and turmeric powder for colour.
Heat up a wok. Add a little bit of olive oil and start searing the chicken. Cook on both sides till it's nearly cooked. Then remove the chicken from the wok and place it on a plate with kitchen paper to absorb any excess oil.
Using the same wok without cleaning it, add a little bit more olive oil, the garlic and ginger. Cook it off for a bit, but try not to get any colour on it. Then add the rest of the vegetables into the wok and stir fry for a minute.
Add the chicken back into the wok and toss it through. Add chilli flakes, soy sauce and ketchup. Cook it through for one more minute, then take it off the heat and serve. Have it with rice or as a snack with beer.
Staying home during this period of time isn't easy, we get it! But we'll be keeping you company. Subscribe to our digital magazines for free, and check out what ideas we have for you. #StayHomeWithRobb #LoveYourLocalSG