Every good entrepreneur needs a dash of craziness and vision, says David Brunier, founder and CEO of Flash Coffee
It's perhaps a testament to Flash Coffee's growing cult status in Asia that, midway through my interview with founder and CEO David Brunier, we're interrupted by a fan from Japan. This is hardly surprising given that the technology-enabled coffee chain is operating in over 250 locations across the region and expanding at a rate of one store per day. Brunier envisions democratising high-end coffee among a rising middle class that's fluent in technology and appreciates quality even as it cherishes convenience. "Ultimately, Flash Coffee represents more than just coffee," Brunier elucidates. "It's about lifestyle."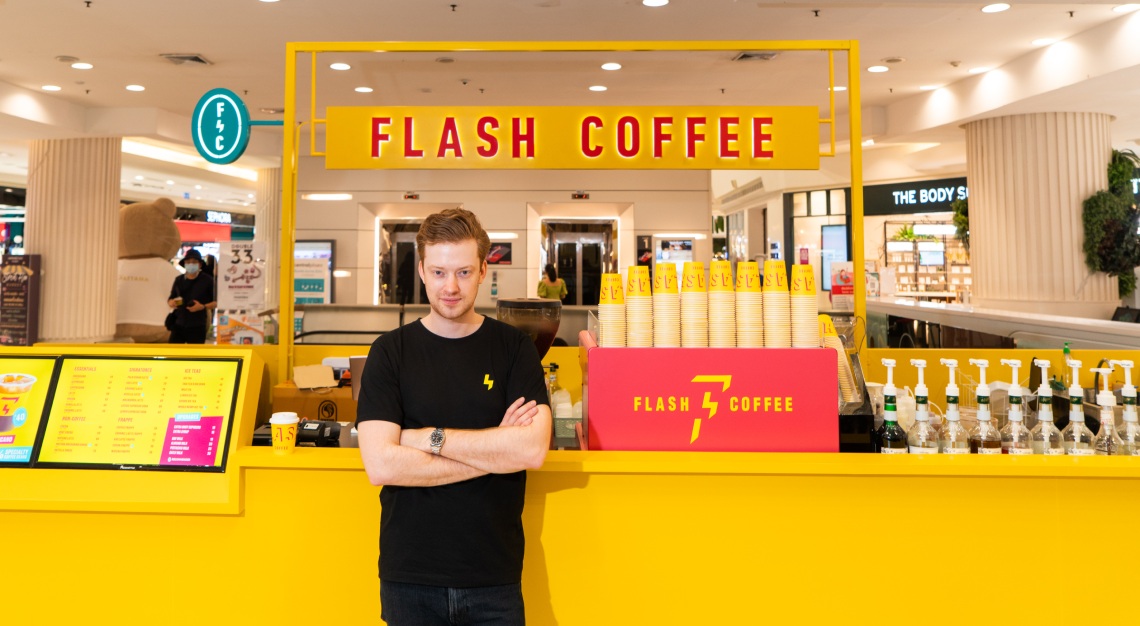 "Every morning, I get a double shot oat cappuccino delivered at seven. On the way to work, I'll have a large Americano—which means that by nine o' clock, I'd already have six shots of coffee. Depending on the day's schedule, I'll probably have another cup for lunch and one after that too.
From very early in my life, I knew what I wanted to do and what kind of person I wanted to become. Even as young as three or four years old, I told my parents I wanted to be an inventor. I wanted to create things, to build things that have an impact in one way or another—and in the process, bring people together to achieve something big.
Flash Coffee came about from a desire to change the status quo. In general, coffee in Asia is expensive. The average salary in Indonesia, for instance, is worth two cups of Starbucks per day. Most coffee brands are also outdated, using the same set-up—a ubiquitous palette of white, brown and green—with little to no technology involved. By recruiting the best baristas in the world and incorporating technology to eliminate inefficiencies, we're able to pass on cost savings to consumers, providing them with high-quality coffee at affordable prices.
A good entrepreneur is a mix of crazy and visionary—you need to see things differently from the rest of the world. You also need to possess a relentless work ethic, to be prepared to do whatever it takes to succeed. This might mean not seeing friends or family over long periods of time; it can also mean attracting (equally) crazy people and making them believe in your dream. And of course, a good entrepreneur never gives up. When others stop, you keep going—you shift gears and double down.
I see myself as an enabler, not as a CEO. I care about getting my team and the people around me at Flash Coffee to where they want to be in life. If they want to build their own company in the future, I'll give them the tools to do that. In business, there are always ups and downs. As long as we share the same vision, I'll do whatever it takes to support them. It's not about me getting there, it's about me making sure that they get there—I'm fighting for them, not the other way around."