House of Suntory celebrates 100 years of chasing perfection, marking the manifestation of founder Shinjiro Torii's vision
A hundred years is more than a lifetime for practically all of us. For those in the business of making aged spirits, however, a century represents merely a couple of cycles, highlighting the punishingly uncompromising journey to perfection. This year, the revered Yamazaki marks its centenary and Hakushu, its golden jubilee—and both are certainly cause for celebration.
While Suntory was founded in 1899, it was in 1923 that founder Shinjiro Torii laid the foundations for what would become the most iconic Japanese whisky in the world today—Yamazaki. Fifty years later, the company would repeat the feat with Hakushu, forming the bedrock of the House of Suntory.
To commemorate 100 years of the House of Suntory, the company will launch four limited editions of its signature whiskies in Singapore: Yamazaki 18 Years Old Mizunara 100th Anniversary Limited Edition, Yamazaki 12 Years Old in special anniversary packaging, Hakushu 18 Years Old Peated Malt 100th Anniversary Limited Edition and Hakushu 12 Years Old in special anniversary packaging.
There's no better way to celebrate the occasion than to shine the spotlight on what is without question, the most distinctive facet of Japanese whisky: Mizunara casks. Barrels made from this indigenous oak are rare and they are notoriously difficult to work with. But thanks to the work of first-generation master blender, Torii, and second generation master blender, Keizo Saji, Suntory discovered the reward of a long maturation and these now-hallowed casks: a whisky like no other, complete with distinct notes of sandalwood and kara (a type of incense), one that is often imitated but never replicated.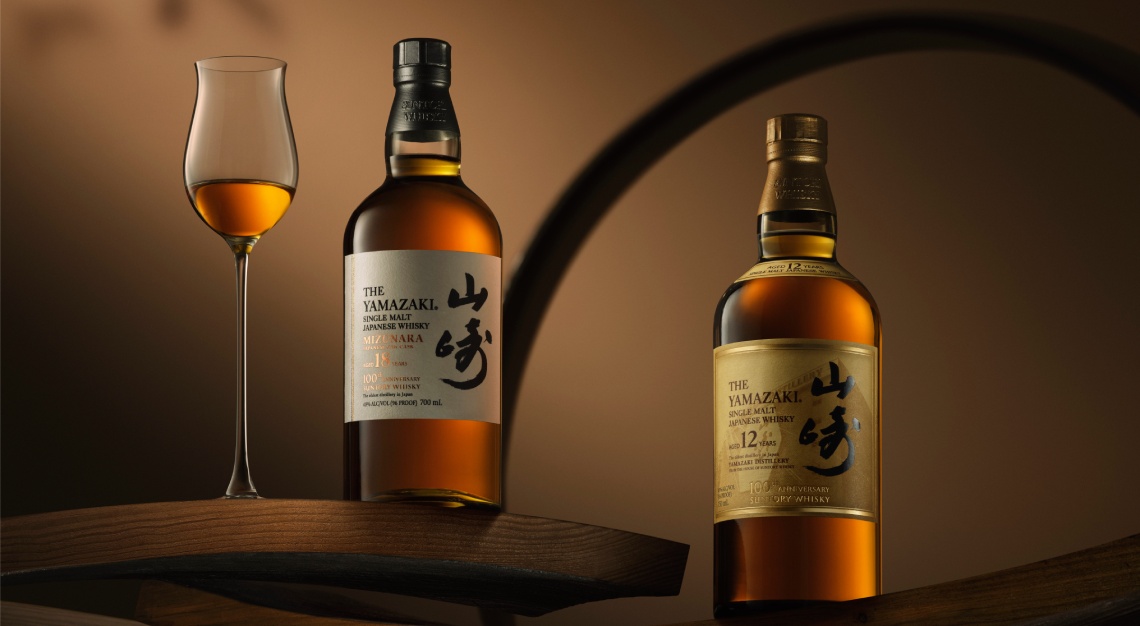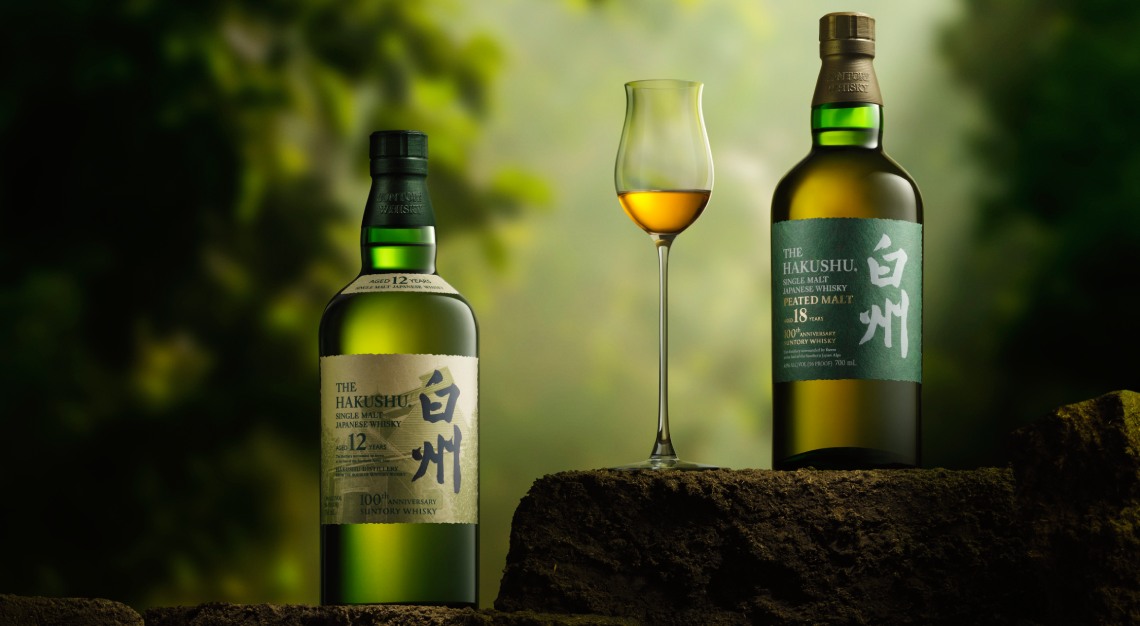 Yamazaki 18 Years Old Mizunara 100th Anniversary Limited Edition
The Yamazaki 18 Year Old is perhaps the most iconic face of the Yamazaki line, and there can be no better pairing than a middle-aged Yamazaki that spent its entire life in Mizunara casks. The Yamazaki 18 Year Old Mizunara expression has rich and elegant notes of dark cherry and ripe peach on the nose, with hints of cinnamon and nutmeg. On the palate, it is subtly spiced with organette undernotes of Japanese incense and a long and lingering finish, accentuated with clove, sandalwood and hints of dried coconut.
Hakushu 18 Years Old Peated Malt 100th Anniversary Limited Edition
Hakushu is the understated cousin in the family, and the Hakushu 18 Year Old Peated Malt encapsulates the character of its terroir. With the distillery nestled deep in Mt Kaikomagatake, the unique climate and exceptional mountain water combine to create Hakushu's signature smoky style. This limited edition features vibrant notes of sage, ripe green apple and hints of ripe pineapple. The complex, smoky flavour on the palate reveals layers of herbal, grapefruit and acacia honey notes, with a smoky finish that lingers with undernotes of fresh green citrus.
Limited-edition celebratory packaging
The centennial editions of the Yamazaki 12 Years Old and Hakushu 12 Years Old pay homage to the Japanese principle of monozukuri, which embodies elevated craftsmanship and artisanship, as well as a relentless pursuit for quality, ingenuity and expressiveness.
The bottle designs capture the spirit of their respective distilleries; the legendary Yamazaki distillery is portrayed in deep copper tones from a low angle as a reminder to stay grounded while the verdant green forests of Hakushu represent the riches of Japanese nature.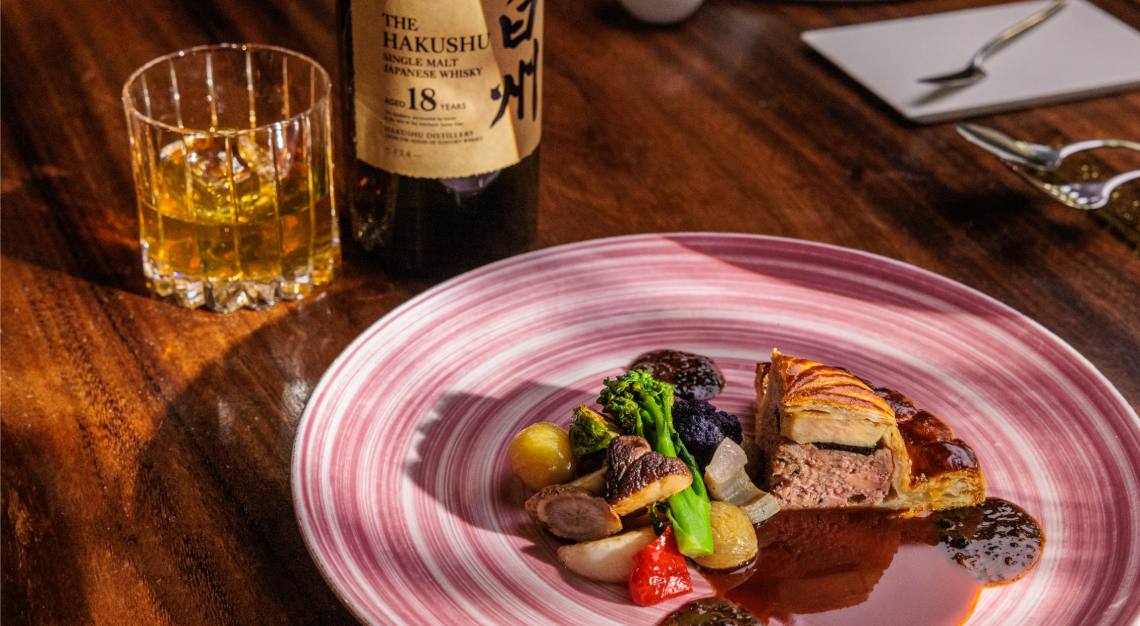 House of Suntory Masters
There is no better way to experience Japanese whisky than with fine cuisine. As such, the House of Suntory Masters of exceptional dinner collaborations is a fitting gastronomic homage to Suntory's finest.
Slated to be held in August and September, House of Suntory Masters features eight celebrated chefs and it is a unique opportunity to experience Suntory's most coveted offerings with the finest, inspired cuisine created especially for the occasion.
Some highlights include chef Cheung Siu Kong of one-Michelin-starred Summer Pavilion and chef Kenji Yamanaka of one-Michelin-starred Béni, who will centre their exclusive menus around the Yamazaki and Hakushu lineups, respectively.
Chef Cheung will apply his meticulous Cantonese techniques to a decadent seven-course dinner on 1 September, matching the complex, multi-layered Yamazaki with his luxurious application of scallops two ways with black truffle and opulent caviar, as well as the richly flavoured Double-Boiled Abalone Soup with Fish Maw, served in a whole coconut.
Chef Yamanaka, on the other hand, seeks to complement the elegance and subtle undertones of Hakushu with his eight-course dinner, to be held on 6 September, exemplified by the earthy aromas of his Signature Mushroom Quartet that mirrors the freshness, clean smoke and citrus of the whisky.