Running a third-generation family business isn't always easy. Just ask Jonathan, scion of the Kwan family that owns the leather empire, Kwanpen
When Leonard Kwan joined the family's leather handbags business, his father gave him free rein to try new things.
As a result, the second-generation president of Kwanpen – Singapore's only local manufacturer of 100 per cent crocodile leather handbags and accessories – uses the same approach with his son, Jonathan, who is now the company's special projects director.
"My father always told me to try. He would never say no," Leonard says. "So I tell Jonathan, 'We're not afraid of mistakes. I'm around; we can quickly fix them. Whatever mistakes you make, quickly learn from them'."
Jonathan joined Kwanpen in 2011 after working for a year in a company that dealt with enterprise resource planning systems for retailers. "I came in almost immediately because our business is unique and its family nature means that what I can learn within is more relevant than what I can learn outside."
While Leonard focuses on production quality, timeless design and meticulous workmanship – traits that have made Kwanpen's bags a staple accessory for women in high society since its establishment in 1938 – Jonathan has his mind set on making Kwanpen a lifestyle brand. 
In the past three years, he has spearheaded co-branding events with luxury car marques such as Rolls-Royce, where VIPs are invited to each other's preview launches. Kwanpen's craftsmen would also teach guests how to customise a leather product during hands-on workshops.
Future plans include exploring expansion in China, collaborating with a jewellery brand to create one of the world's most expensive bags, and partnering an artist in Singapore to debut a collection together.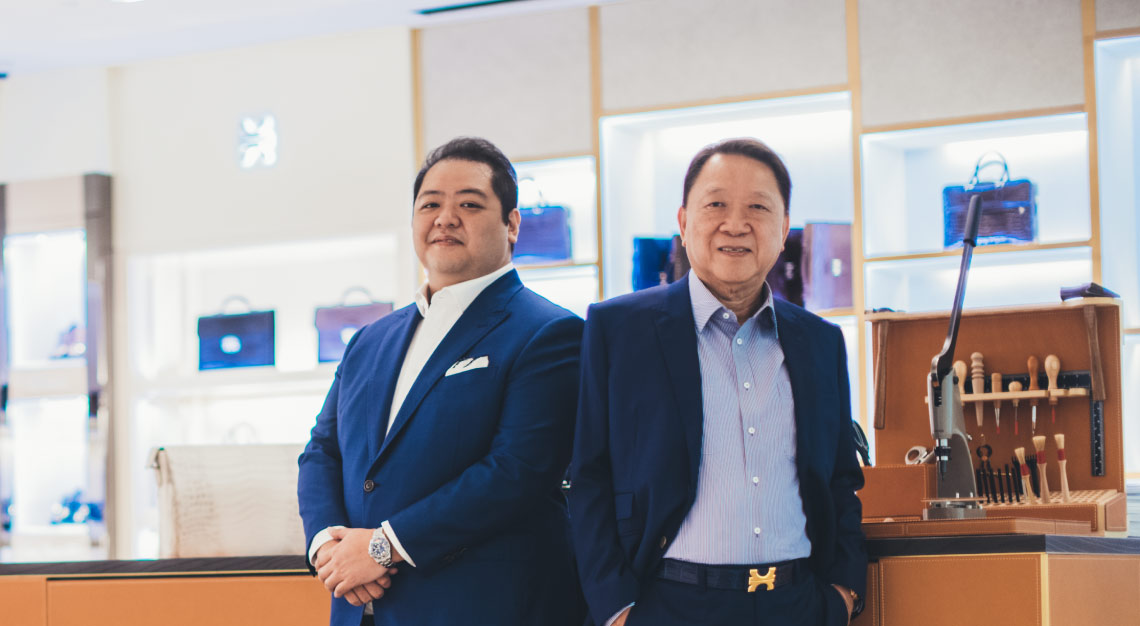 Leonard recalls being sceptical of some ideas at first, such as Jonathan's suggestion of retailing shoes because he had observed a growing trend for a certain type of footwear among millennials. Leonard says: "I wasn't sure it would work as I thought sandals would look too cheap and casual among our gentlemen's shoes. In the beginning, we thought we'd make the design more complicated. I found out later that a simple style worked best to attract customers."
Jonathan also expanded the brand's presence online through social media platforms such as Facebook, frequently updating the feeds with attractive lifestyle shots of the handbags that are beloved for their structural symmetry, clean lines and wide range of colours. In March, Kwanpen launched a private online ordering service in which customers can use WhatsApp and chat one-on-one with the company to find out more about its latest collections. 
Whenever there are differing views, Jonathan says that he takes it in his stride because it would be no different to working in another company. "You may not have the same opinion as your boss. Maybe he sees the bigger picture but you don't. I have to understand my position and what I'm doing and keep reminding myself to talk it out."
What helps is that a clear line is drawn between work and family matters. Everyone at the head office is made to leave by 7pm, even when production goes into overtime. "My dad has always felt that sitting around the dining table is the most important time for a family," Jonathan shares. "So he tells everyone to go by a certain time. This started way before 'work-life balance' was even a hot topic."
For Leonard, one of his happiest moments was the day Jonathan announced that he was joining the company, even though he had never pressured his children to carry on the business. "I have many friends who tell me with sadness that their children don't want to join their family business. It was the proudest moment for me when my son said that he would."
This story first appeared in the May 2020 issue, which you may purchase as a hard or digital copy.