Spoiler alert. But of course, these spoilers don't live up to the real experience of watching this cabaret yourself
Live music now roars within the walls of Sands Expo & Convention Centre Hall C, finally cutting the plague of silence that has filled entertainment hotspots in Singapore since the pandemic hit. La Clique, an award-winning production that first launched in 2004, finally makes its Asia debut in Singapore, running from now until 7 November 2021. This marks the Lion City's first long-running live show that features an international cast since the circuit breaker – a much-needed theatrical boon only made possible by Sliding Doors Entertainment in collaboration with Unusual Entertainment and Marina Bay Sands.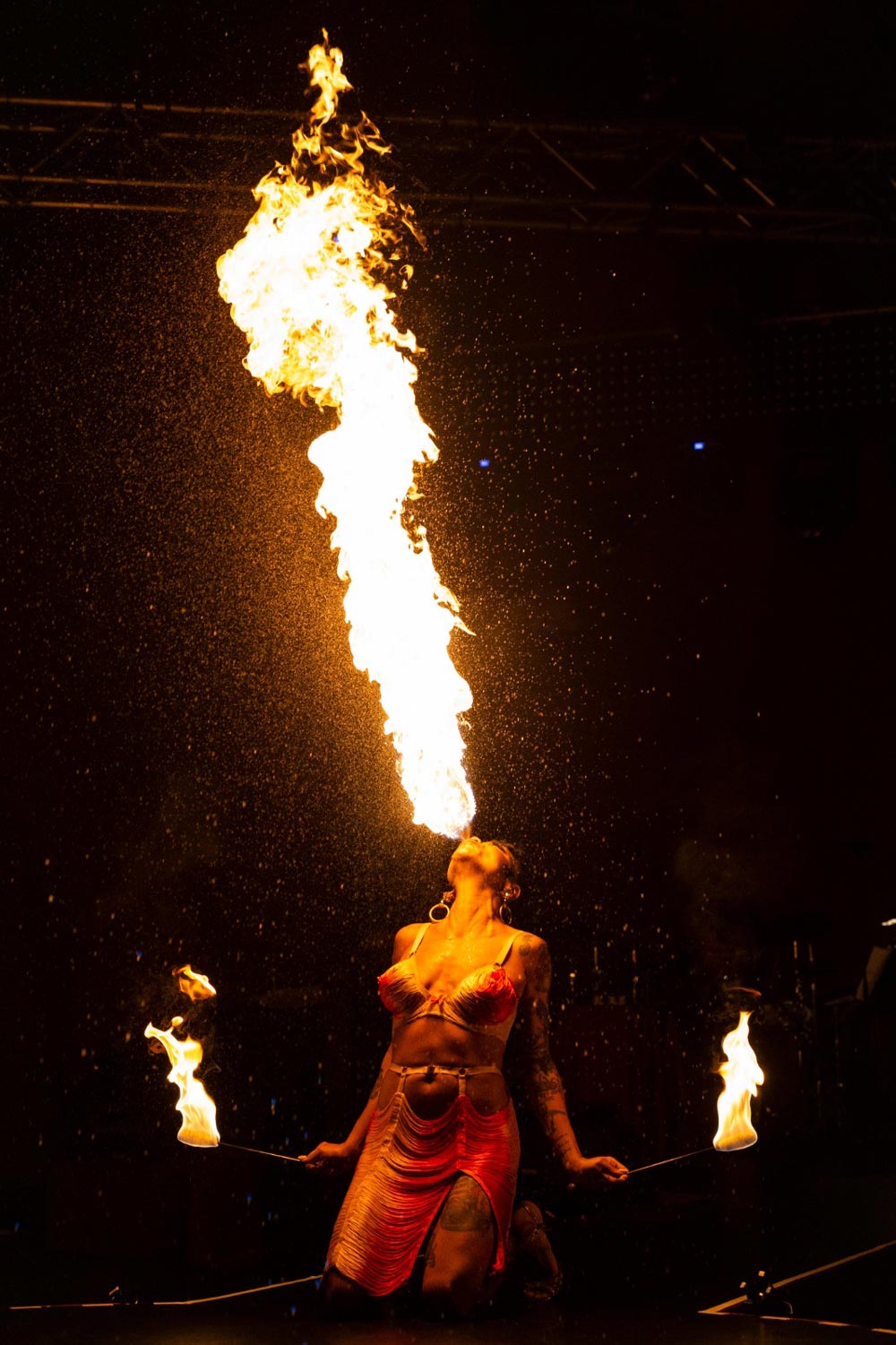 In a nutshell, the one-and-a-half-hour, cabaret-style production propelled me back to the old times; stringing together a slew of singing, acrobatic and stunt performances amplified by a commanding on-set band that could easily jolt the audience to the edge of their seats. The music department, for one, gets a resounding cheer, charging the show forward with heart-pounding jazz, ballads and a taste of ska. With that said, one of my favourite performances turned out to be the opening act itself: Oscar Kaufmann's 'Bath Boy' acrobatic routine, which was topped off with an electrifying number by Britain's biggest rock band of all time (go figure, and unfortunately for me, it's not Oasis).
The production ran at a comfortable pace, mollifying Heather Holliday's sword-swallowing and fire-eating acts with what seemed like flawless, slow-tempo acrobatics. While the costume managers discernibly hadn't gone above and beyond for the show, the performer flaunting the most compelling wardrobe was none other than the show's emcee Bernie Dieter – dubbed "the undisputed Queen of punk cabaret" – who brought on much panache and powerful vocals. Her efforts to forge a relationship with the audience were impressive, despite social-distancing caveats;  a typical production would see her cheeky acts go as far as pouncing onto a strange man's lap before dragging him to the stage.
Lap pouncing or not, the rule of thumb is to not walk into the show expecting to witness back-to-back death-defying stunts or even study a plot, for that matter. The acts are random, reasonably entertaining, and most importantly, as cliché as any cabaret should be. It's also worth noting that La Clique accommodates up to just 250 people for each show (due to current health and safety regulations), so in some moments, its atmosphere did pale in comparison to that of pre-pandemic, thousands-of-seats productions.
But with that said, the show doesn't need anyone's pity vote with its own stellar act and lineup of hair-raising stunts. Credit has to be given where it's due, and the team of La Clique still has to be recognised for their brazenness to pull off a show of this calibre. And in trying times such as now, what better way to remind ourselves that fun, quality entertainment still has a place in all the chaos?
La Clique runs at Sands Expo & Convention Centre until 7 November 2021. Get your tickets here