In our ninth episode of At Home With Robb, Magdalene Tang of Mag's Wine Kitchen shares a recipe for lobster risotto
The weather's been chilly lately (thank you, rain), and that only means one thing: risotto. It's simple, pure and warms you up like a great big hug. It's one of the most comforting dishes that we know – if you can give it all your patience and attention, you can turn some rice, butter and broth into a steaming bowl of love.
It also makes an excellent canvas for all sorts of ingredients, such as lobster. In our ninth episode of At Home With Robb, Magdalene Tang of Mag's Wine Kitchen shares with us a recipe for Lobster Risotto with Burnt Butter and Sage. Creamy, unadulterated and incredibly rich in umami, this is your gateway to better days ahead, rain or no rain.
Ps: Mag's Wine Kitchen may soon do away with the whole menu system, so watch out for that. Until then, book a table here or order in. Islandwide delivery is available.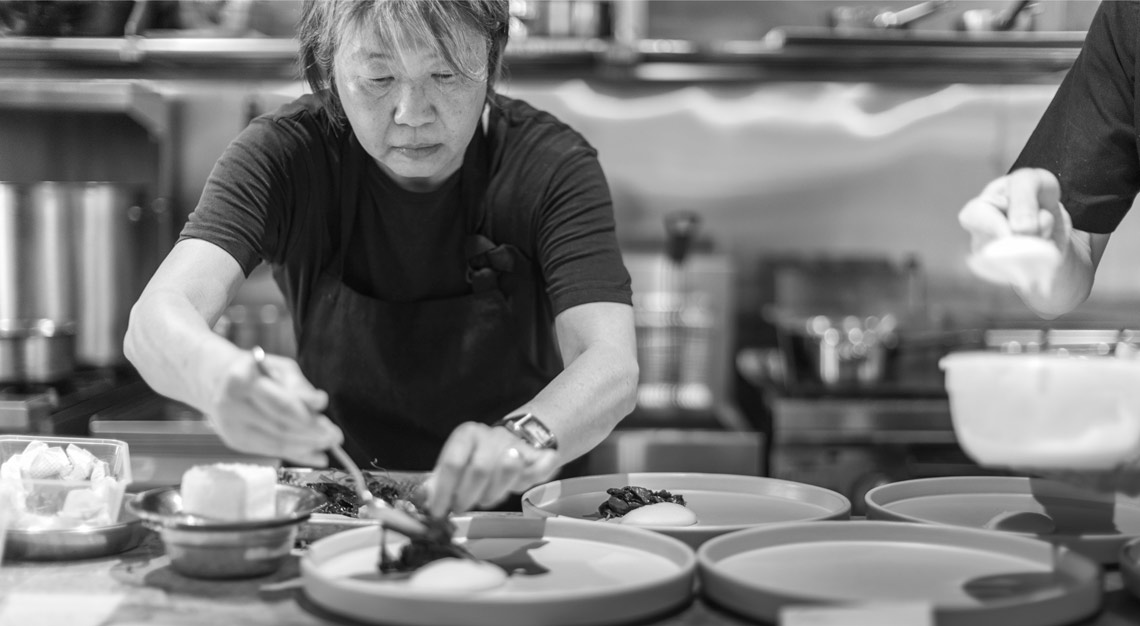 Magdalene's Lobster Risotto with Burnt Butter and Sage
Mag's Wine Kitchen
Serves two
1/2 cup Carnaroli rice
1 lobster tail
2 tablespoons onions
30g butter
2 cups chicken broth
1 pinch of saffron
1/4 cup dry white wine
Finely chopped chives
2 sage leaves
3 tablespoons freshly grated Parmesan
Make the risotto
In a saucepan, warm the broth over low heat. When done, turn off the flame and put in a pinch of saffron. Let it seep – you should see the broth turn to a nice golden colour.
Add one tablespoon of olive oil to a separate saucepan and stir in the onions. Cook for one minute. Add the rice and stir for about two minutes to coat it with oil. Once the rice has taken on a pale, golden colour, pour in the wine while stirring the rice constantly. You'd want the wine to be fully absorbed.
Add 1/4 cup of chicken broth to the rice and a small knob of cold butter. Stir until the broth is absorbed. Continue adding the broth 1/4 cup at a time, and another knob of butter while stirring continuously. Do this for about 10 minutes, until all the liquid is absorbed and the rice is al dente. Now add in a bit more broth and put it on low heat.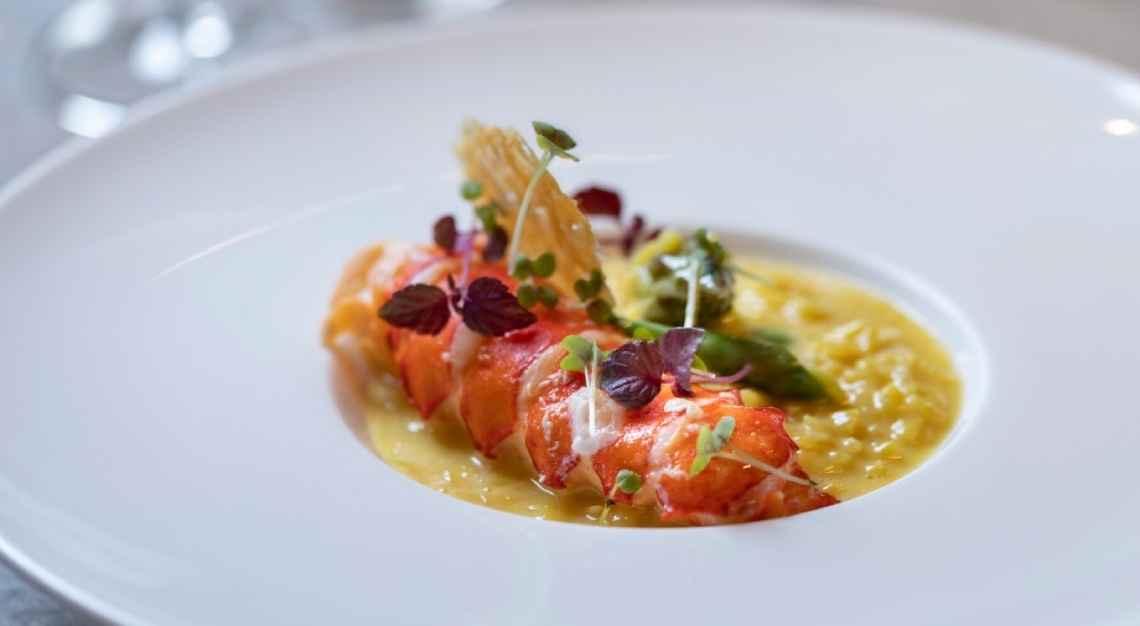 Cook the lobster
Meanwhile, start preparing the lobster (keep your eye on the rice still, and keep stirring it). Heat up a skillet with some olive oil and cook the lobster (seasoned with salt), top side down, for a minute. Then flip it around and flambée it with Cognac. Put in 15g of cold butter, turn off the flame and put a lid on top. Gently poach the lobster in butter for another minute.
Take the lobster out, place it on a plate and keep all that nice buttery juice for the rice. Pour it in and also, stir in a handful of Parmesan. The risotto should almost be done by now, and should be slightly al dente, but you can add a little more stock if you think the risotto is too dry.
Make the beurre noisette (burnt butter with sage)
Using the same skillet you cooked the lobster in, put in 15g of butter and some sliced sage. Gently heat the butter till golden brown – watch it so you don't burn it. You should get a nutty aroma.
Assemble the risotto
Before plating the risotto, put some chopped chives in and give it one last stir. Slice the lobster, put it on top of the risotto, and spoon some of that burnt butter atop the lobster. Garnish with some micro herbs.