No expense was spared in this particular unit, from a Sicilian light installation to hand-painted walls using traditional Indian techniques
At luxury residential complex The Camellias in Gurgaon, India, under an hour outside New Delhi, residents transform their homes from blank canvases to works of art.
The Camellias is an invitation-only residential community with 429 units across nine towers. It's also the first residential development in India to receive Platinum LEED-certified status. There's just one unit per floor, so guests have total privacy, as well as a chic 1,381-square-metre amenity space, called Camellias Club. Units start at US$6.25 million and are purchased as blank slates. From there, owners design and furnish the homes themselves—even down to painting the walls—in a process that takes nearly two years and for an additional cost. While some residents might opt for more understated designs, one resident, Ajay Bhutani, was inspired by his global travels to create a true one-of-a-kind ultra-luxury haven where no detail, or expense, was spared.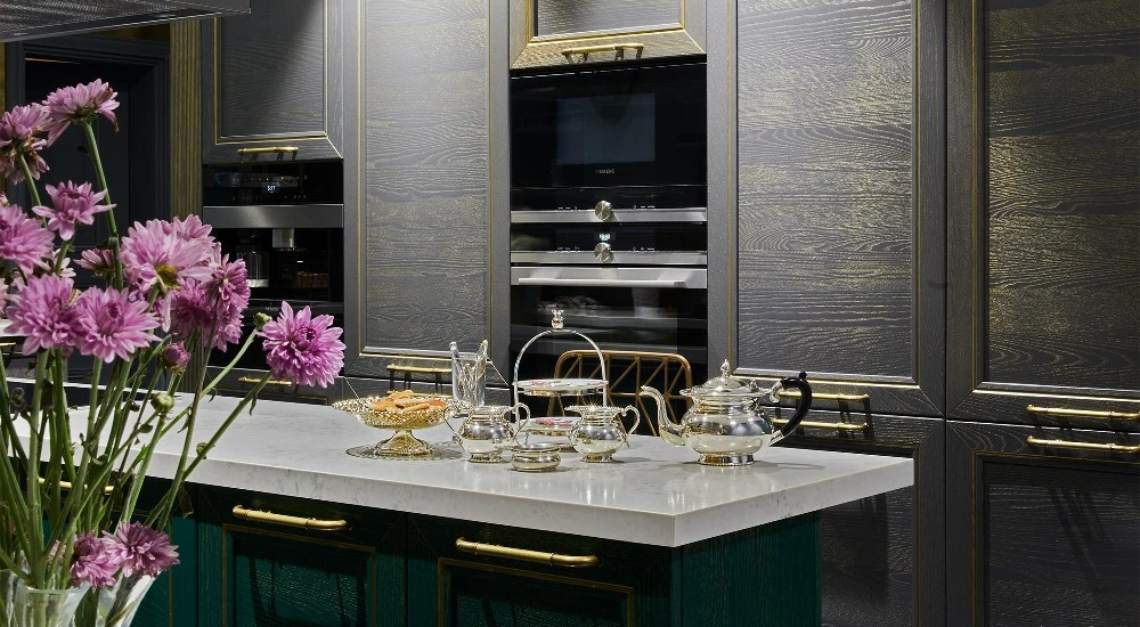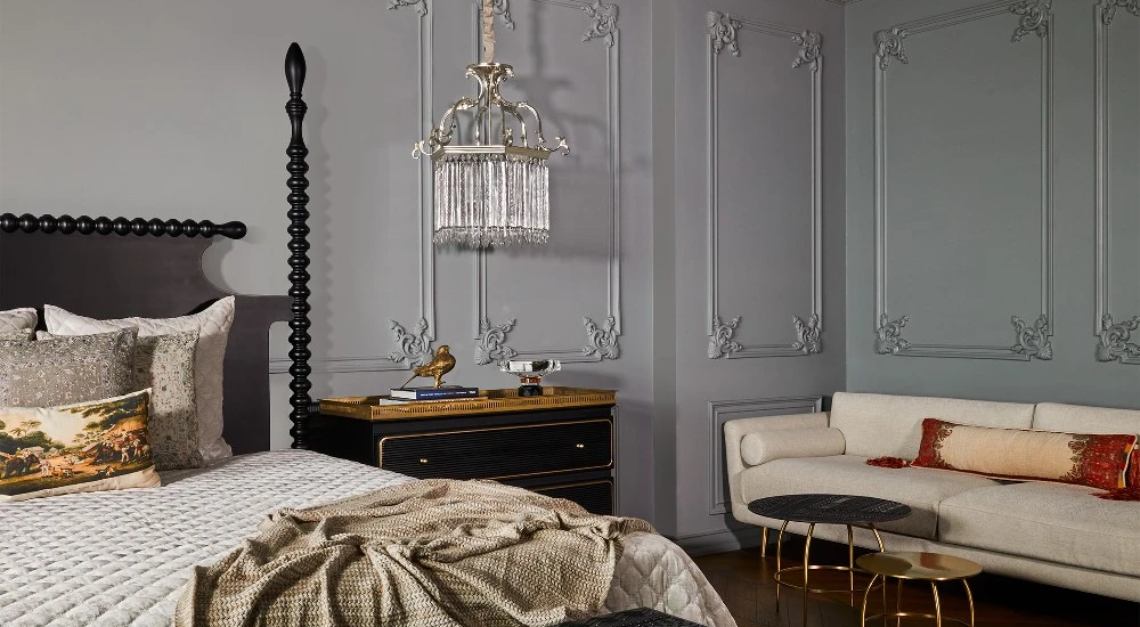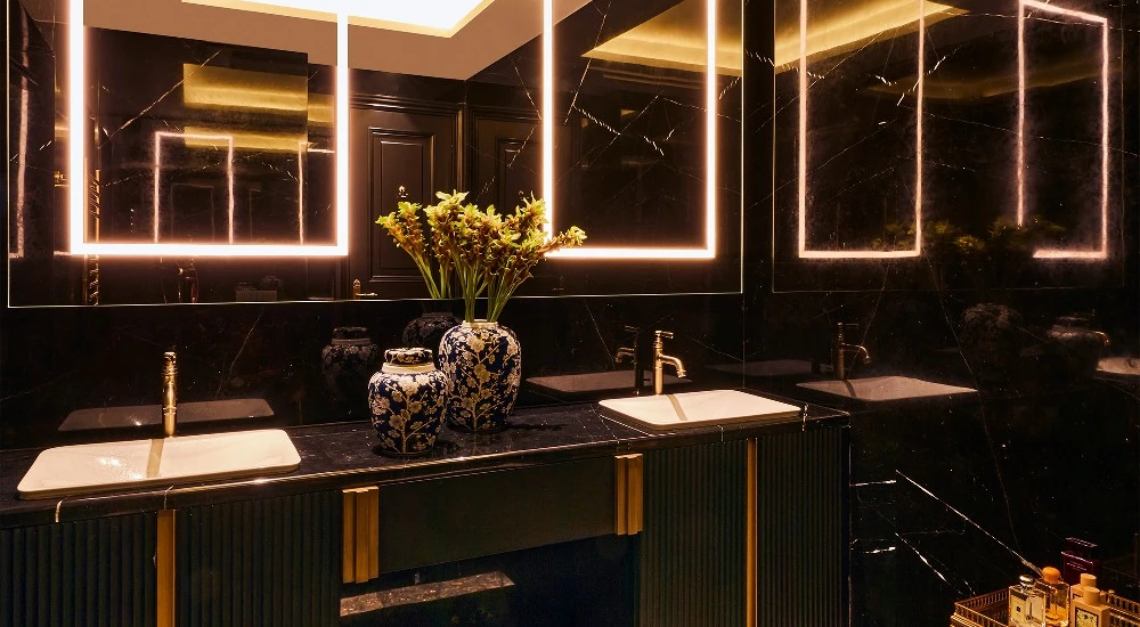 Bhutani, whose unit is on the 12th floor, enlisted interior designer Disha Bhutani Subramanium to create a home inspired by his global travels. She also kept in mind the client's love for entertaining, thus creating a large and welcoming entertaining area and kitchen.
"The concept of bare-shell residences at The Camellias allows you to have a blank canvas within a gallery to realise your own vision—and we couldn't have worked with anyone better than Subramanium to bring that vision to life," Bhutani says. "Inspired by our global travels and appreciation for different cultures, our home not only evokes memories of our favourite adventures but also serves as a functional space keeping in mind our needs and lifestyle. From intricate mouldings to detailed mosaic work to curated artwork and lighting, our home is a true comfort, but also one that excites us for what's next."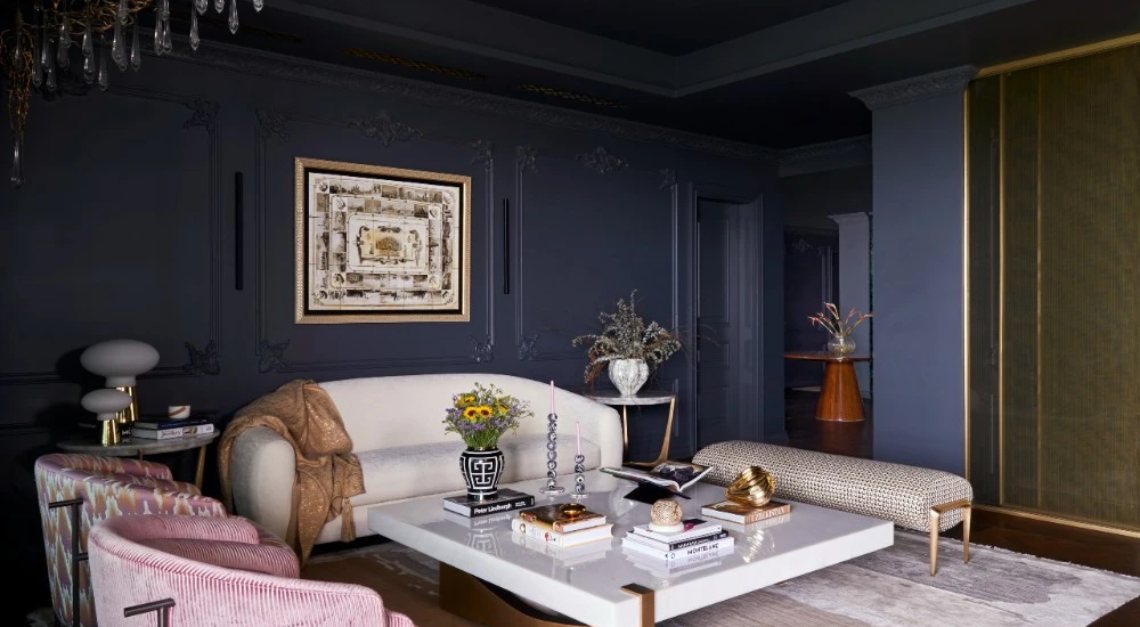 Subramanium took a risk by painting nearly every wall a dark black hue, from the baseboards to the detailed mouldings. The result? An exceptionally beautiful and dramatic aesthetic, which she accentuated with custom furniture, lighting, art and decor. The unexpectedness of the black walls and ceilings lures you in. When you look closely, it's apparent that Subramanium prioritised exacting craftsmanship in every room by sourcing pieces from exceptional craftsmanship.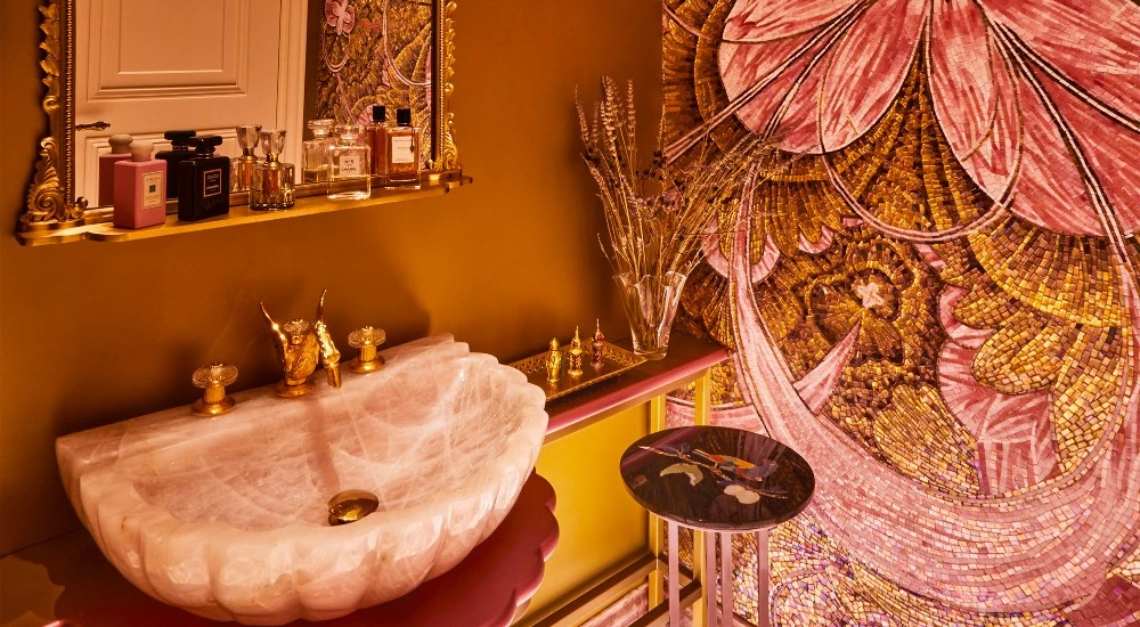 For example, the entryway features a pressed flower table designed by Rooshad Shroff, known for using traditional Indian techniques in his pieces. Other standout features include a light installation, a chandelier, designed by Subramanium in collaboration with Serip; a backdrop in the mandir area handmade by artisans from Udaipur in Thikri style; and a facade hand-painted by artists from Jaipur in Pichwai style.
There are also three porcelain chandeliers imported from Italy; artworks from M.F. Hussain, Seema Kohli and Hitesh Gilder; and wall sculptures from Viya Home near a carved stone fireplace. Perhaps one of the most striking design features is the liquid metal ombré walls in the powder room paired with a custom mosaic mural and underlit rose quartz floor.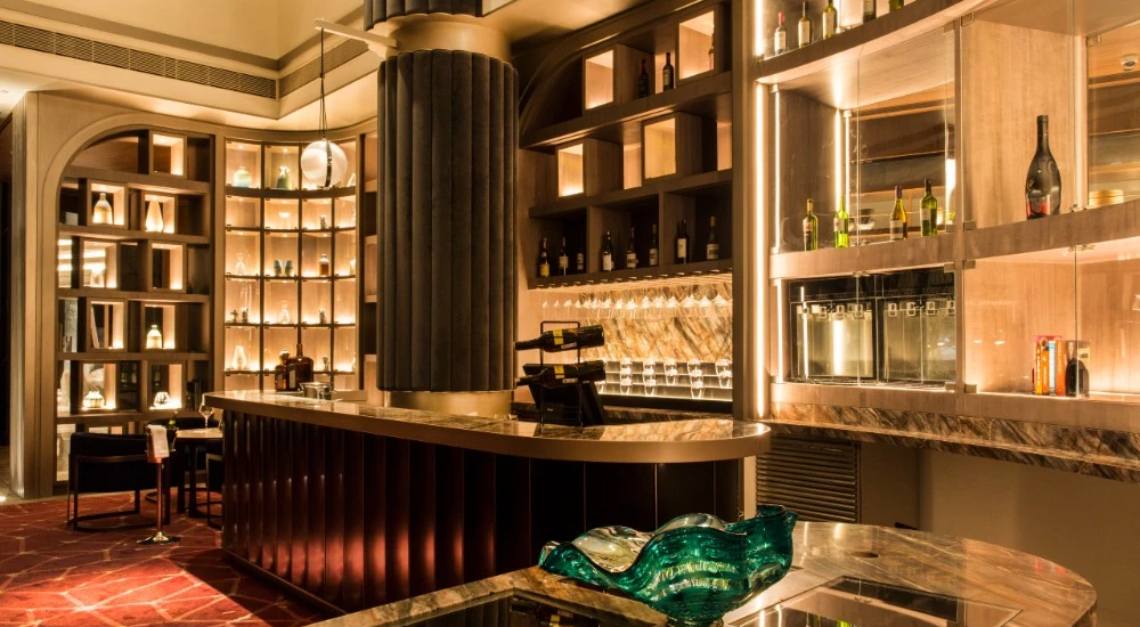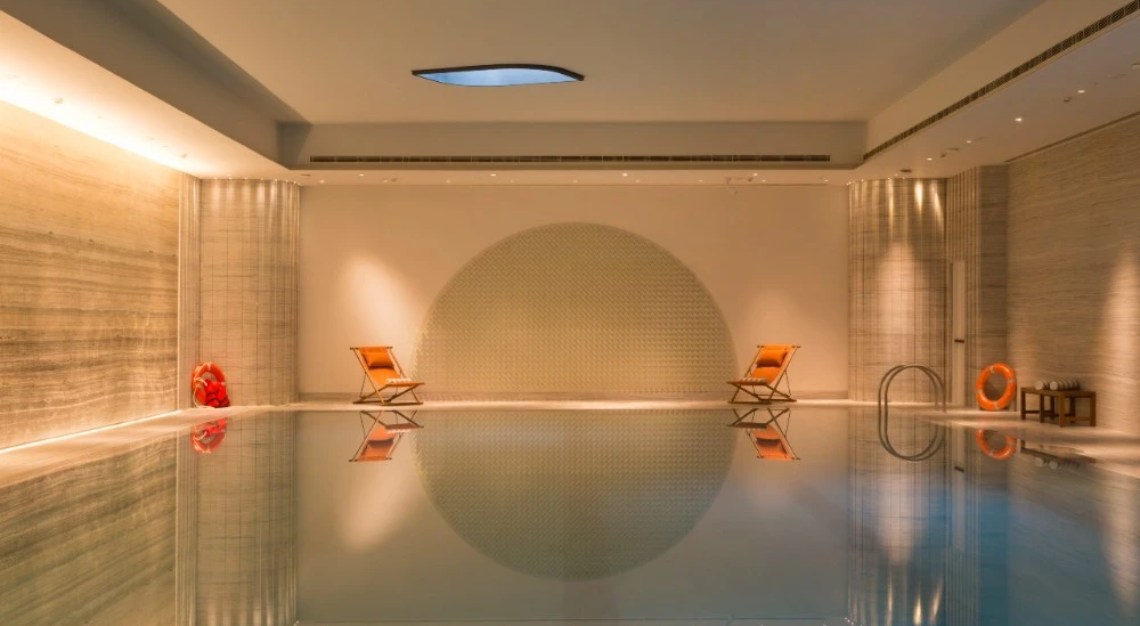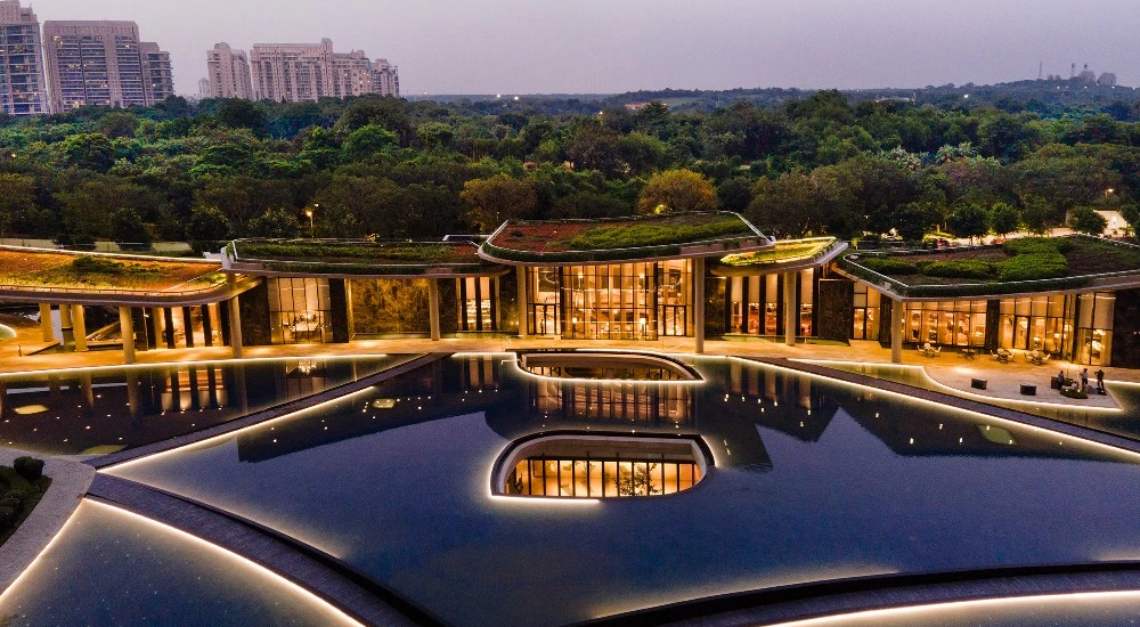 "It was very important for me as a designer to give my clients a space that would reflect the luxury and grandeur of The Camellias but at the same time feel warm and inviting," Subramanium says. "The finer details reminiscent of a bygone era juxtaposed with contemporary elements all while focusing on craftsmanship helped me achieve exactly that."
This luxury development has all of the amenities one could need, from fine dining to fitness and relation to entertainment options. The development is also located near DLF Golf and Country Club and the Aravali forests.
This article was first published on Robb Report USA