Emotions run high with Sixième Sens Par Cartier, where jewellery moves you like never before
How do you concretise something as intangible, as arbitrary, and as enigmatic as intuition? This was the impossible mission that Cartier faced – and overcame – with its 2021 high jewellery collection, Sixième Sens Par Cartier, unveiled at beautiful Lake Como. Indeed, the maison was perfectly poised to overcome the odds, as Cartier high jewellery transcends the boundaries of traditional jewellery art, pushing ever further the possibilities in this already exalted realm.
Especially so in recent years with collections such as [Sur]Naturel, Magnitude, and Resonances, which tell us what the maison knows, and can do. But Sixième Sens is different. There's something else. It shows us what Cartier feels as it creates these modern masterpieces of high jewellery art.
Because Sixième Sens is more than just about beautiful gemstones strung together as a necklace, or clustered around a ring. And nowhere was this made more apparent than in the Phaan ring. Featuring an 8.20 carat soft cushion-cut Siamese ruby nestled within a circlet of triangular diamonds and tiny ruby beads, it has a unique surprise centre.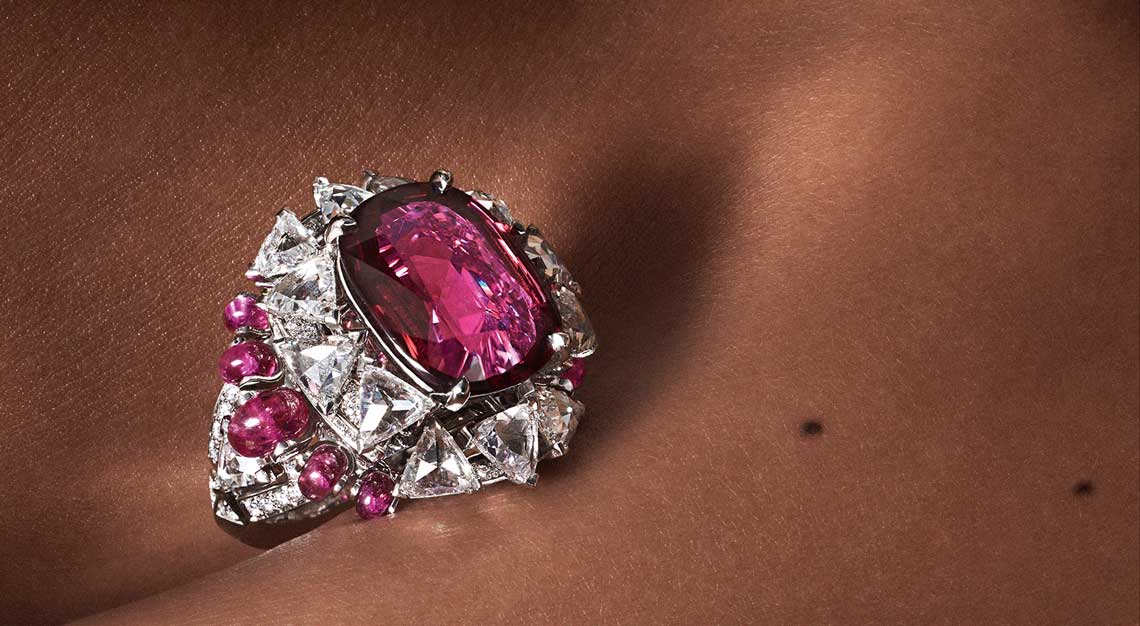 Precious Illusions
Sitting directly underneath the ruby is a 4.01 carat rose-cut diamond that could well be the centre stone of its own ring. Instead, Cartier stacked the two precious stones, tapping into the dazzling transparency and light-bringing qualities of the diamond to illuminate and intensify the rich red hue of the ruby. Most impressively, this was all done with a setting that's designed to be as inconspicuous as possible.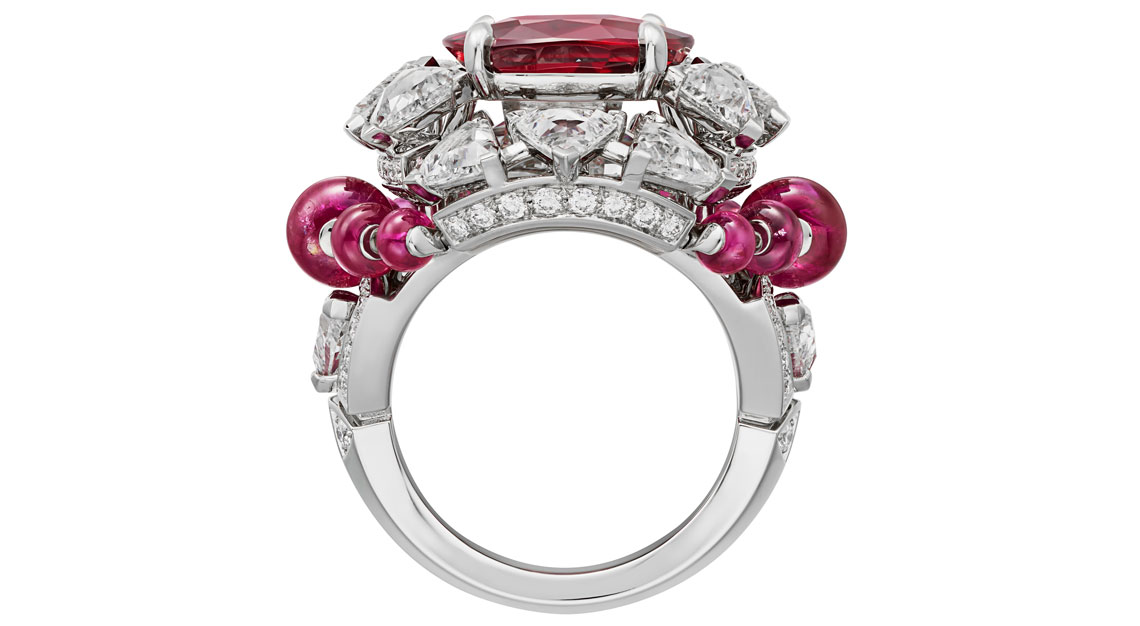 Incredible feats of exceptional creativity continue in Meride, a hypnotic Op Art-inspired checkerboard of a necklace that appears two-dimensional from one direction, but reveals a three-dimensional structure from another. It moves as you move, revealing a multitude of layers and a latticework of tiny mosaic squares crafted in diamonds, black onyx and rock crystal.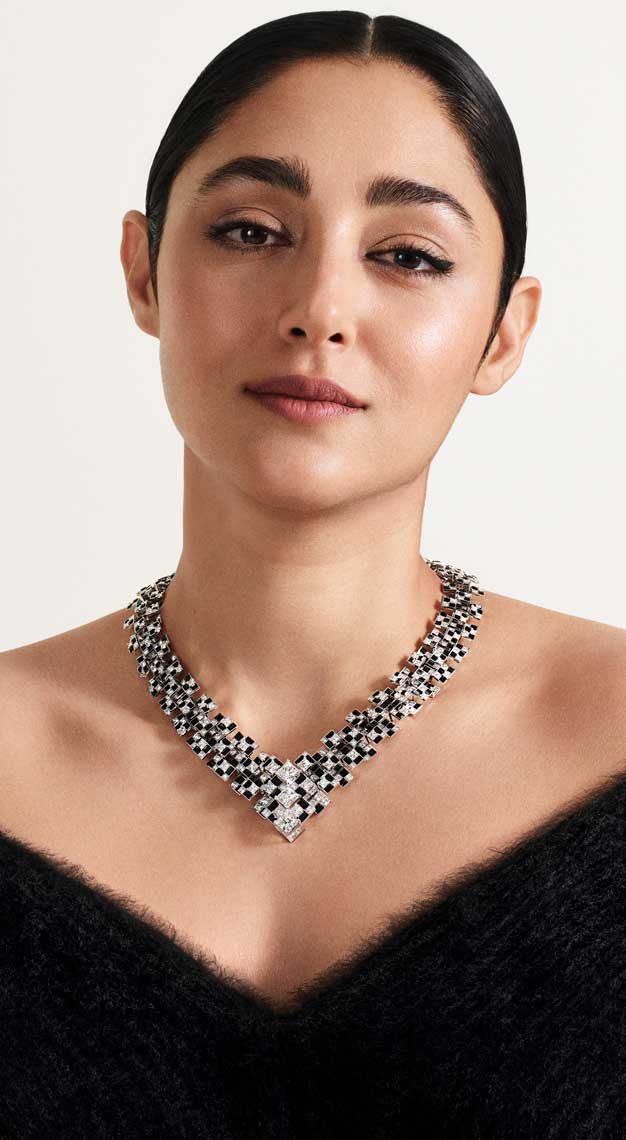 It also changes as you view it from afar versus when you go up close, blurring the perspectives in a playful optical illusion never-before seen in a high jewellery creation. Sparkling facetted diamonds meet smooth step-cut onyx; transparency and colourlessness meets opacity and solid black tones… Meride is a universe disguised as a necklace. And as a final stroke of genius, this mesmerising necklace looks exactly the same front and back.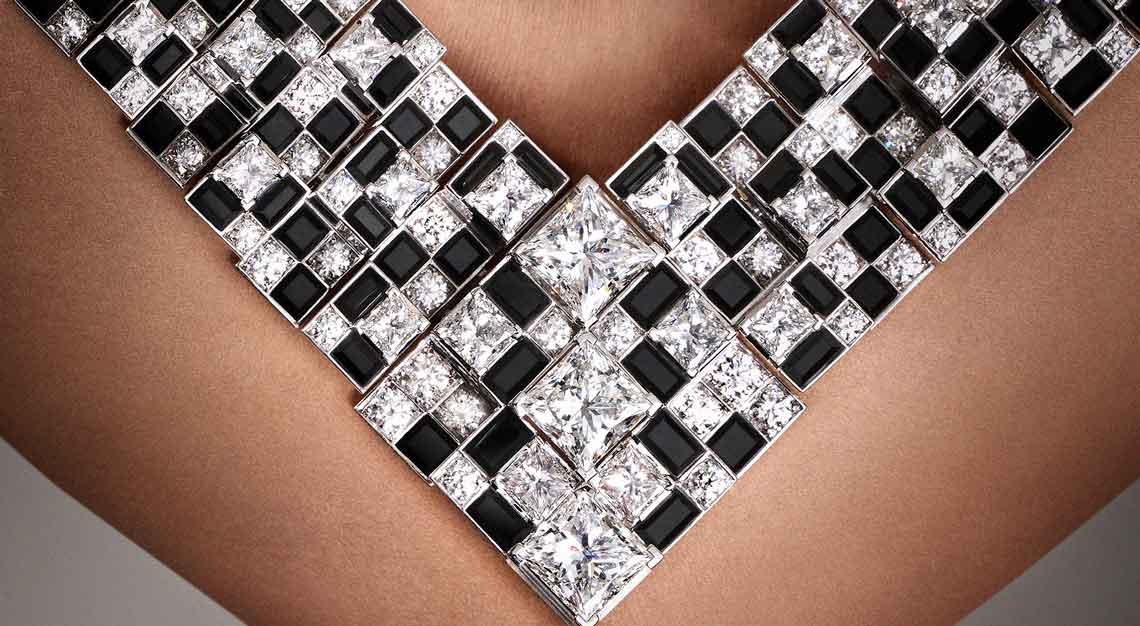 The visual art of trompe l'oeil also brings the Parhelia ring to life. Here, a stunning 21.51-carat Burmese sapphire cabochon deserves all the spotlight for its intense blue hue alone. But Cartier elevates the natural beauty and smooth curves of this cerulean stone using custom cut diamonds and bezel-set emeralds.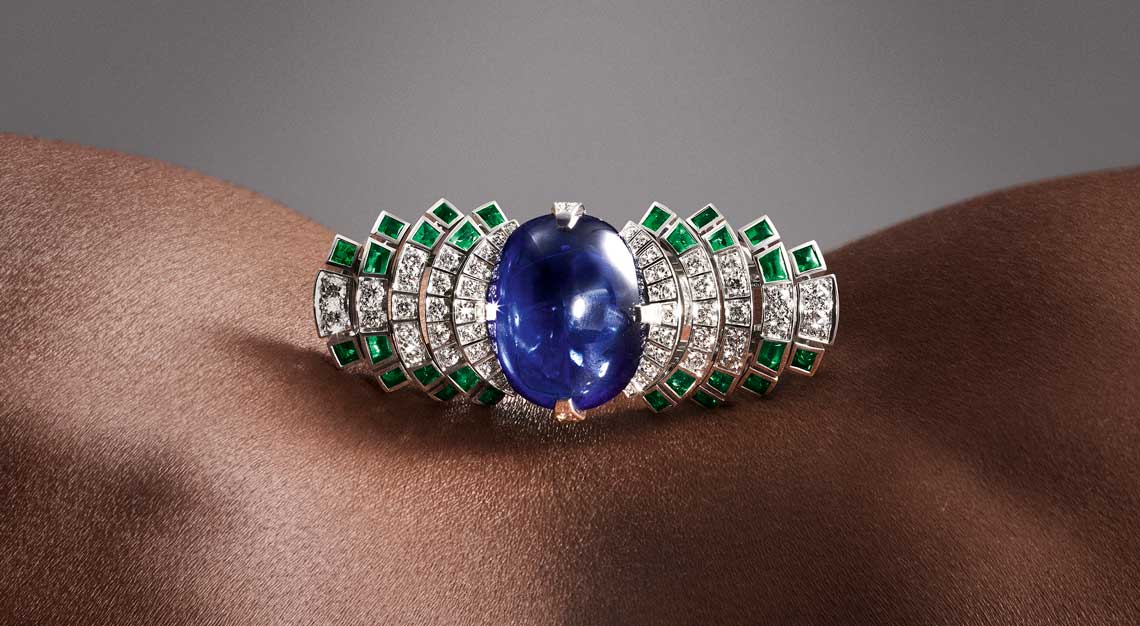 They fan out of the cabochon like ripples on the surface of a lake, reflecting light with gently undulating movement thanks to slightly mobile tips. Adding to the illusion of motion are the flanks finished in shiny black lacquer. They create shadow effects bringing volume and dimension to this exquisite centrepiece that can be detached and worn as a brooch.
Graphic Beauty
Part two of Sixième Sens takes the evocative power of graphic patterns into more familiar territory. A thrilling flight of four dramatically different lariat necklaces marry the fascinating depths of thousand-year-old stones with the soulfulness particular to high jewellery.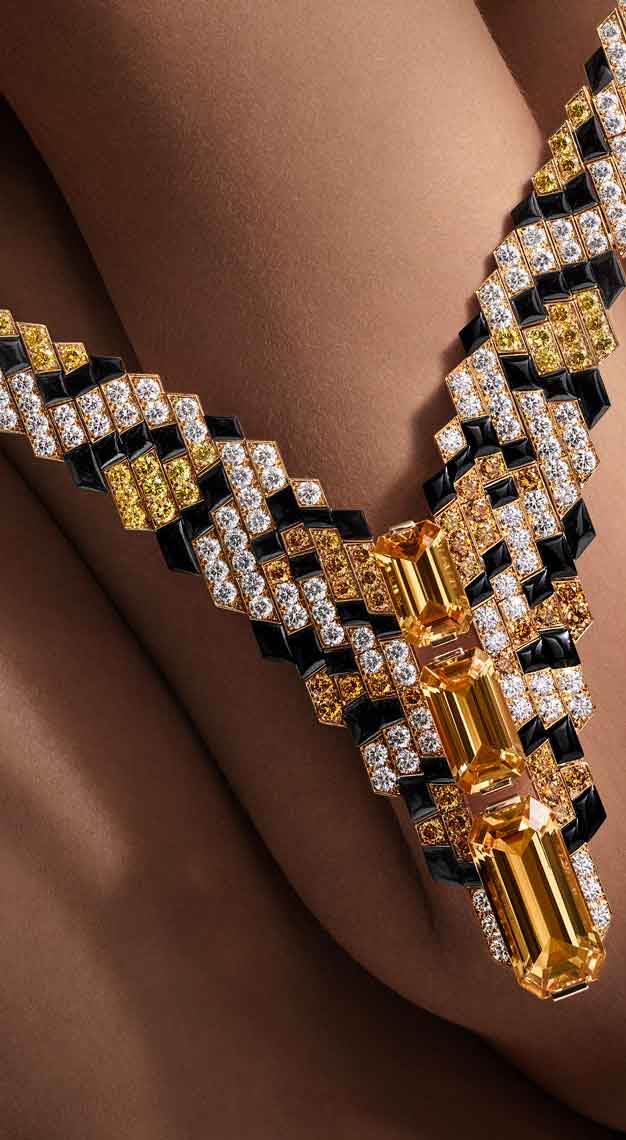 The Pixelage necklace borrows its markings from Cartier's spirit animal, the panther, to offer a stylised play on the feline's coat. Colours evoking the glorious spotted pattern come from white, yellow and orange diamonds along with polished onyx. Meanwhile three captivating golden topazes totalling 27.34 carats emphasise the necklace's vertical geometry.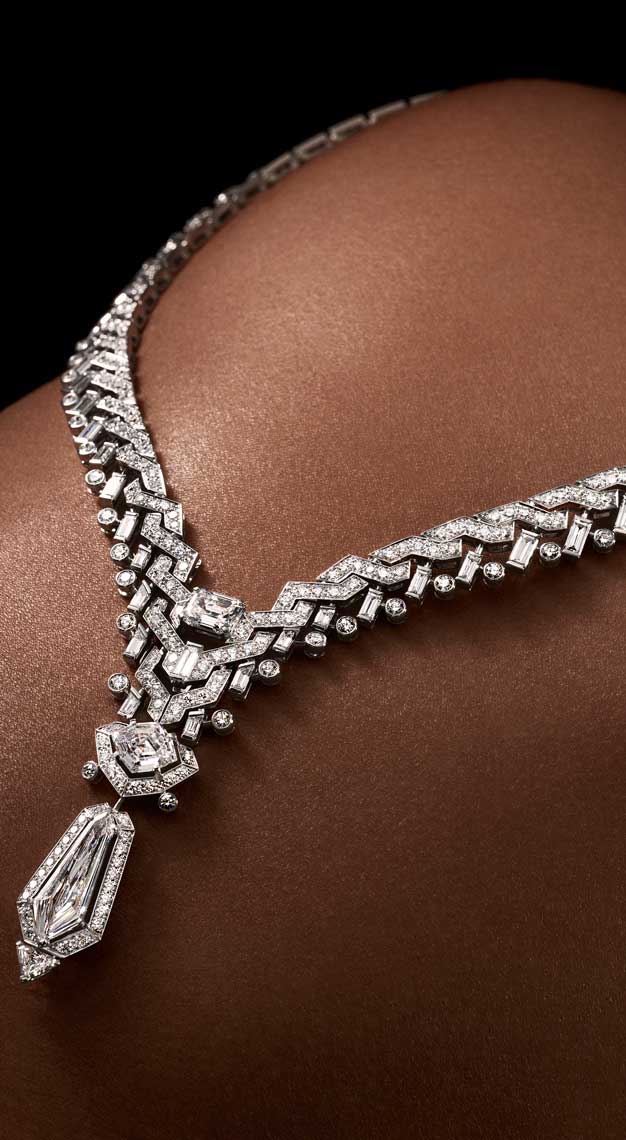 Likewise, the Coruscant necklace exudes a strong graphic beauty. But instead of coloured stones, all of its power emanates from colourless diamonds certified DIF and EIF. Variation however isn't absent from this breath-taking jewel, as Cartier uses a total of six different cuts throughout the necklace. Kite, octagonal and emerald take pride of place while triangle, baguette and brilliant stones complete the picture.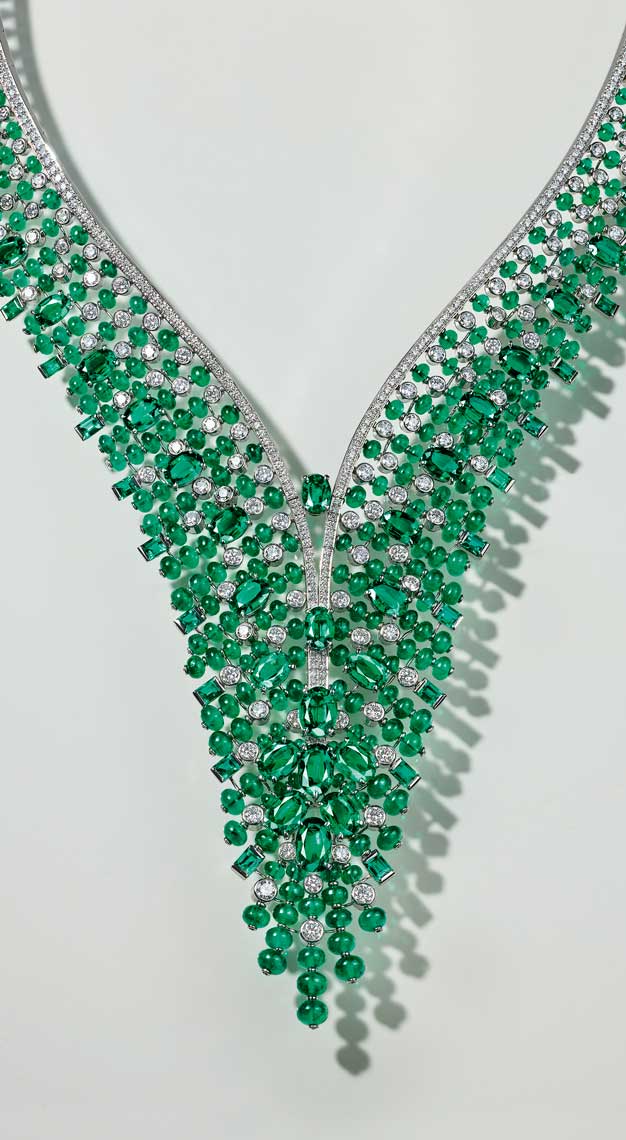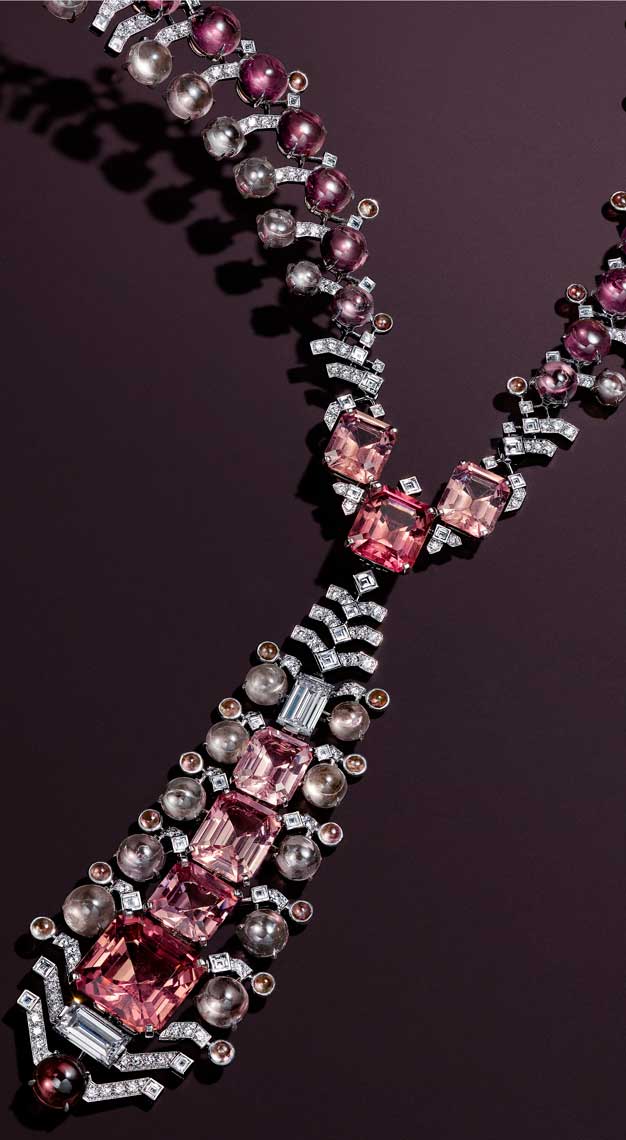 In the Alaxoa necklace, tiny emerald beads cascade in an organic flow. Cartier achieves this with its signature threading technique that secures the stones in an elegant fan shape while allowing the fringes to remain mobile. Finally, the Sharkara necklace plays with variations of pinks. Tourmalines and coloured sapphires commingle with bright orange garnets, their beauty highlighted with touches of brilliant diamonds.
These wondrous creations reveal a world of sensory stimulations which Cartier masterfully encapsulates within the collection, while triggering a staggering feeling of emotion that touches the heart. So the sensations Cartier feels each time it encounters nature's most beautiful stones, is what you'll experience with Sixième Sens.