Nature meets architectural grace at Suitree Experience Hotel, where guests indulge in a sensory experience above the trees
Nestled in the heart of Guanacaste, a province in Costa Rica renowned for its lush canopies and pristine shorelines, Suitree Experience Hotel offers you a sensory journey into the lap of luxury. There, pura vida—a Spanish term that translates to 'pure life'—transcends mere description. It becomes a way of life, encapsulated in the seamless, harmonious relationship between you and the natural world. 
Studio Saxe, a team of Costa Rican architects, has artfully carved out a world of indulgence and relaxation in the heart of the country's lush jungles. Embracing the principle of 'floating architecture', where structures coexist harmoniously with the existing ecosystem, the team designed the tree-housed inspired jungle pods. These magnificent cabins, crafted with a sturdy metal framework wrapped in natural wood, float gracefully above the magnificent vista of the wilderness, connected to the ground only by a central staircase.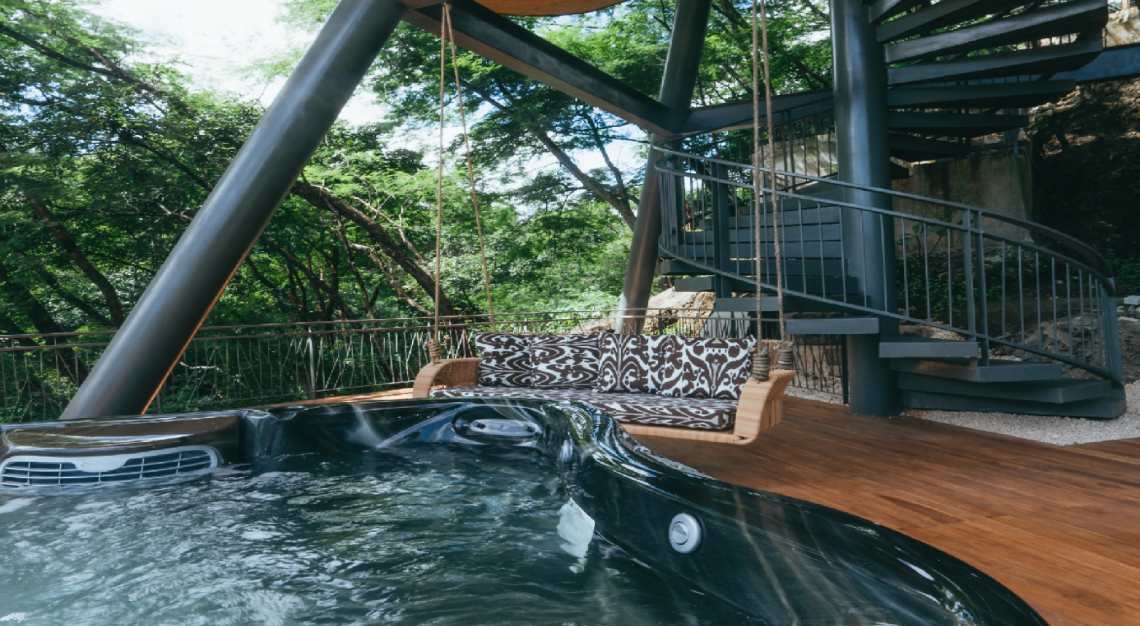 The jungle pods manifest a visual illusion of an organism treading delicately on the landscape, a 'living, moving' structure that, according to Studio Saxe, embodies the harmony between architecture and nature. These pods at Suitree suspend you between the boundless sky and lush greenery underneath—an exclusive sanctuary that promises an unparalleled feeling of liberation and inner peace.
Yet, while retreating into this blissful sanctuary, you need not leave luxury behind. Each jungle pod is thoughtfully equipped with a 360-degree terrace and minibar, offering the perfect setting to soak in the panoramic view of the Guanacaste mountains while unwinding with a drink of their choice. 
The allure doesn't end there. A gastronomic journey awaits at Taru, a restaurant inspired by the word 'us' in the now-extinct Chorotega language, spoken by the ancient indigenous tribe in the country. It curates each dish with fresh, locally sourced ingredients, elevating traditional Costa Rican dishes with a contemporary twist—a perfect blend of cultural richness and modern luxury.