Stepping into the space of a Pangdemonium show is always a treat, and Urinetown, which debuted at the New York Fringe Festival 10 years ago, was no different. Here's what to expect from the musical and the year that is to come
Greeted by an intricate set designed by Eucien Chia, we are brought into another world even before the show begins. The gritty colours and textures of the sewer, together with the huge pipe that turns into a pedestal where the antagonist of the show, Caldwell B. Cladwell, reigns from, is designed to intrigue and surprise.
Urinetown, a satirical musical, puts a lens on legal and bureaucratic systems we live in today. Not only that, it even pokes fun of things on a very meta level, making the audience hyperaware of, well, practically everything.
Pangdemonium's take on the musical was skilfully done. The work of the ensemble, under the direction of Tracie Pang, is tight and precise. There is no one moment where I felt that too much was going on onstage, despite having a 17-strong cast. What really made me sit up and smile were the cheeky dance sequences choreographed by Andy Benjamin Cai.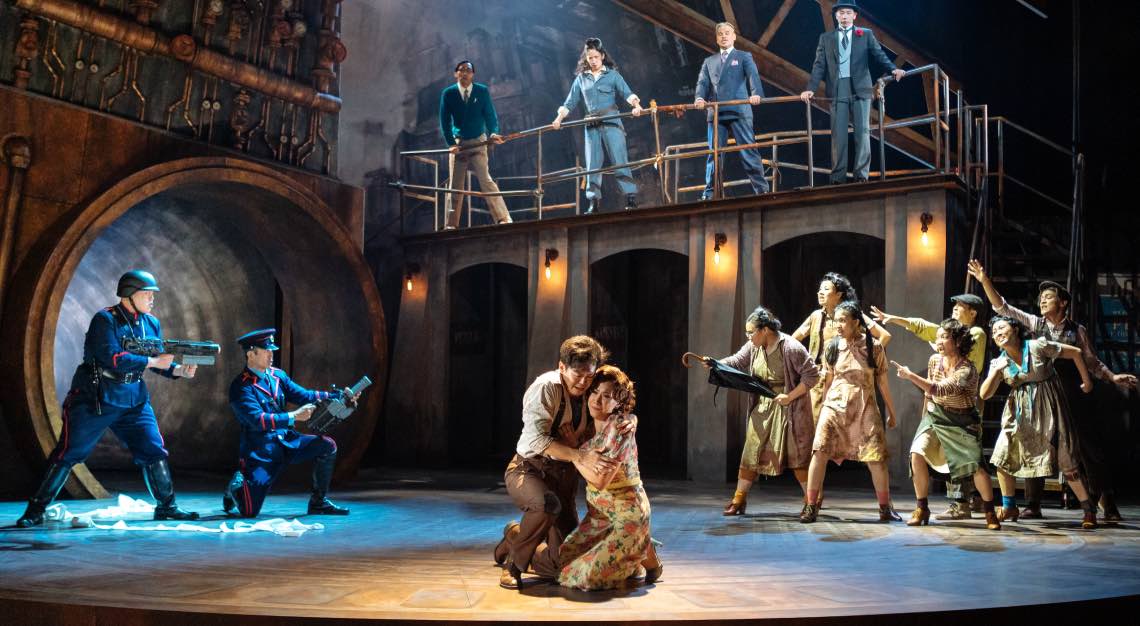 I had the privilege of sitting two rows from the stage, and I could not tear my eyes away from the female cast members, who truly stole the show.
Jo Tan's rendition of Penelope Pennywise was such a joy to watch. Despite minor slips in the register, her commitment to every moment on stage is something I wish to achieve when I grow up. One such moment was when Pennywise was experiencing a moment of conflict in Act II. Jo Tan displayed such a beautiful rollercoaster of conflicted emotions that I forgot to listen to what was actually going on under the spotlight.
Mae Elliessa, who plays Little Sally, was so consistent in displaying little moments of jealousy and affection fuelled by her crush on Bobby Strong, played by Benjamin Chow. The side-eye glares she gives her rival in love (Hope Cladwell, played by Mina Ellen Kaye), and the way a smile lights up her face when Bobby Strong gives a comforting pat on her head, though small, were critical moments in building Little Sally's layered character.
Ensemble members, Seong Hui Xian, Kimberly Chan, and Ethel Yap, were also such a delight to watch. I really enjoyed how Seong Hui Xian's commitment in portraying her characters, even in dance sequences: she made every movement her own, even something as simple as snapping her fingers.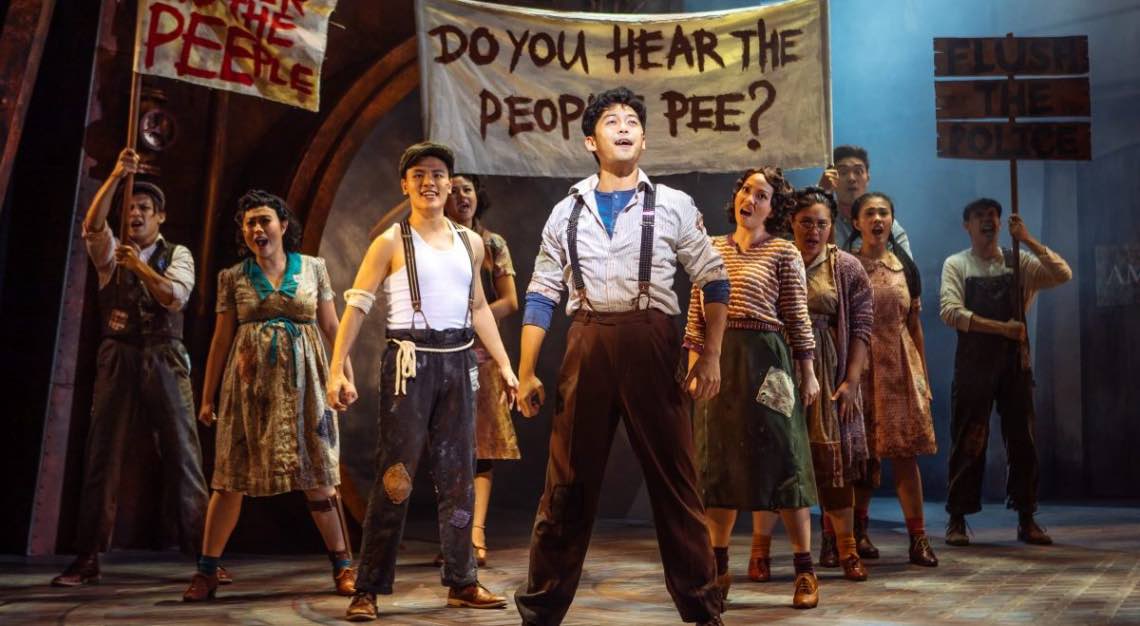 When asked the reason behind the choice of Urinetown, artistic directors of Pangdemonium, Tracie and Adrian Pang, expressed that the work is as relevant today as it was first written almost 20 years ago.
Tracie aptly states, "as a society, history keeps repeating itself and it seems like we don't learn from our lessons. While it is inherent in our human nature to want to support the little guy, that doesn't mean that it is always the right thing to do. The right thing to do is to teach the big guy how to support the little guy, because once the little guy raises up, he doesn't have the knowledge to make things right, and you're stuck back in the same system again."
I was curious as to what this power duo wanted the audience to take away from a night spent at Urinetown. Adrian says, "at the heart of it, we want people to be entertained. You're going to get a lot of laughs out of the night, but out of the laughs, I think that there's also a very sobering look at living through the generations and where do we go from here."
Tracie chimes in. "It helps to prick the consciousness of the public, like when elections might be coming up. These are important decisions to make, and there is a lot at stake. If this play makes you think about anything, it should make you think about the consequences of everybody's actions."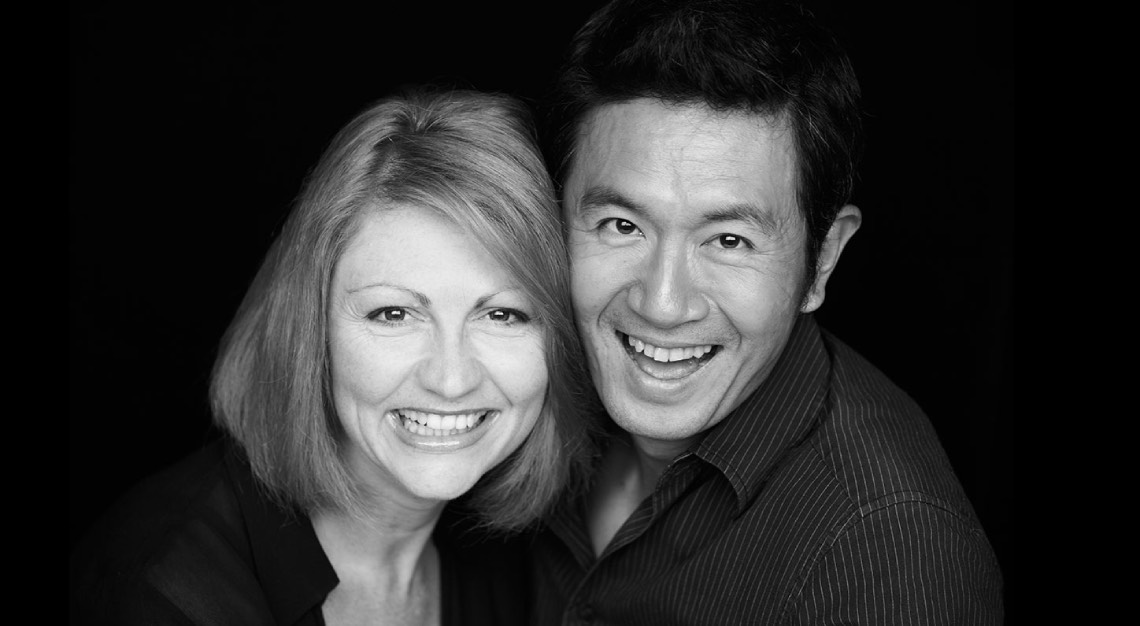 I had the opportunity to speak with Tracie and Adrian in an hour-long conversation in the midst of rehearsals for Urinetown. They shared about the exciting 10th anniversary season in 2020 and their thoughts about why they do what they do.
Pangdemonium's 2020 season showcases three shows: The Son, The Glass Menagerie, and the re-staging of The Full Monty.
Tell us more about your 10th anniversary.
Tracie: We have never restaged any of our work. So we thought that maybe at 10 years, it was the time to do it. We did not want to have all three shows being retrospective, so we had to choose one. Choosing one was quite a tough job, wasn't it?
Adrian: There were a couple of other shows that etched a memorable experience. We felt it was appropriate, not just as a retrospective, but also the story. It's a story about family and friendship, and how this bunch of guys refuses to let life beat them down by putting up a strip show. In relation to The Son, when we read the script, I told Tracie, "this is so Pangdemonium." Stylistically it will be a new challenge for us. The story examines mental health issues in youths, a topic so resonant in our society today. After we programmed it, reports on the statistics of depression came out. And that really made us feel that yes, this story needs to be told.
With The Glass Menagerie, you mention that you've been toying with the idea of classics. Why the desire to dabble into the classics now?
Tracie: There are so many great pieces out there, and we don't get to see them very often. We have focused a lot on modern works since we launched Pangdemonium. The challenge would then be how to reenvisage it in the Pangdemonium way. It is also a good way to expose the younger generations to wonderful pieces of writing that they could only get to look at if they were lucky enough to be part of a Literature class.
Adrian: For me as a parent, it's akin to telling my two boys, "Hey guys, we have to sit down and watch Citizen Kane or To Kill A Mockingbird. If theatre knowledge of the Singapore audience consists only of works from the recent 10 years, it would be like having tunnel vision – you only see one perspective of an art form. It's a big world out there, there's been so much history. While it is important to champion the local works of our young arts scene, it would be a disservice if we don't look outside as well, and to see if there is something we can learn. In order for us to continue learning as artists, we need to include history, and that does not need to be our own. That's what Singapore was good at – we looked all around the world and said, "we don't want to that and that". And we created a system that works so well. We should continue to do that with the arts as well.
What was the driving force behind the creation of Pangdemonium? Why do you do what you do?
Tracie: I've just really followed what makes my heart sing. In terms of Pangdemonium at that time, we were both in full-time jobs. Adrian was working for the TV station, and I was the associate artistic director with another theatre company. We both got to a point in our careers where we wanted artistic freedom. There were plays we wanted to do, and our friends were telling us that we should do it ourselves. And we were like, "yeah right, do you know how expensive that is?"
Adrian: But eventually it just got to the point where we decided that it was a risk that we had to take. It was possibly the worst time to do it because of the recession. Like hey, let's start an arts company – that's what people need! But it was something we needed to feed our souls with. In our hearts, we knew that we wanted to create work that would feed people's souls as well. It's the kind of theatre we have always been drawn to – to spend an evening in the theatre and come out of it being touched, feeling alive. And that's the kind of shows Pangdemonium wants to create. So why do we do it? Because we feel alive doing it. And hopefully that translates into how it affects people.
What are your aspirations for the Singapore theatre scene in the next 10 years?
Tracie: I hope that it gains the respect it deserves. I think we're at a stage now where we have a large group of people who are working professionally in this business, as opposed to 25 years ago where everybody had a job, and this was something they came to after they finished work. It's a business full of professionals who put their hearts and souls into what they do, and I hope that the general public can see the quality of the work put out is on par with what you can see anywhere in the world.
Adrian: Along with that, I hope that the work that Singapore produces makes Singapore a theatre destination – like New York or London – where people will say: I know that Singapore is a thriving theatre hub, and I want to make theatre a part of my visit.
Urinetown runs till 13 Oct at the Drama Centre Theatre