From mid-century classics to contemporary blockbusters, we highlight some of the most outstanding tailoring that has appeared on film
Suits are rarely at the forefront of dress in the movies. Costume is used to express personality or certain traits, albeit almost subconsciously. The suit, in contrast, is regarded as all too anonymous: it most often semaphores convention, if not outright anonymity, and at best a certain period, as in Mad Men or Anderson & Sheppard's suits in The Phantom Thread. Even off world, the real suits are the space kind; business suits – such as the Hardy Amies-designed ones in 2001: A Space Odyssey – are worn by the pen-pushers.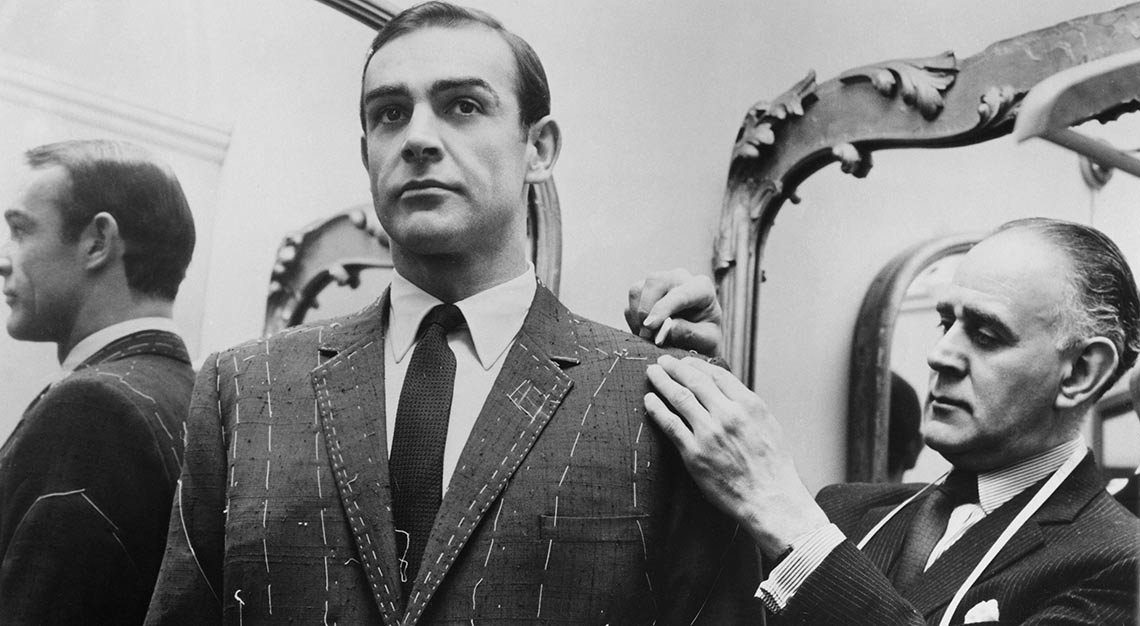 It's not always the case, of course: the dinner suit has become so synonymous with James Bond that it's hard to put one on without intoning a famous line or two. Sometimes an actor just looks so good in his suit — Cary Grant as "just an advertising man" in North By North West — that he leaps from the screen and out of the way of crop dusters. (Grant's original suit for the film was made by Kilgour, French & Stanbury of Savile Row, with additional copies cut by the actor's Beverly Hills tailor, Quintino.) Suits can also work on screen precisely because they're out of place, their anonymity the very point: what better for a crew of bank robbers to wear than identical black two-piece suits, as in Reservoir Dogs?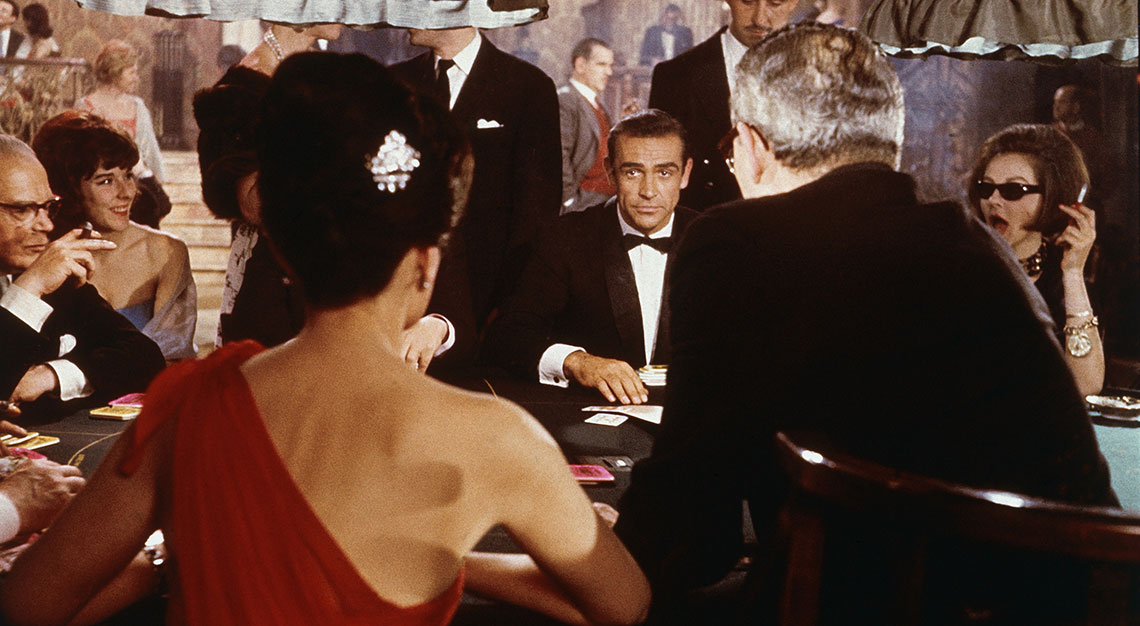 Dr. No
But it's the case that when suits are used as a conduit for character, almost by default they have to be special or distinctive, which isn't always the same thing. Bond, indeed, is a case in point. When the cinematic version was being introduced, the director of Dr. No, Terence Young, insisted that Bond's bespoke tailoring be exceptional, to express an exceptional man. It was Anthony Sinclair who consequently tailored, for example, the midnight blue, shawl collar evening suit Bond wears in that film, and the Prince of Wales check suit he wears to lean up against that Aston Martin DB5 in Goldfinger. But there was more to making Bond look suave.
"Sinclair worked with a lot of military clients – guys in pretty good shape who didn't want that boxy cut and those padded shoulders popular through the 1950s, who preferred a more athletic, hacking jacket cut, with a natural shoulder, plenty of movement across the chest, a suppressed waist and flared skirt. It was what his clients called the Conduit cut, just because Sinclair was based on London's Conduit Street then. He only referred to it as 'drape and shape' himself," explains David Mason, the creative director of Anthony Sinclair. "But it happened also to be perfect for an ex-bodybuilder like (Sean) Connery – in the fashionable suits of the time he would have looked like a nightclub bouncer."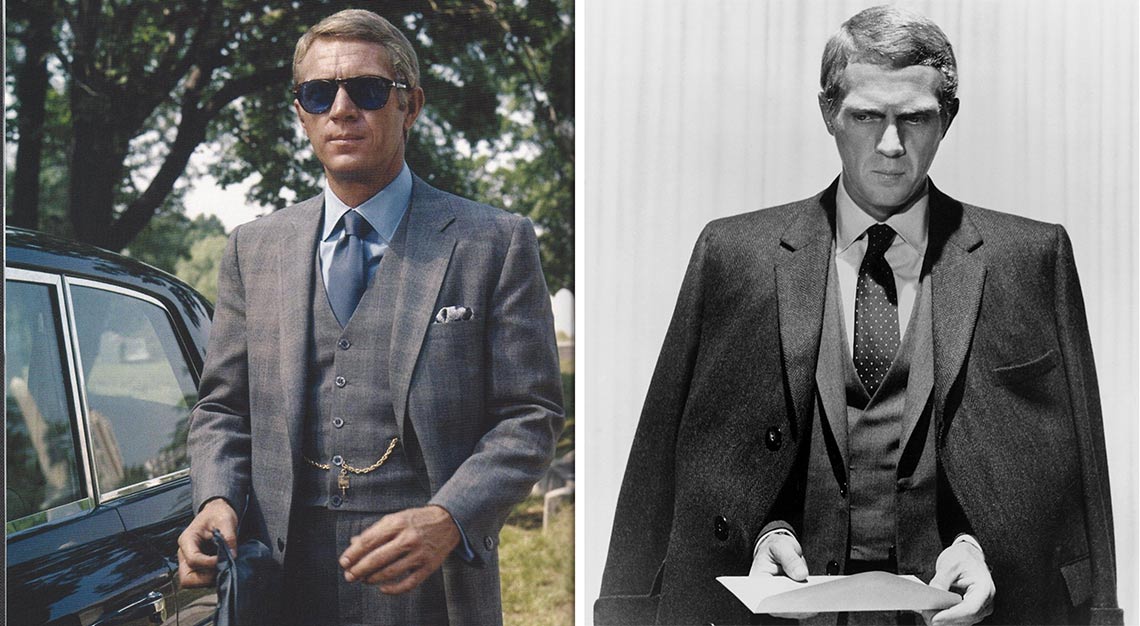 The Thomas Crown Affair
Connery wasn't the only actor whose physique made the choice of suit a potentially crucial one. When Theodora Van Runkle and Ron Postal, the costumer designers for The Thomas Crown Affair, dressed Steve McQueen in suits by Douglas Hayward – the tailor who had also dressed Caine in The Italian Job, and for most of his private life, too – they worked on the fit over and over. He reportedly went through some 30 fits of trouser "to get the right ones to make his behind look great", as Runkle put it. Such was the importance placed on amping up McQueen's sex appeal.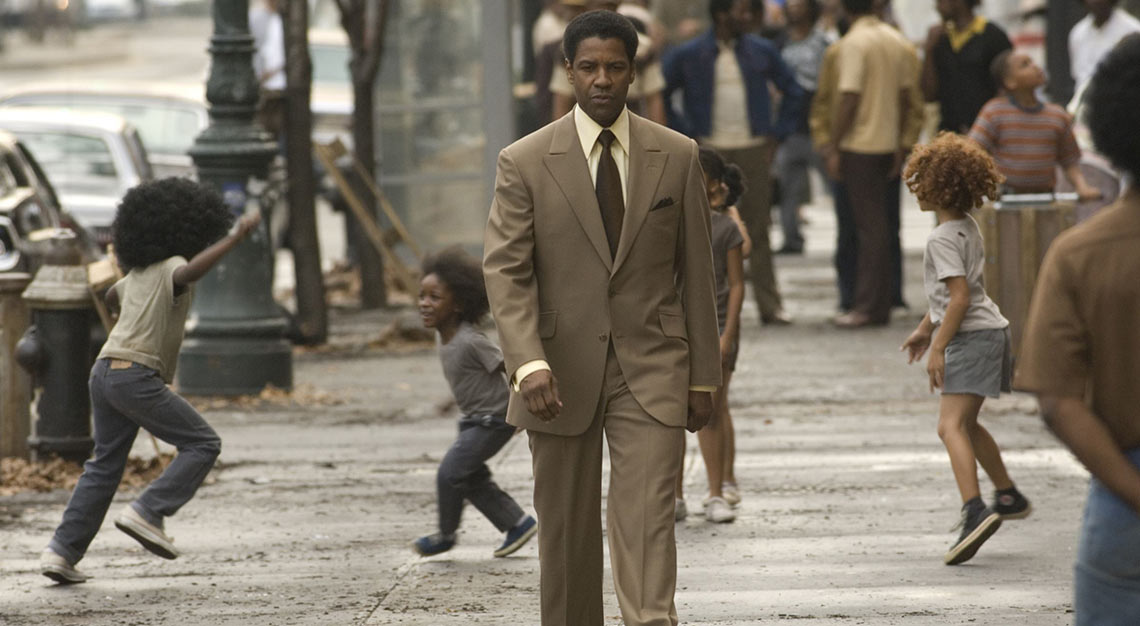 American Gangster
Indeed, while tailors can't help but slip in details for the bespoke-savvy to admire – New York tailor Leonard Logsdail cut Denzel Washington's suit for American Gangster with a rarely seen horizontal peak lapel style known as a 'sidewalker' – they also have to appreciate how craft plays second fiddle to character.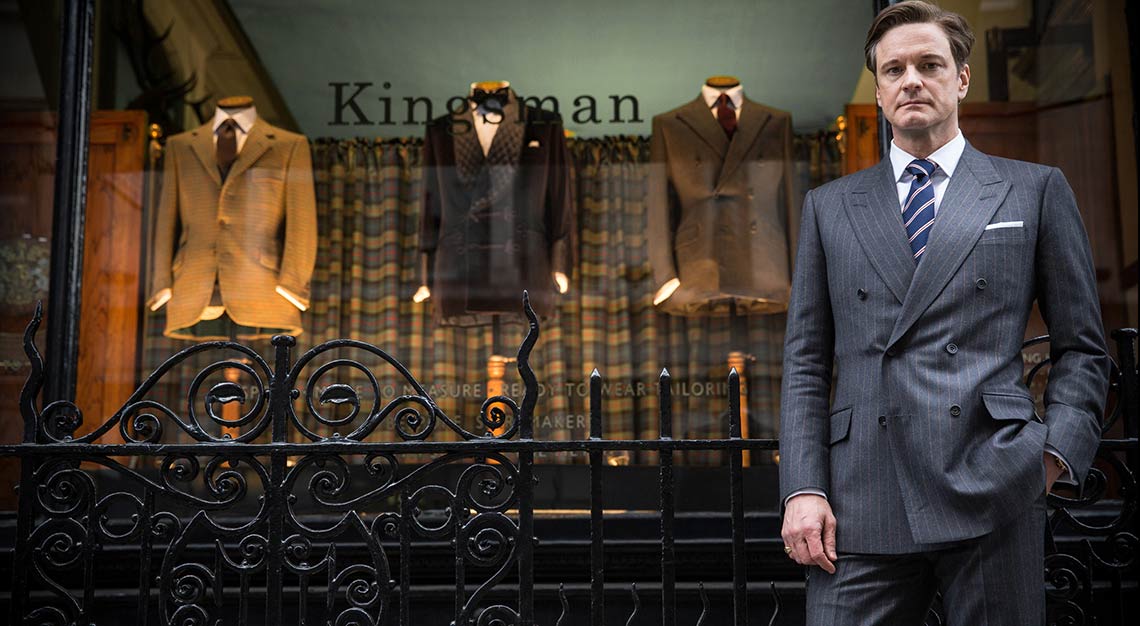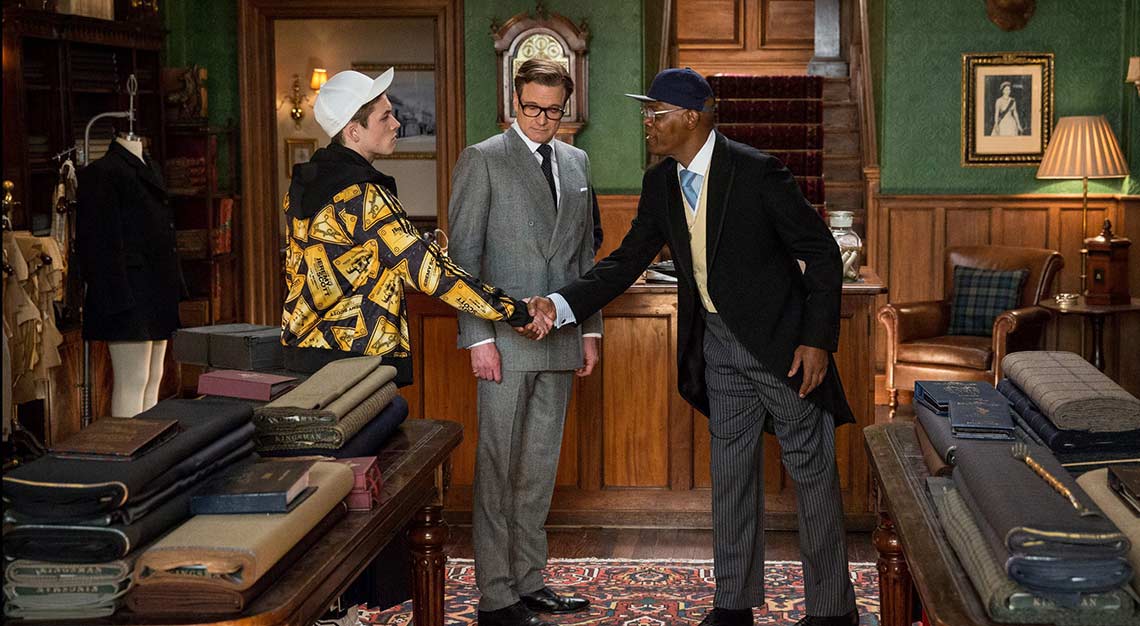 Kingsman: The Secret Service
Huntsman's designs for Kingsman: The Secret Service – which even had the fictional espionage agency's HQ hidden under the tailor's Savile Row premises – played on an almost excessively English style for Colin Firth.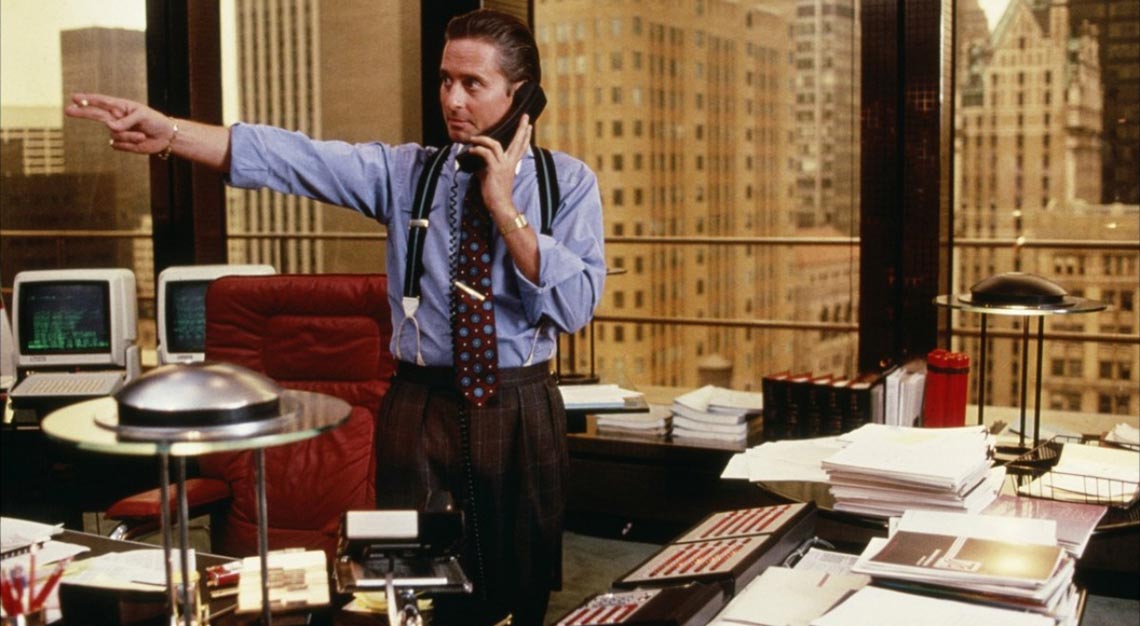 Wall Street
In fact, typically a cinematic suit is just a little over the top, existing in the hyper-real screen world in a way it might not comfortably work in the real one. When Alan Flusser was given free rein to dress Michael Douglas to play Gordon Gekko in Wall Street, the tailoring not only echoed the decade's notion of 'power suiting', it sat – like the character – right at the precipice of sending it up. That didn't stop a generation of emulators.
"This was about building a sartorial persona, about giving the character an expression of taste for someone who'd come upon money and had learned to spend it in order to project himself," explains Flusser. "The clothes were aggressive, while still being in the realm of good taste. I think it was a taste level you didn't find in movies then, which is why it's had such impact, especially since now there's such a paucity of films with a strong lead male dressed in tailoring. Parse those down into ones with a style that can live beyond the decade and there are even fewer. It's why we all look back to the same films for the best examples of tailoring in the movies."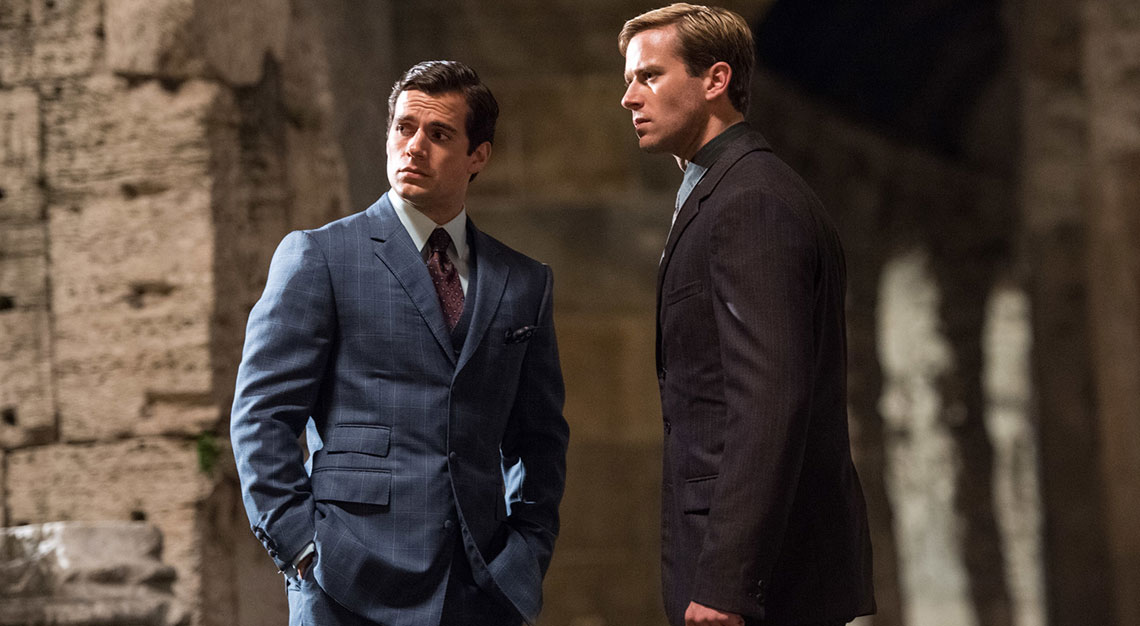 The Man from U.N.C.L.E.
Certainly there is at least a distinction between the process of creating a suit for character and creating one for the boardroom (though perhaps special occasion suits, such as those made for a groom, fulfil a similar function to those stand-out suits made for an actor in a role). The tailor Timothy Everest has worked, uncredited, on the likes of The Man from U.N.C.L.E., Eyes Wide Shut, Atonement and the Mission Impossible movie franchise. He speaks of the complexity of meeting tight briefs, the need for historical research and to keep the actor happy – to meet his conception of what his character might wear – and of taking unexpected calls from Stanley Kubrick and Tom Cruise on a Saturday morning.
"A suit has to 'pop' to fit into the film world in the way you wouldn't want in real life," Everest adds, "because everything – fabrics, colours – looks different, more subdued, on camera. From a tailor's point of view, the suits don't always fit as you might prefer because there are other considerations too. Often these suits are not the best quality – they're made precisely to create the best visuals."
Perhaps it is this very distinction, this hyper-reality, that helps make this handful of on-screen suits so iconic. "It's the same thing that happens with cars – amazing cars that look right on screen can look entirely out of place on your high- street," says Mason. "The fact is that on screen tailoring has to be exemplary – not just in the silhouette, but the way it moves and allows the actor to move. That said, what really makes the suit on screen tends to be the man wearing it. The guys we all reference, they just happen to look very good in a suit."