No one's putting a lid on these tapas. Andrew Leci basques in the warmth of a much-favoured establishment that's never short on good ideas
Words to be wary of when deciding on a restaurant destination:
Casual dining.
Family restaurant.
Fun food.
'Casual dining' always scares me, because if diners are encouraged to be casual, there is reason to suggest that the kitchen and service staff may adopt the same attitude. It's particularly worrying on the hygiene front.
'Family restaurant' translates to 'danger' for me, since it implies that an eight-year-old kid will get as much pleasure eating there as a fully-grown adult.
As for 'fun food', this is also dangerous, since it implies that if there's nothing much happening on the flavour front, at least it will be amusing to eat. It conjures up images of strange coloured ingredients or meat cut out to look like a map of Australia. To me, 'fun' in a restaurant sounds gimmicky, and slightly defensive, but guess what – I can be wrong.
FOC's recent press update, encouraging us all to try some new menu items put together by Juanjo Carrillo (group executive chef) and his team, bangs on about the 'fine fun dining experience', and while I could take issue with the word order, I kind of get it.
And the reason why FOC constitutes genuine 'fun' is simply because it is so damn good.
Even if not to personal tastes, not one dish disappoints in terms of conception and execution, and the new menu items will do nothing if not enhance the reputation of a restaurant that's always good to visit and now promises (and delivers) even better, more innovative culinary experiences.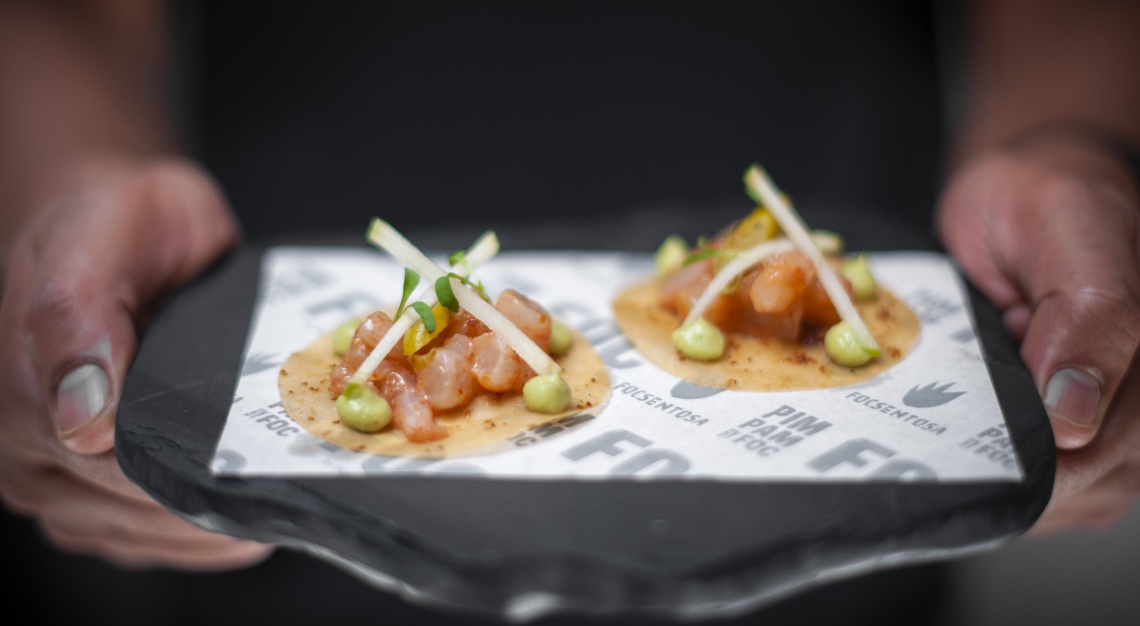 Take the Blue Belly Shrimp Crispy Tacos with avocado mousse and green apple, for example – although you'd only be able to take mine away from my dying hands as I draw my last breath. Dehydrated shrimp heads add an interesting frisson to the taco; the shrimp is fresh and subtly tasty, while the citrussy element provided by the fruit is perfectly complementary.
This is just a 'snack' – everyone's doing 'snacks' these days for opening salvos – but few will be as good as the following Smoked Cantabrico Anchovies on charcoal brioche with salted caramel butter, which is an absolute delight. The brioche has a playful crouton quality; the anchovies are meaty and sapid (salted and then lightly smoked), and the caramel butter in between the two acts as a delicious glue that binds everything together – in every sense.
The Canadian Oysters with Gin Fizz Foam (a special, so it won't always be available) was cool, in that it's a slip-slidey mouthful with great ingredients, but I wanted slightly more from the beetroot pearls to counteract the meaty oyster and the mildly alcoholic foam.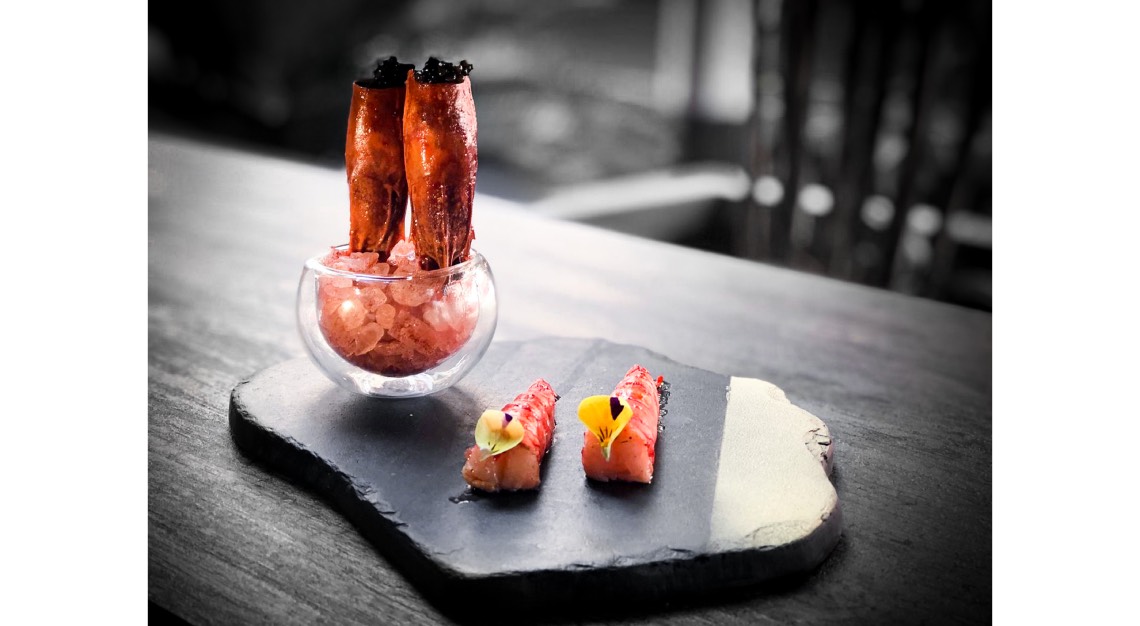 You will not hear a word of dissent from me, however, on the Seasonal Tomato and Burrata Salad with pickled onion and smoked anchovies, which so far exceeds the utilitarian 'salad' cognomen that it isn't even funny. Except that it is, because every mouthful – irrespective of how you combine the elements – brings a smile to the face and a quickening of the heart because it is so exquisitely composed. It sounds relatively simple, I suppose, but the ingredients are so pure, so fresh and have such a sense of themselves that it's difficult not to laugh… with pleasure (not the sarcastic, sardonic chortle for which I am well known).
And there's lots more to follow, each dish as good as the last and in perfect preparation for the next. Such as the Flamed Carabinero – caviar sits atop prawn heads that diners are encouraged to have a good suck at, with lightly poached flesh luxuriating in a citrus vinaigrette that could have had a touch more zing, but was splendid nevertheless. Apart from anything else, the dish is an aesthetic masterpiece.
Some of these dishes, I will admit, sound a tad problematic to cater to from the perspective of accompanying wines, but FOC's sommelier has pretty much nailed most of the issues and isn't afraid of being unconventional. The carabineros, for example, were taken with a bone-dry sherry (and so was I, by the way, despite not being a sherry drinker, except when desperate). It was a marriage made in heaven.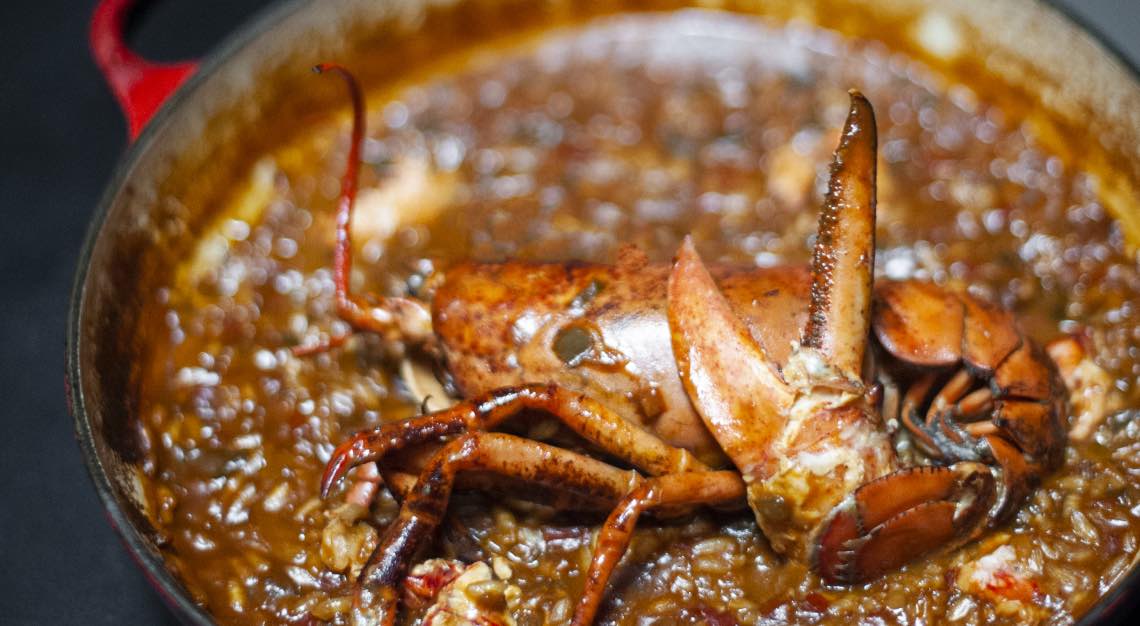 And now for the Boston Lobster 'Caldoso' Rice, which was as good a dish as I've had in years. Is it a paella? Is it a risotto? A really thick soup perhaps? Frankly, who the hell cares and why the need for categorisation anyway? With a superb lobster and vegetable stock (not too rich, but full of oceanic flavours) providing the mulch for the wet rice (perfect texture) it is, to quote my dining companion and designated eater, "like a warm hug from the sea." I get it. It's hearty and yet sophisticated, and the lobster itself is expertly prepared and not at all shy in playing its role in the ensemble.
While the Braised Oxtail in Port Wine (foie gras, parsnip and basil pesto) wasn't my 'cup of tea' – too meatily rich for my taste buds – it was a well-executed dish and probably an oxtail lover's semi-wet dream. I have to give credit to the parsnip, however for hanging in there in the flavour stakes against seemingly insurmountable odds.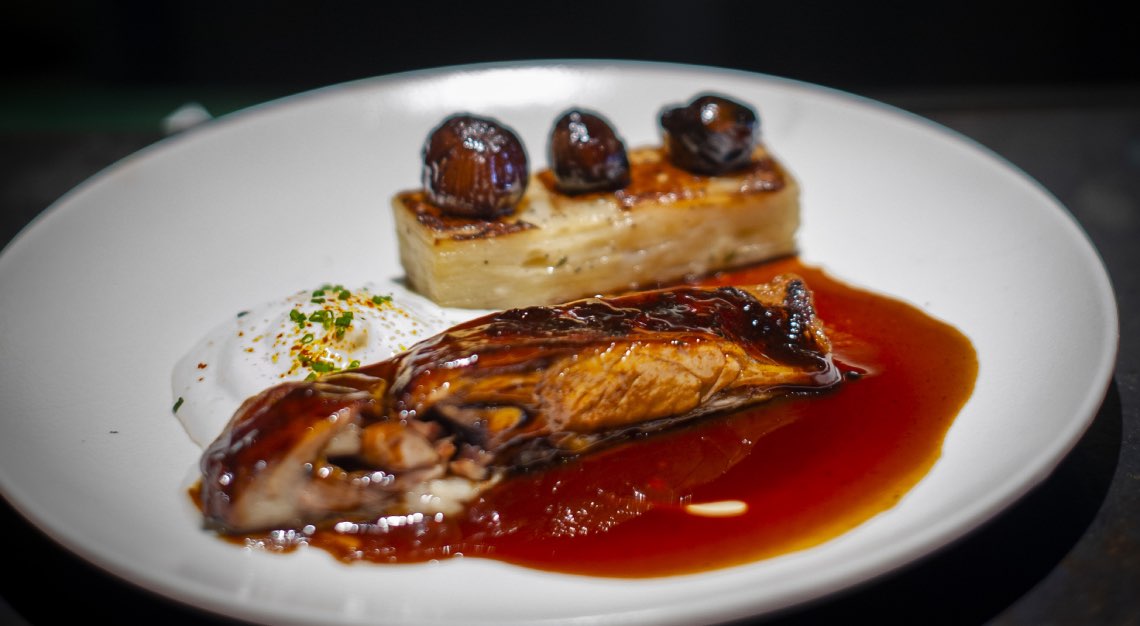 And there's just time for one more, and most definitely worth waiting for. The Roasted Suckling Lamb Shoulder with burnt onion sauce, potato terrine and Idiazabal foam was quite simply a triumph. Sous-vided and then finished in the oven, retaining all its moisture and exuding that delicious lambiness (new word) that truly great produce can provide, it's accompanied by a reduced bone stock (with a hint of sweetness) that is absolutely spot on.
I could go on about the desserts, of which the FOC Lemon Pie (get ready for this: a deconstructed dish of meringue, lemon curd, yoghurt-coconut ice cream, green tea sponge cake and lime-mint jelly) was most notable and quite splendid to behold, but my jaws were already aching… with pleasure.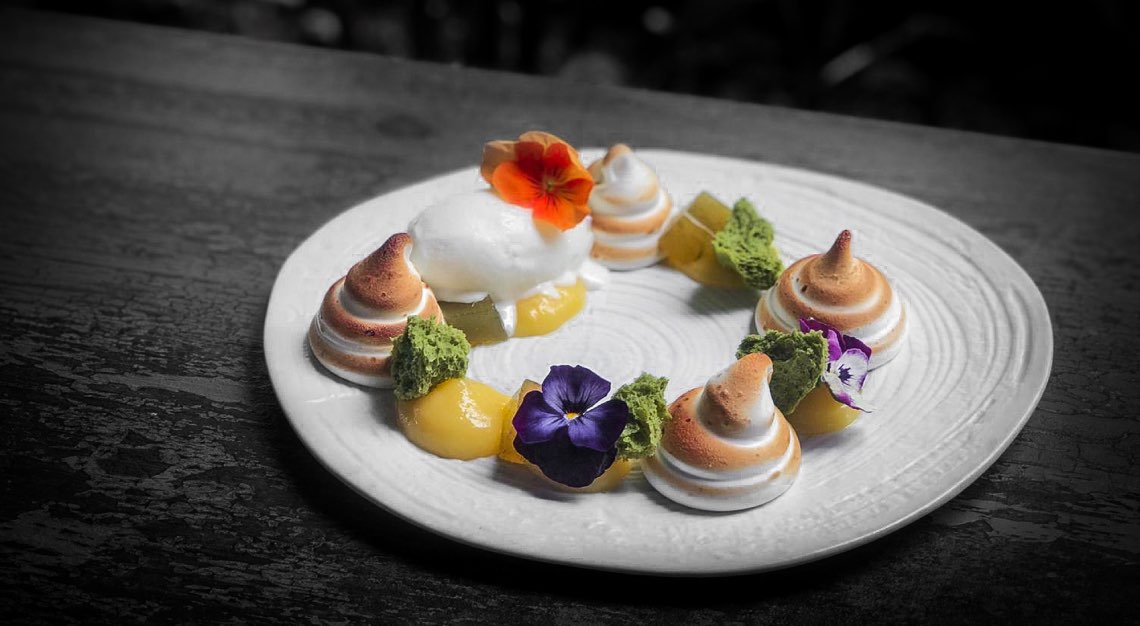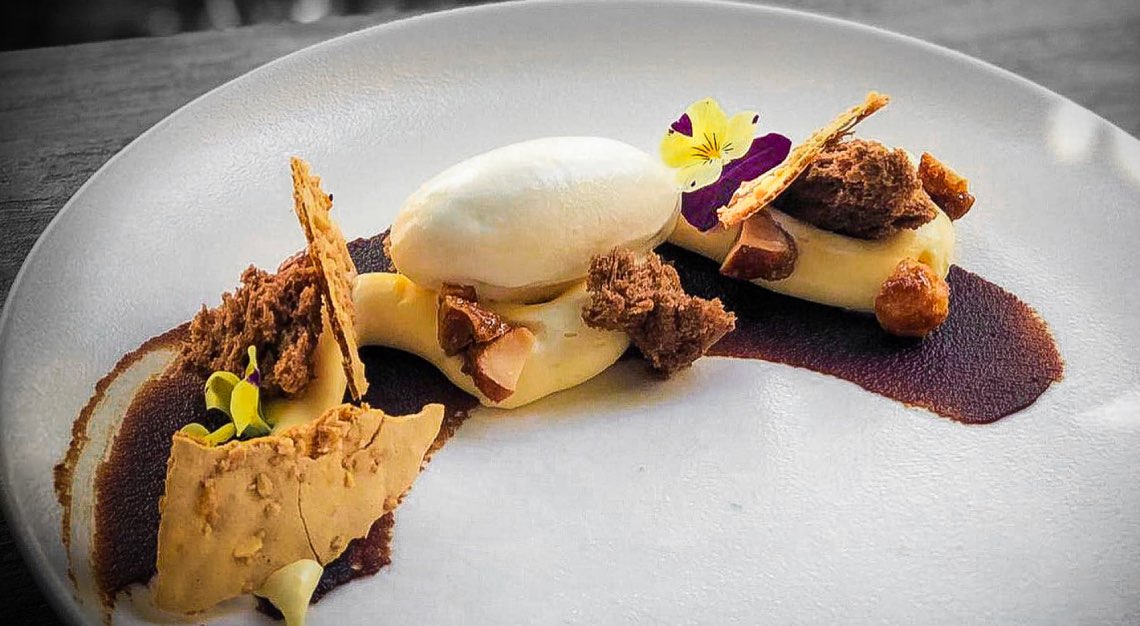 By the way, fear not all you FOC devotees. The staples that you've come to know and love are still on the menu (FOC Patatas Bravas, Croquetas and Prawns al Ajillo, etc) but there are many new delights to be sampled, and daily specials that are unlikely to disappoint.
Kudos to chef Carrillo and his team for upping the ante, taking tapas to another level and having the creativity and expertise to ensure that every dish is good. FOC has always been a good place to hang out – a decent ambience, unpretentious decor, and all the enjoyment implicit in being able to watch the chefs ply their trade through the open kitchen. FOC sources only the best ingredients, and uses them dutifully and with respect. It doesn't innovate for the sake of it, but enjoys the process of creation, with the single purpose of tantalising taste buds and making the dining experience… wait for it… enormous fun.
FOC
40 Hongkong Street
Singapore 059679
Tel: +65 6100 4040