Eco-friendly, sustainable, away from the bustling island crowd and curated tours that even locals would enjoy. The Outpost Hotel certainly ticks all boxes
One of the best things about living in Singapore is that you don't have to cross the causeway or pack your passport to enjoy a private getaway for two. Instead, head to Sentosa Island and book yourself into The Outpost Hotel, the newest trendy escape by Far East Hospitality. Designed as a cosy, romantic escape for couples who want plenty of privacy, the boutique hotel sits along Artillery Avenue on the western end of Sentosa and is surrounded by popular attractions such as Madame Tussauds and Universal Studios Singapore, with easy transport access around the island via Imbiah monorail station. When open, The Outpost Hotel will join Small Luxury Hotels of the World's portfolio, which includes a list of over 500 hotels in over 80 countries.
An integrated property that shares its premises with sister properties Village Hotel at Sentosa along with upcoming The Barracks Hotel, The Outpost Hotel is part of a series of interconnected towers with exteriors that resemble a three-dimensional curving fin – a reflection of Sentosa's marine locale. The courtyard is also peppered with newly planted and mature trees – two of which are nationally gazetted "heritage trees" – providing the area with a cool, sculptured green canopy. Despite its modern architecture, the hotel also successfully retains much of the island's colonial past, using a colonial-inspired, black-and-white theme throughout the boutique hotel's interior design.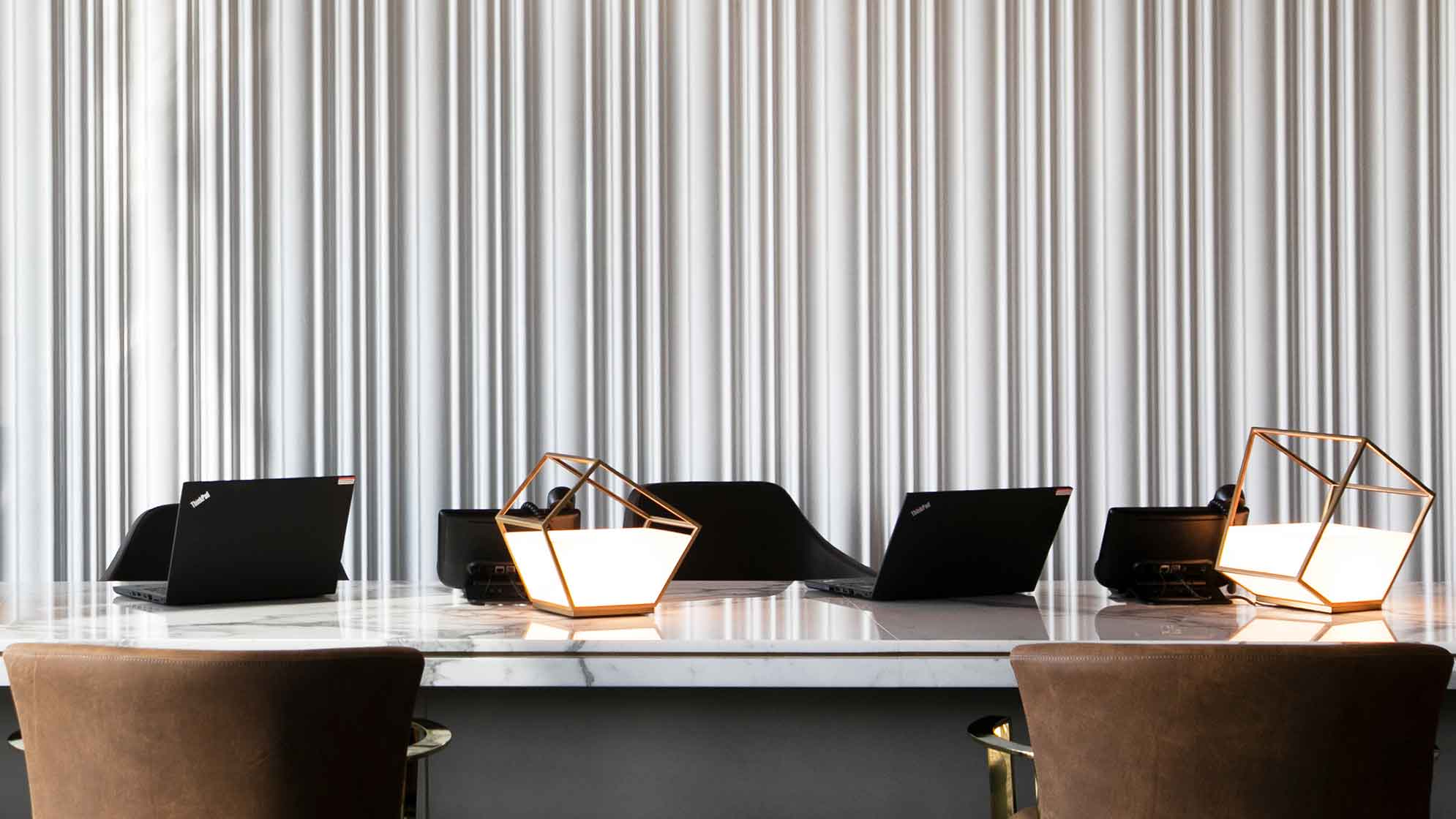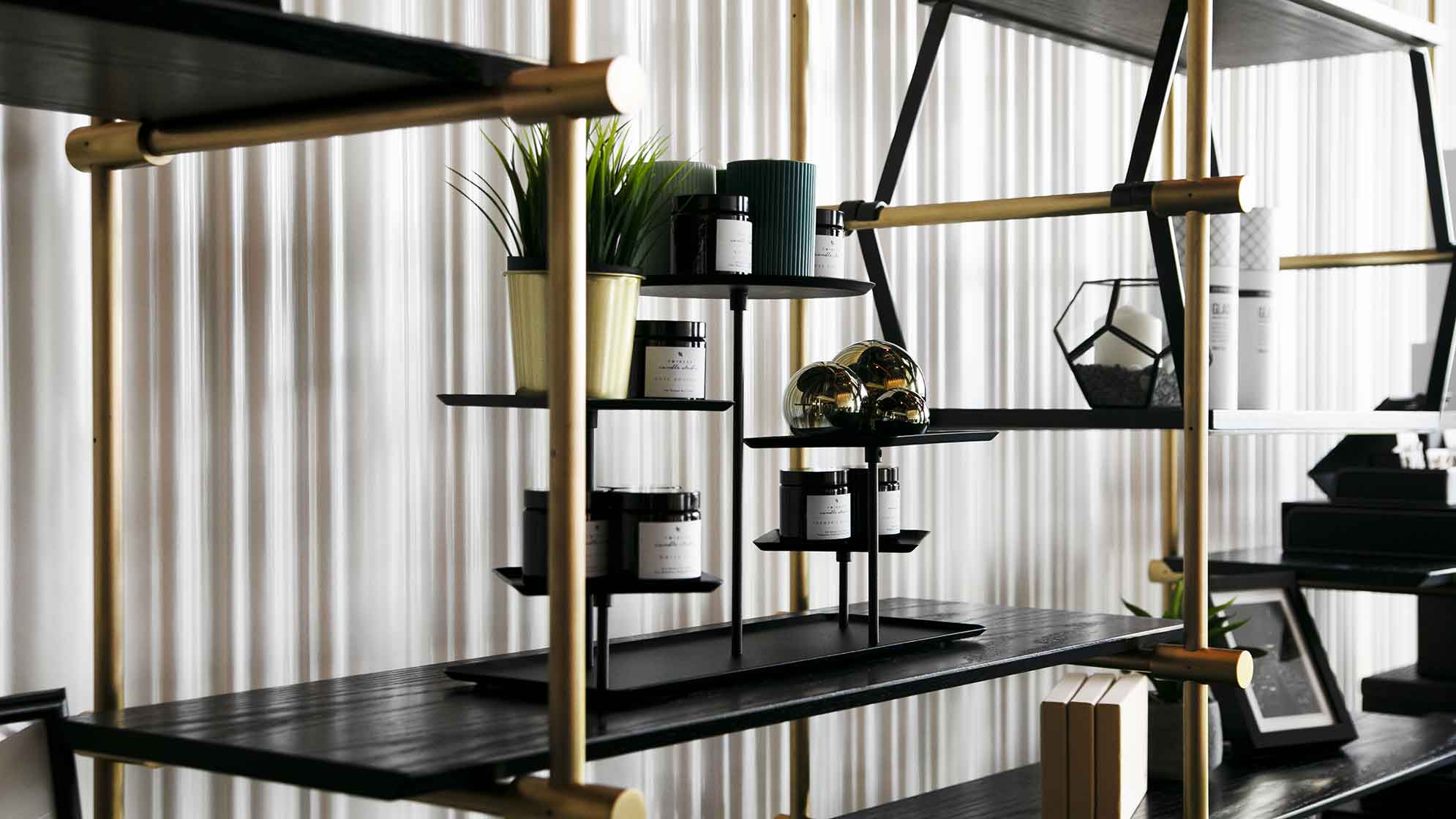 The Outpost Hotel stands out through its personalised options for guests that begin upon check-in. At the welcome lobby, sip on a welcome mocktail – made using Palawan Dawn and Siloso Nights tea blends created by Pryce Tea for the hotel – and browse through a medley of merchandise such as perfumes, scented candles and other luxe additions from the hotel's partners. You'll also get to customise your room's minibar, filling it with up to five complimentary selections including wines, chips and chocolates and an assortment of gluten-free snacks.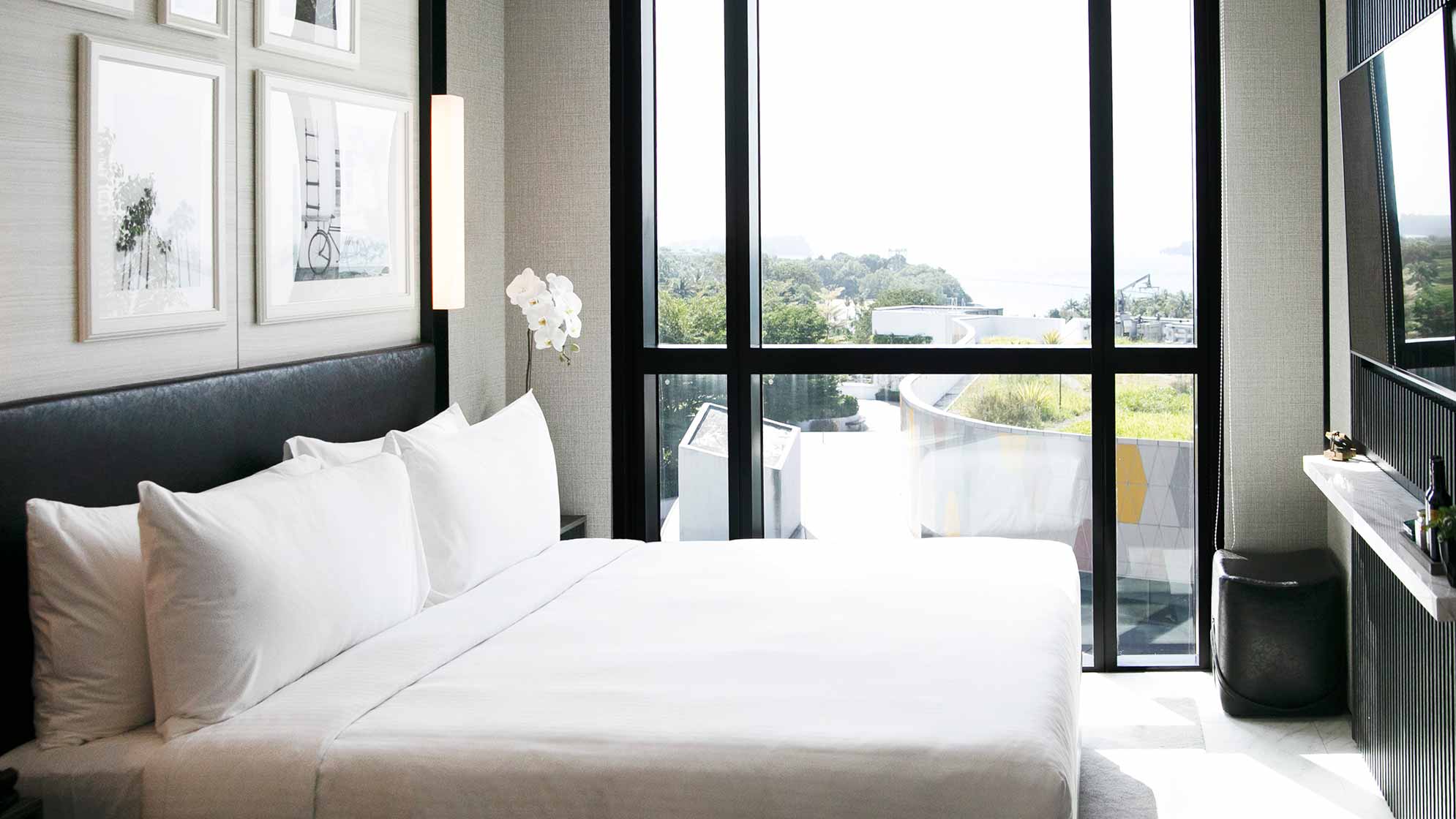 While customisation is king when it comes to minibar selections, the hotel offers just one room category with two variants – Deluxe Room and Deluxe Room with Patio – across its 193-key property. Deluxe Room dwellers can choose from pool or sea views, while Deluxe King Room guests will enjoy pool views from an outdoor patio. On a clear night with no light pollution, you can while your time away and unwind under the stars.
Room sizes are at a standard 24sqm and start at $330++ a night. Despite its compact size, the cosy rooms decked with a minimalist, monochrome theme comprising marble lookalike tiles, wallpaper in muted tones as well as wood furnishings and wooden trimmings for the TV console. Each room also comes with king or twin beds and a stylish corner couch.
As part of the hotel's sustainable living efforts, each room is fitted with energy-efficient equipment and fittings, and a special tap that dispenses icy cold, filtered water, which helps eliminate single-plastic use. The bathrooms also are devoid of bathtubs, equipped instead with a rainfall shower – another way to minimise excess water consumption. There's also a double-glazed, ceiling-to-floor glass panel, which provides plenty of natural light with none of the burning heat.

Enjoy a hot cuppa with the in-room Nespresso machines as you drift away with a movie on the 55-inch telly. You'll also get an assorted range of Appelles toiletries, shaving and vanity kits, bedroom slippers, plush robes and more. Additionally, necessary information such as the room service menu is available in the rooms via IPTV, which also reduces paper wastage.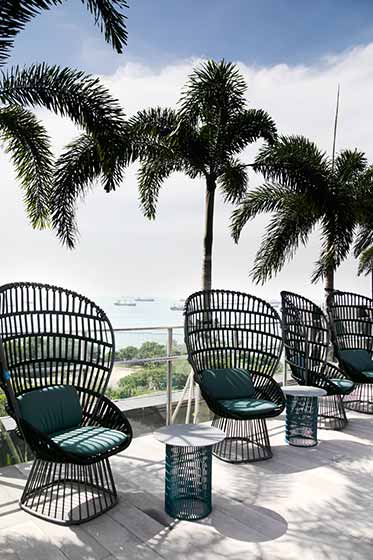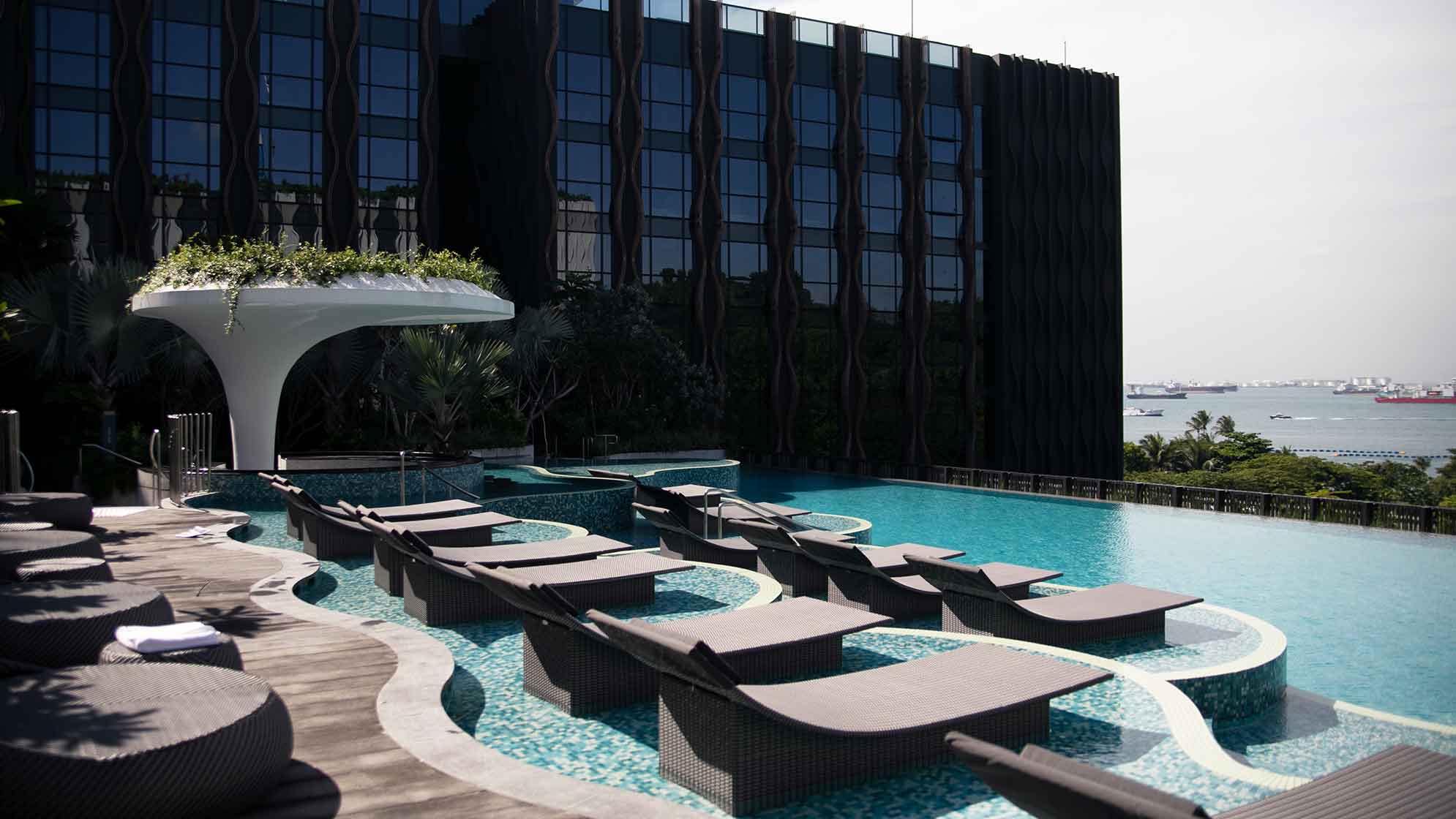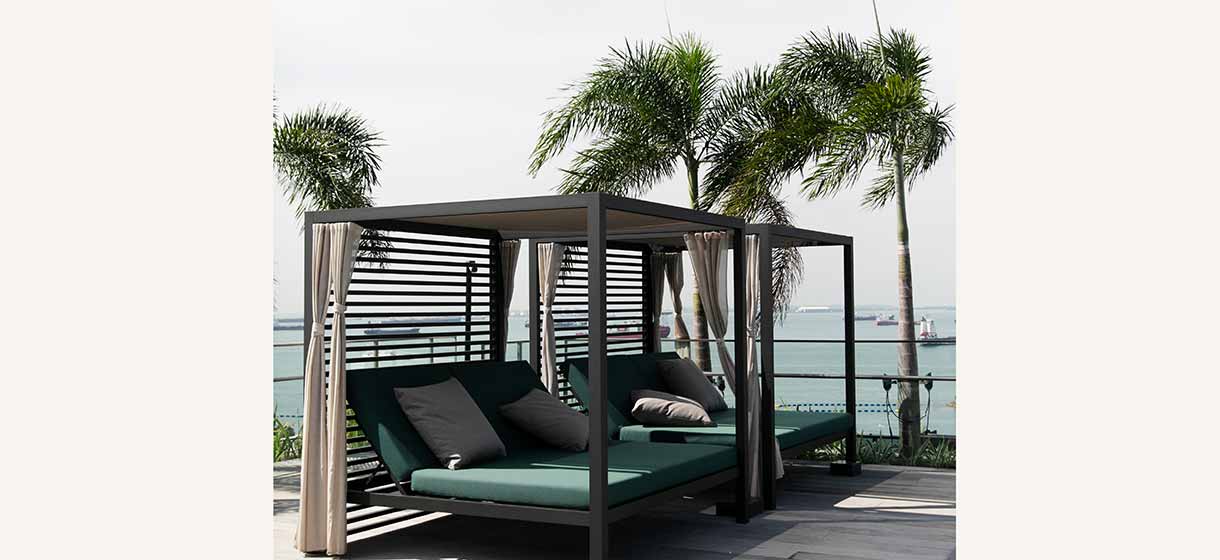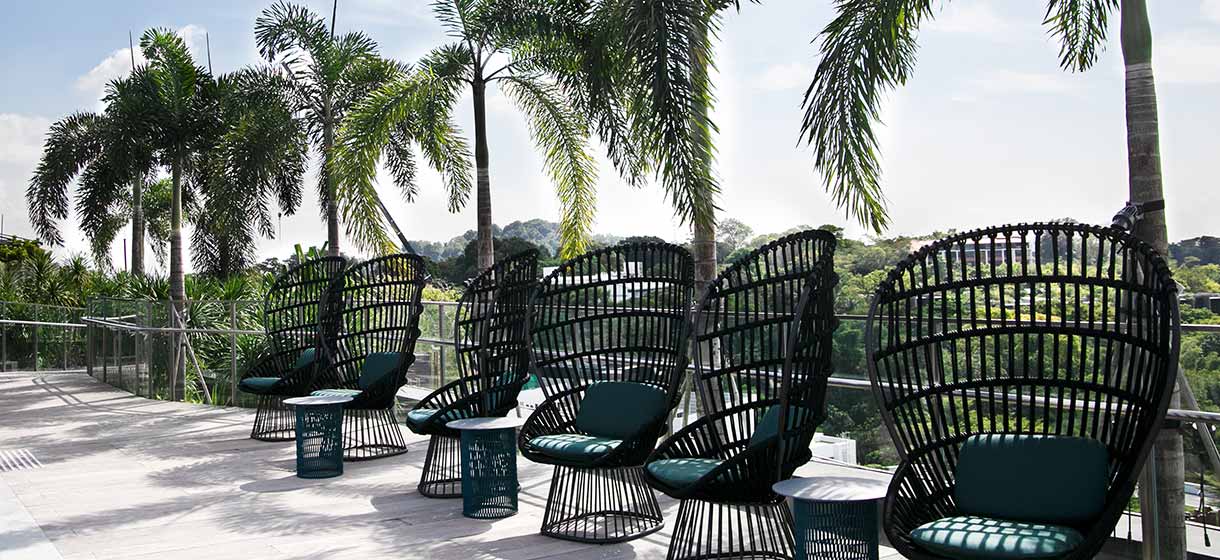 The Outpost Hotel shares several spaces with the neighbouring Village Hotel at Sentosa – its sister hotel under Far East Hospitality. Head to Native Kitchen, the all-day dining space at Village Hotel for a selection of international favourites and local dishes for breakfast, or order from The Outpost Hotel's 24/7 room service menus. Its yet-to-be-named rooftop bar and restaurant will also offer breakfast, lunch, dinner and a selection of tipples.
While the hotel shares a common pool deck on level 3 with Village Hotel, we suggest heading straight to The Outpost Hotel's rooftop pool, only accessible by its guests. The pool is set on the highest point of Sentosa, providing a vantage point for pink-streaked sunsets and the daily evening fireworks display.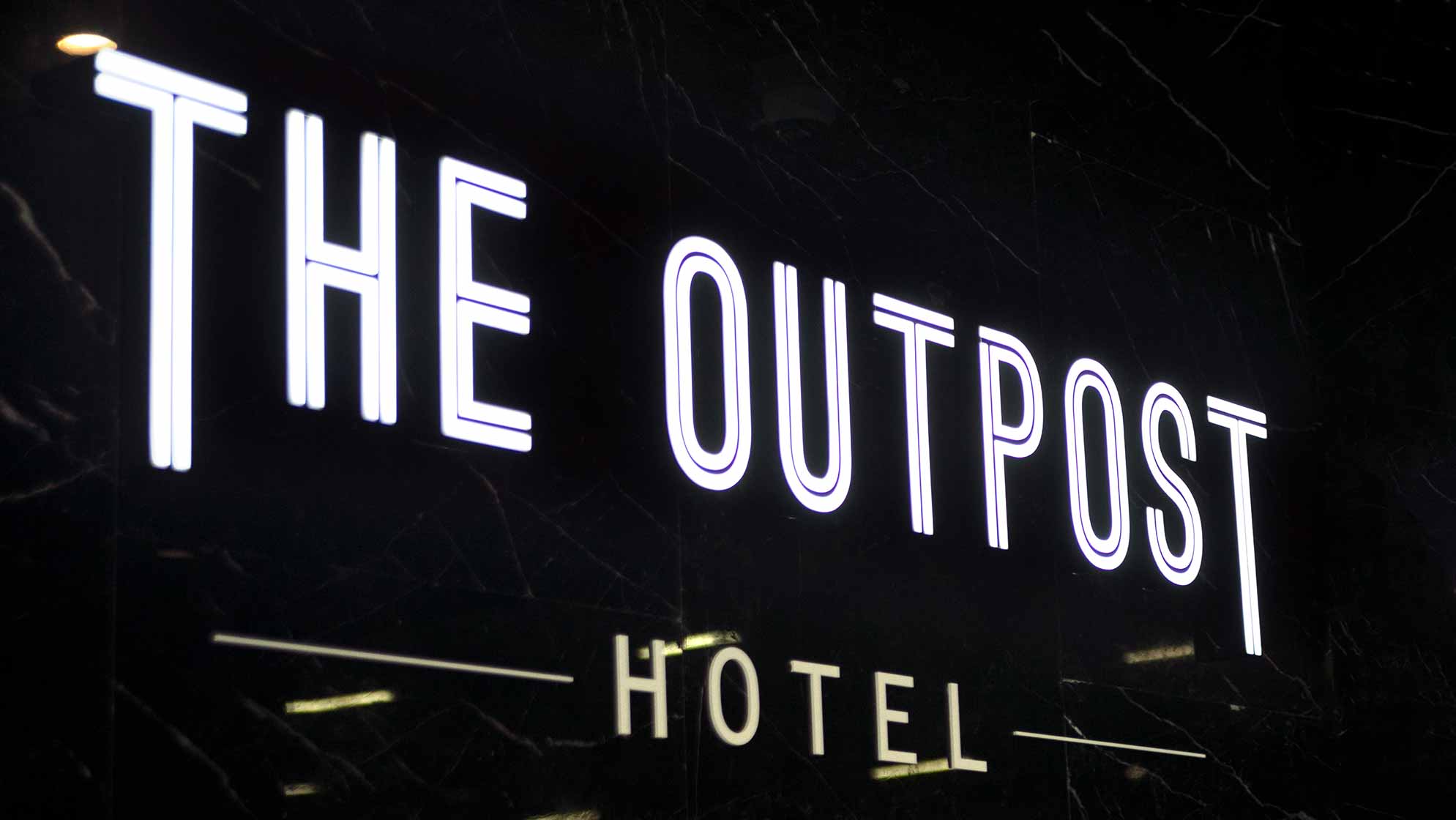 Curated tours are common, but where The Outpost Hotel stands out is with its Outpost Tours, designed to give guests a deeper look into Singapore beyond iconic sights like Marina Bay Sands or the Merlion on Sentosa Island. The hotel is currently working with several tour providers to offer guests exclusive experiences.
The aim of these tours? To showcase Singaporean sights and experiences that aren't typically seen or celebrated. One stop in consideration is the thatch field in Tuas. It's often seen in local television shows or as a wedding photo backdrop, but no one really knows where it is. Now, this iconic field may be added as a stop on the tour, allowing guests to explore the field, snap picturesque Instagram shots and even enjoy a picnic there.
Giveaway
Here's a chance to win a one-night stay for two at The Outpost Hotel. Simply fill in the form and answer the question below.


The Outpost Hotel
10 Artillery Avenue
Sentosa Island
Singapore 099951
Tel: +65 6722 0801
Photography: Hazirah Rahim