This app couldn't have launched at a better time
Where hotel loyalty programmes are concerned, Marriott has Bonvoy, Hilton has Honours, Hyatt has World of Hyatt… you get the drift. You earn points based on the hotel you're staying at, which makes sense to patronise hotels under a certain group to maximise rewards (and happiness).
But what if I told you that there's an app that allows you to accumulate points and use them for future stays, at a different hotel group?
It sounds too good to be true, except that it isn't. In fact, it's probably one of the things we're psyched for (apart from bidding dry January goodbye, how's that going by the way?).
Meet HoteLux, a locally launched app (available on both Android and Apple app stores) that does just that. Here's a quick example: Book a stay at Andaz Singapore, earn both World of Hyatt and HoteLux points, and when you've clocked up enough of the latter, you can choose to redeem a stay at a different hotel group altogether, such as Marriott.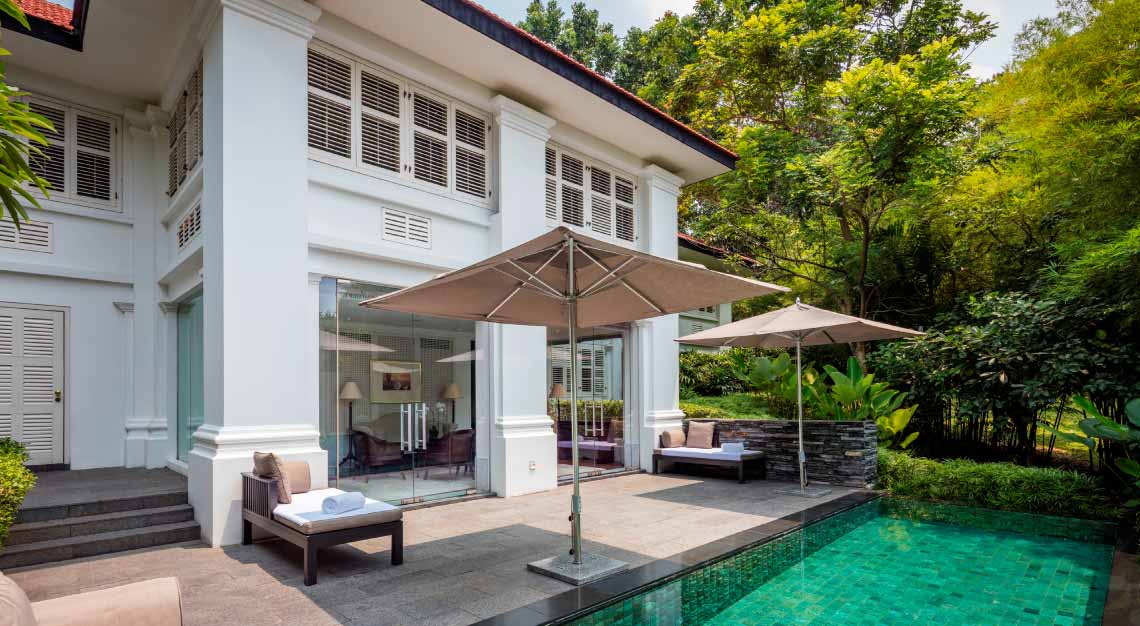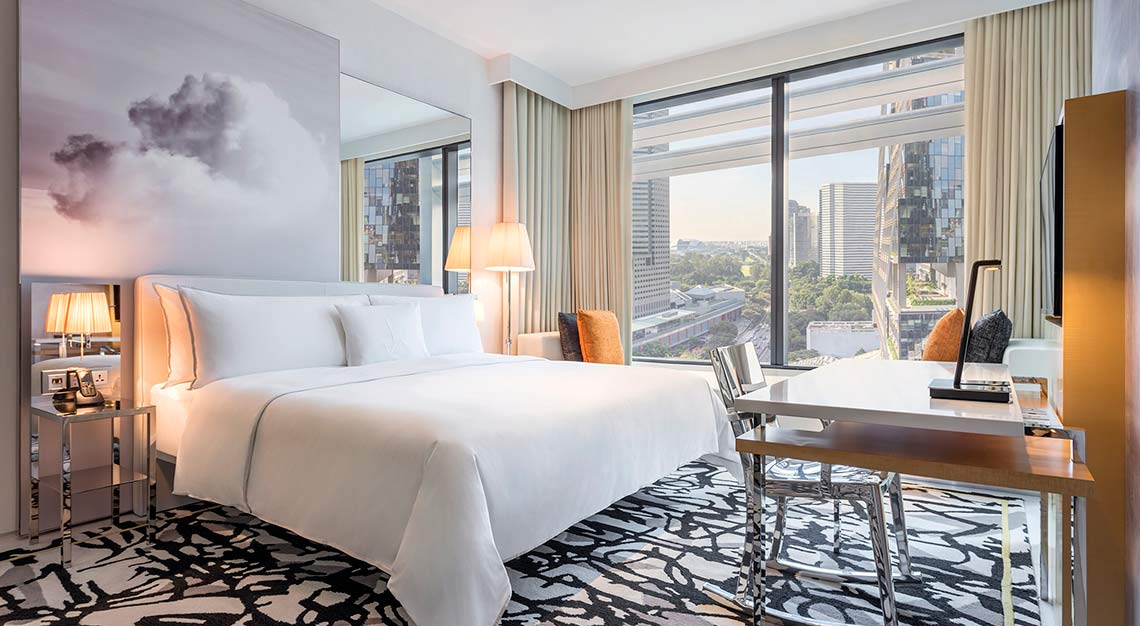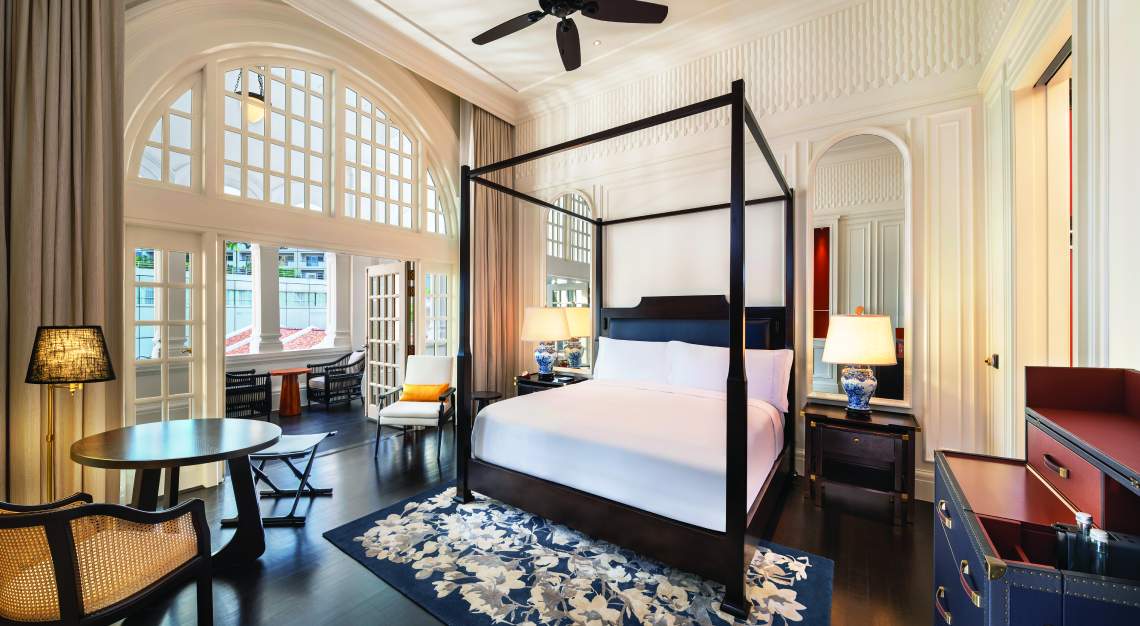 Hotels currently listed include the likes of Capella, Raffles, The St. Regis and JW Marriott. Most, if not all the hotels' promotions are also offered on the app, which means you won't be missing out on the best available rate, or complimentary nights.
Members of HoteLux will also receive complimentary daily breakfast (if it isn't already included in the hotel booking), up to US$100 (S$130) hotel dining/spa credit per stay. There are also the usual early check-in, late check-out and room upgrades subject to availability. And less you group HoteLux as yet another online travel agent (like Agoda or Expedia), HoteLux doesn't collect the money on the hotel's behalf. All bookings are made directly with the hotel, which means that last-minute changes can be made without a fuss.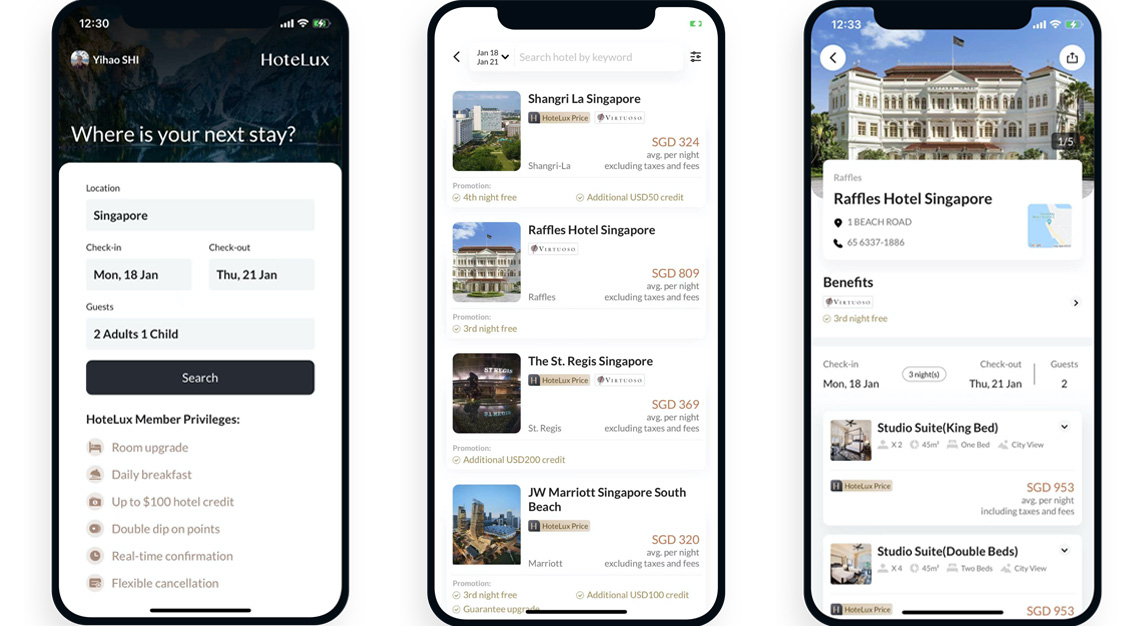 Each booking also earns you HoteLux points (every S$10 spent gains you one point), which can be then redeemed for future stays at any hotel that's listed. To further streamline the booking process, guests can input their original loyalty reward numbers (eg. IHG Rewards Club), and will automatically be awarded Rewards Club points via the hotel's system.
Given current travel restrictions, users are restricted to booking hotels located in Singapore. No complaints though, staycations are all the rage anyway. That said, the app has already included hotels located overseas, which will surely come in handy one day.
To give you a taste of what it's like being a HoteLux member, the app allows you to make two different hotel bookings as a guest, while already receiving its member perks, including 200 points.
From the third booking onwards, you'll have to pay HoteLux's annual fee of S$99 – thereby earning the rank of an Elite – to continue enjoying the same benefits. Given that the US$100 (S$132.50) credit in your first stay would more than cover the fee, it makes sense to join the club.
Elite members who make bookings of 20 nights (a single booking comprising two rooms, each with a two-night stay, counts as four) within a year will receive Elite Plus status, and with this, you'll get to enjoy limousine transfers twice a year, along with 2,000 bonus points. Do take note though, memberships are renewed on a yearly basis, and should you fail to make 20 nights in the second year, you'll be relegated to Elite.
Given that this is a hotel booking platform, do note that money spent at the hotel during your stay ­– be it a restaurant, spa or gift shop – don't earn you HoteLux points. Redemptions can also only be made with HoteLux points. To redeem your original Hotel points  (eg. World of Hyatt), bookings must be made directly with the group and not the app.
For now, the app doesn't offer gift vouchers, though plans are underway. It's yet another function I'm looking forward to, as this means I'll be able to gift loved ones a hotel stay, without having to fuss over their preferred hotel choice.
Users would also realise that the app currently doesn't provide the option to sort by price. Yihao Shi, managing director of HoteLux, explains it succinctly. "We're a luxury hotel app, and in this sphere, members are much more likely to book a hotel based brands they're already loyal to, as opposed to finding one that gives you a bang for your buck." Touché.