"Italy is the land of poets, travellers and dreamers. We love to tell stories that inspire, entertain and connect. This is what I hope to do through my cuisine," says Daniele Sperindio
Editor's note: For more Date Night stories, click here.
Italy—a destination that so many throughout time have expressed its mesmerising allure through words. Yet, we write again to reaffirm the soul-stirring synthesis of this land that encompasses it all. I had the pleasure of visiting the boot-shaped peninsula once, yet Italy remains firmly on my must-visit roster for there is eager anticipation of setting boot on the land once—or many more times. In the meantime, indulgence in Singapore's authentic Italian flair fills the void, most often encountered in the delectable offerings of Italian cuisine here.
Art di Daniele Sperindio isn't just an Italian restaurant; it serves as a platform for owner-chef Daniele Sperindio to weave tales of his homeland and personal journey, expressed through his food. Each evocative course is likened to an episode of Sperindio's experiences, drawing diners deep into his world. A progressive Italian fine dining experience of conversational cuisine and engaging encounters start from the first savour.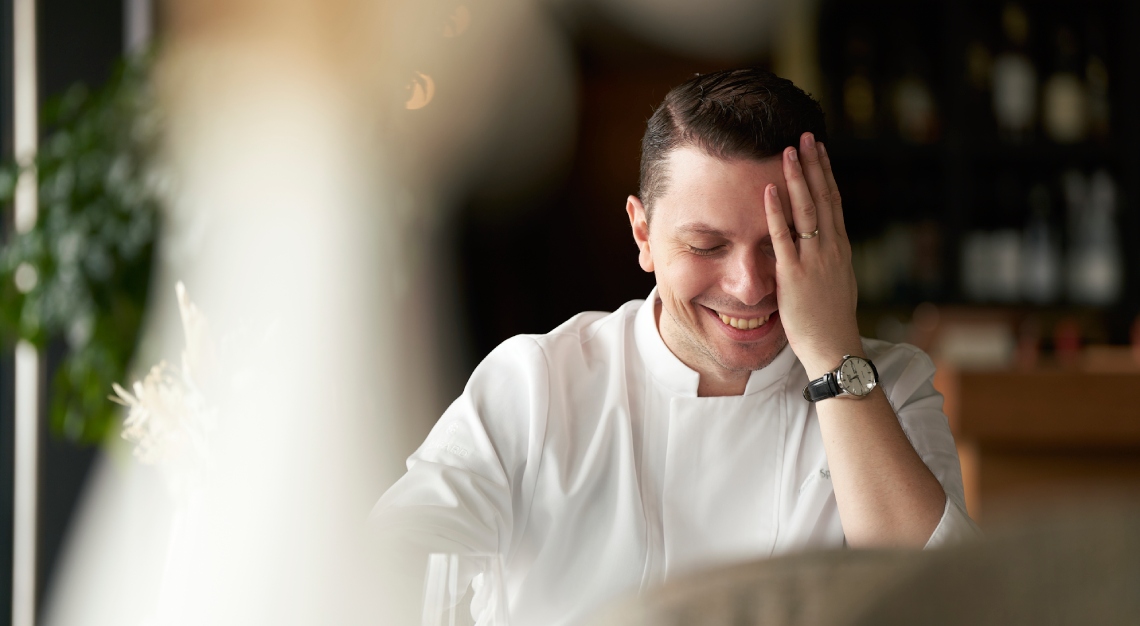 The loud chatter of shopkeepers,
The calm stillness of rolling hills and mountains,
The genuine love for family and friends,
The magnificent monuments that witnessed the past and present,
The indefatigable spirit and zest for life, for food, for legacy.
The magic of Italy is in its boundless chapters of life found
in the many stories and people, converging from different ways.
This is my story, a humble salutation to where it all began.
– Daniele Sperindio
The name 'Art' pays homage to Pellegrino Artusi, author of the Italian cookbook The Science of Cooking and Art of Eating. The visual allure of each course is, however, a testament to why Art is instead commonly interpreted as a reference to food as an art form. Like a personal canvas for Sperindio, he paints his story with dishes that go beyond what one would typically expect from an Italian meal.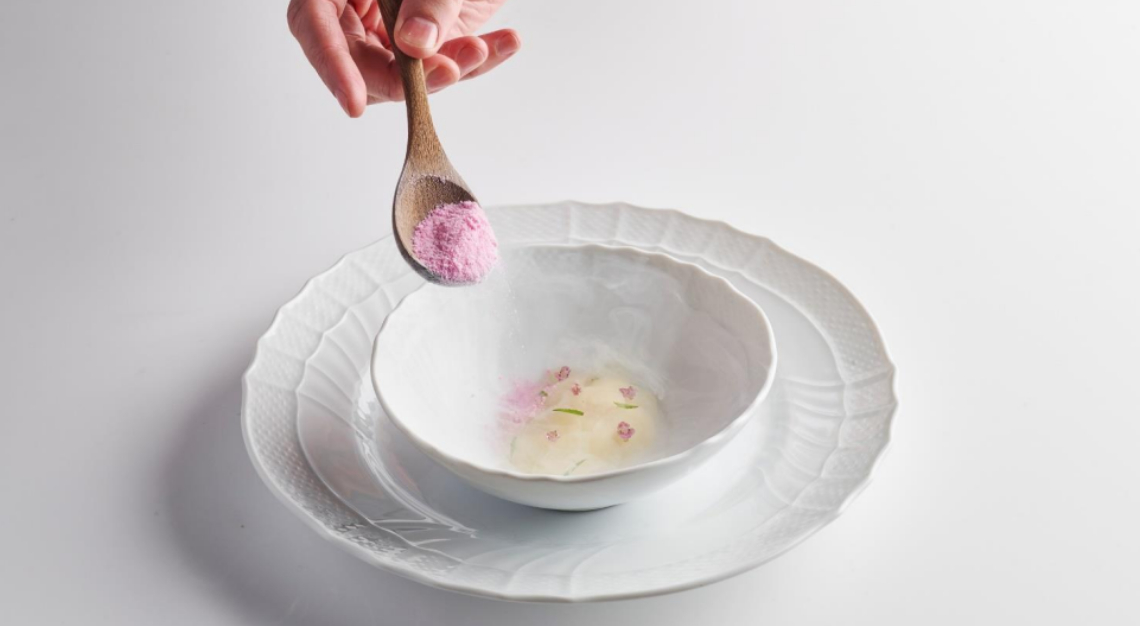 Reimagining a rustic dish as a light starter, the Cappon Magro—traditionally served meat-free on religious occasions—elicits a festive ambience with its elaborate quality. Replacing what was typical everyday seafood is Sri Lankan and Alaskan king crab layered with rich, briny caviar. Adorning the dish's top are dots of smoked egg yolk, black mint and petals of salt-baked beetroot. With a sift-like motion, a snowy ensemble of pear cooked in rose wine descends as a finishing touch.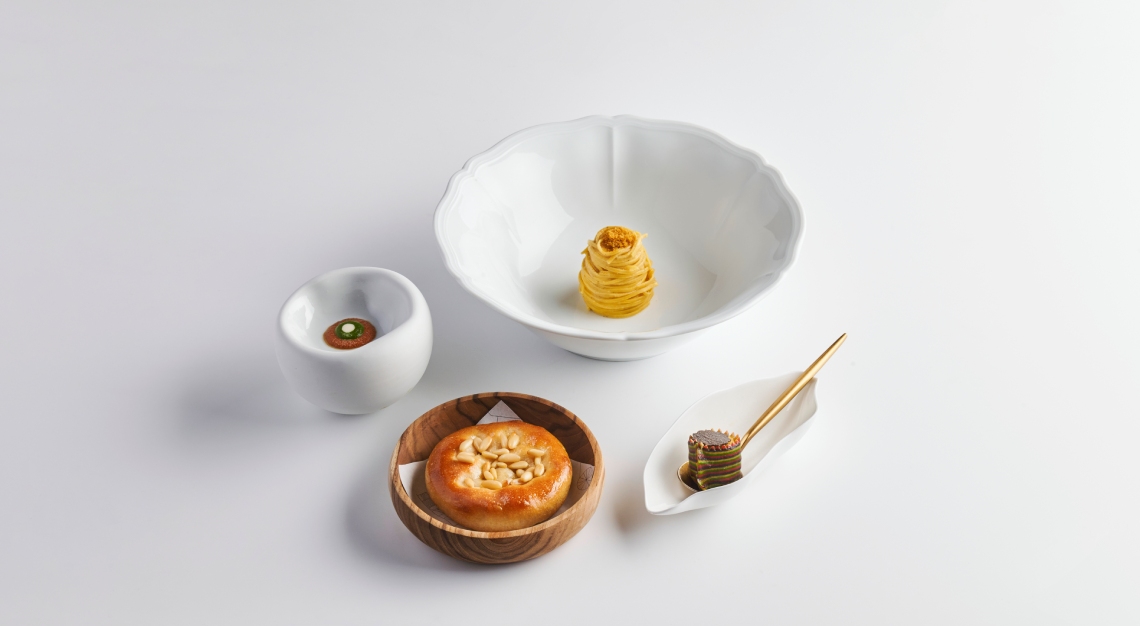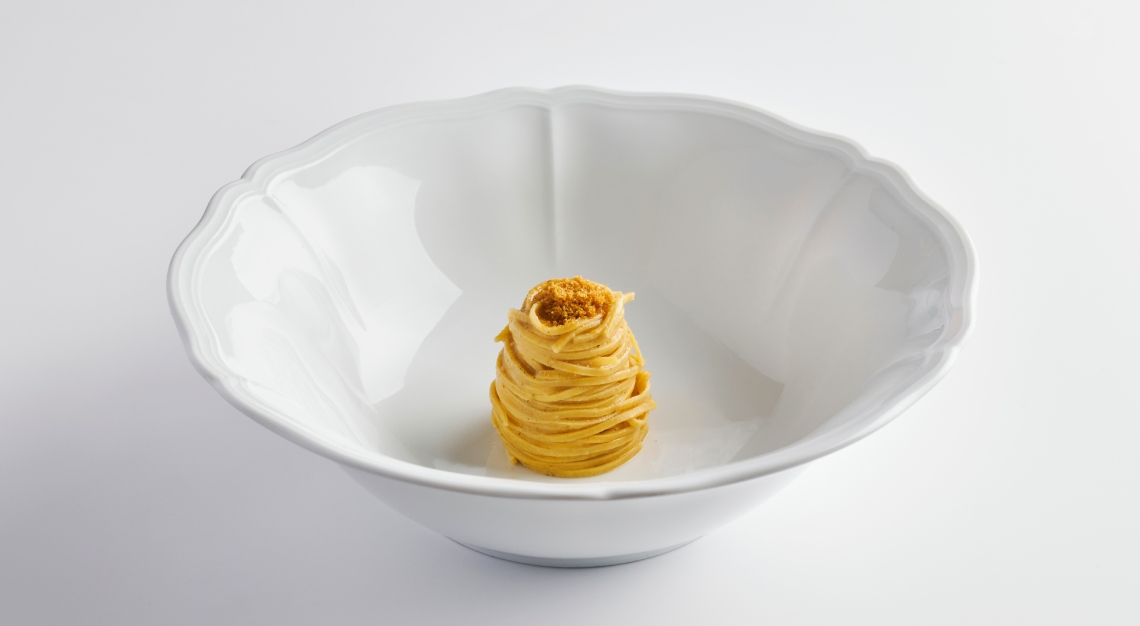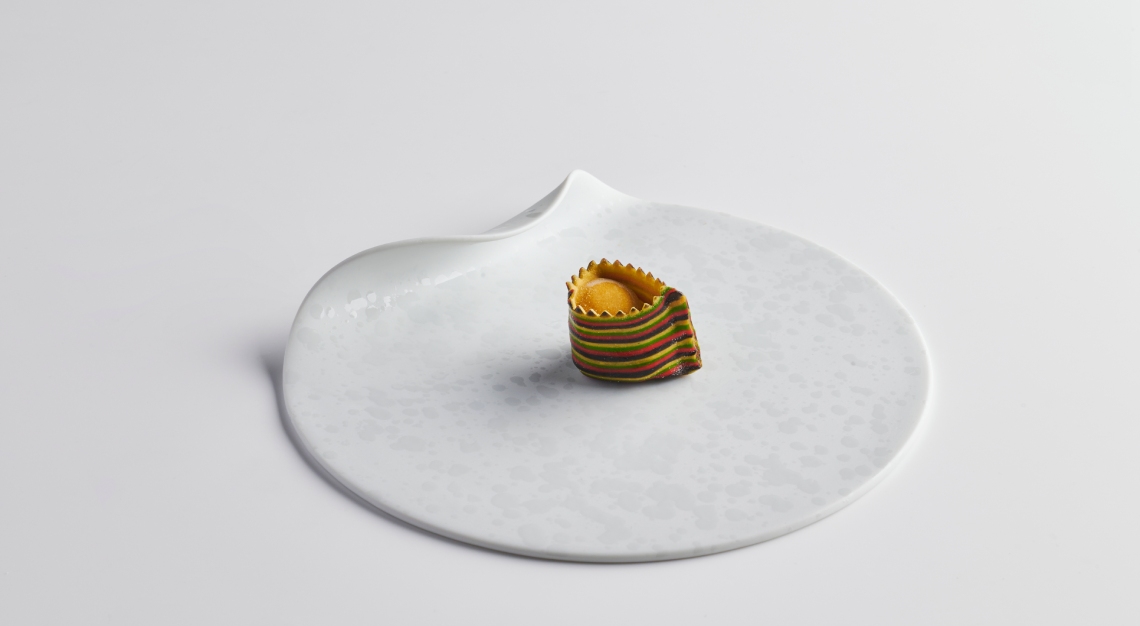 Up next is the backbone of Italian cuisine, pasta. The La Superba—a three-part pasta course—was indeed superb-a. Showcasing the bounties of Sperindio's homeland Genova, the first element boasted taglierini made with 32 yolks for every kilogram of flour, and apparently, not a drop of water. Coated in a flavour-intense sauce made of clams and stock fish, utmost satisfaction came with generous, comforting mouthfuls.
The next element was Vintage Duck Giradito, a colourful flat noodle stuffed with aged Challans duck ragout—best in one bite. As the final component, Sperindio served his signature Scarpetta course, which refers to mopping up the last drops of sauce with bread. With a slice of artisanal focaccia served alongside traditional sauces, the only visible hue left on my bowl was pristine white. The course was so good it was probably the Michelin inspector's turning point to have the star retained this year. 
But wait, Genova's generosity is the gift that keeps on giving. The dish Hotel Supramonte is titled after one of Sperindio's favourite songs growing up. Composed by Fabrizio De André, a renowned singer-songwriter from Genova, the dish takes inspiration from the magnificent coastal cliff view and ocean's aroma. Maimoa lamb takes centerstage, Young Fir and Bonk's Beard its verdant embellishments, and white aspargaus for a delicate sweetness.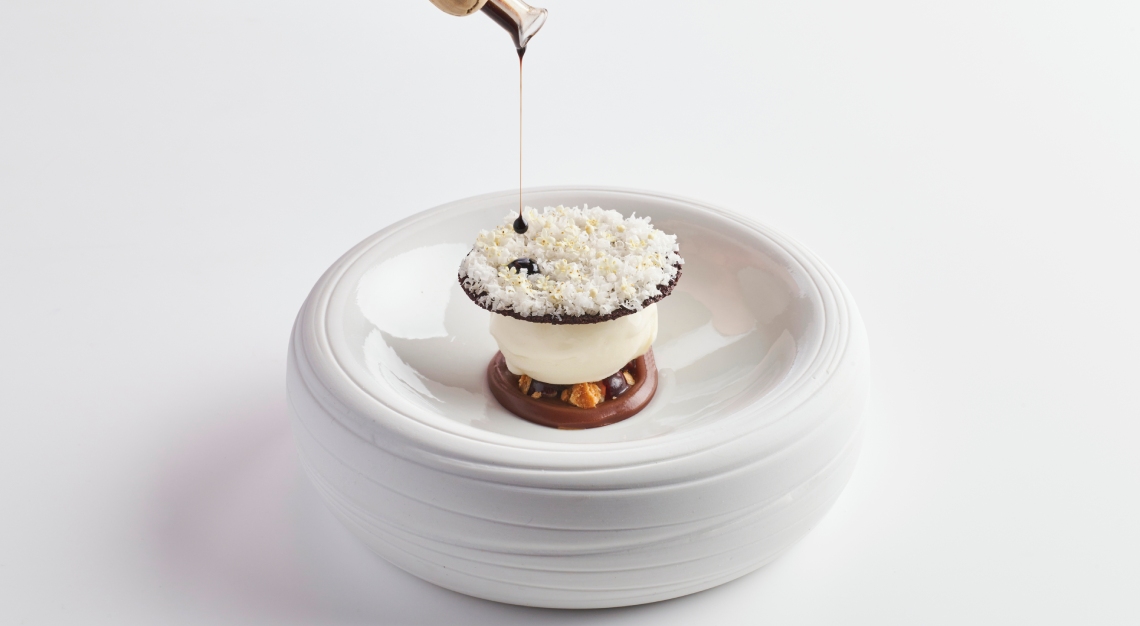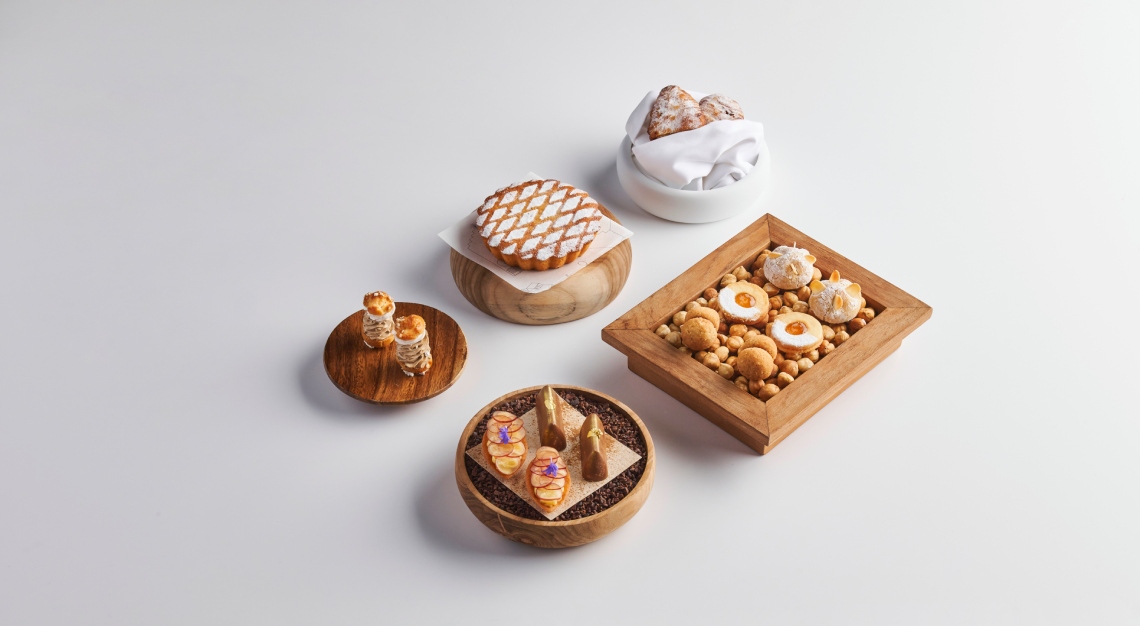 The dessert isn't just sweet, it's also served with a dose of humour. Named Tourists on Mount Vesuvio, amarena cherry biscuit with toffee makes up the base, buffalo milk gelato layered as the body, and a bitter cocoa nib wafer the summit. In a sour twist, drops of Sperindio's balsamic vinegar finish the dessert. As a play on the classic Mont Blanc, Sperindio shares, "We have decided to journey instead to Mount Vesuvio, the famous Napolitan volcano." But which part makes up the tourists on this edible Mount Vesuvio? "In Northern Italy, it is not uncommon to encounter Italians from the South, showing up at a restaurant with a little piece of home in their pocket—usually chilli peppers—to be added to their food," quips Sperindio. "In a similar way, we are finishing this dessert with a very non Napolitan ingredient of aged balsamic vinegar, as if we were tourists from Modena visiting the famous volcano."
Perching on top of the neoclassical national monument that houses the National Gallery Singapore, Art di Daniele Sperindio creates an elegant environment for a world-class dining experience. It's time to plan a destination hiking trip to the rooftop of the National Gallery Singapore. We can't promise a panoramic view of the city of Naples but we hope Marina Bay makes the cut. 
Art di Daniele Sperindio
1 St Andrew's Road
06-02 National Gallery
Singapore 178957
Tel: +65 9866 1796