With superyachts now doubling as floating galleries, these creatives have become sought-after talents on the seas
Clémentine Brandibas might not be a household name, but the French artist's contemporary take on traditional needlepoint embroidery hasn't gone unnoticed by some of the most discerning art collectors in the world: superyacht owners.
"She owns her space, she's the boss of her craft, and she's pioneering in her medium," says David Knowles, the founder of Artelier, a British art consultancy for high-end residential, hospitality, private-jet, and yachting projects. "That's what these clients are looking for."
One of Brandibas's fine-silk creations, textured with feathers and shaded in the colors of the ocean, hangs framed in the primary stateroom on Lusine, a 60m custom motor yacht delivered by Heesen Yachts in 2022. The piece is part of a fully bespoke art collection commissioned for the vessel by Artelier.
"Exceptional" is what Knowles looks for in artists as he plays matchmaker between yacht designers and the best artisans for the brief. Another creative becoming known for her work on superyachts is South Africa-born, United Kingdom-based mixed-media artist Jennifer Newman; her canvases have graced the interiors of the 67m Amels Neninka, launched in 2019, and the Royal Huisman sailing yacht Sea Eagle II. "What's so special about her work is all the different layers of minerals, crystals, and precious metals she uses to create this exquisite surface," Knowles says. "Her paintings are all inspired by the natural world and have this beautiful flow."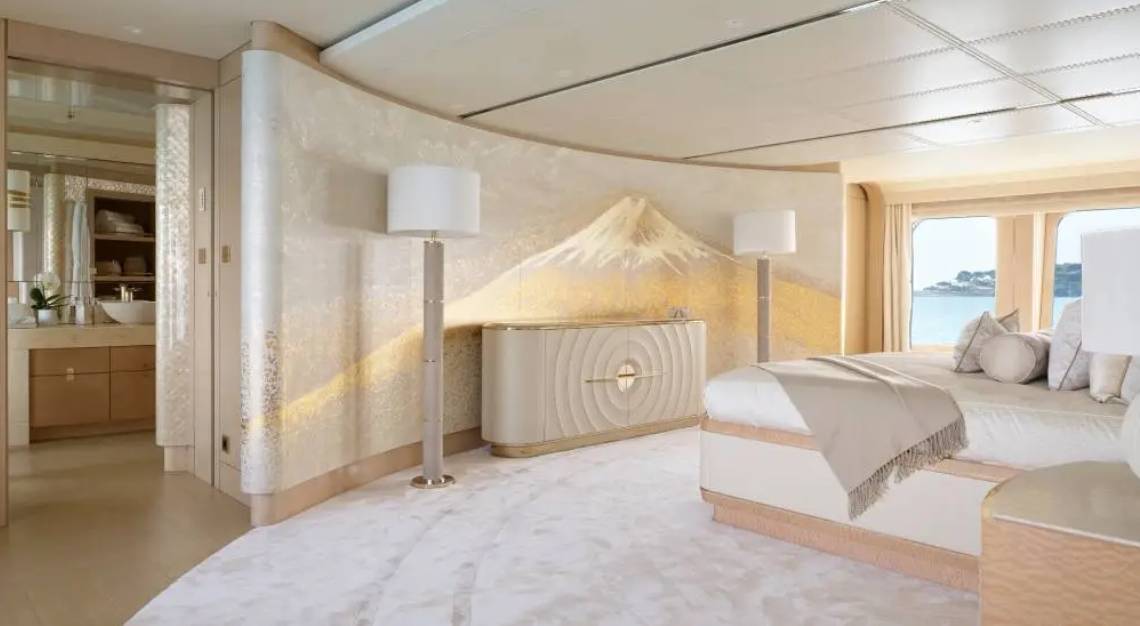 Creating distinctive pieces for these opulent vessels comes with its own set of issues, and artists working in these spaces must be versatile and flexible in order to adapt to the highly managed nature of yachting projects. But perhaps the most crucial component for artists to keep in mind during the creative process is durability, by using yacht-friendly materials that withstand both the test of time and the elements. A perfect storm of factors on board a yacht—moisture from sea air, exposure to strong sunlight, and continuous vibrations—makes for a challenging fine-art environment.
With this in mind, Newman applies a hard-wearing lacquer finish suitable for the marine environment to her works, while another prominent yacht artist, Simon Allen, layers high-karat gold leaf over his hand-carved wood sculptures that evoke the ripples of the sea. For Turquoise Yachts' 77m Go, for instance, Artelier commissioned Allen to carve a bespoke sculpture gilded in moon-gold leaf as a centrepiece in the dining room. "Real gold leaf won't tarnish, and it doesn't need any maintenance," Knowles explains. "You can leave it as is." UK-based sculptor and designer Tom Palmer takes it a step further when he creates his light-reflective Iris Mirrors, overlaying coloured resin on a hand- silvered mirrored disc.
"The high-grade industrial resin that forms the base of the mirror is cast by the same people who manufacture carbon-fibre components for Formula 1 race cars," Palmer says. The final result is built to withstand environments far more extreme than the ones found on superyachts. His speckled mirrors can be tinted to almost any colour, although yachting clients particularly covet the amber-hued Baltic Iris Mirror. To maintain and protect the super-smooth finish, achieved by a solid week of polishing, each custom-made piece is sprayed with supercar-grade lacquer—the type preferred by manufacturers such as Aston Martin.
While artists like Brandibas, Newman, Allen, and Palmer come to yachting through intermediaries such as Artelier and London-based Linda Bird, others have banded together to form their own enterprise. Over a 25-year history, DKT Artworks in London has taken on more than 80 yacht projects, including some of the most significant launches of the past few years: Nord, Viva, Ahpo, and Blue. Its team of 30 highly skilled artists practice artisanal techniques including bas-reliefs, trompe l'oeil, verre églomisé, mosaics, polished plaster, and illuminated artworks. "Our involvement can range from a single canvas or small artwork all the way to staircases, bedrooms, and ceilings," says DKT's head of marketing, Guglielmo Carrozzo.
In particular, Carrozzo singles out the artistic elements on board the Art Deco– inspired Phoenix II, delivered by Lürssen in 2010. The studio was commissioned to design, carve, and cast the showcase jazz-player bas-relief from lightweight metalized panels in the main dining room and paint, gild, and lacquer a towering celestial wall mural that extends the length of the staircase.
The team also worked with interior- design firm Nuvolari Leonard to bring the artistic vision for Oceanco's 2018 launch, DAR, to life. Using an array of materials and techniques, DKT's multidisciplinary approach guaranteed consistency throughout the yacht's interiors. "From the corridors to the tabletops or bedheads, we were able to keep to the same tree-and-floral theme," Carrozzo says.
And DAR is hardly alone in its devotion to organic motifs; art experts have noted an increased demand for textures and colours that mimic nature. "Artists who have a natural element to their work are important," says Knowles. "People want to embrace the environment and the feeling of being out at sea."
This story was first published on Robb Report USA