Usher in the Year of the Ox this Chinese New Year with great food, drink and company
It's that time of the year again that sees many of us rushing around to visit old relatives, juggling mandarin oranges and tough questions we don't wish to answer. Then there's the food – everything from the classic pineapple tart and glistening barbecued pork slices, to the steamboat dinners and communal feasts. Food in many ways lies at the heart of Asian expressions of familial love, and the following restaurants invite you to celebrate with your loved ones over their most-loved dishes.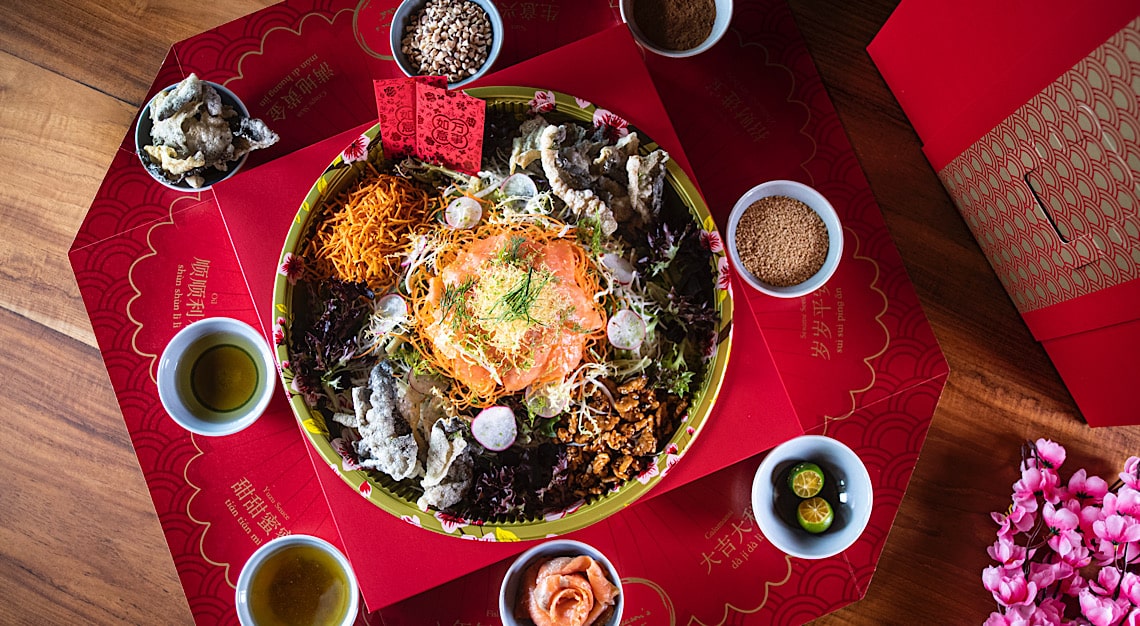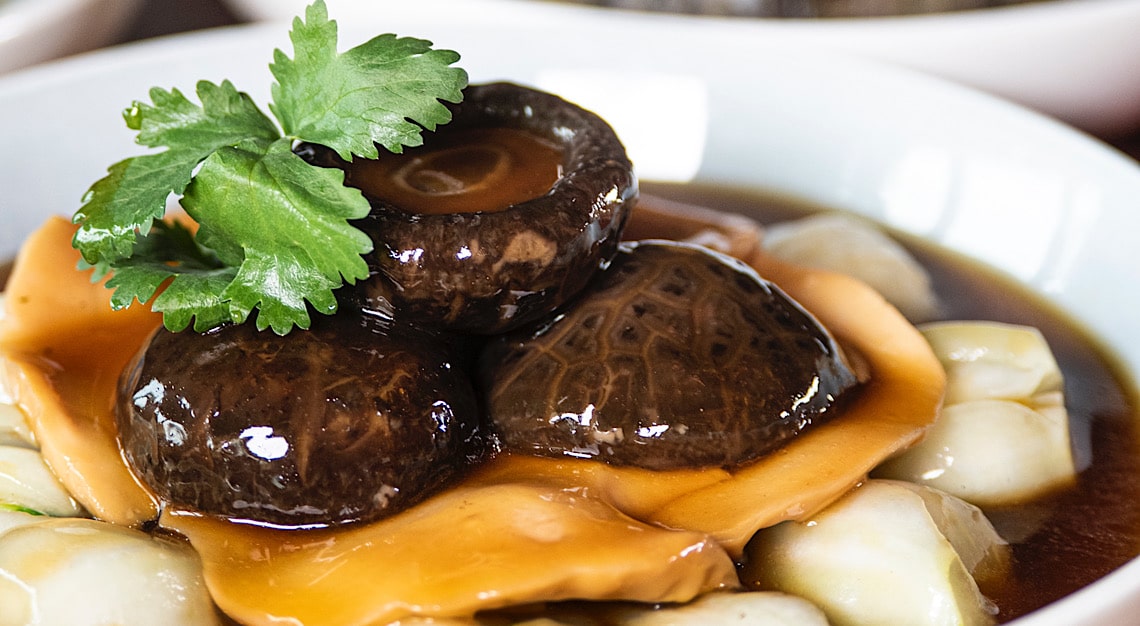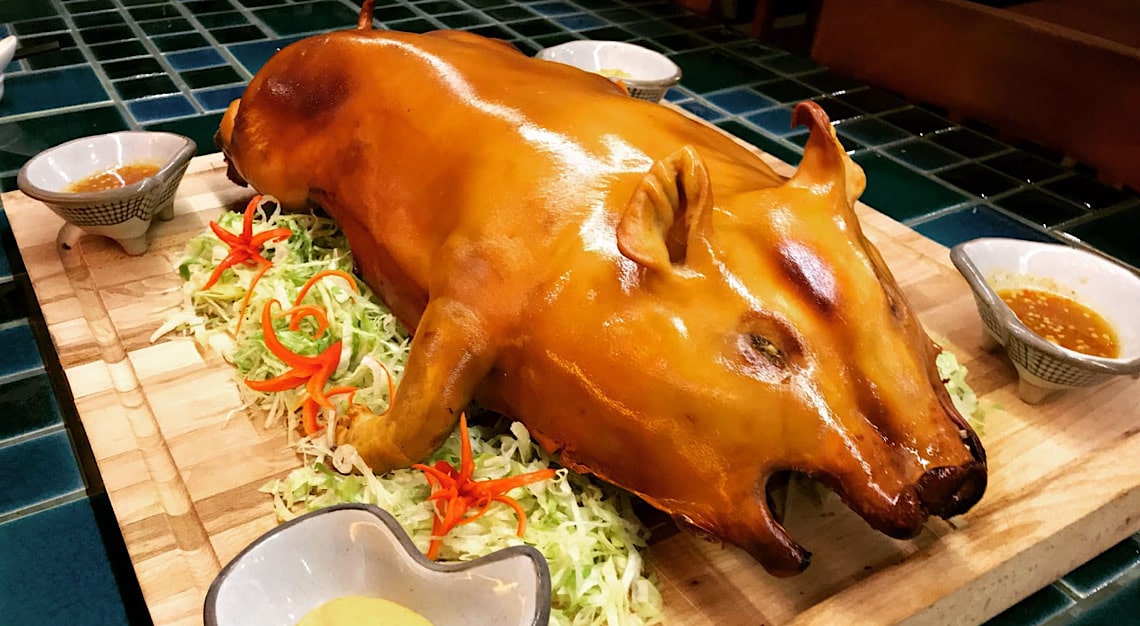 Blue Lotus Chinese Eating House
Happening: Until 26 February 2021
Located at the Quayside Isle in Sentosa, Blue Lotus welcomes diners into an eclectic mix of modernity with tradition, a concept that extends to not only the menu – the work of restauranteur and chef Ricky Ng – but the interior as well. Most acclaimed for its signature Chilli Pomelo Crab, Blue Lotus now presents its take on classic Chinese New Year dishes with some distinctive touches.
Order the Signature Norwegian Smoked Salmon Yusheng, which combines a variety of herbs, vegetables and nuts with tea-smoked salmon and salmon skin, mixed with a spring onion-infused olive oil and wild honey yuzu dressing for a zesty start. Other highlights include the Braised Morel Mushrooms with Crispy Bean Root, and the Steamed Baby Abalone with Duo Garlic. – Rachel Ang
Blue Lotus Chinese Eating House
31 Ocean Way
01-13, Quayside Isle
Singapore 098375
Tel: +65 6339 0880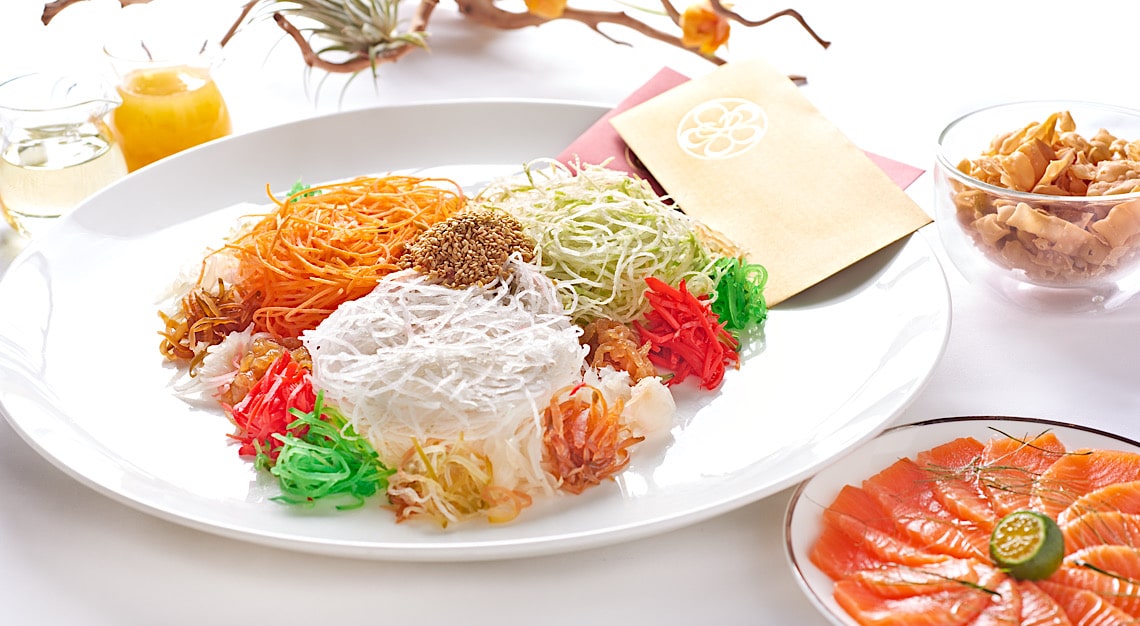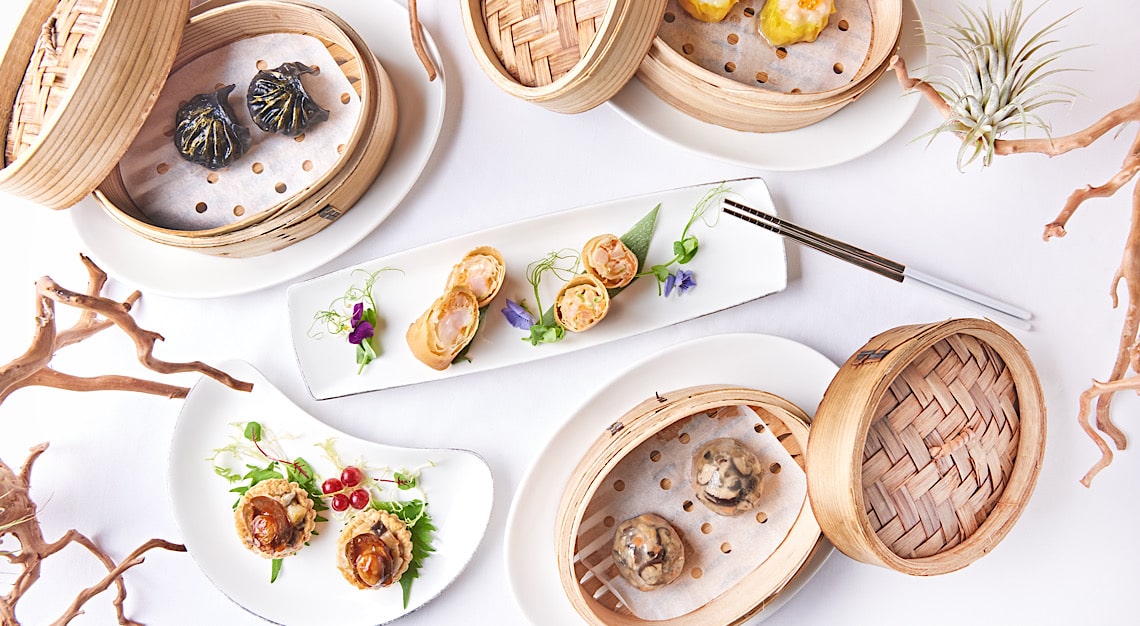 Cassia
Happening: 11 February 2021 to 26 February 2021
If you're seeking comfort in more familiar, traditional flavours, then the offerings Cassia at Capella Singapore could just be the thing for you. With a plethora of set menus put together especially for the season, there's more than enough here to get you all set for the new year overflowing with abundance – hopefully in fortune more than calories. 
The Fortune Reunion set dinner is the way to go. It features an indulgent Braised Bird's Nest with Duo Caviar in Supreme Broth, later followed by a bowl of savoury Stewed Ee-fu Noodle with King Prawn in Superior Stock. But if you're there for lunch instead, check out the special menu comprising classic Cantonese dim sum favourites, such as the Wok-Fried Carrot Cake with Chinese Sausage, and Steamed Prawn and Dried Scallop Dumpling with Gold. – Rachel Ang
Cassia
1 The Knolls, Sentosa Island
Capella Singapore
Singapore 098297
Tel: +65 6591 5045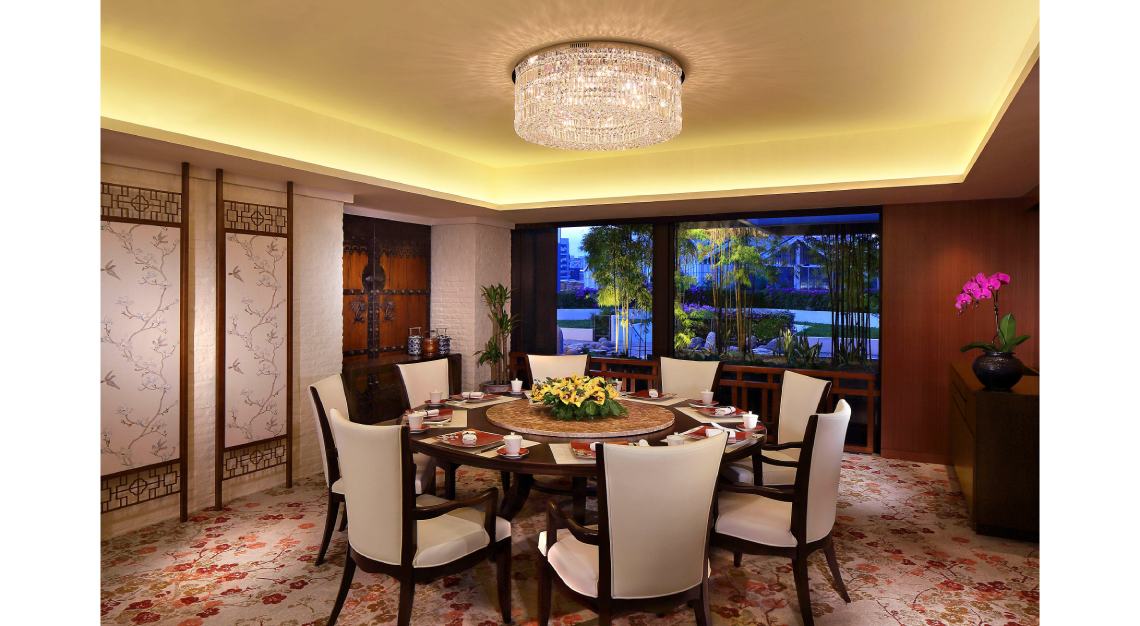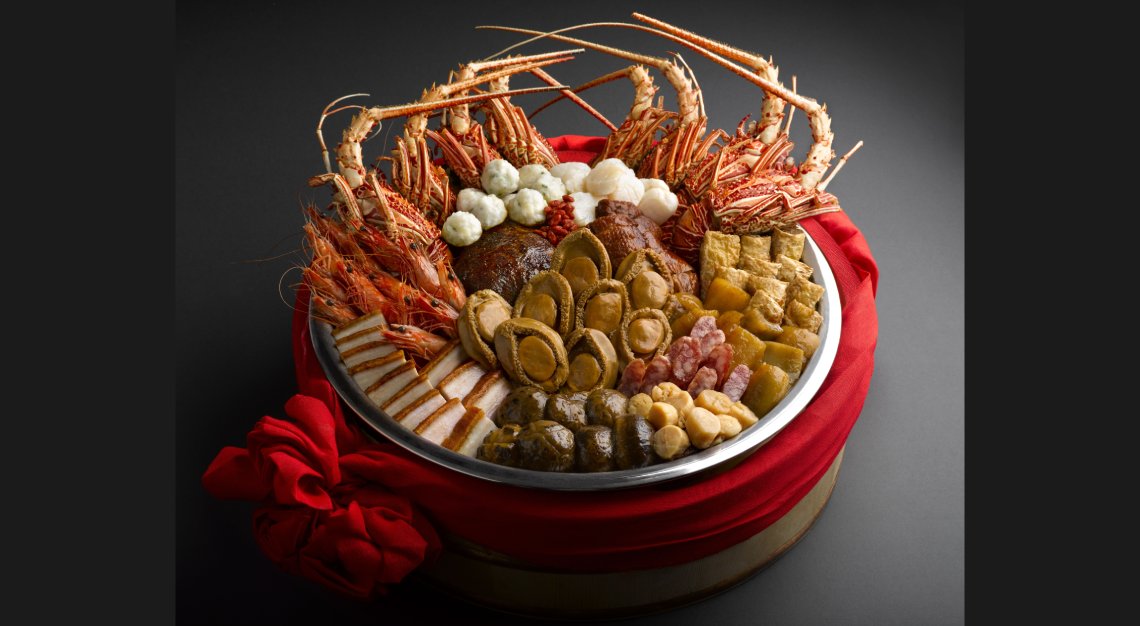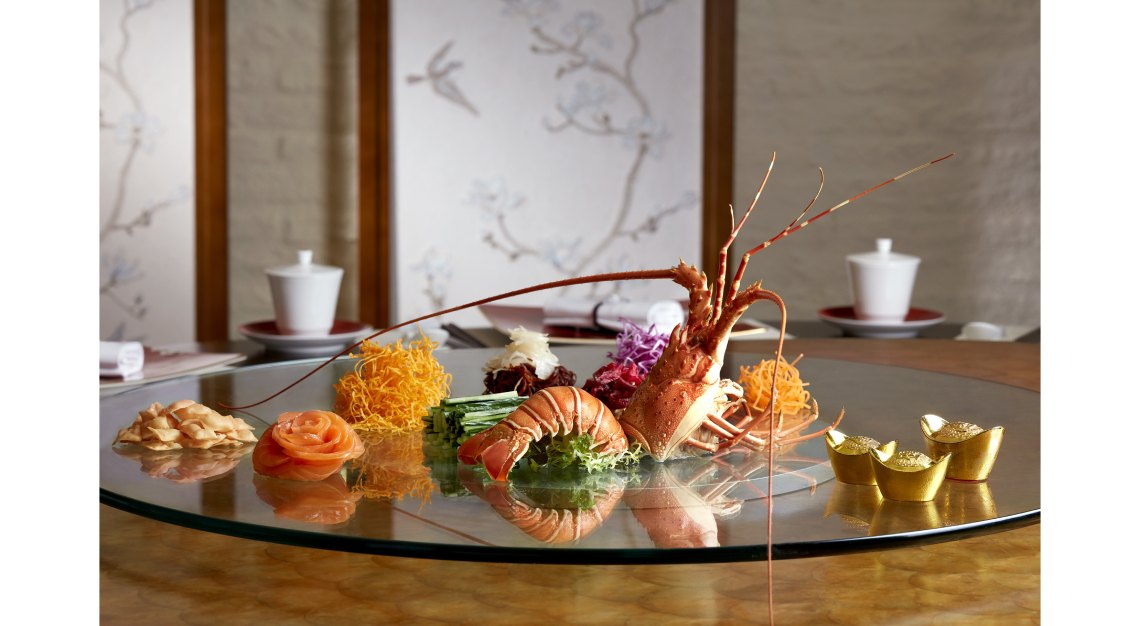 Cherry Garden
Happening: 8 February 2021 to 26 February 2021
There are six menus available (one vegetarian included). Opt for the seven-course Success menu, which requires a minimum of six guests and an order of six hours in advance. It'll start you off with a Lo Hei, the classic salad that requires team effort (you toss it together for luck), a sweet dressing, salmon and crispy fish skin. This is then followed by Pen Cai, which for what lacks in presentation (think seafood and vegetables swimming in a large steel pot), it makes up for in size and quality. Plus, it has all the works – lobster, scallop, king prawns and whole head abalone, you name it. 
The next two dishes are ones that are slightly pimped-up versions of Chinese classics: Wok-Fried String Beans and Five-Grain Fried Rice, a hearty and not too overwhelming signature that goes swimmingly with the homemade chilli. And finally, Chilled Mango with Sago Pearls and Lime Sorbet, an excellent palate cleanser and Chestnut Nian Gao with steamed osmanthus that's just the right blend of sweet and savoury to end the meal. – Allyson Tutay
Cherry Garden
5 Raffles Avenue
Mandarin Oriental
Singapore 039797
Tel: +65 6885 3500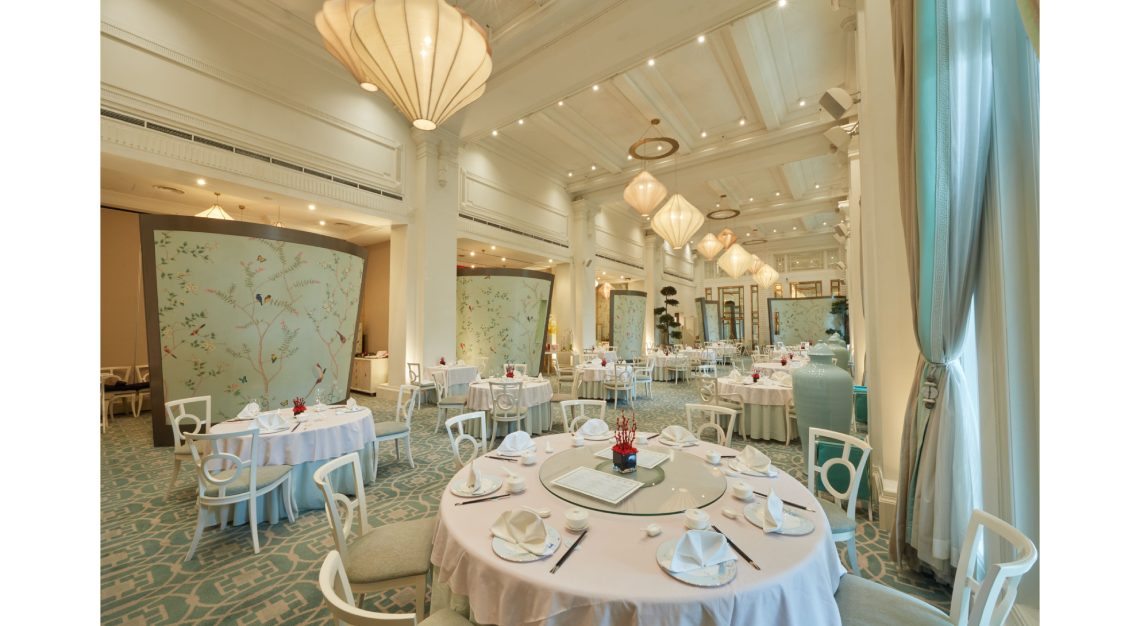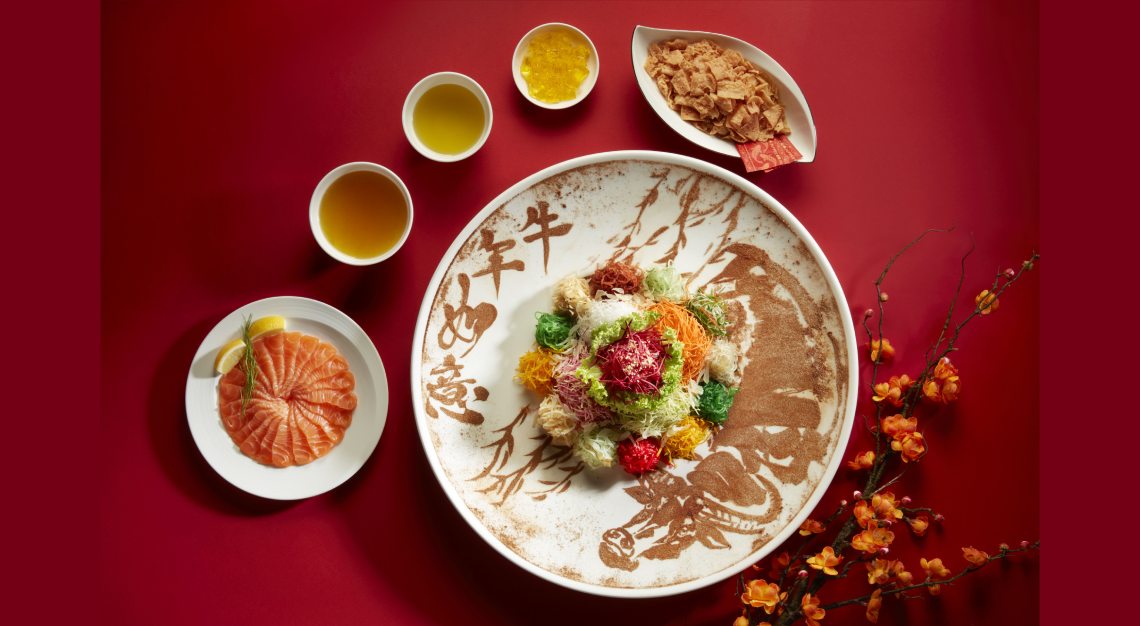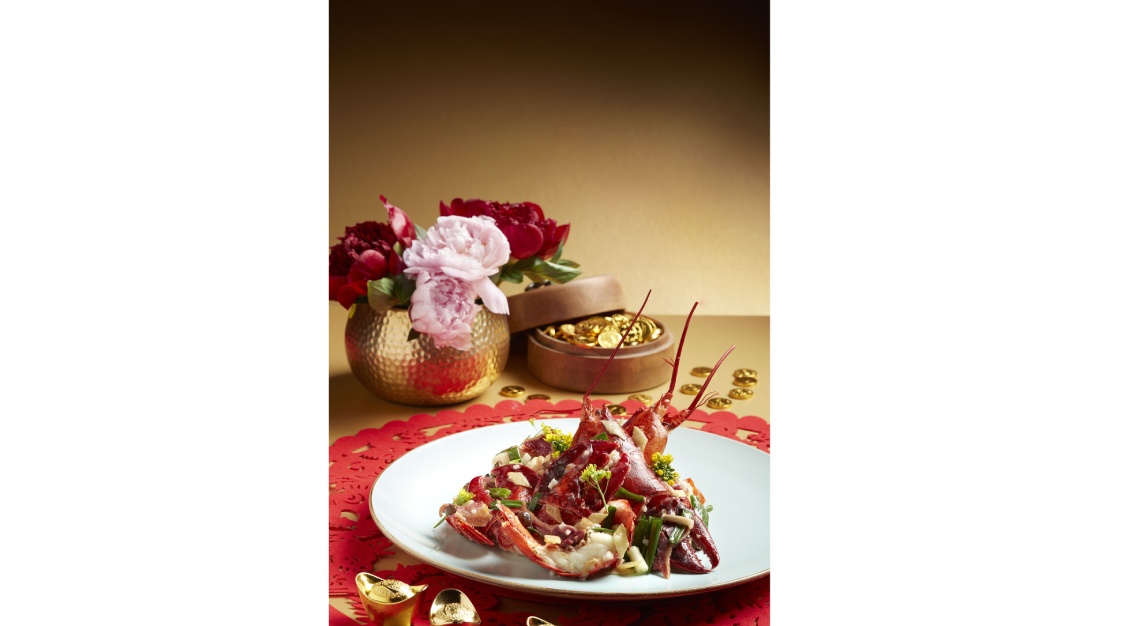 Jade
Happening: Until 27 February 2021
This year at Jade, diners will get to choose between seven menus and an extensive à la carte menu, which we recommend going for. Order a whole Crispy Roasted Suckling Pig (a two-day advanced order is required), the Wok-Fried Five-Grain Glutinous Rice and Wok-Fried Boston Lobster with preserved duck and ginger. If making decisions isn't your forte, then we recommend the Auspicious Feast family menu. It requires a minimum of five persons and has all the good stuff, like the Salmon and Abalone Yu Sheng and Poached Free-Range Chicken for instance. Individual and vegetarian set menus are available as well. – Allyson Tutay
Jade
1 Fullerton Square
The Fullerton Hotel Singapore
Singapore 049178
Tel: +65 877 8188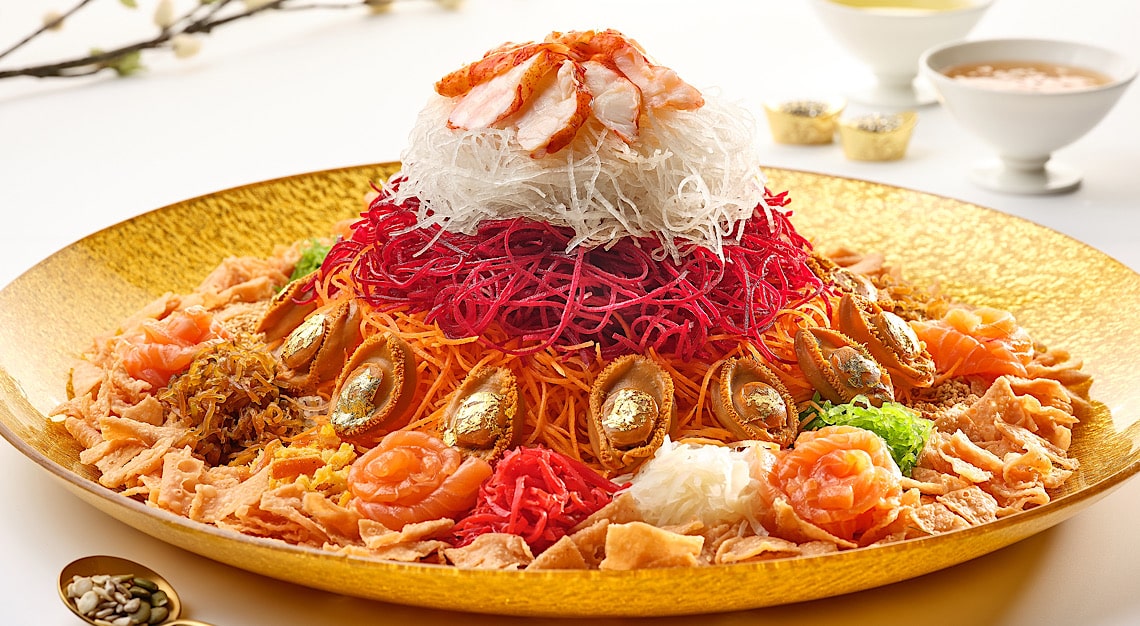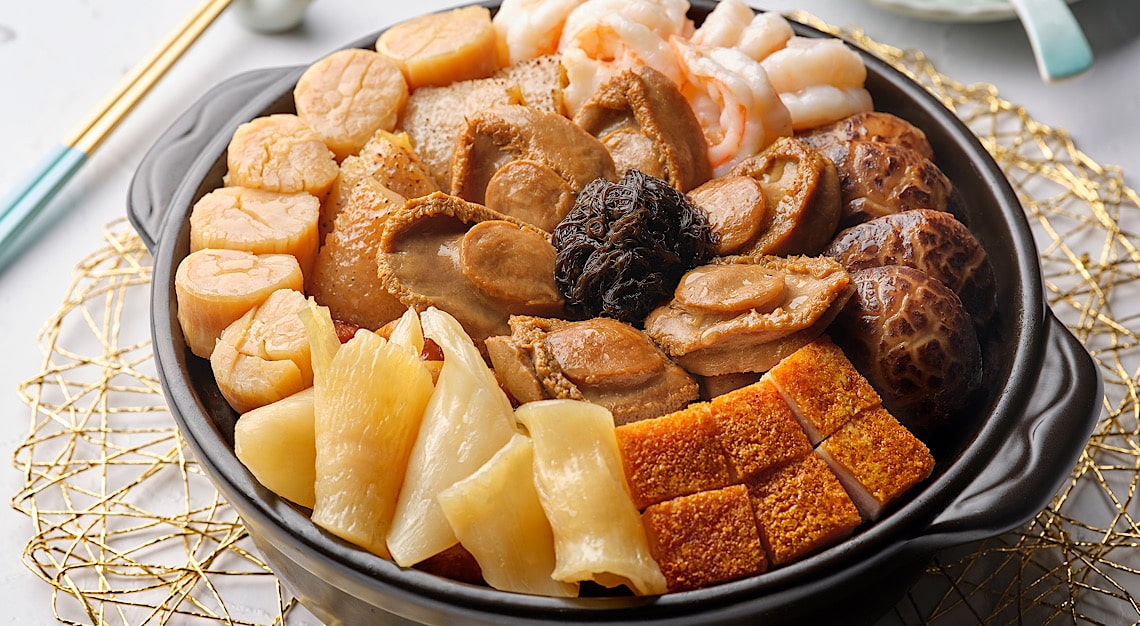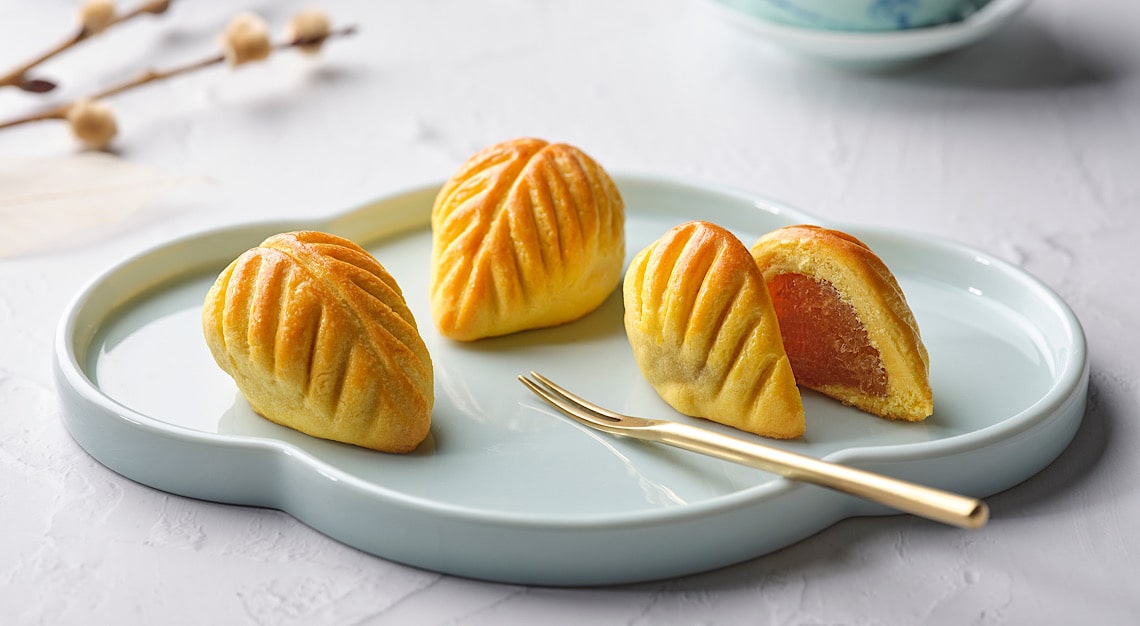 Jiang-Nan Chun
Happening: Until 26 February 2021
The one-Michelin-starred Jiang-Nan Chun shouldn't be missed. Its rustic charm is the just one of many precisely designed elements within the restaurant to transport patrons to a different sensory experience. Executive Chinese chef Albert Au and his team clearly take pride and care in each of the dishes they craft, which includes their wood-fired roasted Peking Duck, served with caviar and a premium selection of wines.
Celebrate over nothing but the freshest produce, seafood and fish, and a healthy helping of different seeds within the Abundance Lobster, Abalone and Salmon Yu Sheng, all prepared by hand, down to the condiments and sauces. You'd also be interested to know that the menu also has Suckling Pig with Avruga Caviar that screams luxury, as well as Braised Ee-Fu Noodles with Boston Lobster in Superior Stock for that satisfying umami grounding. – Rachel Ang
Jiang-Nan Chun
190 Orchard Boulevard
Four Seasons Hotel Singapore
Singapore 248646
Tel: +65 6831 7220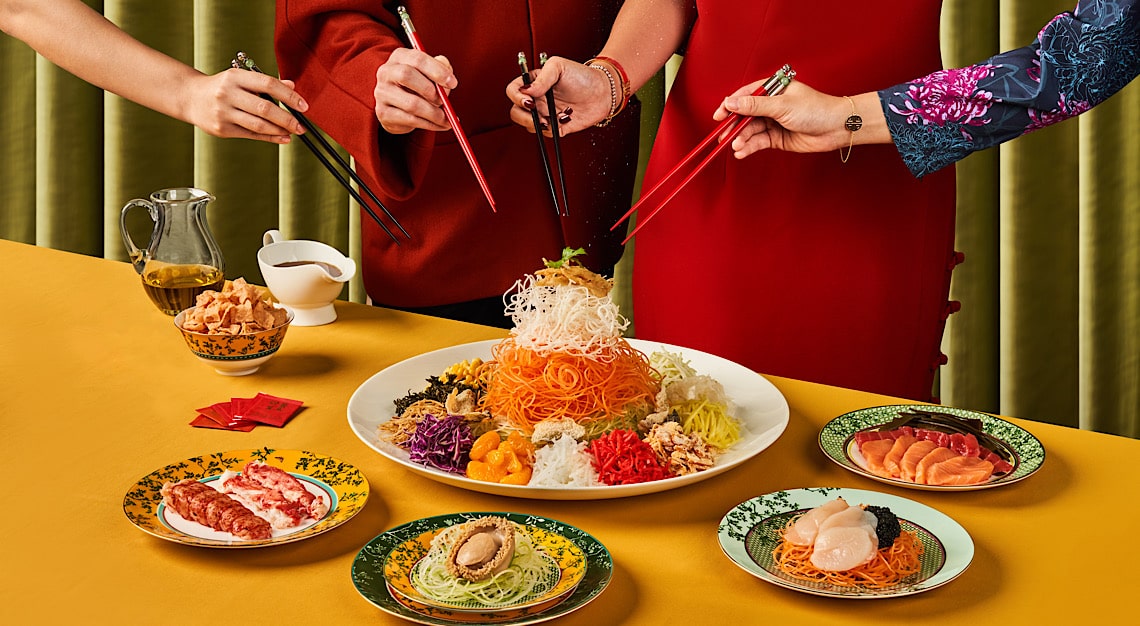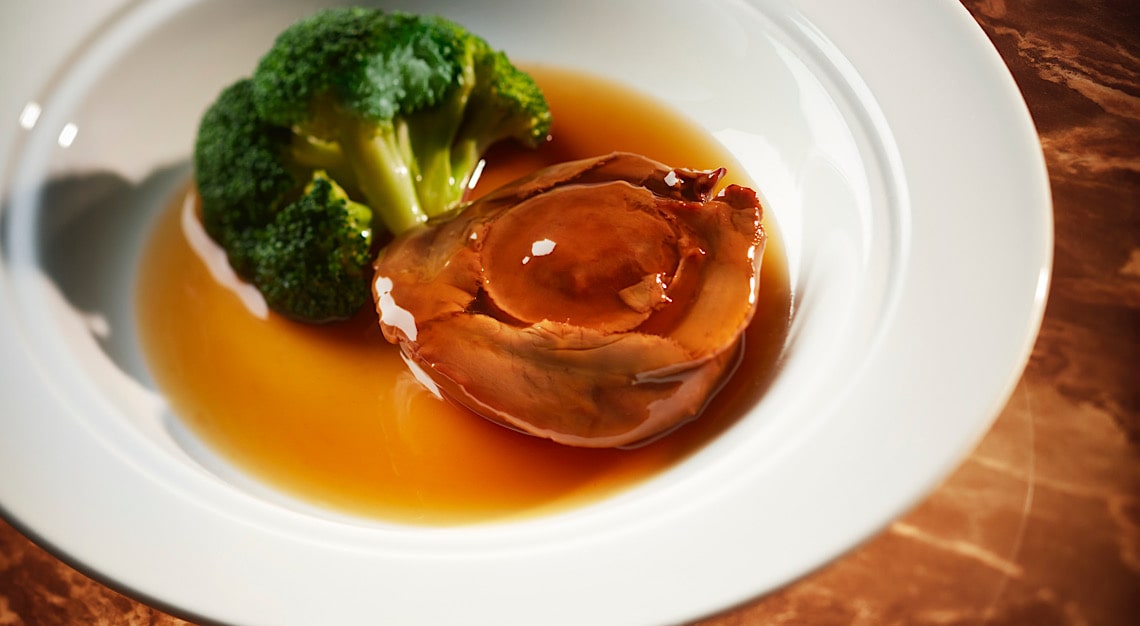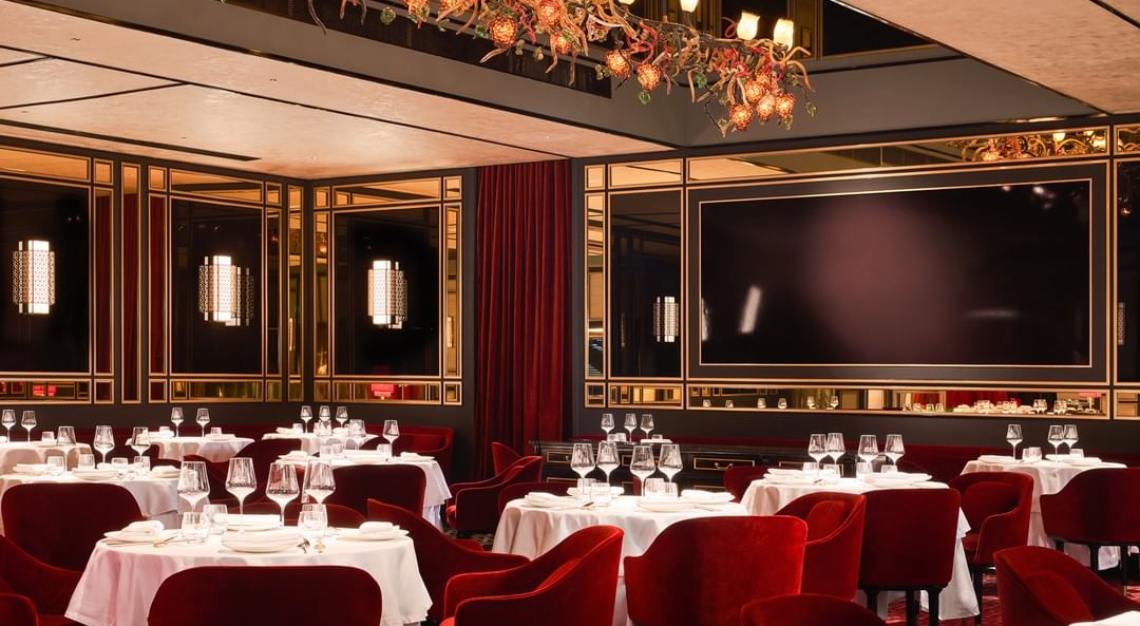 Madame Fan
Happening: Until 26 February 2021
If you're ever wondering what the perfect blend of traditional elegance and contemporary luxury would be like, look no further than The NCO Club. Madame Fan, a modern Cantonese dining concept set up by British-Chinese restauranteur Alan Yau, encourages patrons to let down their hair and relax as they dine amid the stunning glamour that hints back at Singapore's heritage. 
Enjoy classic Chinese New Year favourites, updated, just like the restaurant's architecture and interior. The Kurobuta Pork Belly with Bourgogne Blanc and Green Pepper Sauce, Braised South African Six-Head Abalone and Steamed Chilean Seabass with Kombu and Homemade Black Bean Sauce are just some of such delicacies awaiting you at the house of Madame Fan. – Rachel Ang
Madame Fan
32 Beach Road
The NCO Club
Singapore 189764
Tel: +65 6818 1921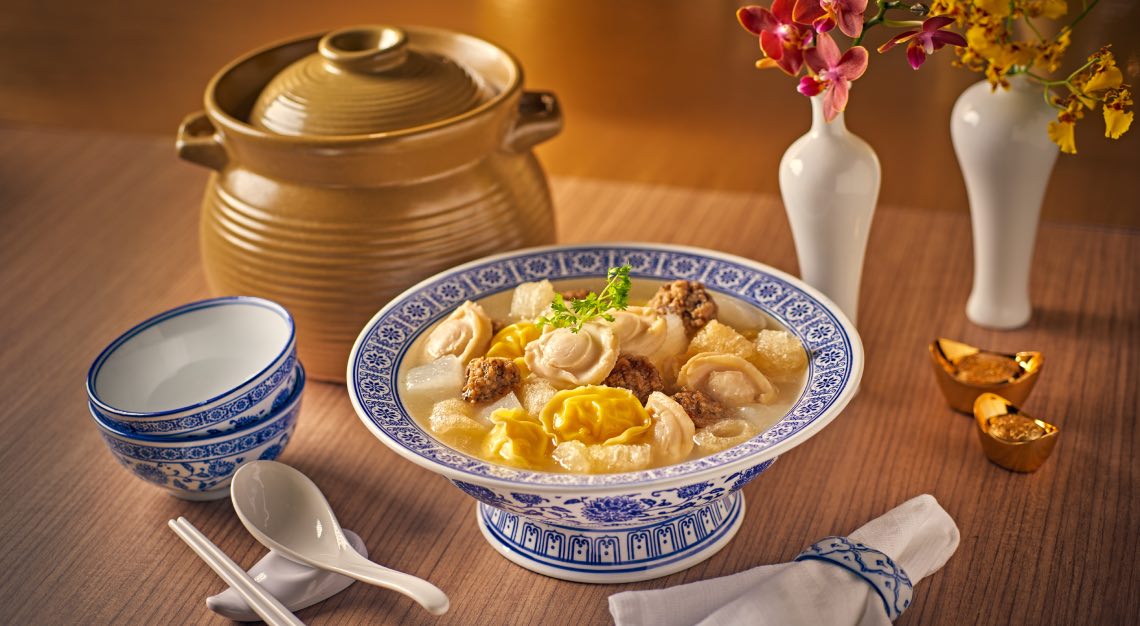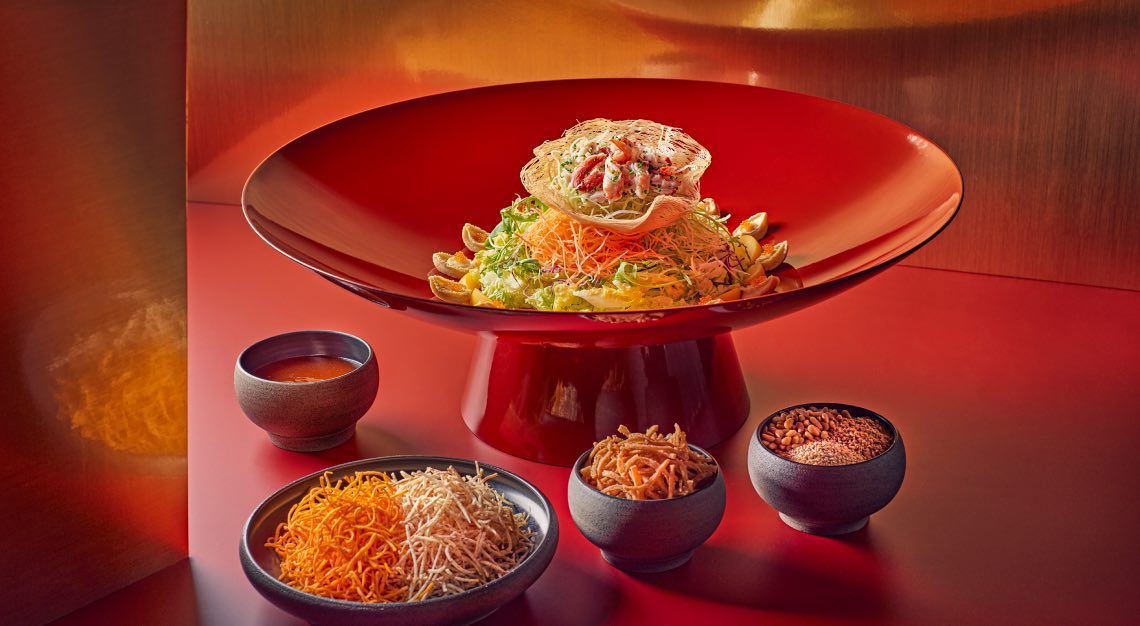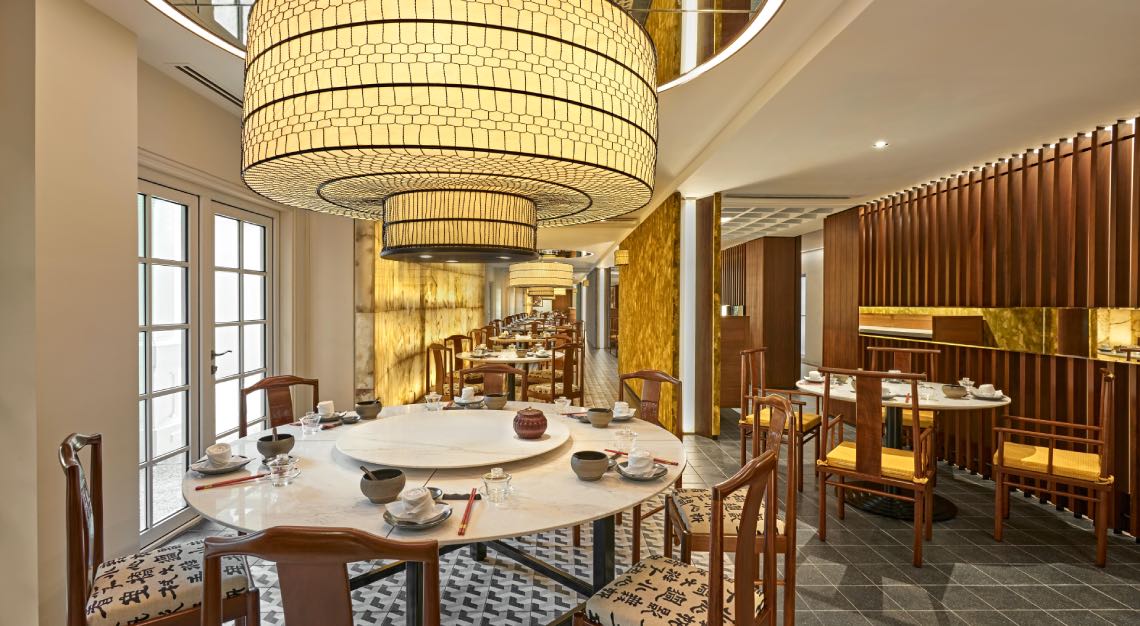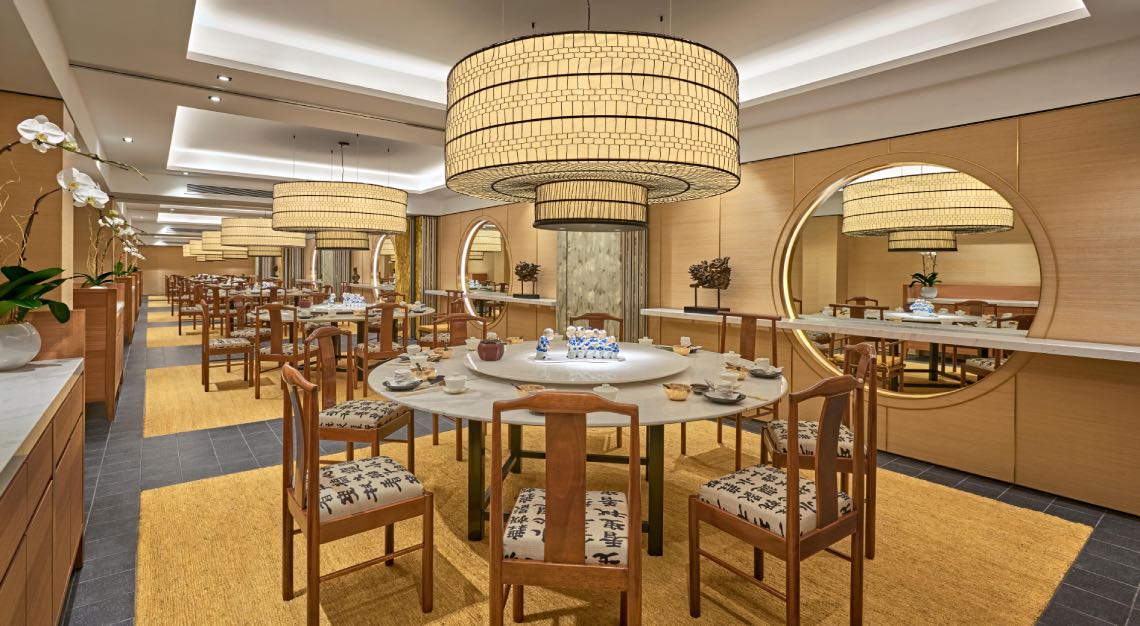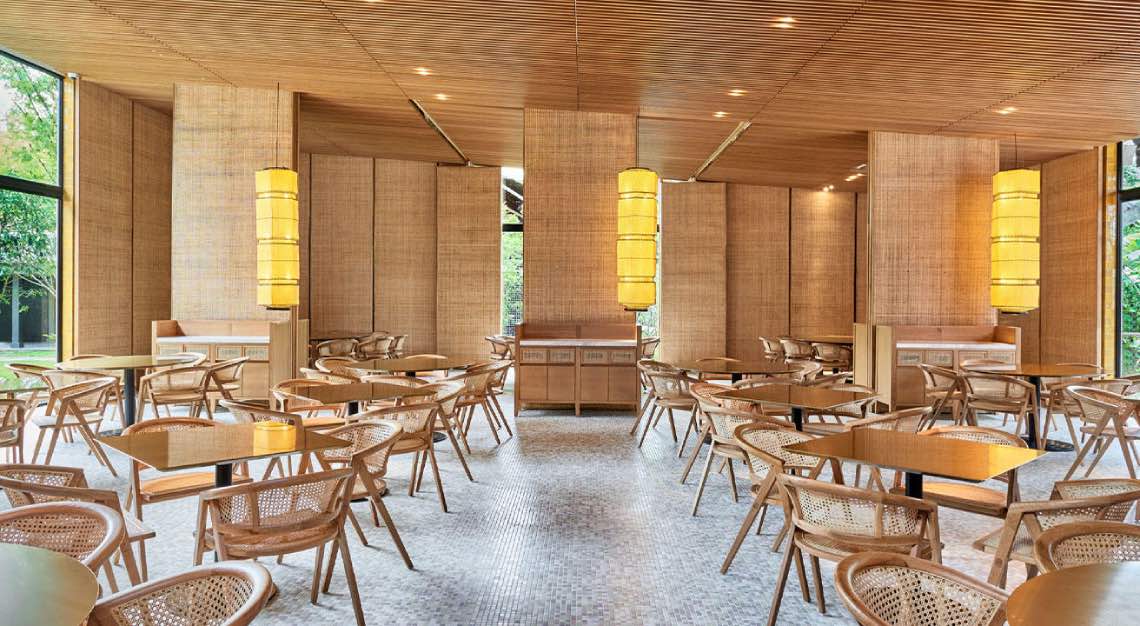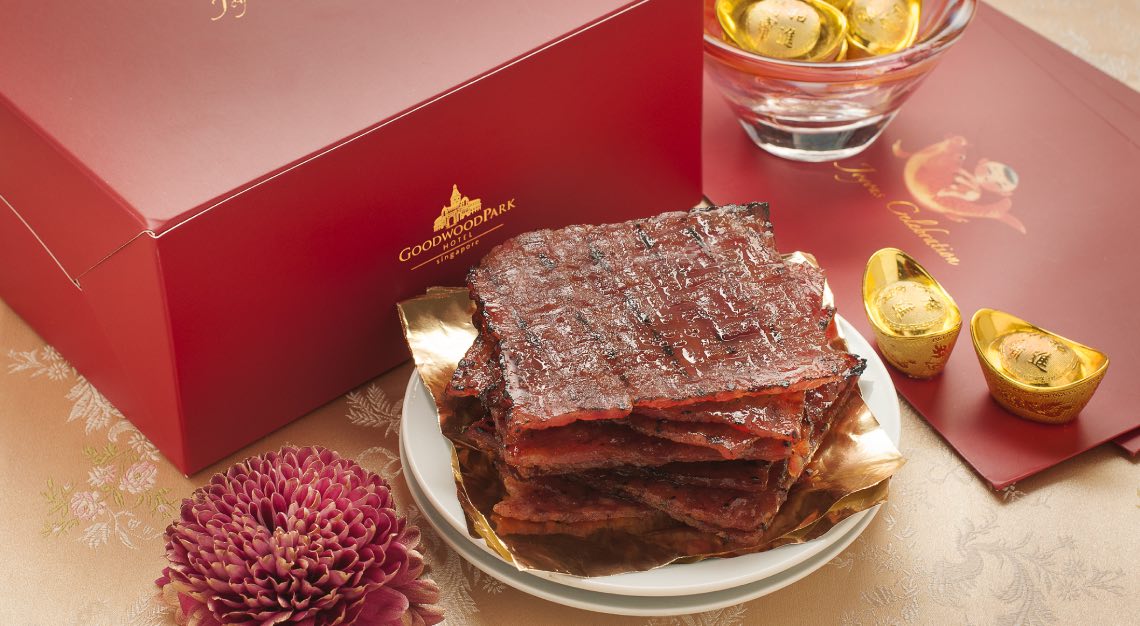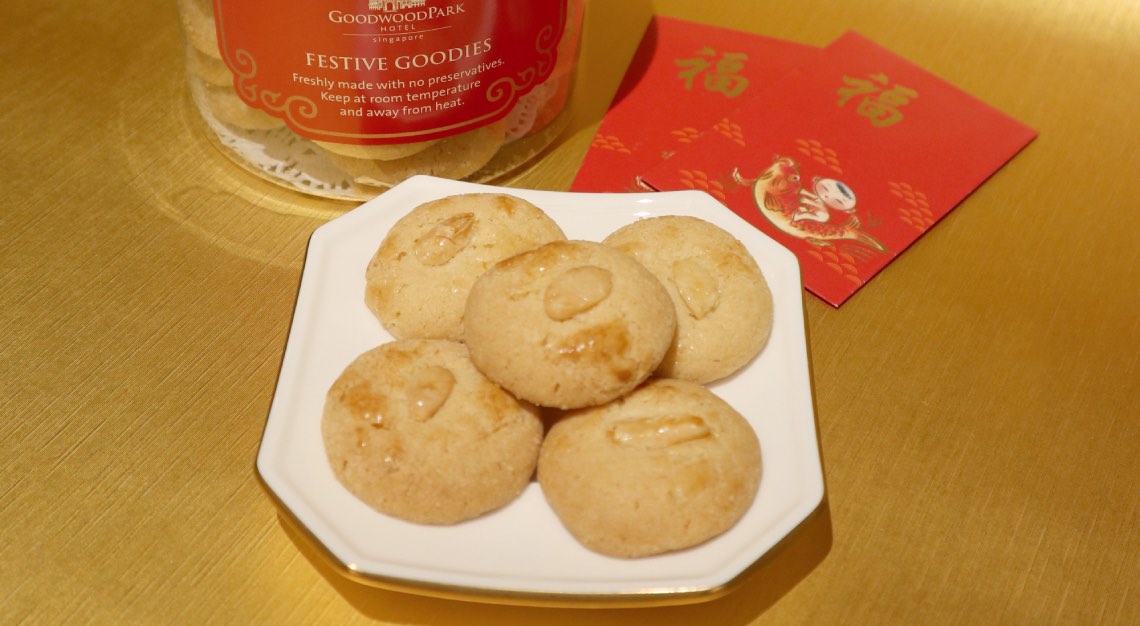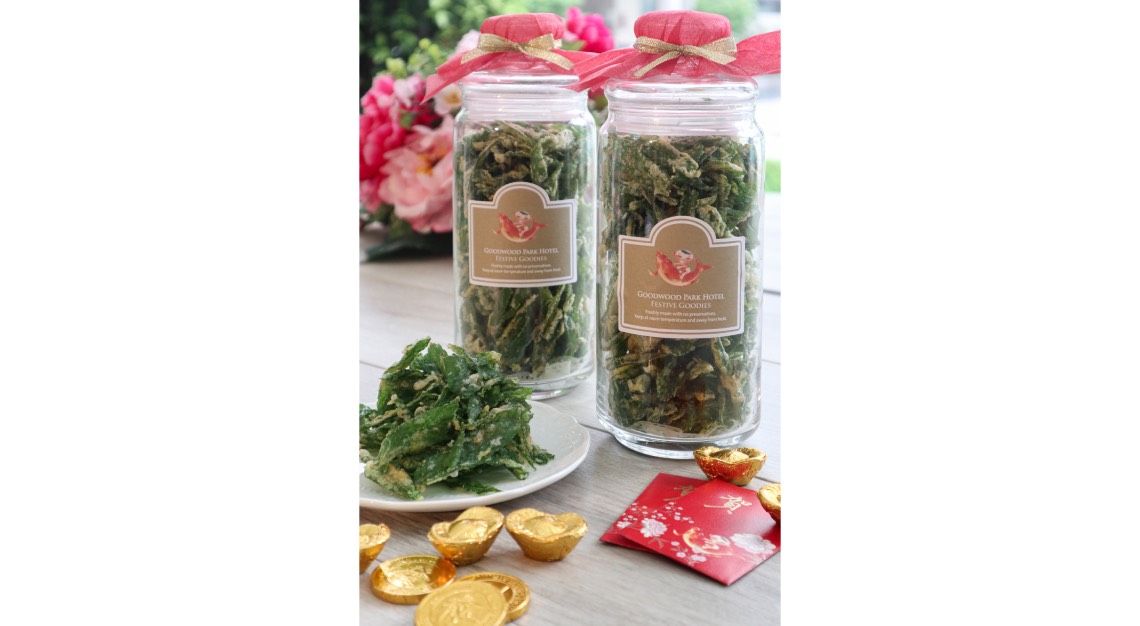 Min Jiang
Happening: Until 26 February 2021
For excellent Cantonese and Sichuan cuisine in a stylish, lavish setting, there are few that match the sophistication of Min Jiang – whether you're at the classic flagship at Goodwood Park or the sleeker, minimalist branch in Dempsey. Typically known for its Mongolian Chicken with Almond Flakes and dim sum pushcart service, this Chinese New Year season will see six- to nine-course menus, with some dishes unique to the two outlets and available for takeaway or delivery. Highlights include the Auspicious Abundance Lo Hei (Dempsey) that features all the things you'll need for good fortune – steamed Alaskan crab, baby abalone, flying fish roe and sweet peaches – Double-Boiled Abalone Soup and Eel Fish Maw (Goodwood Park), a heady three-hour simmered broth of homemade pork balls, prawn dumplings and dried sole fish. Also available at Goodwood Park is the Stewed Rice, a thick concoction of minced chicken, dried scallops, baby abalone and fried liver sausage that's possibly one of the best things that we have eaten to date.
If you're hard-pressed for quality snacks this season, The Deli at Goodwood Park Hotel has Bak Kwa, Crispy Kang Kong (it's coated with cheese and sour cream, and is to die for) and melt-in-your-mouth Walnut Cookies. – Hannah Choo
Min Jiang
22 Scotts Road
Goodwood Park Hotel
Singapore 228221
Tel: +65 6730 1704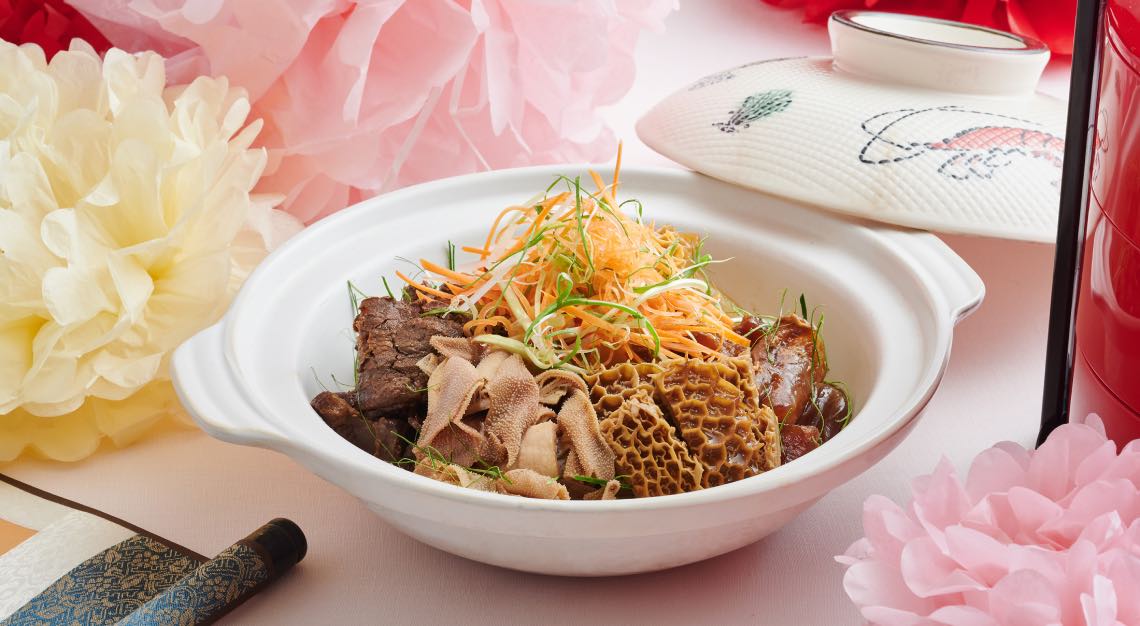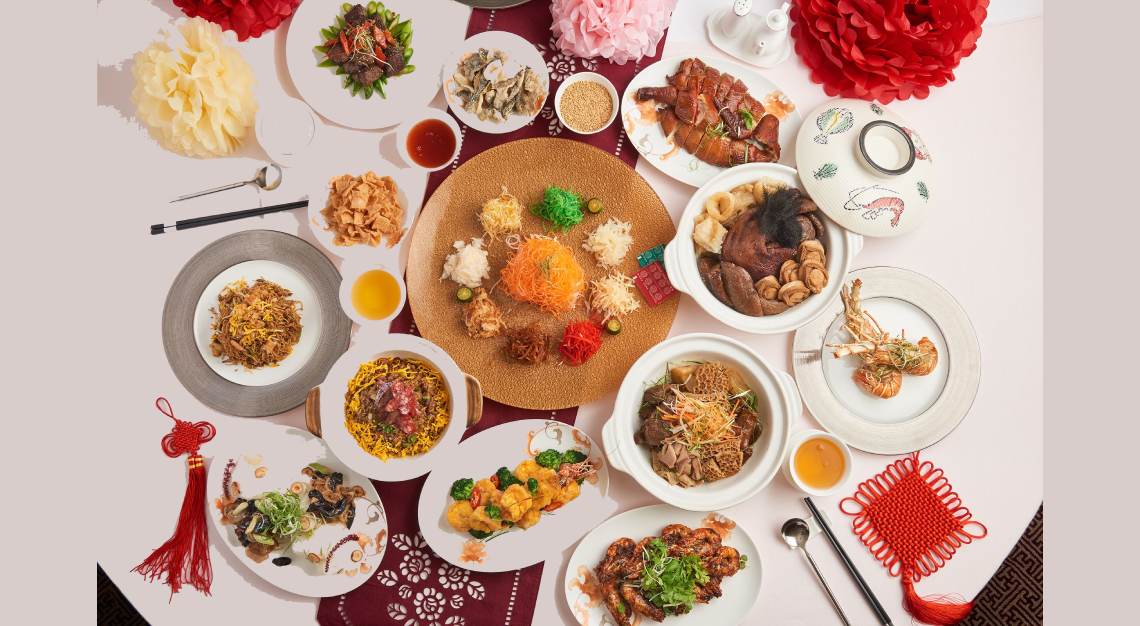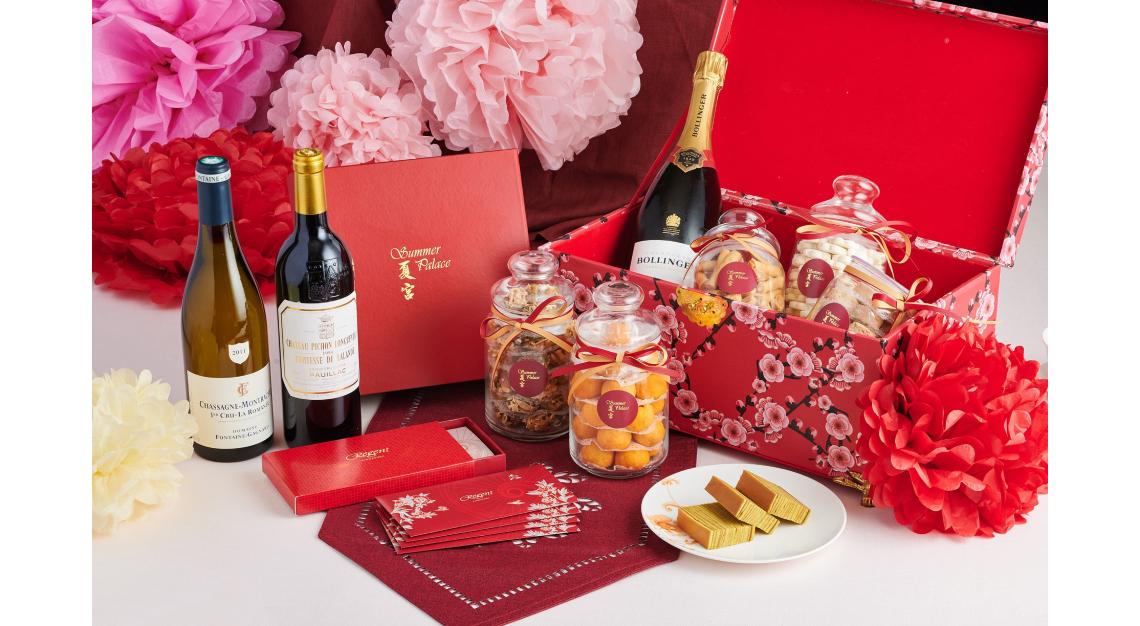 Summer Palace
Happening: Until 26 February 2021
Summer Palace has nine set menus (and à la carte) available until 26 February, save for the eve of Chinese New Year, when three exclusive menus are set in store. On the eve, go for the Prosperity Menu, which should guarantee a more-than-satisfied stomach; highlights include the Braised Three-Head Abalone with Vegetables, Barbecued Suckling Pig and Bird's Nest and Fish Maw Soup. If you'd rather dine on a separate day, the Gold Menu promises just as good a variety. Think Stir-Fried Lobster with Sliced Almonds and Crispy Rice, Pan-Fried Crab Claw with Shrimp Mousse and Ee Fu Noodles, and Double-Boiled Hasma. – Allyson Tutay
Summer Palace
1 Cuscaden Road
Level 3 Regent Singapore
Singapore 249715
Tel: +65 6725 3288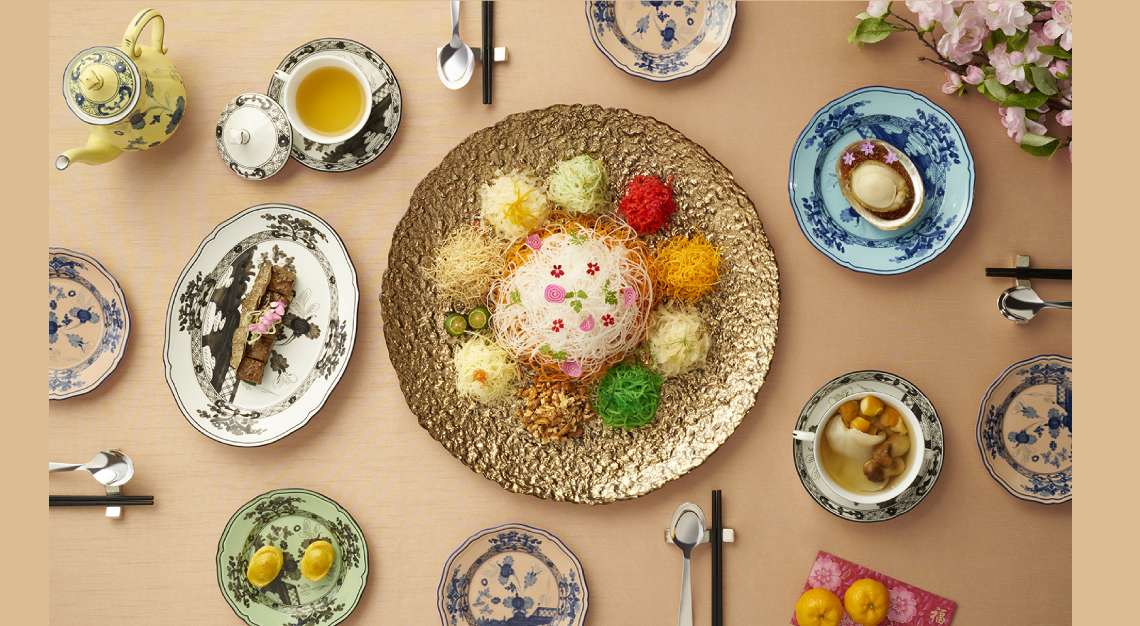 Summer Pavilion
Happening: 1 to 26 February 2021
Trust the Ritz and chef Cheung Siu Kong for truly excellent Chinese in a sleek, stylish setting. Six- to eight-course set lunch and dinner menus are available, with vegetarian Yu Sheng and Pen Cai also up for takeaway. If you aren't sure what to go for, sit yourself down for the eight-course Abundance menu (in advance, don't forget) and feast like a king. The Lobster Yu Sheng is delightful, as is the more traditional, herbal dishes like the Double-Boiled Fish Bone Soup. Do also save space for the Chilled Sweetened Bird's Nest, Red Date – a Hong Kong-style dessert that's a nod to the chef's roots, and a perfect palate cleanser that's laced with happiness.
If you're looking at their à la carte menu, you won't want to miss their Braised Superior Bird's Nest or their Braised Whole Abalone, which is served drenched in Summer Pavilion's signature oyster sauce. And if you'd like to do Chinese New Year with friends who love a good time, we recommend booking a table at Colony (Ritz-Carlton's popular buffet) for the Lo Hei Vintage Champagne Brunch on 14 February 2021. S$388 will get you unlimited Bollinger La Grande Année 2007 and select cocktails. – Allyson Tutay
Summer Pavilion
7 Raffles Avenue
The Ritz-Carlton, Millenia Singapore
Singapore 039799
Tel: +65 6434 5286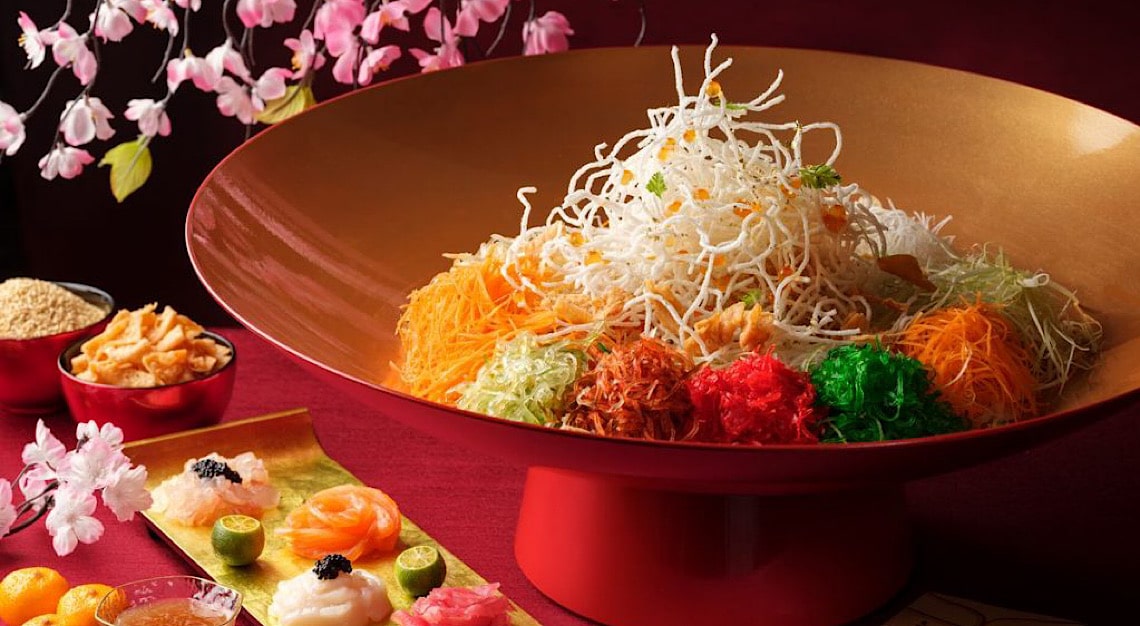 Wan Hao Chinese Restaurant
Happening: Until 26 February 2021
Sitting right at the edge of the Orchard Road shopping belt, Wan Hao has been a favourite among fans of fine Cantonese cuisine. Not only is the menu filled with delicious premium ingredients, head chef Brian Wong has also taken special care to make traditional favourites as healthy as possible without compromising on flavour.
The are various eight-course menus offered for this period of time. Within these, Wan Hao's version of Yu Sheng is sure to delight you with several choices of toppings: Boston lobster, scallop, caviar, fish skin, mini abalone and smoked duck breast, which you can choose to douse in a healthy, delectable mandarin orange sauce. Also make sure you don't miss out on any of the rich collagen goodness in Wan Hao's Imperial Pot Pen Cai, either with bird's nest or Australian three-head Abalone and goose feet. – Rachel Ang
Wan Hao Chinese Restaurant
320 Orchard Road
Singapore Marriott Tang Plaza Hotel
Singapore 238865
Tel: +65 6831 4605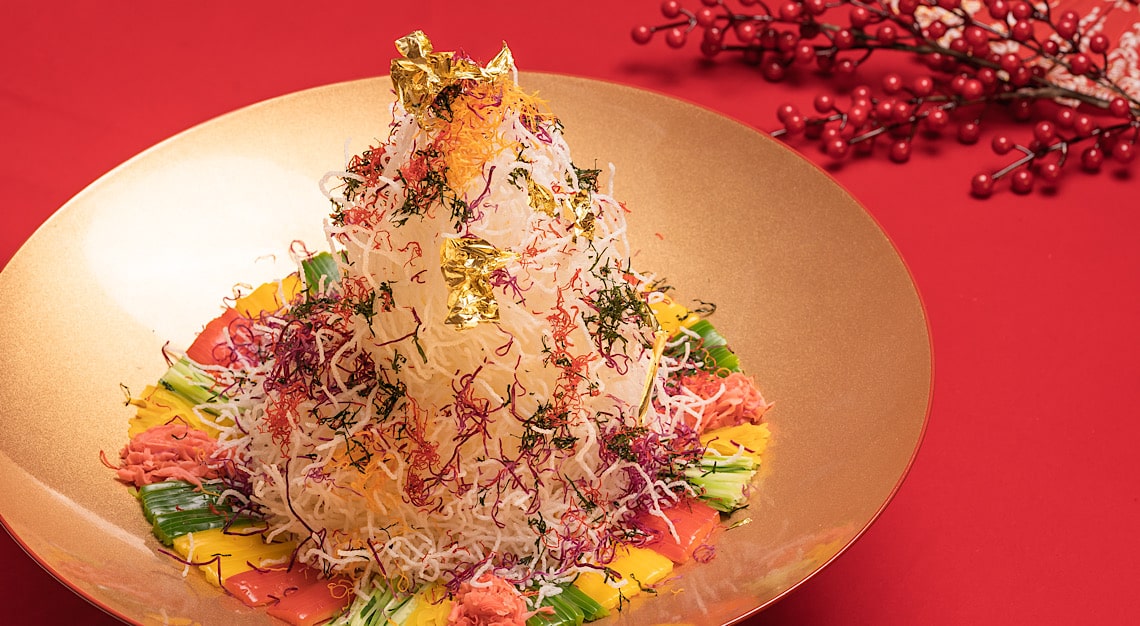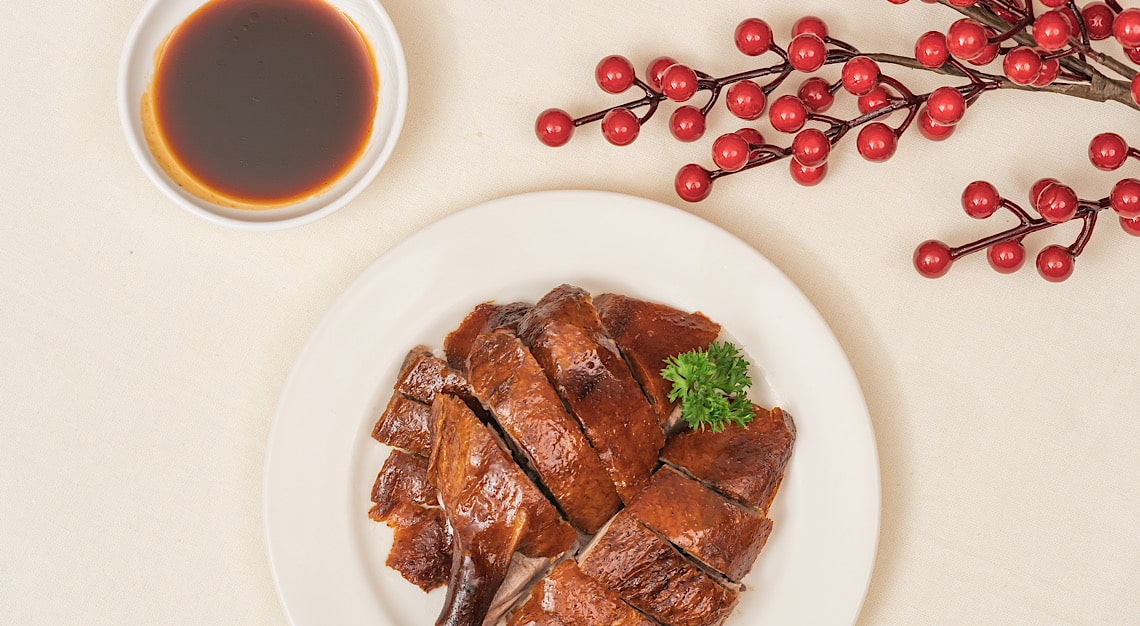 Yan
Happening: Until 26 February 2021
Situated on the top floor of the National Gallery, Yan offers up to diners not just a lovely view of the city, but also an exquisite spread of Cantonese delicacies. These include crowd favourites such as Peking Roast Duck, Crispy Roast Suckling Pig served three ways, and a bevy of nourishing double-boiled broths, abalone and seafood, all of which will make you wish you had more than one stomach. 
Pick your choice of six set menus, with a range of five to eight courses that serve up the perennial favourites, some with a twist. Yan's version of the Lo Hei is presented with abalone, yellowtail, and – wait for it – gold flakes to really rake in all the prosperous energy. Fortify yourself with some Double-Boiled Fish Maw and Chicken with Cordyceps Flower Soup. Indulge in a heart-warming Braised Spring Chicken with Six-Head Whole Abalone, and seal off the meal with the delicate sweetness in the Double-Boiled Bird's Nest with Lily, White Fungus, Wolfberry and Lotus Seed dessert. There – you're all ready with a full belly to face the Lunar New Year. – Rachel Ang
Robb tip: Enjoy 10 per cent off dine-in before 1 February 2021. An advance preorder of two days is required.
Yan
1 St Andrew's Road
05-02, National Gallery Singapore
Singapore 178957
Tel: +65 6384 5585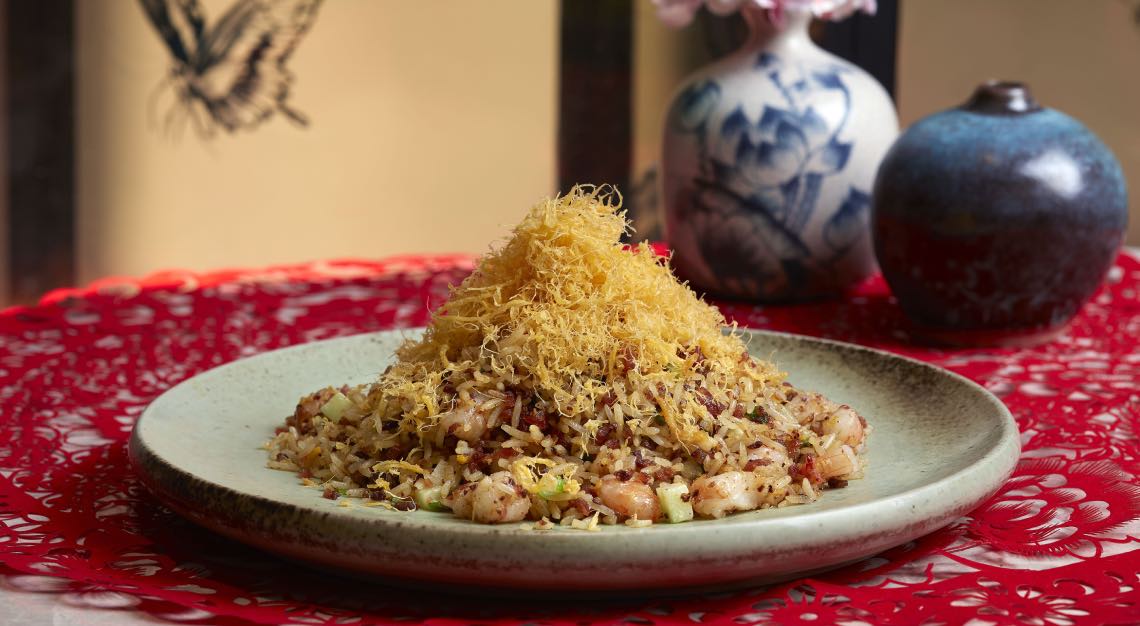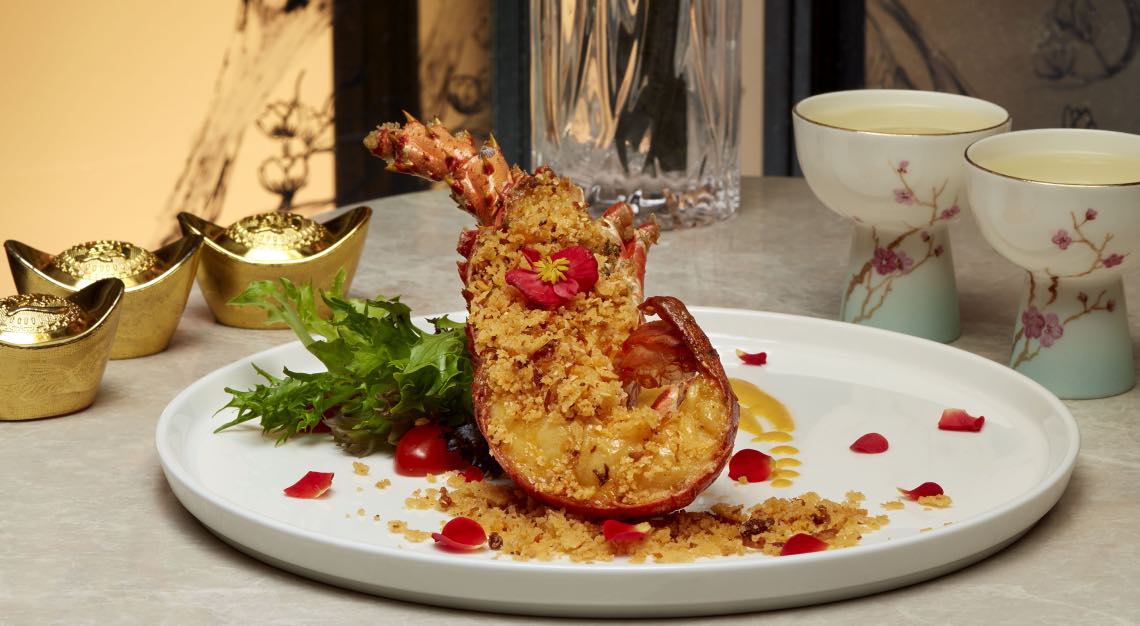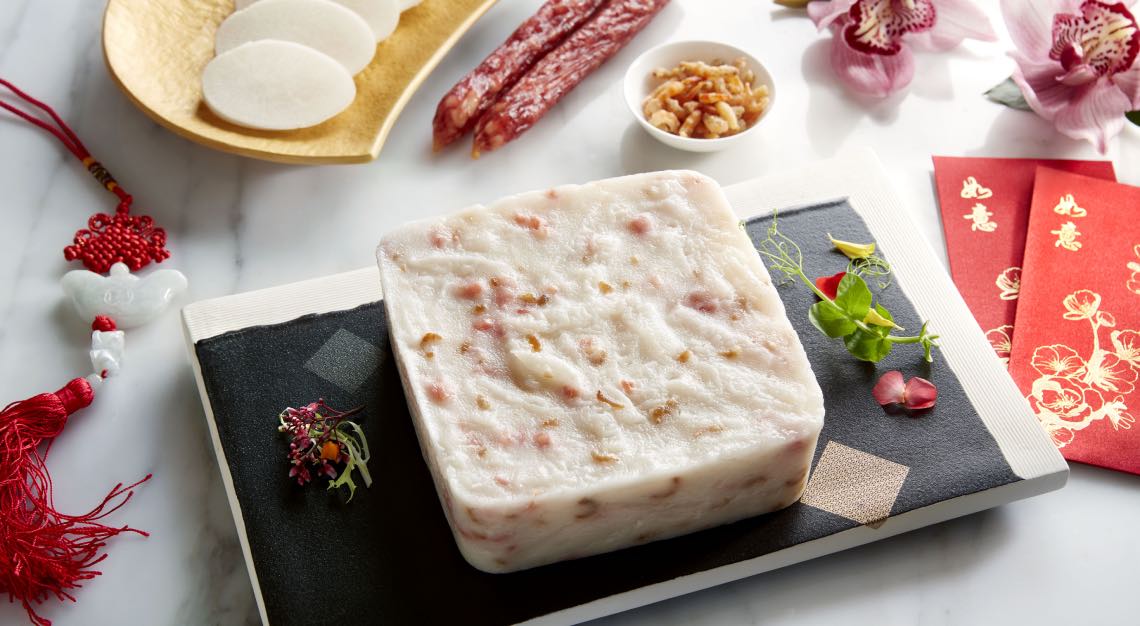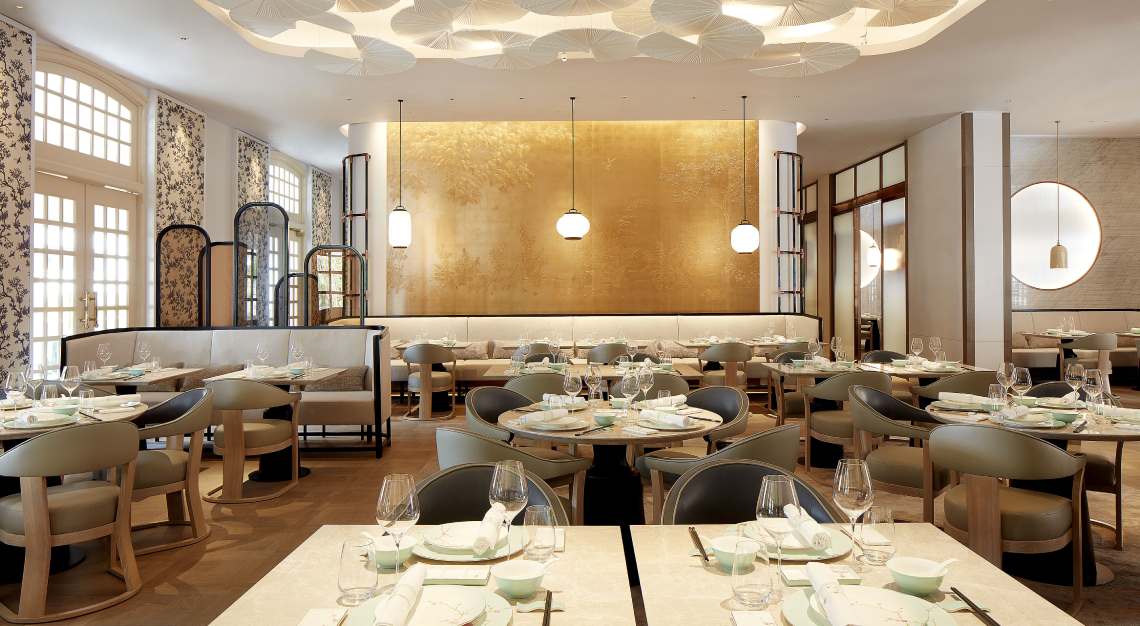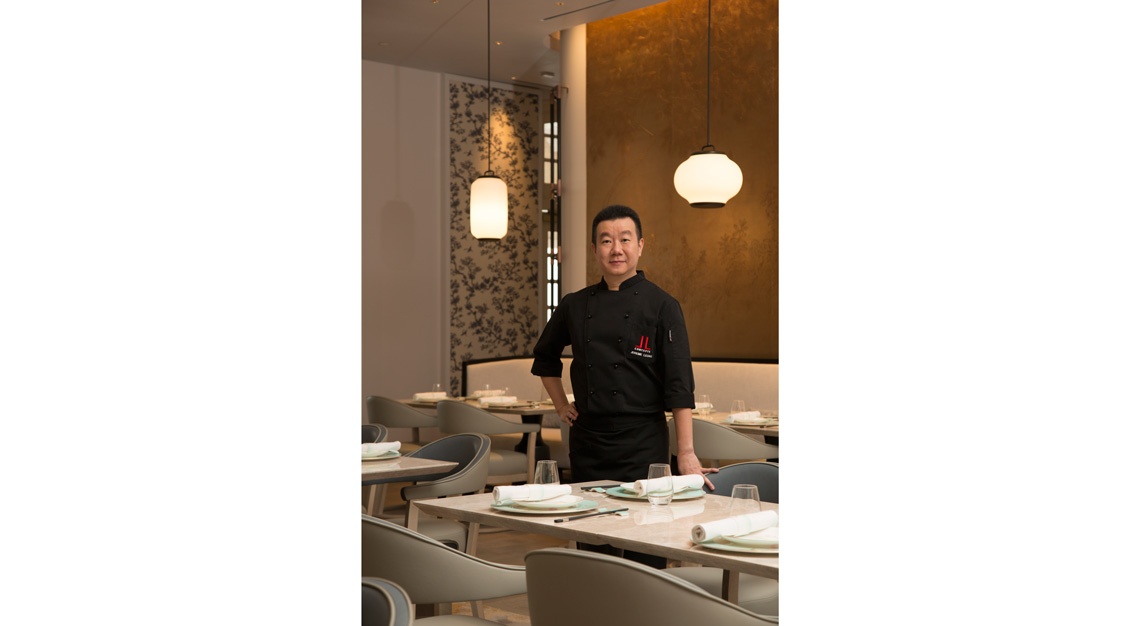 藝 yì by

Jereme

Leung
Happening: Until 26 February 2021
Yì, which means 'art' in Mandarin, is more than just a pretty face. Behind the elegant interior – there's an art installation of 1,000 handcrafted floral strands that hang at the entrance, and a pale, neutral palette that runs throughout – is a smorgasbord of flavours and creative juices, courtesy of celebrity master chef, Jereme Leung. But as far as great restaurants go, you've got to know what to order. For that, we recommend Leung's Signature Golden Fried Rice (which is also part of the Prosperous Set Menu), the Dried Scallops, Fish Maw and Crab Meat Soup, and Prosperity Seafood Treasure Pot, a terrifyingly decadent spread of 10-head abalone, scallops, dried oysters, Chinese mushrooms and braised pork tendons. Oh, and the Baked Lobster with XO Sauce and Cheese, which can also be found on the Opulence Set Menu, the most… opulent of all its set menus. – Hannah Choo
藝 yì by Jereme Leung
1 Beach Road
Raffles Singapore
Singapore 189673
Tel: +65 6557 1886