Andrew Leci suggests that even if you have a fortune, you don't always have to spend it on good Japanese cuisine
Lovers of Japanese food in Singapore will know that there is a vast lacuna between, say, Sushi Tei and Oshino. And so there should be. I wouldn't describe the former as 'mass market' because it's better than that, while Oshino is the crème de la crème if you're contemplating hurtling headlong down the omakase pathway towards the taste of nirvana gold at journey's end.
Apologies. My last meal disagreed with me, so I swallowed a dictionary and a pamphlet entitled, 'DIY Poetry'.
Fortunately for diners, there are quite a few establishments who are prepared to fill the gap, which means that we nipponphiliac (has to be a new word) gourmands have a plethora of choice when it comes to stepping into the vast middle ground. Let me introduce Ginza Shinto, a new restaurant in the Robertson Quay-Mohamed Sultan restaurantverse (not a new word, as I've used it before, but it still doesn't get past my spellchecker).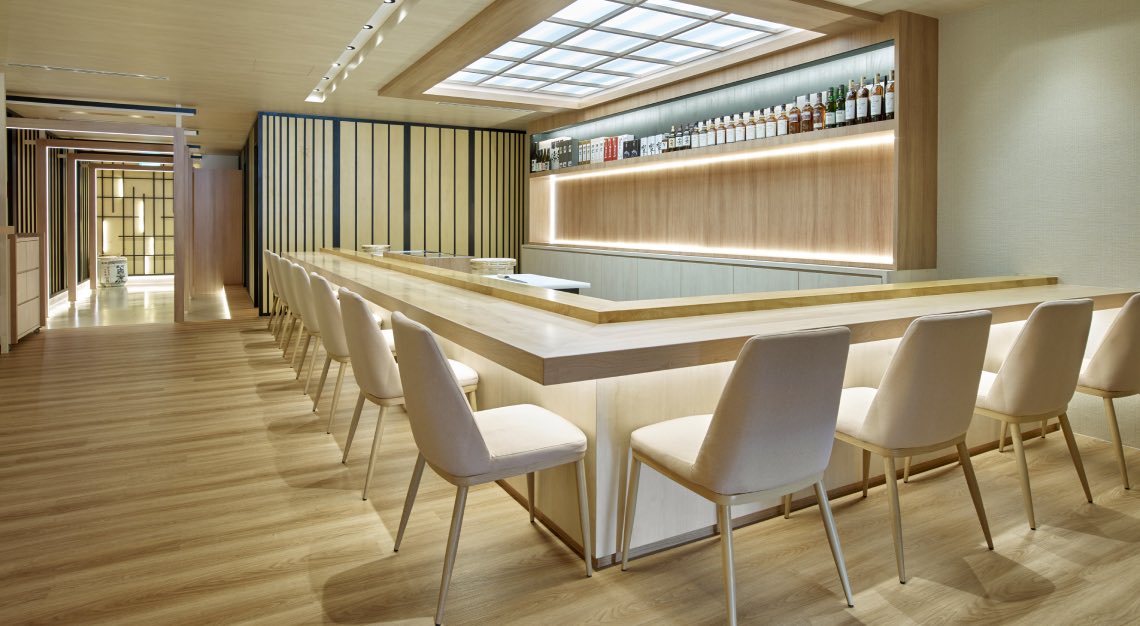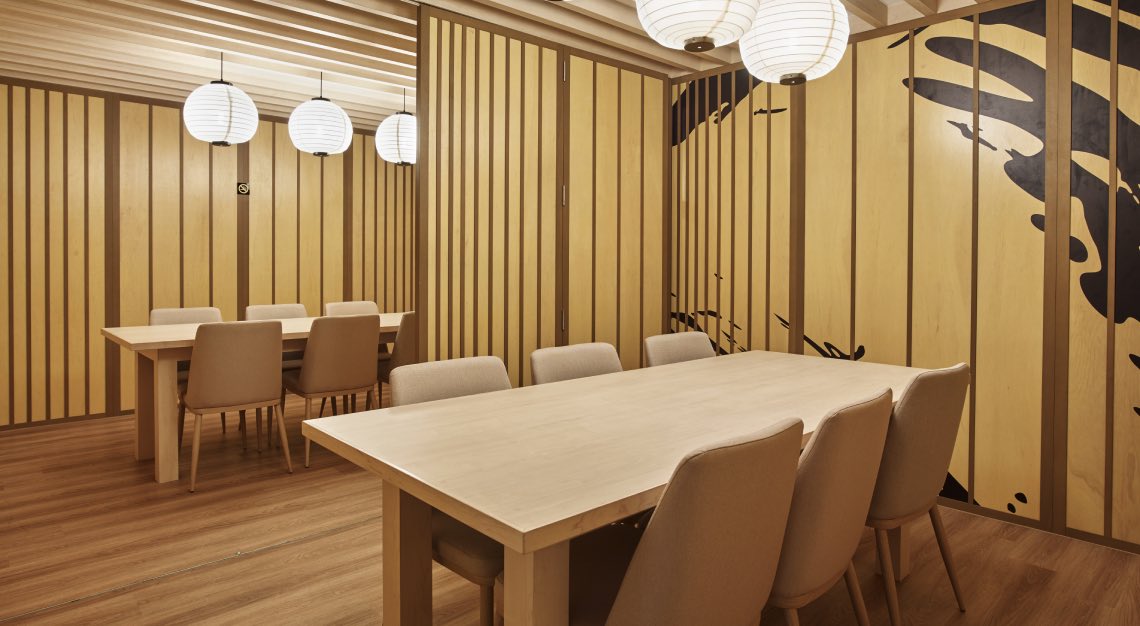 Ginza Shinto is filling the void, with style, no small degree of panache, and in full recognition that diners will be happy not to have to pay an arm and a leg for a good omakase. In some ways, the newly opened restaurant has positioned itself as an establishment charging three-star prices and producing four-star, and occasionally five-star dishes. It's a hotel analogy, just go with it.
You can opt for the 'Full Monty' with the nine-course Shinto menu at S$300 which, I am sure, will contain some delightful dishes. Or, you can lower your expectations and food intake with the dinner option of the five-course Gin menu at S$150. (Spoiler alert: gin is not involved. Shame, really.)
Whatever you opt for, you're unlikely to be disappointed. Chef Ron Newton Leo has more than "30 years of sushi counter experience under his belt", and he seems to be just the kind of person you'd like to be sitting opposite when eating all manner of raw fish and cooked dishes that will not fail to satisfy.
The menu will change often, according to seasonal ingredients and what's available at the renowned Toyosu market in Tokyo and able to be flown in twice a week. Chef Leo reserves the right to draw on resources in Hokkaido and Osaka as well (blessed be him and his suppliers), but he will make a good fist of whatever he gets. He has an excellent sense of what goes with what when it comes to pairing fine ingredients.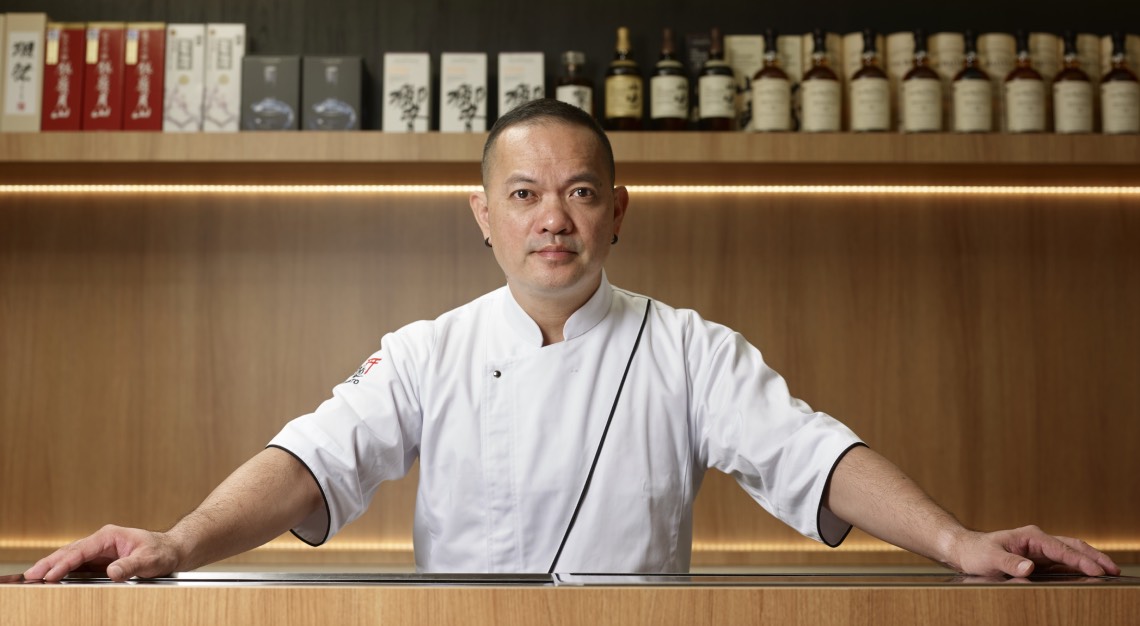 Take the simple opening salvo of a refreshing tomato salad with garlic and a touch of sesame – simple, pure, refreshing. How about a spot of ebiko, white shrimp, uni and a touch of yuzu to draw out the flavours? Try to eat this dish with chopsticks and you'll be hungry by the time you finish, so just be prepared to go down and dirty and slurp the damn thing from the bowl. It's so much more satisfying.
Chutoro offerings are great – it's not the most marbled, which works well for me (too rich, too fatty is a turn off for my taste buds), and then you start to notice the accoutrements. Little flowery bits in the melange that can't simply be aesthetic, right?
Right. Notwithstanding the gold leaf (more on that later) nothing is superfluous. Take the ohba leaf (and flower) that crops up like a recognisable film extra in a number of dishes. Shiso, perilla, call it what you will (personally, I like 'Japanese mint'), chef Leo will instruct you to take it at the end of a dish (as a palate cleanser – the leaf) or break it up gently to release aromas that lift the shoyu to create more taste (the flower) and, by golly, they both work. It's interesting, and quite a lot of fun. It works really well with the kampachi (yellowtail – nice enough but not prime) and the chutoro. It doesn't seem to have quite the same effect with the sea bream, but that may be down to personal taste.
And the fun begins. Miyazaki A5 wagyu, perfectly seared with a quail egg yolk to add to the accompanying sauce, with gold leaf to add absolutely nothing to the flavour, but it does look pretty. It's a very good dish, and almost worth the admission money alone, as the saying goes. The meat is perfectly cooked, the sauce tangy (mirin infused I would suggest) and the inclusion of the quail egg enriches the whole experience. It's delightful.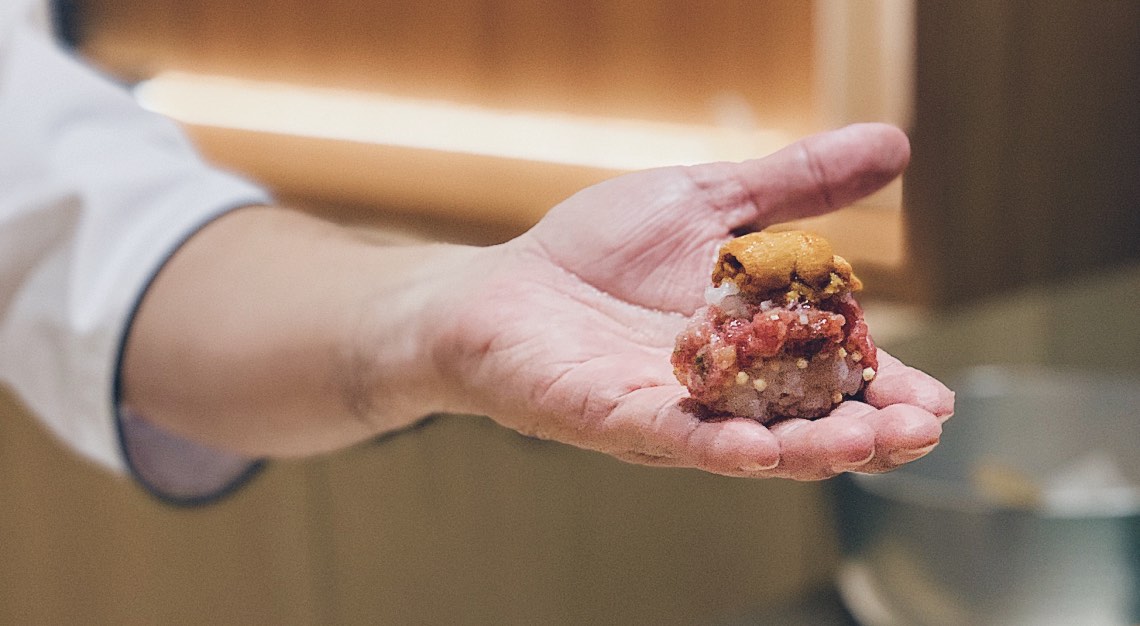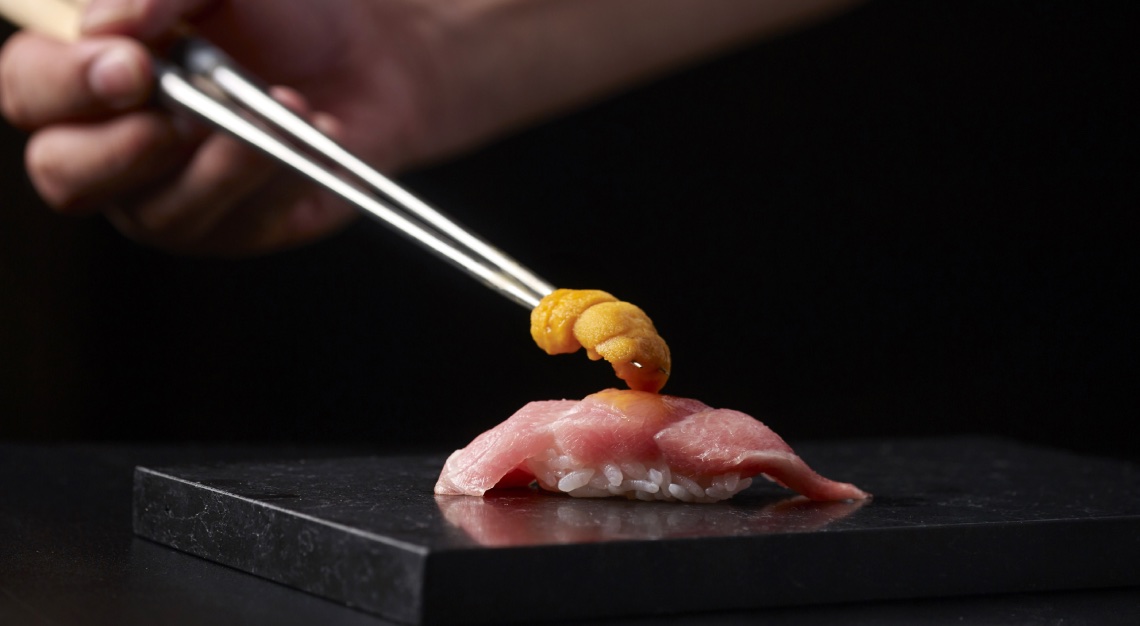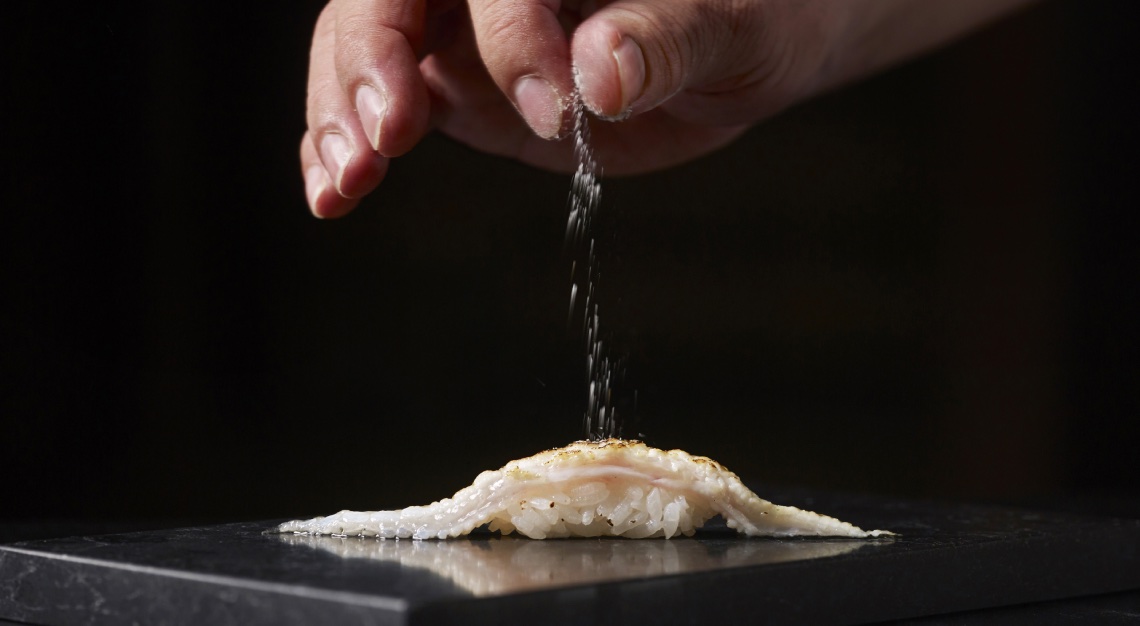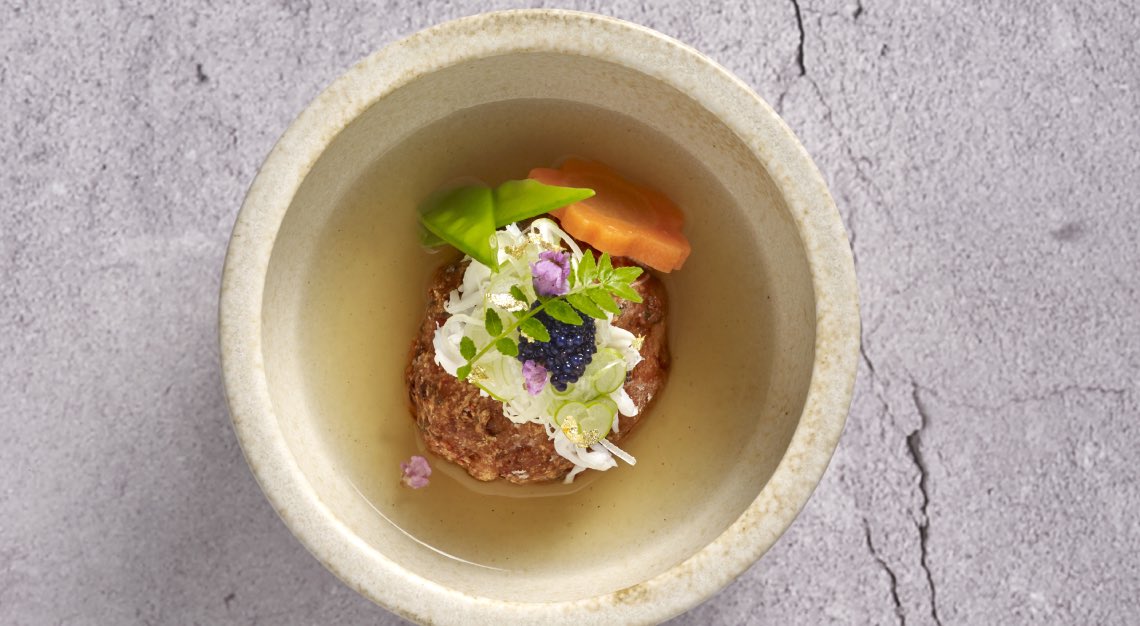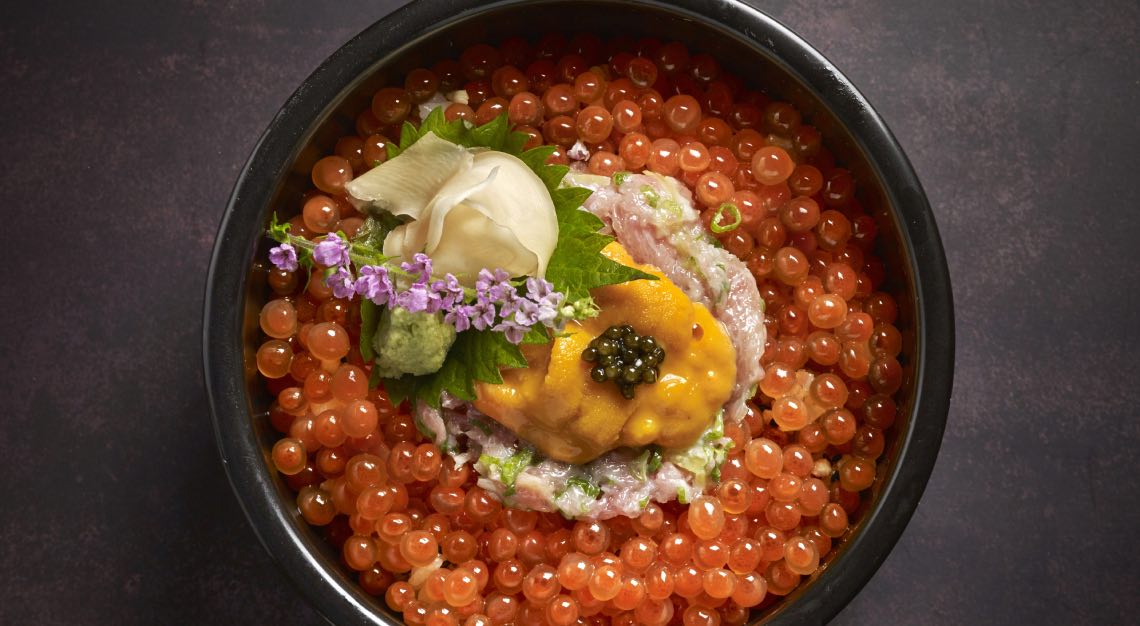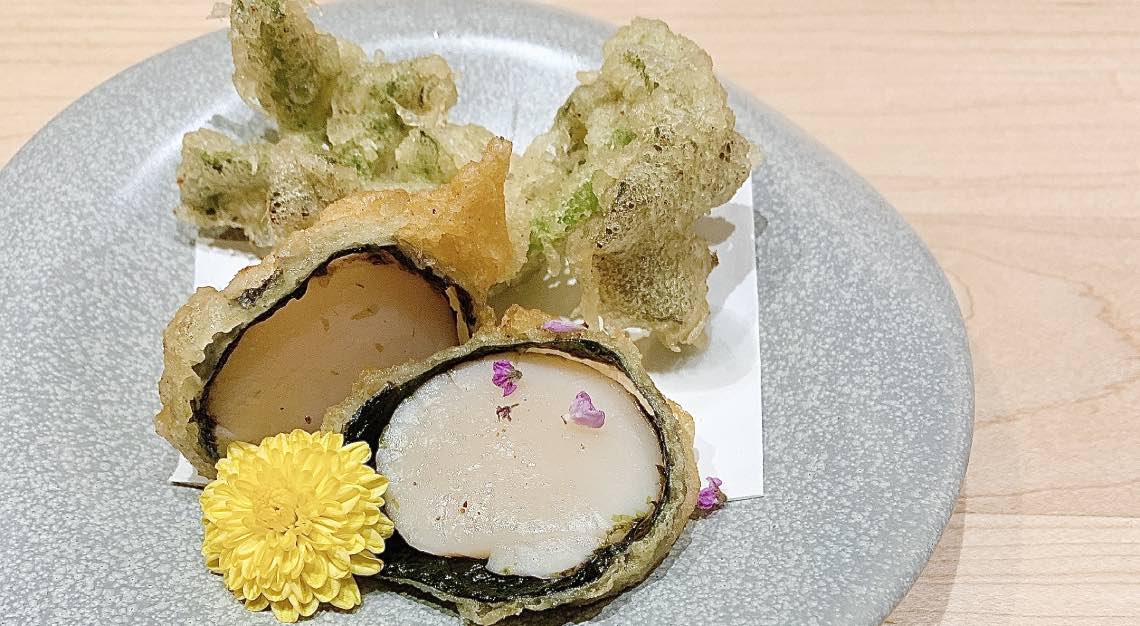 As too is the Forget Me Not nigiri sushi, which, I am reliably informed took a year of experimentation, only after which perfection was achieved. I'll buy it. With negitoro, uni and roasted crisp rice puffs, it's a textural sensation with exceptional flavour and a dish of which chef Leo is justifiably proud.
All that's left to report on is a donburi that equates to a Japanese version of 'steak and eggs', which could become signature for the restaurant. And it made me want to sing, because it's Leo's donburi – or Ron's don – and I can't even say that without thinking of The Crystals hit of 1962, Da Doo Ron Ron. Okay, the song is naff, and the lyrics even more so, but I met chef Leo's don at a party on a Thursday and my heart stood still, and I'm only hoping it wasn't due to the cholesterol.
Delicious wagyu, on a bed of cooked egg, with rice underneath and augmented with a beautifully recessed white truffle essence made for a very good dish, and one for which chef Leo should burst with pride. It contains elements that are difficult to dislike, and this ethos abides in the culinary philosophy of Ginza Shinto. It's slightly populist (which entails including ingredients that everyone enjoys and is comfortable with) but it's very thoughtfully put together with the sole purpose of enhancing pleasure in what doesn't always have to be a five-star dining experience that results in a four figure bill.
Ginza Shinto has established its niche in the market, and it's one that chef Leo understands and will continue catering to.