In this edition of Dished Out, we speak with, Reuben Davis, the Group Culinary Director of the Mandala Group, about how new flavours can radiate outward from a private members' club
High-quality, high-energy and high-fun—that's how Reuben Davis appraises the mantra behind the magic he weaves as the group culinary director of the Mandala Group. His place of prominence in the Singaporean flavour-scape is writ large in the fact that what's made in his kitchen plays a crucial role amongst the various charms of the progressive private members' club. But all the acclaim in the world doesn't distract him staying true to his guiding philosophy. Case in point: the humble bowl of fries fries from the club's second-floor bastion Popi's took six months to perfect. All par for the course under Davis' hand.
After cutting his teeth and honing his powers in a slew of fine dining restaurants, including Jason Atherton's Pollen Street Social in London and George Calombaris' The Press Club in Melbourne, the English chef who was drawn to food as a teenager, now stands amongst the main architects at the intersection of food, culture and entertainment here. In a city that takes eating and drinking very seriously, Davis is well-poised to show how fun and ingenuity can be factored into it all for an elevation that is greater than the sum of its parts.

Over fries and Popi's' famed Palomas, he shares how he found his calling and relates how that translates on the plate today.
What's it like to be you?
Well, I'm Reuben, the group culinary director of the Mandala Group. I'm from Devon, in the United Kingdom. I started cooking when I was 16. My mate's dad had a restaurant, a small bed-and-breakfast-type place, and that's where I got my start. My family had always been into cooking and eating (more of the latter, really), especially for celebrations. So, I was always around the kitchen. I worked at my mate's place for two weeks and it was there that I fell in love with the atmosphere of the kitchen. I knew it was something I wanted to do long term.
It's known that you studied at the Birmingham College of Food and Tourism. Did your formal training ever prepare for what you face daily as a chef?
In my experience, it helped. I had some good teachers and mentors and I learned a lot of the classics, which gave me all the fundamentals. But as an industry, the UK is very disconnected from the college system. Denmark and Sweden do it better, in the sense that what they're serving in their higher-end restaurants informs the curriculum of their culinary schools.
So, for me, my education gave me a solid foundation but the rest of the house was built on working and learning in different kitchens after I left school.
You've also worked with Jason Atherton. That must have been an eye-opening time.
Yes. I was the first employee at Pollen Street Social. It was really interesting to be part of the development of that restaurant. I was 21 at the time, and to be exposed to someone working at such a high level at such a young age was legitimately inspiring. Jason's drive, single-mindedness and creativity are hard to top. I got to see how the restaurant come to life, from him talking to me about it to what it actually became.
We got a Michelin star after six months of opening and it's been very popular ever since it opened, but for me, the main experience was watching how Jason, who felt like he had something to prove, achieved his dreams. He was involved in everything, including joining us to scrub down the lane of the restaurant. He definitely took pride in his vision.
And after those early years, you've gone on to become a group culinary director. What does it mean to you that you get to build the palette of this establishment and its properties?
It means a lot to me. The thing that excited me about joining Mandala was that I got to build a culinary programme within a space that, at that time, was just an idea. It was exciting and nerve-wracking. Though I'd come from a lot of fine dining restaurants, the members' club space was new to me. But I had strong belief in what I could do and what the food here should be and I just threw myself into it. It was very important for me to build the right team. Once you have that in place, you can go as far as your creativity takes you.
I'm a chef who's not just into one thing. I find it quite exciting to build different concepts and different types of cuisine. So it's important for me to be inspired and having the right people around me most certainly helps.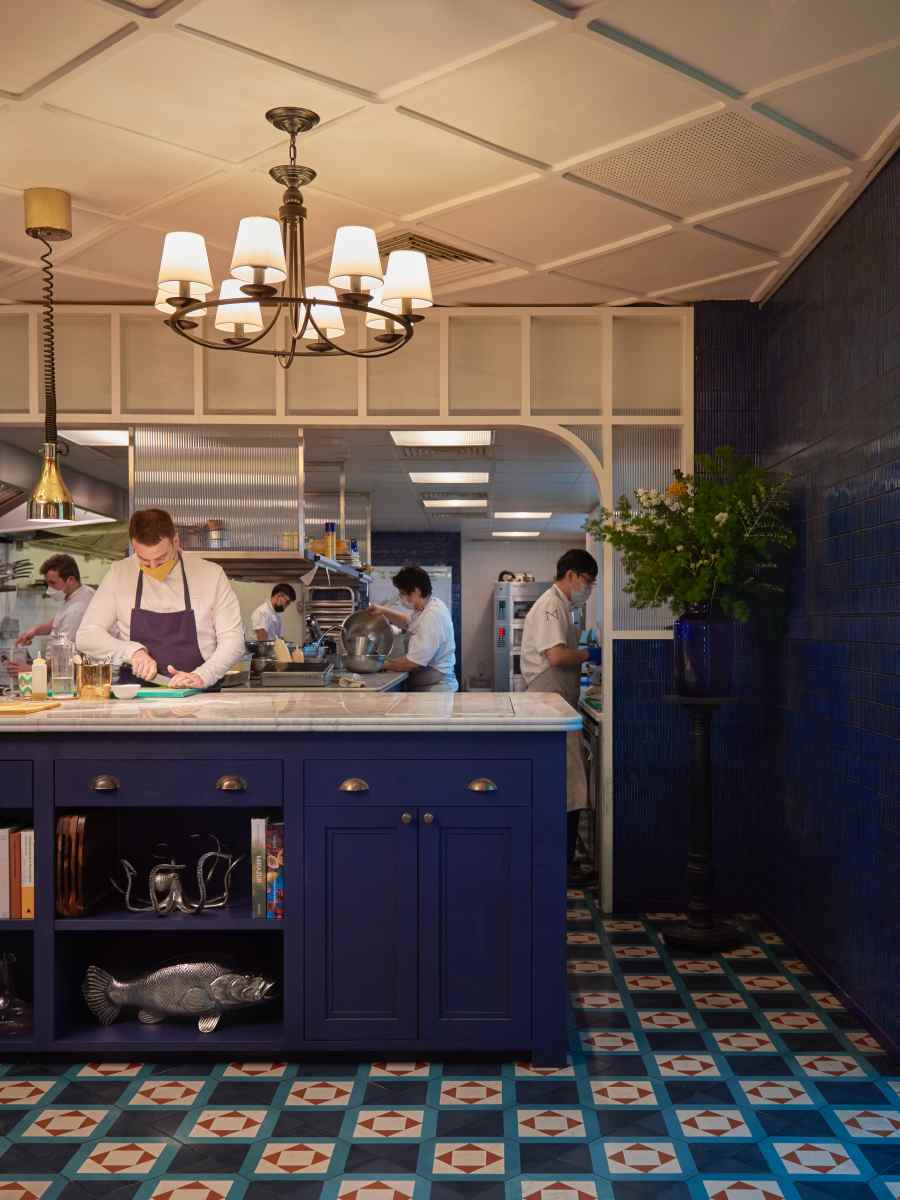 If you could paint with a broad brush, how would you describe the overall theme of the food here?
The broad strokes are that we want food that people want to return for. Being a members' club, we want people to spend their time here. We take my ethos of trying to be the best at fine dining and apply it here and put the biggest emphasis on quality, regardless of the dish. Whether it's modern Japanese or contemporary bar and grill, we leave no stone unturned. High-quality, high-energy and high-fun.
As a chef, is being in a private members' club more freeing than being in a fine dining restaurant?
That's a good question. Not to sit on the fence, but it's a bit of both. Here, there are restrictions to what we offer daily: people want some familiarity but they also expect creativity. But it's freeing in the sense that we can do a whole host of events that offer different types of food because of our Cultural Calendar. Ultimately, if you focus on the quality of what you're doing, it doesn't matter if it's a bowl of chips—which took us six months to perfect—or a whole meal. Everything you do will reflect the values behind it.
Six months?
Exactly.
I can't imagine having to contend with a Cultural Calendar's worth of food to prepare. How do you navigate the pressures that come with that?
It's a blessing and a curse. You're asked to do things you wouldn't normally get asked to do, as a chef. But it's also great because some of the best things we've done have come from those experiences. I see every event as an opportunity to have fun with food. When we find something that works, it just feels incredible. The two most important things are to have fun and keep it distinctly Mandala. One of my favourite chefs is Andrew McConnell from Melbourne. He owns several different restaurants but they all have the same DNA running through them. That's what we're doing here as well.
What are some events on the calendar you're particularly excited about?
Oh, I'm very excited about our collaboration with Mandarin Oriental. We're developing an elevated food and wine offering for it. This collaboration is the first of its kind between a hotel and a members' club. For the upcoming Singapore Grand Prix, we're doing two nights there as well. I only collaborate with people I want to work with, and it's similar for Mandala as a brand. We like working with people and brands who want to bring something new into being, you know?
We're also going to take the Mandala Club on tour to Niseko, Japan. All chefs love to work with Japanese produce because of how fresh it is. For me, it's especially amazing because we're going to open Popi's there. We're going to weave all that great Japanese produce into the Popi's DNA.
Besides that, we're going to own Halloween. We're going to be the best Halloween party here.
Lastly, if you are what you eat, what are you?
Xiao long bao.