Imperial Treasures
Europe's royal courts have a tradition of awarding royal warrants to vendors that make the cut. These top-grade suppliers ply the imperial family with everything from food and clothing to stationery and household wares.
Britain's royals, for instance, swear by providers like Barbour and John Lobb.
Halfway across the planet, the situation is no different. In Japan, the term miketsukuni is used to describe regions that yield top quality produce favoured by royalty.
Due to their access to the waters surrounding Japan, these regions have been, and are still, responsible for supplying the freshest, most exquisite fruits of the sea to the Imperial family living in the land-locked capitals of Nara and Kyoto. They are thus a key influence in the development of Japanese fine cuisine.
Regular folk like us would ordinarily not have access to such luxuries. But this is 2018, and democratisation is in. We can now readily partake of this privilege without even having to leave Singapore.
From today until Sunday, 11 March, Lewin Terrace is holding a Seafood Royale Fair, featuring in-season, air-flown produce from three prefectures favoured by Japanese royalty: Fukui, Hyogo and Mie.
Each prefecture is renowned for a particular type of seafood. Fukui, for instance, is famous for ama-ebi (northern shrimp) and echizen karei (flatfish/flounder). Hyogo's specialities are torafugu (Japanese pufferfish), akashi-dako (octopus) and Hyogo-Nori (seaweed). Meanwhile, Mie is celebrated for its ise-ebi (ise lobster).
For the literary-inclined, evidence of these regions' fame is recorded in the Manyoushuu, Japan's oldest anthology of poems.
Fit For A Japanese Emperor
The culinary-inclined can sample the restaurant's Hassun Style tasting platter ($68++). It is available from the a la carte menu for both lunch and dinner from Tuesday to Sunday. The platter can be shared between two persons, with only five orders per day.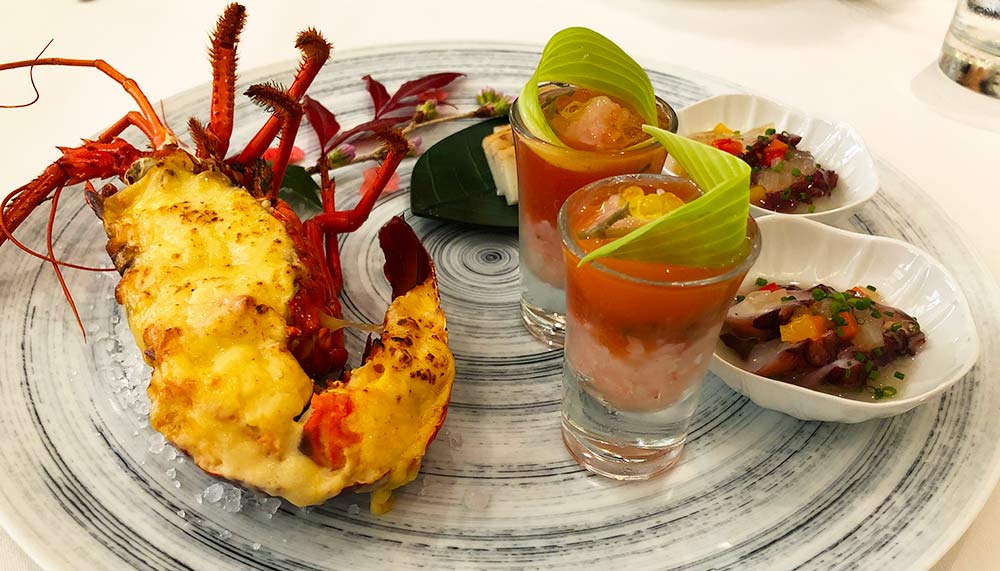 The platter includes ama-ebi from Fukui, akashi-dako from Hyogo and ise-ebi from Mie. Chef Hiroyuki Shinkai's advice is to start with the ama-ebi, segue into the akashi-dako, and end with the ise-ebi, progressing according to the extent each ingredient is cooked.
Ama-ebi is served raw – to preserve its natural sweetness – in a kumquat shell and tomato dressing. I felt that the citrus notes in the kumquat paired extremely well with the succulent flesh of the shrimp.
The akashi-dako, prepared sous vide at 55°C for 50 minutes, ensures that the meat remains tender. And indeed it had a delightful texture and delicate flavour. However, I wished the accompanying pickled vegetables gave the dish a bit more of a kick.
Ise-ebi, caught in Ise Bay, is a highly-prized dish served during the New Year (1 January). Here it is prepared Thermidor-style, accompanied by a rich Bechamel sauce and topped with cheese for a satisfying, full-bodied flavour.
Lewin Terrace
21 Lewin Terrace
Singapore 179290
Tel: +65 6333 9905