Step into Rosemead, a rustic oasis in the heart of the city
Editor's note: For more Date Night stories, click here.
The Jigger & Pony Group's farm-to-table American grill property Rosemead is a beautiful contradiction, or more likely, a contradiction resolved beautifully. Though inspired by the bucolic quaintness and warmth emanated by country homes in California's storied Wine Country, it's situated in the most buzzing and least quaint area in Singapore, the very epicentre of the Central Business District. In its totality, Raffles Place is the site of some of Singapore's most formidable banking and financial fortresses and one of the most crucial bastions of the country's economic health. Hardly is it redolent of care- and worry-free jaunts on rolling fields of green. Rarely, if ever, does one get to stop and smell the roses in the midst of pounding the pavement.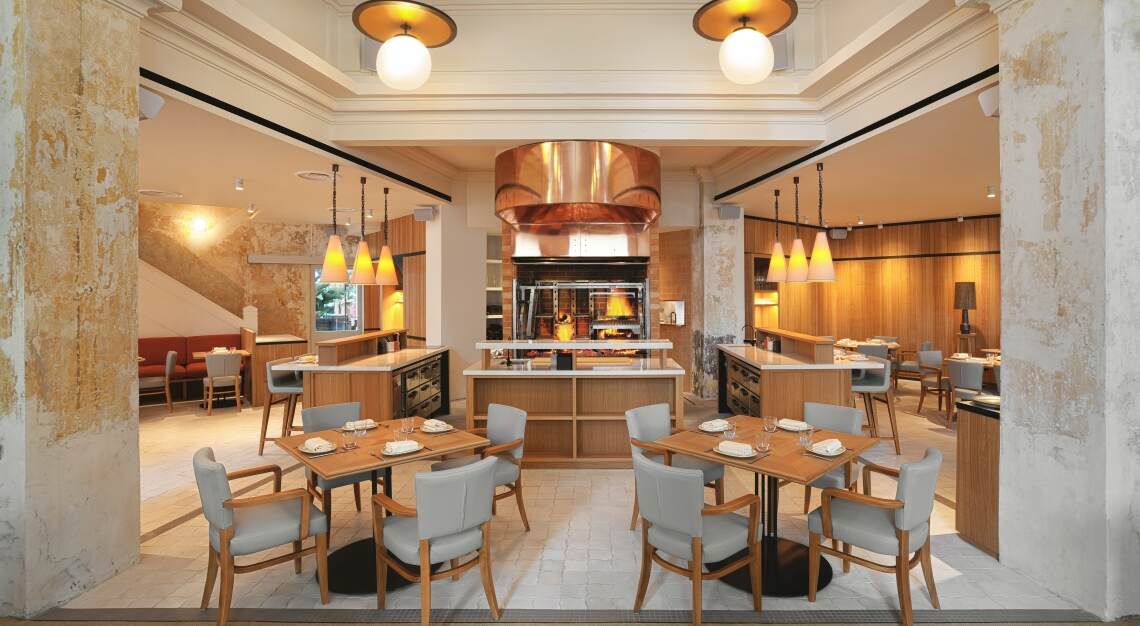 The centrepiece of Rosemead is its custom-built open hearth. Photo by Rosemead
But when you cross the threshold into Rosemead, it just feels different. The restaurant is ensconced within the neo-classical shell that is The Quadrant, built in the 1920s, and once its doors open, utterly transportive to a time and place that is antithetical to the world outside. Everything—soft, earthy inviting furnishing, and lighting that beams with a calming amber glow—exudes an embracing energy that is as informed by taste as it is premised on care for those who sup within its walls and under its roof. The primary source of this aura is the custom-built open hearth which, situated as it is at its centre, functions as the heart of the restaurant. Its rose gold Demant grill is the locus around which group executive chef David Tang, chef de cuisine Ammie Khoo and their team bring the items in the menu to life, an endeavour punctuated by the embers of the applewood fire.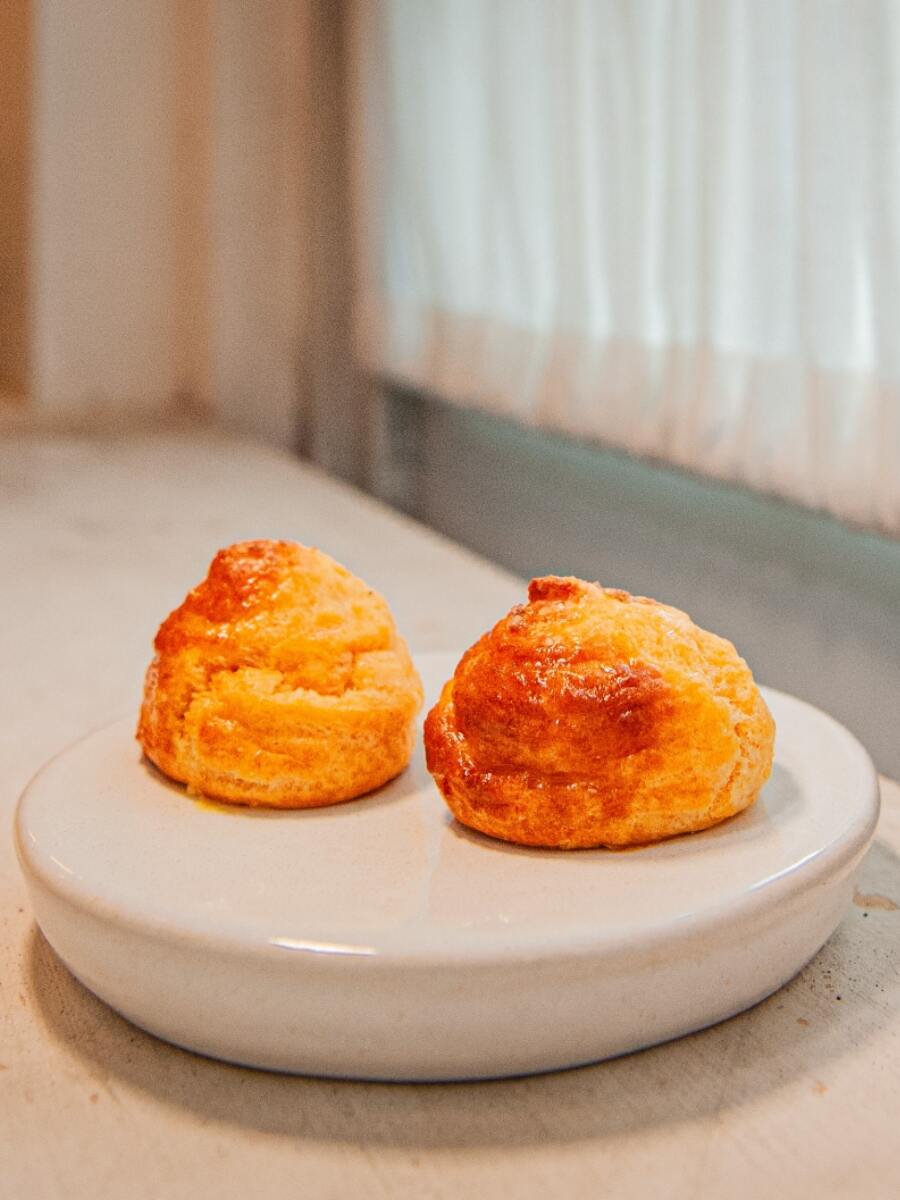 The culinary world is constantly abuzz with hyphenated trends, and 'farm-to-table' is a particularly long-running one. But the food passing from Tang and Khoo's hands transcends the fickleness of fads. Now, in an updated and refreshed dinner menu, they present their foundational philosophy of emphasising natural flavours and uncompromising freshness anew.
The best dishes in the lineup are a fantastic realisation of that fact that instead of being weighed down by unwieldy concepts, each element on the various plates is a different path for the chefs' foundational principles to travel. From the payload of starters, the Warm Cheese Puffs and the Chicken Liver Donut exemplify this perfectly. The former are comfort food elevated to a sublime extent where, as in the tradition of French gougère, a luscious dollop of cheese is folded into a melt-in-mouth pastry with just the right salty bite—only this time, it's smoked.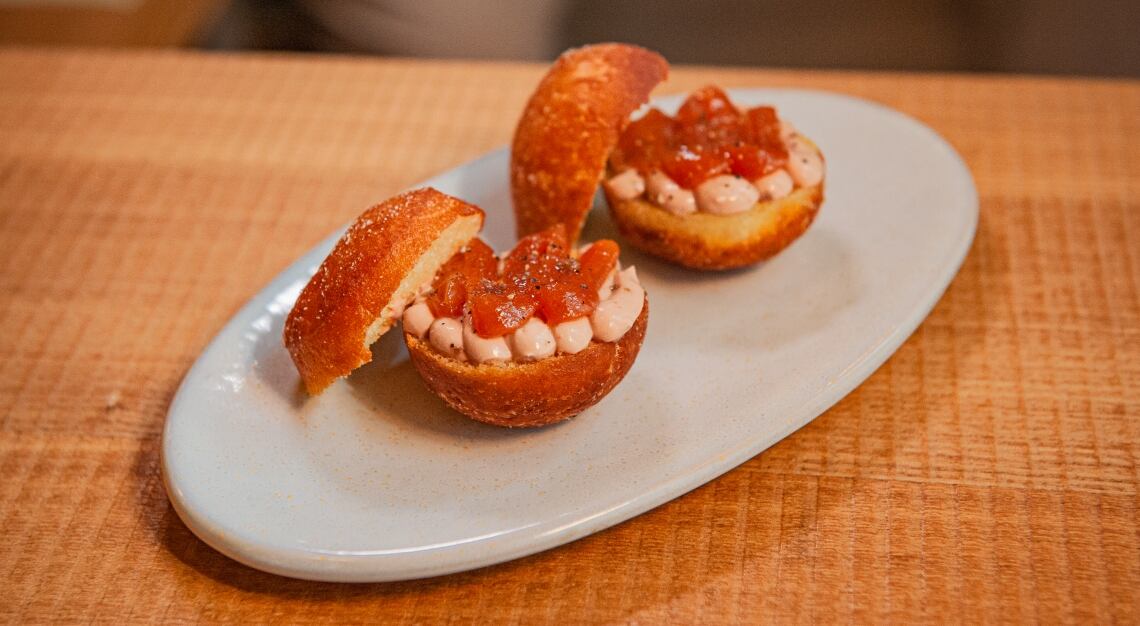 A riff on the American staple that is the peanut butter and jelly sandwich, the Chicken Liver Donut harnesses savouriness from an unlikely source and presents in on a canvas that  flatters it exceedingly. In the confines of fried but fluffy brioche, a symphony of chicken liver parfait chimed in on by shallots, thyme, black pepper, bacon, eggs and cream, luxuriates as it commingles with a tart spot of quince jam.
As ever, vegetables are an unassailable barometer of freshness. At Rosemead, they're also a pivotal revelation issuing from its farm-to-table imperative. Hinging on their seasonality, vegetables are sourced from a bevy of local and regional farms so that when they arrive on your plate, their freshness is guaranteed. In this regard, the Momotaro Tomato is a fragrant treat composed of a Japanese breed of tomatoes prized for their umami quality and sourced from Malaysian farming collective Weeds & More, served with mint, sweet basil and parsley from local farm Blue Acres, and finished with cured mackerel and Mediterranean olive relish. It's not rare that simple ingredients coming together simply provides an unexpected flourish, but when the end result is this exceptional, a special magic is at work.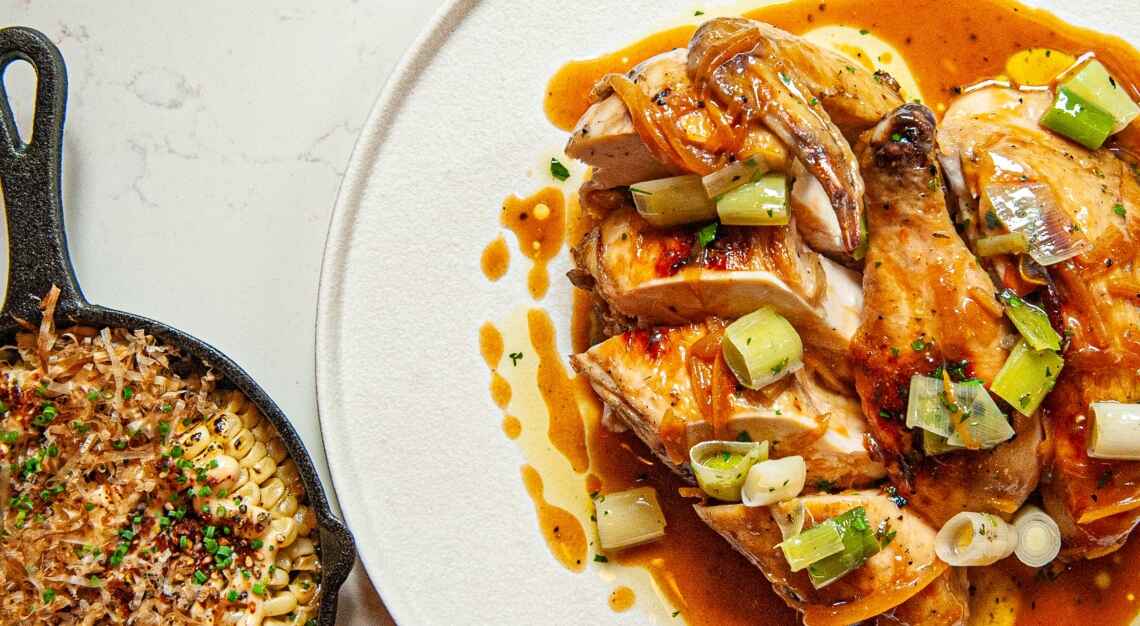 Likewise, a cohesive sense of freshness-borne splendour is also apparent in the mains, notably in the Roast Chicken, a hearty and smoky preparation made from elements sourced from Malaysia. As much as a host of ingredients coalesce into an exquisite singularity, the most conspicuous flag-bearer of this dish is the grill that spawned it. Various heady currents of smokiness converge, resulting in a memory-making, menu-defining monument. Farm-to-table dining in the middle of the Singaporean CBD that takes you away to the verdant Californian highway? Only at Rosemead.
Rosemead
19 Cecil Street,
Singapore 049704
Tel: +65 9781 9084