Caffe Fernet's refreshed menu entails squid ink tonnarelli and pompano, plus an exciting lineup of aperitivo cocktails and negronis
If Jigger & Pony's standing as one of the best bars in the world is anything to go by, Caffe Fernet, its distant cousin hailing from the Italian side of the Jigger & Pony family, shouldn't be any less of a showstopper. Well, it isn't; at least not by much anyway, when left in the hands of executive chef David Tang, previously chef de cuisine at Cut by Wolfgang Puck.
Located at the historic Customs House, Caffe Fernet's a near-perfect spot for lounging idly by the Fullerton Bay waterfront, with a sundowner comfortably in hand. What's lesser-known, however, is that the restaurant also serves up some serious bites – in line with Tang's iteration of new-Italian cuisine – and switches things up a notch by building upon, rather than deviating from classic Italian recipes and techniques.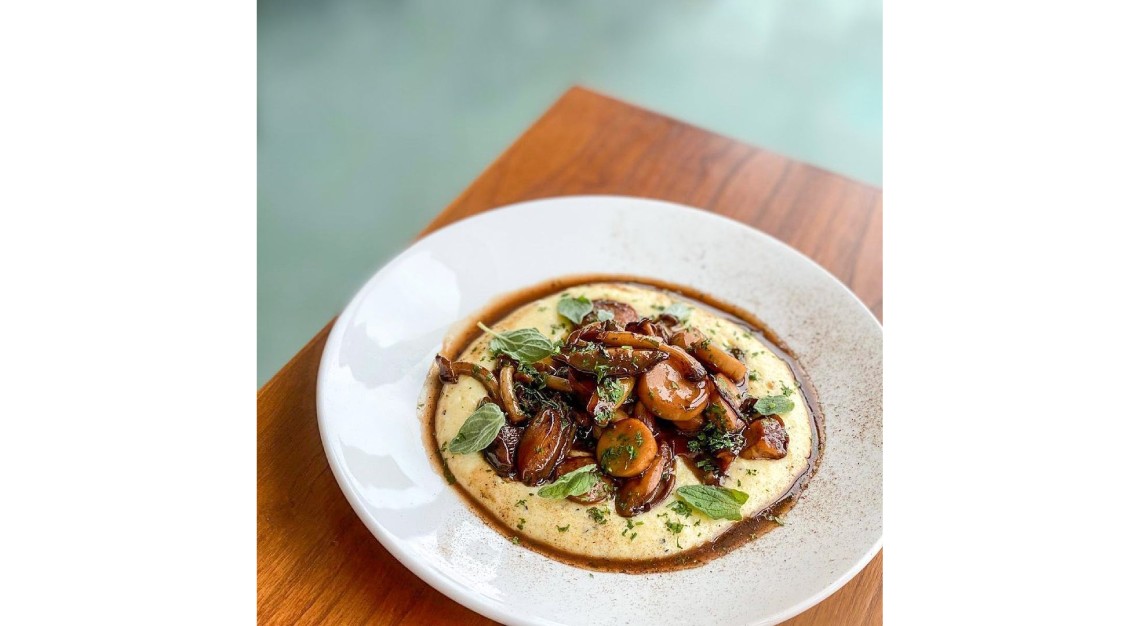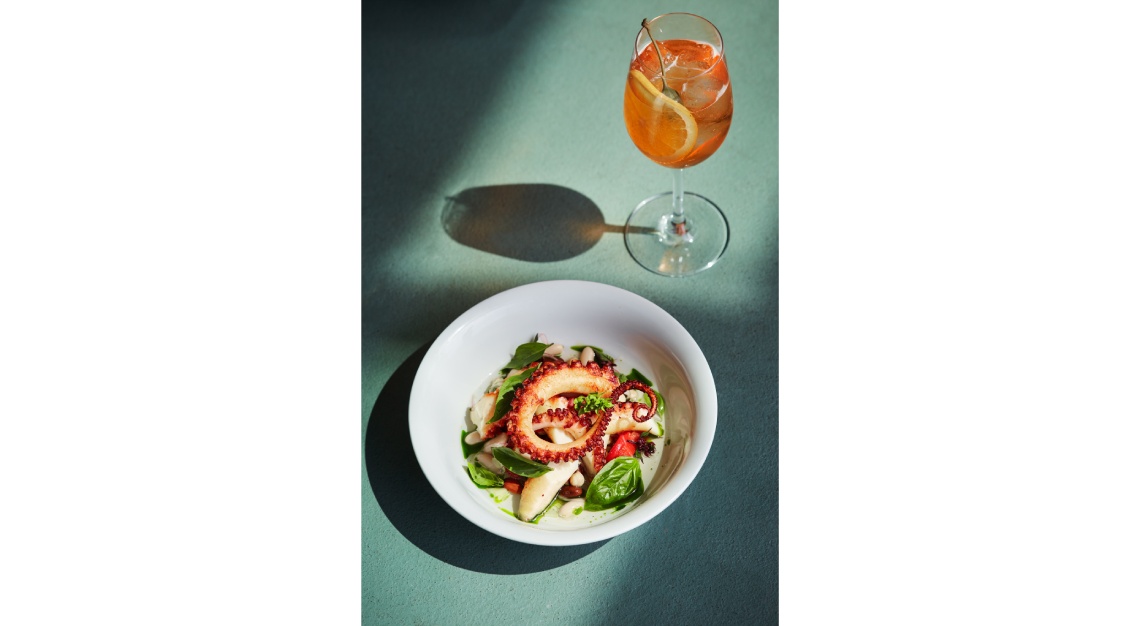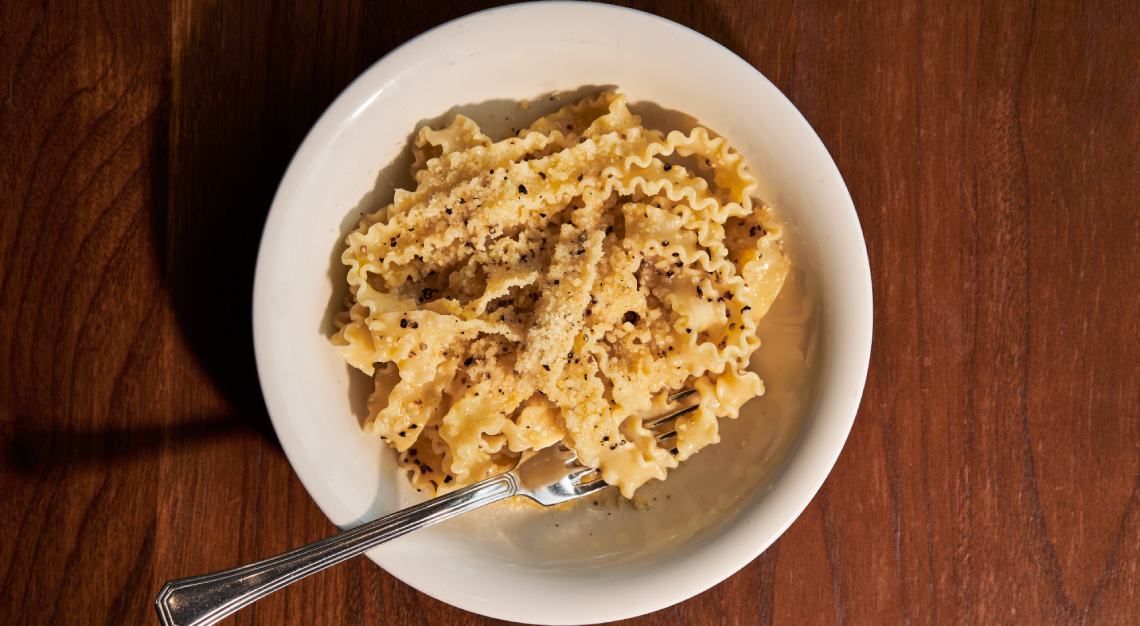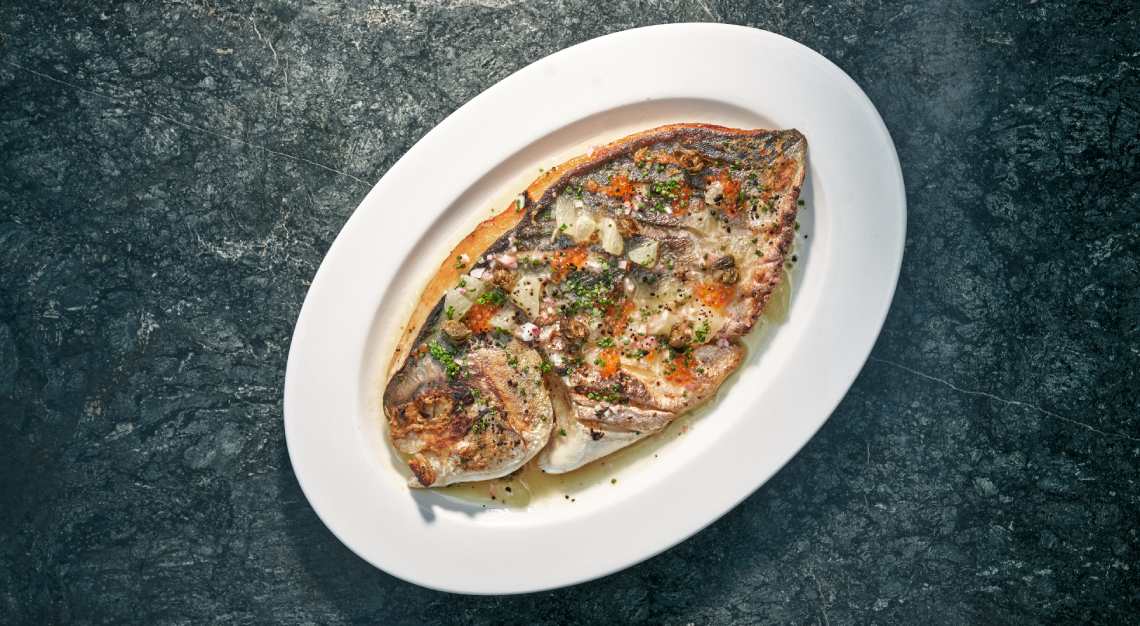 The highlights
Caffe Fernet's refreshed menu features a solid selection of contemporary Italian dishes that gesture toward the sea, with an emphasis on local and seasonal produce. For starters, have the Mushroom Agrodolce (S$24) – silky corn polenta and king oyster mushrooms, glazed in red wine agrodolce; or the charred Octopus (S$32), served with cannellini beans and celery, and dressed with rosso vinegar and basil oil. Equally enticing is the locally produced Burrata (S$24), well-complemented by green tomatoes and fermented chilli.
Although you can't go wrong with the signature Mafaldine Cacio e Pepe (S$26) – ribbon-shaped mafaldine pasta tossed in parmesan, pecorino and peppercorn – we'd recommend the Tonnarelli Vongole (S$29), comprising squid ink tonnarelli, flower clams from Ah Hua Kelong and citrus butter. Also sourced from Ah Hua Kelong is the Pompano Piccata (S$42), a deboned golden pomfret pan-roasted till its skin turns nicely crisp, then drizzled with a lemon-butter sauce made of amalfi lemon, trout caviar and capers.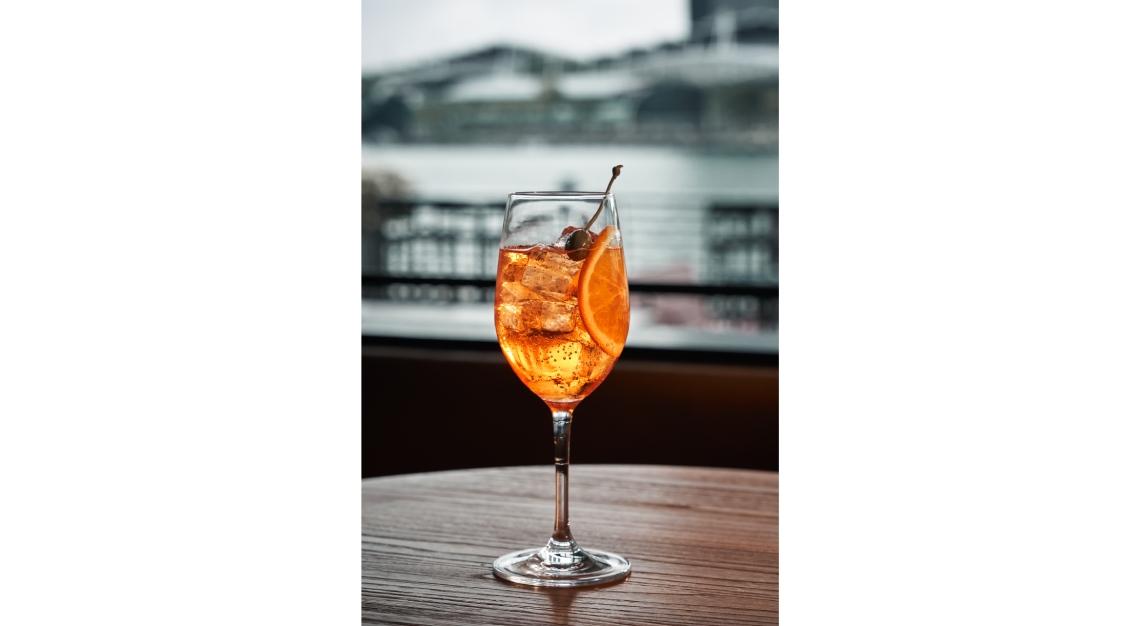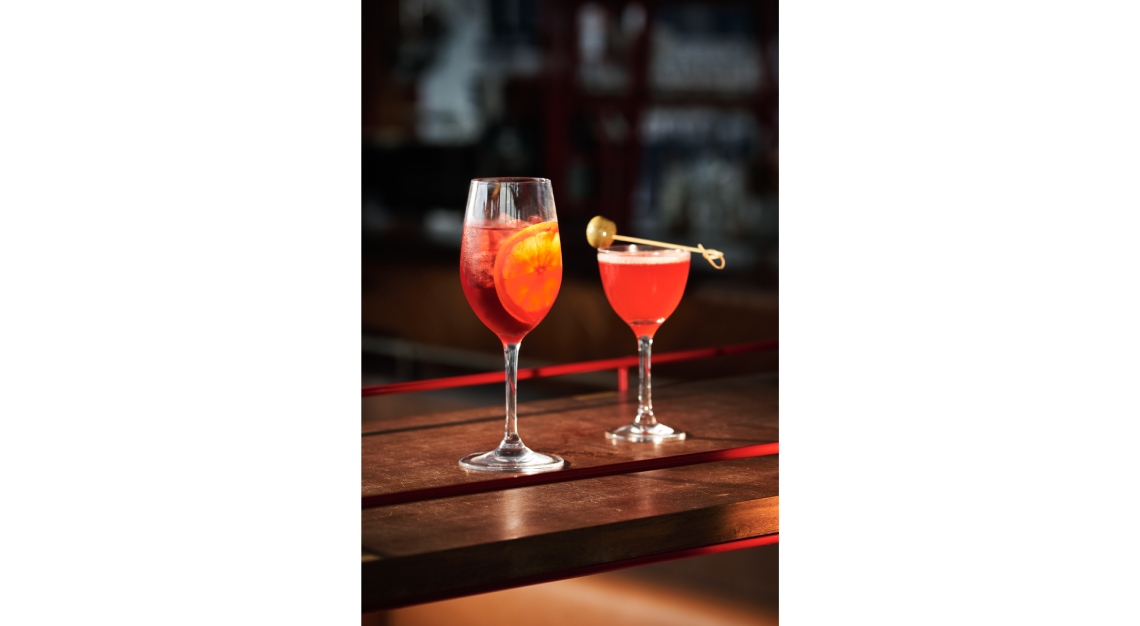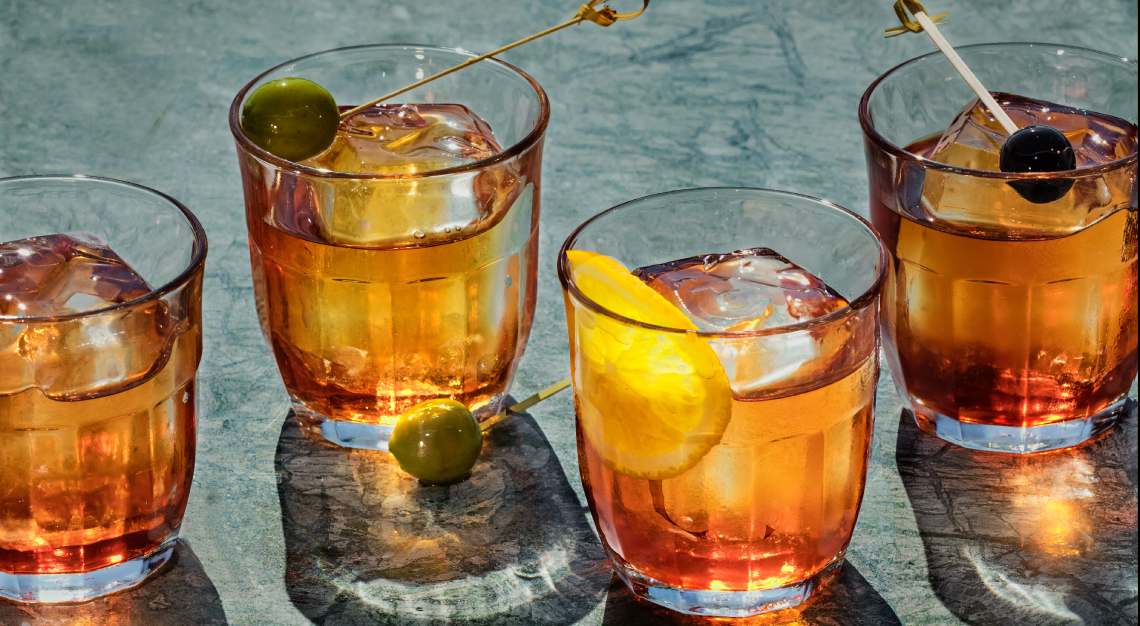 Inspired by old-school neighbourhood bars in Italy, Caffe Fernet's expanded drinks programme revolves around four distinct types: frose, spritz, aperitivo and negroni. Start with an opening glass of Sicilian Spritz (S$17), a blend of italicus, prosecco, aperol and soda; or a pre-dinner aperitivo cocktail, such as the Bicicletta (S$17), involving select aperitivo and pinot gris. For negroni aficionados, there's a concise but no less stellar selection of negronis to choose from – the Secco (S$22), for instance, which is a combination of Tanqueray gin, Mulassano bitter and vermouth.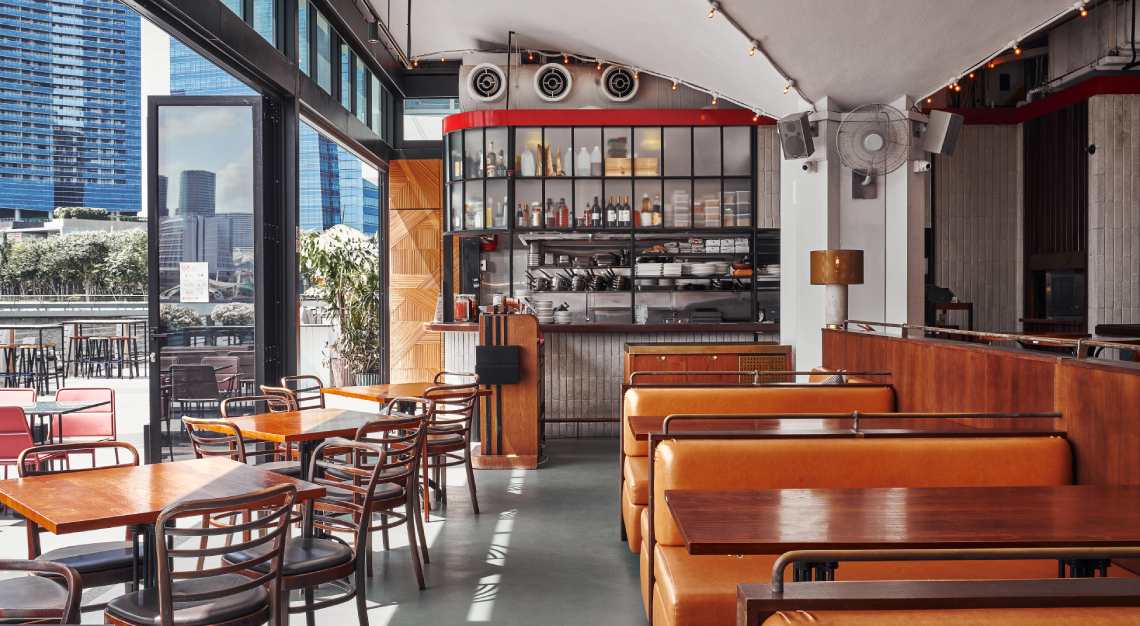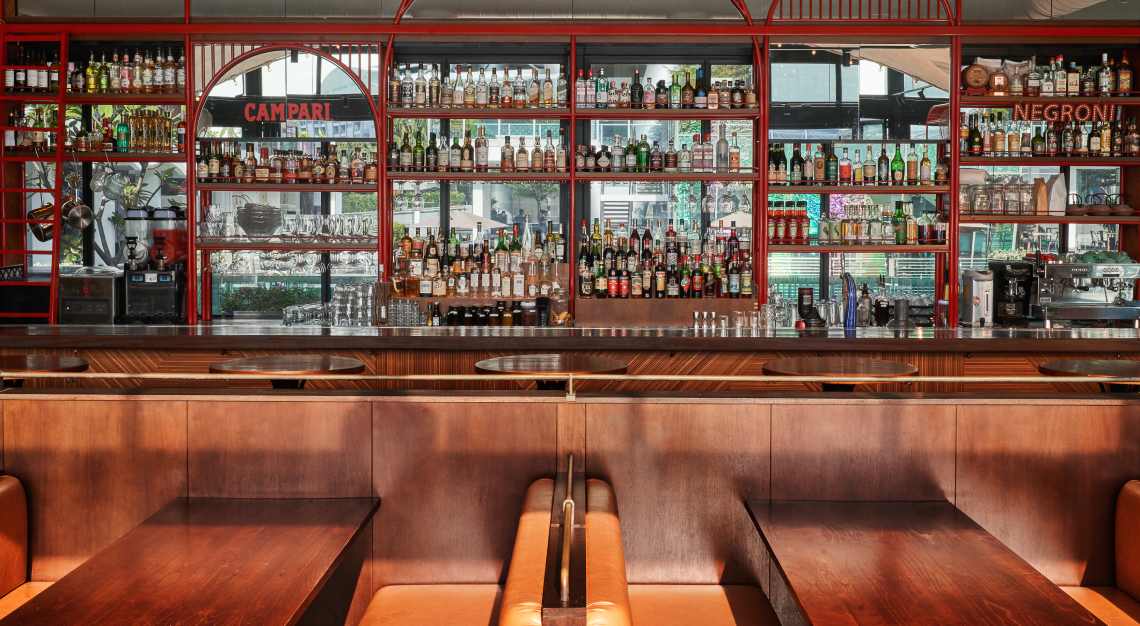 The vibe
With ample outdoor seating available, the 130-seater restaurant certainly presents a compelling case for dining alfresco – although the tan European-style tables and banquettes indoors make for a sufficiently intimate setting, against the backdrop of the distinct red bar.
The verdict
Don't be fooled by Caffe Fernet's casual and breezy vibe. Underlying the restaurant's rather laid-back façade is a serious commitment to hearty Italian food and drink, that if given a chance, will take you pleasantly by surprise.
Robb tip: When subjected to the mid-day heat, the restaurant can get rather stuffy, so it's wise to make reservations for dinner instead.
Caffe Fernet
70 Collyer Quay
#01-05 Customs House
Singapore 049323
Tel: +65 9178 1105
Editor's note: For more food and drink reviews, click here