Celebrate femininity with these watches from some of the world's most respected watchmakers
More than just a device to measure time, a watch is all about your personal style and is a great accessory for any occasion. Whether you're looking for a statement piece or a classic look and feel, you'll find something in this roundup of our favourite pieces for 2018, each with a distinct story to tell.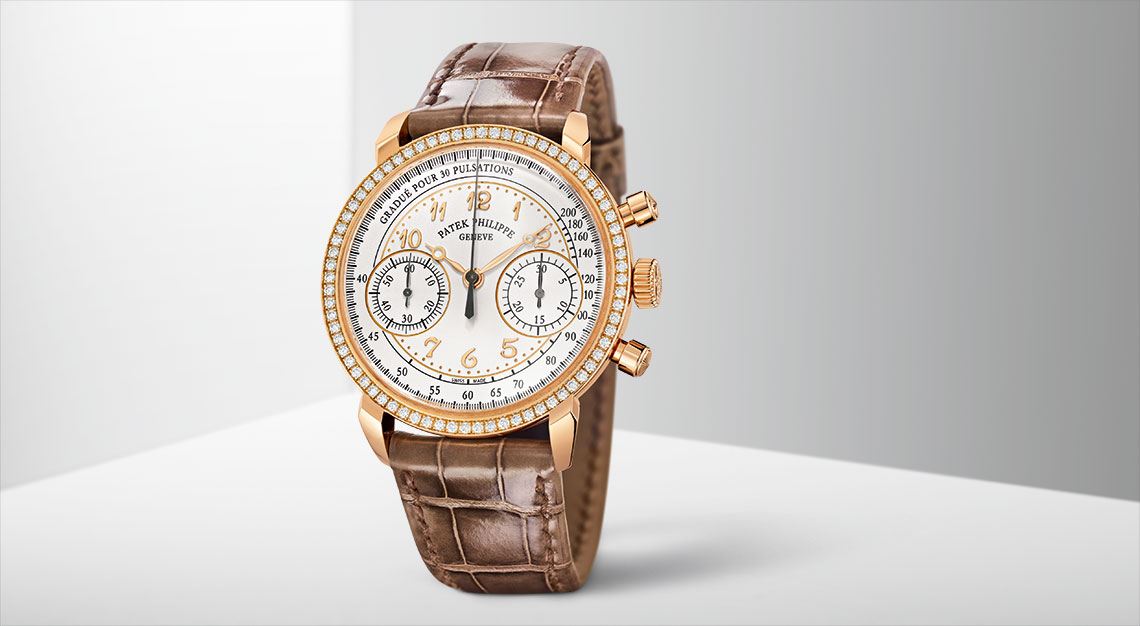 Patek Philippe Ladies Chronograph Reference 7150/250R
In the near decade in which Sandrine Stern has been designing women's watches for Patek Philippe, she has shown herself to be a master at subtly modifying long-standing company motifs for completely feminine results. The latest Reference 7150/250R chronograph may be her most successful to date. Features like the sapphire 'box' crystals, Breguet numerals and pulsometric scale are ingredients a vintage watch collector would love. Yet the subtle tweaks in colouration, typography and, of course, diamonds leave no doubt about the timepiece's glamorous identity.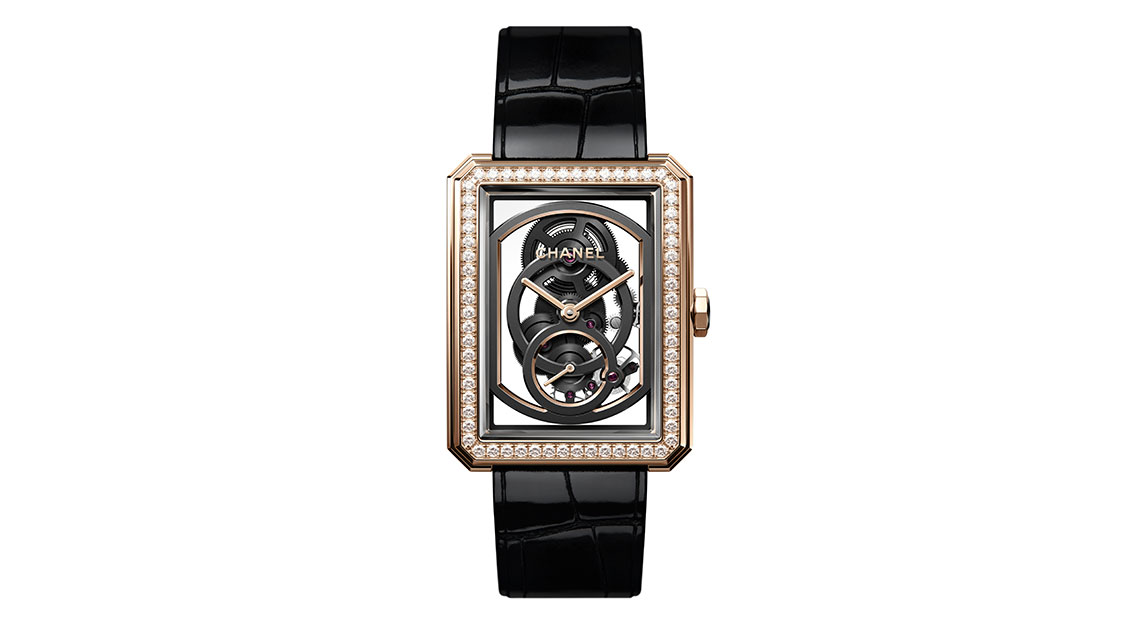 Chanel Boy.Friend Calibre 3
In keeping with the premise of the original Chanel Boy.Friend watch, the new Boy.Friend Calibre 3 is a timepiece that could be coveted by anyone. With a 37mm by 28mm footprint, the Calibre 3 is proportioned like a vintage men's wristwatch, making it stand out on a woman's wrist in what Chanel describes as "beige" gold alloy with or without diamonds. Shaped like the brand's Premiere models, the case frames the black-coated, classically laid-out skeleton movement. It is the company's third in- house movement made with the help of Vallee de Joux watchmaker Romain Gauthier, in which the parts are set in intersecting circles that resemble the Chanel logo.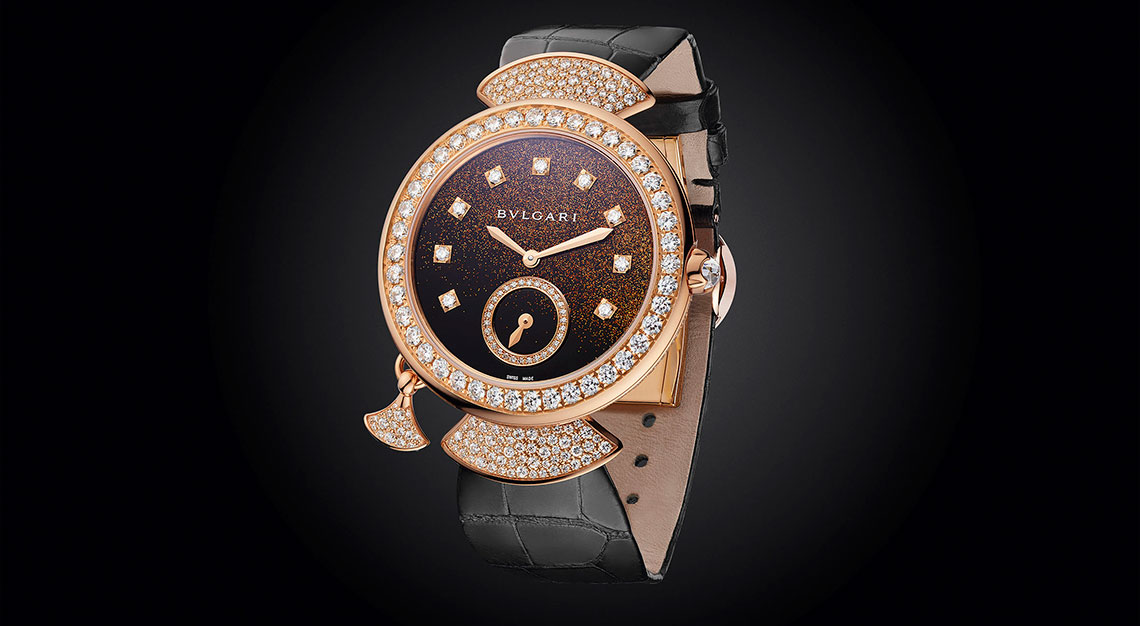 Bvlgari Diva Finissima Minute Repeater
Only a mere handful of minute repeaters are both designed for women while being emblematic of the broad artistic license that is needed to make the most of this most romantic of complications. Bvlgari's Diva Finissima Minute Repeater is one of the few, exuding a playful personality with snow-set diamonds on the lugs and a flared articulated 'charm' that pulls the repeater slide. The watch also incorporates such artisanal touches as an elaborately lacquered dial in the Japanese urushi style that befits a complication of this order. Thanks to Bulgari's modern yet compact repeater movement, the sound is all it should be in a rare and exquisite timepiece like this.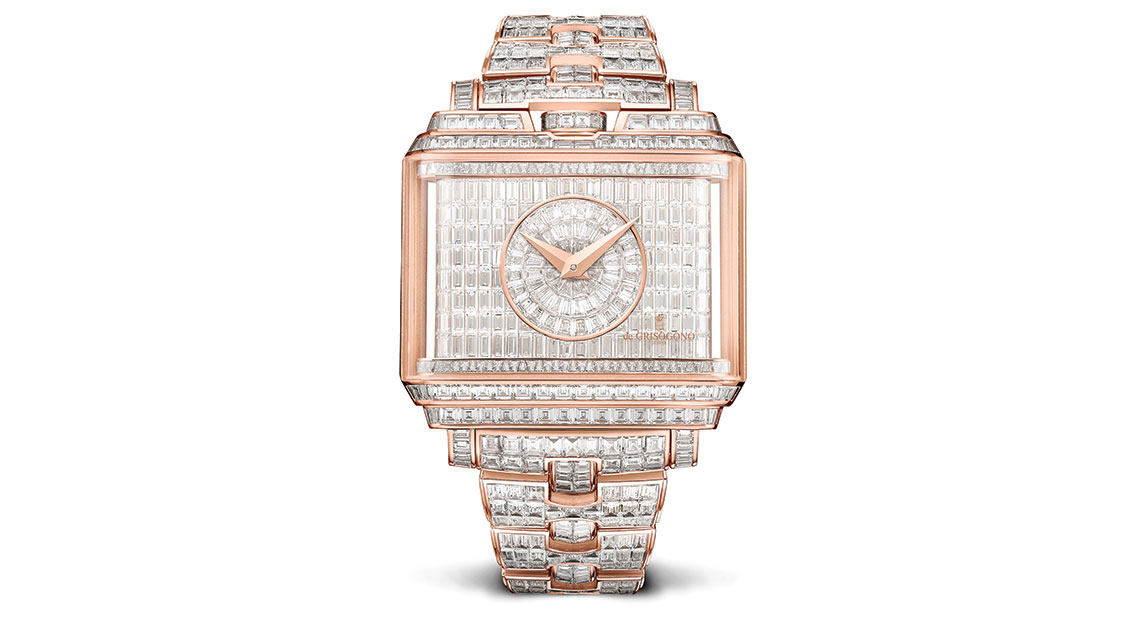 De Grisogono New Retro Women Baguette Icon
The geometric bracelet and stepped lugs on the latest design in Geneva-based jeweller De Grisogono's New Retro Women collection are perfectly suited to the art deco-inspired watch's full baguette setting. The real star is the gently curved dial – an ideal canvas for the invisible setting, which includes the inside of the circular chapter ring where the stones must be perfectly tapered.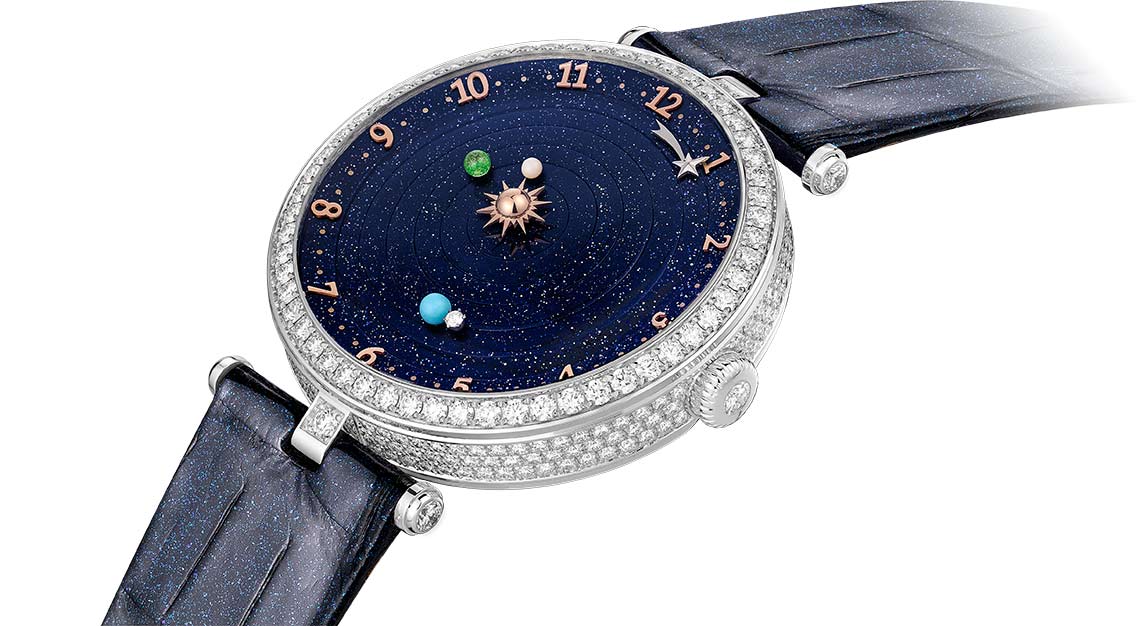 Van Cleef & Arpels Lady Arpels Planetarium
It is unusual for a watch company to offer high-level complication to its female clientele. In the case of Lady Arpels Planetarium, the miniaturised, astronomically correct solar system in precious stones and aventurine is probably even more effective for women because of its delicate proportions and colouration. Created in collaboration with Dutch watchmaker Christiaan van der Klaauw, the complication illustrates the sun (in pink gold) and its closest planets – Mercury (pink mother of pearl), Venus (green enamel), and Earth (turquoise) – as well as Earth's natural satellite, the moon (diamond). Each celestial body has been carefully calibrated to rotate around the sun at its real- life speed. Flip the piece over to see a larger version of Earth in turquoise next to a crescent moon set with serti neige diamonds that rests on the oscillating weight.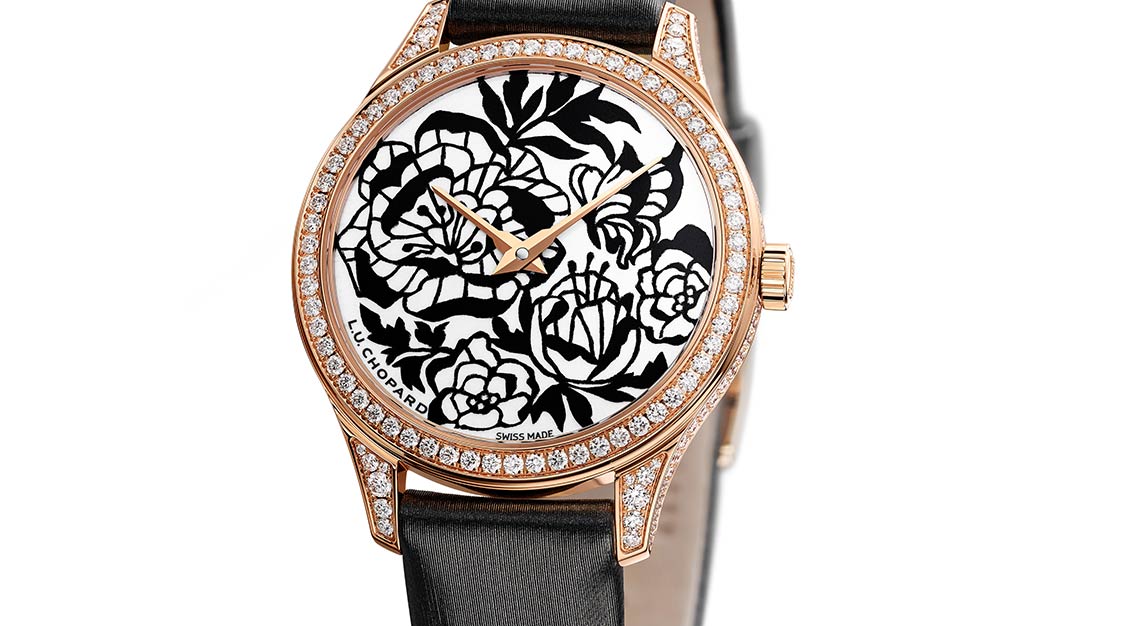 Chopard LUC XP Esprit de Fleurier Peony
For its LUC XP Esprit de Fleurier Peony – an eight-piece limited edition with a delicate floral motif – Chopard relied on traditional crafts, including a paper-cutting art known as Scherenschnitte, to create the pattern. The floral peony motif comes from China, where the flower's fleeting springtime blooms symbolise prosperity and honour. Chopard captured their beauty not only on the dial but also on the 18-carat, rose- gold movement bridges seen through the caseback, thanks to an intricate engraving technique called Fleurisanne, which is native to the Fleurier home of Chopard's manufacture.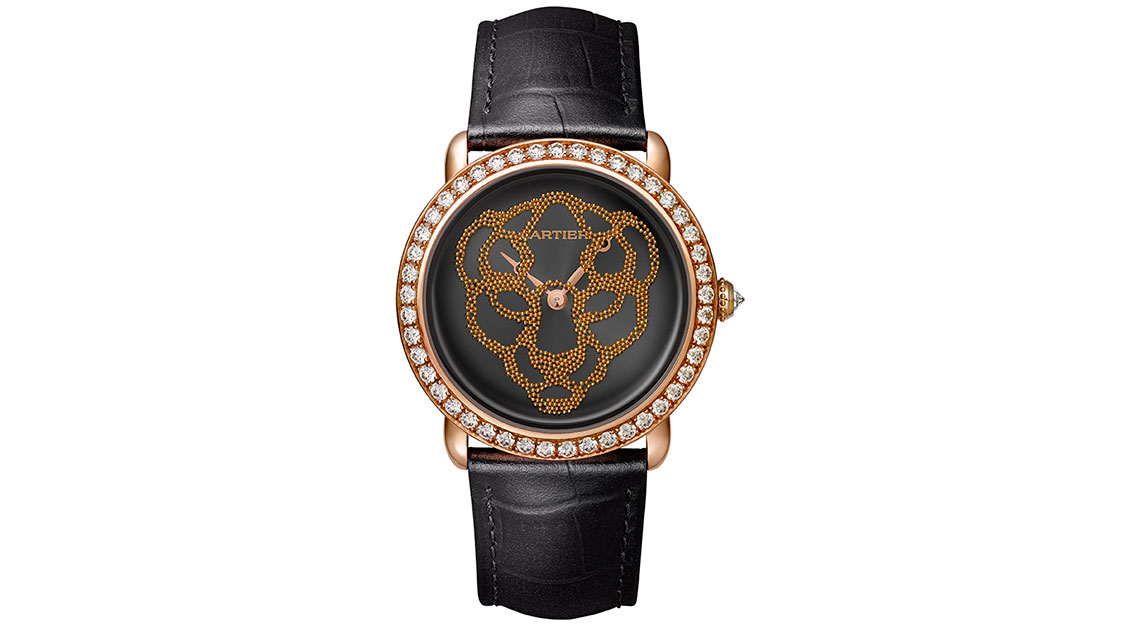 Cartier Revelation d'Une Panthere Watch
The Revelation d'Une Panthere by Cartier might strike the unsuspecting watch connoisseur as a simple Rotonde de Cartier. But tilt it up and you'll see hundreds of tiny solid gold micro-balls move languorously, distilling into an invisible labyrinth that forms the majestic face of a panther. There, they linger for just a couple of seconds before exiting the sapphire crystal maze to gather at the side of the dial, so the panther's powerful mien is as transient as the nature of time itself.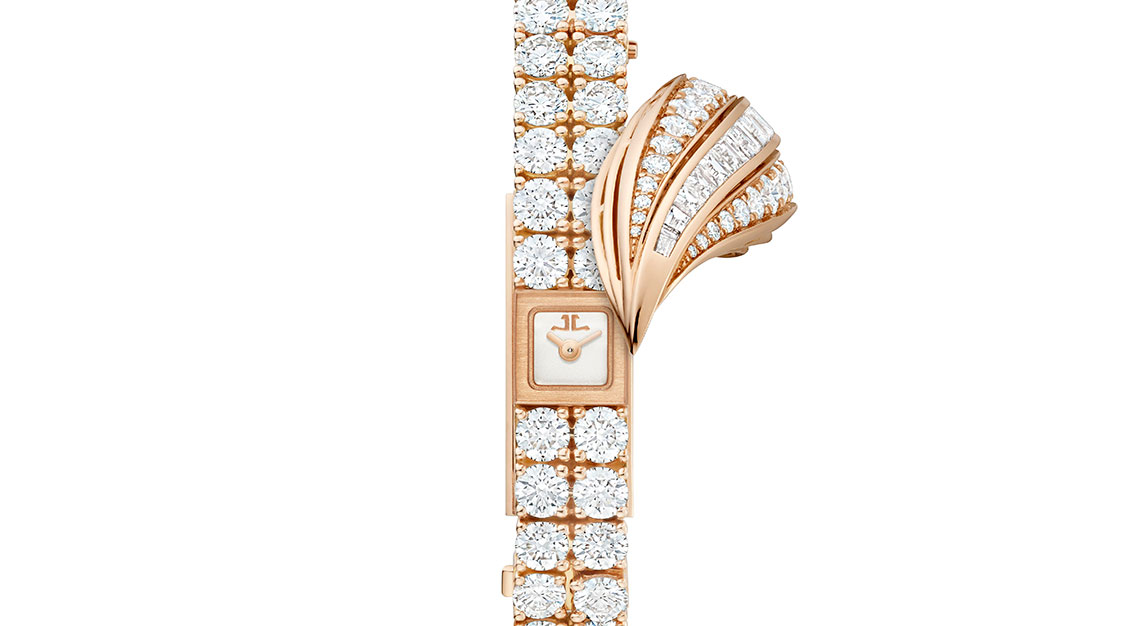 Jaeger-LeCoultre Joaillerie 101 Feuille
Since its introduction in 1929, this watchmaking marvel has stood out in terms of absolute miniaturisation and never fails to remind us with more and prettier versions of this super elegant calibre. Joaillerie 101 Feuille channels the glitter and glamour of the Venice Film Festival, where it was first unveiled to the world, and combines mechanical ingenuity with creative artistry. Adorned with brilliant- and baguette-cut diamonds, this secret watch is delicate, sensuous and so utterly timeless that it's practically destined for the red carpet.