In this year's Best of the Best 2020 awards, we recognise the brands that have pushed boundaries in design and innovation, and those that have made significant contributions to alleviate the pandemic. Here are the best nine within the fashion category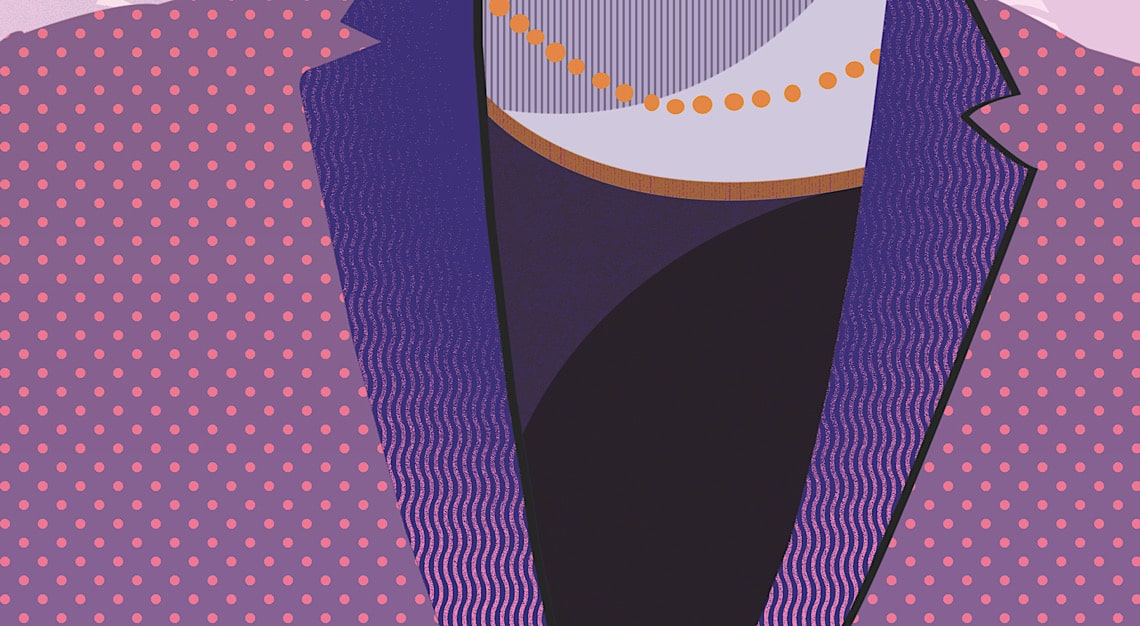 Much has changed in the last 12 months. Even before COVID-19 obliterated 'normal', long-held conventions were collapsing faster than a tweetstorm. The very idea of masculinity has been rightly redrawn and recast, but there's not yet a definition we can all agree on. From this uncertainty has come not a movement, exactly, but certainly a move toward something we're calling 'soft power'. It's about gaining strength through vulnerability, bringing empathy to the fore, seeking to understand rather than impose.
So what is style in this new world order? Strong-shouldered suits and immaculately shined Oxfords, long the international uniform of success, don't quite speak the right language today. It's not that the power suit is dead – more that its current incarnation has evolved in tune with our notion of what strength is.
It's a shift that designers presaged months ago. The best new menswear traffics in a similarly soft kind of power, a more nuanced take on the trappings that have always given men an authoritative sense of style. They're pieces that maintain the decorum of traditional tailoring but knock the starch out of it with fluid construction, downy textiles, soothing colours. When in doubt, Brunello Cucinelli (the epitome of soft power in many ways) is there for you. So too are Hermès, Reigning Champ and CDLP.
There's a new generation pushing at the boundaries of menswear, and while we aren't advocating for pussy-bow blouses (but rock on, Harry Styles), what can we learn from their adventures? That now, more than ever, is the time to express yourself, whether that means a scarf in a daring silk rather than your usual cashmere, or a dramatically peaked lapel to imbue a classic blue blazer with a frisson of attitude. Above any sartorial flourish, though, it will be the little things – the weave of a sweater, the topstitching on a shirt, that human touch – that telegraph real style savvy. Quiet luxury or stealth wealth – whatever it is you call it, it has never been less cool to be the loudest guy in the room.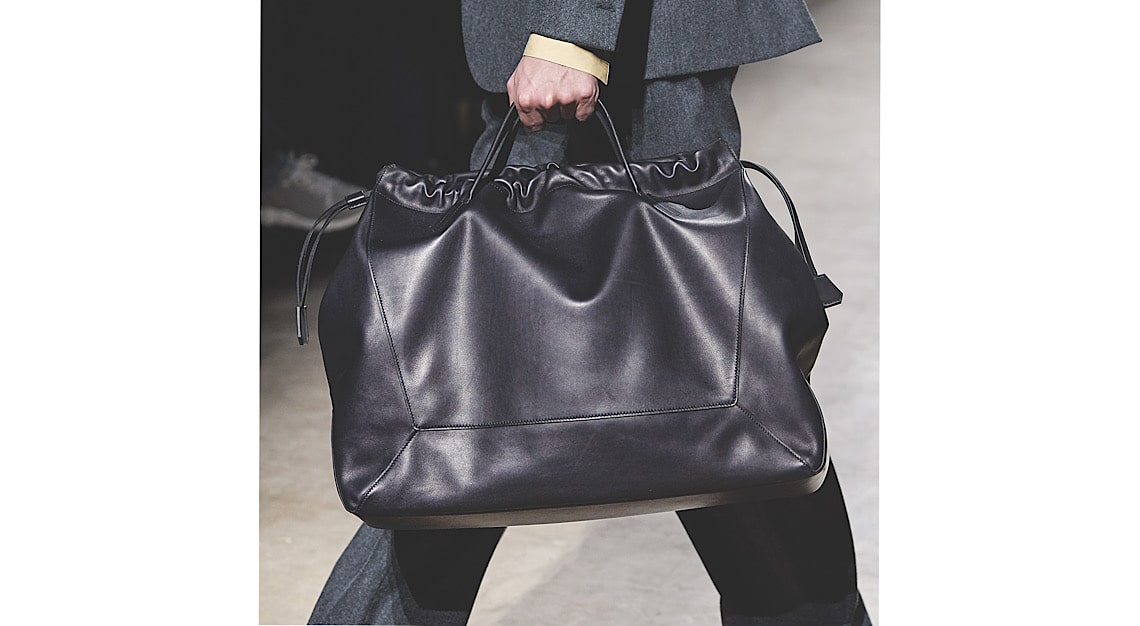 Best bag:
Hermès
The days when all a man needed to carry were a handful of files, a newspaper and some mints are long gone. Modern life calls for an everyday bag that can accommodate a laptop, chargers, headphones, gym gear – oh, and can you pick up a few things at the supermarket on your way home? Hermès' Nouveau Cabas 50 (S$13,395) is roomy enough to handle all of the above and then some. The soft-sided, unstructured form is ideally suited to the latest relaxed tailoring, underscored by the bag's fuss-free drawstring closure. Unadorned, save for a few graphic seams, it's a stunningly simple ode to the brand's exquisite leather.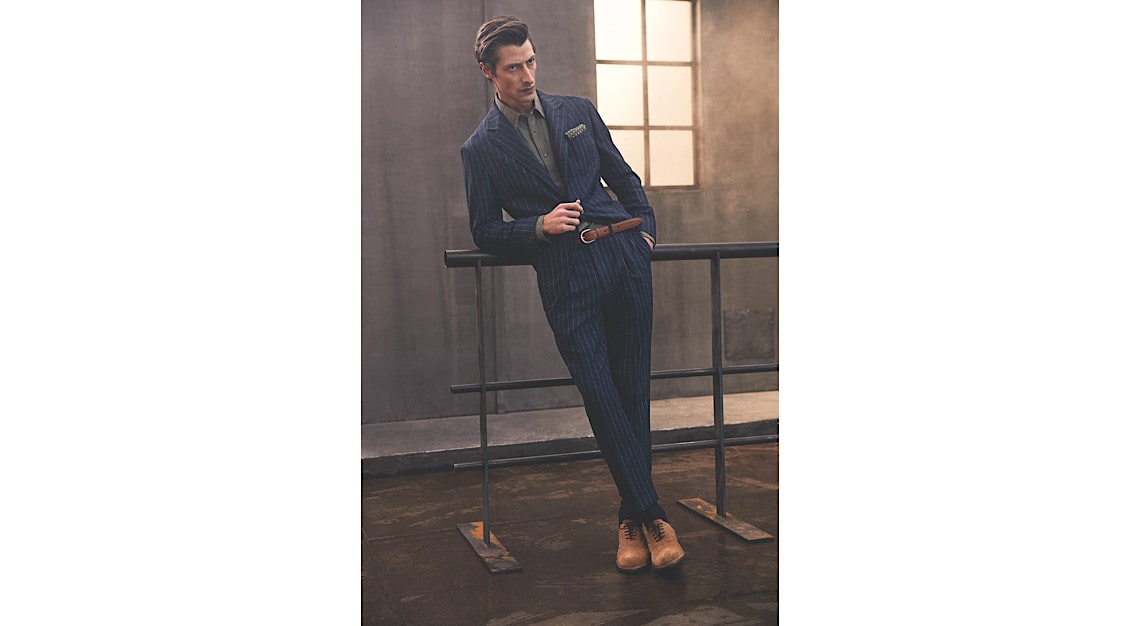 Best suits:
Brunello Cucinelli
Brunello Cucinelli may outfit captains of industry, but it's not because he designs with the C-suite set in mind. For decades, Cucinelli has preached the gospel of casual luxury: deconstructed blazers and triple-ply cashmere not typically considered boardroom fare. It's just that now the world has caught up to him. Cucinelli's signature look – form-fitting jackets with softly defined shoulders and roomy, tapered trousers, mixed or matched – is the new power suit.
Reflecting on the state of tailoring today, Cucinelli says: "The suit is no longer seen as a uniform, but a way to be well-dressed. It has taken on a versatile role within the wardrobe." Such versatility is central to his offering for autumn (from S$5,432). It's the balance between formality and insouciance running through it all – from three-piece ensembles to broken suits of double-breasted jackets and cargo pants – that makes Cucinelli's tailoring so right for now. These are pieces that leave room for interpretation, that work equally well with a shirt and tie as they do with jeans and sneakers. Of course, this has always been his approach. "I have always thought that, especially for men, it's the details that make the difference. I see the suit not as a garment in itself but always as part of a story, a complete personality."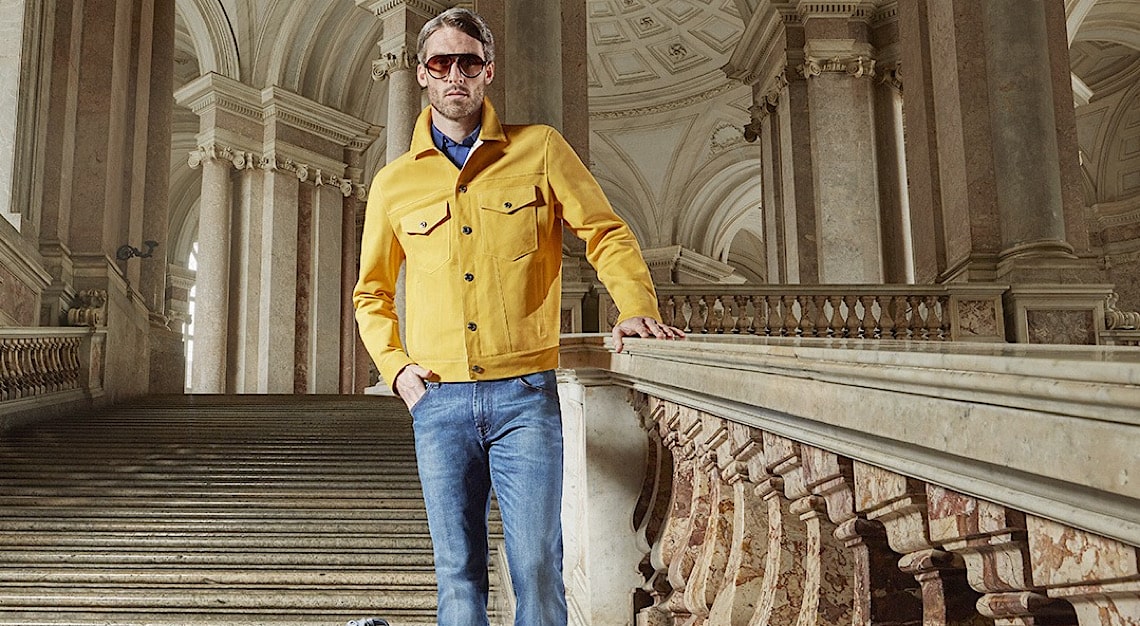 Best designer denim: Stefano Ricci
Stefano Ricci may have originally been known for shirts and ties, but its evolution into a fully fledged lifestyle brand – as competent dealing in luxury lounge suits, fragrances and yacht interiors as in the businesswear that made its name – means that everything the label touches needs to surpass a standard of excellence. So it is with something as simple as a pair of jeans. In Stefano Ricci's rarefied world, denim is as comforting and sumptuous as your cashmere jacket. One of its new lines of jeans (S$1,224) is almost preposterously pillowy. The secret is in the deeply indulgent blend of materials used: cotton, modal (a sustainable, silky fabric made from tree pulp), silk (which offers strength, breathability and comfort), cashmere and elastane (which allows for stretch). While maintaining denim's irrefutable swagger style-wise, this might just be the most pampering pair of pants you'll find this year.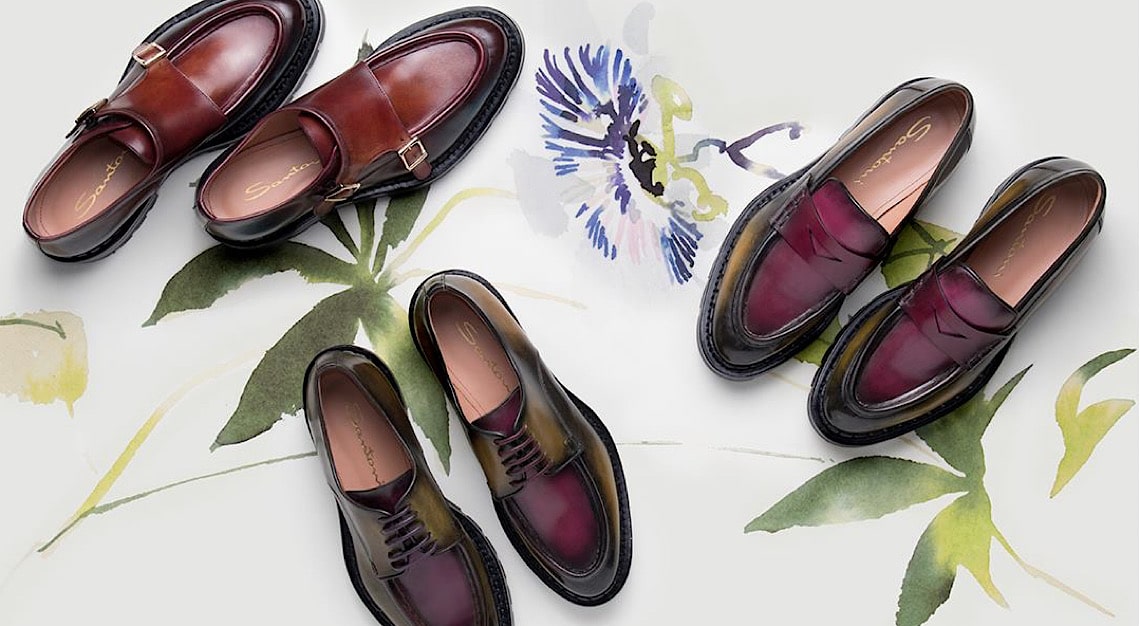 Best sneakers: Santoni
You likely know Santoni for its rather snazzy loafers, but it's the brand's sneakers that are the height of studied nonchalance. Each pair is made with the same exacting quality that defines Santoni's traditional shoes – even the lightweight EVA foam soles are produced in-house.
The Clean Icon model (S$748) distills Santoni's cordwaining virtuosity into the platonic ideal of a trainer: unstructured, velvety stretch suede with a streamlined silhouette and elegant almond toe. If you've ever questioned how to pair a suit with sneakers and still look polished, these are the answer.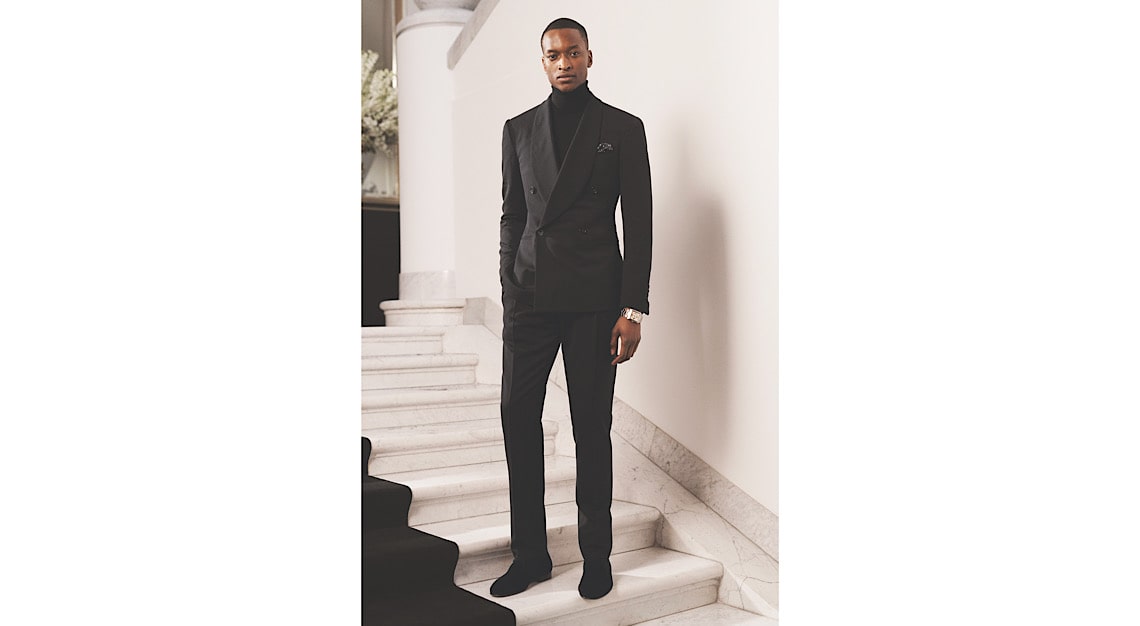 Best evening wear: Ralph Lauren
This year marks the 25th anniversary of Ralph Lauren's Purple Label, Lauren's vision for what the well-heeled gentleman should be wearing when at his best. "I've always believed in the art of fine tailoring… Purple Label to me is… a way of living inspired by timeless quality," says the designer by way of introduction to this autumn's collection (from S$4,072). A lot of the highlights are double-breasted: whether offered as a cocktail jacket in black velvet or an equally noir DB shawl collar, worn with matching black turtleneck and velvet slippers, this year's silhouette digs into the archives, and references Lauren's personal preference for strong shoulders, suppression at the waist and a squarer, shorter cut to the jacket with a lower button stance, which emphasises the line of the leg. If it's true that all men look good in black tie (and it largely is), then make sure you stand out just a little. Lauren would certainly approve.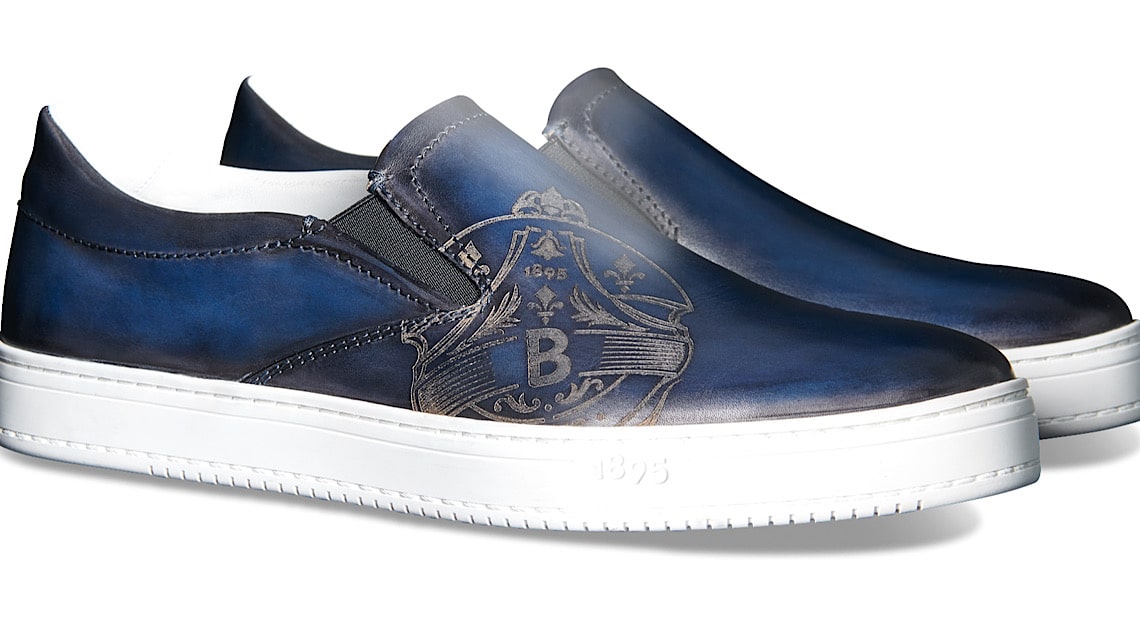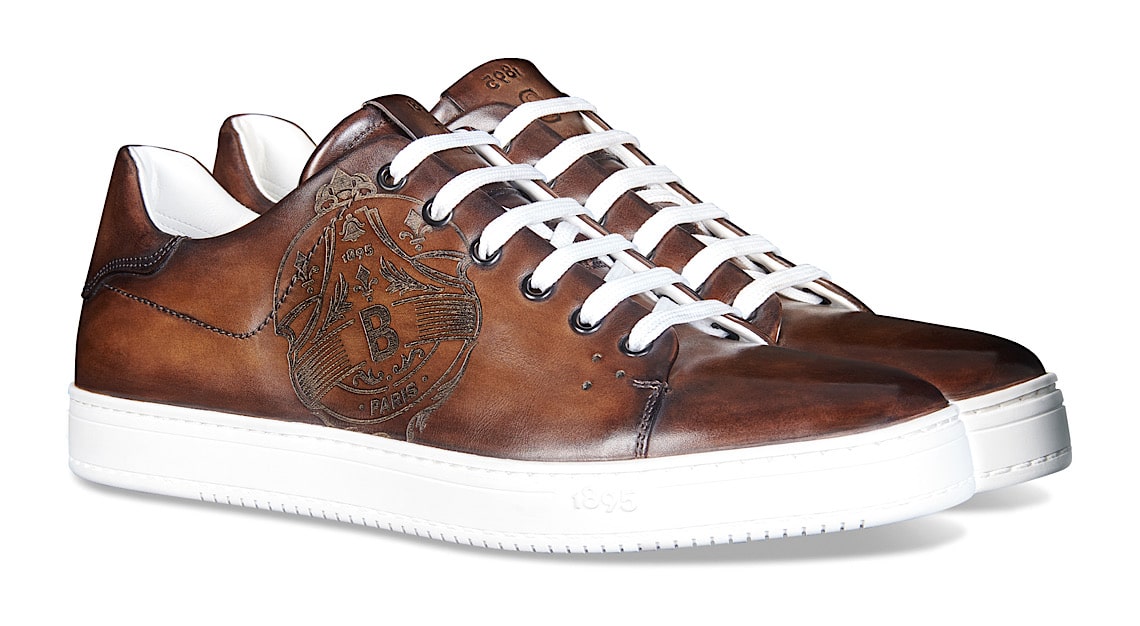 Best footwear:
Berluti
At a time when chunky statement footwear seems to be on a higher footing, Berluti presents a refreshing antithesis with its sleek, sculpted shoes, made with the same dedication and architectural complexity – as Olga Berluti, granddaughter of the brand's founder, Alessandro Berluti, put it – as "the construction of a cathedral".
Technical virtuosity, precision-cutting and leather patinated masterpieces are all part of the house's legacy, now embodied in its modern and thoroughly urbane Playtime Sneakers (S$1,600 to S$2,200). Reworked for the autumn 2020 season, the updated Playtime Sneakers incorporate retro overtones, imbuing the shoe's overall design with that offbeat classicism that Berluti has long been famous for. A new crest design inspired by the shoe tree (or shoe last) of Alessandro's first pair of shoes and the undulating Scritto motif (a nod to Olga's calligraphic skills) give the Playtime a sharp, modern edge. The versatile low-cut sneakers come in three versions – two lace-up plain Venezia styles with a Venezia crest, and one slip-on variation. Available in a variety of coloured patinas including blue and brown, the Playtime Sneakers posit what the house of Berluti has known since 1895: that audacity can express itself in the subtlest of forms, too.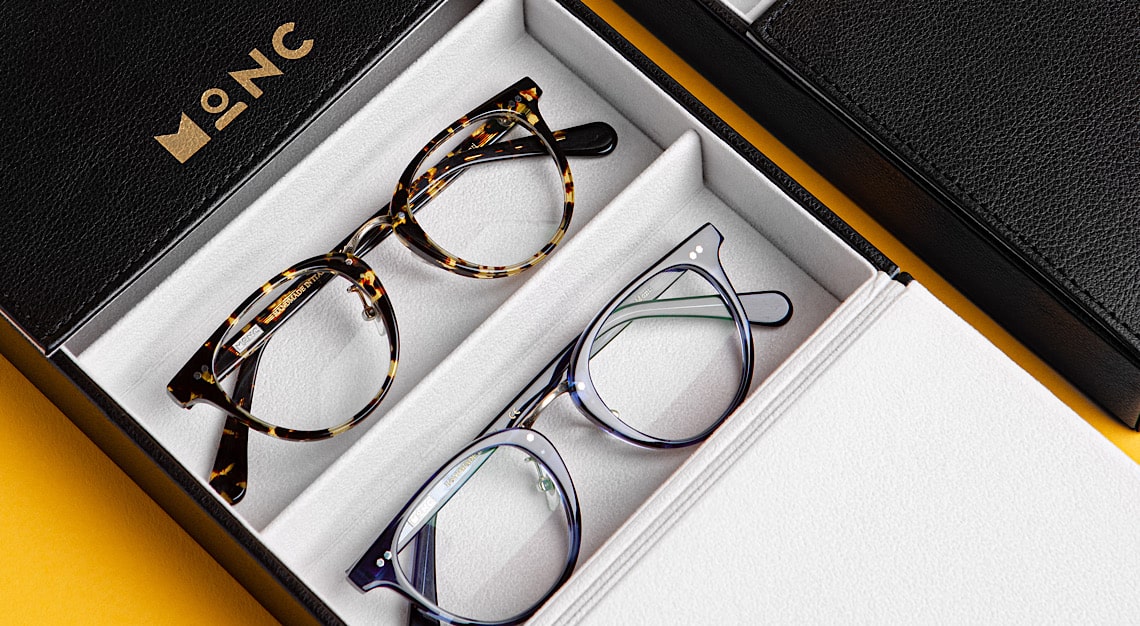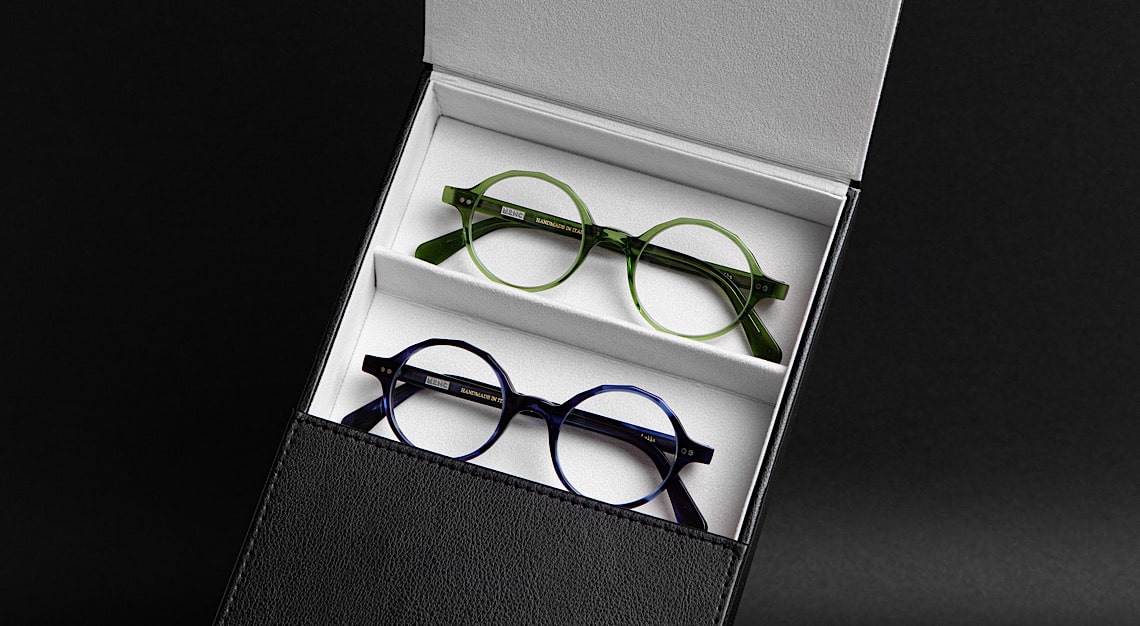 Best eyewear: Monc
In our pursuit of 20/20 vision, how clear can our conscience remain? An overwhelming majority of eyewear frames are fashioned from acetate, a cotton-based plastic that often necessitates the use of harmful phthalate-based plasticisers, while cheap plastic lenses pose numerous recycling challenges. With Monc's sustainable eyewear, founder Freddie Elborne introduces a neat and beautifully framed solution.
The Conscious Collection (from S$400) is handcrafted in Italy from bio-acetate, a durable acetate alternative made using organic additives, which allows it to biodegrade in 115 days if composted. Its mineral glass lenses are scratch-resistant, provide a high level of clarity and optical quality, and biodegrade naturally when placed in a landfill. Such is Monc's commitment to a closed-loop, zero-waste system that even its packaging is made entirely from recycled coffee cups.
It isn't that aesthetics take a backseat, but rather, elements such as ethical production, quality, provenance and environmental protection are of equal priority at Monc. That's why every Conscious frame, whether it's the ever-popular Kallio or the charming and quirky Løkka, comes in a vegetable-tanned leather case with a cupro cleaning cloth made from cotton linter, a byproduct of industrial cotton production. You'll swiftly see the difference – in more ways than one.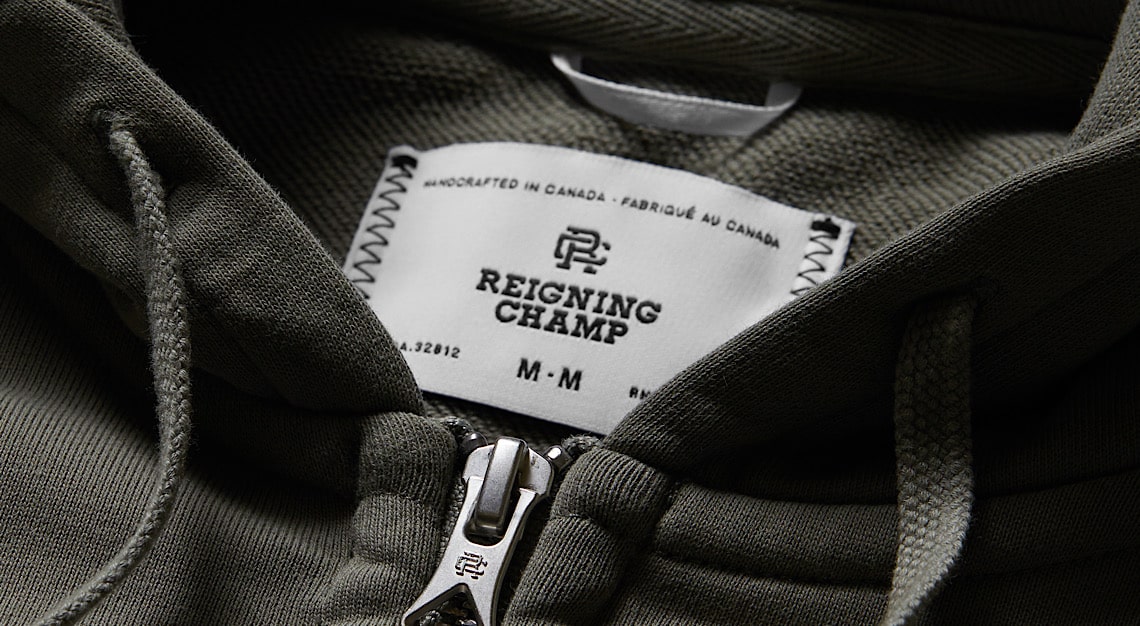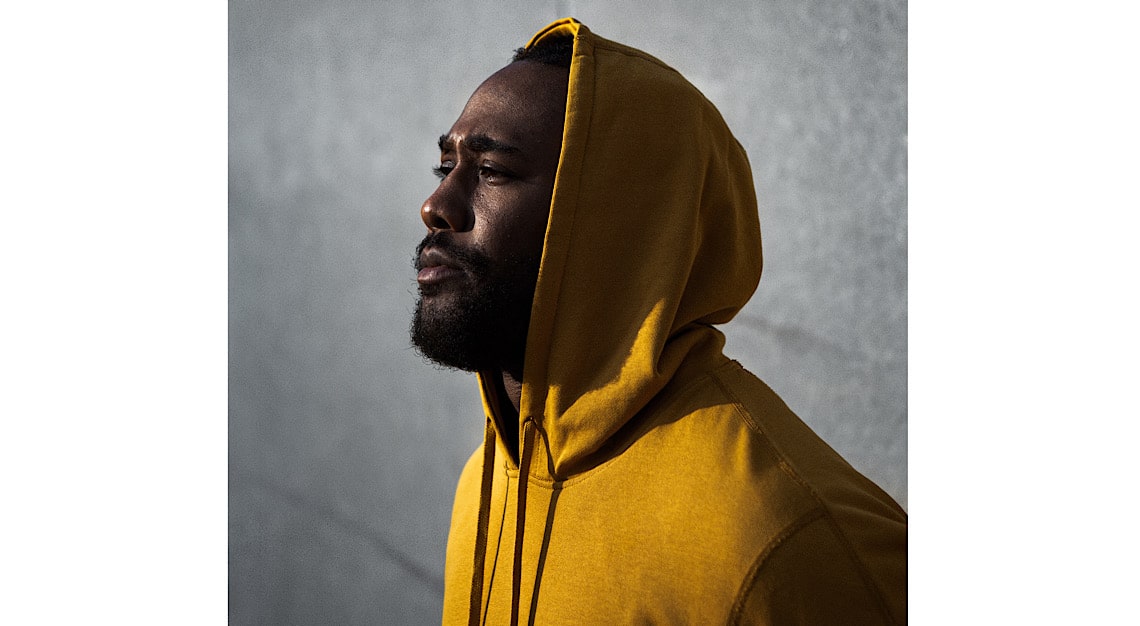 Best activewear: Reigning Champ
Craig Atkinson made one hell of a ballsy move naming his label 'Reigning Champ', but true to form, it commands enormous respect with its deftly cut, monochrome activewear and performance gear. Don't be fooled by the apparent simplicity of its terry sweatpants (S$160) or its hardy 3L Sideline Jacket (S$800): every detail has been carefully considered and refined to its purest state. "It's very easy to over-design something," says the Canadian founder and CEO of CYC Design Corporation, which manufactures Reigning Champ. "Knowing when to pull back and not add that extra detail can make or break the product in the end."
Just as admirable is Reigning Champ's tangible advocacy for sustainability within the fashion industry. As one of the few clothing brands with its own cut-and-sew factory, its ability to maintain control of the production process, quality output and fabric waste means residual material scraps can be upcycled, rather than going into a landfill.
"Our philosophy has long been 'fewer better things'," explains Atkinson. "Many don't realise, but the apparel industry is the second-worst polluter on the planet. Doesn't it make sense that brands should be more responsible and produce products that last longer? Let's move away from the mindset of mass consumption and throwawayism [sic]."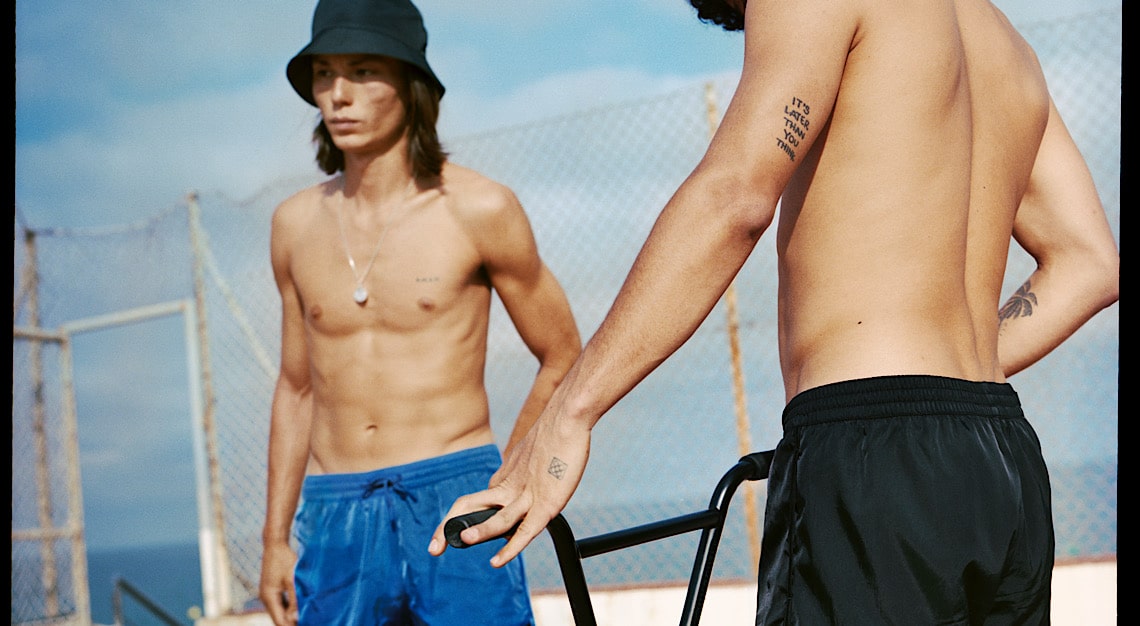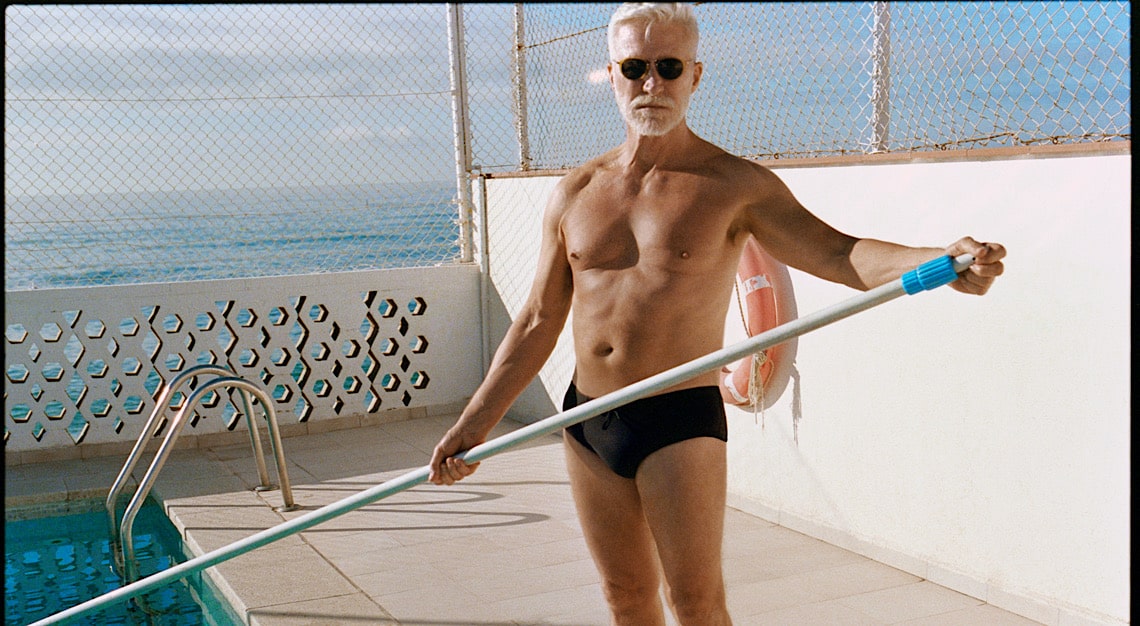 Best in sustainability:
CLDP
Men's underwear became a whole lot sexier in 2016 when two Swedes – film and music video director Christian Larson and entrepreneur Andreas Palm – established their premium underwear company, CDLP. Out went the stereotypically flashy, tasteless prints and logos, and in came briefs, trunks and boxer shorts that better befit the men of today with their flattering silhouettes, meticulous tailoring and future-oriented fabrics.
Instead of opting for cotton, which requires an abundance of water, land and chemicals to manufacture, Larson and Palm turned to Lyocell: a cellulose fabric derived from sustainably grown wood. Silky, quick-drying, wrinkle-resistant, and imbued with natural antibacterial and moisture-wicking properties, Lyocell was only the beginning of CDLP's odyssey through the world of eco-friendly materials.
Since then, the company has extended its range to include bamboo yarn socks, swimwear made of regenerated nylon fibres gathered from fishnets and nylon waste, and activewear constructed from technological, recycled PES (polyester) fibre fabric. Its most recent collection, CDLP Home, makes use of its signature Lyocell once again – this time, for elegant essentials that effortlessly bridge the gap between indoor and outdoor dressing. Modern masculinity, and what lies beneath it, has never looked more irresistible.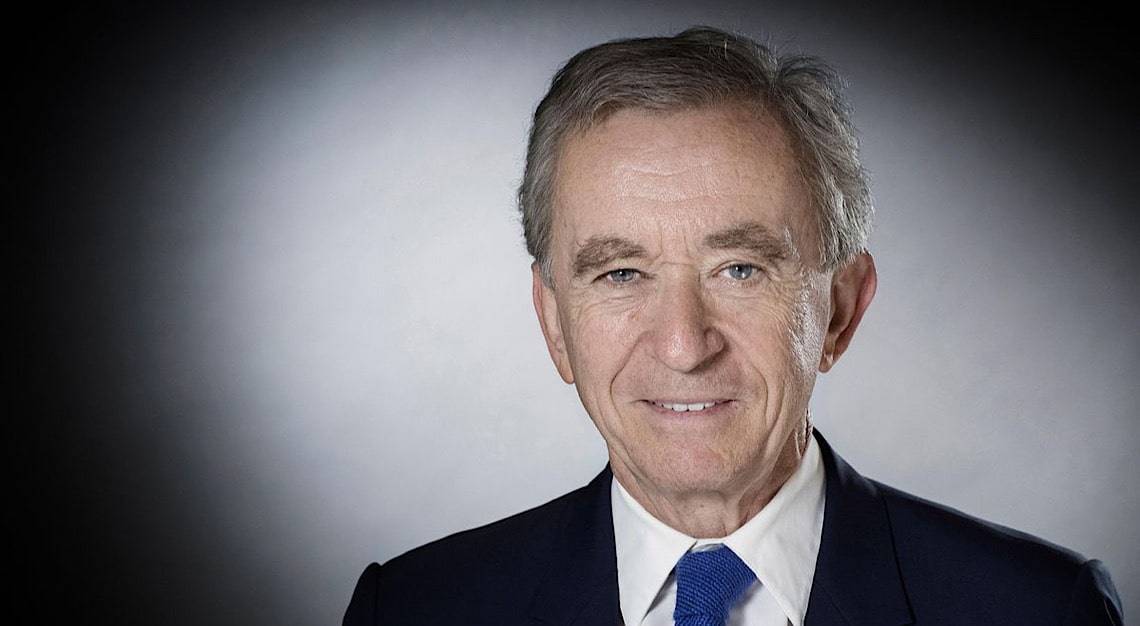 Best humanitarian: Bernard Arnault
In January, Bernard Arnault, the chairman and CEO of LVMH, had his company donate US$2.2 million (S$2.99 million) to China's relief efforts. Arnault recognised early on that the coronavirus's ramifications would be felt round the world.
LVMH is poised to take a significant hit from the pandemic; according to the Bloomberg Billionaires Index, Arnault has lost more money than any other individual during this period (at press time, his personal net worth had dropped by more than US$30 billion/S$40.8 billion this year). Yet he has shown remarkable grace over the last several months. Within days of COVID-19 being declared a pandemic, he put LVMH's muscle into aiding the French government and hospitals with their response: pivoting perfume and cosmetics factories to produce hand sanitiser, tapping suppliers in China to purchase 40 million masks and 261 ventilators, repurposing clothing workshops to make medical gowns and non-surgical masks. And that's just the efforts in France. Arnault has proven that the agility and foresight that made him a titan of business also make him a titan of altruism.
Our full list of Best of the Best 2020 winners here