Housed in a black and white colonial house on 27 Scotts Road, Iru Den is a hidden culinary gem helmed by Singaporean chef-owner Javier Low
Editor's note: For more Date Night stories, click here.
The brains and hands behind the former II Den, Javier Low's move to open the independently owned Iru Den in 2021 marks his evolution and elevation as both a chef and owner. Having honed his skills from the young age of 17, spending several years at Michelin-starred Les Amis and lggy's, Low attributes his career to having learned from some of the best in the business with chefs from Noma, Mugaritz, Brae and Momofuku, regularly making guest chef appearances at the restaurants he worked in. Fascinated by the art of Kyoto-European cuisine, Javier ventured to Kyoto in 2016 to work at Michelin-starred Cenci. He spent early mornings in the markets, hand selecting produce for the day's menus and took trips to the mountains to draw spring water for dashi, instilling in him a commitment to perfection, craft and respect for produce and seasonality.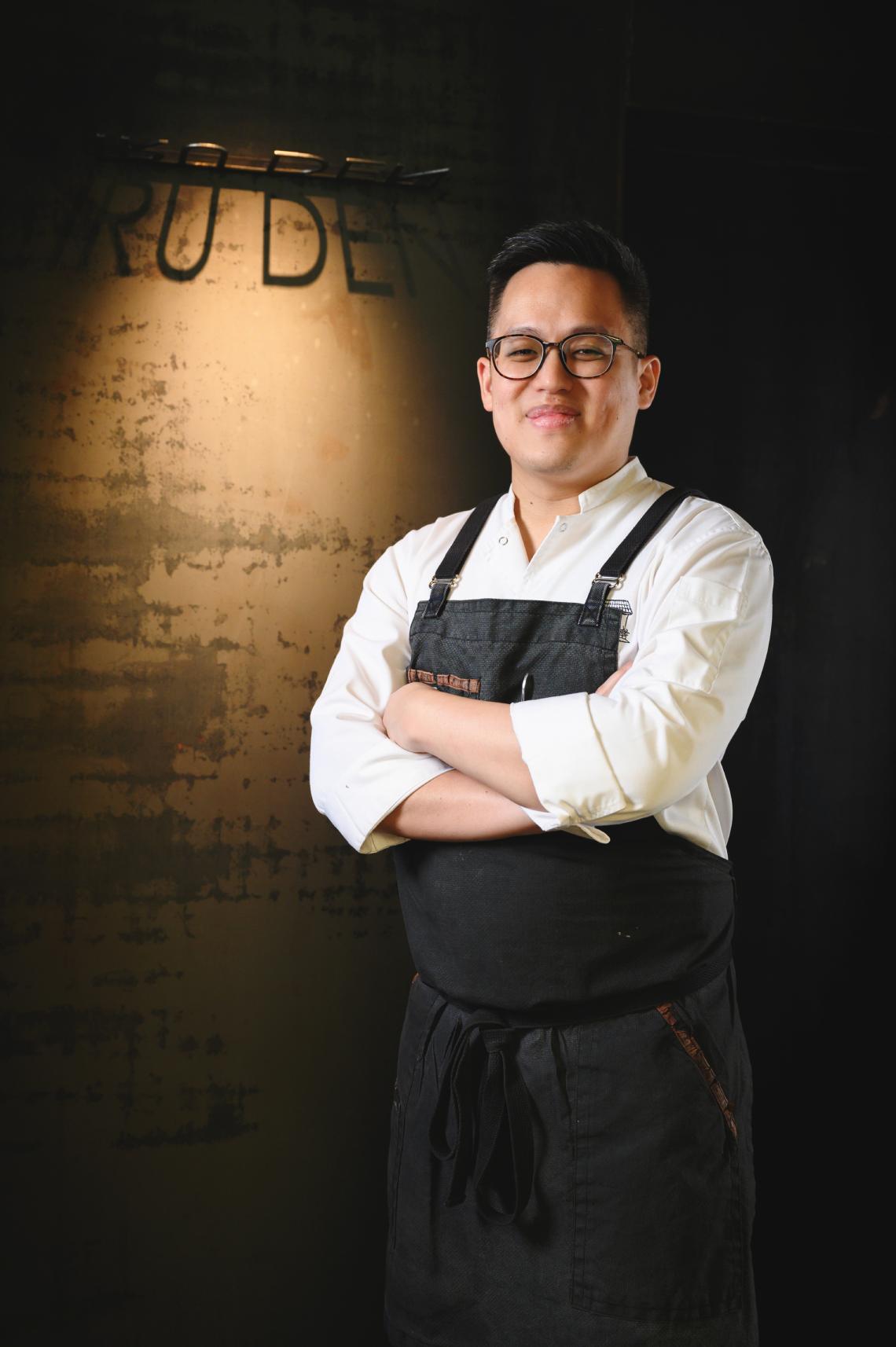 In 2018, Low returned to Singapore to emerge as a trailblazer for today's young local chefs, pushing the perceptions of contemporary cookery with the opening of Il Den. It's a 12-seater one-man show, serving a seasonal selection of tasting menus framed by his experiences working in the best Modern European and Japanese kitchens, but with his own personal touch.
Low's fine-dining menu at Iru Den perfectly reflects a seamless weave of modern European and Japanese cuisines, celebrating seasonality and a deep reverence for produce, using top-quality ingredients sourced from around the region as far as possible. "As a proud Singaporean and a product of a melting pot of cultures, I see cuisine through a fluid, global lens. I use the best possible techniques wherever I can, whether they are modern or classic cooking methods, to allow the inherent beauty and characteristics of individual ingredients to shine through on a plate,"  says Low.
The sublime lru Den experience begins the moment diners walk through the door, to the warmth of solid wooden counters and an open kitchen with a full view of chefs and the magical experience that awaits. Lunch options include the five-course Business Lunch (S$88) and eight-course Tasting Menus (S$188), while dinner offers a choice of six-course (S$188) or nine-course Dinner Tasting menu (S$298). Choose to pair your menu with a beverage programme by general manager Joel Lim, former group head sommelier of Park 90 and OUE Restaurant group. Savour a surprising showcase of natural, minimal intervention sake from smaller, artisanal breweries, classic style wines from the regions of France, Japan and China, and non-alcoholic offerings that include house-fermented pineapple beer and cold brew single garden teas. For an even more elevated wine experience, Lim offers an ever-changing Sommeliers Coravin selection of 10 back vintage wines dating from the '80s and '90s, all available to be enjoyed by the glass.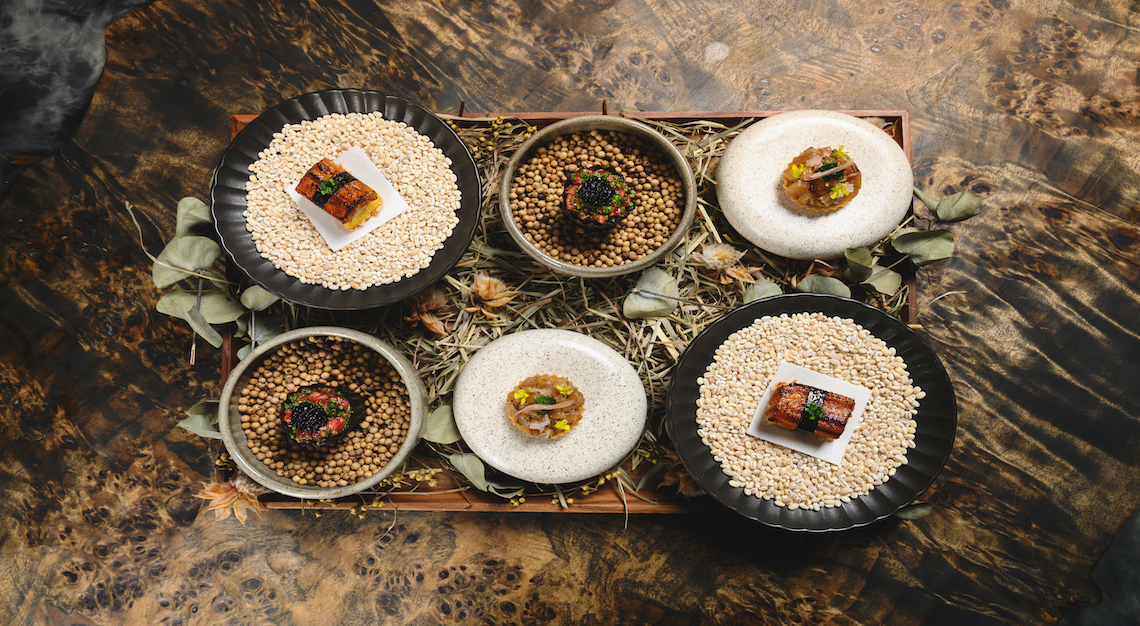 A must-have is the beautiful Seasonal Garden salad course on Iru Den's new tasting menu, showcasing the best of the season, sourcing direct from Japan and Taiwan. A salad of mizuna, blanched asparagus, kabu turnip, Japanese Amela tomatoes receives a light yuzu dressing and a tomato gazpacho (made from a blend of tomatoes, chidori vinegar and sudachi).
Iru Den's take on chawanmushi is Seseri, a smooth, comforting egg custard steamed with dashi, layered with a rich 72-hour poultry jus and wild fiddlehead fern. No salt is added, with the natural savouriness of the jus seasoning the dish.
Uni Somen 2.0, an Iru Den signature, is swathed in a sauce of fermented wasabi leaves, sake, mirin and uni before being generously crowned with more seasonal uni and Japanese red prawns, with a spray of sake for fragrance.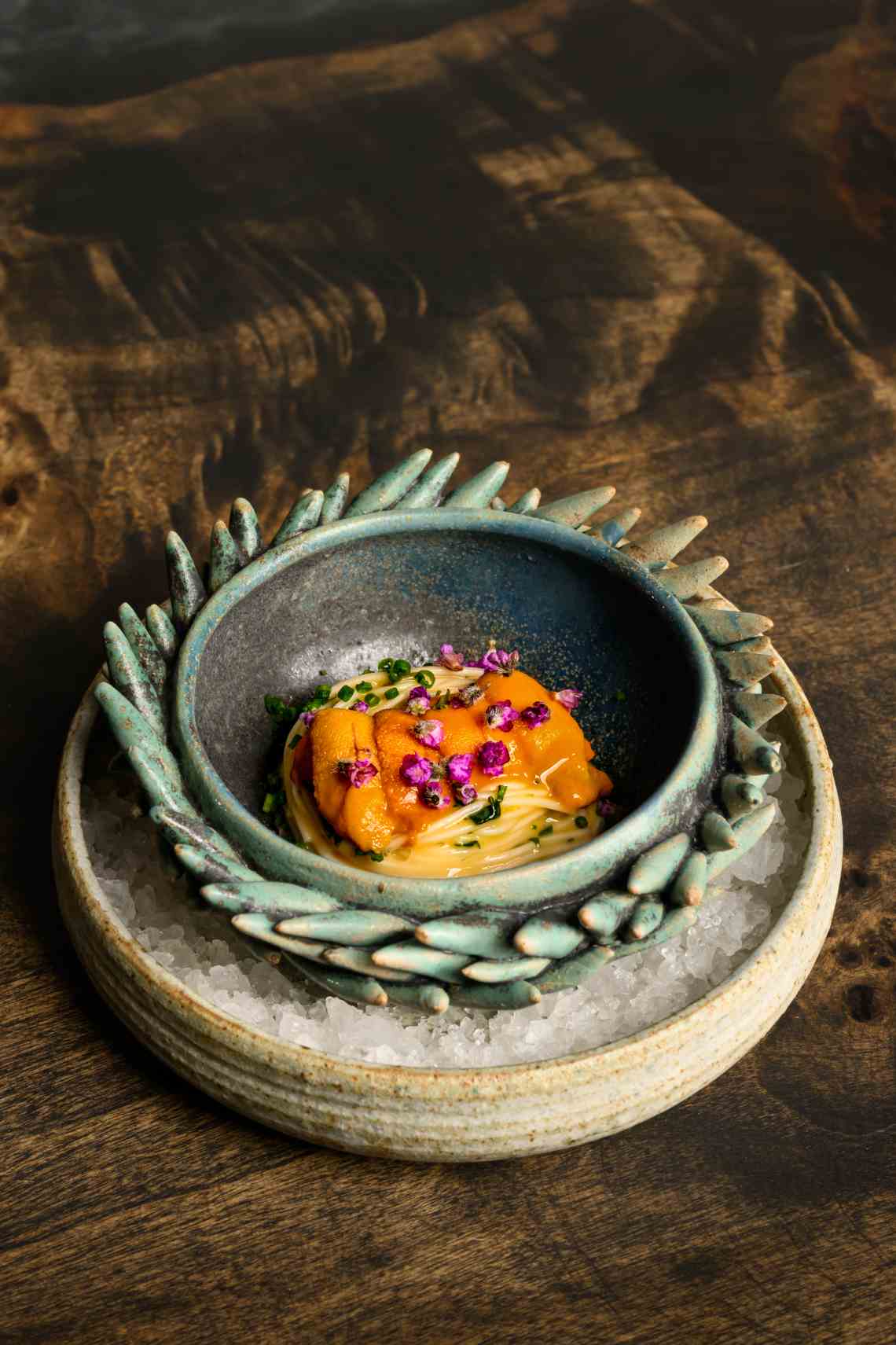 It can't be Japanese without grilled Amadai, slow seared till crisp, finished with butter and tarragon and paired with a charred spring onion puree and a duo of dashi-braised and salt-baked bamboo shoots.
Main course is a hearty choice between dry-aged, reverse-seared, smoked and grilled meats. Choose between Irish Silver Hill Duck, served with a charred carrot puree, grilled spring onion bulb and a sansho pepper veal jus fortified with madeira; or the F1 Iwate Beef brushed with housemade garum and garnished with a beef jus enriched with bone marrow. Finished with slow-roasted onion, pan-fried yam and a puree of smoked eggplant.
A hybrid of Singapore claypot rice and the classic Japanese Donabe, Iru Den's signature Seasonal Donabe rice course is cooked low and slow with an intense seafood bisque or a katsuo dashi (depending on the day), before being finished on high heat to achieve a crisp, charred exterior. It receives a final flourish of sakura ebi, mizuna and mitsuba and bamboo shoots.
Dessert comes in the form of the beautifully plated Black Glutinous Rice Parfait. Black glutinous rice is slow-cooked down to a porridge consistency, blended with crème anglaise and made into parfait, before being served with housemade amazake ice cream, mochi and a rice tuile.
Robb Tip: In addition to Iru Den, Low also owns and runs Kumi Den, a casual drinking den (15 Duxton Road) that celebrates delicious Southeast Asian shared plates with minimal intervention wines from artisanal small-batch producers.
 Iru Den
27 Scotts Road,
Singapore 228222
Tel: +65 8923 1127